A smoothie is a great way to start off the day if you don't have any time to make a full blown egg and bacon breakfast. The Apple Berry Collagen Smoothie is filled with tons of fiber, vitamins and minerals, and protein. It's a super healthy way to start the day.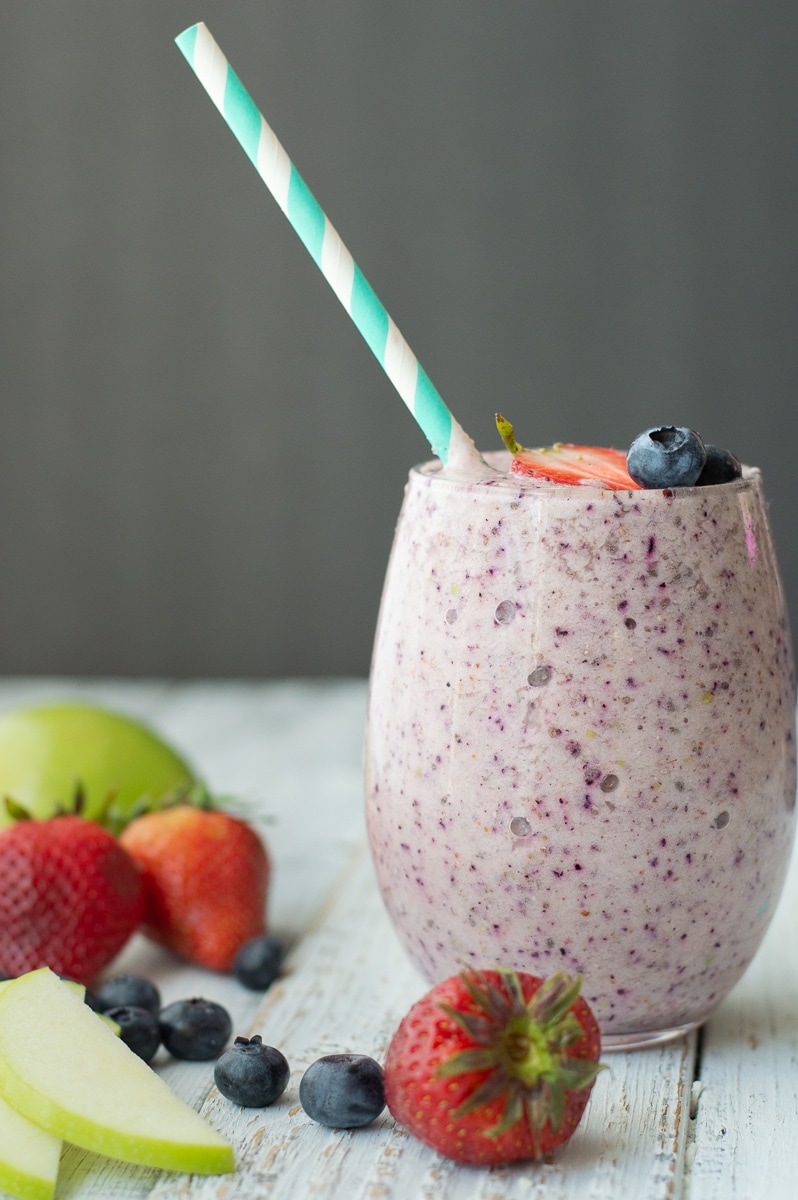 High Fiber Smoothie
This recipe is filled with fiber, which many people are lacking in. The berries, the chia seeds and the apple (leave the skin on!!) are all bringing this smoothie in with 14g of fiber!
Fiber and Health
When it comes to eating a balanced diet, the first indicator I like to look at after macronutrients is fiber. Generally, whole food sources containing fiber are also chalk-full of other amazing health benefits, which is what makes it a pretty good "healthy diet" gauge.
The typical recommendation for fiber is 15g per 1000 calories consumed, therefore someone eating 2000 calories would want to consume a minimum of 30g. Personally, I shoot for around 20 grams per 1000.
Soluble Vs. Unsoluble
Soluble fiber is able to dissolve in water and creates a gel in you digestive system, creating a fuller feeling than if you were lacking fiber and slowing digestion down. Unsoluble, on the other hand, is material that can't be digested and so it pushes through the digestive tract, creating cleansing effect and improving digestive function.
Example of soluble fiber: nuts and seeds
Example of insoluble fiber: fruits and vegetables, such as celery or raspberries
Foods High in Fiber
FRUITS. Avocados, berries, pears and figs are all excellent sources of fiber. Fruit is high in sugar, though, so stick to no more than 2 cups a day.
VEGGIES. Cruciferous vegetables like broccoli, Brussels sprouts, cauliflower and cabbage are all going to offer you a ton of fiber. Turnips, okra and artichokes are also high in fiber.
BEANS AND LEGUMES. All whole beans will provide plenty of fiber, as will peas and lentils.
NUTS AND SEEDS. Chia, coconut and flax will provide a great deal of fiber, as will most other nuts. Be mindful of over consuming these, they are high in Omega-3's which are best in limited quantities.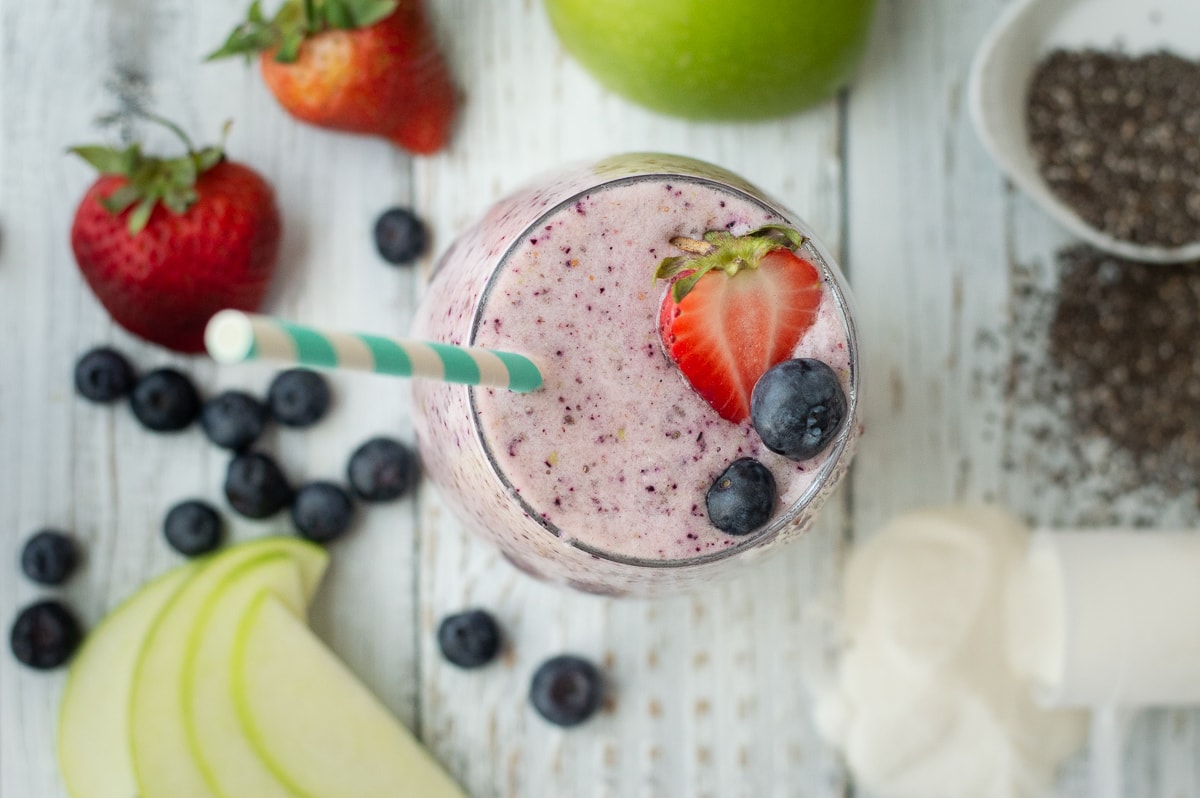 Collagen
After years of consuming whey protein by the bucket, and possible creating a full-fledged dairy intolerance, I made the switch to collagen peptides. BEST. CHOICE. EVER.
Not only did it help me get my protein intake where I needed, but it was much better for my gut health, bone and joint health, and my hair skin and nails have never looked better. I use an unflavored one by Sports Research.
<
It's also not filled with a ton of potentially inflammatory ingredients like dairy, sweeteners or soy additives. It's just beef collagen.
It is important to know that collagen peptides are not complete proteins, meaning they are missing 1 of the 9 essential amino acids: tryptophan. All this means is you shouldn't rely on collagen peptides as your only source of protein so that you're consuming all the necessary amino acids.
Easy Freezer Breakfast
Smoothies are an awesome make ahead breakfast. If you're going fresh, just throw all the ingredients (except the collagen powder and ice) in a mason jar or storage bag in the fridge and dump them into your blender in the morning. The milk will actually activate the chia seeds and create a gel, which will help break down the seeds before you blend (meaning it will be a bit smoother).
You can also pre-measure out the fruit and put them into individual bags in the freezer. These are great to have on hand when you oversleep. The fruit doesn't go bad, so you can store it for up to 3 months, chuck it in the blender with seeds and protein (skip the ice) and run out the door!
[su_highlight background="#add9de"]MONEY SAVING TIP:[/su_highlight] When berries are in season, freeze them yourself for the coming winter months. Pre-frozen fruit is so expensive, just get some good freezer bags and do it yourself to save a ton of money!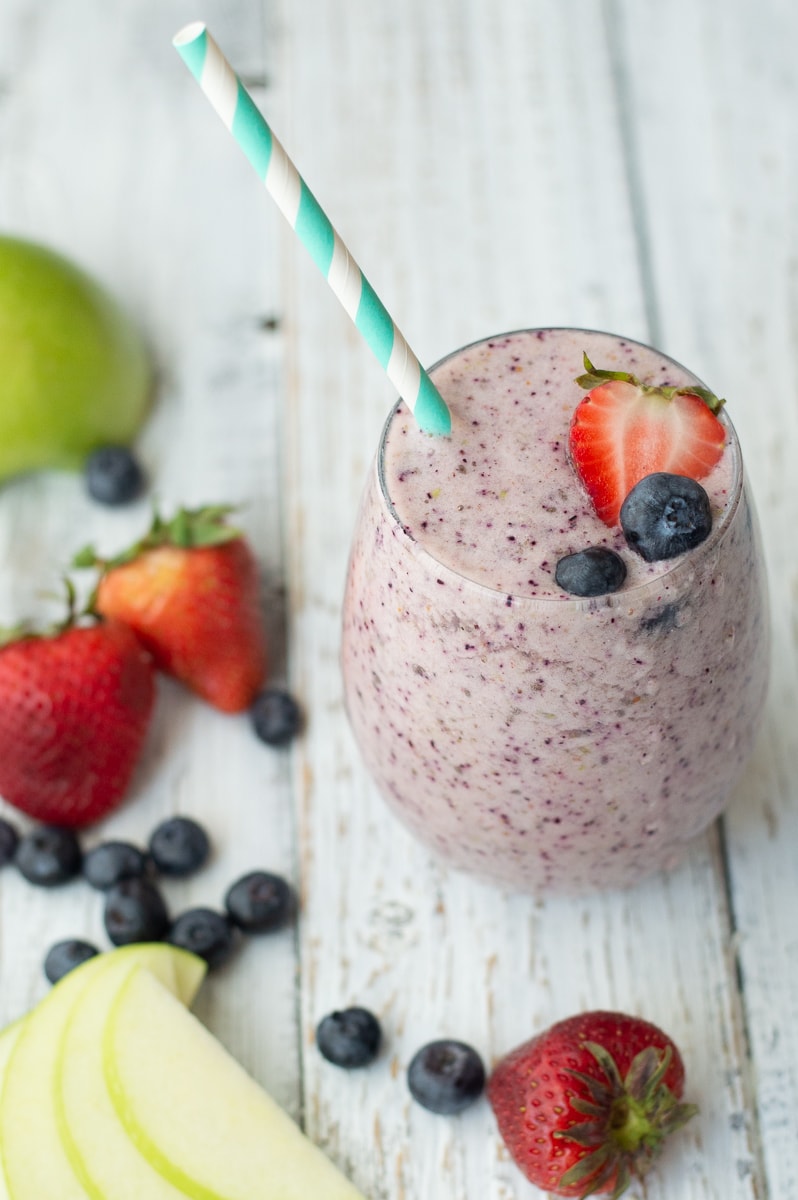 Best Smoothie Blender on a Budget
I have gone through a BUNCH of smoothie blenders and killed them all. My favorite so far, without spending over $200 is the Ninja with the IQ settings. It has pre-programmed settings for smoothies and purees, so you just press it once and go.
I actually prefer the blender attachment for smoothies because it blends them faster and more evenly. The smaller ones are great for batters and smaller, unfrozen smoothies.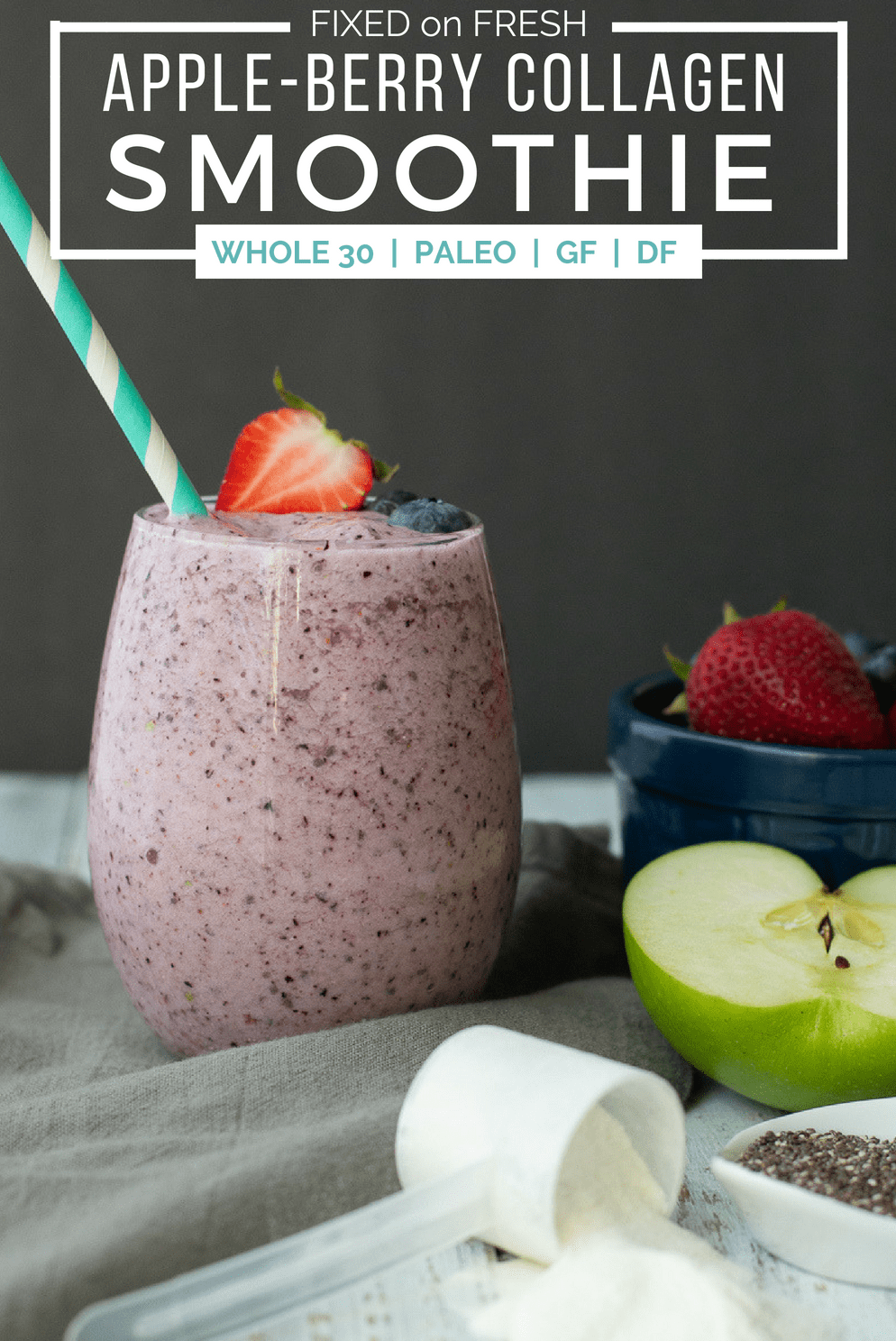 The Fiber Filled Smoothie Recipe
Go grab some fruit and seeds and collagen and get make this super awesome breakfast smoothie recipe and tell me what you think! Remember to keep the skin on the apple, it's filled with all sorts of good stuff like fiber and phytonutrients that are so so healthful.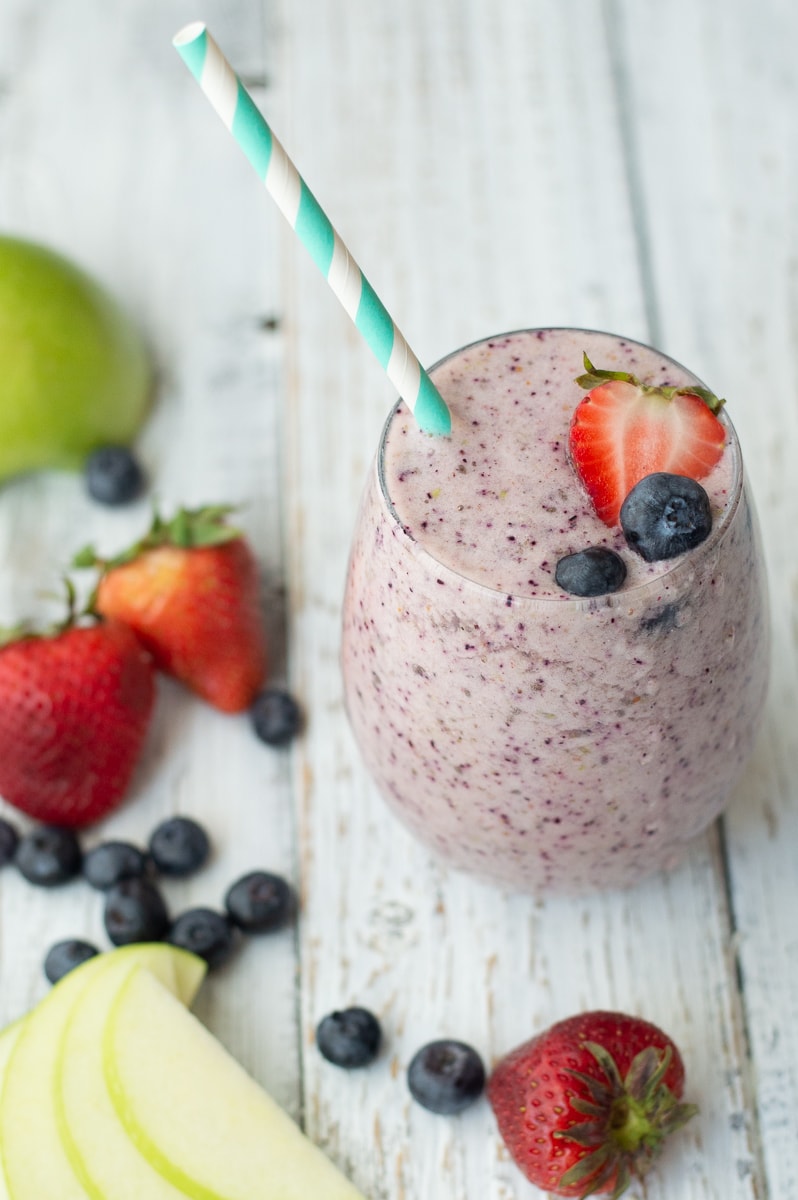 Apple-Berry Collagen Smoothie
This breakfast smoothie recipe is full of protein, fiber and tons of other great nutrients to start off the day feeling good.
Ingredients
1

granny smith apple

(cored and chopped)

½

cup

frozen or fresh blueberries

1

cup

fresh or frozen strawberries

1

tablespoon

chia seeds

2

scoops collagen peptides

(unflavored)

¾

cup

nut milk

1-2

cups

of ice

(less if using frozen berries)
Instructions
Put all ingredients in a blender and puree until smooth
Nutrition
Calories:
299
kcal
Carbohydrates:
56
g
Protein:
23
g
Fat:
6
g
Saturated Fat:
1
g
Polyunsaturated Fat:
3
g
Sodium:
192
mg
Potassium:
346
mg
Fiber:
14
g
Sugar:
38
g
Vitamin A:
400
IU
Vitamin C:
77.6
mg
Calcium:
400
mg
Iron:
2.5
mg
Nutrition Information Disclaimer
**This blog post contains affiliate links to products that I actually use and that align with my values as a nutritionist. I may earn a small commission to fund my coffee drinking habit if you use these links to make a purchase. You will not be charged extra, you'll simply keep me supplied in caffeine. It's a win for everyone, really.
PIn For Later!
For the love of health, share the love with friends and family!