---
BLT avocado chicken salad is a quick and easy solution to a fresh, no-heat lunch or lunch. Diced chicken, bacon, tomatoes and avocado are tossed in a smokey and creamy dressing.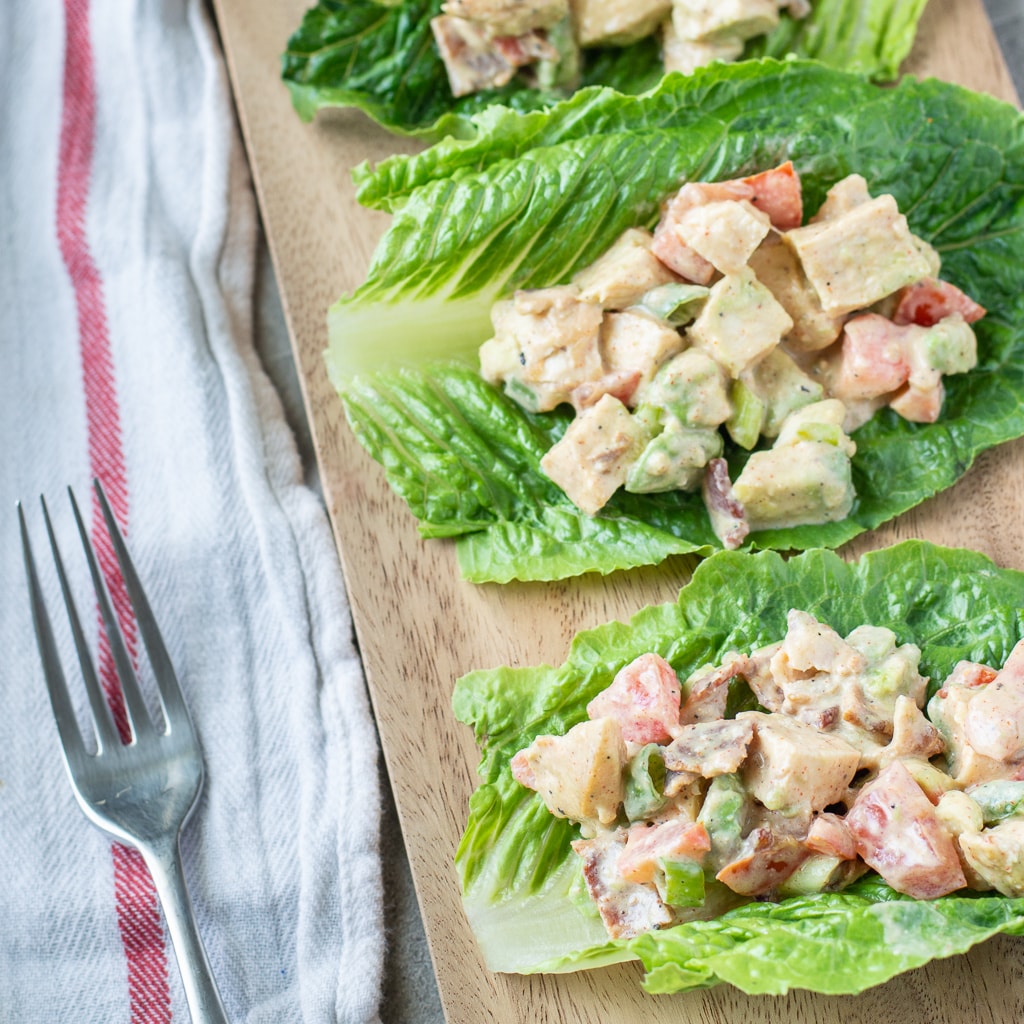 How To Make 15-Minute Chicken Salad
This salad recipe whips up in no time! It's so simple and so great for easy, ready-made lunches to portion out and store in the fridge for when you're hungry. If you want to get strait to the recipe, click here, otherwise check out these tips before you get started.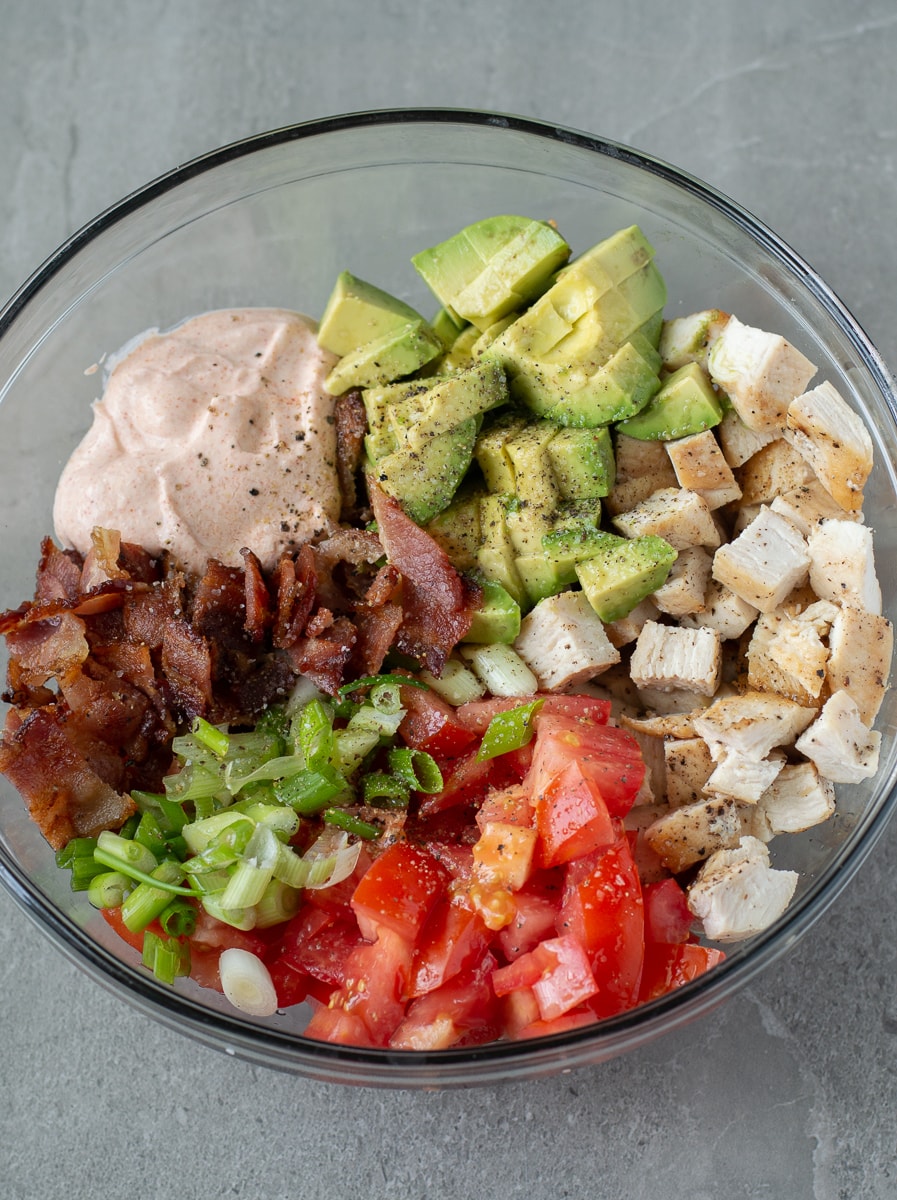 Tip #1: Do The Avocados Get Brown?
Don't worry about the avocados getting brown, there's lime juice in the dressing that keeps that green and tasty for up to 3 days in the fridge...which kinda works out since the recipe makes 3 servings.

Tip #2: Choose The Right Mayonaise To Keep It Whole30
I used an avocado oil based mayonnaise from Primal Kitchen as the base for the dressing. Just a couple spices and some lime juice and it's ready to pour over the salad!
---
Other Low Carb Recipes
---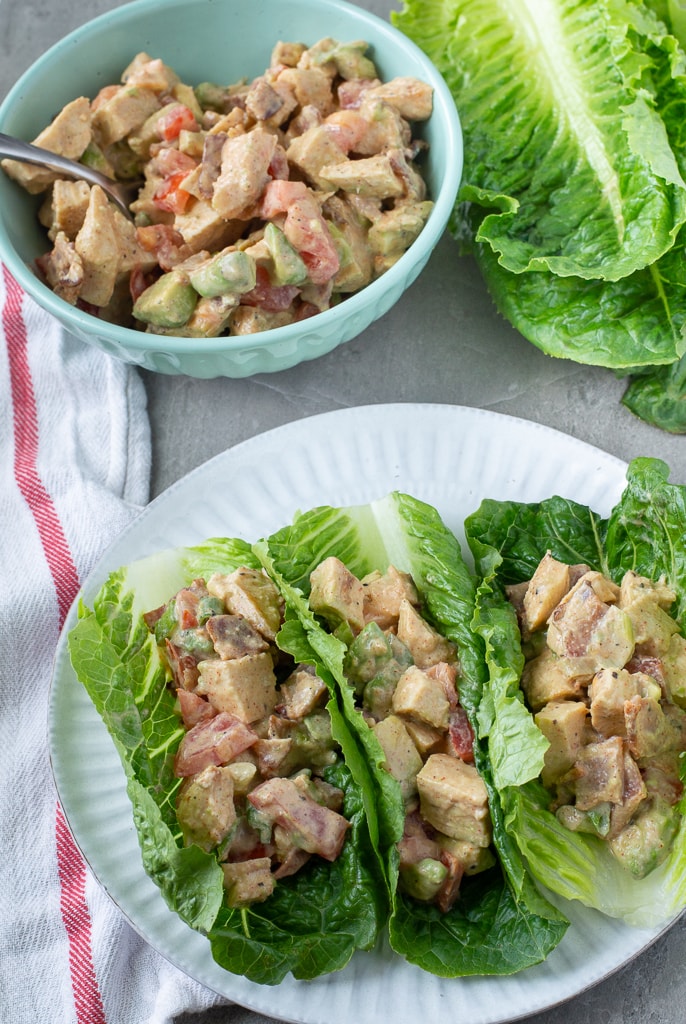 <
Tip #3: You Don't Have To Make Lettuce Wraps
Just because I put this in lettuce wraps, doesn't mean you have to. Wraps can get a little messy to eat, so I like to just pile it on top of lettuce or greens and shake it up in a container when I'm on the go.
If you aren't intollerant of gluten, it would work well in a wrap or as a sandwich as well. Let me know how you end up serving this with #freshfix!
---
Now to the good part, the recipe! Please pin for later and when you make it, let me know what you think. You can comment below OR find me on Facebook, Twitter, Instagram and Pinterest.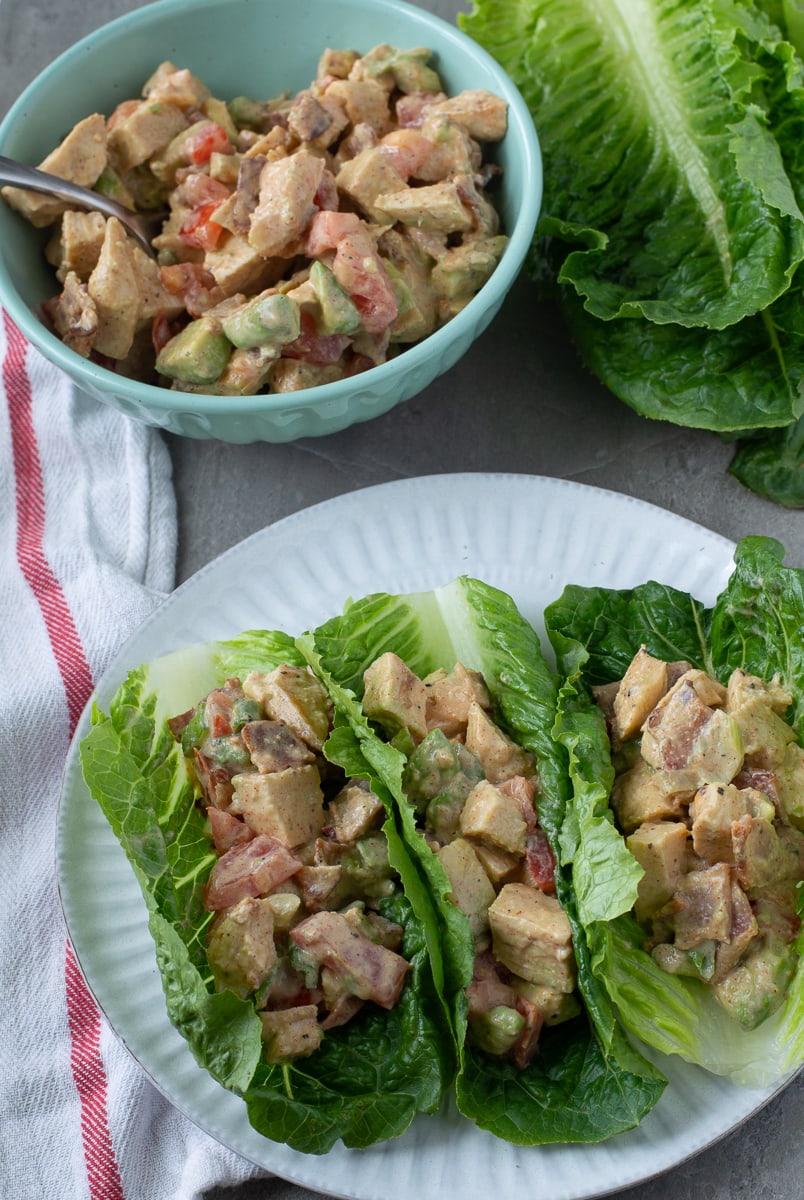 BLT Avocado Chicken Salad Wraps
BLT Avocado Chicken Salad Wraps are a quick and easy solution to a fresh, no-heat lunch. They are high in protein, low in carbs, high in fiber and nutrients, but most of all, this salad is delicious.

Ingredients
6

slices

bacon

(uncured, sugar free)

1

lb

boneless. skinless chicken breast

(halved to make cutlets)

salt and pepper to taste

3

tablespoon

avocado or olive oil based mayonnaise

1

tablespoon

lime juice

(fresh)

½

teaspoon

garlic powder

¼

teaspoon

paprika

1

cup

tomatoes

(diced, 2 small or 1 large)

2

green onion

(finely sliced with whites)

1

avocado

(chopped)

1

head of romaine or butter lettuce for wrapping
Instructions
COOK THE BACON: In a large skillet, cook bacon over medium heat for 2-3 minutes each side, or until crispy. Remove the bacon from the pan and allow to cool on a paper towel lined plate.

COOK THE CHICKEN: Season the chIcken with ½ teaspoon of salt and ¼ teaspoon pepper and place into the pan with the bacon drippings. Cook 3 minutes per side over medium heat, or until the inside is no longer pink. Remove from the pan and allow to cool.

MAKE THE DRESSING: In a small bowl, whisk together mayo, lime juice, garlic, and paprika. Set aside.

CHOP AND MIX: Once the chicken and bacon are cool, chop into ½-inch pieces and place in a large bowl. Add the tomatoes, green onions, and avocados to the bowl quickly toss to evenly distribute the ingredients. Pour the mayo mixture into the bowl with additional salt and pepper to taste and toss again to coat.

SERVE: Serve the salad immediately or allow to chill in the refridgeratorfor up to an hour. Spoon the salad into 2-4 lettuce cups per person.
Nutrition
Serving:
1
cup
Calories:
381
kcal
Carbohydrates:
11
g
Protein:
37
g
Fat:
23
g
Saturated Fat:
5
g
Polyunsaturated Fat:
3
g
Monounsaturated Fat:
12
g
Cholesterol:
98
mg
Sodium:
1221
mg
Potassium:
974
mg
Fiber:
6
g
Sugar:
4
g
Vitamin A:
5800
IU
Vitamin C:
27.2
mg
Calcium:
80
mg
Iron:
2.3
mg
Nutrition Information Disclaimer
RECIPE EQUIPMENT
**This blog post contains affiliate links to products that I actually use and that align with my values. See my affiliate disclaimer here.
PIN IT NOW, MAKE IT LATER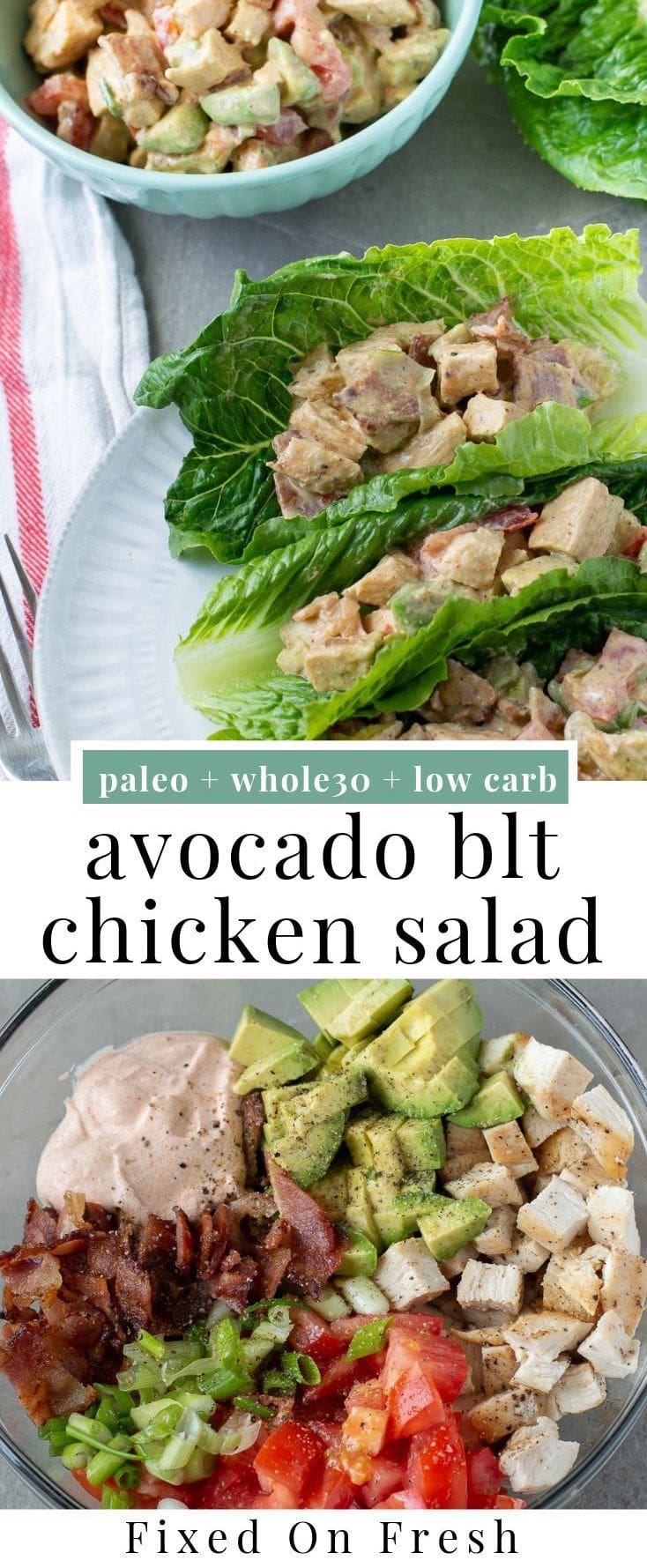 SaveSave