---
Gather a few pantry staple ingredients to make these no-bake, delicious chewy peanut butter chocolate chip oatmeal bars. All you need are some oats, coconut flakes, chocolate chips, peanut butter, honey, and couple small staples and you're in business!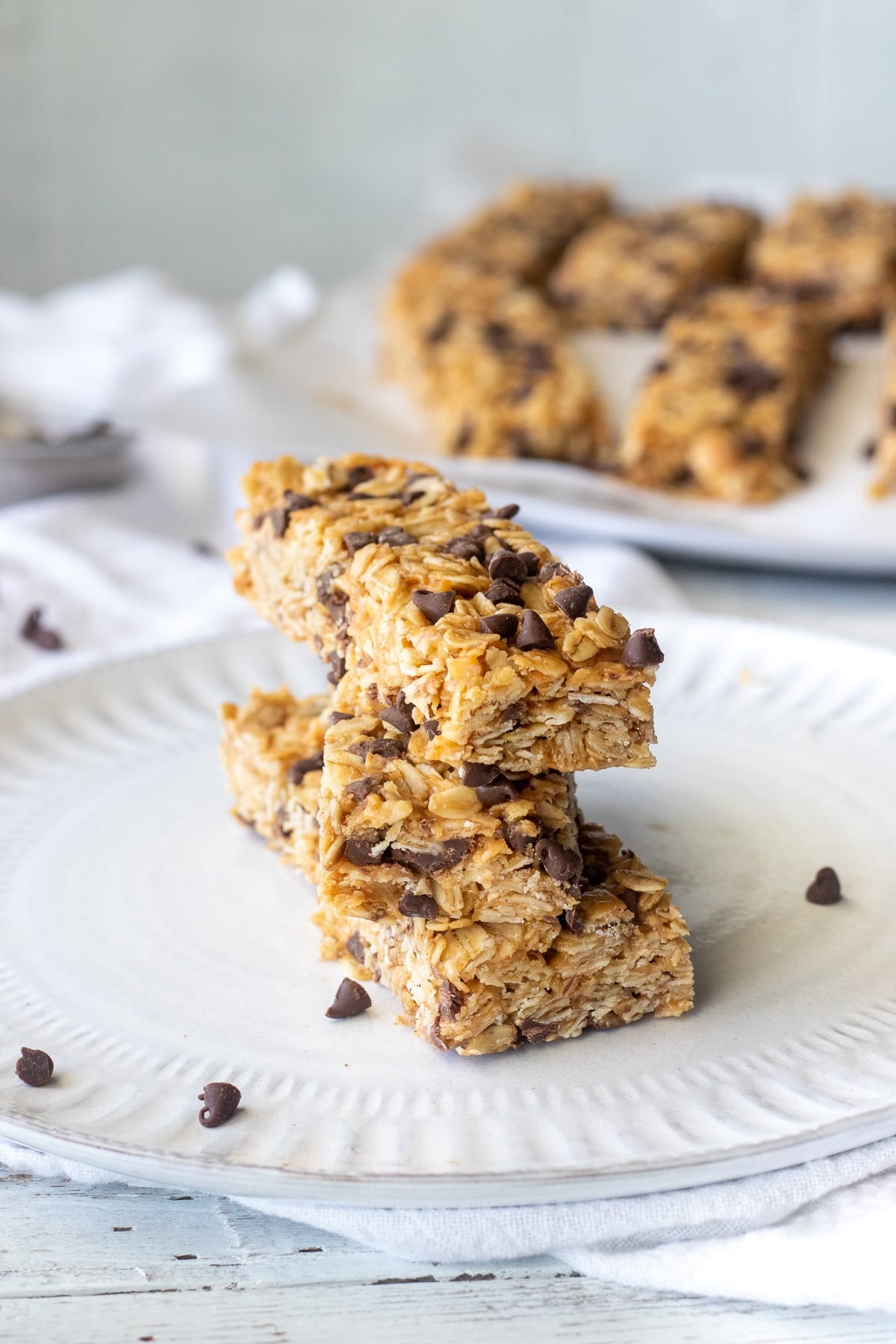 Everything You Need to Know About Making Chocolate Chip Oatmeal Bars
You won't believe how easy these come together. With the exception of toasting the coconut, these are no-bake! You'll only need a few pantry staples and a little time to let them set. Here are a few quick pointers.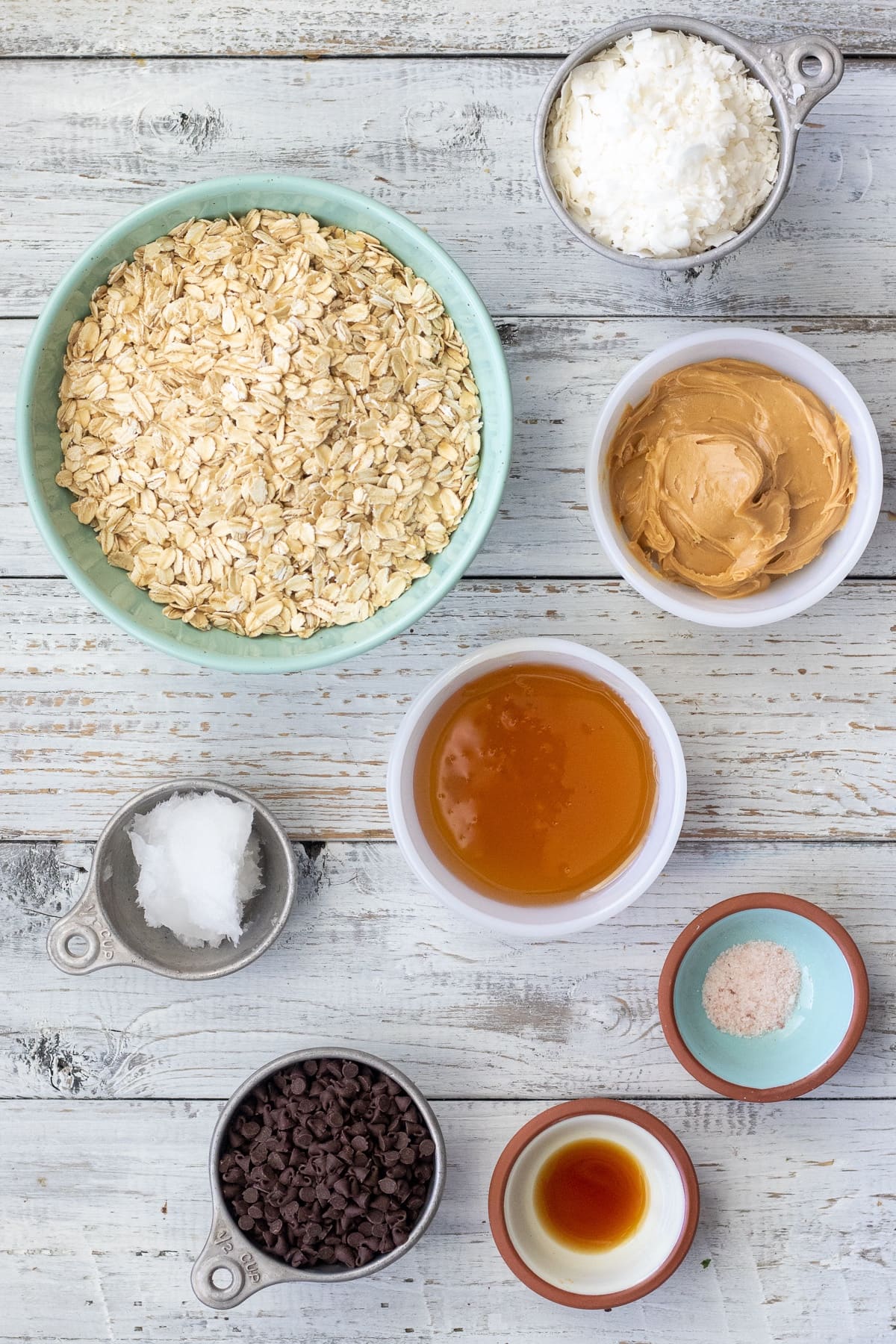 Ingredients and Substitution
[su_highlight background="#e7efef"]UNSWEETENED COCONUT FLAKES:[/su_highlight] Toasted coconut flakes help add an extra crunch. If coconut isn't your thing, use sliced almonds or even pecans.
[su_highlight background="#e7efef"]OLD FASHIONED OATS:[/su_highlight] Don't substitute quick cooking oats here, the texture will be all off.
[su_highlight background="#e7efef"]PEANUT BUTTER:[/su_highlight] Any nut butter will do here, creamy or crunchy. I would also stick with no-stir so that it melts evenly.
[su_highlight background="#e7efef"]COCONUT OIL:[/su_highlight] If you don't have any on hand, butter will work too.
[su_highlight background="#e7efef"]HONEY:[/su_highlight] Maple syrup will work too.
How to Toast Coconut
So easy! Preheat the oven to 325˚ F. Sprinkle the coconut evenly on a sheet pan.
Place the pan in the preheated oven for 4 minutes, then flip or stir the nuts. Put the pan back in the oven for another 3 minutes and you're done!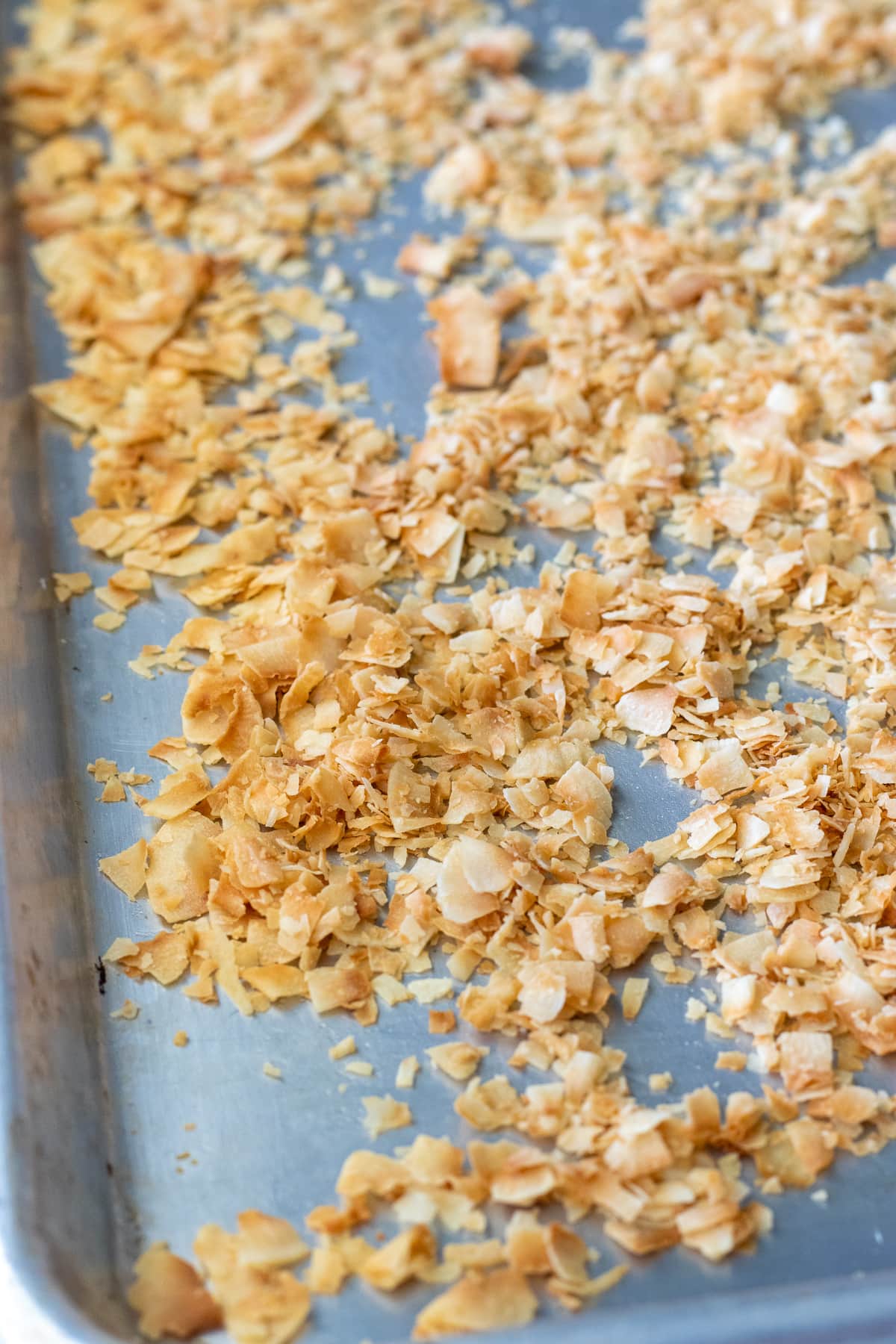 If Your Mixture Is a Little Dry
Since this is no-bake, you don't want the oatmeal blend to be soupy like it's going to bake-up and become solid. You just want it sticky enough that it's going to hold together once it sets in the fridge.
If you find your mixture is too dry, just add a bit more honey so that it will stick together.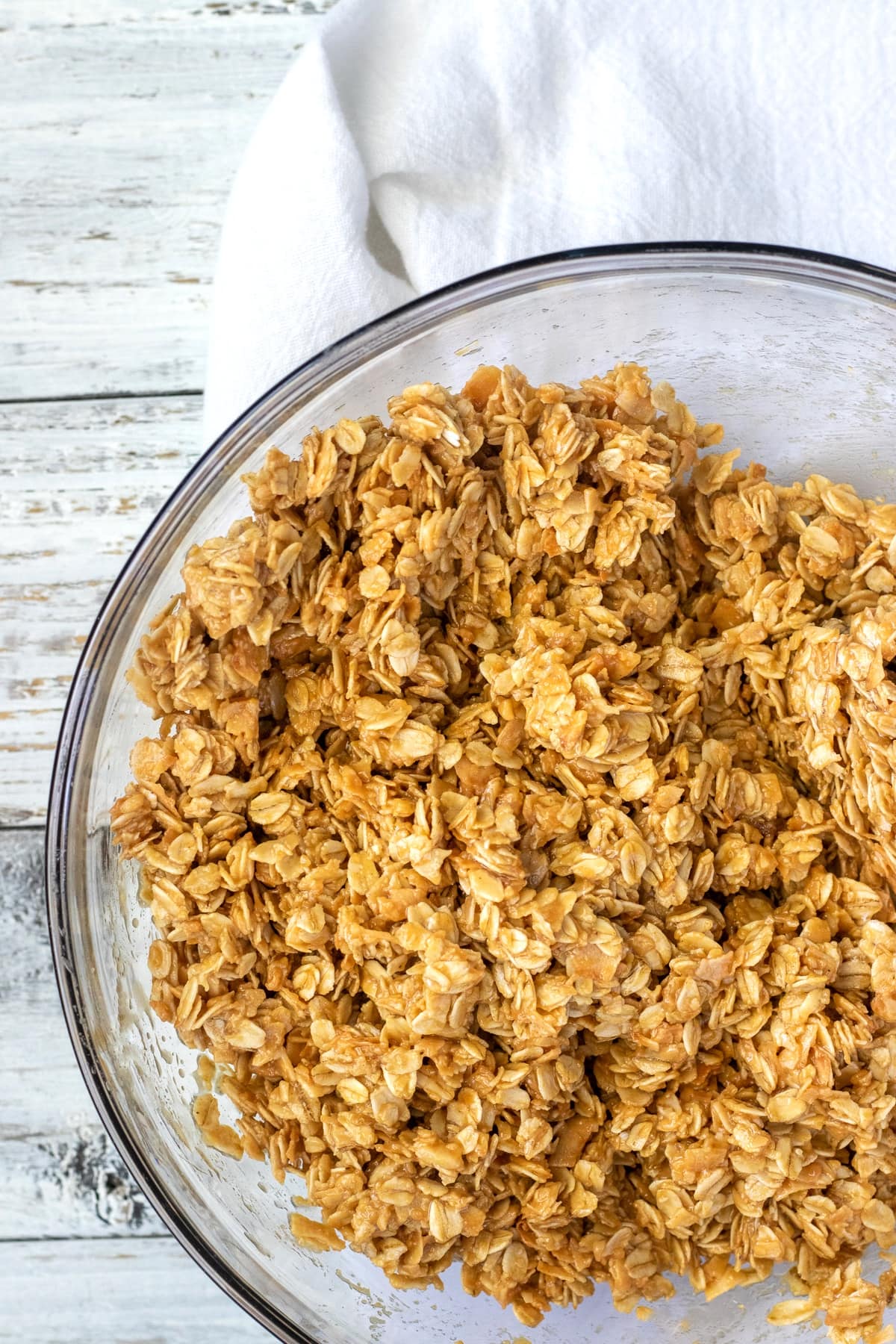 <
Chill the Oats Before Adding Chocolate
To avoid melting the chocolate chips, you'll want to chill the warm oat mixture before adding the chocolate chips for about 15 minutes.
Then you can top it with even more once you press the mixture into the pan.
How to Press These Evenly and Easily
If you happen to have a second pan the same size (8x8), place a sheet of parchment or plastic wrap on top of the granola mixture.
Press the second pan into the bottom pan to get it pressed in evenly.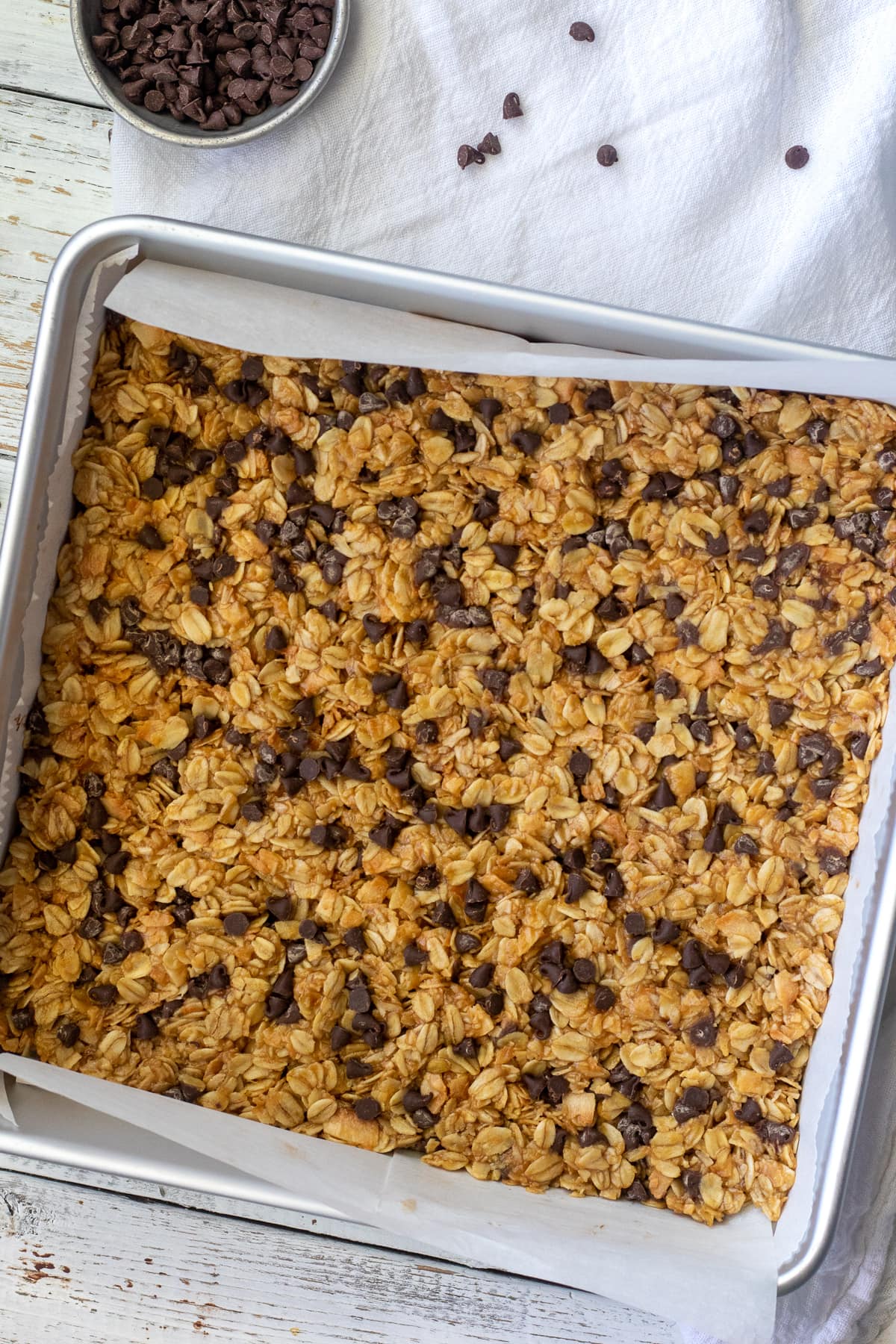 Make Them Lighter
These run at about 320 calories, so they're a bit heavier than a typical chocolate chip oatmeal bar or granola bar.
I like to cut these into 16-24 pieces to make them more bite sized and lighter.
Storage
Keep these in an airtight container in the fridge for up to 2 months! Yea - these will hang out for a while!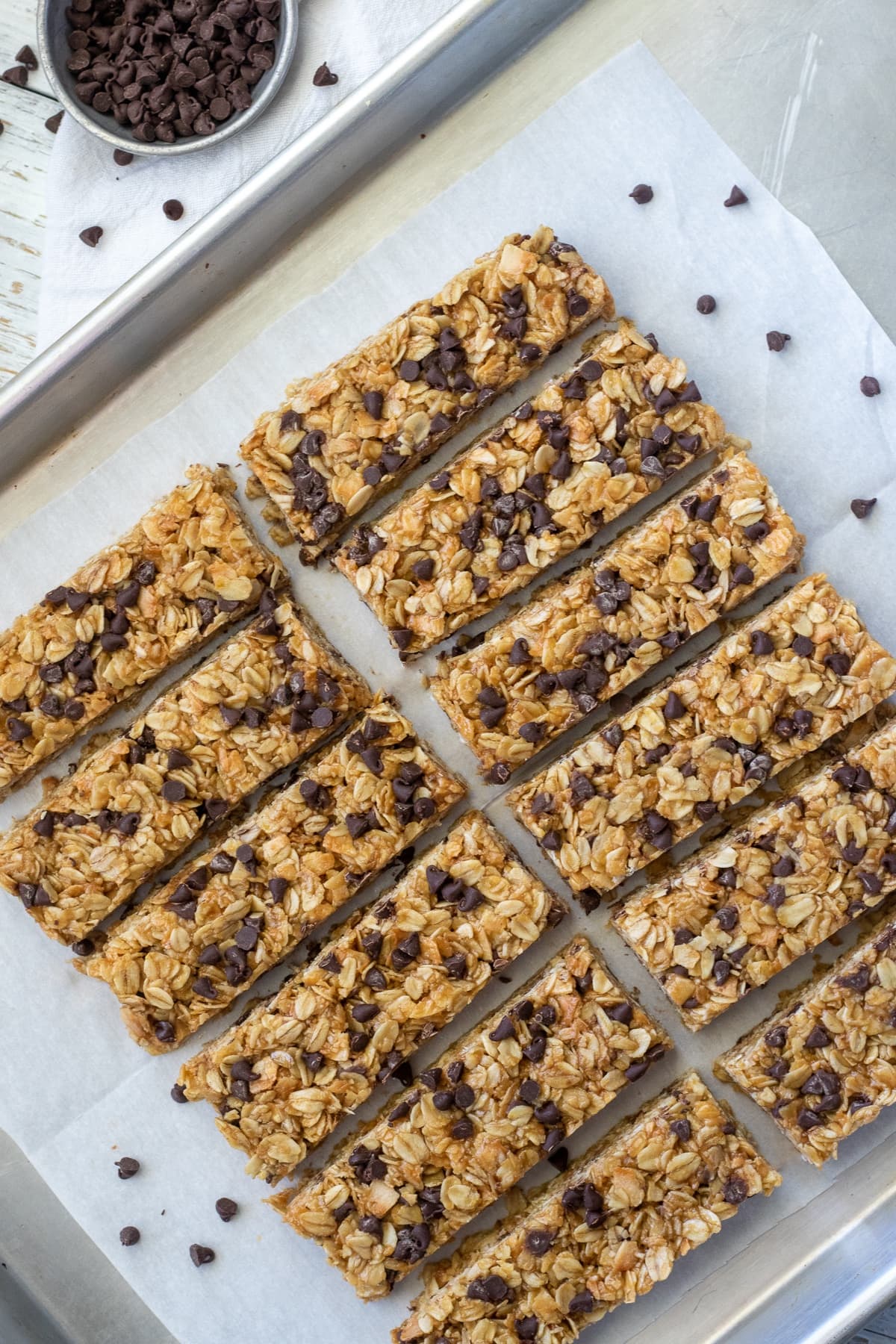 ---
OTHER RECIPES YOU MIGHT LIKE
---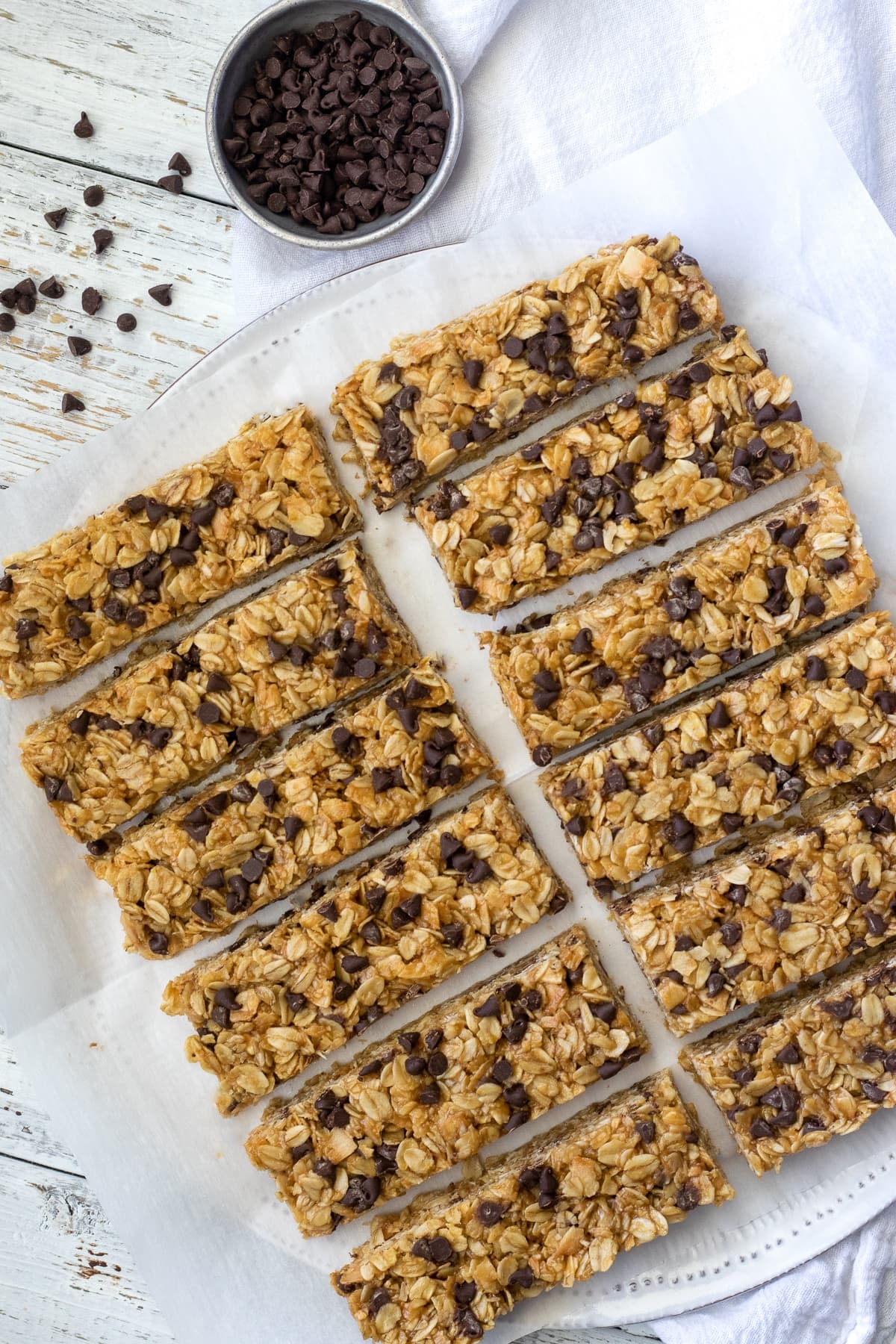 Peanut Butter Chocolate Chip Oatmeal Bars
Oats and toasted coconut are coated in peanut butter and honey and mixed with mini chocolate morsels to make a delicious copy cat of your favarite chewy chocolate chip granola bars.
RECIPE COST :
$4.80 / .40¢ EACH
Ingredients
1

cup

unsweetened coconut flakes

2 ¼

cups

old-fashioned oats

¾

cup

peanut butter

⅔

cup

honey

2

tablespoons

coconut oil

1

teaspoon

vanilla extract

½

teaspoon

sea salt

½

cup

mini semisweet chocolate chips
Instructions
PREPARE: Preheat the oven to 325˚ F. Line an 8 x 8-inch square baking pan with parchment paper and set it aside.

TOAST THE COCONUT: Spread the coconut evenly over a sheet pan and cook in the preheated oven for 4 minutes. Remove the pan and stir or flip the coconut and cook for an additional 3 minutes. Allow to cool for 2-3 minutes.

MIX DRY INGREDIENTS: In a large bowl, toss together the oats and toasted coconut and set aside.

MIX THE WET INGREDIENTS: In a small saucepan, add the peanut butter, honey, and coconut oil. Heat the pan over medium heat and stir the ingredients until they have melted together. Simmer an additional 2 minutes and then remove from heat and then stir in the vanilla and salt.

COMBINE EVERYTHING AND CHILL: Pour the melted mixture over the dry ingrendients and fold together until fully combined. Chill the regridgerator for 30 minutes or until cool enough not to melt the chocolate.

STIR IN CHOCOLATE CHIPS AND SET: Stir in the chocolate chips and pour into the prepared pan. Press into the pan until an even layer form on the bottom and is pushed into all the edges and corners. Sprinkle with additional chocolate chips if desired. Cover and allow the bars to cool in the fridge for an additional 1-2 hours.

CUT INTO BARS: Once the mixture is fully set, use the parchment to remove the bars from the pan. Cut the square into 12 bars and store in an airtight bag or container for up to 3 months.
Nutrition
Serving:
1
bar
Calories:
320
kcal
Carbohydrates:
33
g
Protein:
5
g
Fat:
20
g
Saturated Fat:
11
g
Sodium:
174
mg
Potassium:
216
mg
Fiber:
5
g
Sugar:
23
g
Calcium:
10
mg
Iron:
6
mg
Nutrition Information Disclaimer
RECIPE EQUIPMENT
**This blog post contains affiliate links to products that I actually use and that align with my values. See my affiliate disclaimer here.
PIN IT NOW, MAKE IT LATER