If you've always wanted to know how to cook a really great-tasting steak on the stove, you're in the right spot. Not only is this recipe super tasty, but it's also very simple and no grill is needed!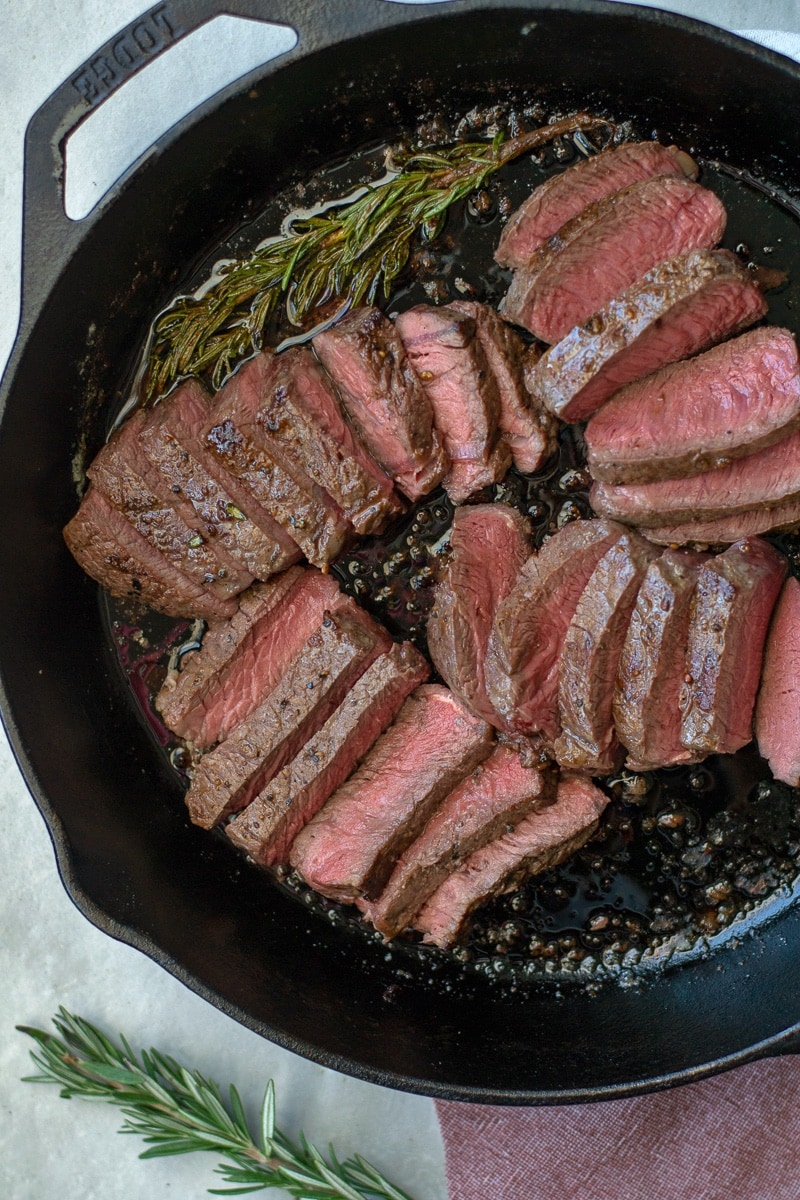 Why I Prefer Cooking Steak In Cast Iron
Cooking steak of any kind on the stovetop, in a cast-iron skillet is my absolute favorite way to cook steak. Here are some of the reasons I'll take stovetop steak over grilled steak any day: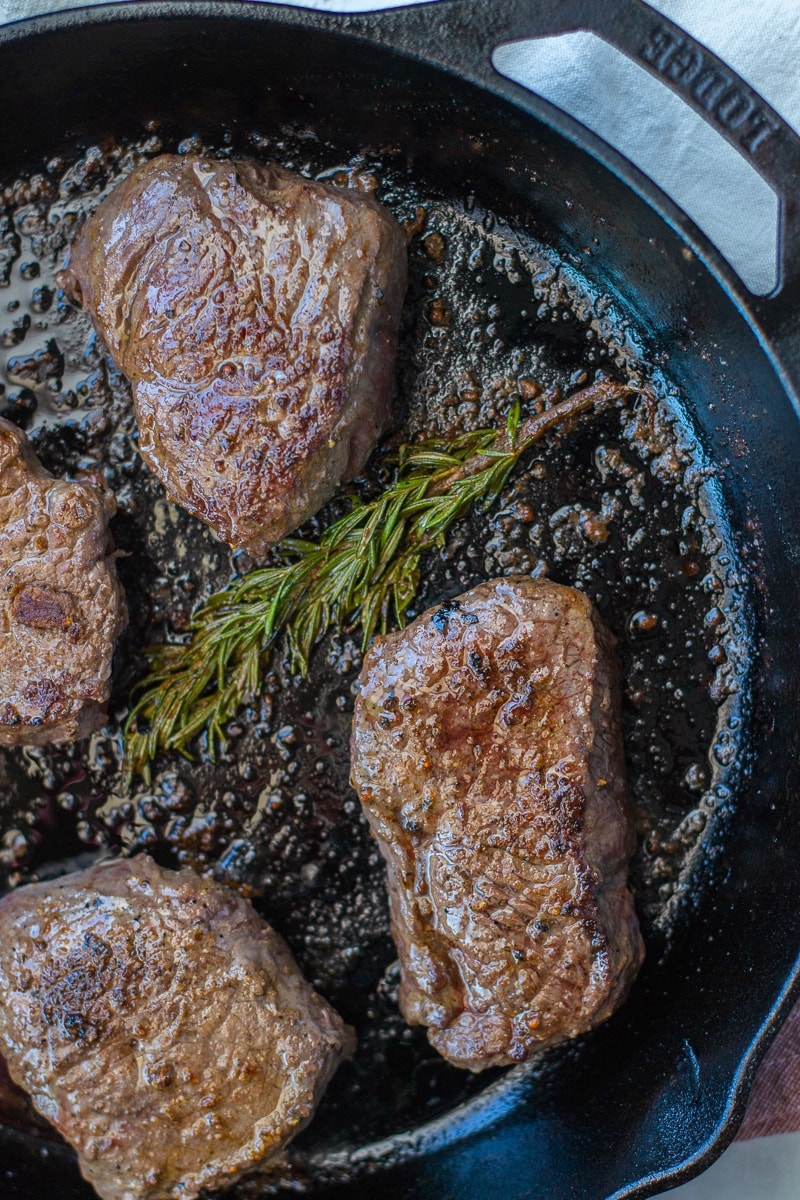 This recipe is super simple, but there are always pro tips and tricks and ingredient substitutions to talk about. So let's talk about all things cast iron steak: ingredients, temperature, time, storage, and what to serve with it.
🥘 Ingredients and Substitutions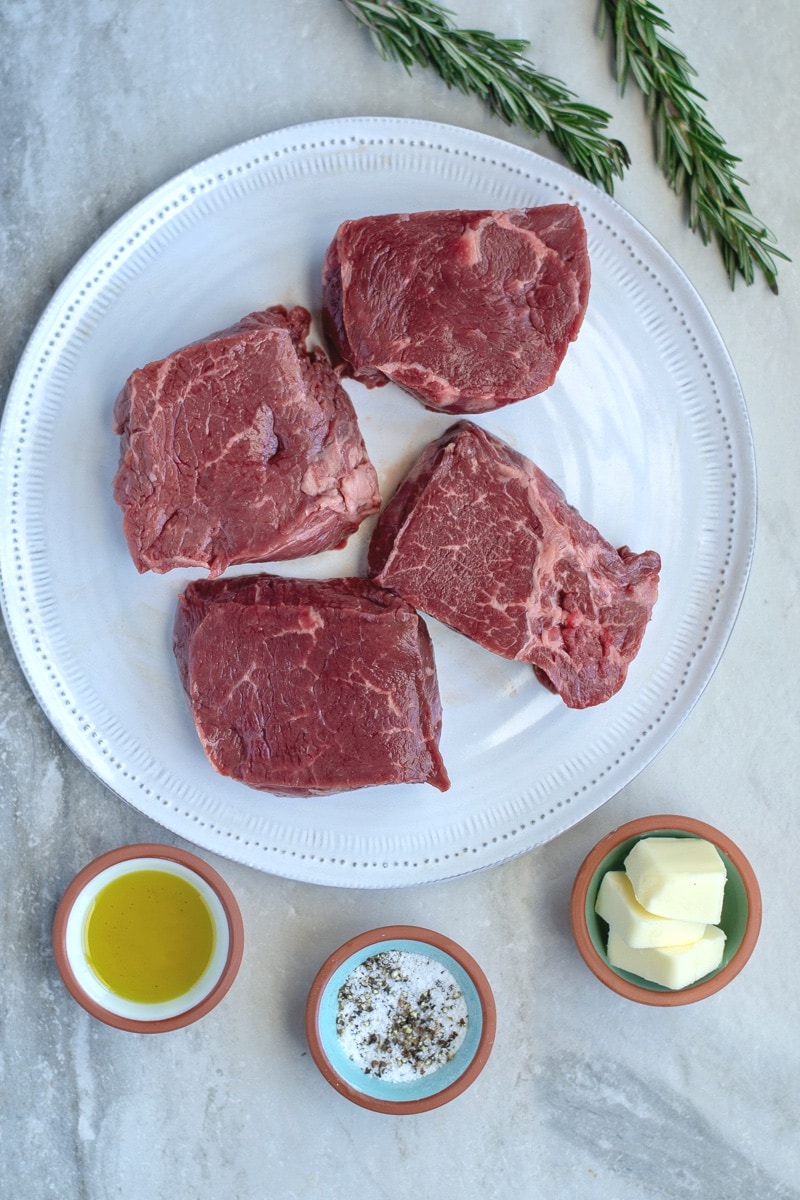 <
🛒 Where To Find Great Steaks
For steaks - I like to buy grass-fed and finished steaks. I know they're a bit more pricey, but the added health benefits of grass-fed red meat are worth the extra expense. I get all my grass-fed meat through Butcher Box so I can have them delivered right to my door.
If you're on a budget, though, I've found the choice grade steaks at Costco are fantastic and usually much cheaper per pound than buying them individually at a standard grocery store.
⏲ Cooking Temperature and Time
TEMPERATURE: To get that crispy, seared outside crust, you need a higher heat, at first: medium-high. But once I have that sear on the outside, I promptly switch it medium-low to continue cooking the inside without charring the outside.
COOK TIME: These cook so fast! Especially top sirloin because they typically come in smaller, thinner steaks.
Pro Tip: Cook the steaks for 2 minutes per side to get a good sear. Next, lower the temperature to low and continue turning every 2 minutes until your desired temperature is reached.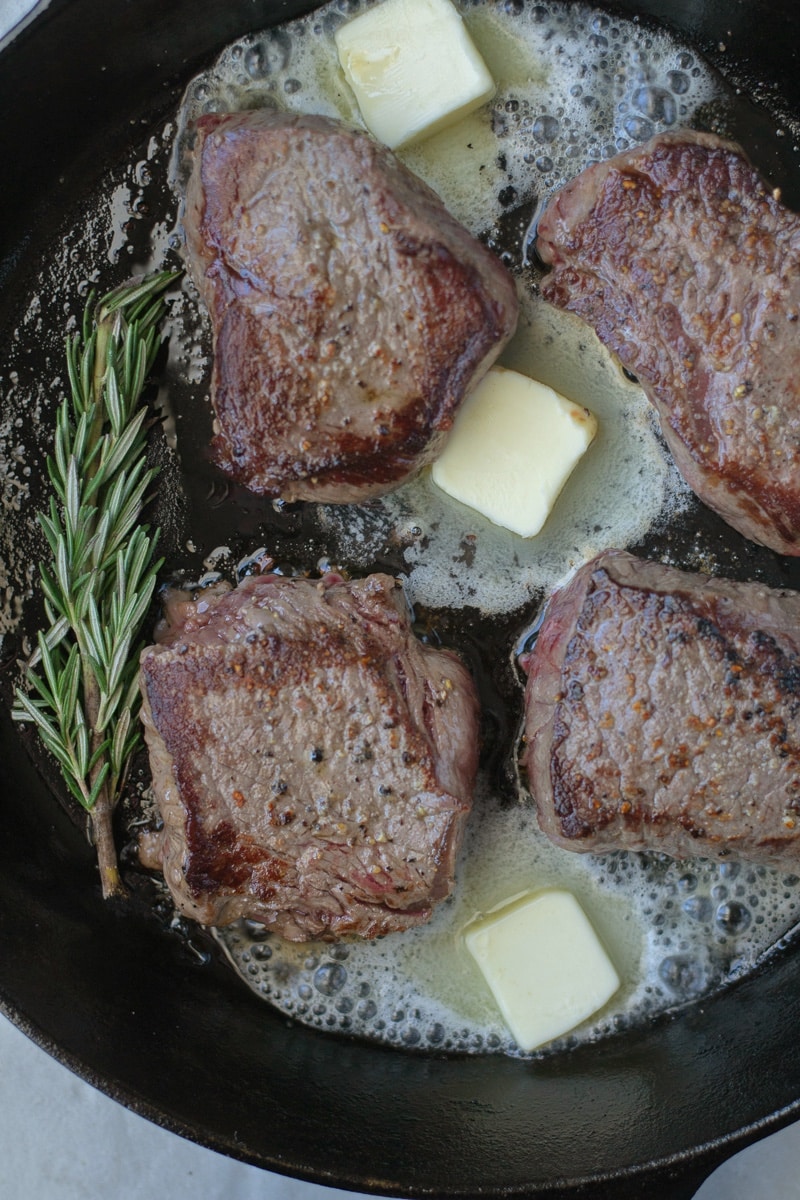 🌡 How do you know when your steak is done?
Keep your trusty instant-read thermometer on standby. Take a look at the chart below to know when you should pull your steaks off the heat - bear in mind this won't be your finished temp. Once you pull them off the heat, they will continue to cook a bit until they cool a bit. Pulling them at 5-10 degrees sooner will give you much better results.
| Desired Finish | Temperature |
| --- | --- |
| Rare | 120˚F |
| Medium Rare | 130˚F |
| Medium | 140˚F |
| Medium Well | 145˚F |
| Well Done | 155˚F |
---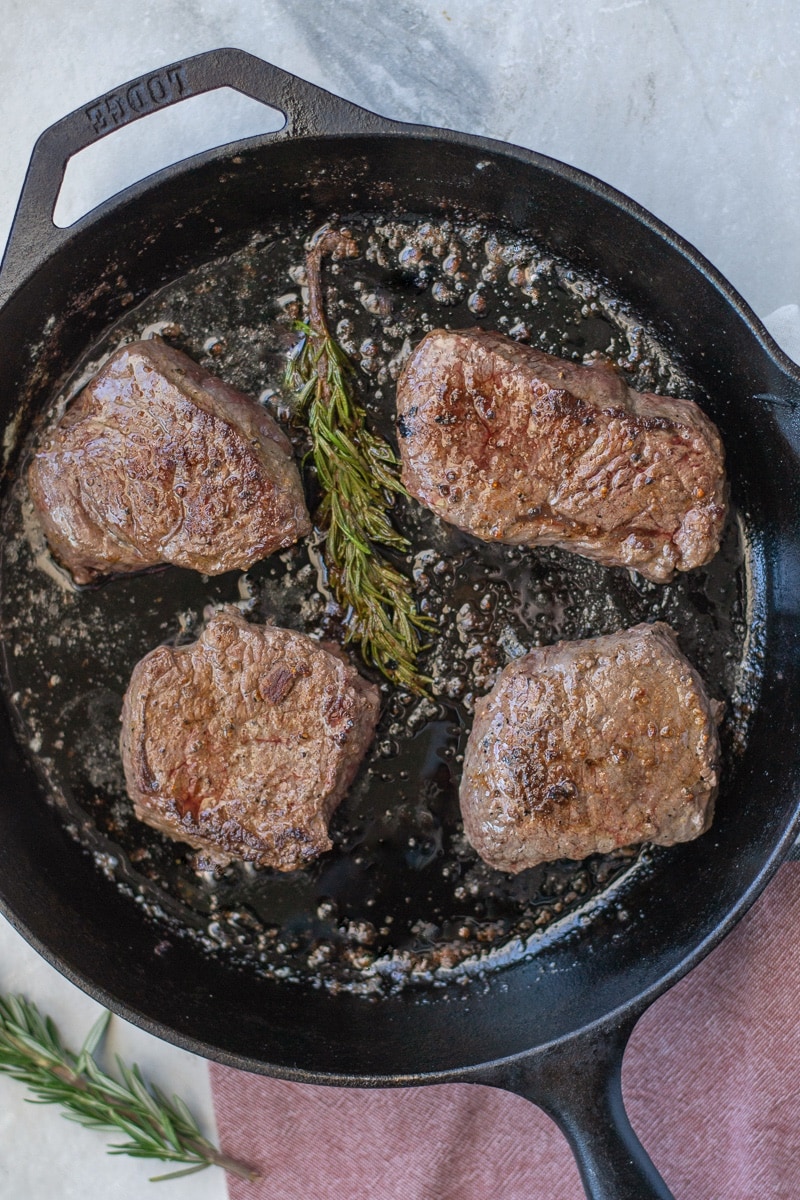 🥣 Storage, Reheating, and Freezing
As I've mentioned, cast iron steak is a great recipe for meal prep. With that in mind, I have a few suggestions for you for keeping it fresh and still delicious for as long as possible.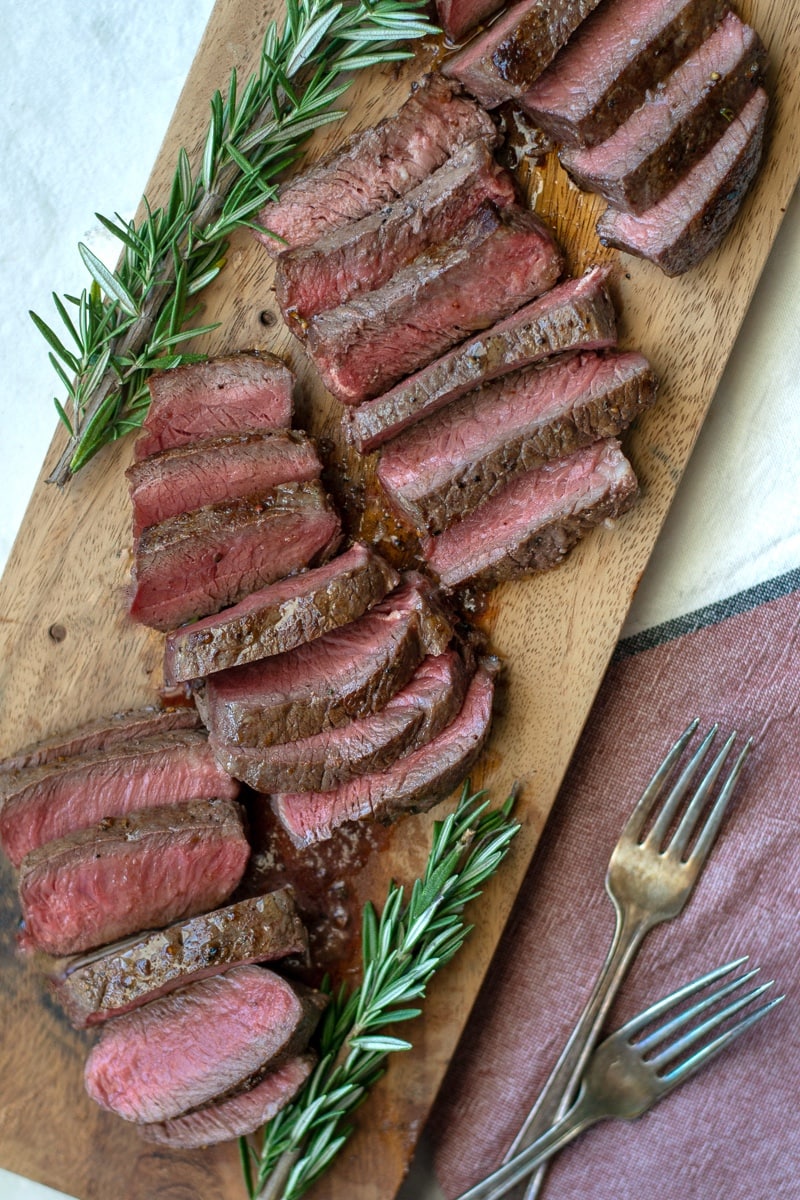 ---
Other Recipes to Try
---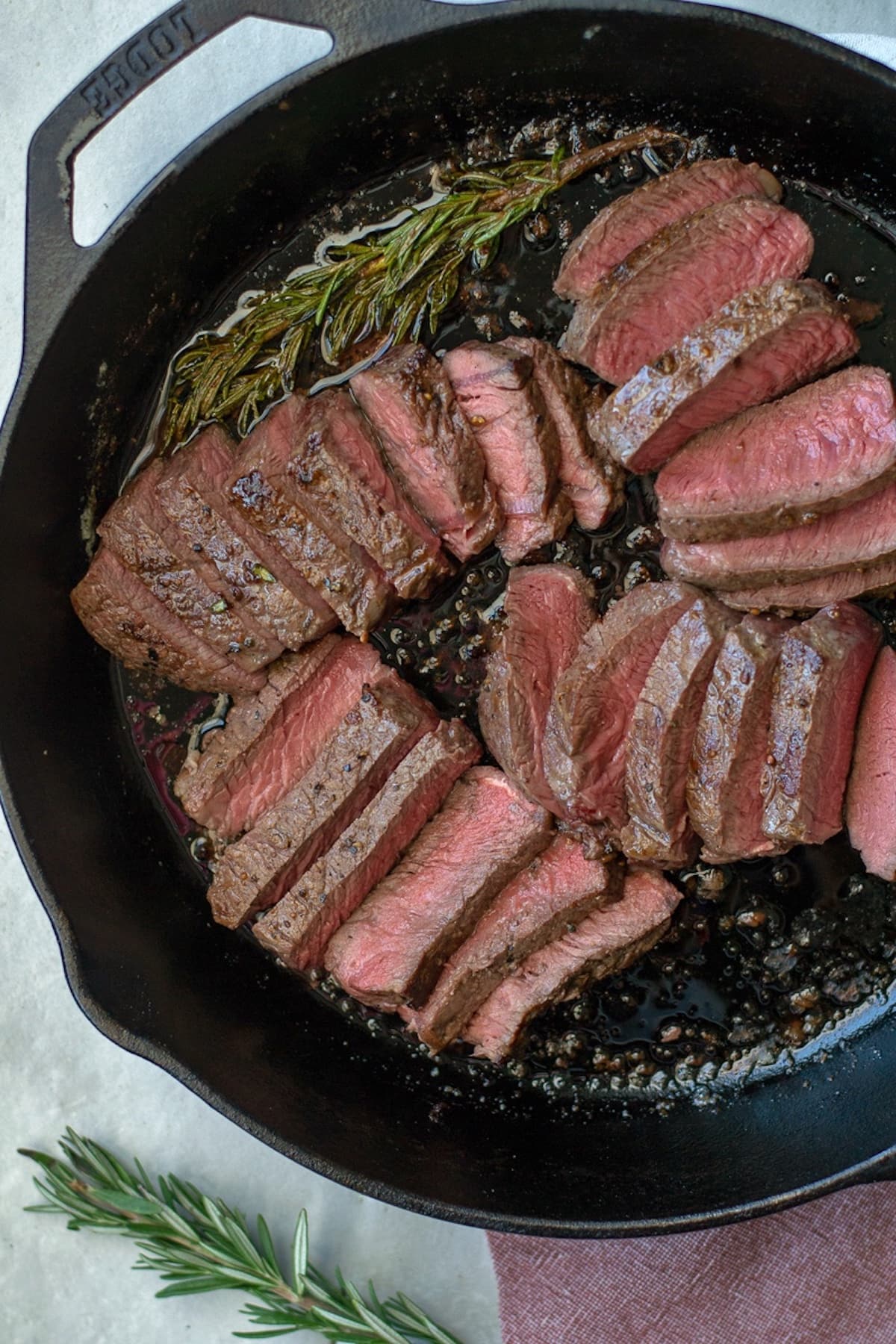 Easy Cast Iron Steak
Pan seared steak with an herb butter coating to make the juiciest and most flavorful steak you'll ever make! The perfect way to meal prep steak.
RECIPE COST :
$13.42 / $6.71 per serving
Ingredients
1-2

lb.

Top sirloin steaks

((any cut of steak will work))

Kosher Salt

Course Ground Pepper

2

tablespoons

olive oil

3

tablespoons

cup butter or ghee

2-3

sprigs of Fresh Rosemary and/or Thyme
Instructions
PREPARE: Remove the steaks from the refrigerator and allow to come up in temperature, about 20 minutes.

HEAT THE OIL in a 12-inch cast iron skillet over medium-high heat.

SEASON: While the oil heats, coat the steaks liberally with salt and pepper, about 1-2 teaspoons of salt and 1 teaspoon of course ground black pepper and pat the seasoning into the skin.

SEAR THE STEAKS: Once the oil is shimmering, place each steak into the pan. Cook for 2 minutes per side, or until the outside is browned and the seasoning have created a crust.

MELT THE BUTTER: Reduce the heat to medium-low. Turn the steaks a third time and add the butter or ghee to the pan along with the fresh herbs (place the herbs directly in the butter). Allow the butter to melt with the herbs to create an aromatic butter sauce.

COAT THE STEAKS: Once the butter or ghee has melted and the herbs are fragrant, turn the steaks a final time. Tilt the pan up (be sure to use an oven mitt) and use a spoon to scoop the butter sauce and pour it over the steaks. Repeat this on all the steaks 3-4 times.

LET THE STEAKS REST: If the steaks are not cooked to your desired temperature, continue to cook and turn every 2 minutes until it reaches 120˚F for rare, 130˚ for medium-rare, 140˚ for medium, 145˚ for medium-well, and 155˚ for well done.** Transfer the steaks to another plate and allow them to rest for about 5 minutes.  
Notes
**Calories for this recipe are calculated using top sirloin and are subject to change depending on you particular cut and quality of steak. 
Nutrition
Serving:
6
oz
Calories:
355
kcal
Carbohydrates:
3
g
Protein:
35
g
Fat:
23
g
Saturated Fat:
10
g
Monounsaturated Fat:
2
g
Cholesterol:
128
mg
Sodium:
672
mg
Potassium:
1
mg
Vitamin A:
24
IU
Vitamin C:
2
mg
Calcium:
1
mg
Iron:
15
mg
Nutrition Information Disclaimer
RECIPE EQUIPMENT
**This blog post contains affiliate links to products that I actually use and that align with my values. See my affiliate disclaimer here.