---
Honey Sesame Chicken and Broccoli is takeout made healthier and cheaper! Lightly breaded chicken and steamed broccoli coated in a sticky and sweet honey sesame sauce.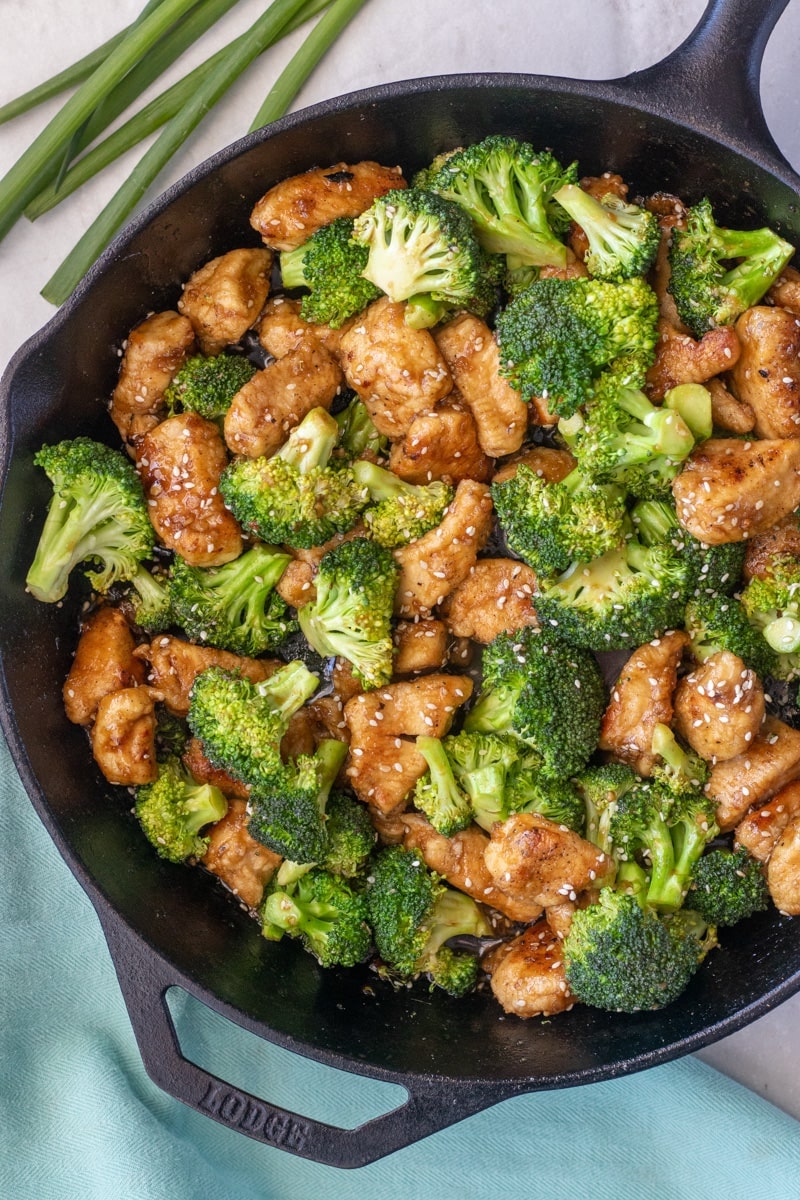 Healthier Sesame Chicken
Sesame chicken is one of those classic take out dishes we love - but man is it rough if you're trying to keep it healthy. This recipe is healthy and perfect for meal prep because it reheats awesome. The best part is it takes virtually no time to whip up - definitely less time than it will take for your uber eats driver to get there.
Can you make it without soy?
Soy and me aren't friends so I usually always have a soy substitute in my recipes called coconut aminos. Coconut aminos are more expensive than soy sauce - so if you're living the budget life and don't have inflammation from soy, yours will actually be cheaper!
If you have never worked with coconut aminos, it has about ⅓ of the sodium, so it's less salty and has a slightly sweeter flavor almost like tempura sauce. They can be found in the Asian foods section where you would find canned coconut milk.
[su_highlight background="#a4bcb2" color="#ffffff"]TIP #2: IF YOU DO USE SOY [/su_highlight] You may want to take it easy on the salt. I have only ever made this using coconut aminos, so I would suggest salting the chicken lightly and add extra salt or soy after the sauce is cooked.
Can you make it without cornstarch?
Corn can pretty inflammatory for some people too, so feel free to use arrowroot powder in place of cornstarch if you have a reaction to it.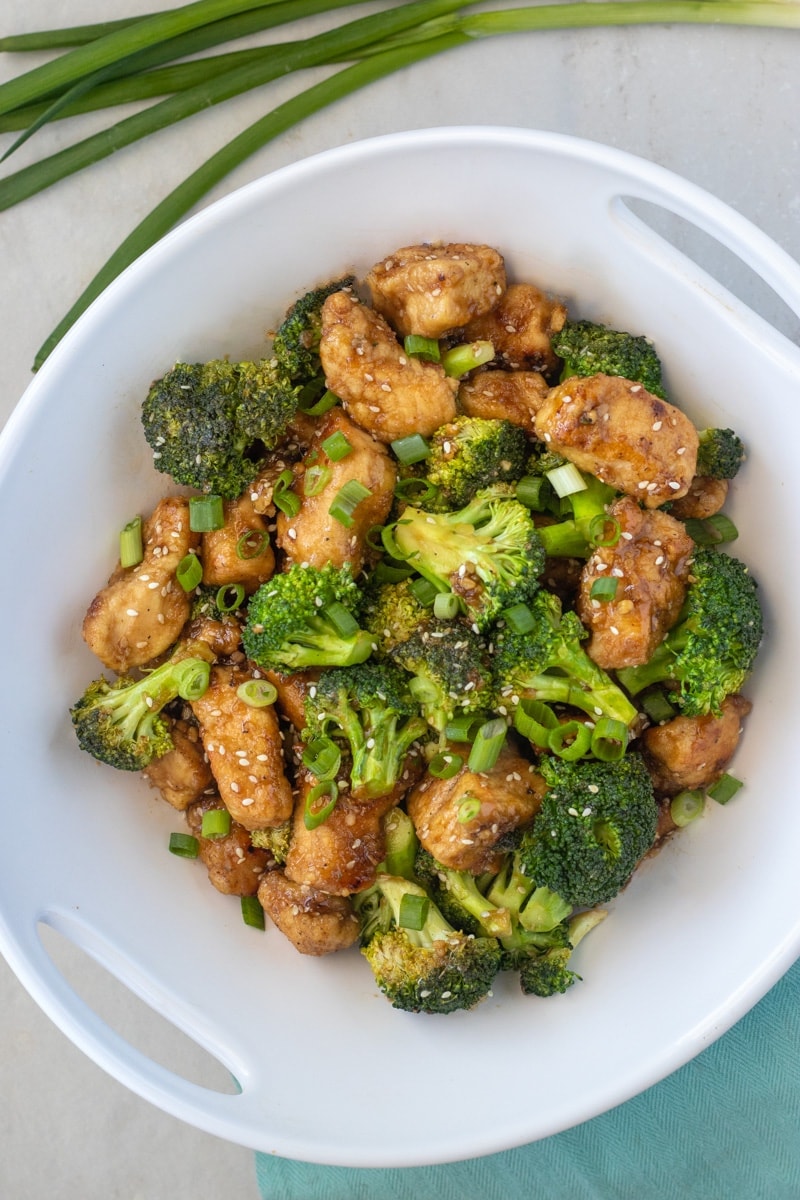 Tips for Cooking
Like I've said already - this recipe is a cinch to make. First you'll steam the broccoli, then whip the sauce together in 3 minutes, then coat and cook the chicken.
What's the best way to steam broccoli?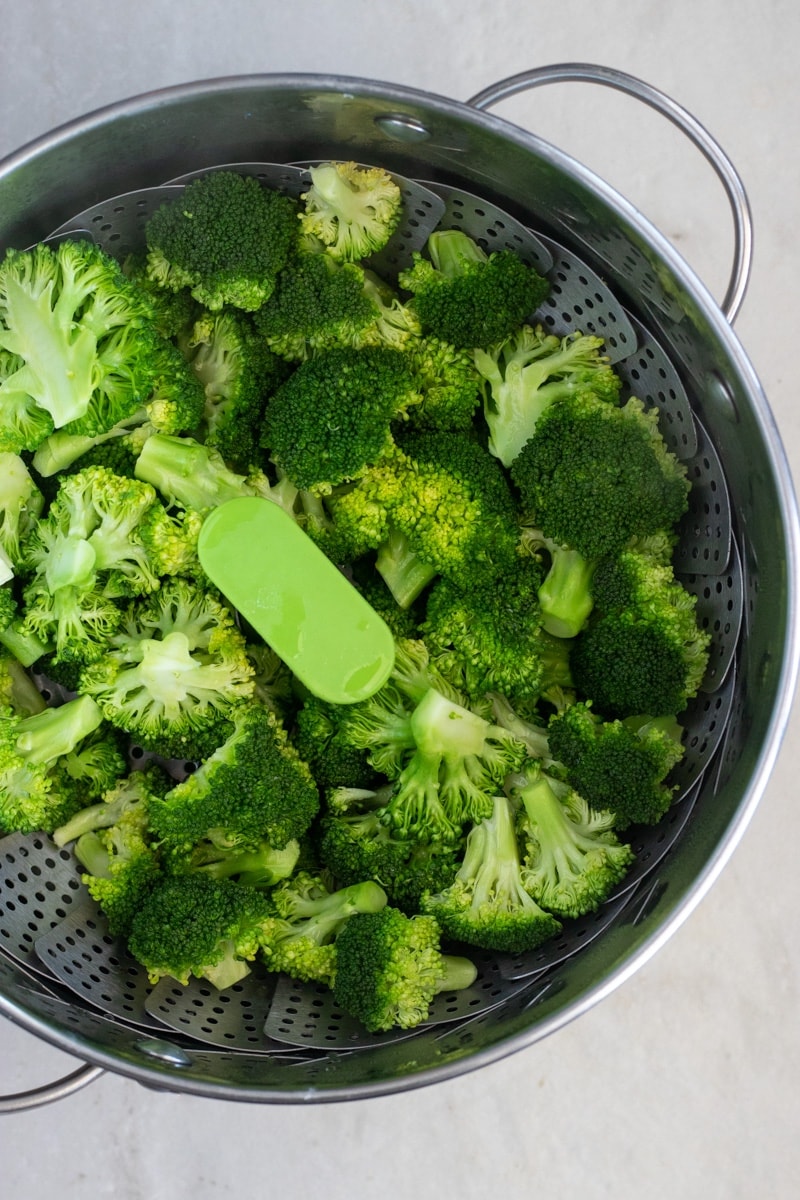 If you've steamed broccoli before - this step is pretty strait forward. Fill a large pot with 2-3 inches of water. If you have it, place a steamer basket on top, but it's not necessary.
Put all the broccoli and 1-2 teaspoons of salt in the pot, cover and bring to a light boil. Reduce the heat to a light simmer and continue to cook for about 10 minutes or until the broccoli is a nice bright green, but tender.
[su_highlight background="#a4bcb2" color="#ffffff"]CAN YOU USE FROZEN BROCCOLI? - [/su_highlight] Absolutely! Go get a bag of the florets, not the pieces. You will need the big bag or two small bags to really fill this recipe out.
Make the sauce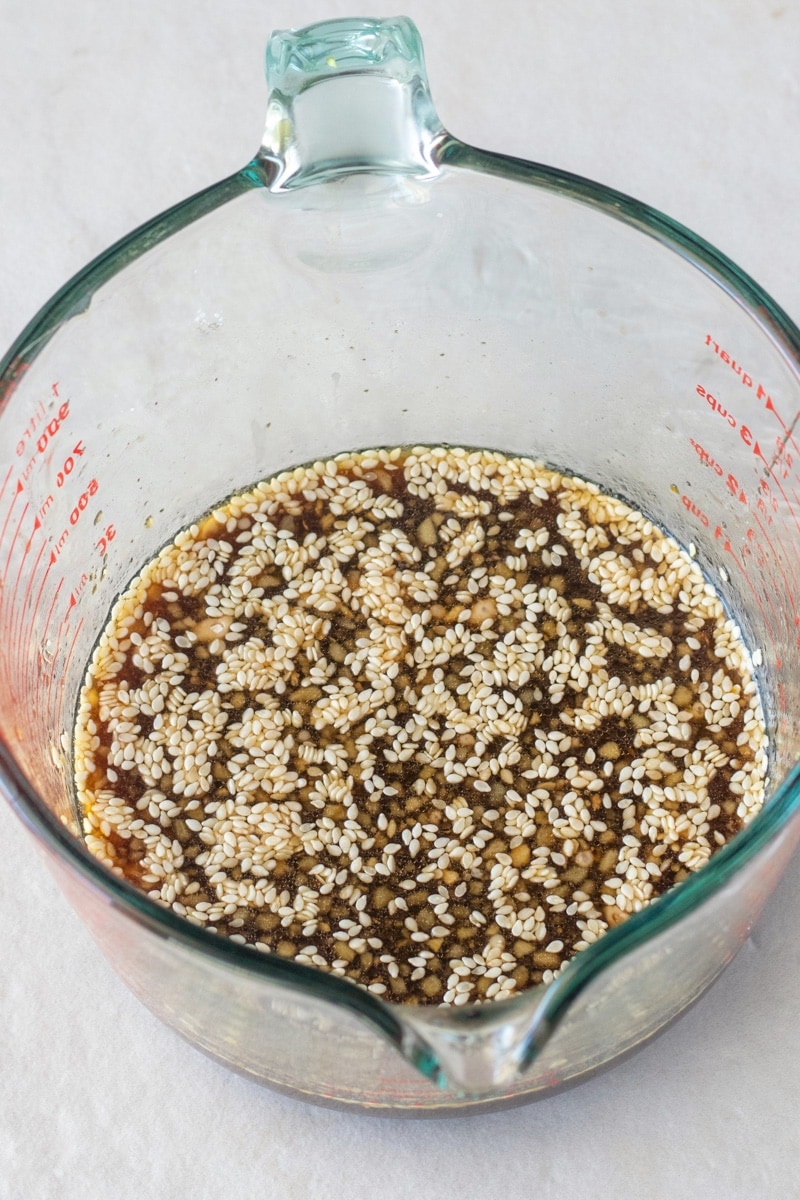 <
You won't believe how easy it is to make this sauce. Grab a medium-sized bowl or I used a 4 cup measuring cup to whisk together all of the following ingredients:
5 tablespoons coconut aminos or soy sauce if you're not soy-free
2 Tablespoons water
2 Tablespoons sesame oil
3 Tablespoon honey
1 Tablespoons rice vinegar
1 teaspoon fresh ginger finely grated
2 cloves of garlic minced
1 Tablespoons sesame seeds
2 teaspoons cornstarch or arrowroot flour
Make the chicken
The chicken is just lightly coated in a cornstarch and flour mixture and browned in a large skillet.
In a gallon-sized ziplock back, spoon in 2 tablespoons each of cornstarch and all-purpose flour. Toss in ½ a teaspoon of salt and ½ a teaspoon of ground pepper then seal the bag and shake it up to mix the dry ingredients together.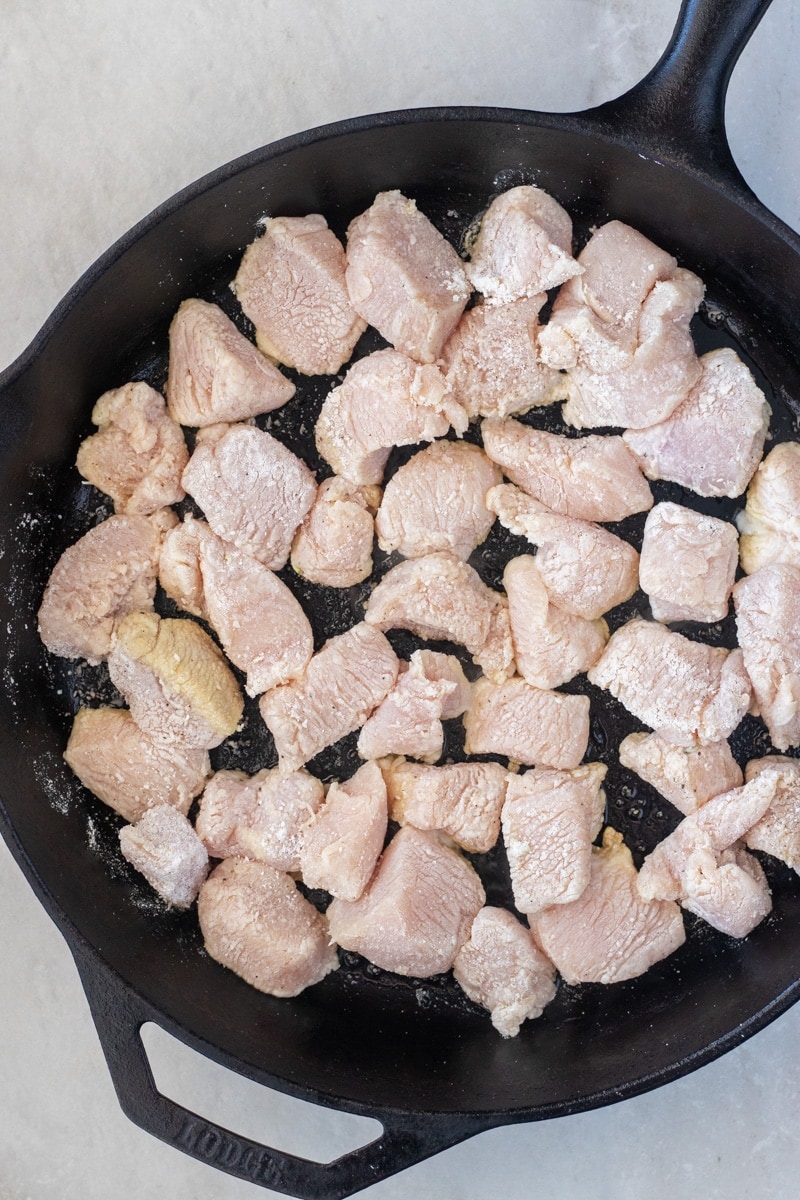 Pat the chicken pieces a bit if they're overly wet. Then toss them in the bag with the flour mixture. Leave a bit of air in the bag and toss the chicken to coat the pieces evenly.
Heat a tablespoon of olive oil in a large skillet. Once the oil is very hot, place the chicken in the pan using tongs in one layer. Turn over each piece every 2-3 minutes until all the sides are browned and there is no longer pink in the center of the chicken.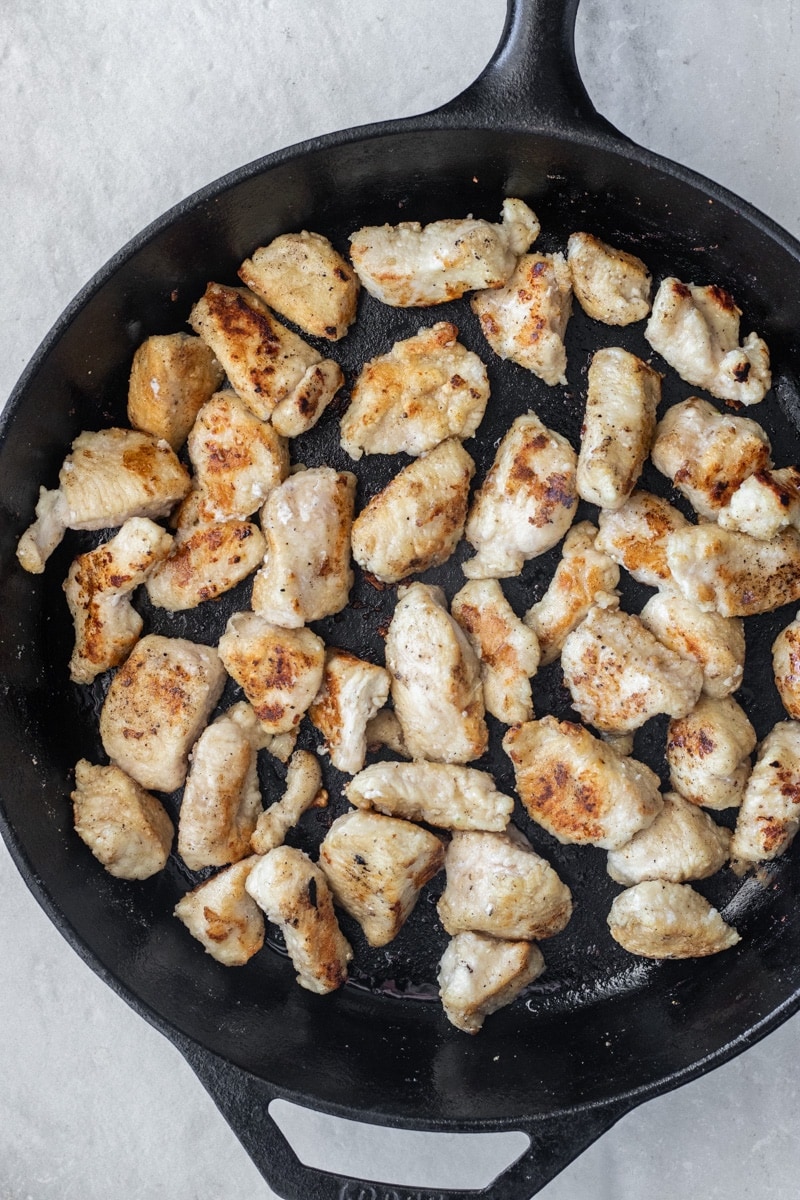 Once the chicken is done, pour the sauce mixture over the chicken and allow it thicken about 3 minutes, stirring occasionally. Toss the steamed broccoli into the pan and toss the broccoli in the sauce to coat it.
I used a 12-inch cast iron skillet which was able to accommodate all the ingredients if you don't have a skillet that large, toss everything together in a large bowl. Sprinkle some chopped green onions and sesame seeds and you're ready to eat.
Serve and Store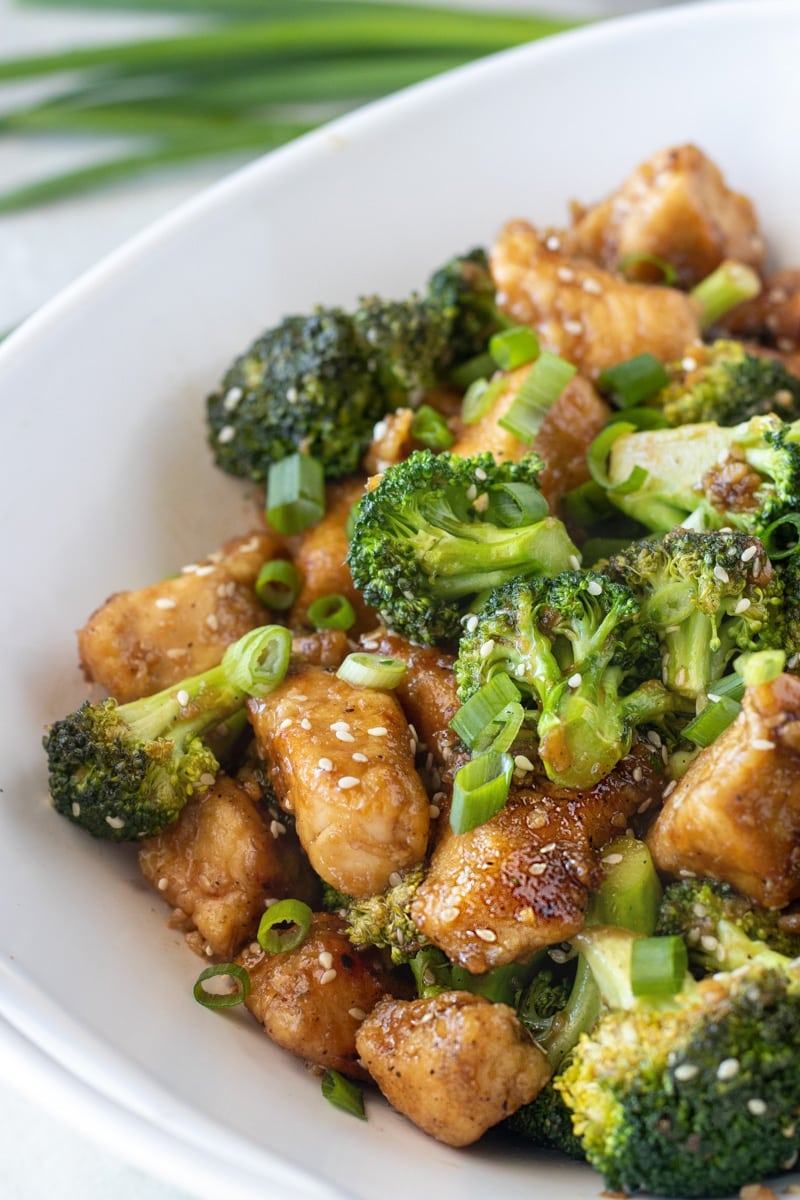 What goes with honey sesame chicken?
I love this dish all by itself, but if you're craving carbs, serve it over steamed rice or some lo mein noodles.
Storage
This recipe keeps well in the refrigerator for up to 5 days in an airtight container.
---
OTHER DINNER RECIPES YOU MIGHT LIKE
---
Now to the good part, the recipe! Please pin for later and when you make it, let me know what you think. You can comment below OR find me on Facebook, Twitter, Instagram and Pinterest.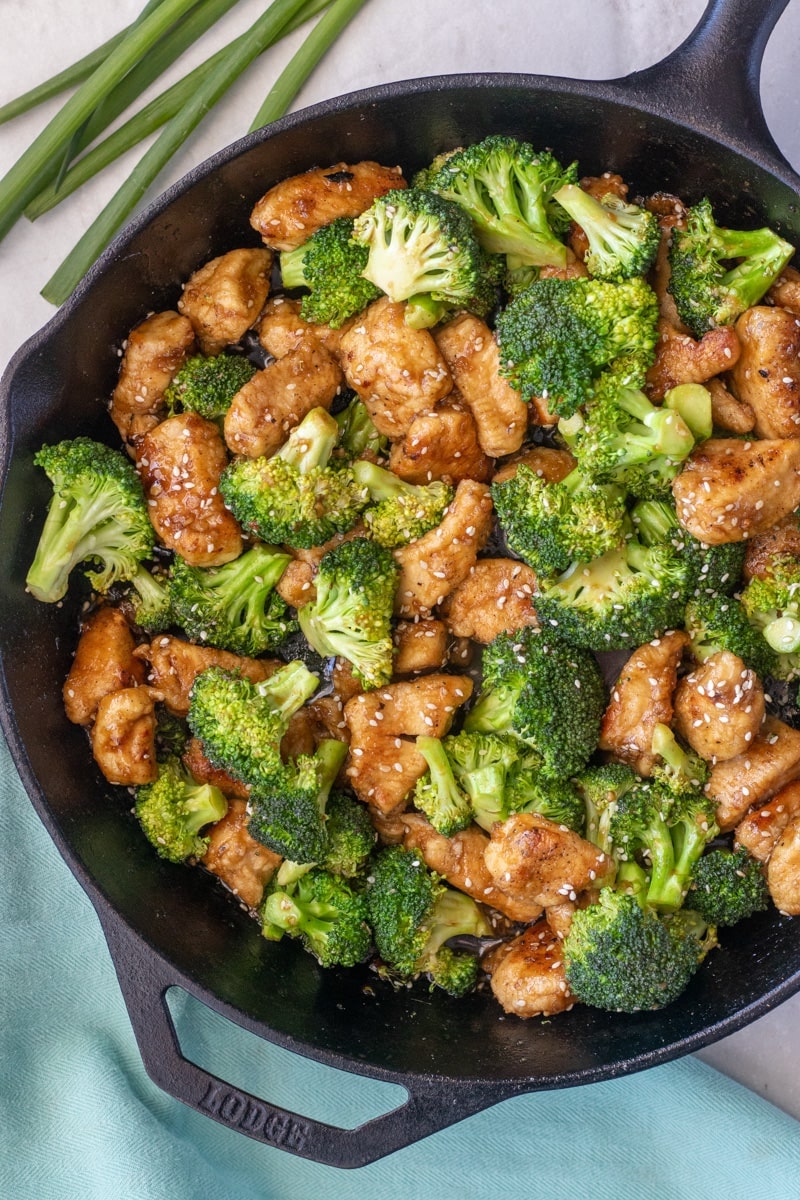 Honey Sesame Chicken and Broccoli
Chicken breast is lightly breaded and browned, then tossed with steamed broccoli and coat in a sweet honey sesame sauce.
RECIPE COST :
$8.15/ $2.03 per serving
Ingredients
The Sauce
¼

cup

low sodium soy sauce*

2

Tablespoons

water

1 ½

Tablespoons

sesame oil

3

Tablespoons

honey

1

Tablespoon

rice vinegar

1

teaspoon

fresh ginger

(finely grated)

2

cloves

garlic

(minced)

1

tablespoon

sesame seeds

2

teaspoons

cornstarch*
Chicken and Broccoli
2

Tablespoons

cornstarch or arrowroot flour

2

Tablespoons

all-purpose flour

salt and pepper

1- 1 ½

pounds

boneless skinless chicken breast

(cut into 1-2-inch pieces)

2

Tablespoons

olive oil

6

cups

broccoli florets

(about 2 crowns)

2

whole green onions

(diced)
Instructions
STEAM THE BROCCOLI: Fill a large pot with 2-3 inches of water and then add the broccoli along with 1 teaspoon of salt (use a steamer basket if you have one, but it's not necessary). Cover and bring to a simmer. Reduce the heat as low as you can and cook for 6 minutes or until the broccoli is tender-crisp. Drain the broccoli in a colander and rinse with cold water.

PREPARE THE SAUCE: In a small bowl stir together the coconut aminos, water, oil, honey, rice vinegar, ginger, minced garlic, cornstarch, and sesame seeds. Set the sauce aside.

PREPARE THE CHICKEN: Place the chicken pieces in a large plastic zipper bag. In a small bowl, whisk together the cornstarch, flour, ½ teaspoons of salt and ¼ teaspoon of pepper. Sprinkle the cornstarch mixture onto the chicken. Seal the bag and then toss to evenly coat all of the pieces.

COOK THE CHICKEN: Heat the oil in a large skillet and over medium heat. Once the oil is hot (should be shimmering and thin, but not smoking), place the chicken pieces in a single layer across the bottom of the skillet. Allow the chicken to cook without touching them for 2-3 minutes or until golden. Flip the chicken to cook all the remaining sides of each piece until they are all golden all around and the chicken is fully cooked (no pink in the center).

COOK THE SAUCE: Once the chicken is cooked through and golden brown on all sides, pour the prepared sauce over top with the oven on medium-low heat. Toss the chicken to coat in the sauce and bring the sauce to a simmer. Stir the chicken in the sauce until it has thickened, then remove the pan from the heat.

TOSS CHICKEN AND BROCCOLI TOGETHER: If you have room in your skillet, add the broccoli to the chicken mixture in the skillet and gently fold to evenly incorporate. If you don't have enough room, do this in a separate bowl or pot. Sprinkle with chopped green onions and serve warm.
Notes
FOR WHOLE30 - Replace the soy sauce with coconut aminos and the cornstarch with arrowroot starch.
Nutrition
Serving:
2
cups
Calories:
443
kcal
Carbohydrates:
30
g
Protein:
40
g
Fat:
17
g
Saturated Fat:
3
g
Polyunsaturated Fat:
4
g
Monounsaturated Fat:
9
g
Cholesterol:
110
mg
Sodium:
1145
mg
Potassium:
85
mg
Fiber:
3
g
Sugar:
18
g
Vitamin C:
10
mg
Calcium:
14
mg
Iron:
15
mg
Nutrition Information Disclaimer
RECIPE EQUIPMENT
**This blog post contains affiliate links to products that I actually use and that align with my values. See my affiliate disclaimer here.
PIN IT NOW, MAKE IT LATER