---
Baked chicken breasts that are juicy and tender are a healthy staple recipe in any house. Flavored with an orange herb marinade that leaves it anything but bland. This chicken breast recipe is perfect for quick dinners, meal prep lunches, in salads, and a ton of other ways.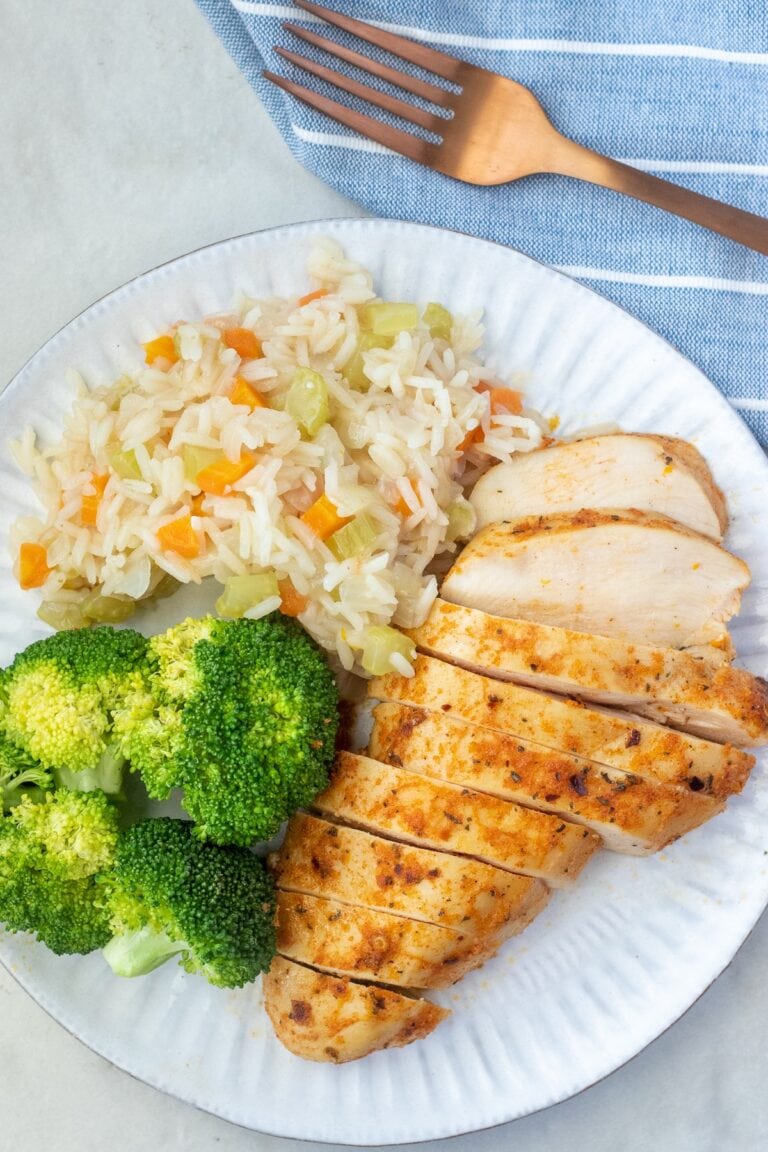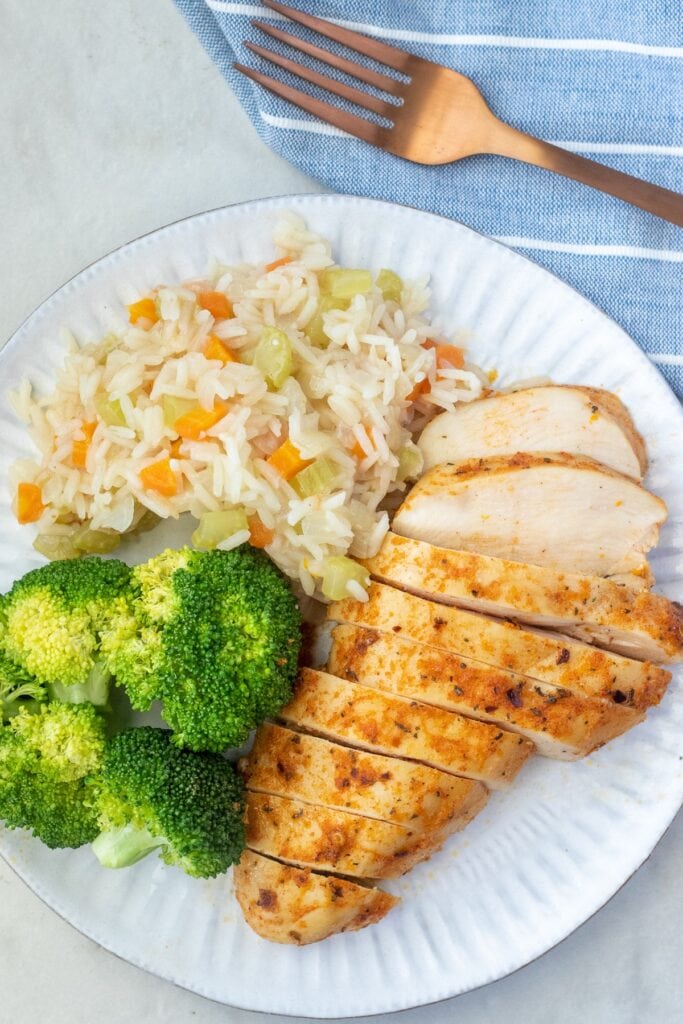 How to Cook Flavorful, Juicy Chicken Breasts
Like most lean cuts of meat, chicken breasts are easy to dry out and don't have a ton of flavor to start with. This healthy baked chicken breast recipe will make sure you have loads of smokey, citrus flavor and is super tender and juicy.
Ingredients and Substitutions
Orange. Fresh orange juice and zest adds a bright and slightly sweet flavor to the marinade. If you have lemons on hand they will work just as well.
Red pepper flakes. If you like a little bit more heat, substitute the flakes for ½ a teaspoon of cayenne. The red pepper flakes give more of a subtle hint of spice, the cayenne will be hotter.
Chicken breasts. About 1 pound of chicken breasts will be all you need, mine were about 6 ounces each. If you have chicken thighs, though those will work well with this marinade also.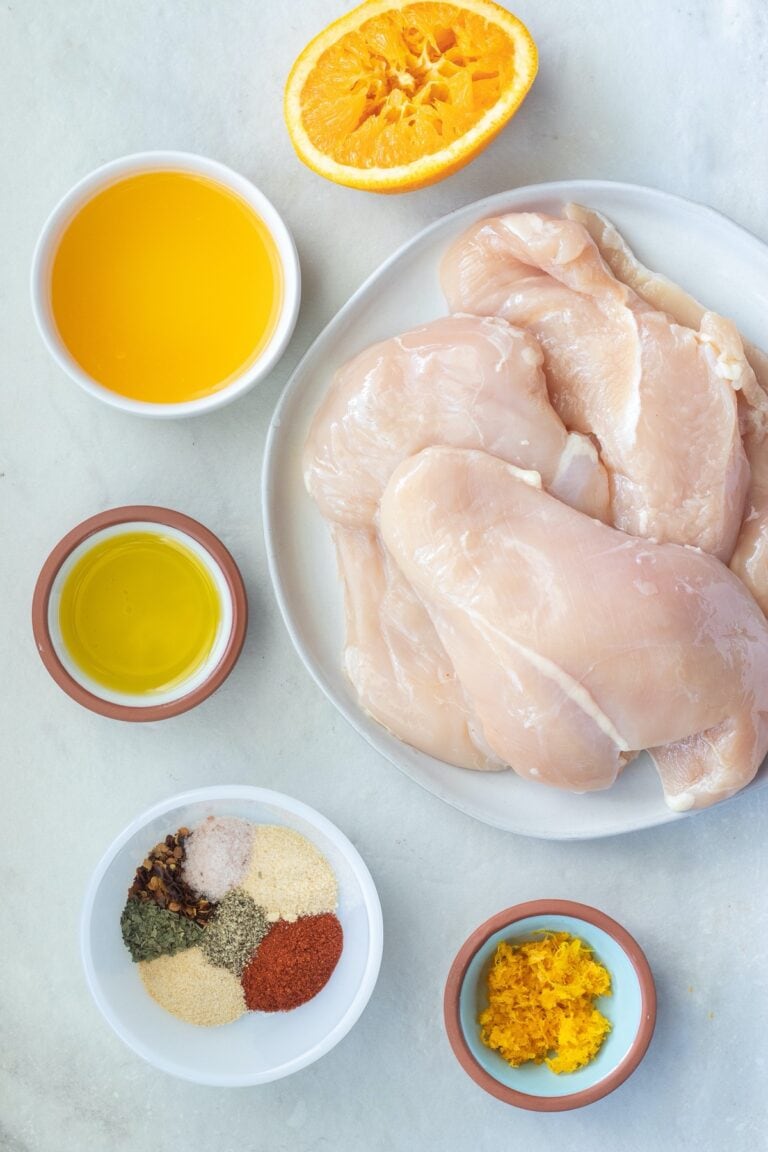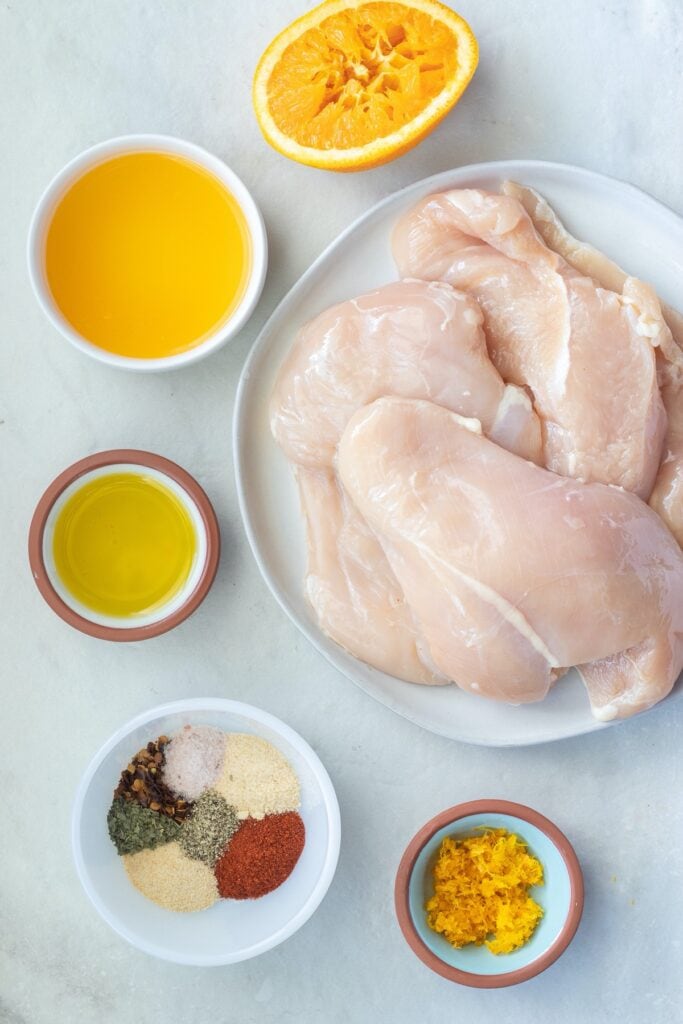 The Best Marinade Time
This healthy chicken breast marinade is loaded with orange juice. The high acid content will start to make the chicken tough after about 2 hours.
The perfect marinade time is 30 minutes to an hour. This is just long enough to have your chicken loaded with lots of flavor, but not long enough to effect the texture of your meat.
Make sure the chicken breasts are close to the same size
To cook more evenly, having chicken pieces that are similar is size is key. There are a few ways to do that:
While you're shopping, make sure that you're buying a pack that has similar-sized pieces.
Buy in bulk and pick out the ones that are closest in size and freeze what's left.
Trim down the breasts to the same size and use the remaining pieces to chop up for another recipe like chicken fried rice.
Sometimes none of these are an option and that's fine. That just means you might have to babysit the smaller pieces and pull them a bit early.
Getting The Right Cooking Time
The trickiest part of cooking chicken breasts that aren't dry is the cooking time. Unfortunately, this can vary quite a bit depending on the size of your chicken and your oven.
My 6 ounce pieces were perfect when pulled after 20 minutes in a 375˚ oven. They should read 150-155˚F when they are pulled from the oven. Then you will tent them loosely with foil to rest and come up to 165˚F over about 10 minutes.
I would recommend you start checking you start checking your chicken temperature using an instant read thermometer inserted in the center of the largest part of the breast at the 17 minute mark. Pull them once they hit that 150-155˚ sweet spot.
Storage and Meal Prep
This recipe is perfect for healthy meal prep lunches. It stores well in an airtight container in the fridge for up to 5 days.
Leftovers are perfect for salads or chopped up in your morning eggs. If you're left with WAY too many leftovers, cooked chicken breast freezes really well. Simply store them in a freezer-safe container or plastic bag for up to 3 months.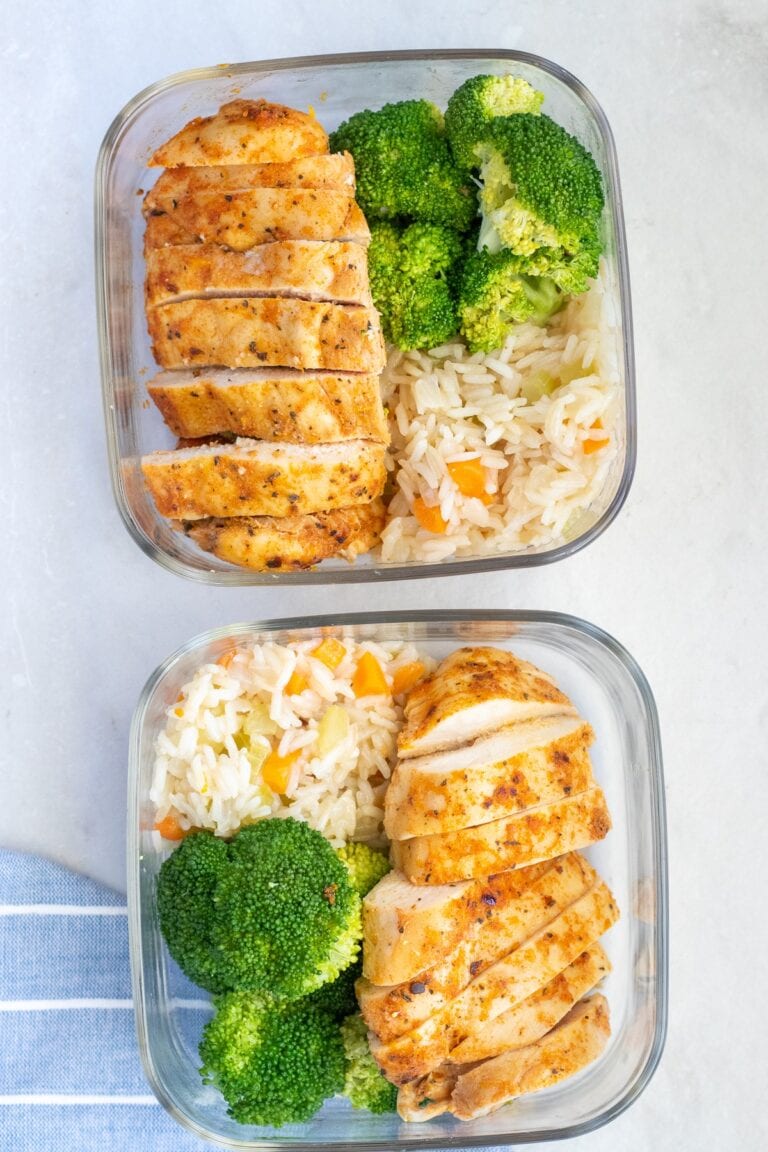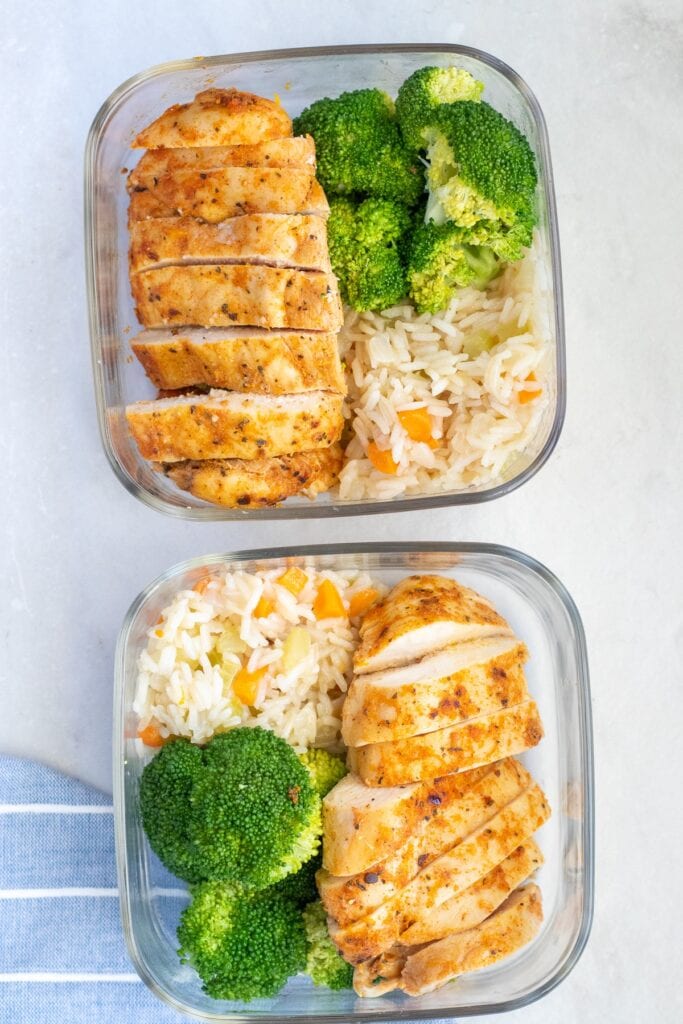 <
---
Other Recipes Perfect for Meal Prep
---
Now to the good part, the recipe! Please pin for later and when you make it, let me know what you think. You can comment below OR find me on Facebook, Twitter, Instagram and Pinterest.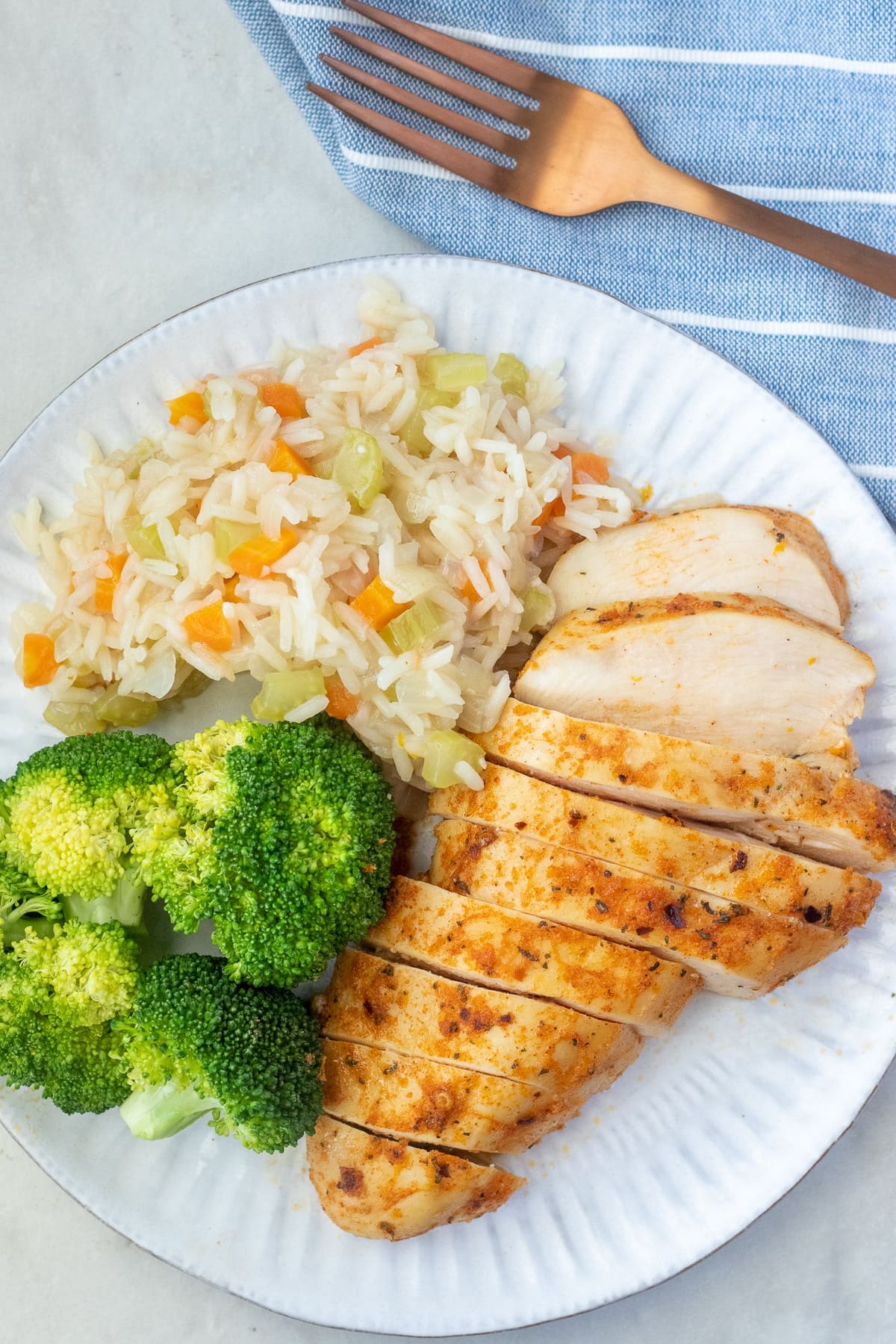 Healthy Baked Chicken Breasts
Baked chicken breasts that are juicy and tender are a healthy staple recipe in any house. Flavored with an orange herb marinade that leaves it anything but bland. This chicken breast recipe is perfect for quick dinners, meal prep lunches, in salads, and a ton of other applications.
Ingredients
2

Tablespoons

olive oil

1

teaspoon

garlic powder

1

teaspoon

onion powder

1

teaspoon

paprika

1

teaspoon

red pepper flakes

1

teaspoon

orange zest

½

teaspoon

dried basil

½

teaspoon

dried thyme

¼

cup

orange juice

1

pound

chicken breast

1

teaspoon

salt

½

teaspoon

pepper
Instructions
MAKE THE MARINADE: In a small bowl whisk together the olive oil, galric powder, onion powder, paprika, red pepper flakes, orange zest, dried basil, dired thyme, and orange juice.

MARINADE THE CHICKEN: Trim any excess fat or bone pieces off the chicken breasts and place in a gallon-sized plastic bag. Pour the marinade over the chicken breasts, then remove the all of the air from the bag. Gently toss the bag to make sure all of the chicken breasts are evenly coated in the marinade. Refrigerate for at least 30 minutes, but no more than 2 hours.

COOK THE CHICKEN: Preheat the oven to 375˚ F. While the oven preheats, pull the chicken out of the bag (shake off any excess marinade into the bag) and place in a 9x13 baking dish. Throw away the remaining marinade. Once the oven is preheated, bake the chicken for 20 minutes or until the center reaches 150-155˚F in the center of the thickest part of the chicken brest.

LET THE CHICKEN REST: Loosely tent the pan with foil and allow the chicken to rest for 10 minutes. Serve warm or allow to come to room temp before refrigerating in an airtight container.
Nutrition
Serving:
4
ounces
Calories:
150
kcal
Carbohydrates:
2
g
Protein:
35
g
Fat:
3
g
Saturated Fat:
1
g
Polyunsaturated Fat:
1
g
Monounsaturated Fat:
2
g
Cholesterol:
66
mg
Sodium:
656
mg
Potassium:
322
mg
Sugar:
1
g
Vitamin A:
1
IU
Vitamin C:
6
mg
Calcium:
5
mg
Iron:
6
mg
Nutrition Information Disclaimer
**This blog post contains affiliate links to products that I actually use and that align with my values. See my affiliate disclaimer here.
PIN IT NOW, MAKE IT LATER