Here's a spring time spin on a go-to dinner around my house: stir-fry. Asparagus and peas are new in season and also the cheapest during the spring, but they are also available year round in most stores. However, my favorite thing about stir-fry is that you can use practically any vegetables or protein with the same base recipe and it's always delicious. What makes it even more versatile is how you serve it. You can serve over quinoa or rice, cauliflower rice, zucchini noodles, or sautéed cabbage the flavors and textures vary a ton, making this one recipe really about 100 recipes. 
Prep Your Protein and Veggies
With a sharp chef's knife, slice your beef against the grain in ⅛" slices, trimming off any fatty portions. Put back in the fridge until your marinade is mixed.
For the veggies, trim off the ends of your asparagus (about 2-3") and then cut diagonally into 1-2" sections. All you have to do with your sugar snap peas is wash them, if you didn't buy them pre-washed. The bell peppers need to be cut into matchsticks. Simply cut around the top and pull the step and you should remove most of the seeds with it. Then trim off the bottom of the pepper, cut in half, crosswise and open the trim any additional seeds and white flesh. Then simply cut crosswise into ¼ pieces. Toss all your chopped veggies in a large bowl and set it aside until it's time to stir-fry.
[info_box type="note_box"]TIP: All of this can be done the night before to save yourself even more time for weeknight dinners. You can also find veggies pre-chopped if you don't mind shelling out the extra cash to save time. [/info_box]
Marinate Your Protein
Beef and chicken thighs are my favorite to use in stir-fry. Because these pieces are cut pretty small, it's easy to get dry meat, so choosing a fattier option tends to a little more forgiving if you're, say, looking after a 3 year old while cooking. However, feel free to use chicken breast, pork tenderloin, or shrimp as well.
In a medium bowl, combine coconut aminos, minced fresh ginger, garlic and ¼ teaspoon salt. Then toss your meat strait from the fridge into the marinade and coat evenly. Let the meat come to room temp while you cook the veggies.
Beef Stir-fry
In a large skillet or wok, heat 1 tablespoon of the sesame oil over medium heat until shimmering. Add in your veggies and sprinkle with ½ teaspoon of salt. Sauté the veggies until tender crisp and slightly browned, around 3 minutes. Remove them from the skillet and put them back in that large bowl.
Add that last tablespoon of sesame oil to the pan and let it heat up a bit, around 60 seconds or so. Then, carefully, add your meat and marinade to the skillet and cook until browned on the outside, but still pink inside, around 3 minutes. Then add your veggies back to the skillet and turn down the heat to low while you get the sauce mixed.
<
Make the Sauce
Quickly wash out the bowl you used to marinate the meat and whisk together the broth, arrowroot powder and red pepper flakes. Once the mixture is smooth, pour over the stir-fry and turn up the heat a bit to medium low. Simmer and stir until the sauce has thickened, around 2 minutes.
Serve and Get Cooking
Serve warm, topped with sesame seeds and green onions. You can serve it over any of the options I mentioned above: quinoa, rice, cauliflower rice, vegetable noodles, rice noodles, sautéed cabbage, etc. They're all good! Let me know which of the many variations you went with and how you enjoyed it!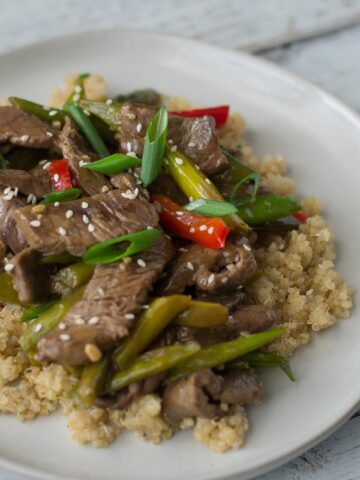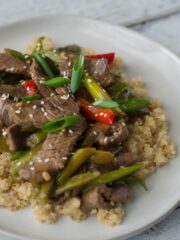 Beef and Asparagus Stir-Fry
Stir-fry is a highly versatile recipe using any protein and veggies you want. This version is great for spring using snap peas and asparagus. This is Paleo, Whole 30 and ketogenic approved as well as low calorie, healthy and nutrient dense. Enjoy!
Ingredients
2

Tablespoons

Coconut Aminos

2

teaspoons

minced fresh ginger

4

cloves

garlic

(minced)

¾

teaspoon

salt

(divided)

1

pound

boneless top sirloin steak

(trimmed and cut against the grain, into ⅛" slices)

2

tablespoons

sesame oil

2

cups

asparagus

(ends trimmed and cut diagonally into 2" pieces)

2

cups

sugar snap peas

1

red bell pepper

(cut into matchsticks)

1

cup

beef bone broth

2

teaspoons

arrowroot

1

teaspoon

red pepper flakes

1

Tablespoon

sesame seeds

¼

cup

green onion
Instructions
IN A MEDIUM BOWL, combine the coconut aminos, ginger, garlic, and salt. Add the beef and mix well. Let the beef stand at room temperature while cooking the vegetables.

IN A LARGE SKILLET, heat 1 tablespoon of the sesame oil over medium-high heat. Add the asparagus, peppers and snap peas. Cook, stirring, until the vegetables are crisp-tender, about 3 minutes. Transfer the vegetables to a bowl and set aside.

ADD 1 tablespoon sesame oil to the skillet. Add the beef and cook, stirring, until slightly pink in the center, 2-3 minutes. Return the vegetables to the skillet.

IN A SMALL BOWL, whisk together the broth, arrowroot, and pepper flakes until smooth. Push the meat and vegetables to the edges of the skillet. Pour the broth mixture into the center. Cook over medium-high heat, stirring, until thickened, 1-2 minutes. Stir the meat and vegetables into the sauce. Transfer the stir-fry to a large serving bowl and cover to keep warm.
Nutrition
Calories:
335
kcal
Carbohydrates:
12
g
Protein:
38
g
Fat:
14
g
Saturated Fat:
4
g
Polyunsaturated Fat:
10
g
Cholesterol:
101
mg
Sodium:
458
mg
Fiber:
3
g
Sugar:
6
g
Nutrition Information Disclaimer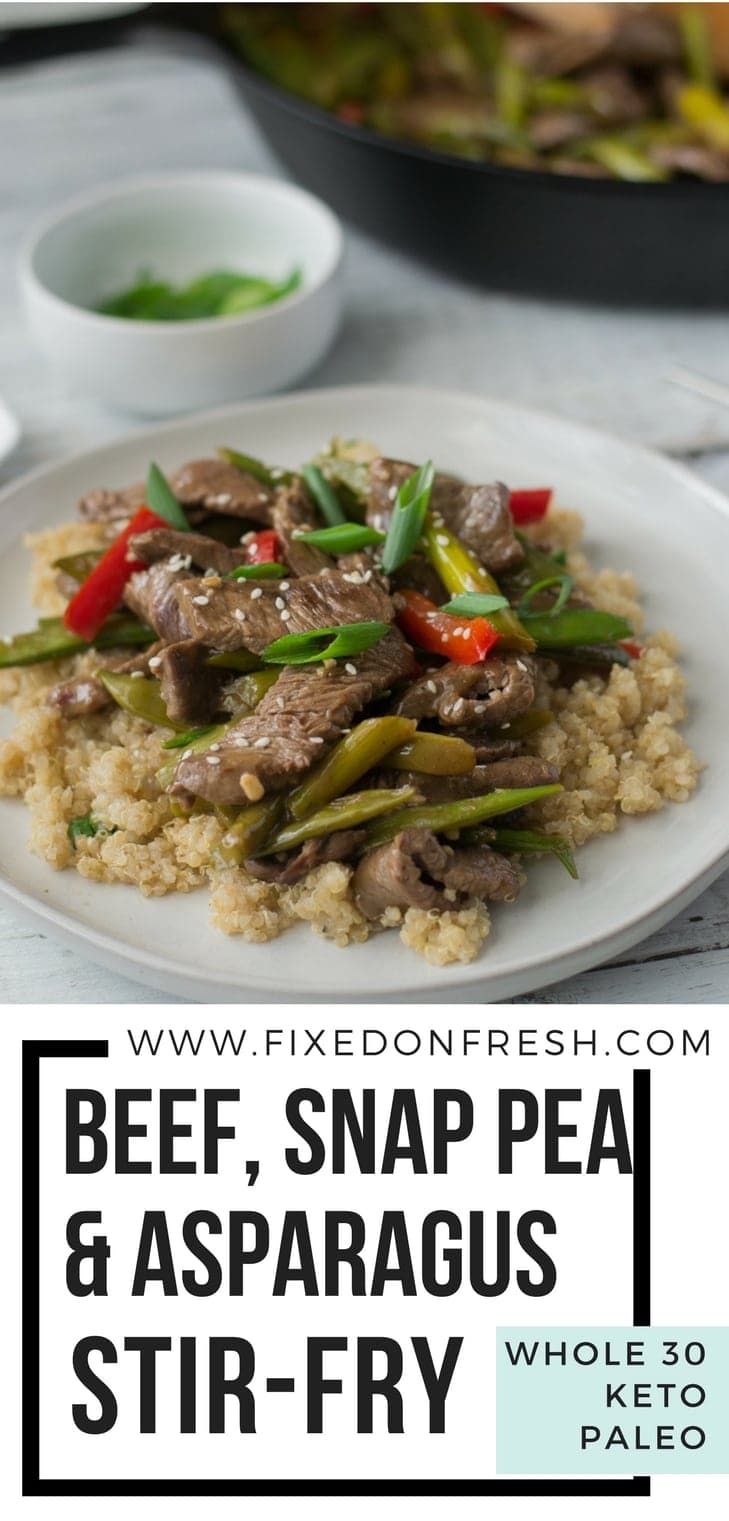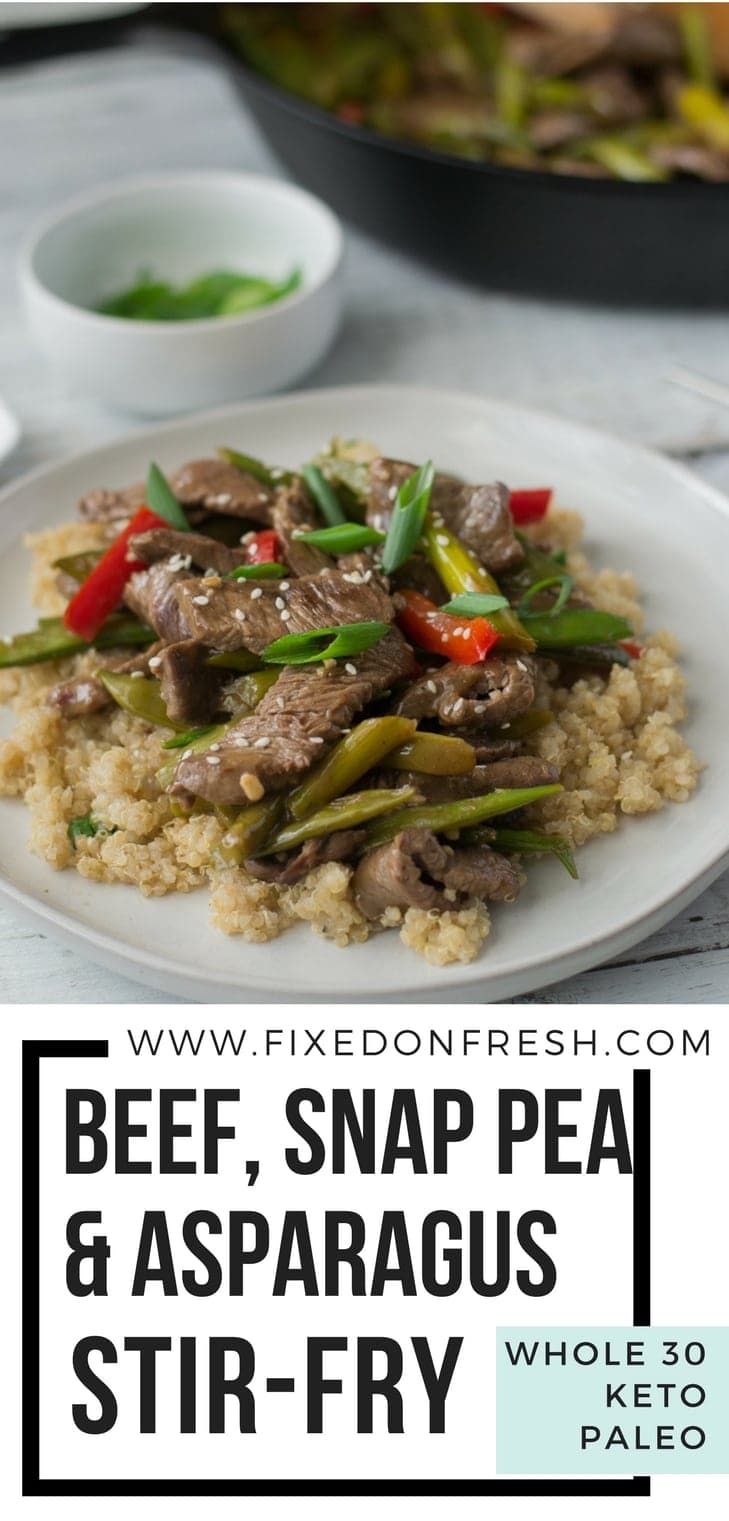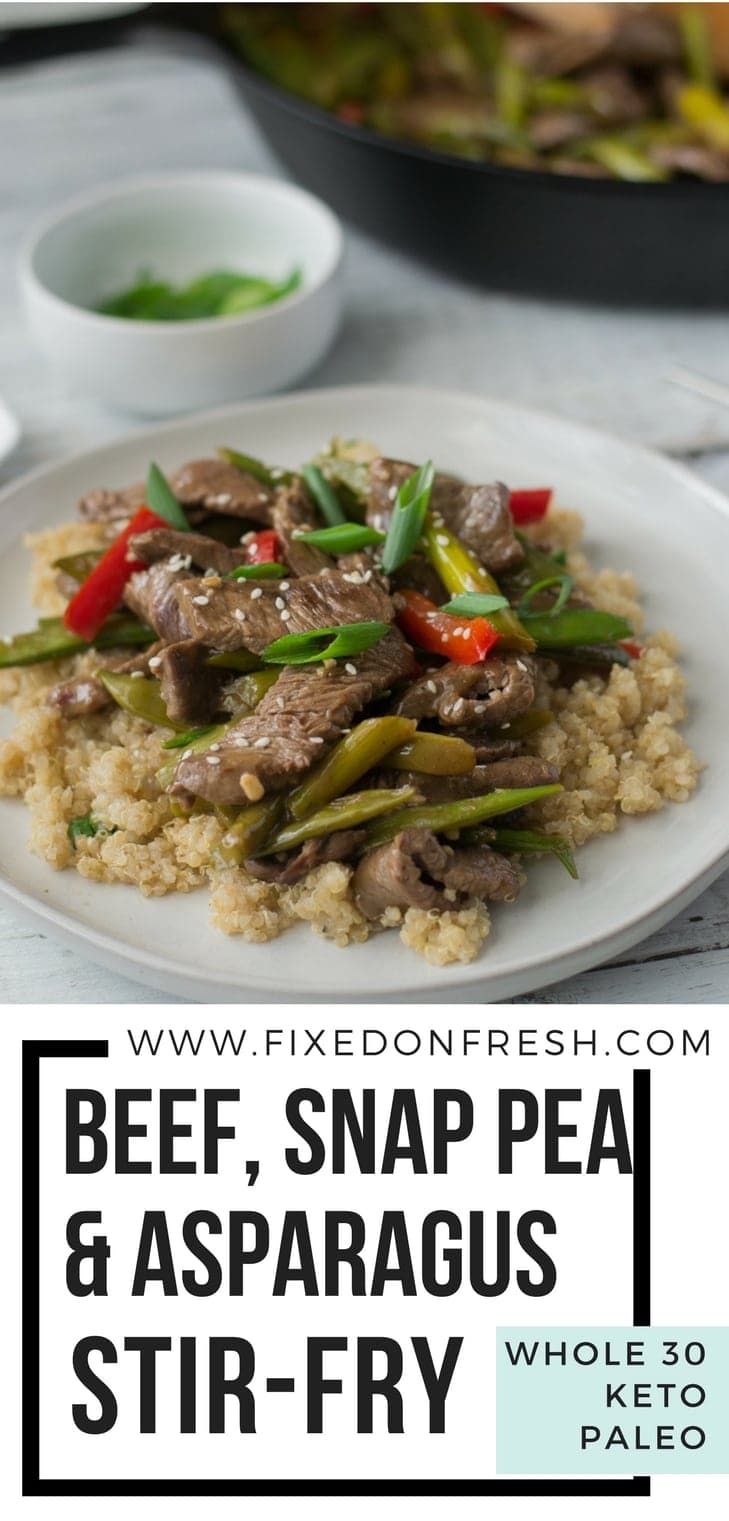 SaveSave
SaveSave