---
Chicken bone broth is an easy recipe that is worth the 24 hour wait! Chicken bones are slow simmered for 24 hours with tons of veggies to make a rich, gut healing broth. Bone broth is also a great base for many of your favorite soups, or can be enjoyed in a mug by itself.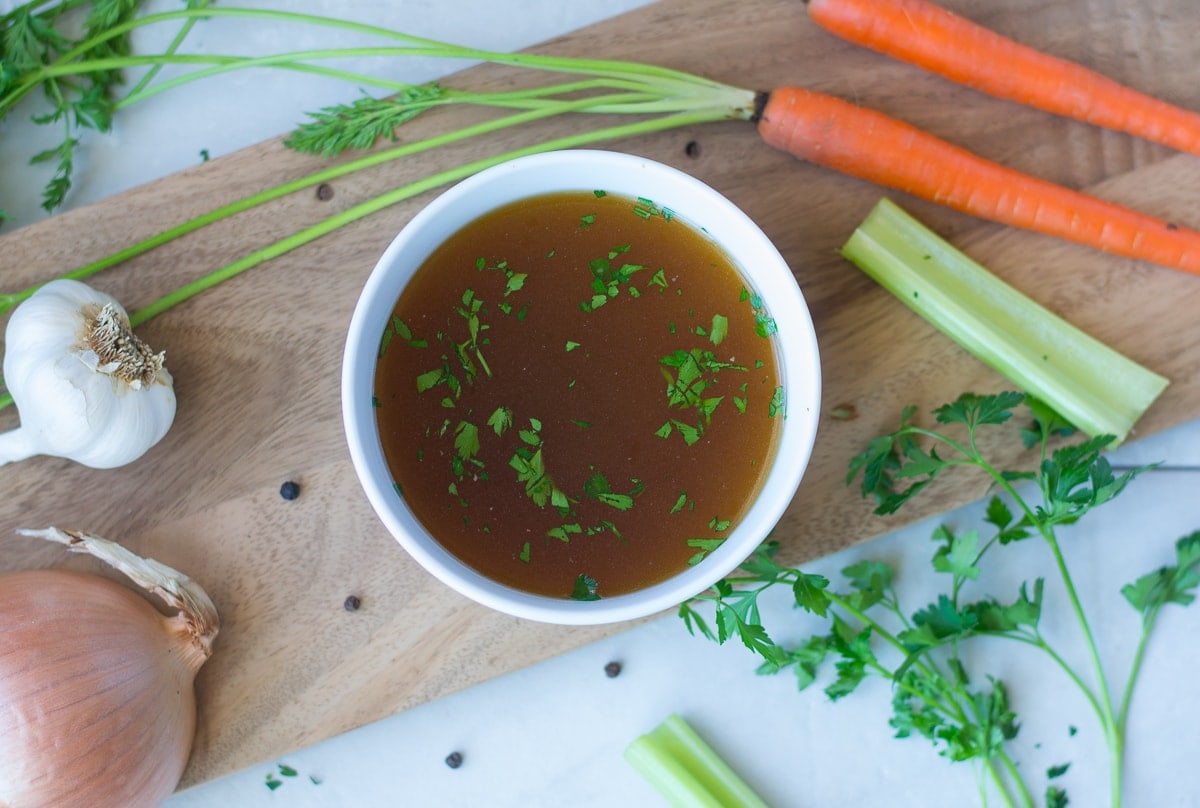 Bone broth is all the rage right now, right? You see it everywhere. In supplements, in magazines, blogs, on podcasts, bone broth is happening, and expensive to buy! What is so great about it? Also what is the difference between "bone broth" and stock? Make a cup of tea or coffee and read a bit to get your answers and a simple slow cooker bone broth recipe to save you some cash.
What Are the Health Benefits of Bone Broth?
I'm going to give you a quick rundown of the health benefits this mason jar of gelatinous goodness has to offer. For something more in depth, I will point you to Chris Kresser.
Nutrients
Bone broth provides generous amounts of the following nutrients and minerals (and then more):
Collagen
Gelatin
Amino Acids
Bone Marrow
Calcium
Iron
Magnesium
Zinc
Health Contributions
What do all of the things on that list mean for you and your health? Here's a brief list of only some of the many ways it can improve health and quality of life:
COLLAGEN AND GELATIN contribute to improved hair, skin, nails and joints as well as providing protein to aid in muscle synthesis and repair. Gelatin, in particular, reduces inflammation to help heal a leaky gut
AMINO ACIDS also aid in muscle development and recover as well as improved performance. Amino acids also help maintain join support and gut health.
DIGESTIVE FUNCTION is improved by all of components of bone broth, from stimulating necessary digestive acids, healing and maintaining a leaky gut and removing inflammation.
BETTER SLEEP is easily bi-products of glycine, an amino acid and inhibitory neurotransmitter, decreases anxiety and allows the body to calm.
What is the Difference Between Stock and Bone Broth?
So really quickly, I want to clarify the difference between stock, broth and then bone broth. They're all essentially meat derived liquids, right?
BROTH: made using meat, typically ground meat, rather than any of the bones.
STOCK: made by using bones and a little meat and simmering for only a couple of hours.
BONE BROTH: made from bones, specifically those with a lot of connective tissue and simmered for up to 24 hours to extract collagen from the bones.
So technically "bone broth" is really stock to the next level. Simmered for longer using more bones with joints to achieve the desired results.
Slow Cooker Bone Broth
As mentioned before, you can buy bone broth from the store, but at a seriously elevated cost to your average broth or stock. So I like to make it often and freeze big batches in plastic containers to use in the future.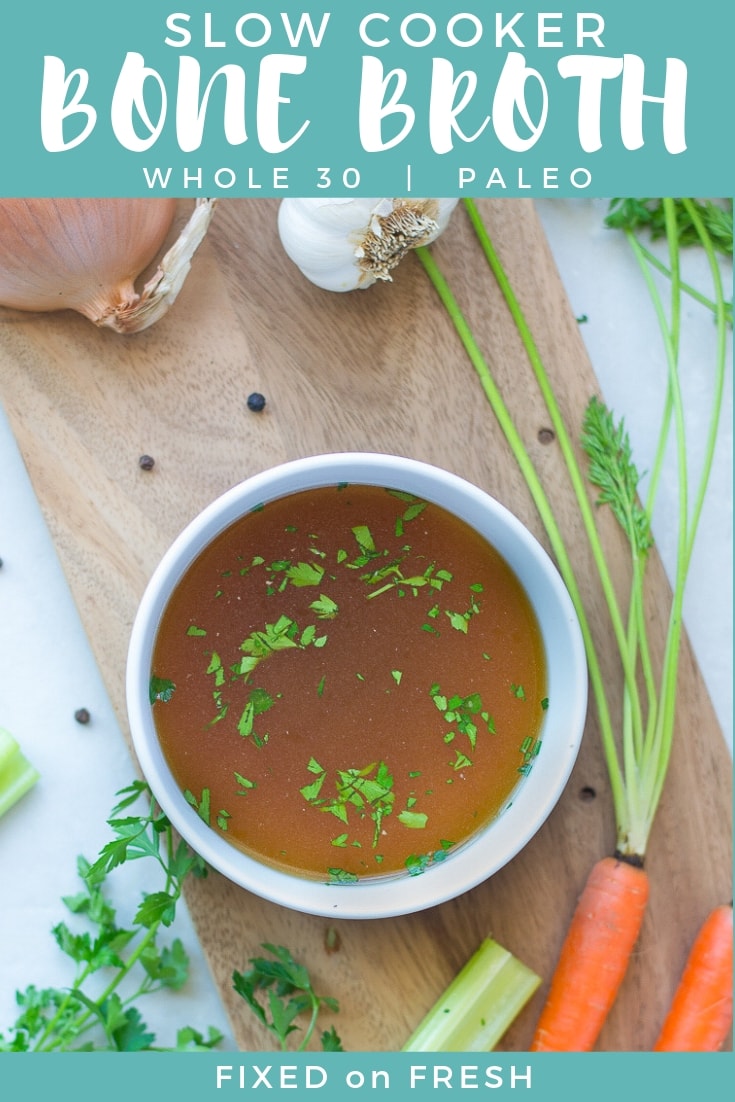 Tips on How to Cook Bone Broth
[dropcaps]1[/dropcaps]If you make any recipes with chicken thighs and have the time to buy them bone-in and debone them yourself - this is a great way of getting bones for bone broth. Additionally, you can make roasted chicken for dinner, remove the meat and use the carcass for the broth. You can also ask your butcher for "soup bones" and they will know what you need.
[dropcaps]2[/dropcaps]I personally like to use my old turn knob slow cooker for this recipe, as it doesn't have the auto shut off (ironically, the reason I bough the new digital one was for the auto shut off feature). I found this out the hard way when I woke up the next morning to a big pot of freezing cold, bacteria laden chicken water.
[dropcaps]3[/dropcaps] Be mindful of how you cool the broth, as it does have the potential to be easily contaminated. Follow the steps I outline in the recipe, and you will be good to go. Add a little ice after the broth is strained, pour into a large, shallow container and cover while it cools to room temp. Once at room temperature, you're safe to add it to the fridge to finish cooling.
Recipe
Now to the good part, the recipe! Please pin for later and when you make it, let me know what you think. You can comment below OR find me on Facebook, Twitter, Instagram and Pinterest. If you want healthy recipes sent right to your inbox, go ahead and fill out the form below for my weekly newsletter!
Other Healthy Soup Recipes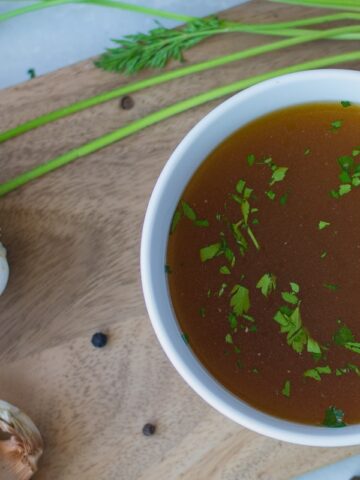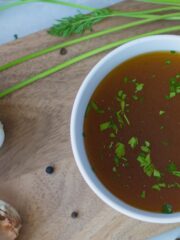 Slow Cooker Chicken Bone Broth
Slow Cooker Bone Broth is an amazing way to get added protein from extracted collagen from chicken bones as well as amazing flavor. Whether you make it to sip or to use in soups or other recipes, this is a gut-healing staple.
Ingredients
2-3

pounds

"Soup Bones"

(those with joints such as wings, feet, legs or a carcass from a 4 lb roasted chicken)

1

large carrot

(peeled and chopped into 2" pieces)

2

celery stalks

(chopped into 2" pieces (leaves welcome))

2

yellow onions

(quartered)

5

Parsley Stems

2

Sprigs of Thyme

2

tsp.

black peppercorns

1

teaspoon

kosher salt

water

1

cup

ice
Instructions
PLACE ALL INGREDIENTS in a slow cooker set to high. Add 6-8 cups of water (enough to just cover the solid ingredients).

BRING TO A BOIL. Then reduce heat on your slow cooker to low, cover and let simmer for 24 hours**

STRAIN THE BROTH with a

sieve

and add a cup of ice and pour into a large, shallow container to quickly cool the broth.

COVER and let cool to room temp and then transfer to the fridge.

ONCE FULLY CHILLED the broth should have a gelatinous texture that comes from the gelatin of the bones. Place in plastic,

freezer friendly containers

to freeze for up to 3 months. Or store in mason jars in the fridge for up to 5 days.
Notes
**Be mindful if you have a digital slow cooker, as they have an auto-shutoff. If yours has an auto-shutoff, keep an eye on it so it doesn't go bad.
Nutrition
Serving:
1
cup
Calories:
50
kcal
Nutrition Information Disclaimer
**This blog post contains affiliate links to products that I actually use and that align with my values. See my affiliate disclaimer here.
PIN IT NOW, MAKE IT LATER!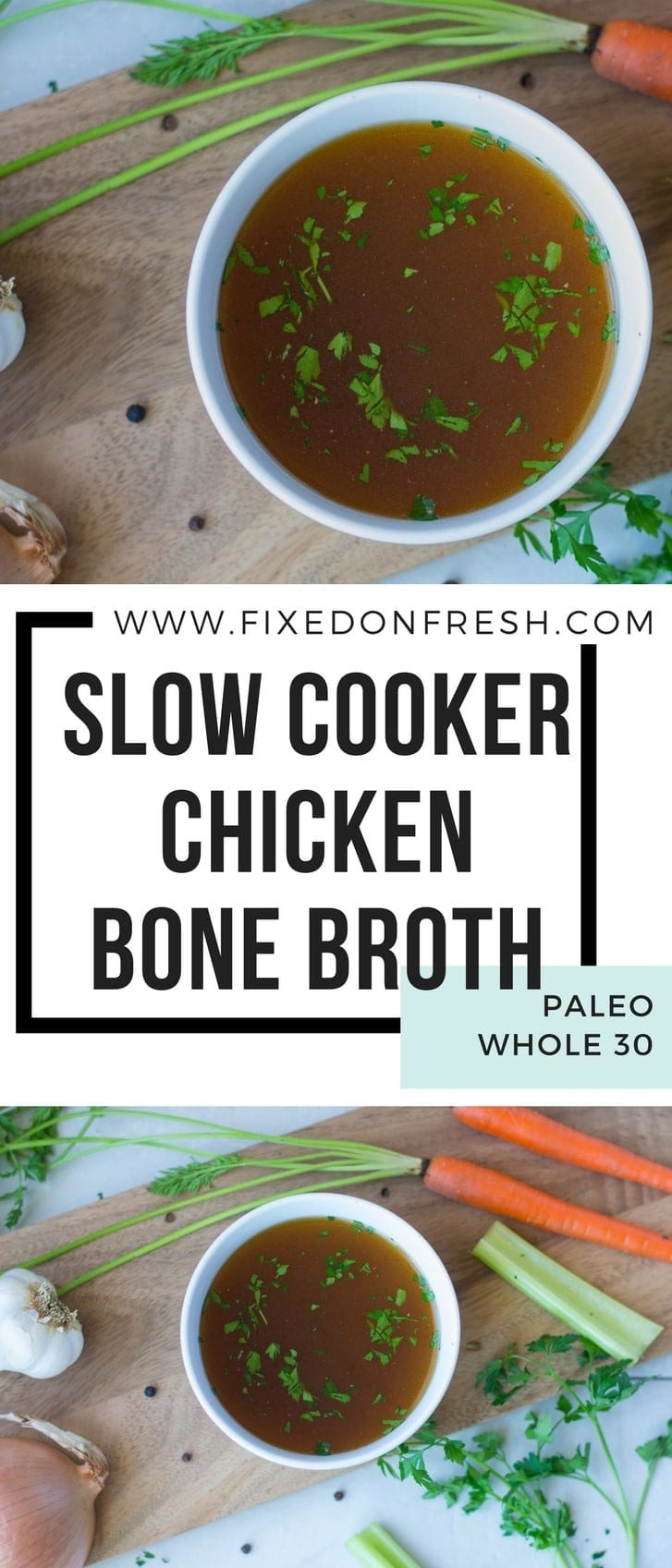 <