---
Instant Pot Carnitas Stuffed Sweet Potatoes are an amazing meal the make ahead for lunches or dinner for the whole family. Tender, pull apart pork is made quickly in the Instant Pot is seasoned with smokey and sweet spices that go perfectly in a a baked sweet potato.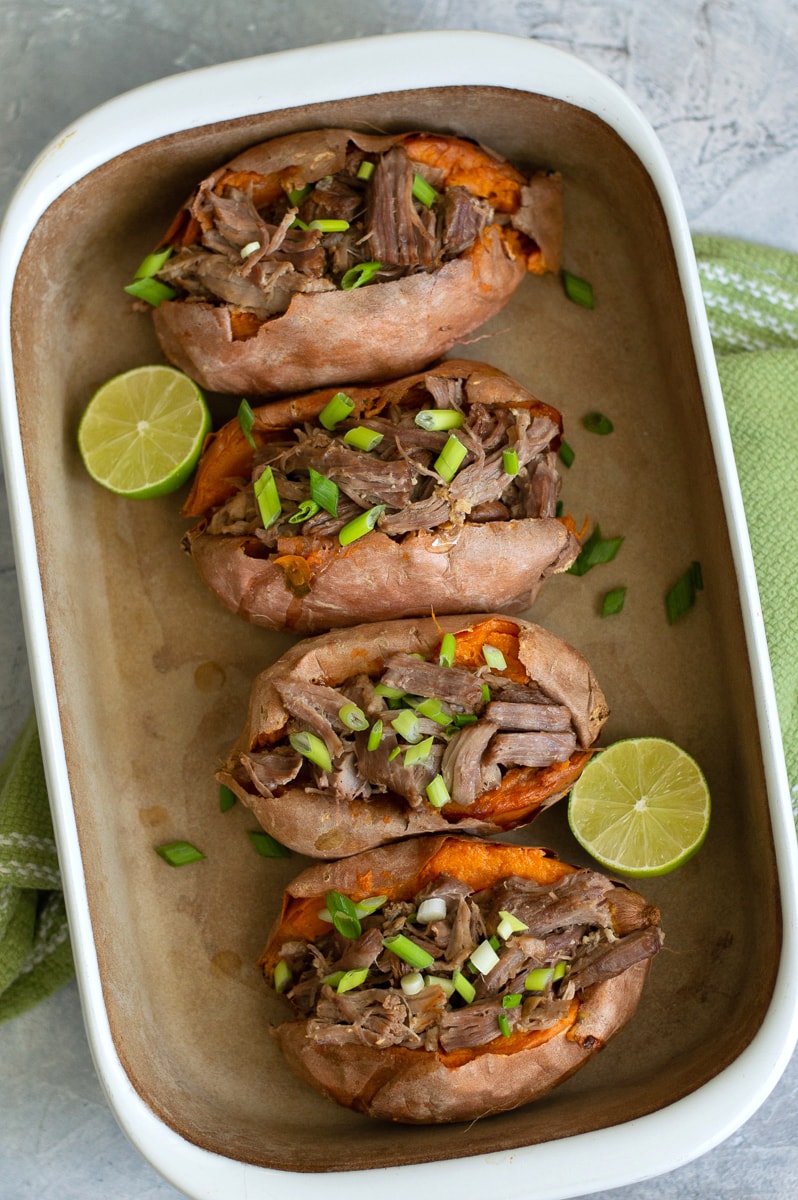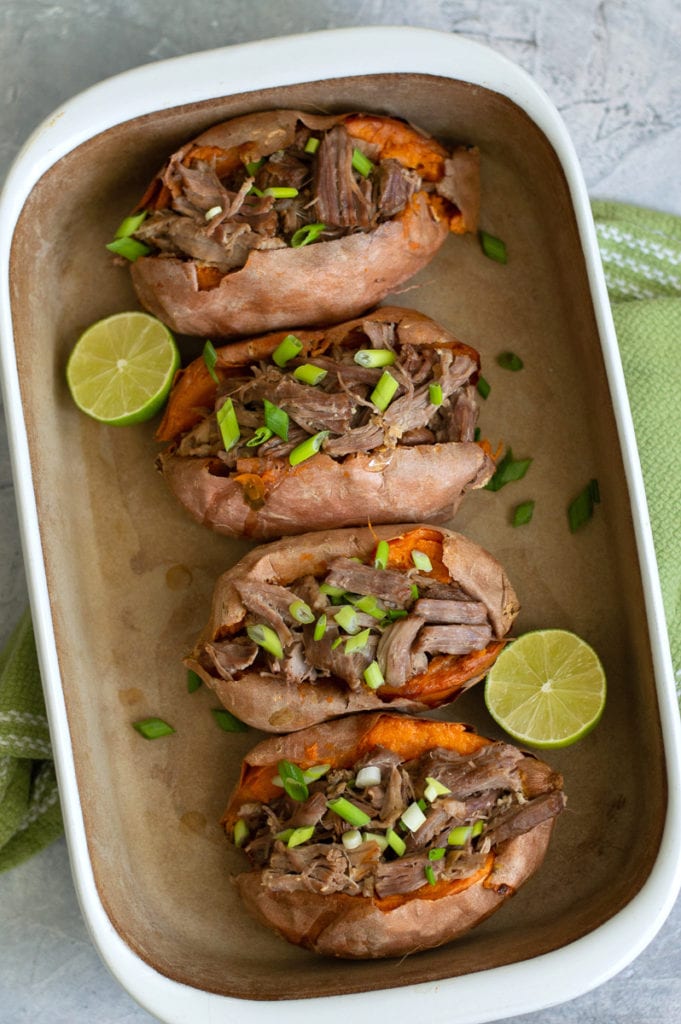 Paleo and Whole30 Carnitas
Back this week with another Paleo instant pot recipe: Instant Pot Carnitas Stuffed Sweet Potatoes. This is one that I make a ton because it's budget friendly, it freezes well, and is incredibly delicious.
These carnitas are seasoned with salt, pepper, chili, and touch of cinnamon to round out the smokey sweet flavor. Add some onions, oil and bone broth and it's completely Whole30 approved.
Pressure Cooker Pulled Pork
Making pulled pork in the pressure cooker could not be more easy. It's not quite a "dump and go" recipe, but doing the extra step of browning the meat to seat in all the fantastic flavor and juices is well worth it.

Brown Meat
The sauté function is my favorite part of the Instant Pot. It makes it so much easier to do things all in one pot!
All you have to do here is heat up some olive oil on the high sauté setting and brown each piece of the pork for around 2-3 minutes per side.
Pressure Cook to Perfection
After the meat is golden brown it's time to sauté a sliced onion with a little extra oil. Once the onions are sautéed to sweet, translucent goodness, it becomes a dump-and-go situation. A little water or bone broth and a couple more spices, then pressure cook the pot for a mere 25 minutes.
Shred the Carnitas
Now's the fun part! Just grab a slotted spoon and a couple forks, pull those tender chunks of pork out of the Instant Pot and transfer them to a plate.
Pull apart the meat with those forks and pull out any large chunks of fat and discard those. Then go back to the pressure cooker with the slotted spoon and scoop out those onions and reserve some of those drippings to pour over the meat later.
Stuffed Sweet Potatoes
You can stuff sweet potatoes with pretty much anything, but carnitas is one of my favorites. The beauty of this paleo instant pot recipe is that it takes the same amount of time to bake a sweet potato as it does to brown, preheat and pressure cook the carnitas. It's like they were made to be together!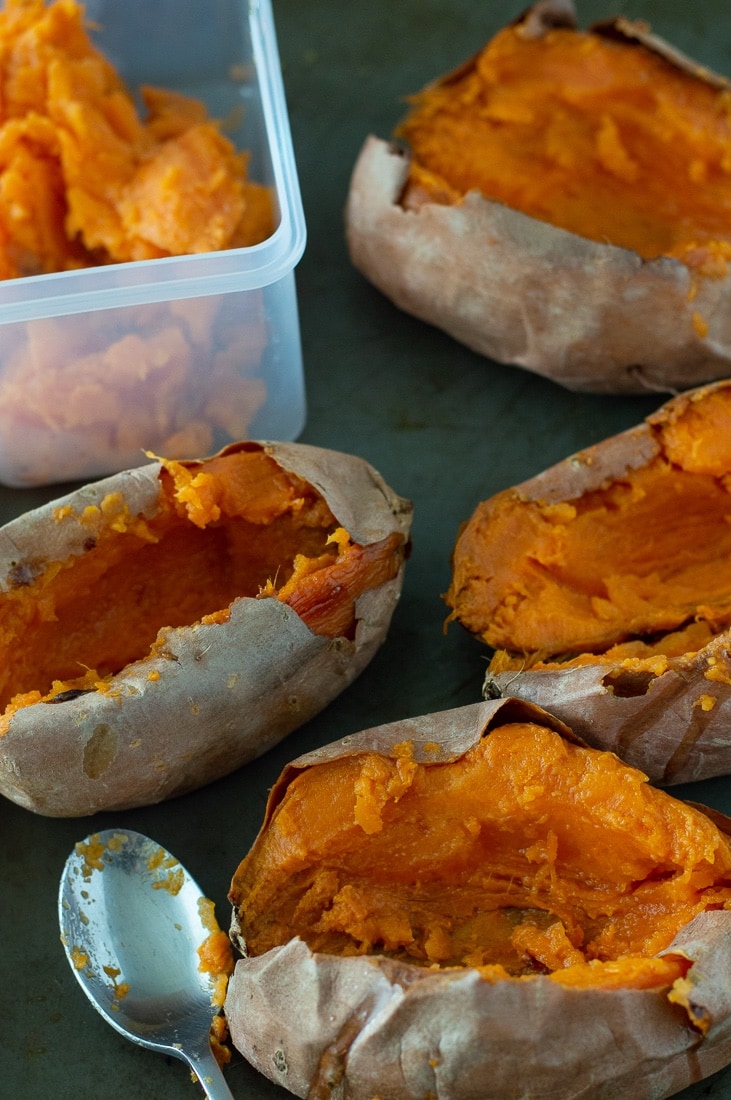 <
The thing about it, though, you need sweet potatoes big enough to hold a decent amount of meat, but you really don't need to eat that much sweet potato. Unless you want...then have at it.
However, I suggest scooping out a good portion of the sweet potato and saving it for sweet potato muffins, or just plain mashed sweet potatoes. I scoop out the centers until the sides are about 1 ½ inches thick. Then pack it full of carnitas!
Pulled Pork Sweet Potatoes
Let's not forget to talk about the toppings. You can really do anything you would have in a Chipotle bowl that moves you. I like to keep it simple. Sprinkle some green onions, squeeze some lime juice, then maybe throw on half an avocado and you're golden.
Easy Meal Prep Recipe
If you're anything like me, sometimes you have the time to cook, sometimes you don't. Sundays I have time to cook. Finding recipes that are great for leftover for up to 5 days can be tough.
Often times leftovers can get mushy or the flavors all run together in a weird way by day 3, and don't even get me started on fish leftovers. Just, no. This is a Paleo Instant Pot recipe that hold up for all 5 days and stays delicious.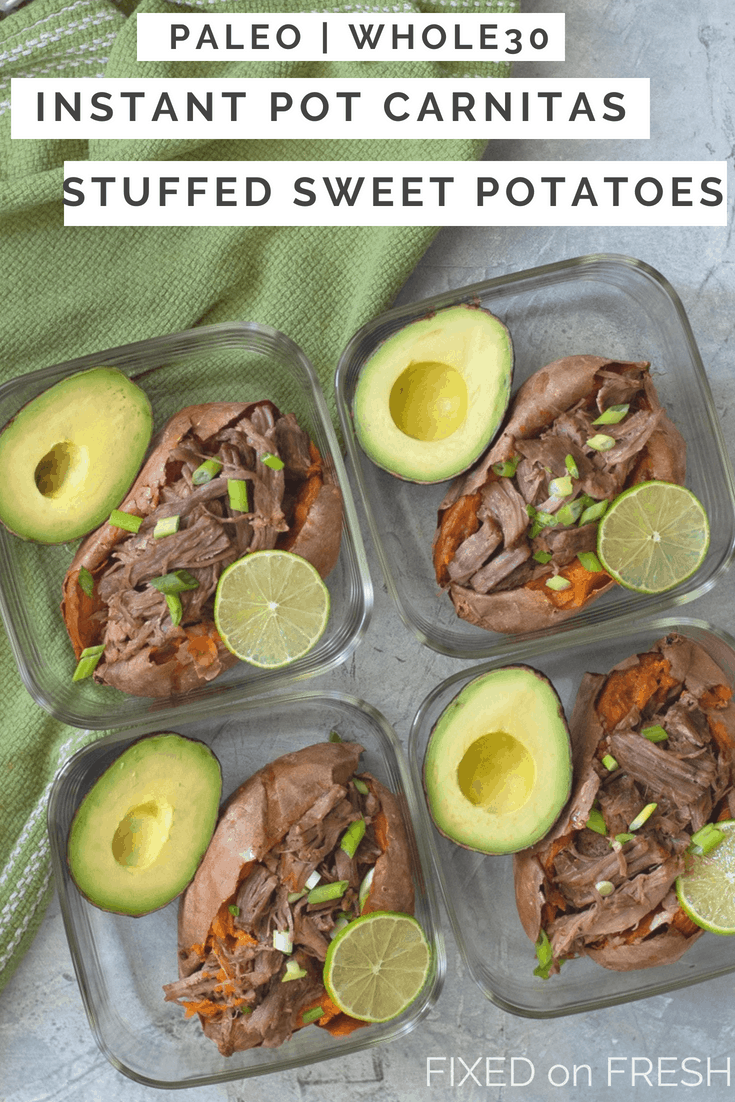 Nutrition Spotlight
PROTEIN - 42g. This one is obvious, but this meal is taming with protein which provides both essential and non essential amino acids which aid in nutrient transport, proper organ function, and are a large portion of muscles and other tissues in the body.
VITAMIN A - 548% . As with most fat-soluble vitamins, Vitamin A is great for your skin, bones and eyes. Vitamin A is also great for pregnant women as it aids with fetal development and helps prevent illness and inflammation.
VITAMIN C - 47%. We all should know by now the benefits of Vitamin C on our immune function, but did you know it also helps with iron absorption? While it's not common to see a lot of Vitamin C deficiency, iron deficiency is very common.
IRON - 19%. If you've been pregnant, you know iron is a big deal! Iron deficiency can lead to exhaustion, hormone imbalances, sleep deprivation and so on. Ladies need it more than men due because of menstruation (where iron is lost each month) and pregnancy (where blood is supplied for another human in the body).
FIBER - 5g. Eat the skin of your potato! Get all that beautiful, digestion boosting fiber in your belly!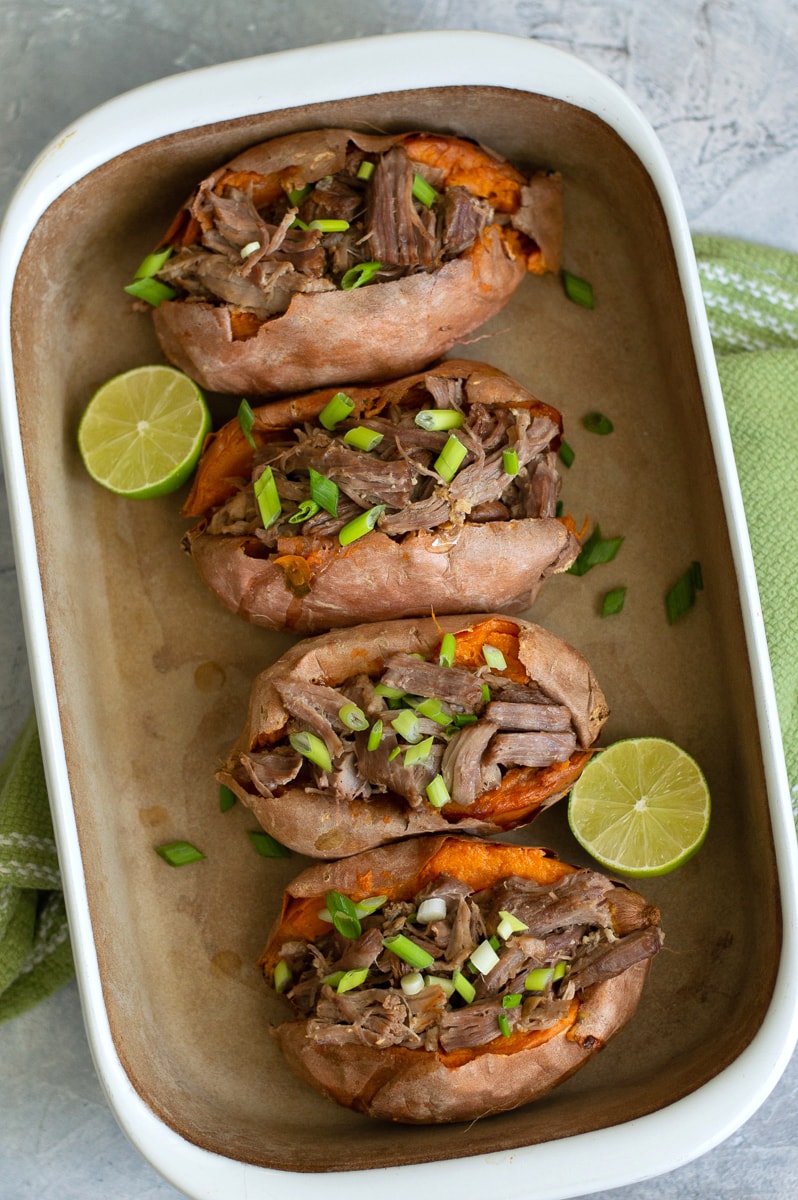 Instant Pot Pulled Pork Carnitas
Instant Pot Carnitas Stuffed Sweet Potatoes are an awesome make ahead Paleo and Whole30 lunch or dinner. It's only a few ingredients and tastes amazing!
Ingredients
4

Medium sweet potatoes

(around 10-12 ounces)

1 ½

Tablespoon

Kosher Salt

1

teaspoon

Black Pepper

2

pounds

pork butt

(cut into 4-inch cubes)

2

Tablespoons

olive oil

(extra virgin)

1

small onion

(roughly sliced)

3

cloves

garlic

(minced)

½

teaspoon

chili powder

¼

teaspoon

ground cinnamon

½

cup

water or bone broth
Toppings
¼

cup

sliced green onions

Juice of ½ lime

2

small

avocados

(halved and sliced)
Instructions
BAKE THE POTATOES
PREHEAT THE OVEN TO 425˚ and line a baking sheet with foil. Pierce the sweet potatoes a few times with a fork and bake for 45 minutes or until tender.

After the potatoes have finished cooking and have cooled, scoop out the centers of the potatoes to allow additional room for carnitas and reserve sweet potatoes for another recipe.
MAKE THE CARNITAS:
HEAT THE OLIVE OIL in the instant pot, make sure the bottom is coated evenly. When the oil is hot, add the pork and brown all sides, 3 to 4 minutes per side. Remove the pork from the pot and set aside.


ADD ONION to the pot and stir until translucent, 4-5 minutes. Add the garlic and cook, stirring vigorously to prevent burning, around 60 seconds and return pork to the pot.


ADD WATER, chili powder and cinnamon. Cover the pot and change setting to Pressure Cook High for 25 minutes. When finished cooking allow pressure to release manually or naturally (around 20 minutes).


REMOVE FROM THE POT with a slotted spoon, and shred with a fork, discarding the fat pieces. To crisp, heat a cast iron skillet with 1 Tablespoon of cooking fat and add the meat pieces.


STUFF THE POTATOES with around 5 ounces of carnitas and top with green onions, lime juice, avocado and juice from the instant pot.
Notes
Altered from the Whole30 Cookbook
Nutrition information does not include toppings, but does include 4 ounces of baked potato and 6 ounces of carnitas
Nutrition
Calories:
487
kcal
Carbohydrates:
31
g
Protein:
42
g
Fat:
18
g
Saturated Fat:
6
g
Polyunsaturated Fat:
2
g
Monounsaturated Fat:
9
g
Cholesterol:
96
mg
Sodium:
1584
mg
Potassium:
1073
mg
Fiber:
5
g
Sugar:
9
g
Vitamin A:
27400
IU
Vitamin C:
38.8
mg
Calcium:
70
mg
Iron:
3.4
mg
Nutrition Information Disclaimer
**This blog post contains affiliate links to products that I actually use and that align with my values as a nutritionist. I may earn a small commission to fund my coffee drinking habit if you use these links to make a purchase. You will not be charged extra, you'll simply keep me supplied in caffeine. It's a win for everyone, really.
Pin Now, Make it Later!

Stay Updated!
Get weekly and monthly update on the latest recipes, posts, what's going on with our crazy family and healthy tips and recommendations.