---
A simple, but rich and chocolatey revamp of the typical spiced nuts that we all love this time of year. A light coating of dark chocolate covers nuts spiced with maple syrup, cinnamon, and vanilla. A light dusting of cocoa takes these instant pot spiced nuts over the top without making them too sweet.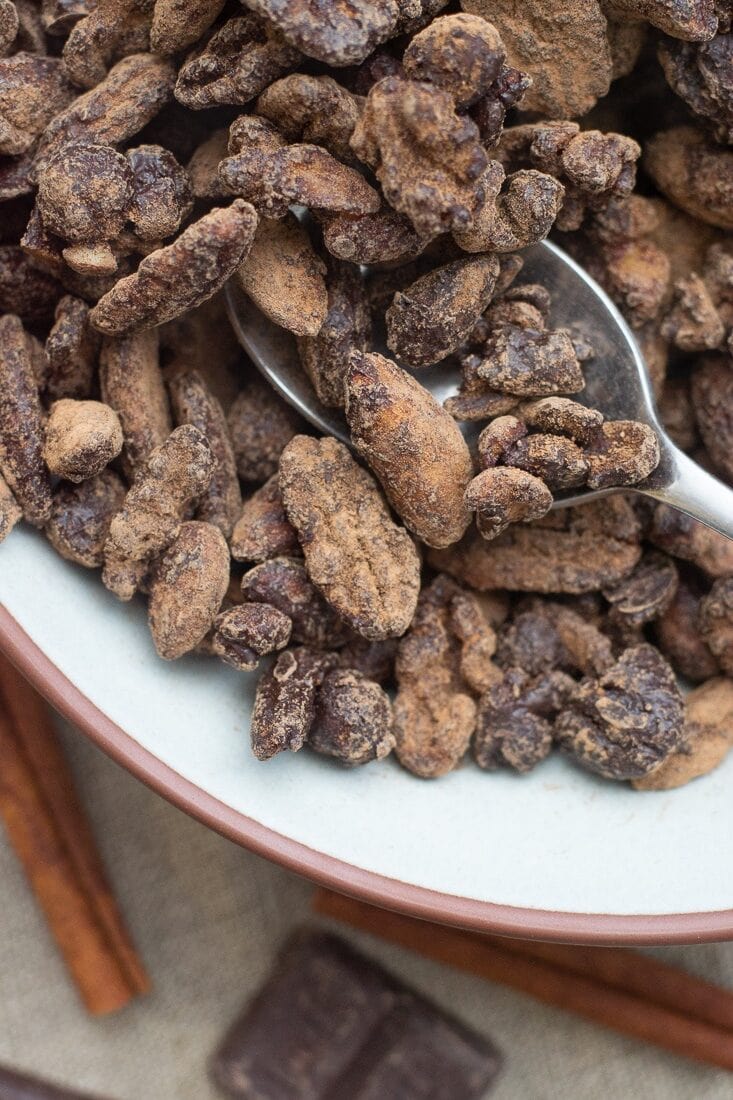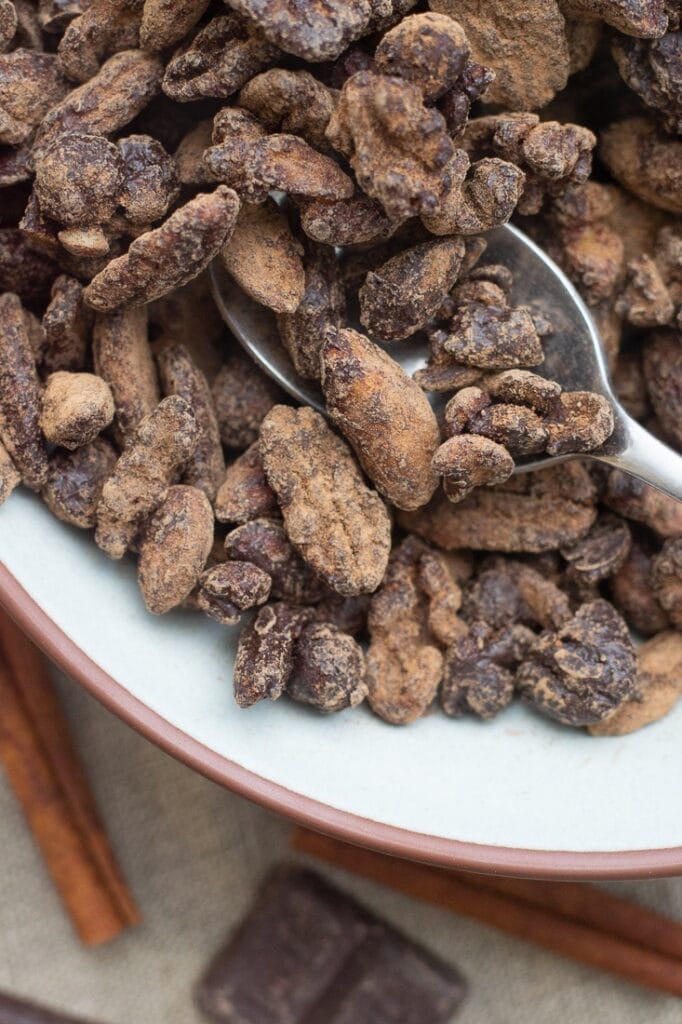 Instant Pot Glazed Nuts
Whip out your Instant Pot, because I found another excuse to use it! The nuts are sautéed in the Instant Pot with some syrup, vanilla, salt, cinnamon and nutmeg until they're all sticky and tender. Then they get pressure cooked on high for a quick 10 minutes.
Ingredients and Substittutions
Nuts: I used raw mixed nuts without peanuts. Feel free to use any nut combination that you like. I will say the pecans and almonds are sweeter, where the walnuts and hazelnuts are a bit more bitter.
Chocolate: I use anywhere from 70-85% cocoa in mine. That is really dark and has minimal sugar. If you prefer sweeter chocolate look more toward 60% or below.
Unsweetened cocoa powder: Dusting the nuts with cocoa makes these pretty and adds to the rich chocolate flavor. Feel free to substitute cocoa mix if you prefer a sweeter flavor.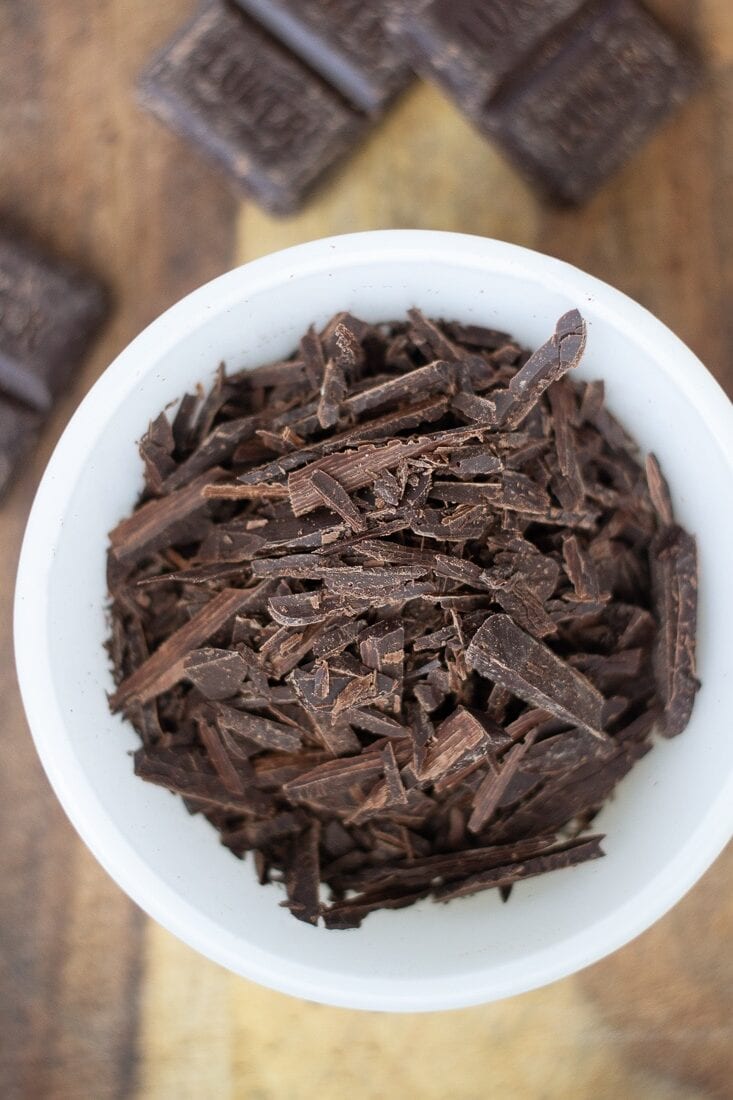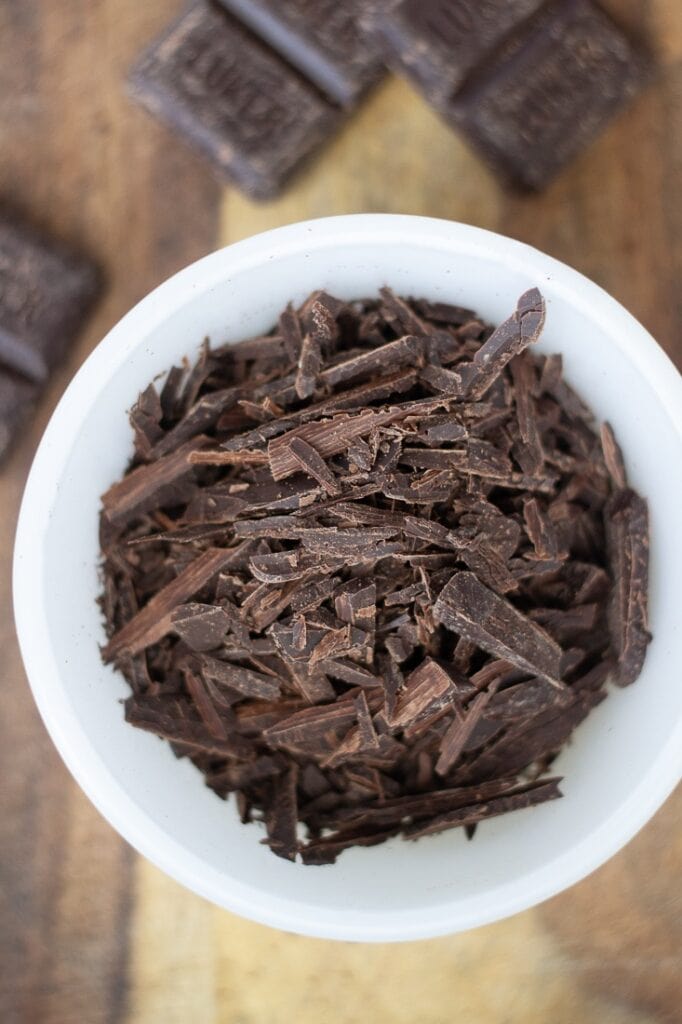 Tips for Instructions
Make the Instant Pot Glaze:
Turn the instant pot to saute mode on medium heat. Add 4 cups of your favorite mixed nuts, ½ cup pure maple syrup or raw honey, 2 teaspoons of vanilla extract, 2 teaspoons of cinnamon, ½ teaspoon of nutmeg, and ½ teaspoon of sea salt.
Stir the mixture every 1-2 minutes until it melts the mixture together and coats nuts. The nuts should be tender when add ½ a cup of water and switch to pressure cooking mode on your Instant Pot.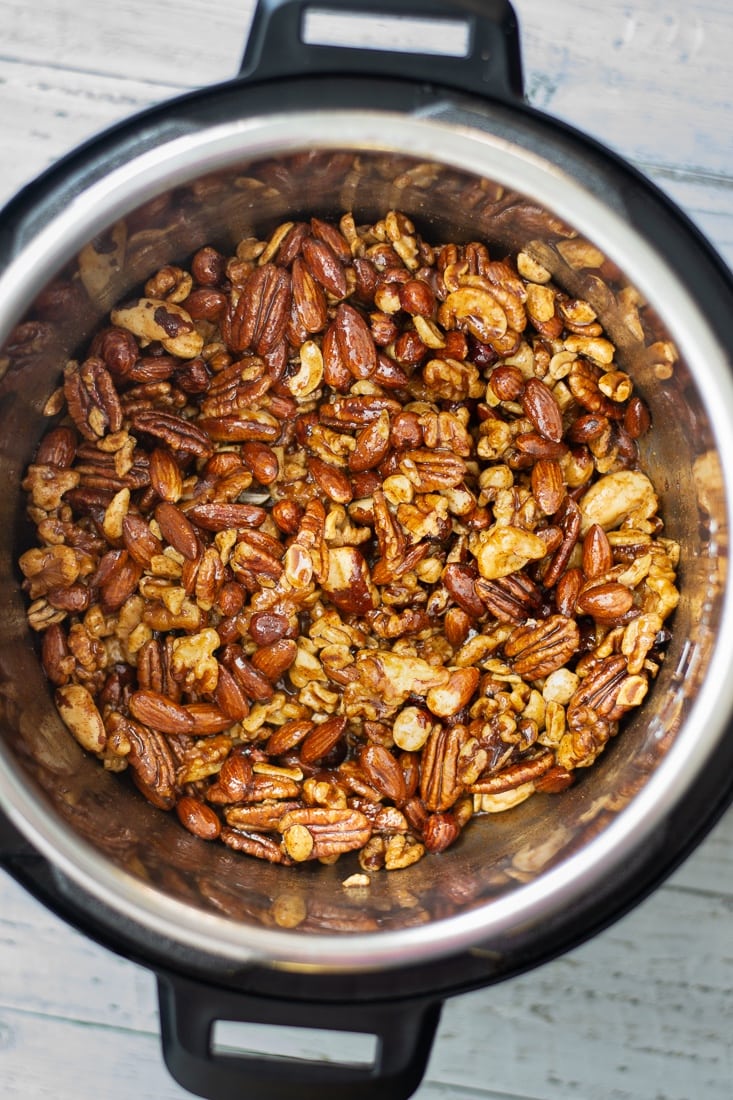 Roast the Nuts:
Preheat the oven to 375˚. Spread the roasted nuts on a baking sheet covered with parchment. Roast them for 10 minutes flipping halfway through.
Add the Chocolate:
As soon as the nuts come out the of oven, sprinkle on that chocolate. Fold the nuts and chocolate together right on the baking sheet and dust with cocoa powder and salt to finish.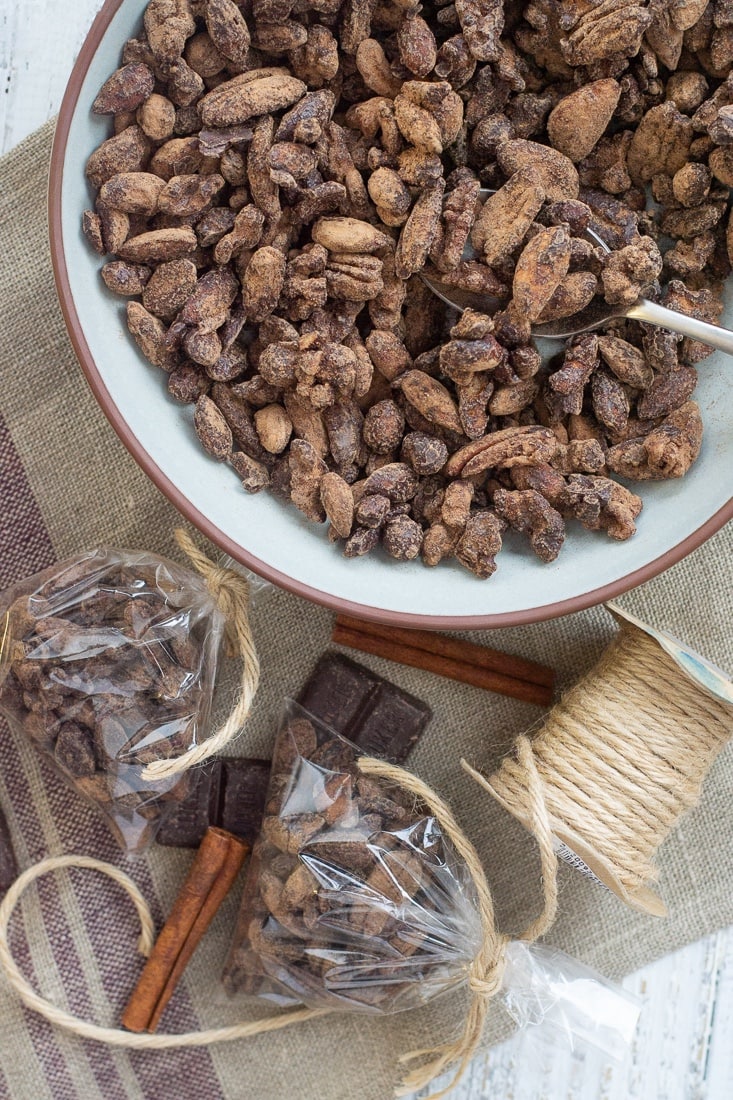 <
Other Recipes You Might Want To Check Out
---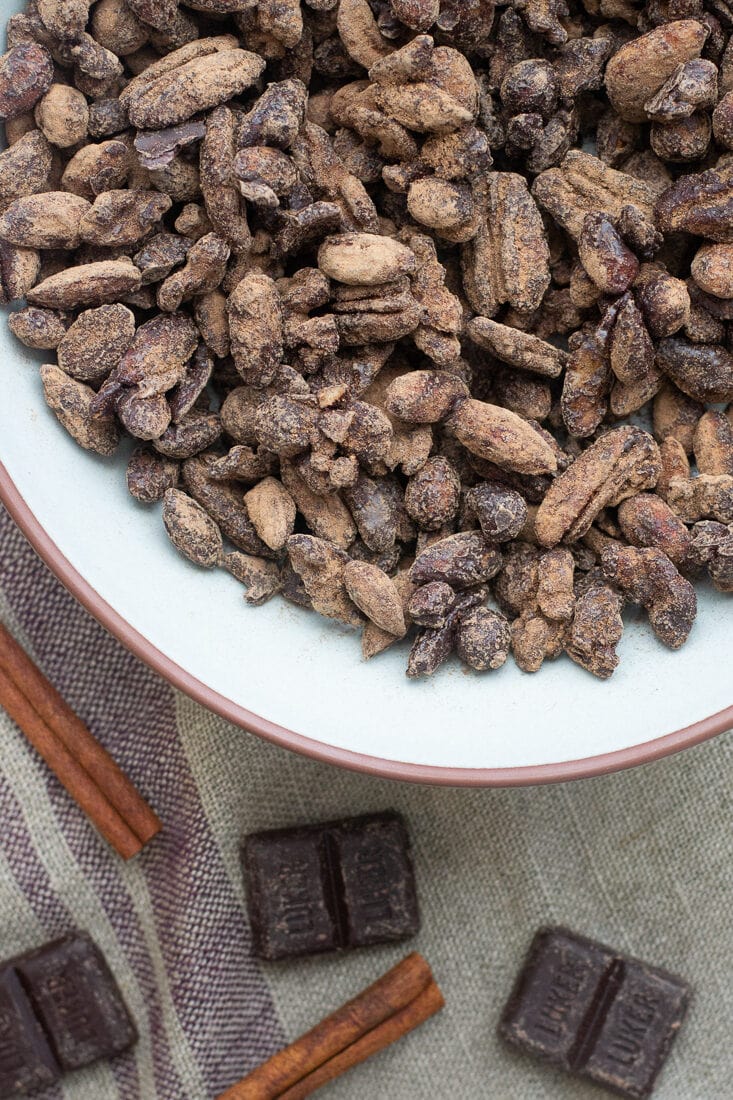 Instant Pot Dark Chocolate Spiced Nuts
Maple and cinnamon spiced nuts are cooked in the instant pot and then finished in the oven and quickly coated with dark chocolate and cocoa powder. These are great for holiday goodie baskets or just a really awesome snack!
Ingredients
4

cups

mixed nuts

½

cup

pure maple syrup or raw honey

2

teaspoons

vanilla extract

2

teaspoons

cinnamon

½

teaspoon

nutmeg

1

teaspoon

sea salt

¾

cup

shaved dark chocolate

((65-85% cacao))

3

tablespoons

unsweetened cocoa powder
Instructions
Instant Pot Spiced Nuts
Turn the Instant Pot onto saute. Add nuts, syrup, vanilla, cinnamon, nutmeg, and ½ teaspoon of salt. Saute ingredients until pecans are tender (about 8 minutes). Stirring frequently to check the consistency of the syrup and nuts.

When nuts become tender, press cancel on the sauté mode. Add ½ cup of water. Pressure cook on high for 10 minutes.

Preheat your oven to 375 degrees while pecans are cooking under pressure.

When timer is up, quick release the pressure from the Instant Pot. Pour mixture onto a baking sheet and arrange in a single, even layer. Bake for 5 minutes, flip the nuts and roast for an additional 5 minutes.
For Chocolate Glaze
After the nuts have finished roasting, remove from the oven and immediately sprinkle with shaved dark chocolate and allow to melt for about 30-60 seconds before beginning to turn the nuts to evenly coat in chocolate. Once coated, sprinkle the nuts with remianing ½ teaspoon of salt and sift the cocoa over the top of the chocolate nuts. Turn or stir to coat in in the cocoa powder and sea salt.
Notes
I used 85% cacao dark chocolate, which has much less sugar or additives, but also is not very sweet. If you want this to be sweeter, use 65% or somewhere in between. I also used 85% to calculate the nutrition facts, so keep in mind it may differ a bit with a sweeter chocolate. 
Nutrition
Calories:
211
kcal
Carbohydrates:
15
g
Fat:
16
g
Saturated Fat:
2
g
Sodium:
147
mg
Potassium:
35
mg
Fiber:
4
g
Sugar:
8
g
Vitamin C:
1.7
mg
Calcium:
70
mg
Iron:
1.4
mg
Nutrition Information Disclaimer
**This blog post contains affiliate links to products that I actually use and that align with my values. See my affiliate disclaimer here.
Pin it Now, Make it Later!