---
This is better than your average butternut squash risotto recipe. I've swapped the parmesan for pancetta making this dairy free risotto. Don't worry, though, it's just as rich and creamy and any risotto you've ever enjoyed, just try it!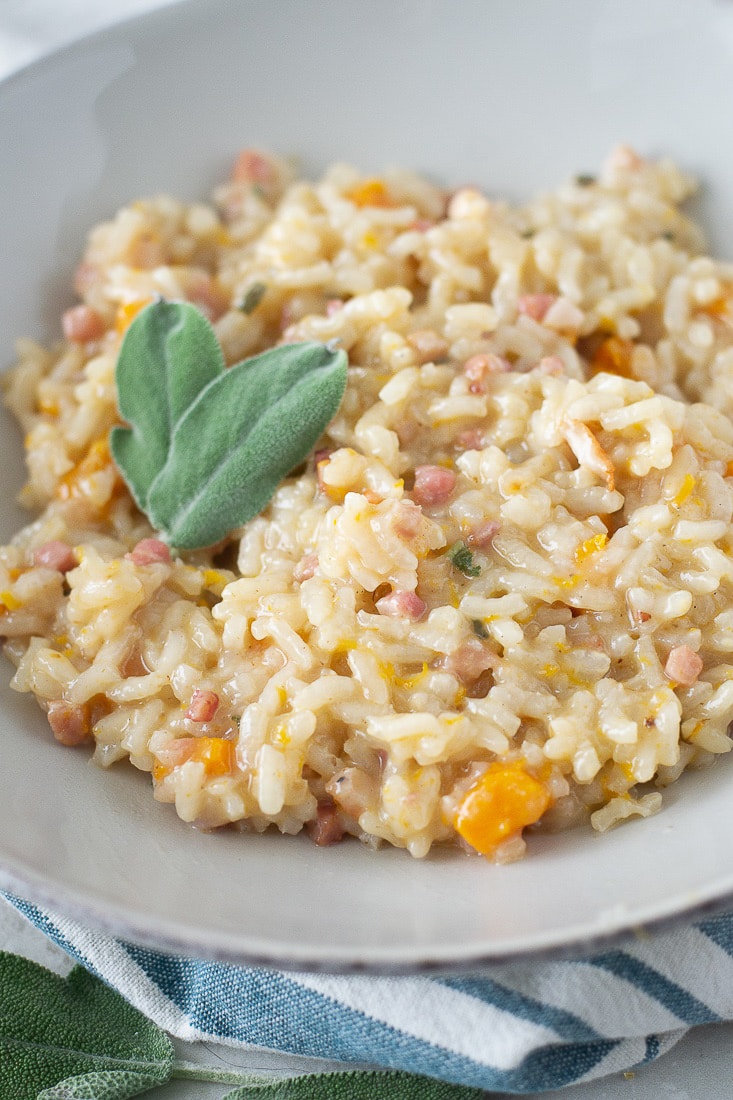 There is a restaurant here, where I live that my husband love to frequent religiously. It was at this restaurant, many moons ago, that I was first introduced to risotto. Magic risotto. Gilmore Girls fans will get that reference, although it's a pretty deep cut.
I digress. This risotto was so amazing, rich, flavorful and creamy that I was pretty freakin' intimidated to even try to make risotto on my own. As it turns out...it's really not that tough! It's just a matter of following directions and being patient. I actually find it much easier to control the texture of risotto than it is to get the perfect steamed rice texture.
Dairy Free Butternut Squash Risotto
I put a couple of recipes for butternut squash risotto to the test. All of them except this one, my favorite, had parmesan cheese. Because that just part of classic risotto! It's kind of Italian blasphemy that I'm even suggesting that you skip the cheese. But it just works!
The key ingredients that adds so much flavor to this risotto are shallots, butternut squash, sage and....wait for it...PANCETTA! A last minute stroke of genius (she said so humbly) that just came to me and I had to try it! The pancetta is exactly the salty something that could allow me to take out the parmesan and not have to add a ton of extra salt to get the awesome flavor in the squash risotto.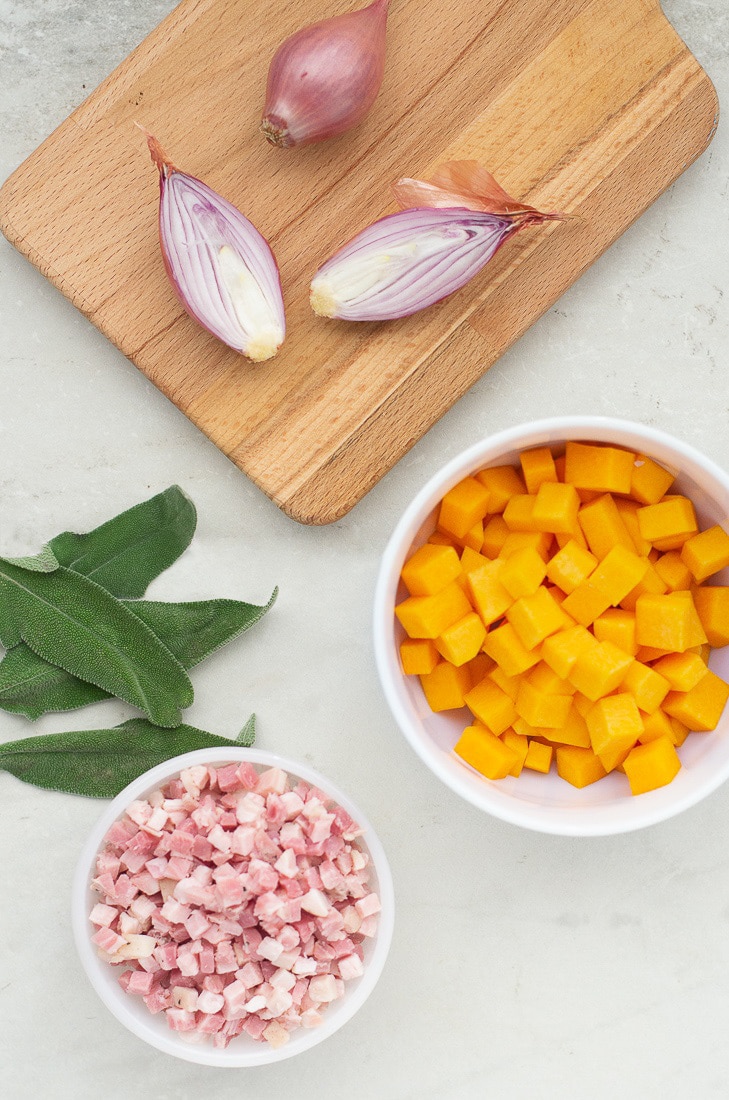 Sautéed Butternut Squash With Pancetta
The first thing I did was sauté the squash, rather than roast it, as I have done in the past. To me, getting that pan-seared caramelization on the squash brought out more of the sweetness without having to add any sweetener.
After the squash has sautéed in olive oil for about 5 minutes and is just tender, the pancetta is added and sautéed with the squash until it darkens and gets slightly crispy. Remove the squash blend from the pan and then start the risotto magic.
How to Make Tender Risotto
In the oil remaining in the pan, plus a little bit more olive oil, shallots are sautéed until tender and a little golden brown on the edges. Then in goes the arborio rice. The rice gets toasted with the shallots until it's opaque.
Now you'll want to get the broth simmering in a separate saucepan to add to the risotto a little at a time. It does need to be pre-heated so that the rice properly absorbs it.
The toasted rice and shallots get deglazed with some white wine and flavored with a little salt and sage. You have to allow the wine to be almost fully absorbed. Then grab a ladle and go through the same process with the broth ½ cup at a time. Ladle in a ½ cup of broth, let it gently bubble until the liquid is just absorbed into the rice. Then keep doing it until the rice is tender.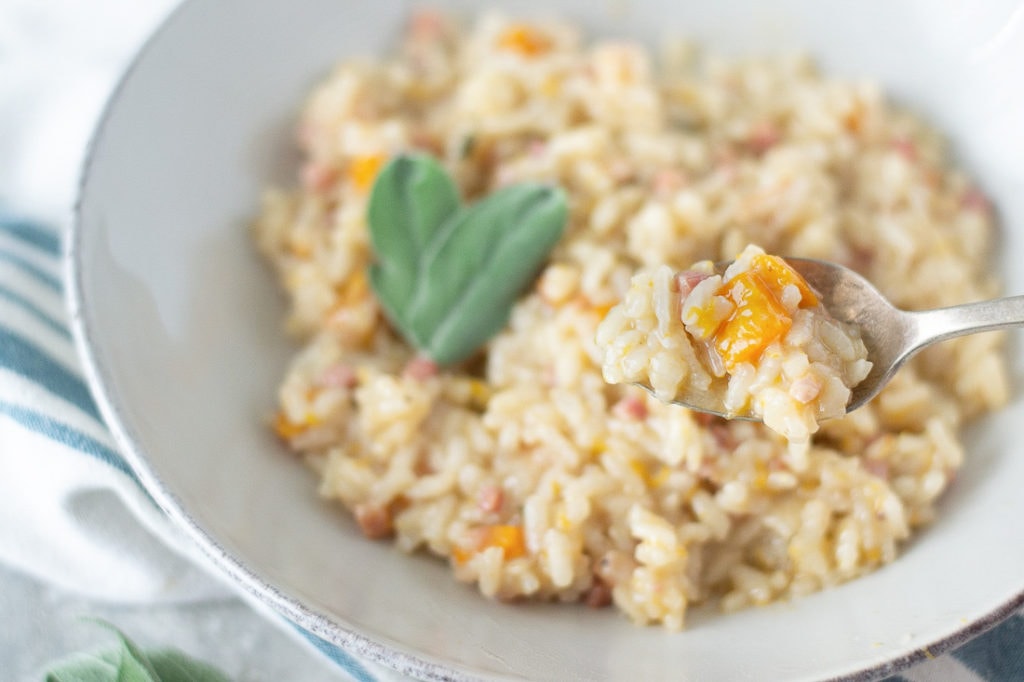 The key is to keep trying your rice to check for tenderness to get an accurate idea of how tender it is. I've made this and only needed 4 cups, and then the next batch I need 5.

All that's left to do after you've added enough liquid to have a creamy, tender risotto is add the butternut squash and pancetta back into the mixture.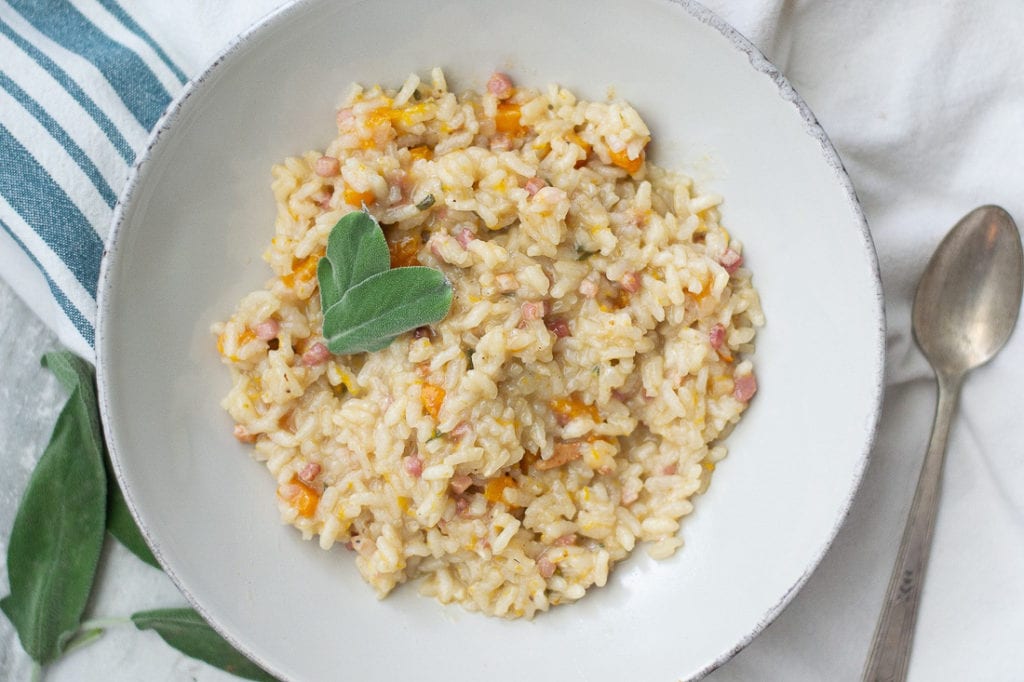 <
Tip on Making the Risotto
If you are using store bought broth, don't go out and buy two cartons of chicken broth, though. Once you've gone through the initial 4 cups that a typical carton hold, get some water simmering in your pan and use that to finish off the rice.
If you want to use homemade broth, check out by recipe for Chicken Stew. I go over how to make a whole chicken and broth in the crockpot.
Can't find pancetta? Use bacon. Cut it very fine and crisp it before you the squash and sauté the squash in the drippings.
You have to use arborio rice! There is no work-around here. White rice won't do!
Use the right pan! I like to cook the risotto in a high side skillet or frying pan that is stainless steel. I do most of my stovetop cooking in cast iron, but stainless steel definitely works better for risotto, OR an enameled cast iron. The one I used in pictured below.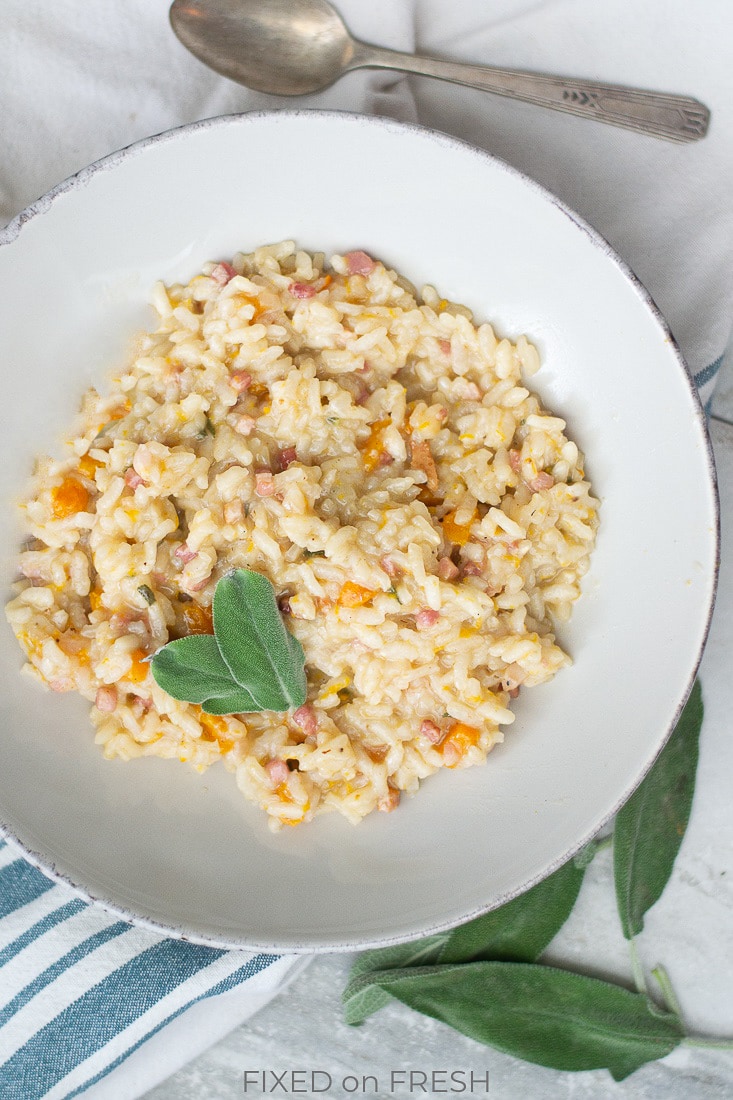 ---
My Favorite Tools to Make Risotto
---
WHAT TO SERVE WITH RISOTTO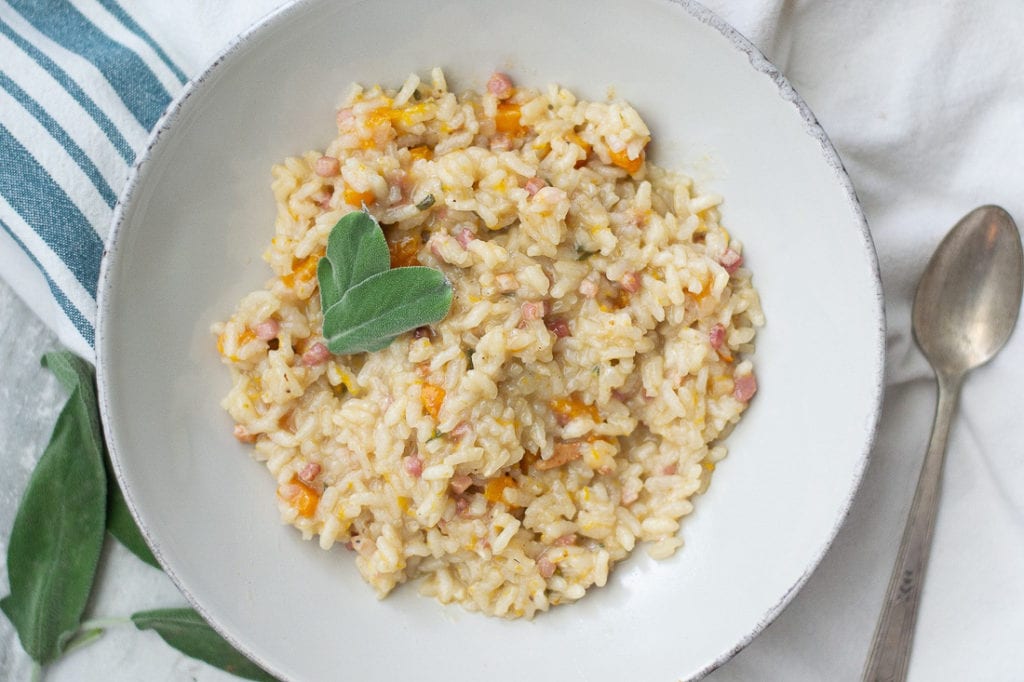 Butternut Squash and Pancetta Risotto
Butternut squash, sage and pancetta make this dairy free risotto taste rich and creamy without any added cheese. Even the kids will love this recipes served with some chicken or apple sausage!
Ingredients
1

tablespoons

olive oil

(+ 1 teaspoon)

1

cup

butternut squash

(peeled and cut into ½-inch cubes)

2

ounces

cubed pancetta

1

teaspoon

salt

(divided)

¼

teaspoon

fresh-ground black pepper

4 ½

cups

canned low-sodium chicken broth or homemade stock

(more if needed)

¼

cup

chopped shallot

1

cups

arborio rice

½

cup

dry white wine

1

tablespoons

chopped fresh sage
Instructions
In a large pot, heat the 1 tablespoon oil over moderate heat. Add the squash, ½ teaspoon salt and the pepper. Cook, stirring frequently, until the squash is just tender and browned, about 5 minutes.

Add the pancetta and cook until it begins to crisp. Remove the squash mixture from the pan with a slotted spoon, leaving some drippings in the pan. In a medium saucepan, bring the broth to a simmer.

In the large pot, heat the remaining teaspoon of oil over low heat. Add the shallot and cook, stirring occasionally, until translucent, about 2 minutes. Add the rice to the shallots and stir until it begins to turn opaque, about 2 minutes.

Add the wine, sage and the remaining ¾ teaspoon salt to the rice. Cook, stirring frequently, until all of the wine has been absorbed. Add about ½ cup of the simmering broth and cook, stirring frequently, until it has been absorbed. The rice and broth should simmer gently; lower the heat if it bubbles more rapidly.

Continue cooking the rice, adding broth ½ cup at a time and allowing the rice to absorb it before adding the next ½ cup. Cook the rice in this way until tender, 25 to 30 minutes in all. The broth that hasn't been absorbed should be thickened by the starch from the rice. You may not need to use all the liquid, or you may need more broth or some water.

Stir in the squash and pancetta and additional salt and pepper to taste.
Nutrition
Serving:
1
cup
Calories:
235
kcal
Carbohydrates:
31
g
Protein:
8
g
Fat:
7
g
Saturated Fat:
2
g
Monounsaturated Fat:
3
g
Cholesterol:
10
mg
Sodium:
1427
mg
Potassium:
193
mg
Fiber:
1
g
Sugar:
5
g
Vitamin A:
3700
IU
Vitamin C:
11.6
mg
Calcium:
20
mg
Iron:
0.7
mg
Nutrition Information Disclaimer
---
**This blog post contains affiliate links to products that I actually use and that align with my values. See my affiliate disclaimer here.
Pin it Now, Cook it Later!