Everything you'll need to go from an empty kitchen to cooking almost any recipe you want. A lot of stores and registry lists have very, VERY long lists of things you might need. This is a short list of kitchen essentials you will for sure need if you plan on cooking at home.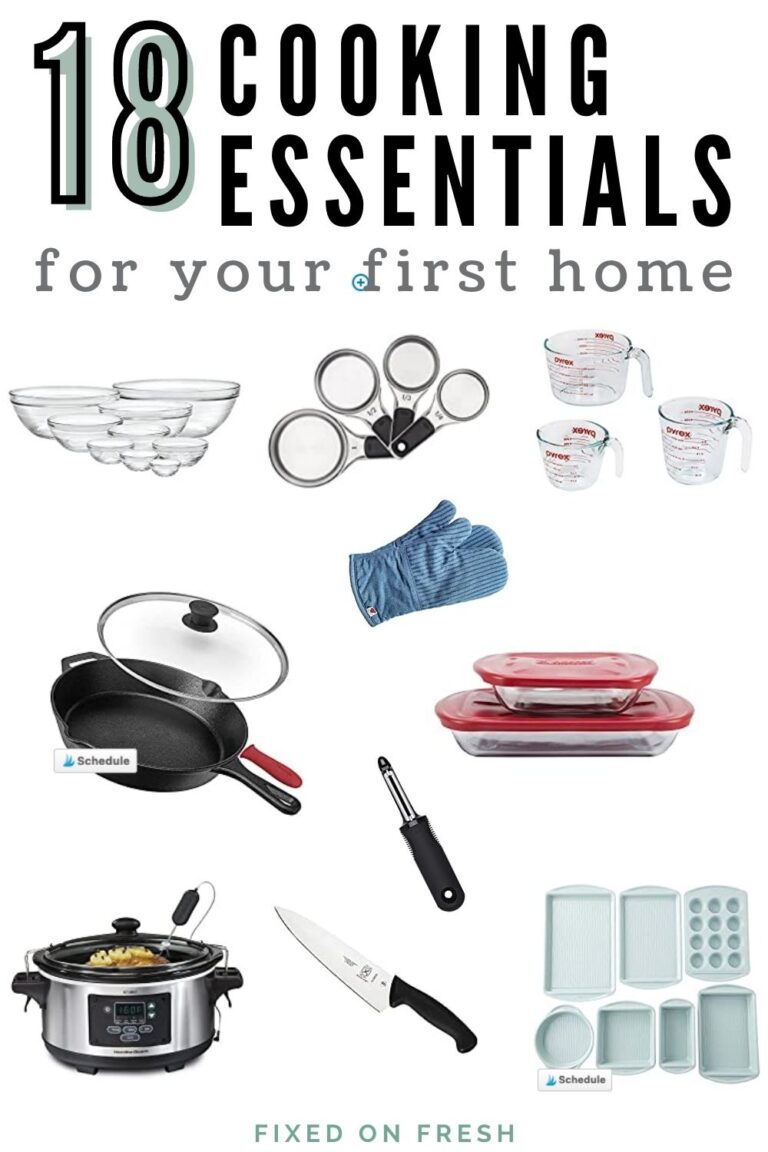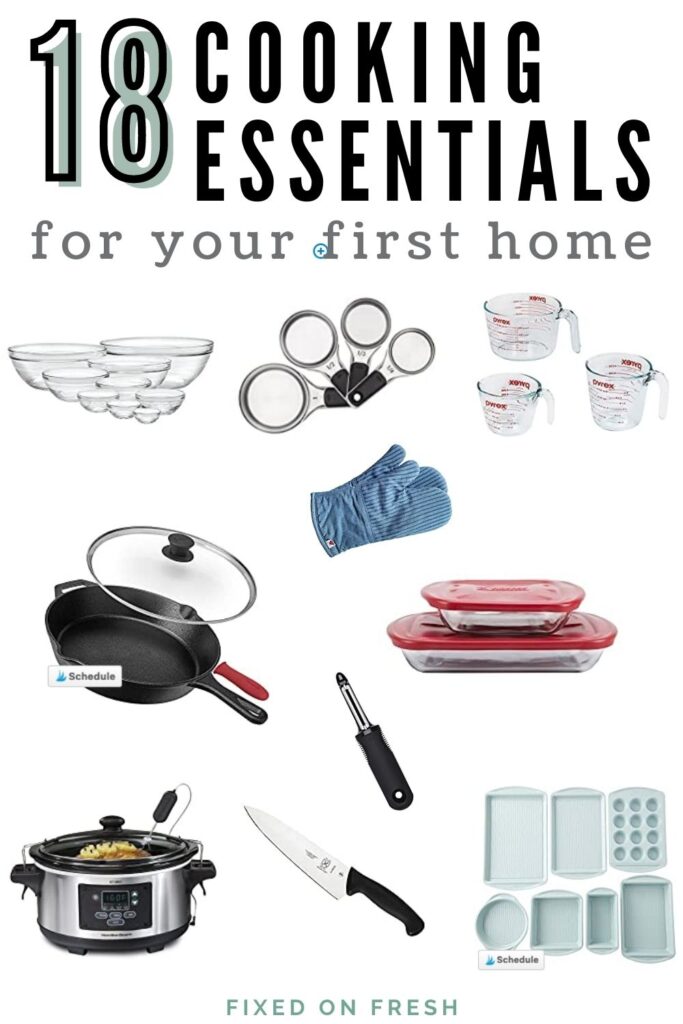 This is a list of strictly cooking items. You'll need more over time as you find what you love to cook, but when you're walking into an empty kitchen, and you actually want to cook, these 18 items will get you through years.
These are the items I use weekly, multiple times. I also chose items that will hold up and not need replacing in only a couple of years (with one notable exception I will cover below).
The good thing about have a short list of basics is you can buy fewer items with better quality, then a ton of items you might not use at a lower quality.
---
Preparation Tools
Chef's Knife, $18
A good, sharp chef's knife will be used to make every meal in your first home, I promise. And this knife is very budget-friendly.
This brand, Mercer, has a ton of other higher-end knives that have a full extension blade and a nicer handle, but this entry-level kitchen essential is a seriously awesome and versatile knife.
I spent a ton of our wedding registry money on a very fancy knife block set and I use 2 knives 90% of the time. They're both chef's knives. You don't need any of that other stuff. MAYBE a paring knife and some steak knives, but that's the extent of it.
---
Wooden or Bamboo Cutting Board, $27
Skip the plastic cutting boards and go with bamboo or wood to last you years and years. Not only does plastic end up in your food when you cut on them, but they also tend to warp and slip on your counter.
---
Starter Utensil Set, $30
You'll need lots of utensils to get your food stirred, served, flipped, and folded. But all those utensils get expensive. This will be one of the few things I recommend just getting something to get you going before you figure out what you use most and need something better quality.
I got one of these for my first apartment and slowly replaced a few pieces each year, I switched a lot of my plastic pieces for wood or metal. This set is silicone, though. The silicone pieces that I have today last far longer than flimsy plastic.
---
Vegetable Peeler, $10
A staple for every kitchen if you eat veggies at all. Not only is it great for potatoes, squashes, and carrots, but also hard cheeses and making vegetable ribbons for salads.
I don't have a standard cheese grater on here because pre-shredded cheese is so readily available. If you grate cheese, zest fruits, or grate veggies regularly - this is a great option.
---
Glass Mixing Bowls, $38
Glass mixing bowls are another highly versatile kitchen tool you can't cook without. They can be easily microwaved or used as a double boiler because the glass is heat resistant.
They're also dishwasher safe without fear of melting or warping them.
---
Strainer or Colander, $10
Colanders are great for washing veggies and straining anything boiled. This one is a fine mesh - so it's also great to use as a sieve to strain sauces and other things.
---
Glass liquid measuring cups will last your entire life, where the plastic tend to discolor and fade. These are also great for the same reason as the glass bowls: dishwasher safe and heat resistant.
---
Dry Measuring Cups, $20
I have had a similar set from the same brand for 15 years and they're still going strong compared to the other plastic or flimsy metal sets I've had. Even if you're not an avid baker - these dry measuring cups will get used weekly.
---
Measuring Spoons, $10
The same goes for these spoons as the cups above. They'll last forever and you're going to need them.
---
Baking and Roasting
This set is affordable and will get you a ton of bang for your buck. Complete with a half sheet pan, quarter sheet pan, 9x13, 8x8, loaf pan, round cake pan, and muffin pan.
This beginner set will get you through a ton of baking recipes like sheet cake, layer cakes, brownies, muffins, and cupcakes. You'll also be able to use the 9x13 as a roasting pan for many dinner recipes, meatloaf, casseroles, bacon, and a load of sheet pan dinners.
If you're a huge cookie baker or like to cook using high temps (over 350˚ F) - you may consider getting larger baking sheets like these that can withstand the higher temps.
---
Oven Mitts, $14
While I have both oven mitts and potholders, I grew up a mitt kinda girl. Having your full hand covered is just an extra safeguard especially for beginner cooks. This brand is affordable and uses a hybrid of cloth and silicone technology.
They also offer potholders for about $11 if you find you're used to those instead.
---
Some recipes like are better suited for glass dishes than metal, plus these come with lids so you can meal prep a whole mess of food and store it in these for the week.
If you plan pot lucks at all, these also travel well. I love doing casseroles, hot dips, wings, and a ton of other recipes in these.
---
Stovetop Cooking
Large Cast Iron Skillet with Lid, $60
This one is my ride or die. I use this guy at least twice a week. While some people find working with cast iron cumbersome because of the weight and different cleaning process, the versatility cannot be beat.
It goes from the stovetop to the oven effortlessly. That means you're able to get a pan sear and finish roasting in the oven, you can also make casseroles in one pot using this guy.
---
A few of my favorite cast iron skillet recipes
---
10" Nonstick skillet, $20
While I do the majority of my cooking in cast iron, a nonstick is always nice to have on hand. I primarily use mine for eggs, but will also use it for smaller sautés. Plus you can't beat the washablity of these guys. I eat eggs often, but if they aren't your thing, you can stick with cast iron all day.
---
6-quart cast iron Dutch oven, $50
I use this one at least once a week also. Again, the versatility of cast iron cannot be overstated. This pot is perfect for soups, stews, sauces, and braising large pieces of meat like pork shoulder or pot roast.
This pot also works as a stock pot for boiling potatoes, noodles, and other large boils.
---
Stainless steel saucepan with Lid, $23
Uses for this guy are also pretty versatile (noticing a pattern here?): Smaller batches of noodles or soups, sauces, steaming or boiling veggies, melting butter, simmering side dishes and a lot more.
---
Kitchen Electronics
Slow Cooker, $50
No kitchen would be complete without a crockpot or slow cooker. From cooking a whole chicken, making soups, chilies, braising meat, cooking rice, this thing will see you through. Not to mention it doesn't heat up the whole house and it's great for busy days when you can't be in the kitchen for a while.
---
Blender and Food Processor, $160
This is on the higher end of the budget and certainly not an absolute must, but it has a ton of uses should you need them. Soups, sauces and smoothies are the most obvious. But the food processor attachment also opens up the world of various doughs, energy bites, nice cream or sorbets, and other veggie purees.
---
And that's it! You really don't need more as a beginner cook. As you become more experienced, you can buy more based on you're need - but EVERY cook needs these things.
Is there something you use every day I left off the list please let me know here, or on Instagram or Facebook.
PIN FOR LATER