If you crave the flavors of thanksgiving year round, but in a healthy sheet pan dinner! Sage and rosemary rubbed turkey is cooked on the same sheet pan with garlic shallot green beans and cinnamon spiced sweet potatoes. The whole dinner comes together in under 40 minutes and it's a great option to meal prep for lunches!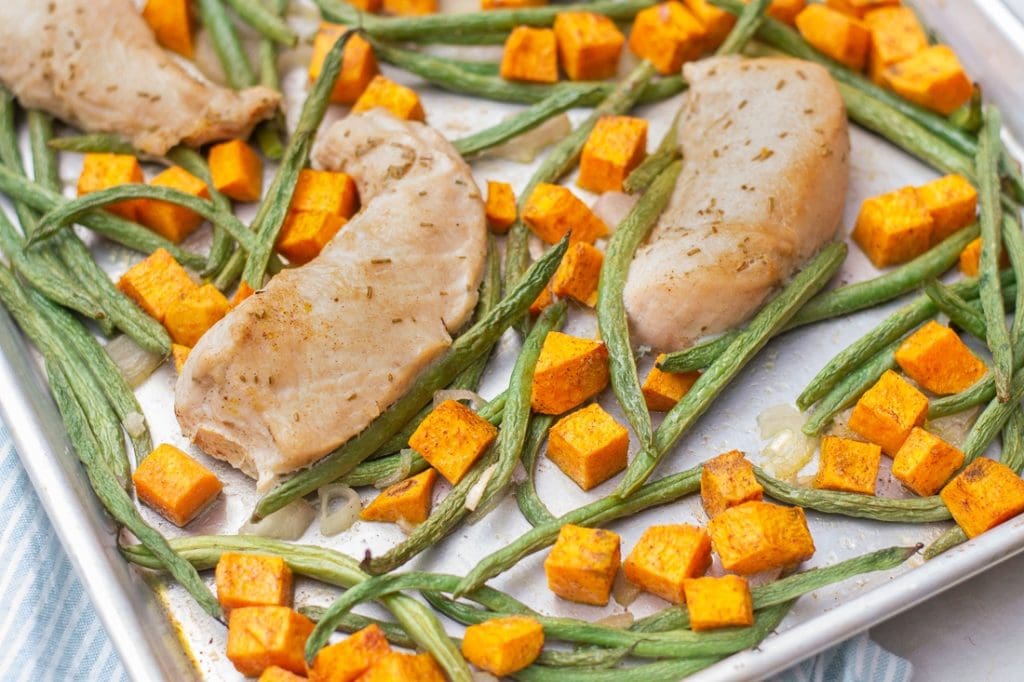 SHEET PAN TURKEY TENDERLOIN DINNER
Thanksgiving foods give me all the nostalgic feels. So why only have it one day a year? Especially when I've found a way to get the same gist of thanksgiving with a tiny fraction of the calories in less than 40 minutes.
I took 3 of my favorite parts of the traditional Thanksgiving meal and super simplified them into this awesome sheet pan dinner. Turkey, sweet potato casserole, and green bean casserole are all made Paleo, Whole30, and are free of dairy, refined sugars and gluten.
GARLIC SHALLOT GREEN BEANS
The green bean casserole revamp was really simplified. Green beans are coated in olive oil, salt and pepper, garlic and shallots and spread over a large sheet pan. Don't get me wrong, I love all the cream and mushrooms and crispy onions. I even make green bean casserole outside of Thanksgiving, but we're trying to save time and energy for a weeknight dinner here!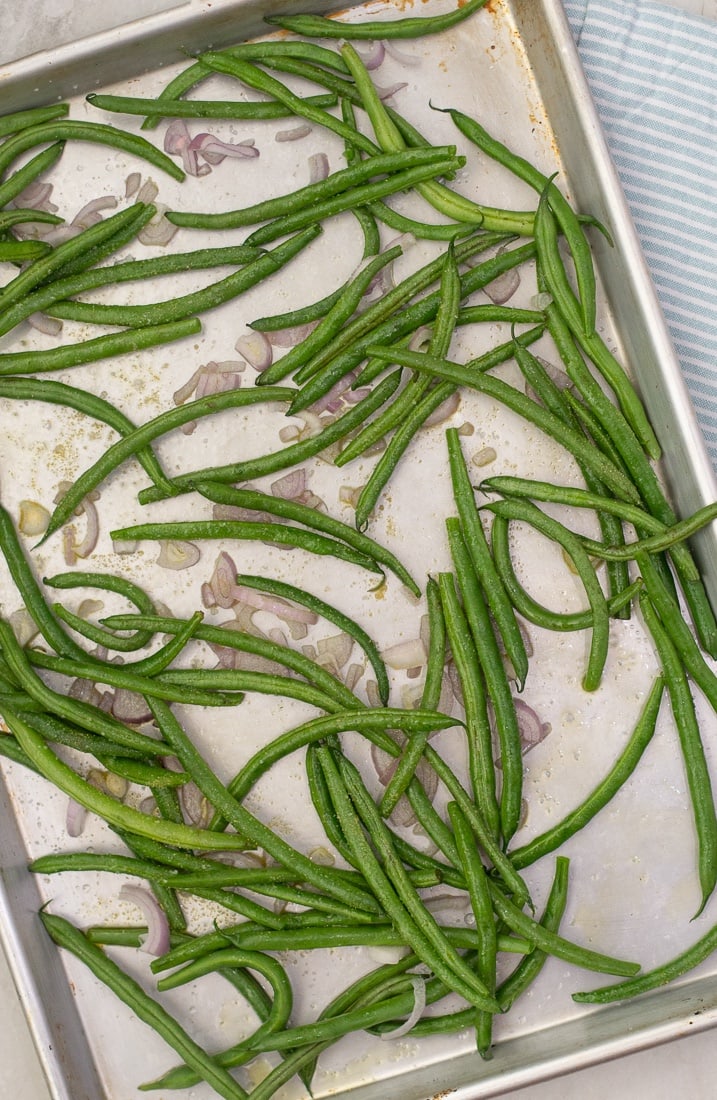 CINNAMON SPICED SWEET POTATOES
Instead of using a ton of butter and refined sugar, I keep it simple here, once again. Diced sweet potatoes are tossed in olive oil, cinnamon and salt and arranged on the same pan as those green beans.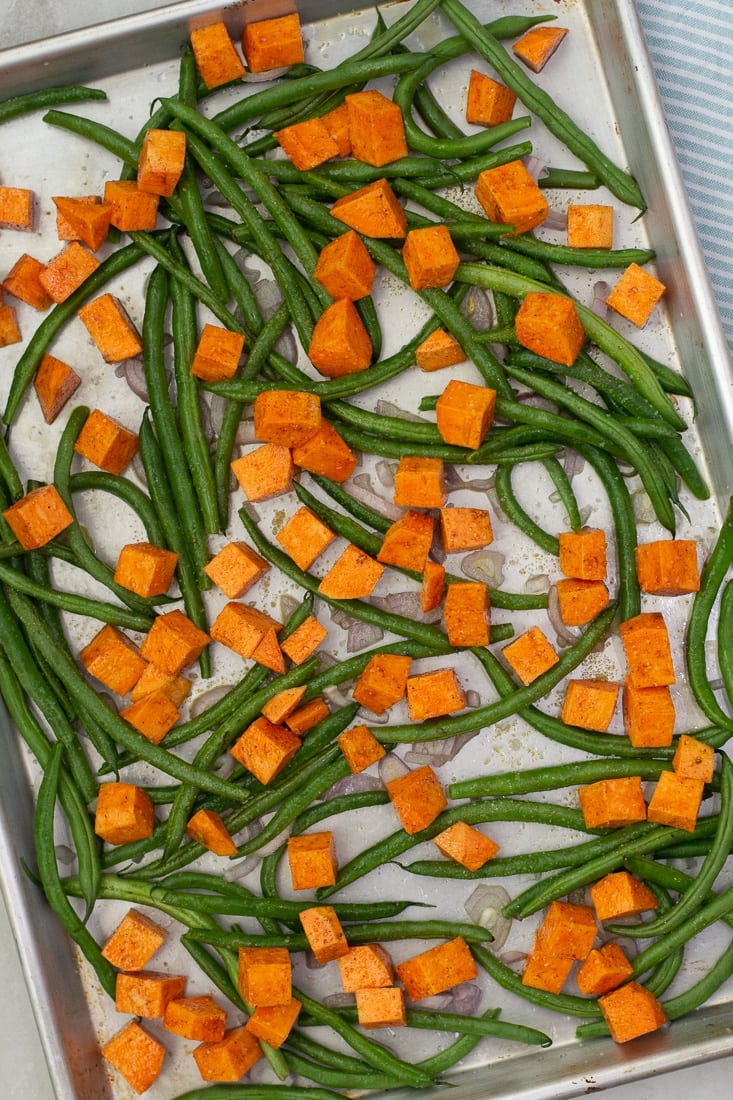 ROSEMARY SAGE TURKEY TENDERLOIN
Turkey tenderloin is easy to cook, but it does have a big chewy tendon running down the center of it, just like with chicken tenderloins. If you cook it low and slow, it does tend to melt away. In my experience, though, you always run into it when you're eating.
To get the turkey to cook in the same time as the veggies, you need to cut it down into quarters. I will usually run a cut along either side of the tendon and just cut it out along with any silver skin on the outside.
After that, it's just a matter of getting some dried or fresh herbs together with a little garlic and salt and pepper to make an easy and delicious rub for the turkey. Toss them all together in a bowl to coat and arrange the turkey on the pan to cook evenly.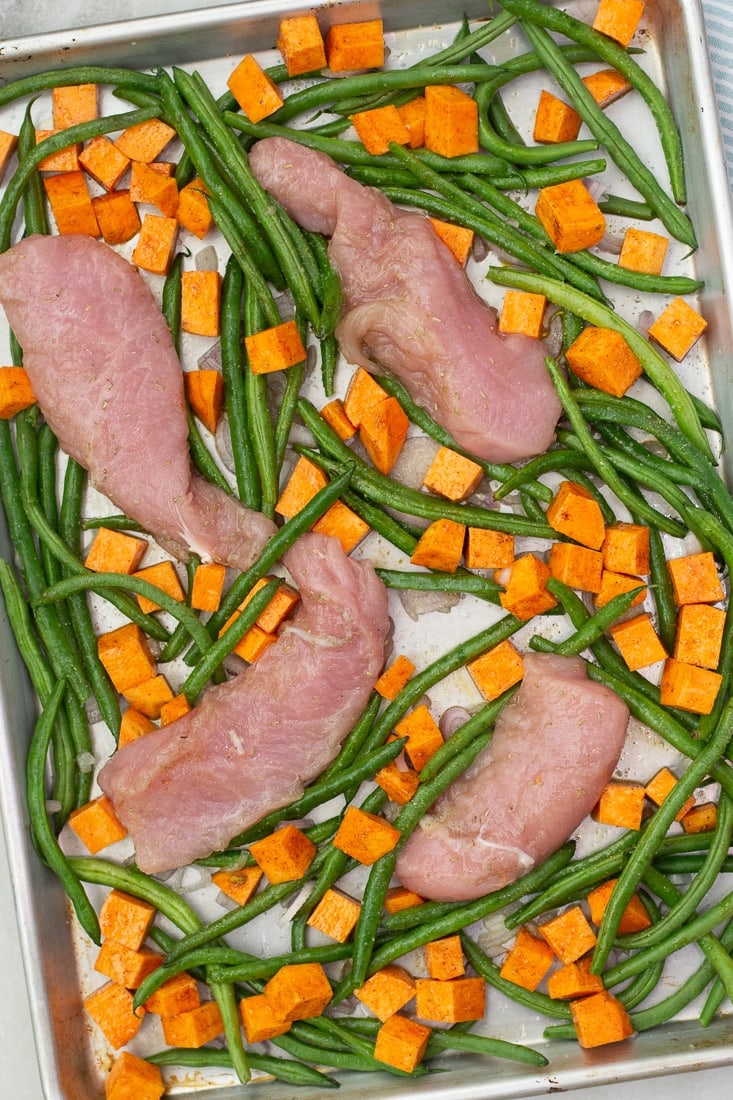 <
EASY MEAL PREP LUNCH
If you do a Sunday meal prep like I do, this is a great option to throw in the oven to have lunch for 4 days! This meal stays good in the fridge for up to 5 days and you can freeze it successfully in an airtight, freezer safe container for up to 60 days! So if you need back up meals for lunch or dinner, you're good to go!
---
[abcf-grid-gallery-custom-links id="4338"]
---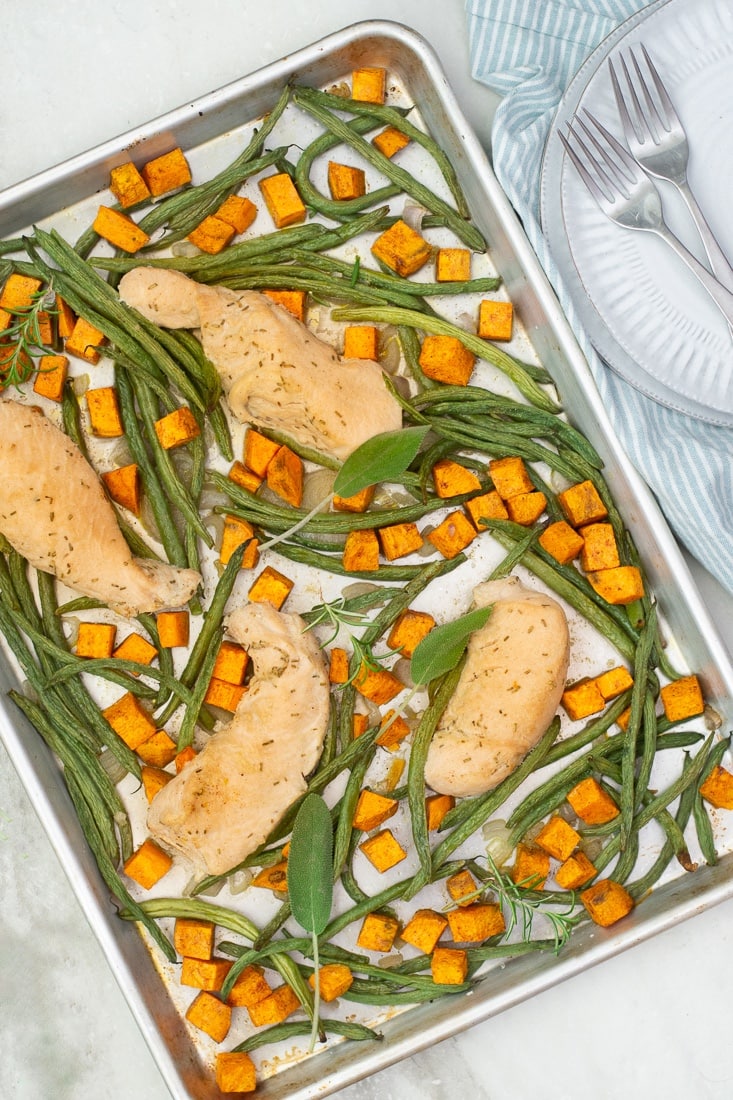 Other Recipes You Should Check Out
I mean...since you're already making a grocery list...let me save you some time!
📖 Recipe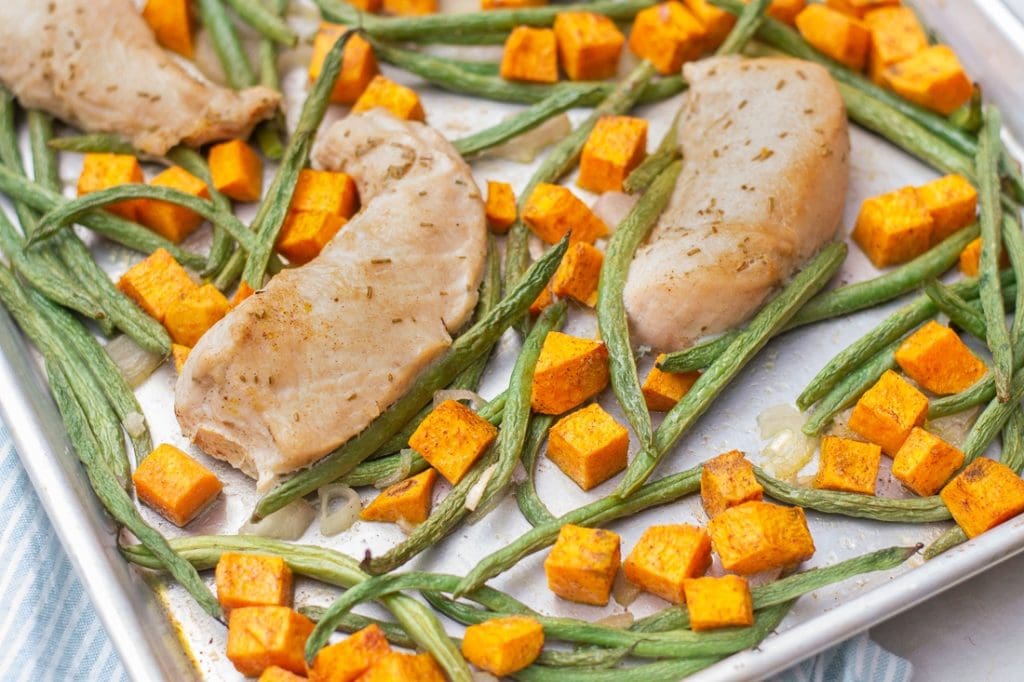 Sheet Pan Turkey Dinner
If you crave the flavors of thanksgiving year round, but you want to keep it healthy, you're in the right place. Sage and rosemary rubbed turkey is cooked on the same sheet pan with garlic shallot green beans and cinnamon spiced sweet potatoes.
Ingredients
12

ounces

green beans

((cleaned and trimmed))

2

tablespoon

olive oil

1

shallot

((peeled, halved and cut into thin slices))

salt and pepper

1

pound

sweet potatoes

((peeled and cut into ½-inch cubes))

½

teaspoon

salt

⅛

teaspoon

cinnamon

24

ounce

turkey tenderloin

((cut into 4 equal pieces with silver skin trimmed off))

2

cloves

garlic

((minced))

½

teaspoons

dried rosemary

¼

teaspoon

dried sage
Instructions
Preheat the oven to 375˚ F. Arrange green beans evenly on the sheet pan. Drizzle with 1 tablespoon of olive oil, sprinkle ½ teaspoon of salt, ¼ teaspoon of pepper, 1 clove of minced garlic and the shallots. Gently toss to coat.

In a medium mixing bowl, toss together the sweet potatoes, 1 tablespoon olive oil, ½ teaspoon salt and the cinnamon. Arrange sweet potatoes evenly with the green beans on the sheet pan.

In the same bowl, add turkey ½ teaspoon salt, ¼ teaspoon pepper, rosemary, sage and remaining garlic. Toss the turkey in the bowl until the seasoning is evenly coating the turkey. Arrange the four peices into the veggies evenly down the pan.

Bake in the oven for 25 minutes or until the turkey juices run clear and an instant read thermometer reads 165˚ F when placed in the center.

Allow to cool for 5 minutes and serve warm or refrigerate for up to 5 days, freeze for up to 60 days.
Nutrition
Calories:
326
kcal
Carbohydrates:
38
g
Protein:
45
g
Fat:
4
g
Saturated Fat:
1
g
Monounsaturated Fat:
2
g
Cholesterol:
105
mg
Sodium:
428
mg
Potassium:
489
mg
Fiber:
5
g
Sugar:
7
g
Vitamin A:
16350
IU
Vitamin C:
10.7
mg
Calcium:
90
mg
Iron:
3.4
mg
Nutrition Information Disclaimer
---
**This blog post contains affiliate links to products that I actually use and that align with my values. See my affiliate disclaimer here.