---
Easy chicken and quinoa casserole has broccoli, chicken, quinoa baked in a creamy cheese sauce and topped with golden, melted cheddar and parmesan. This casserole recipe is a perfect dinner for busy weeknights.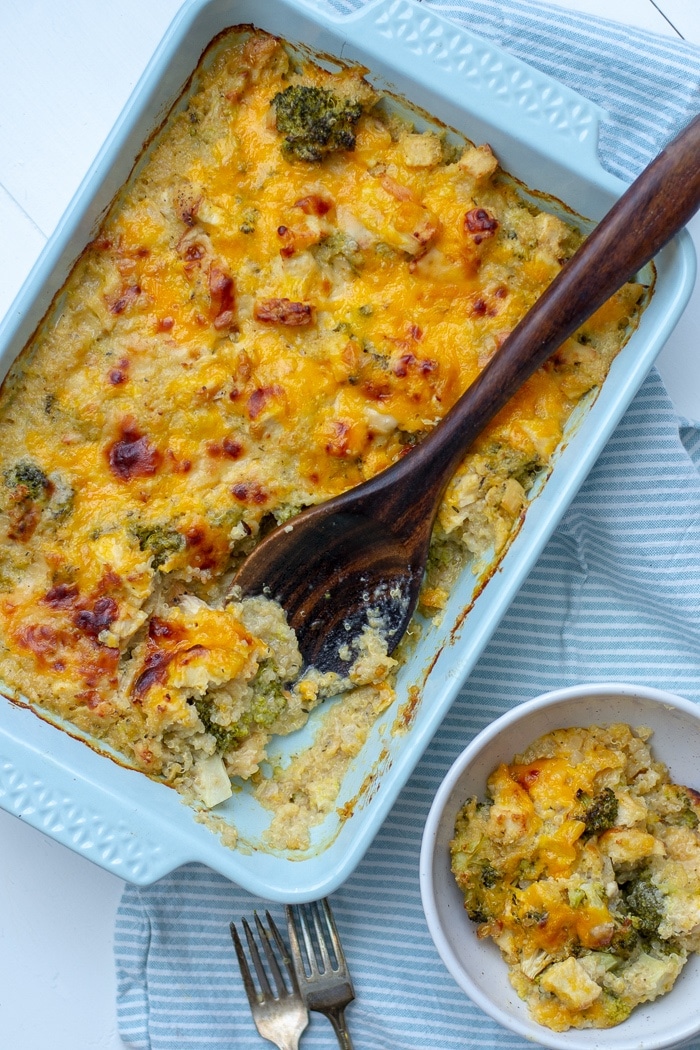 Tips For Making Chicken And Quinoa Casserole
This weeknight dinner dish is simple to make, but it never hurts to have a few tips from someone who's already made it. If you think you've got it down, though, go straight to the recipe card.
Tip #1: Rinse The Quinoa
It's a pretty simple step, but if you skip it, you could end up with a gritty texture or a wonky taste. Just throw the quinoa in a sieve and make sure the water runs clear before you cook it.
QUINOA SUBSTITUTE: If you like rice better than quinoa, go for it! Stick with long grain, and the timing should be the same as the quinoa.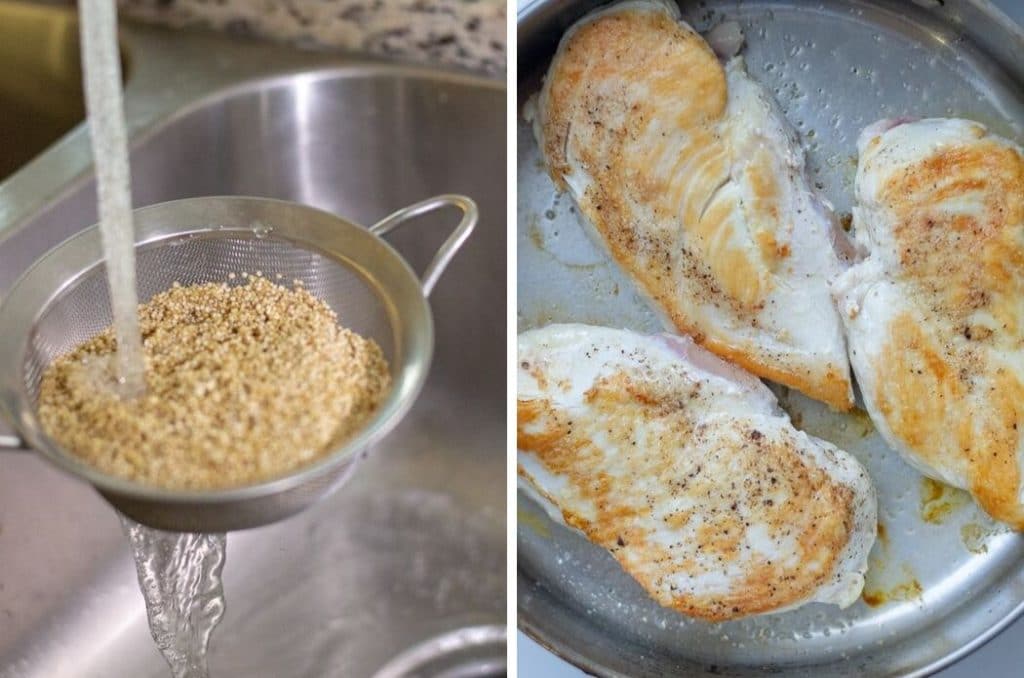 Tip #2: Keep From Burning The Chicken While Sauteeing
If your chicken breasts are on the thicker side, they'll take 5 or 6 minutes per side to cook through to 165˚F. It's tough to cook them for that long without getting a little char on the outside of the chicken.
The char will add an unpleasantly bitter flavor to the casserole. Especially since the pan will be used to make the cheese sauce once the chicken is cooked. So here's the trick: add a splash of chicken broth or water to the pan if the outside starts to get too dark.
CHICKEN BREAST SUBSTITUTE: Boneless, skinless chicken thighs would be awesome in this also. You can even skip the broth with chicken thigh because they're a little more fatty.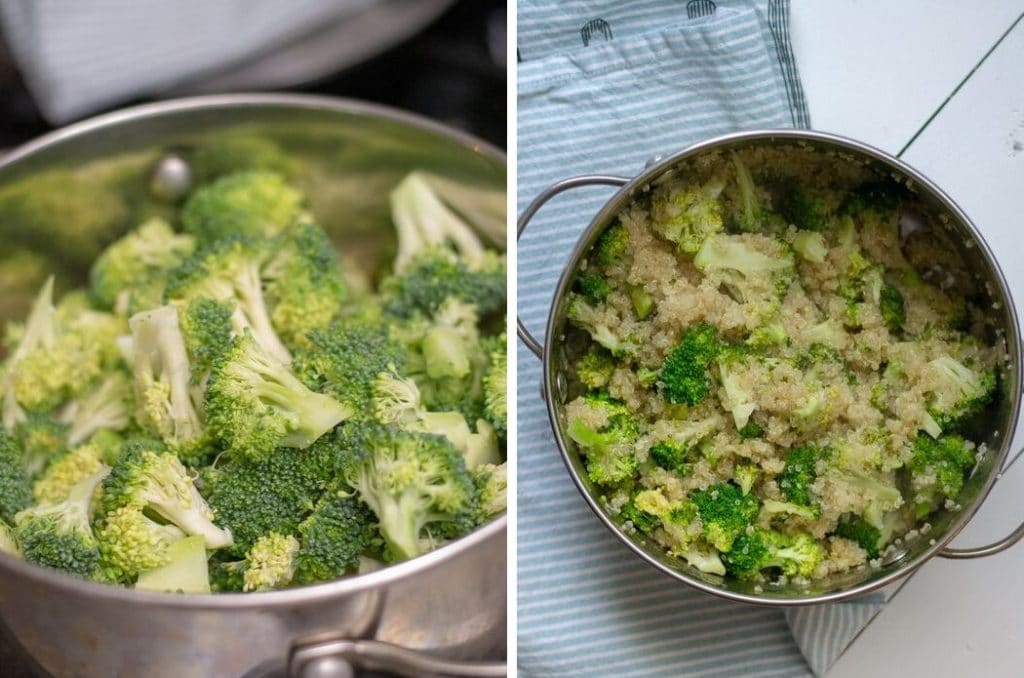 Tip #3: Cook The Broccoli With The Quinoa
I'm all about saving time on dish duty, so I cook the broccoli in the same pot with the quinoa.
The quinoa will cook mostly through in 12 minutes and then you will add the broccoli to the top of the quinoa with additional water to steam it for 5-7 minutes.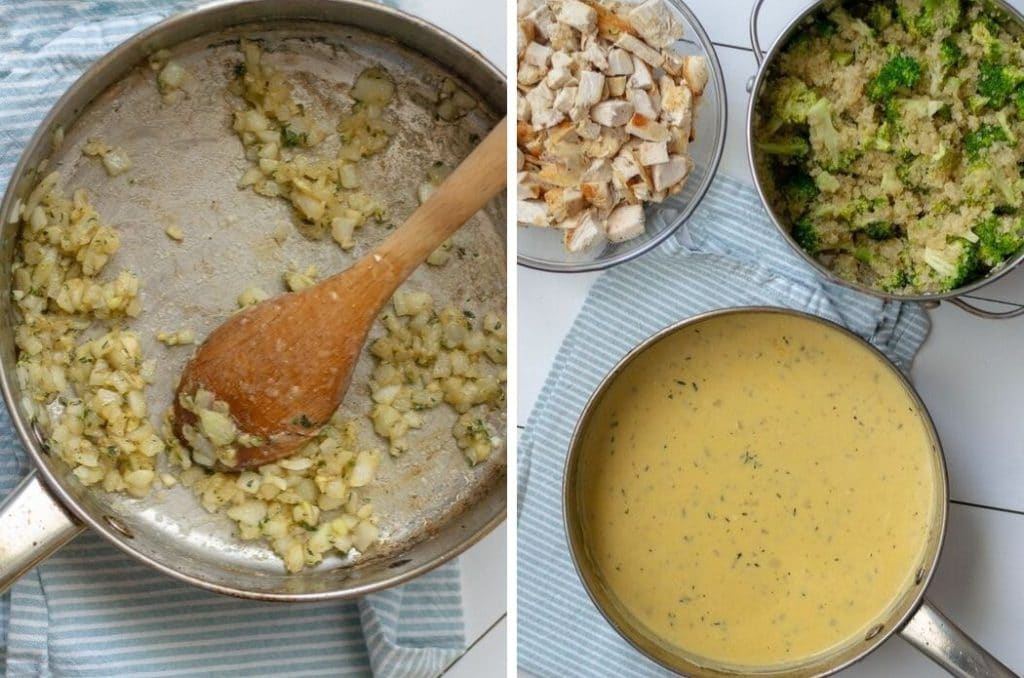 <
Tip #4: Use Freshly Grated Cheese
If you have a couple extra minutes to grate your own cheese, it's worth it. When you buy the bagged, shredded cheese it's coated in potato starch to keep it from sticking.
The potato starch leads to a much less creamy texture for the cheese sauce. Plus it doesn't melt as pretty on top.
What's The Best Way To Thicken Casseroles?
I personally use a rue to thicken most sauces for casseroles. A rue is merely butter and flour. This will thicken the sauce in the pan, but will continue to bind the casserole as it bakes.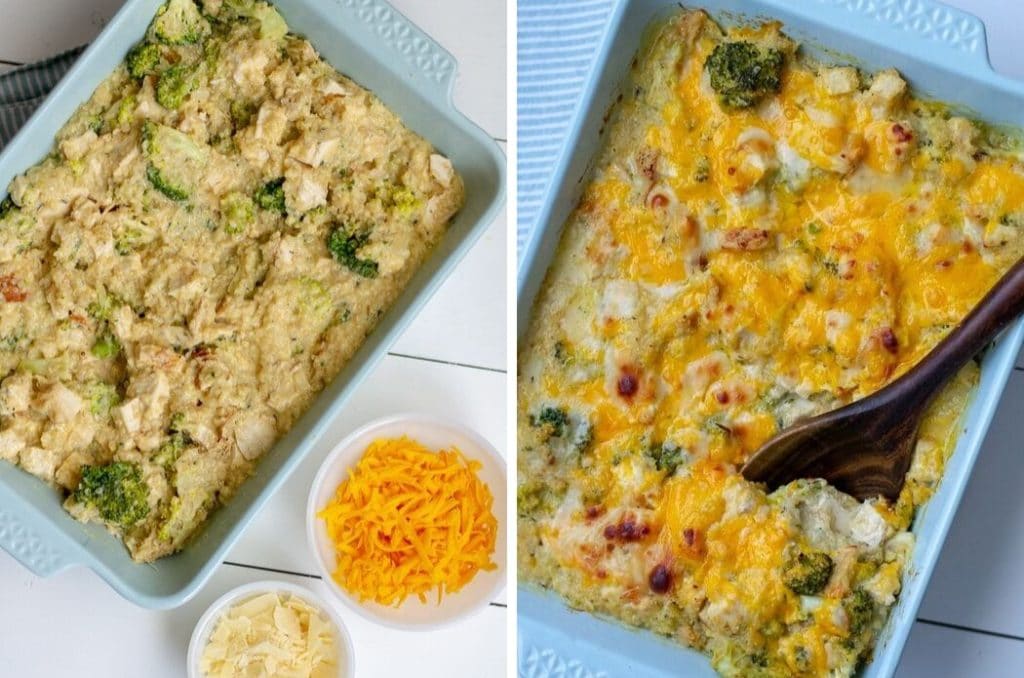 Tip # 5: Save Even More Time By Making This Recipe The Night Before
This recipe, start to finish, takes around an hour to make. If you get home and want to sit down to dinner pretty quickly, I highly suggest completely assemble the casserole the night before.
After you assemble to the casserole, top it with cheese, cover the dish tightly with foil and refrigerate for up to 24 hours.
You'll most likely need to add around 5-8 minutes to the cook time to bring it to room temperature from the chilled fridge, but you'll shave a ton of time with the prep!
How Long Does Quinoa Casserole Stay Good In The Fridge?
5 days is the magic number for any and all leftovers. This is assuming they are being properly stored in airtight containers and in an adequately cooled refrigerator.
Can This Casserole Be Frozen?
I'm a big fan of freezing things like casseroles, but I can't say this one would do well in the freezer.
This is already a pretty creamy casserole, while I haven't put it to the test, it's not a consistency that I've had good luck freezing. It ends up thawing rather mushy and watered down.
---
OTHER WEEKNIGHT DINNERS YOU MIGHT LIKE
---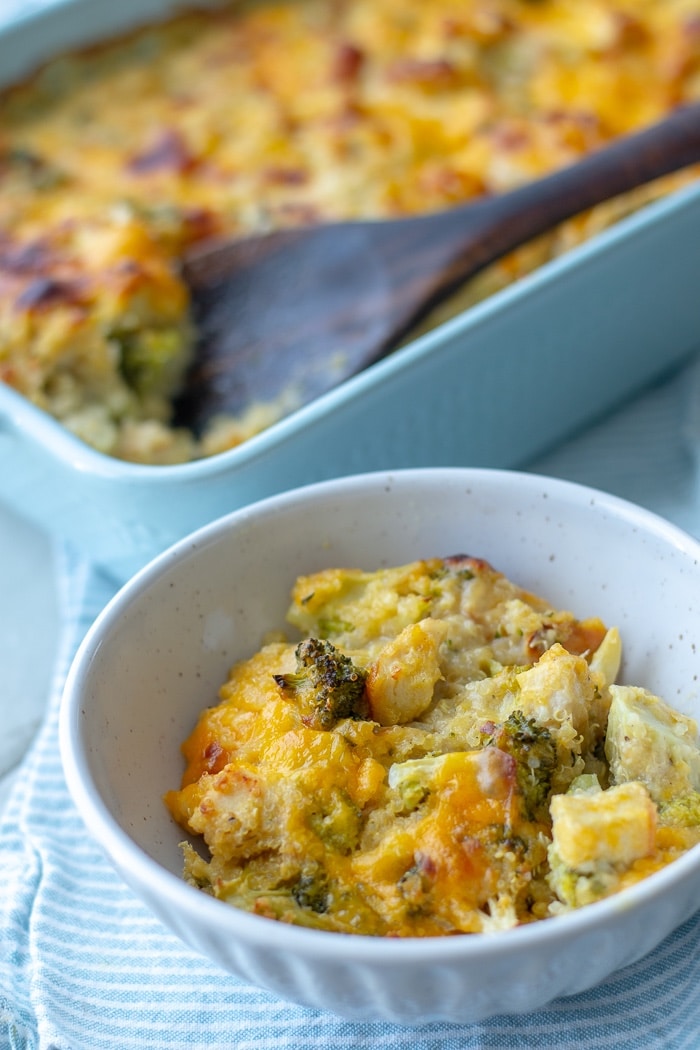 📖 Recipe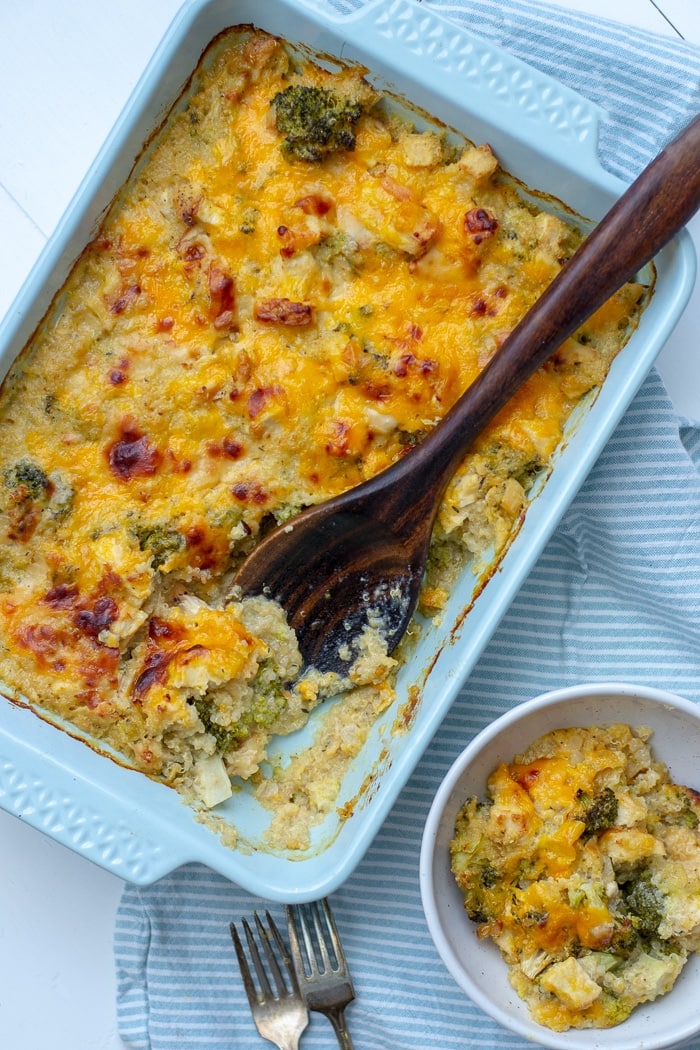 Cheesy Chicken, Broccoli and Quinoa Casserole
Chicken, broccoli and quinoa coated in a creamy cheese sauce and topped with additional melted cheese. The perfect weeknight dinner with make ahead instructions.
RECIPE COST :
$10.58 / $1.76 per serving
Ingredients
1

cup

quinoa, uncooked

4

cups

chopped broccoli florets, about 1 crown

1

tablespoon

olive oil, plus more to coat the pan

kosher salt and fresh ground black pepper

1 ½

pounds

boneless skinless chicken breast, about 3 large

1

cup

yellow onion, finely chopped

2

cloves

garlic, minced

2

teaspoons

fresh thyme, finely diced

2

tablespoons

butter

2

tablespoons

all-purpose flour

1 ¾

cups

2% milk

2

cups

shredded sharp cheddar cheese, divided

½

cup

grated parmesan cheese
Instructions
PREPARE: Preheat oven to 350˚ Brush a light layer of olive oil an 9×13 baking dish. Rinse the quinoa in a mesh sieve until the water runs clear.

COOK THE QUINOA & BROCCOLI: Pour the quinoa into a 3 qt saucepan with 2 cups of water. Bring the water to a boil, then reduce to a simmer and cover. Continue to simmer for 12 minutes.

Add the broccoli and an additional ½ cup of water to the pot, over the top of the quinoa and continue to steam an additional 5 minutes.

COOK THE CHICKEN: While the quinoa cooks, heat 1 tablespoon olive oil in the skillet over medium heat. Season the chicken with salt and pepper, to taste.

Once the oil is hot, add the chicken to the skillet, cook 5-6 minutes per side or until the center of each reads 160˚F with an instant read thermometer. Allow the chicken to cool.

MAKE THE CHEESE SAUCE: Melt butter in the skillet over medium heat, add the onion, thyme and garlic to the pan and cook for 4 minutes or until the onions are soft. Whisk in flour until golden, about 1 minute.

Gradually whisk in milk, and whisk constantly, until slightly thickened, about 3-4 minutes. Remove the pan from the heat and add 1 ¼ cup of shredded cheese. Whisk until the cheese melts and the sauce is smooth.

ASSEMBLE THE CASSEROLE: Chop the chicken breasts into 1-inch pieces, add it to a large bowl along with the quinoa, broccoli and cheese sauce. Fold to evenly coat everything with the cheese sauce. Spread the mixture evenly in the prepared baking dish. Top with remaining ¾ cup cheese and parmesan. Place into oven and bake until cheese has melted, about 8 minutes. Serve right away.
Notes
MAKE AHEAD: The entire casserole can be made up to 24 hours ahead. Cover the baking dish tightly with foil and refrigerate. Keep the foil on and cook for 10 minutes before removing the foil and cooking until the cheese is melted (around 8 minutes)
Long grain rice can be substituted here with the same timing
Boneless, skinless chicken thighs would be delicious in this also
Nutrition
Calories:
523
kcal
Carbohydrates:
32
g
Protein:
55
g
Fat:
25
g
Saturated Fat:
12
g
Polyunsaturated Fat:
2
g
Monounsaturated Fat:
5
g
Cholesterol:
122
mg
Sodium:
885
mg
Potassium:
707
mg
Fiber:
3
g
Sugar:
5
g
Vitamin A:
92
IU
Vitamin C:
33
mg
Calcium:
222
mg
Iron:
7
mg
Nutrition Information Disclaimer
RECIPE EQUIPMENT
**This blog post contains affiliate links to products that I actually use and that align with my values. See my affiliate disclaimer here.
PIN IT NOW, MAKE IT LATER