Easy ground beef enchiladas are made with a quick homemade enchilada sauce. Flour tortillas are filled with saucy ground beef, cheese, bell peppers, and onions and topped with more homemade red sauce.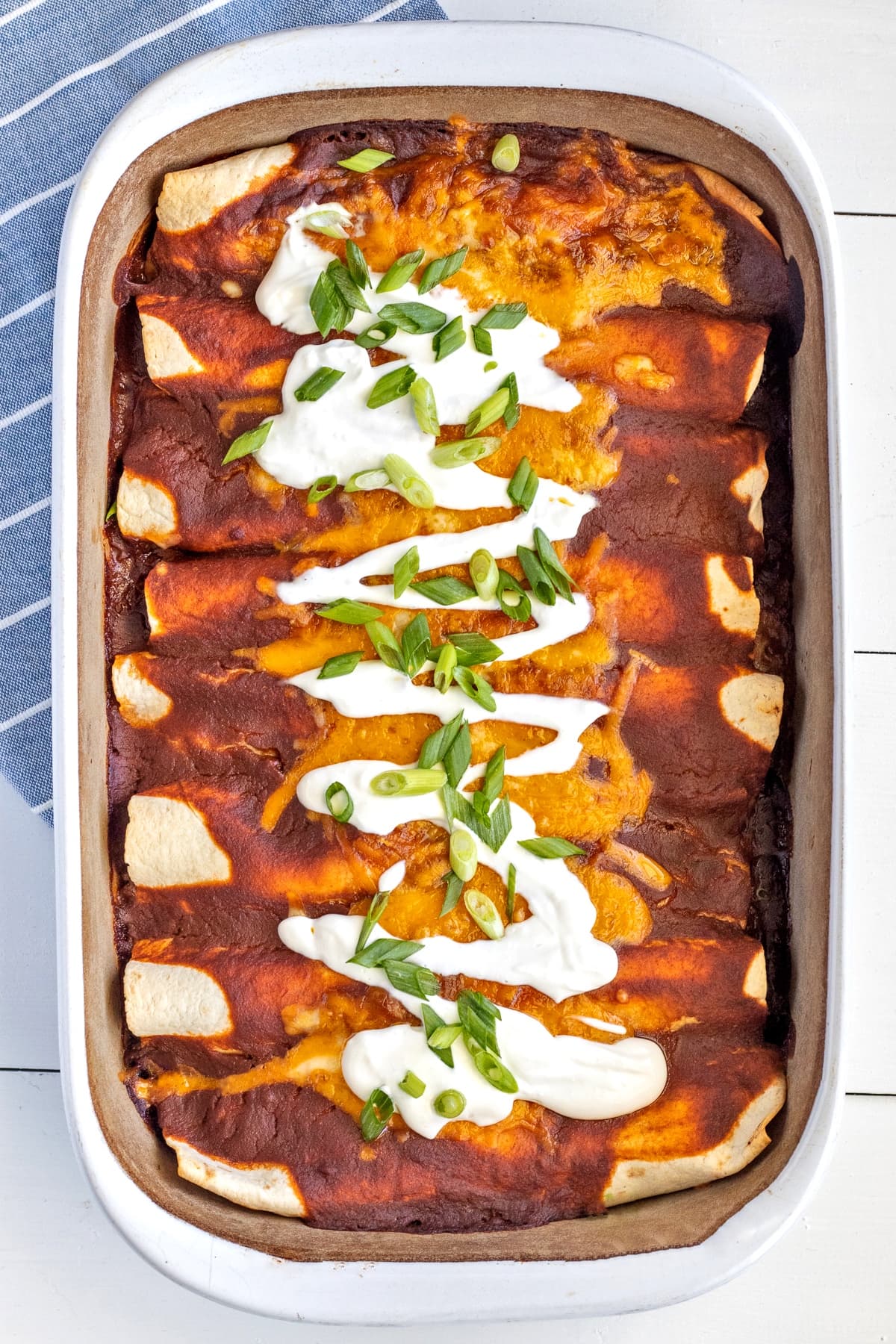 Serve these with Mexican black beans and sautéed zucchini and mushrooms to make it a meal.
Enchiladas are one of my go-to Taco Tuesday recipes because they come together really easily, the whole family loves them, and they're super tasty.
Ingredients and Substitutions
There are two groups of ingredients here: the sauce ingredients and the ingredients for the actual enchiladas. It may seem like a lot, but most, if not all of the sauce ingredients are pantry and spice cabinet staples. Here are a few substitutions you can make if need be.
Enchilada Sauce Ingredients
Olive oil - used to make a roux with the flour. Any cooking fat will do as a stand in: butter, coconut oil, ghee, or avocado oil.
Chicken broth - used to make the bulk of the enchilada sauce. You can use any broth you have on hand - beef, vegetable, you can even use water if you're in a bind, you may need to add a bit more salt, though.
Cocoa powder - adds a smokey richness the sauce needs. If you don't have any on hand, feel free to omit.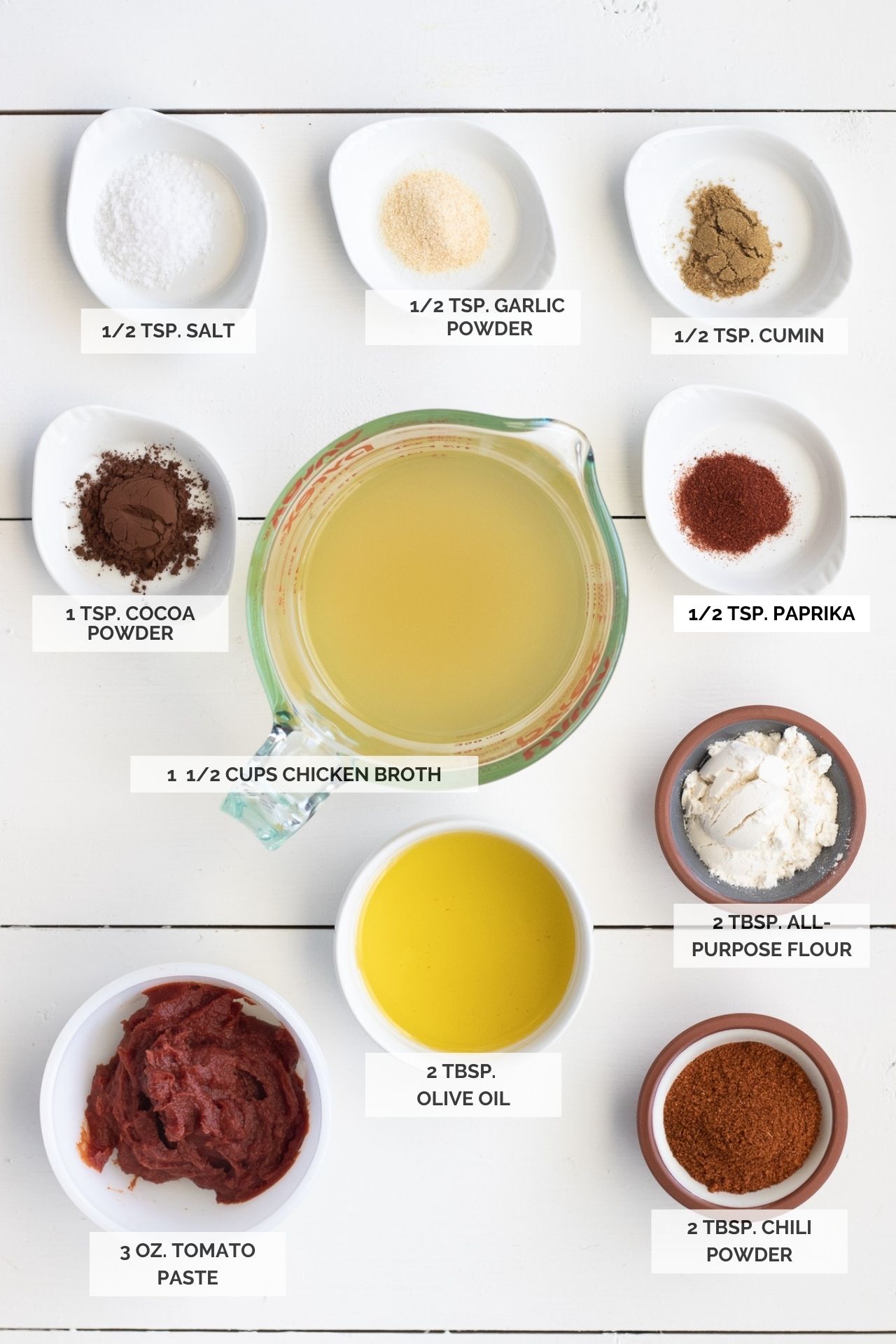 Enchilada Ingredients
Ground beef - I'm not a big fan of greasy enchiladas, so I use 93/7 ground beef. You can go as high as 10% fat and they'll still be great. Any higher and I would recommend draining the grease before adding the sauce. Ground turkey or bison work well too.
Tortillas - I love to use the low carb tortillas for this, but any flour tortillas work great. If you prefer corn (which I also love), you'll need to use closer to 10-12 of the smaller 6-inch tortillas and run them in two rows in the opposite direction. You'll also need to throw them in the microwave, covered with a damp paper towel, for about 30 seconds. It will make them break less when you're assembling.
Bell pepper and onion - any color variation will do. They add a ton of flavor and texture to these enchiladas. A couple of jalapeños will work too.
Cheese - Cheddar, Colby jack, Monterey jack, or Mexican blend cheddar will all work in this recipe.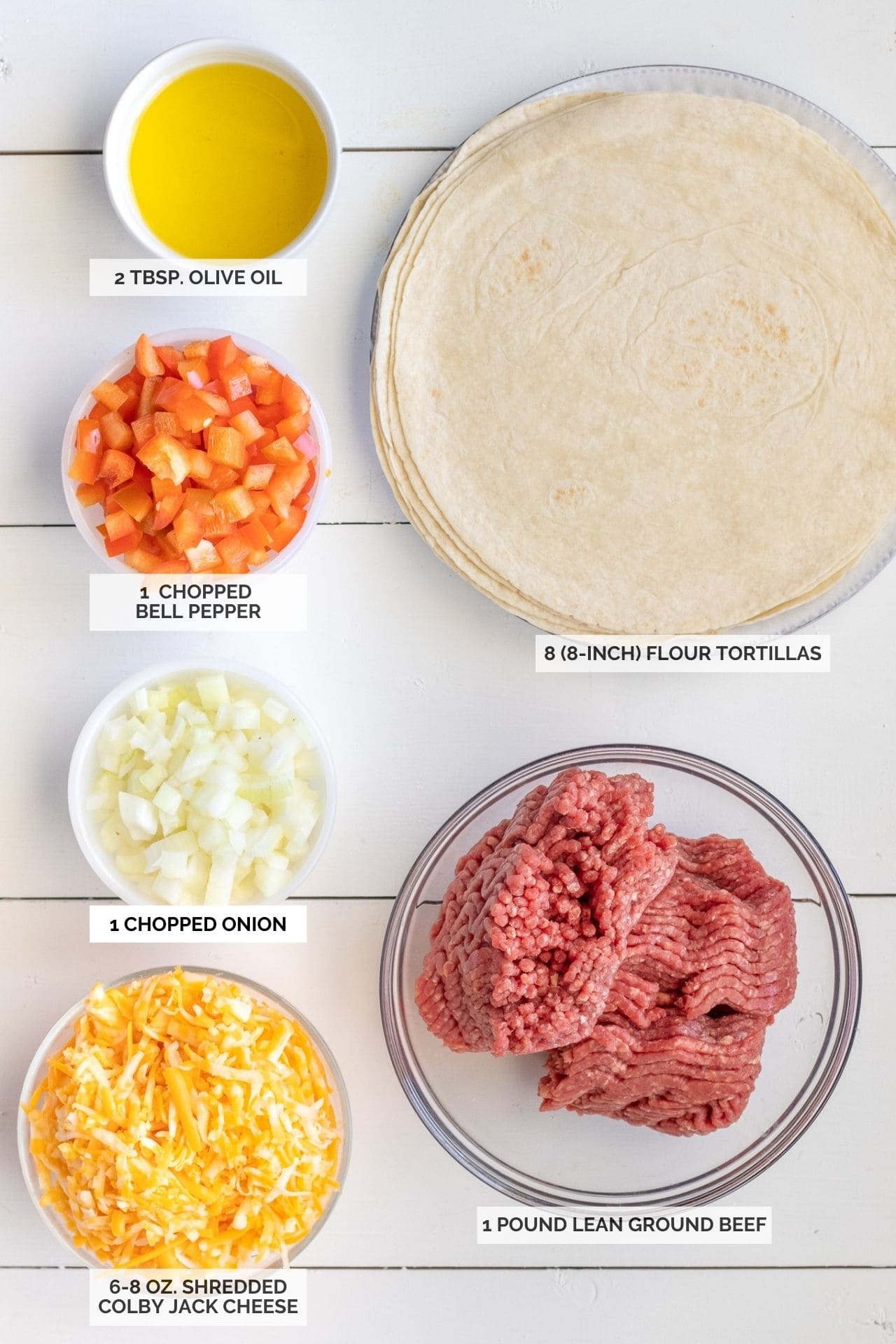 <
How to Make It
Make the Filling. Heat oil in a large skillet then add the bell pepper and onion. Cook the peppers and onions until they are tender, so about 3-5 minutes. Add the ground beef and break apart. Stir the meat occasionally until it's fully browned. Remove it from the heat and set aside.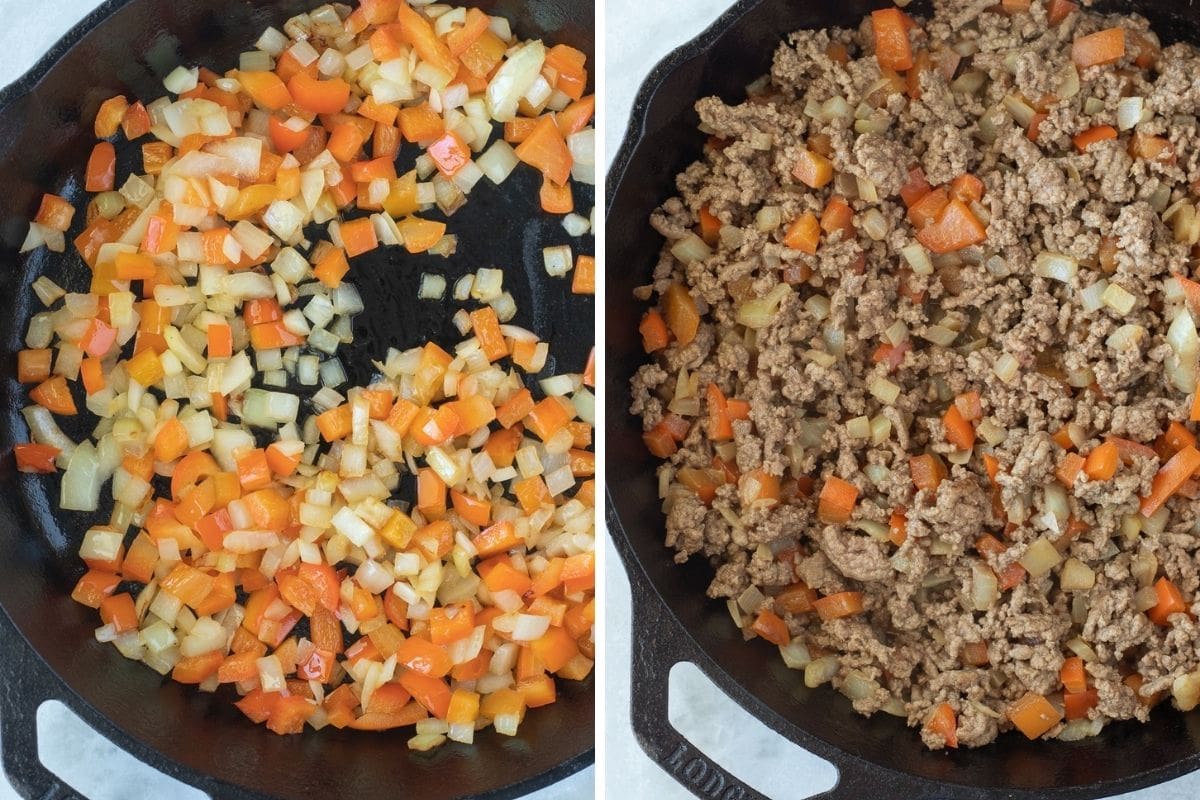 Make the sauce. Enchilada sauce is surprisingly easy to make. First combine all of the spices in a bowl: 2 tablespoons chili powder, ½ teaspoon paprika, ½ teaspoon cumin, ½ teaspoon garlic powder, ½ teaspoons of salt, and 1 teaspoon of cocoa powder. Set the mixture aside.
Heat the oil in a small pot and then whisk the flour in until no lumps remain. Then whisk in the broth, the tomato paste, and the spice blend. Allow the sauce to come to a simmer and stir every minute or so until it has thickened. My sauce usually takes about 7 minutes to thicken.
Pour ¾ cup of sauce into the meat mixture and stir it to coat the meat fully.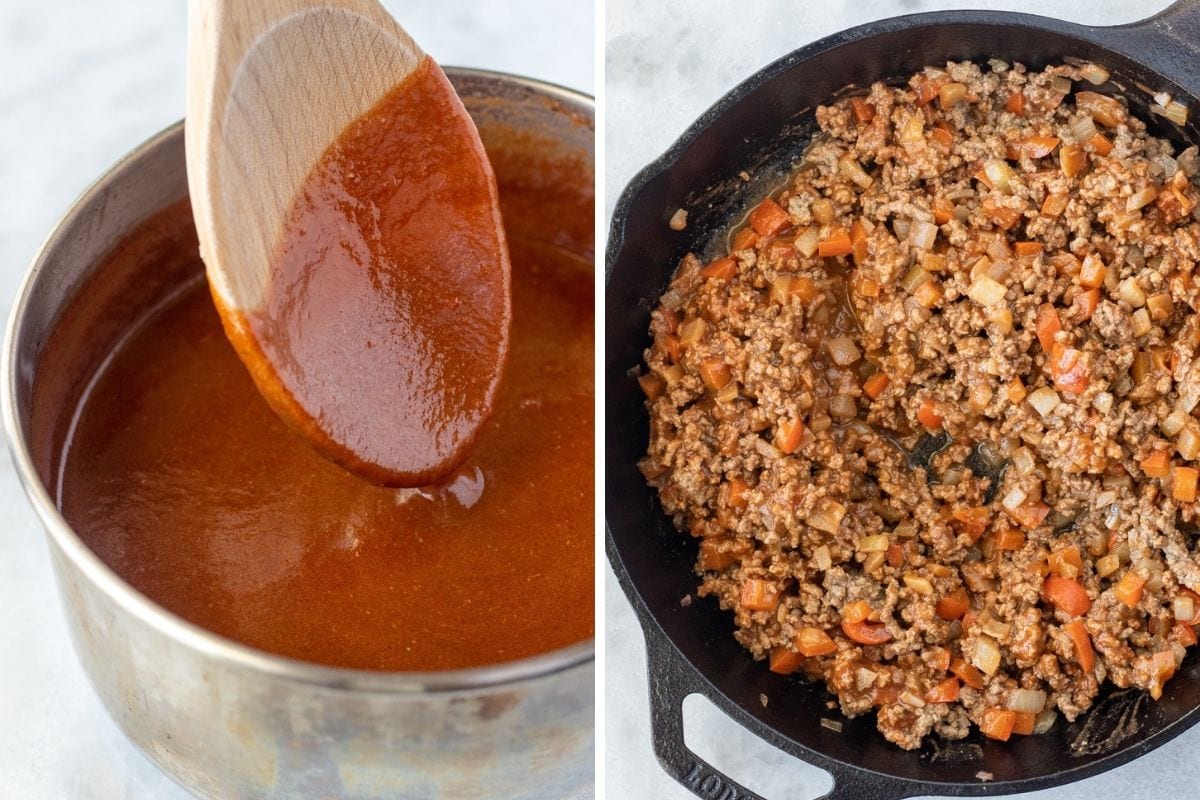 Assemble the enchiladas. Spread ½ a cup of the meat mixture down the center of a tortilla. Top with 2 tablespoon or so of the shredded cheese.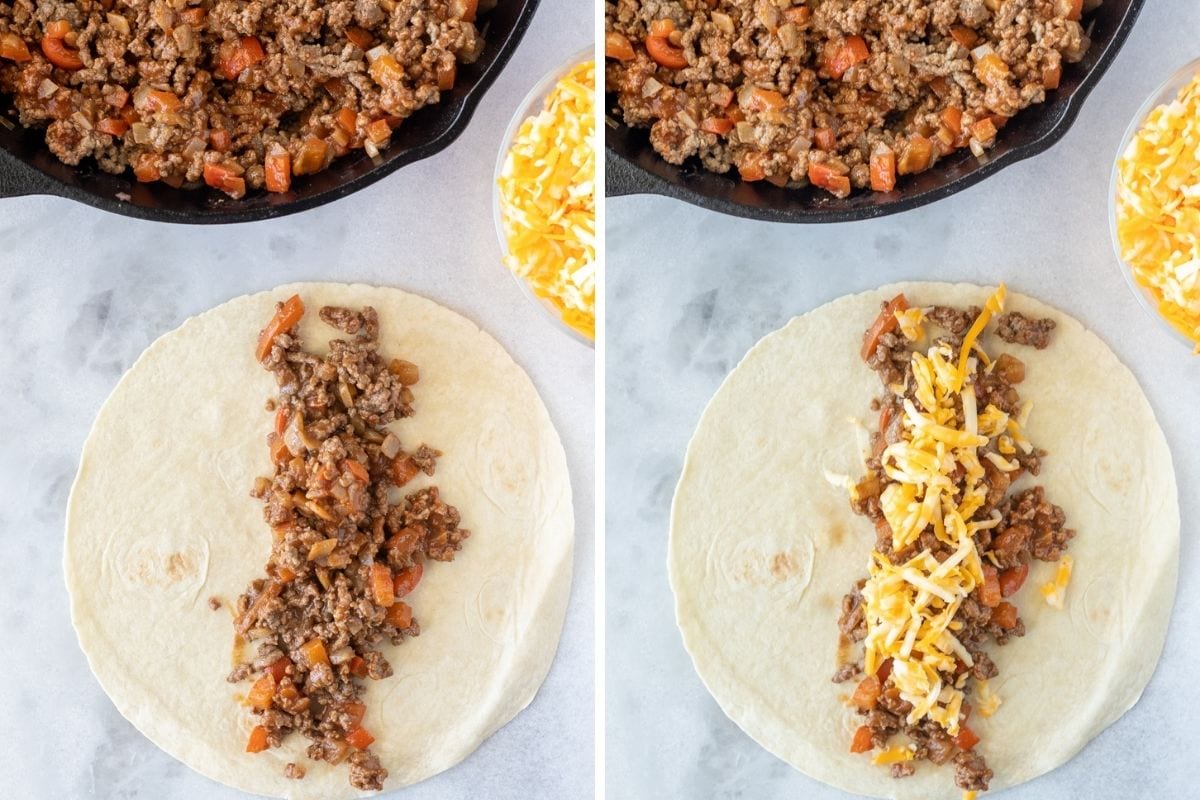 Roll the tortilla tightly around the mixture, then place them in a 9x13" pan that has been sprayed with cooking spray. Repeat the process with the remaining 8 tortillas.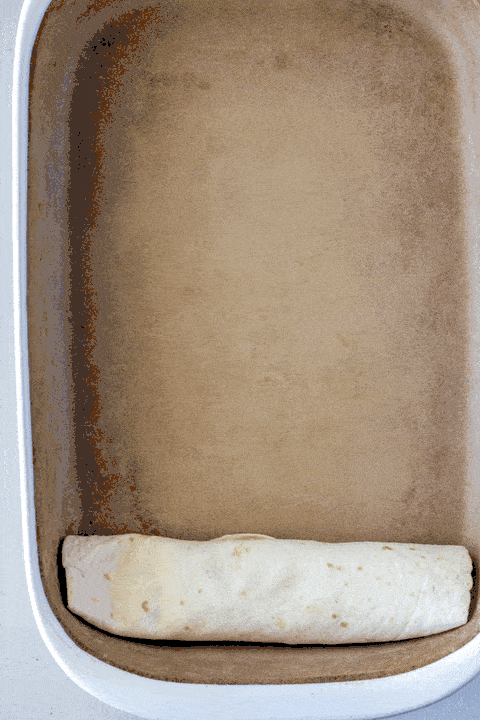 Pour the remaining sauce over the top of all 8 tortillas. Spread out the sauce so that it goes down the sides of the pan. Sprinkle with the remaining cheese. If you like it more cheesy, use the full 8 ounces. I end up using about 6-7 with mine.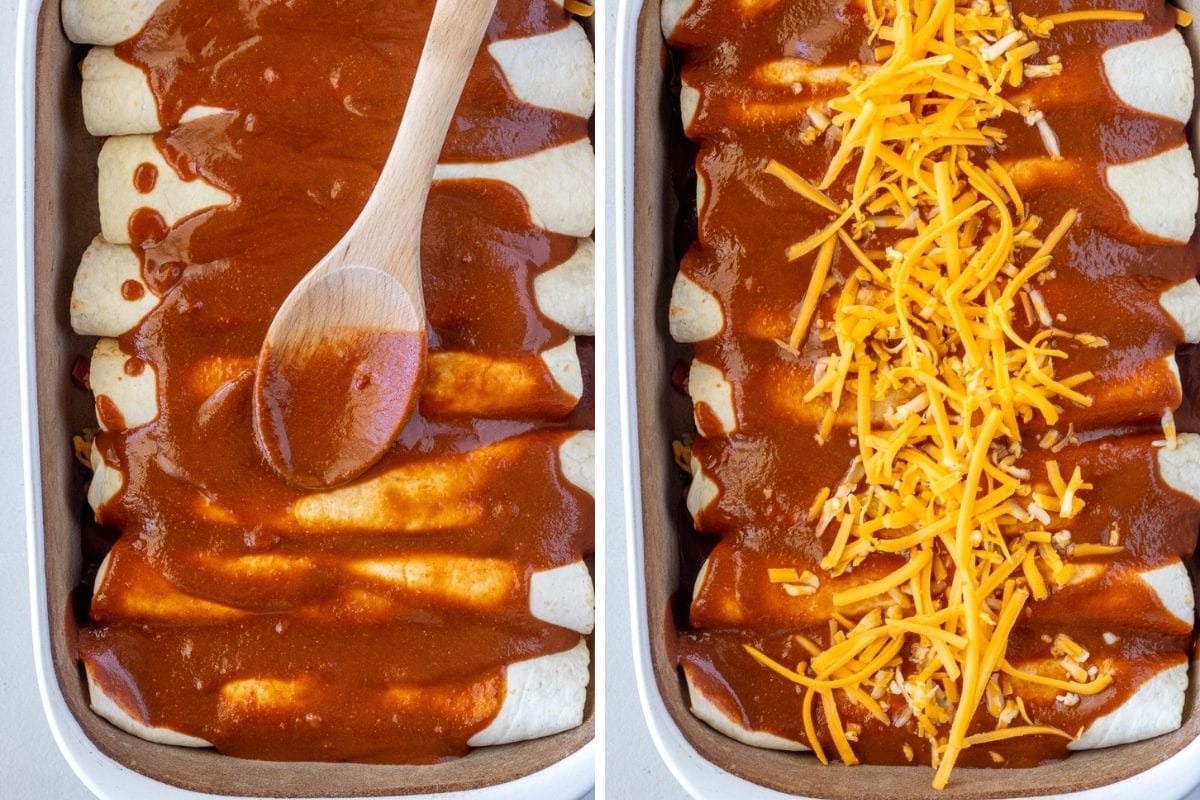 Cooking Time and Temperature
Cook the ground beef enchiladas in a 375 degree oven uncovered, with the rack in the middle of the oven for 20-25 minutes. The cheese should be golden and bubbly.
Enchilada Toppings
There are a ton of toppings to make the enchiladas taste even better. These are just a few options:
Sour cream
Chopped green onions
Minced cilantro
Avocado
Tomatoes
Storage
Store leftovers covered with foil or plastic wrap for up to 3 days.
Freezing. I love to make a double batch of these and freeze one for future nights when I don't have time to cook. Cover the container you've cooked them in tightly with foil (a double layer is always better). Keep it in the freezer for up to 2 months. To thaw them, place the pan in the fridge the night before cooking. Then cook according to the recipe instructions.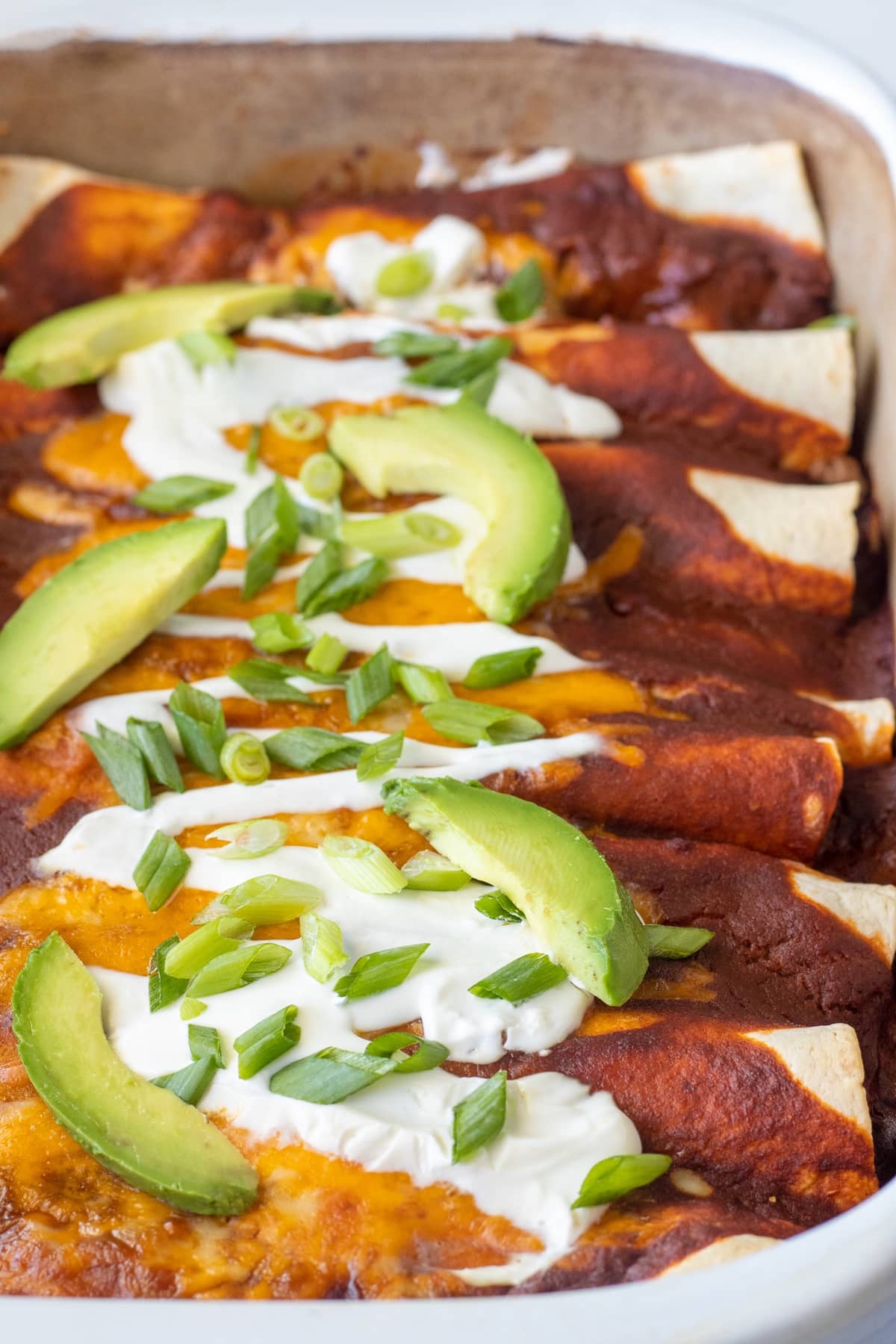 ---
Other Dinner Recipes You'll Love
---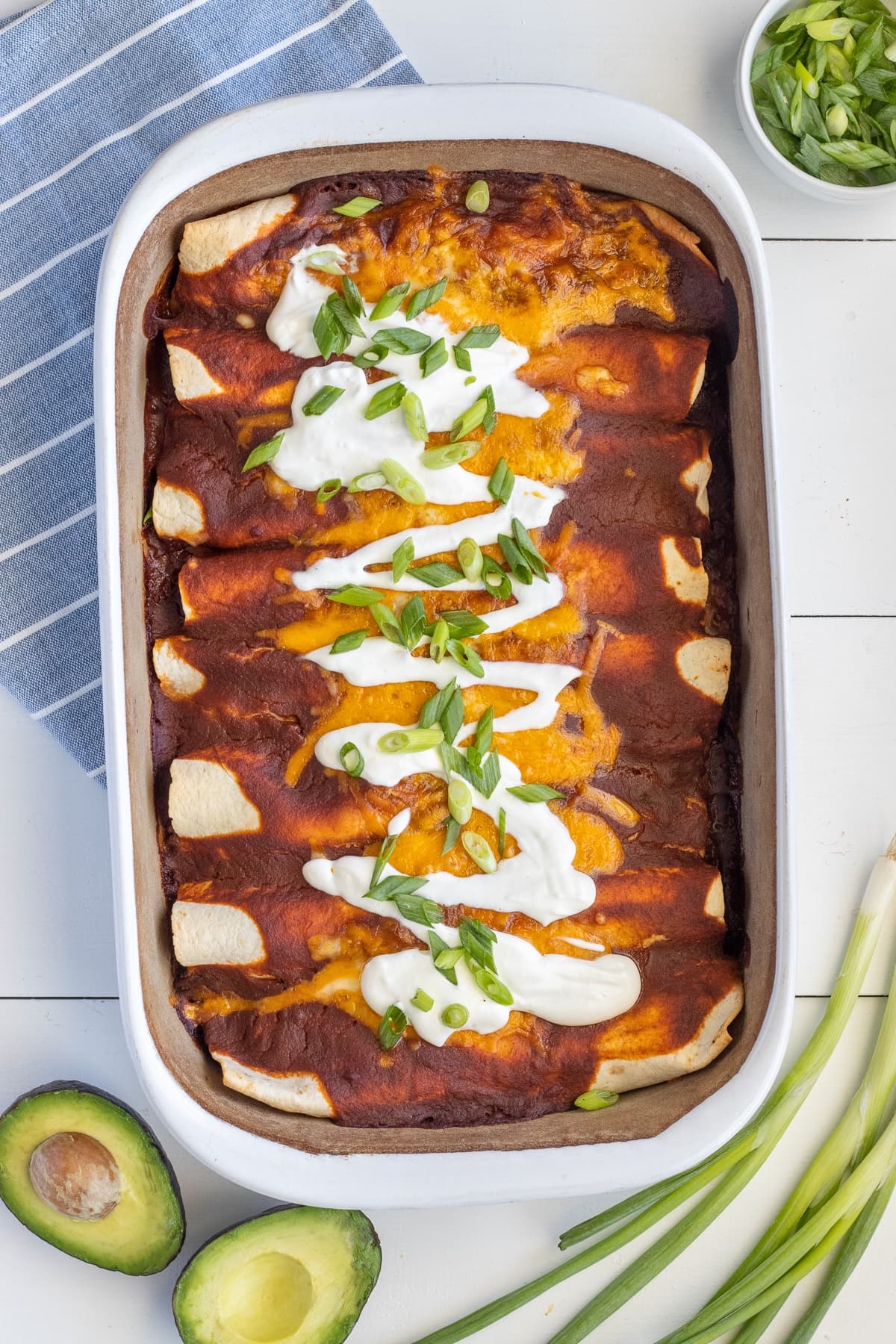 Easy Ground Beef Enchiladas
Easy ground beef enchiladas are made with a quick homemade enchilada sauce. Flour tortillas are filled with saucy ground beef, cheese, bell peppers, and onions and topped with more homemade red sauce.
RECIPE COST :
$15.75 / $1.96 PER SERVING
Ingredients
Enchilada Sauce
2

tablespoons

olive oil

2

tablespoons

all-purpose flour

2

tablespoons

chili powder

1 ½

cups

chicken broth

3

ounces

tomato paste

½

teaspoons

cumin

1

teaspoon

cocoa powder

½

teaspoon

paprika

½

teaspoon

garlic powder

½

salt
Enchiladas
2

tablespoons

olive oil

1

bell pepper

(diced)

1

onion

(diced)

1

pound

lean ground beef

6-8

ounces

shredded cheddar or colby jack cheese

8

flour tortilla
Instructions
PREPARE: Preheat the oven to 375˚F. Grease a 13x9 baking pan and set aside.

COOK MEAT AND VEGGIES: In a large skillet, heat the olive oil over medium high heat. Add the onions and peppers; sauté for 2 minutes. Reduce the heat to medium and add the ground beef and continue to cook until the meat is browned. Remove from heat.

MAKE THE ENCHILADA SAUCE: In a small bowl combine the chili , cumin, cocoa powder, paprika, garlic powder, and salt and set aside. Heat olive oil in a saucepan over medium heat. Whisk in the flour until the mixture is smooth.

Slowly pour in the broth while whisking so that lumps don't form. Add the tomato sauce and seasoning blend and whisk until the sauce thickens, about 3-5 minutes.

MAKE THE ENCHILADAS: Pour 1 cup of sauce into the ground beef mixture and stir to fully coat. Pour ½ cup of beef mixture and 2 tablespoons of cheese down the center of each tortilla. Roll tightly and arrange across the pan with the seam side down.

FINISH THE ENCHILADAS: Pour the remaining red sauce over the top of the enchiladas and spread out. Sprinkle with the remaining cheese and bake for 20-25 minutes.

SERVE: Top with sour cream, avocado, fresh cilantro, chopped tomatoes or green onions.
Nutrition
Serving:
1
enchilada
Calories:
426
kcal
Carbohydrates:
36
g
Protein:
23
g
Fat:
21
g
Saturated Fat:
7
g
Polyunsaturated Fat:
1
g
Monounsaturated Fat:
8
g
Cholesterol:
25
mg
Sodium:
400
mg
Potassium:
437
mg
Fiber:
2
g
Sugar:
4
g
Vitamin A:
101
IU
Vitamin C:
57
mg
Calcium:
178
mg
Iron:
6
mg
Nutrition Information Disclaimer
RECIPE EQUIPMENT
**This blog post contains affiliate links to products that I actually use and that align with my values. See my affiliate disclaimer here.