---
Mexican black beans are my favorite way to serve canned black beans. They're simmered with sauteed bacon, onions, jalapenos, and herbs and spices. Done in under 15 minutes!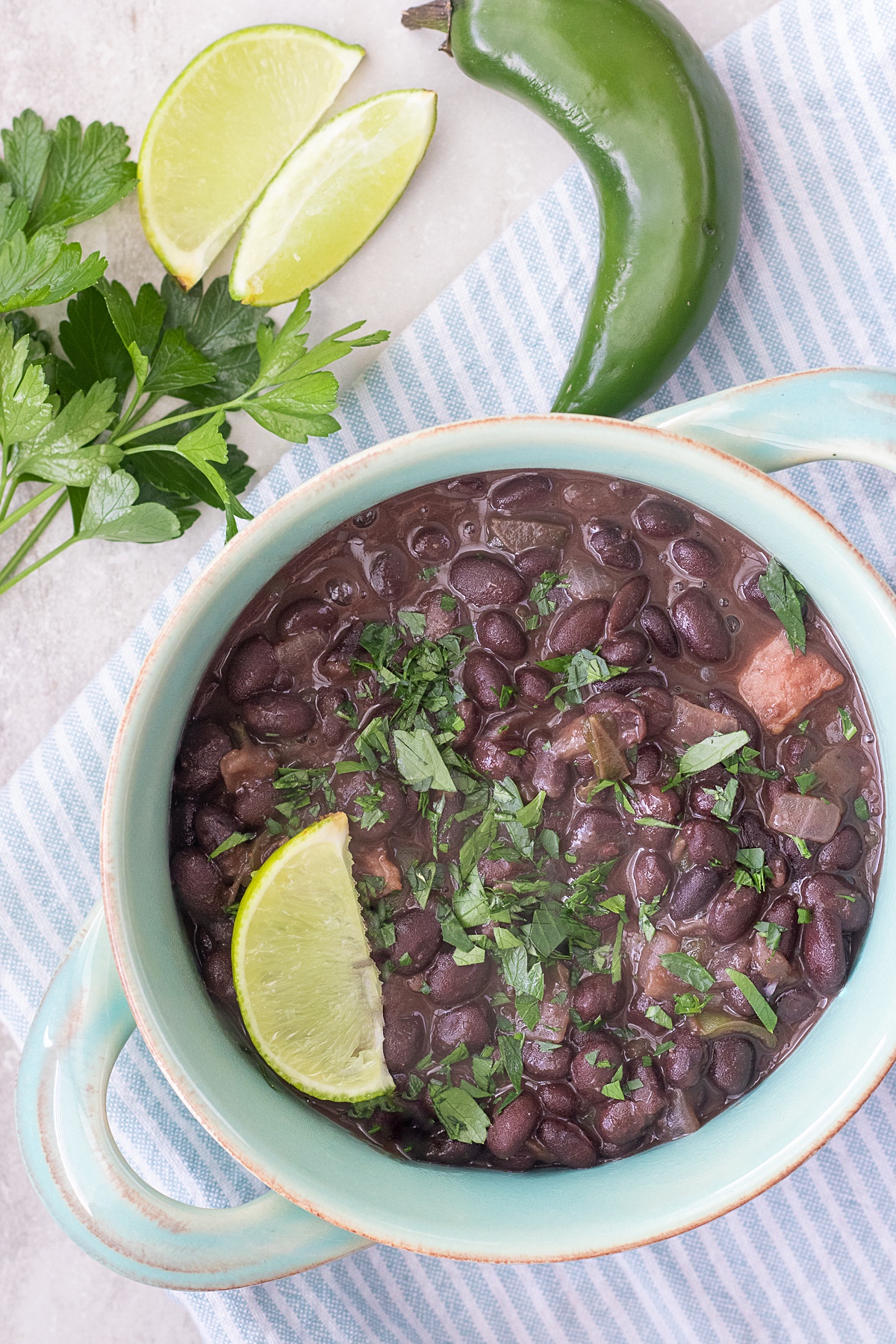 Tips for Making The Best Mexican Black Beans
Making these flavorful beans is so simple, but I've always got a few tips up my sleeve. If you just want the recipe, scroll on down to the bottom for the full recipe.
Canned or Dried Beans?
I prefer to use canned beans - just because it's so much faster. If you want t use dry beans, you'll have to add quite a bit of soaking or simmering time.
Dry beans need to be soaked in water (enough to cover them plus 2 inches) overnight. Or you can bring them to boil, then reduce to a simmer, cover and continue simmering for 2 hours.
My favorite canned beans are plain organic beans. I usually grab an 8 pack from Costco that runs about $1 per can.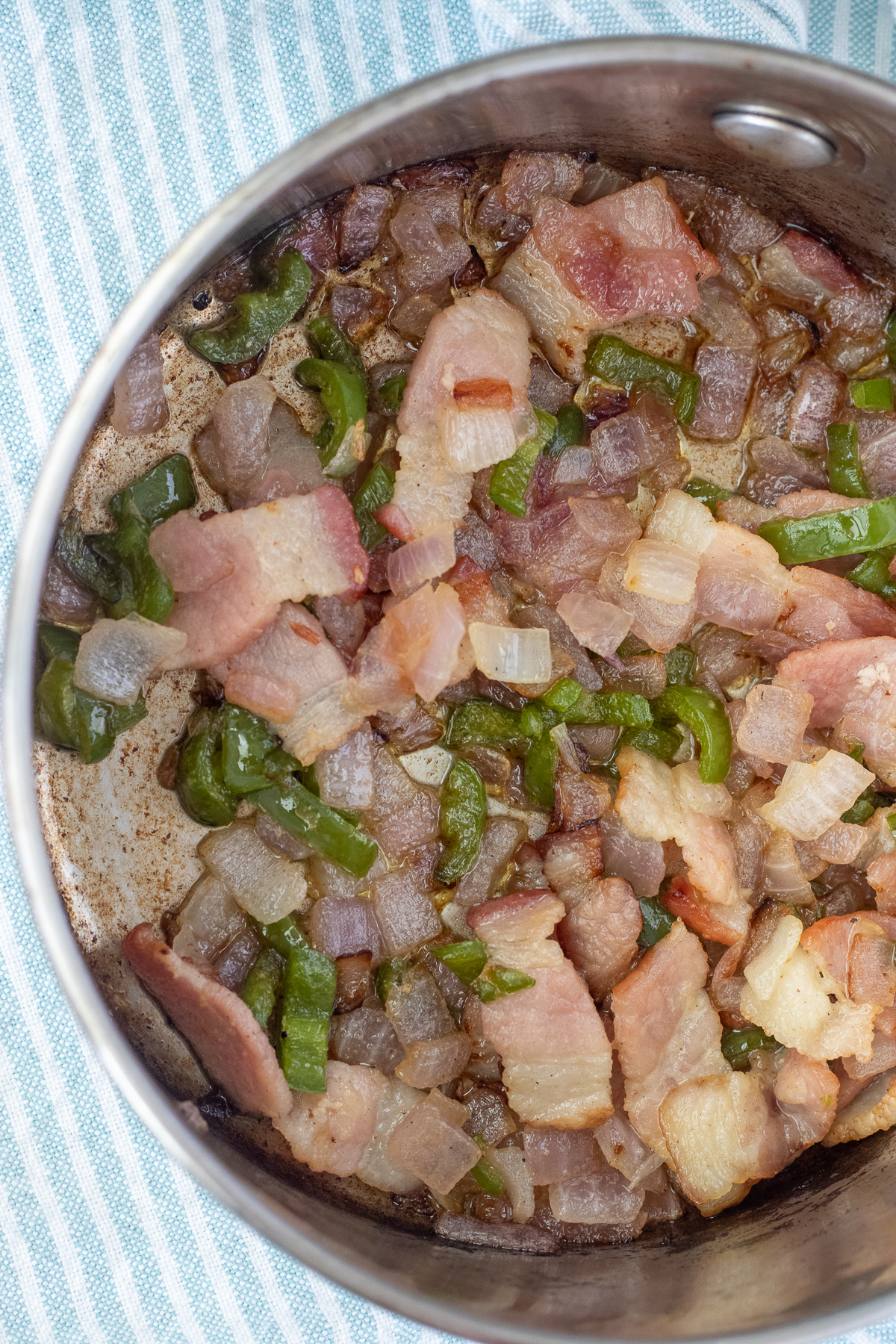 Simmering with Bacon
I know bacon isn't a traditional ingredient in Cuban or Mexican black beans, but once of my favorite restaurants uses pieces of ham and it was so good, so now I can't go back to bacon-less.
I cut 2 slices of bacon into 1-inch chunks with a pair of kitchen shears. I put those pieces in a small saucepan with diced jalapenos and onions. So the bacon doesn't actually get crispy like I usually like.
Instead, I slowly render the fat from the bacon with the veggies and keep the bacon around the same softness as the veggies - very tender.
If you are vegan or vegetarian - use coconut oil or olive oil to simmer the veggies with and you're good to go.
Are They Spicy?
No. The spiciness is of the jalapenos is completely rendered out by cooking them with the bacon. The jalapeno is there to lend a smoky, peppery flavor but not heat.
If you want them to be more spicy, you have a couple options.
Add about ¼ teaspoon of cayenne pepper with the cumin
Add another diced jalapeno when you add the beans. They won't cook as long and will retain some of the crispiness and heat.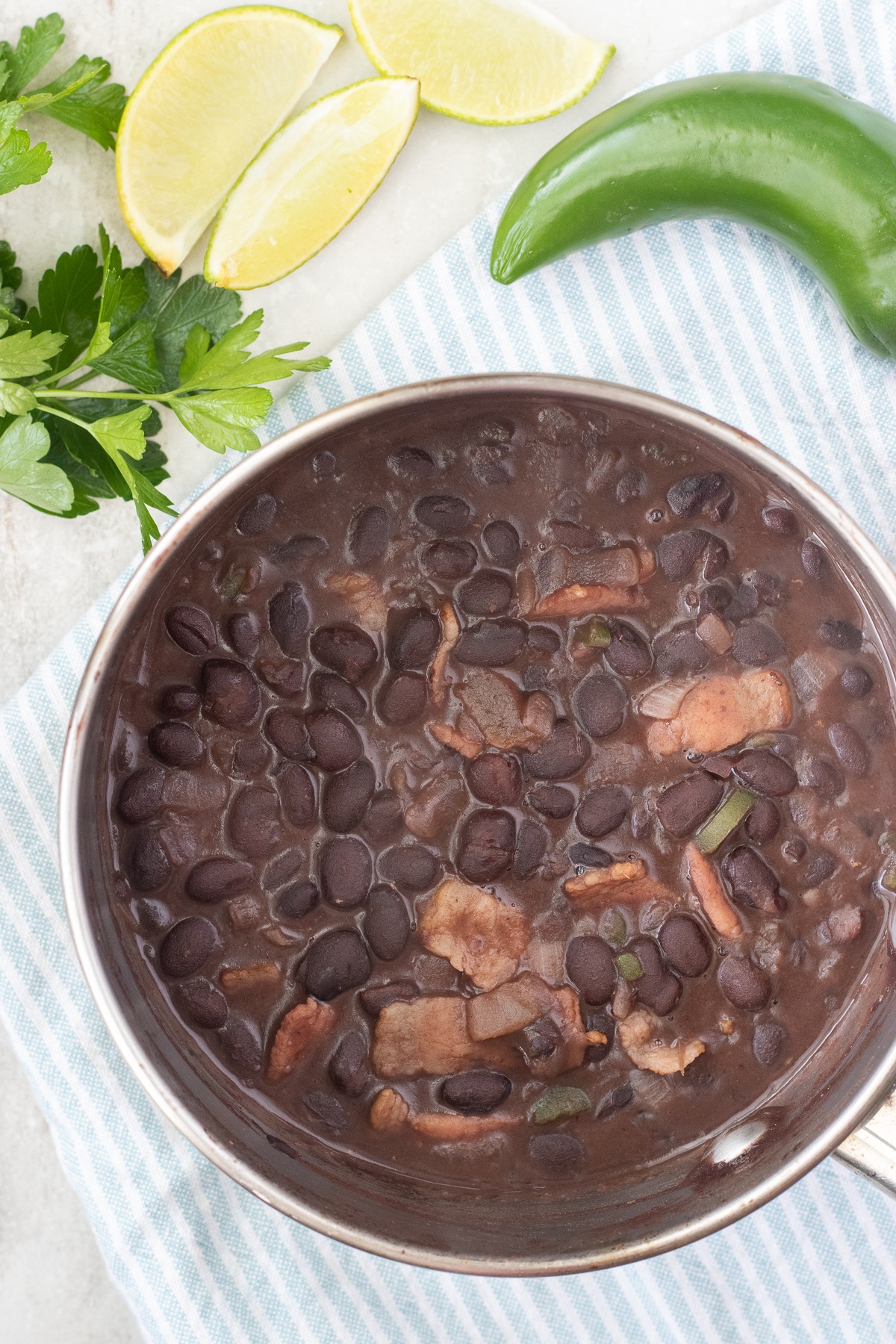 Serving Suggestions
I love serving Mexican black beans on any Taco Tuesday, which we do a bunch of different ways.
In a Chipotle-style burrito bowl with instant pot carnitas, taco seasoned ground turkey or beef, or salsa shredded chicken.
With fajitas
Also - if you 're making these for a crowd, I would recommend doubling or even tripling the recipe (there's a slider tool on the recipe card below)
Storage
If you have leftovers - store the beans in an airtight container in the fridge for up to 5 days. Which makes them work perfectly for meal prep.
Cooked beans do not freeze well, so you don't use them, lose them or hand them out to friends before your 5 days is up.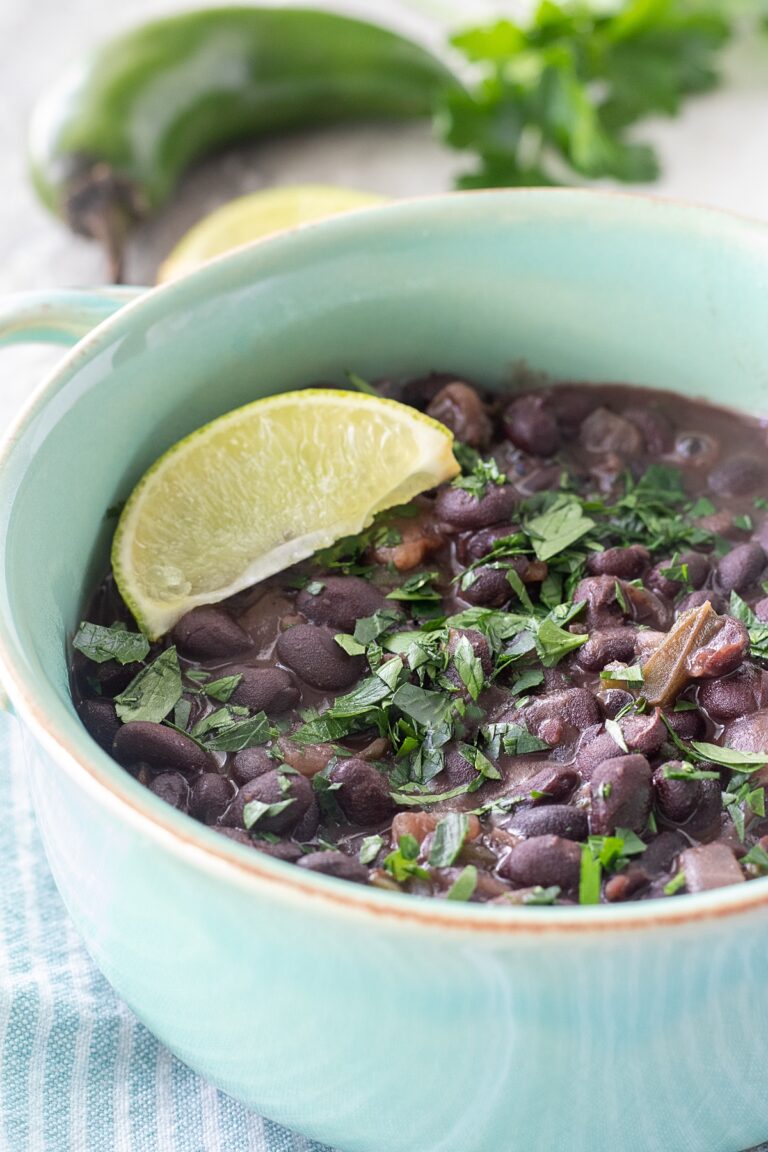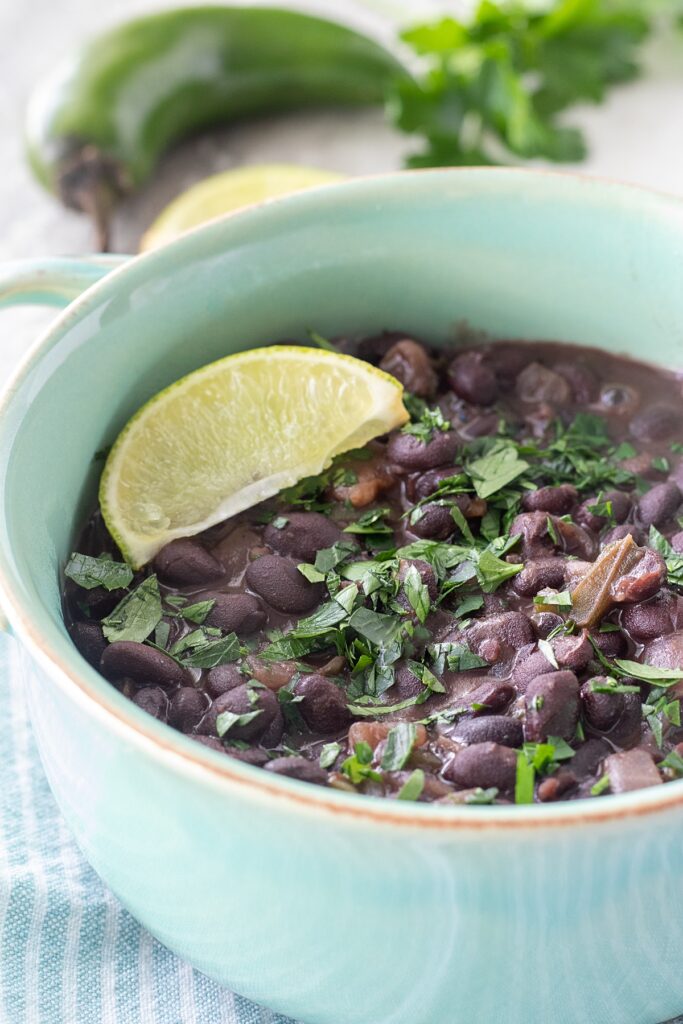 <
---
Other Side Dish Recipes
---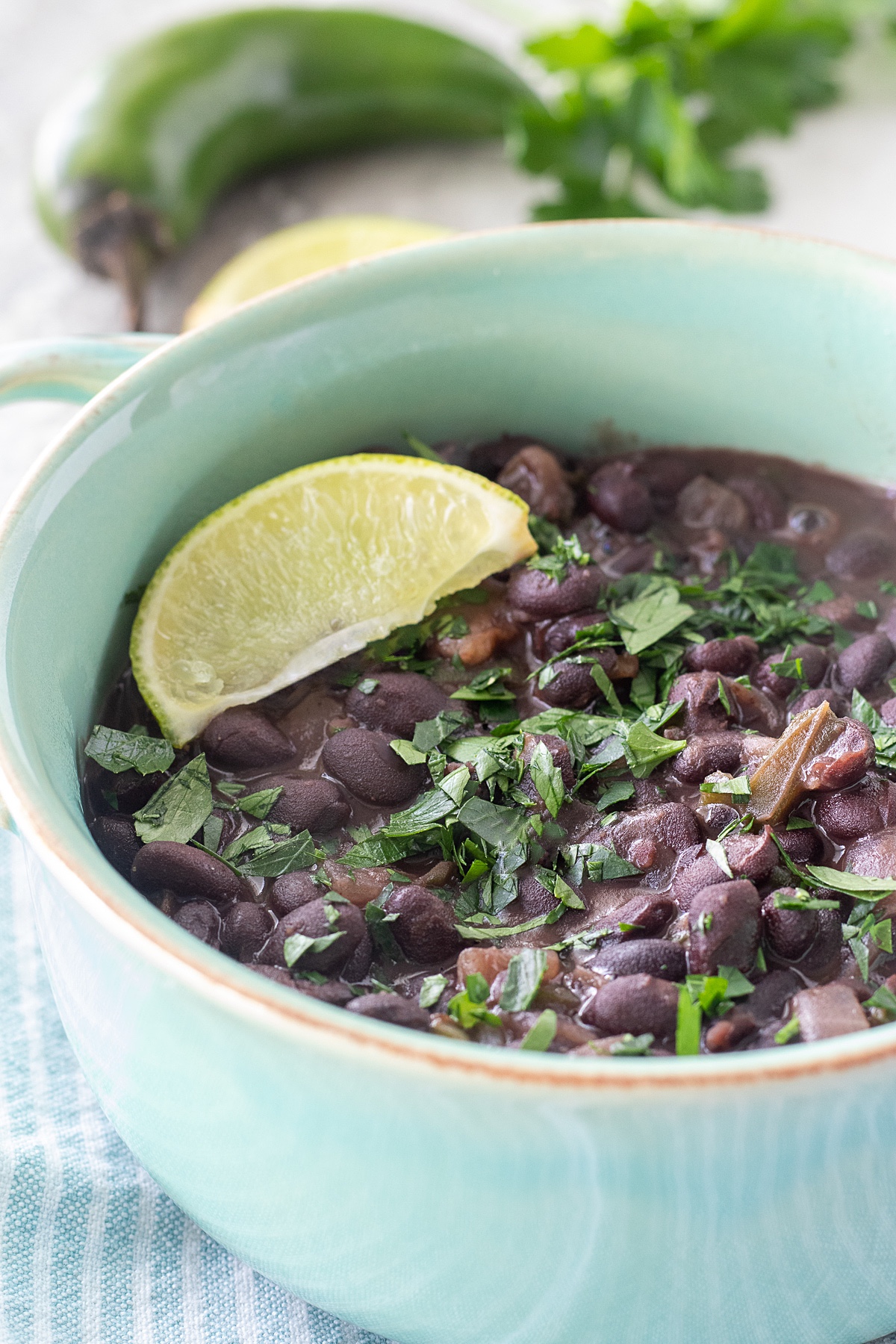 Easy Mexican Black Beans
Mexican black beans are my favorite way to serve canned black beans. They're simmered with sauteed bacon, onions, and jalapenos and then herbs and spices. Done in under 15 minutes!
RECIPE COST :
$2.23 / 56¢ PER SERVING
Ingredients
1

jalapeño, seeded, stemmed and diced

⅔

cup

red onion, diced

((about ¼ of a large onion))

2

slices

bacon, cut into 1-inch pieces*

1

(15 oz.)

can black beans, NOT drained

2

teaspoons

fresh lime juice

¼

teaspoon

cumin

salt to taste

2

tablespoons

cilantro

((optional topping))
Instructions
COOK THE BACON AND VEGGIES: Add the jalapeno, onion, and bacon to a small saucepan. Heat the pan over medium-low heat. Allow to cook about 7 minutes or until the veggies become tender and most of the fat has been rendered from the bacon.

SIMMER THE BEANS: Add the beans, cumin, and a sprinkle of salt. Bring the beans to a boil and then reduce the heat to a slow simmer for 5 minutes or until the liquid reduces a little (I like mine a little thicker, so I reduce to about ⅔ the original liquid amount). Be sure not to cook longer than 8 minutes or the beans will begin to overcook and get mushy.

SEASON AND SERVE: Add additional salt to taste. Sprinkle with fresh cilantro and lime juice. Serve warm.
Notes
STORAGE: Store in an airtight container in the fridge for up to 5 days
MAKE THEM VEGAN: Use 1 tablespoon of coconut oil or olive oil in place of the bacon.
MAKE THEM SPICY: Add  ⅛- ¼ teaspoon of cayenne when you add the cumin OR add an additional jalapeno when you add the beans.
Nutrition
Calories:
134
kcal
Carbohydrates:
21
g
Protein:
8
g
Fat:
3
g
Saturated Fat:
1
g
Monounsaturated Fat:
1
g
Cholesterol:
4
mg
Sodium:
406
mg
Potassium:
378
mg
Fiber:
7
g
Sugar:
3
g
Vitamin C:
3
mg
Calcium:
14
mg
Iron:
14
mg
Nutrition Information Disclaimer
RECIPE EQUIPMENT
**This blog post contains affiliate links to products that I actually use and that align with my values. See my affiliate disclaimer here.
PIN IT NOW, MAKE IT LATER