---
Thinly sliced sweet potatoes are baked in a creamy bacon sauce and topped with crispy pecan pieces. Scalloped Sweet Potatoes with Bacon and Pecans make an awesome side for any night or even on Thanksgiving and can also be made Paleo and Whole30 compliant!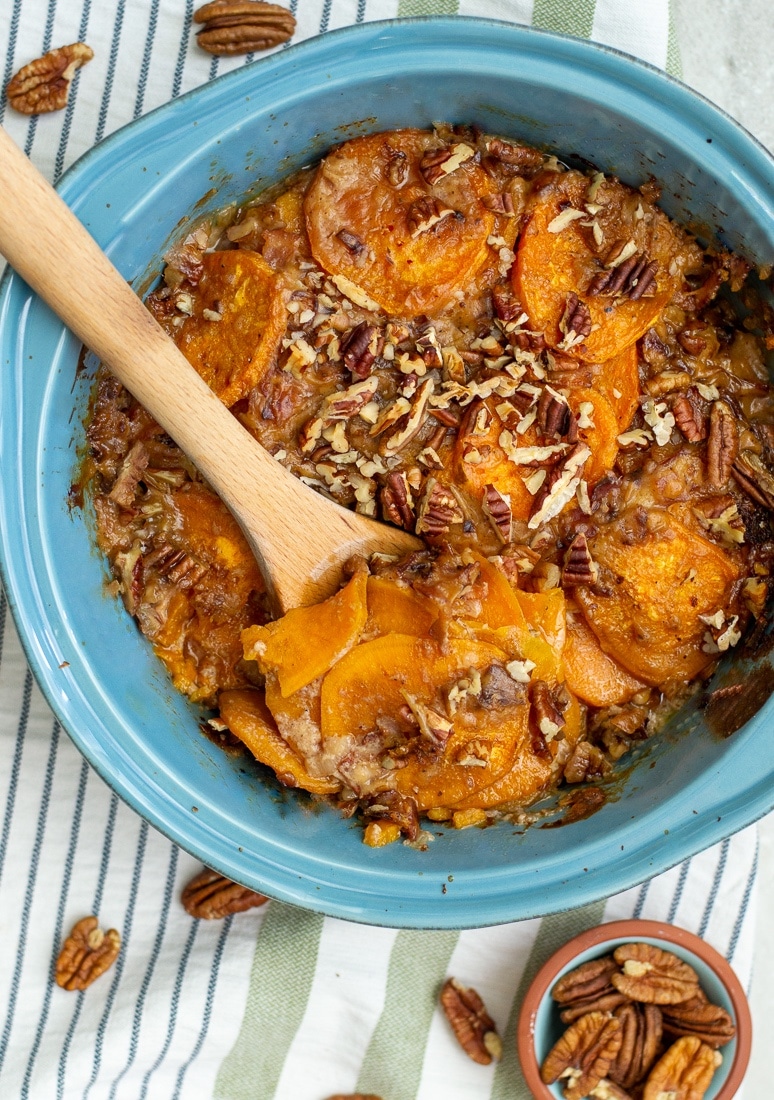 How to Make Scalloped Sweet Potatoes
You can do sweet potatoes in a ton of ways, but scalloped sweet potatoes are one that is crazy underrated. Especially when there's bacon. If you guys have read more than one of my recipes you know I am the captain of the "Bacon Makes It Better" team.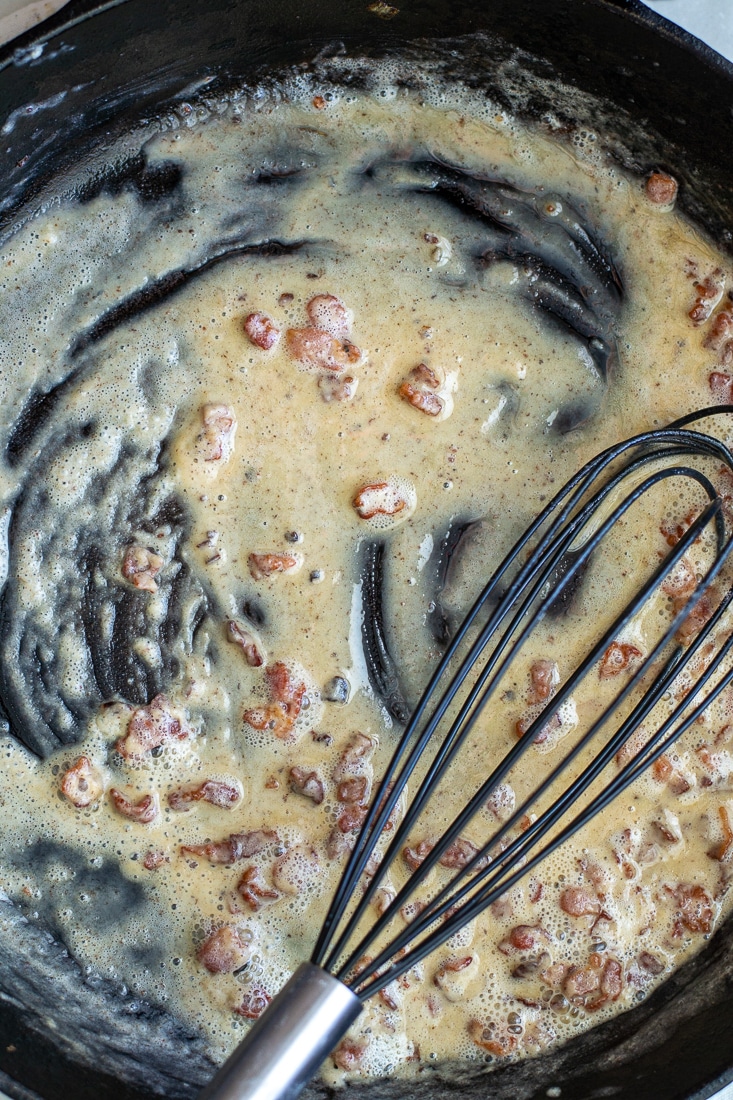 Creamy Bacon Sauce
This sauce is soooo good, you guys! It's also super simple to make.
The first quick tip I have to sneak in here is my favorite way to "chop" bacon. Grab your kitchen shears! I cut all 4 slices lengthwise down the middle and then cut those strips into half-inch pieces. It's so much easier than using a knife.
After you've cooked the bacon and shallots down to mostly crisp, use the drippings to create a rue (a fat and flour mixture used to thicken sauces). All you need to do is whisk in a little flour.
Pour in some chicken broth and milk, some salt, pepper, nutmeg, and cayenne to season and the creamy bacon sauce is good to go!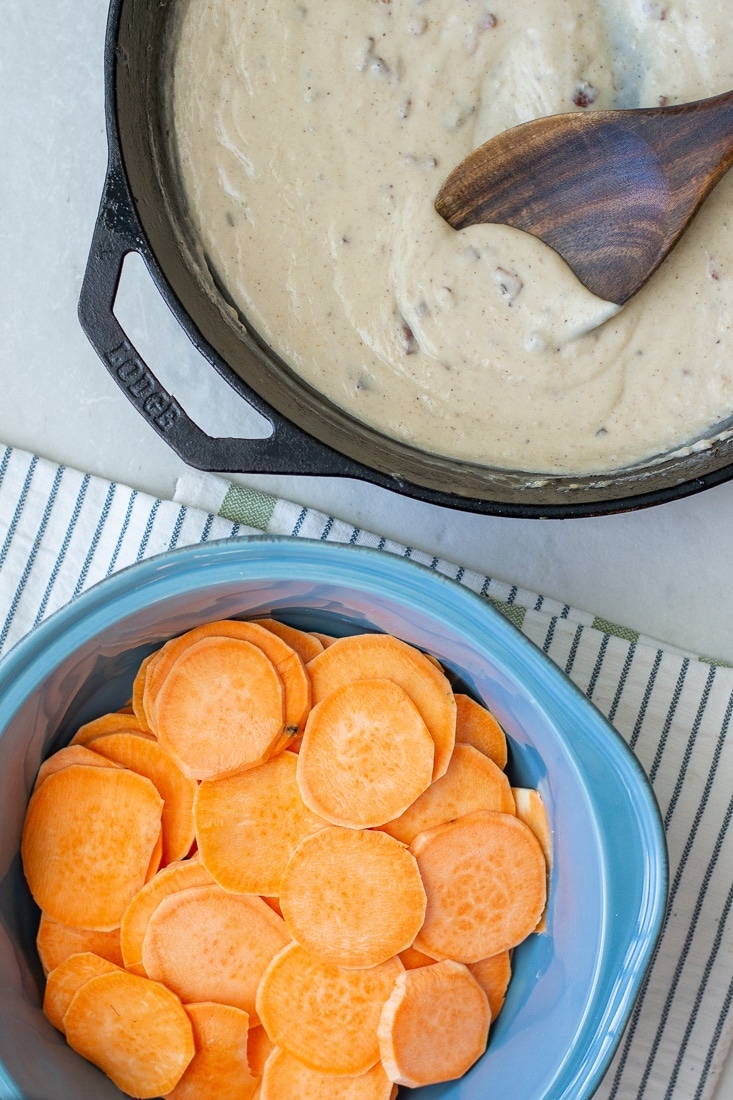 How to Slice the Sweet Potatoes
I bet you think I'm going to suggest a mandoline here. Well...as much as I love a mandoline, I am not. If I used one enough to invest in a really expensive one, maybe. However I don't use one often, so mine is very middle of the road.
Sweet potatoes are dense! You'll end up tearing the potatoes up if your mandolin isn't sharper than sharp. So I say skip the mandoline, grab a peeler and good chefs knife and slice them yourself in all of 5 minutes. They may not be immaculately even, but my girl Ina Garten just calls that "rustic". If it's alright with Ina, it's alright with me (there's a T-shirt there and I call dibs).
---
Other Awesome Sweet Potato Recipes
---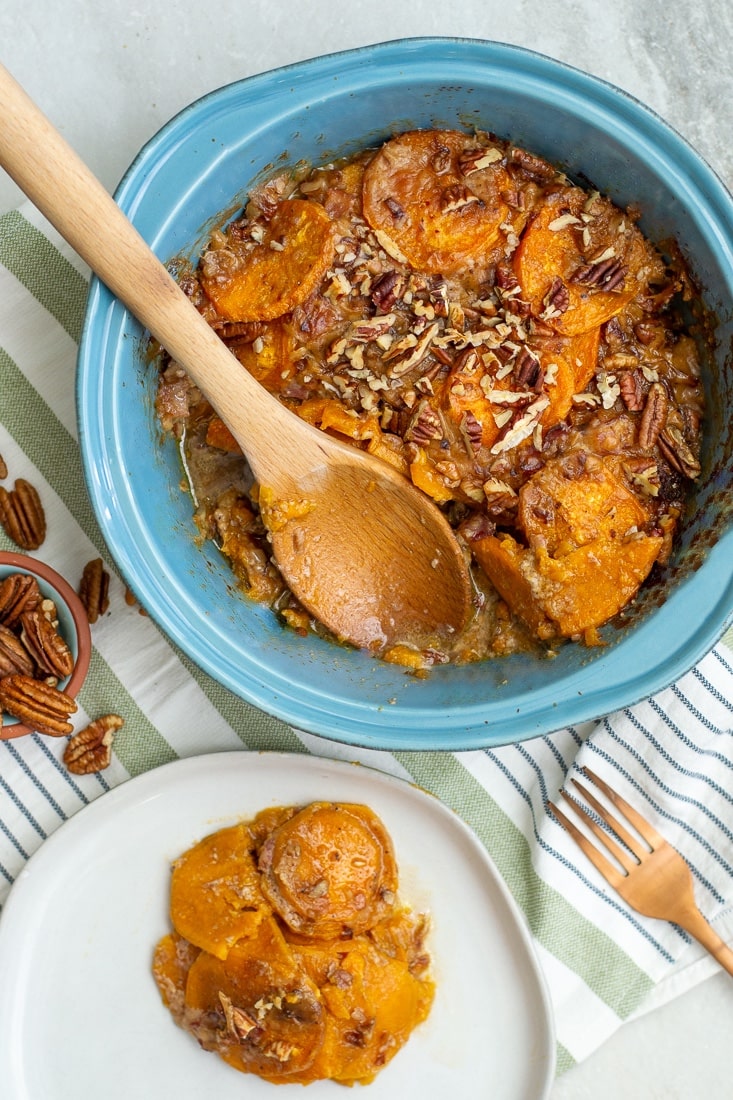 <
Make it Whole30 and Paleo Approved
If gluten and dairy aren't for you, fear not, I've got you covered. If you found your Paleo and Whole30 friendly bacon, all you need to do is make a couple swaps:
Instead of flour, use arrowroot powder
Swap the milk or half and half for your favorite nut milk (I like cashew milk).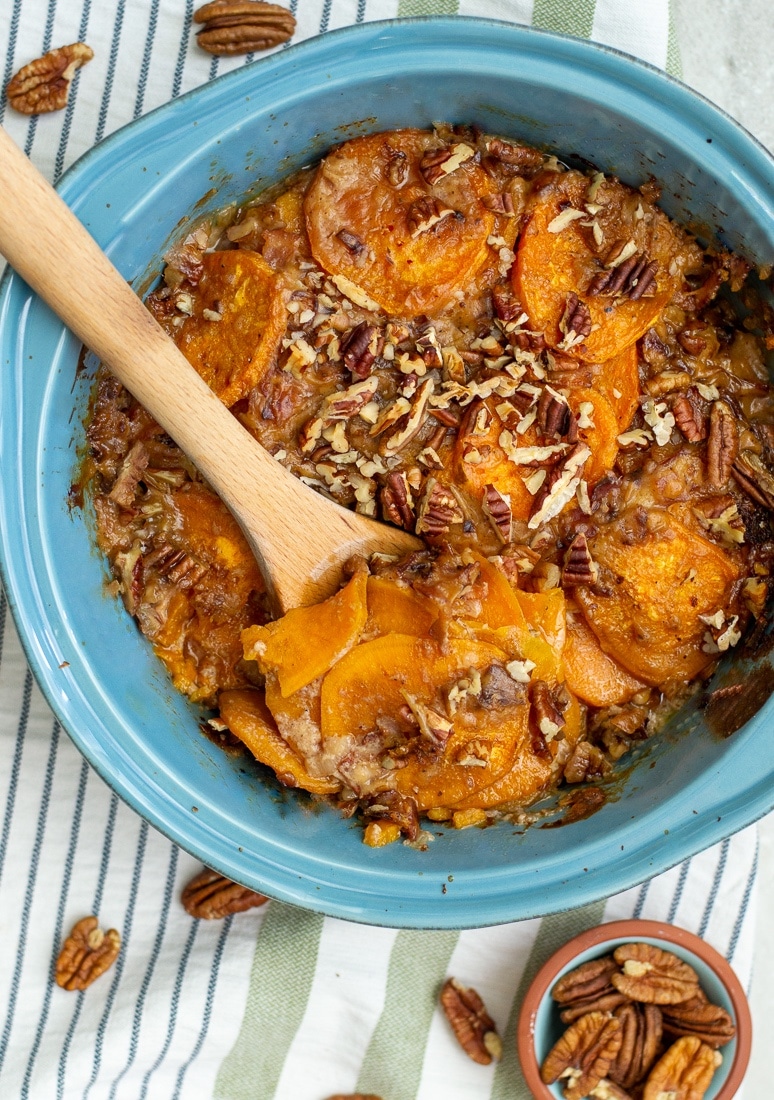 Scalloped Sweet Potatoes with Bacon and Pecans
Sliced sweet potatoes cooked in a bacon cream sauce and topped with crispy pecans. The perfect thanksgiving side.
RECIPE COST :
$7 / $1.16 PER SERVING
Ingredients
4

slices

of bacon

(chopped)

1

small shallot

(finely chopped)

3

tablespoons

flour*

1

cup

chicken broth

⅔

cup

whole milk or half and half*

2

tablespoons

maple syrup

½

teaspoon

salt

¼

teaspoon

pepper

⅛

teaspoon

nutmeg

pinch

of cayenne

(optional)

3

medium sweet potatoes

(peeled and thinly sliced ⅛-inch thick)

¼

raw pecans
Instructions
PREPARE: Preheat the oven to 400 degrees

COOK THE BACON: Cook bacon pieces in a large skillet over medium-low heat. After 2 minutes, add the shallots to the pan. Continue to cook over medium-low heat until the pieces just begin to crisp.

MAKE THE SAUCE: Reduce the heat to low and whisk in the flour until the there are no lumps (add butter if the mixture is too thick) Slowly pour the chicken stock into the bacon mixture while whisking at the same time to remove lumps. Add milk, syrup, salt, pepper and nutmeg and whisk until slightly thickened. Remove the sauce from the heat and add the cayenne to taste, if desired.

ASSEMBLE THE DISH: Pour 1 cup of the bacon sauce on the bottom of a 2 qt casserole dish. Arrange the sweet potatoes in even rows over the mixture. Pour the remaining bacon sauce over the top of the sweet potatoes and cover the pan with foil.

BAKE: Bake the sweet potatoes with foil and bake for 15 minutes. Remove the cover and sprinkle the pecans on top. Continue to bake an additional 30 minutes, until the potatoes are cooked through and the broth mixture has been absorbed and the top is browned
Notes
To make Paleo/Whole30: substitute arrowroot flour for the flour and dairy free milk 
Nutrition
Calories:
253
kcal
Carbohydrates:
37
g
Protein:
6
g
Fat:
10
g
Saturated Fat:
2
g
Polyunsaturated Fat:
2
g
Monounsaturated Fat:
5
g
Cholesterol:
5
mg
Sodium:
444
mg
Potassium:
139
mg
Fiber:
6
g
Sugar:
12
g
Vitamin A:
1
IU
Vitamin C:
1
mg
Calcium:
12
mg
Iron:
2
mg
Nutrition Information Disclaimer
RECIPE EQUIPMENT
**This blog post contains affiliate links to products that I actually use and that align with my values. See my affiliate disclaimer here.
PIN IT NOW, MAKE IT LATER!