---
Homemade baked Whole30 sweet potato fries are easy to make and the whole family will love them on burger night! Sweet potatoes are peeled and cut into long strips, then coated with arrowroot or cornstarch and all the seasonings, then baked under high heat to get them nice and crispy.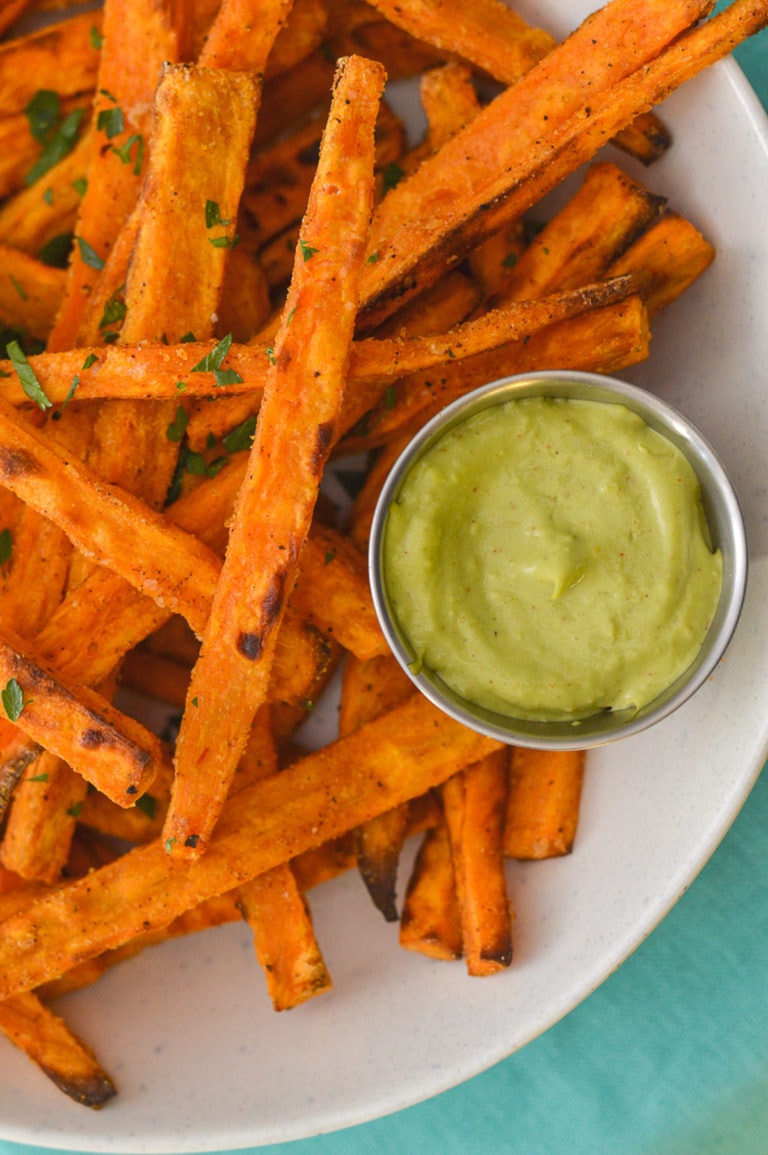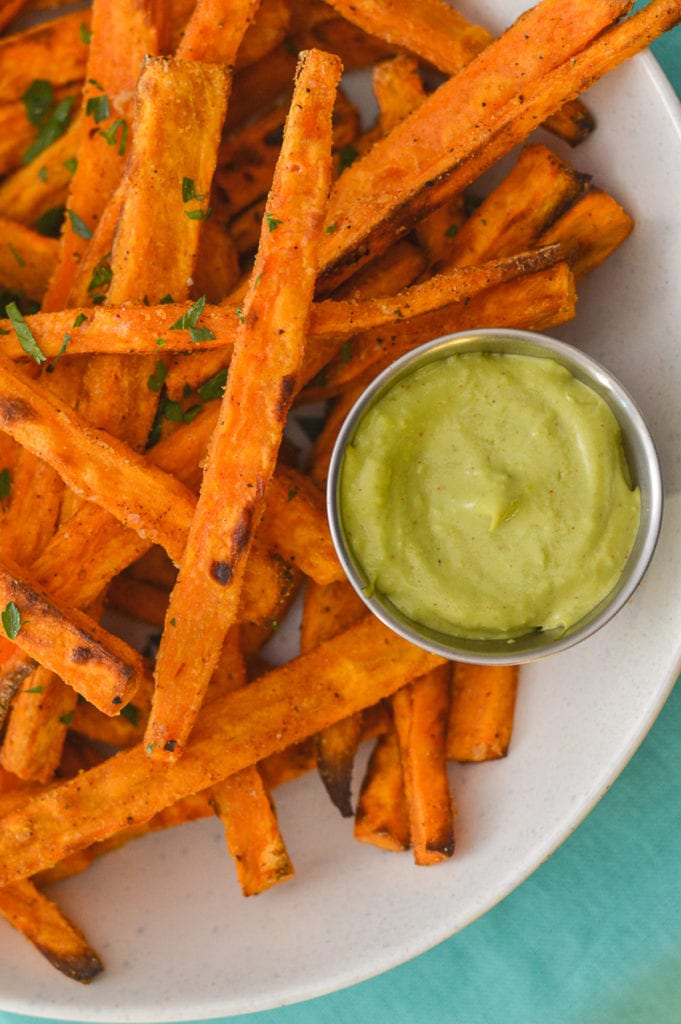 Everything You Need to Know About Whole30 Sweet Potato Fries
I know you can grab a bag of sweet potato fries from the store and be done with it. These are a little more work, but I think it's worth it. Not only are you eliminated some less than desirable ingredients, but the flavor is the best! Let's dig in.
Are These Healthier?
YES! These are definitely better for you than takeout fries because they're baked, not fried.
But they're also better for you than the bags in the freezer aisle. The popular brands will typically be made with canola or vegetable oils in addition to dextrin and sugar. If you make them yourself, you get to skip all that inflammatory stuff.
How to Make Them Paleo or Whole30
This recipe is already pretty friendly to these diets, but I usually will cut costs a bit by using cornstarch instead of arrowroot powder.
If you are Whole30, though, since corn is a grain, you'll want to skip the cornstarch. Arrowroot powder is an easy solution here are.
Where do you find it? Arrowroot powder can be found easily in stores like Sprouts or Whole Foods, but in standard grocery stores you'll find it in the baking aisle.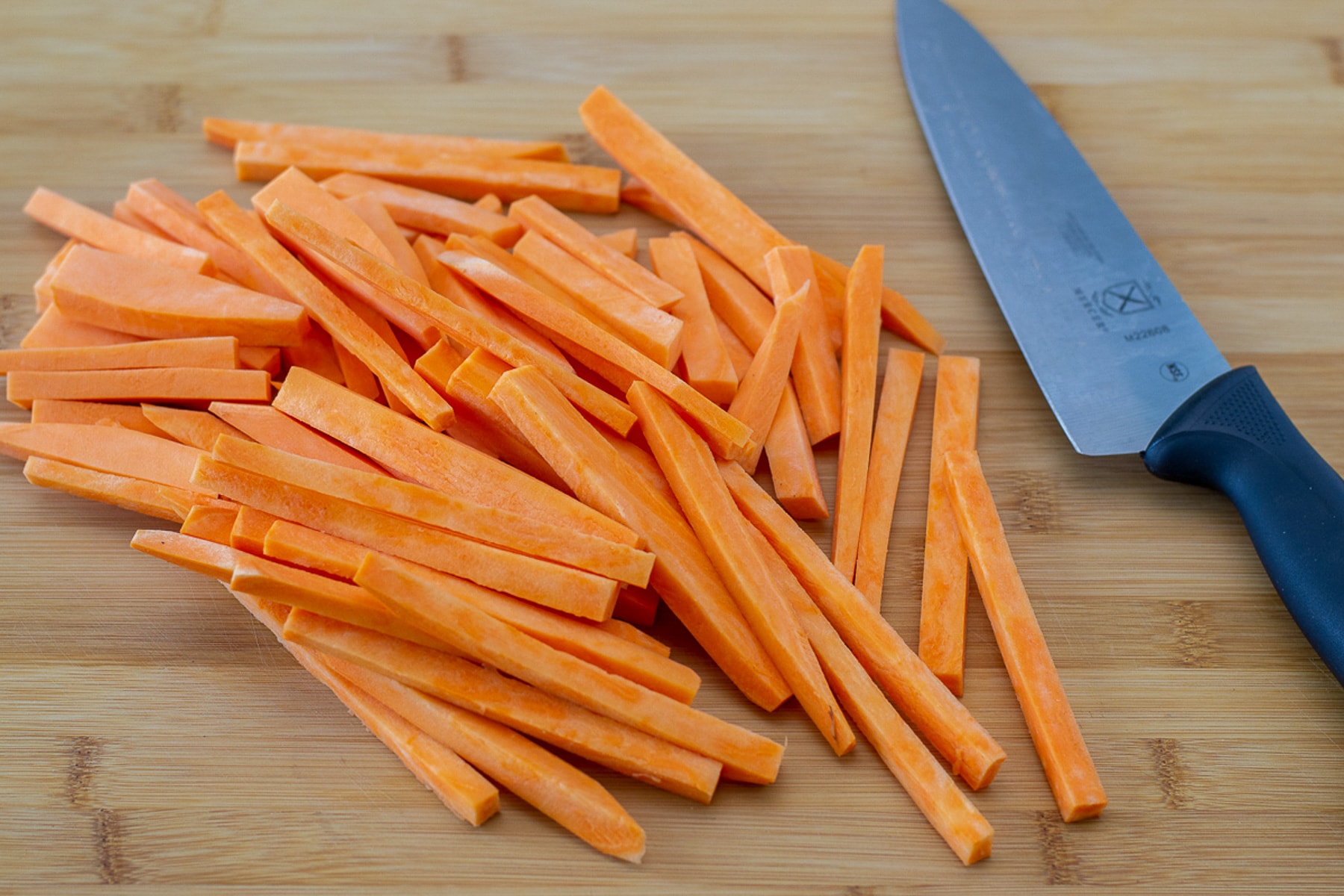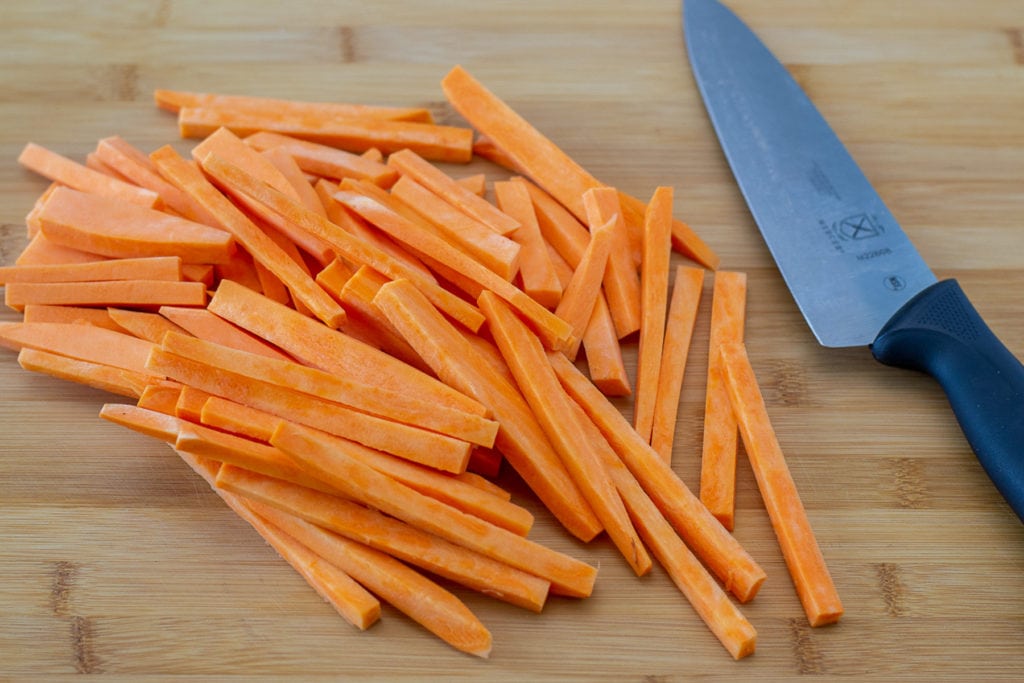 How to Cut French Fries: Size Matters
Cutting the sweet potato fries to the right size is going to be all about preference. However, the size, time, temp ratio is serious business where baked sweet potato fries are concerned.
That being said, this recipe works perfect if you cut them in long, ½-inch pieces. I like to find the most square sweet potatoes I can find in the produce bin, and cut the sides off and make it a big, square, block that I can cut into ½-inch pieces.
How to Make Baked Sweet Potato Fries Crispy
To get these fires crispy on the outside and tender on the inside, there's a couple of things you'll want to do.
Arrange them all about an inch apart on the cookie sheet so the heat can get to all sides of the fries.
Flip the fries halfway through cooking to so that they cook evenly.
Cook at a high heat. Cooking at a piping hot temperature of 450˚ F will get the outside brown and crispy and keeps the inside nice and soft.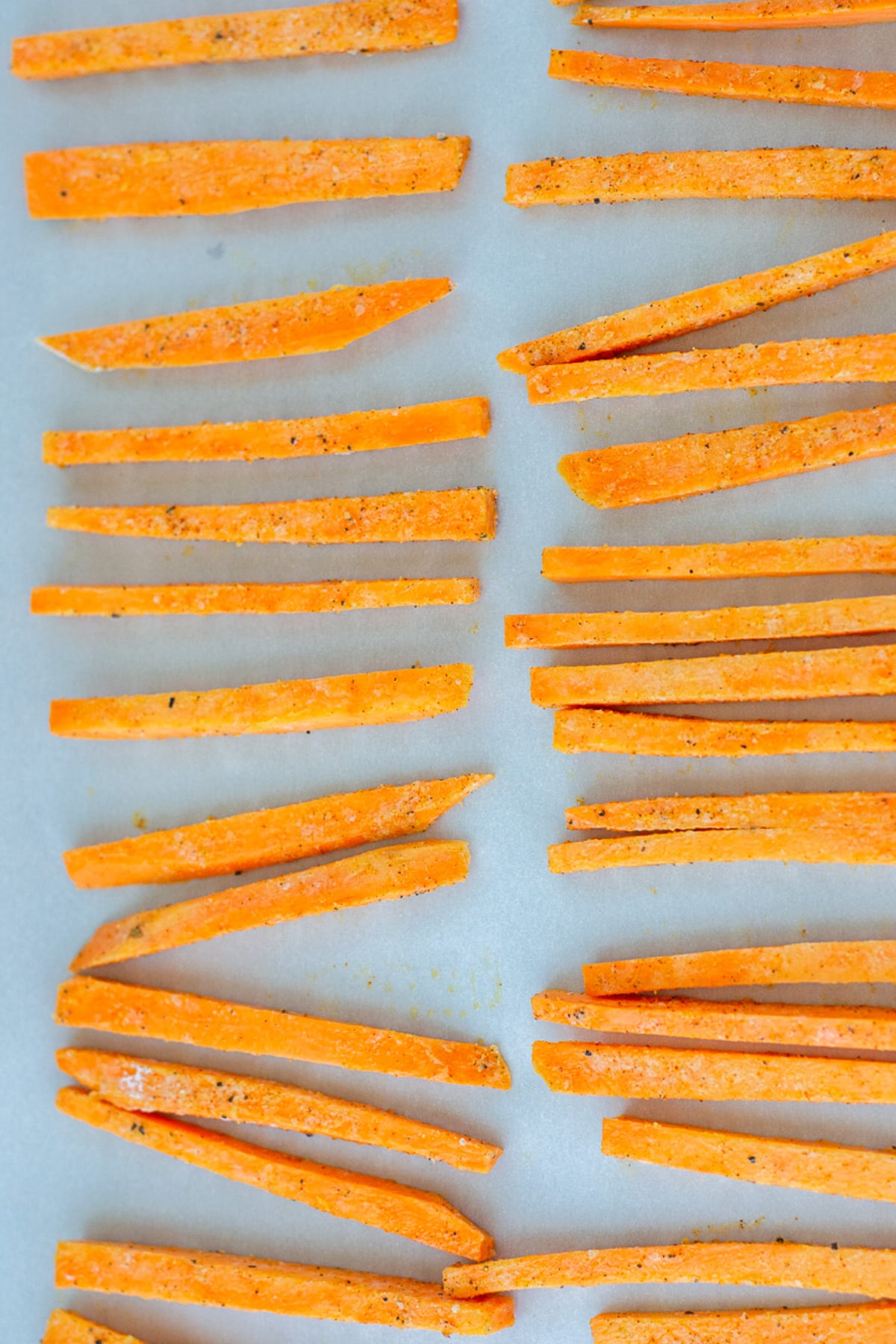 Spicy Avocado Aioli
This avocado sauce is a great compliment to the smokey, salty seasoning on the fries. It's also good on a host of other things like burgers, veggies and on a good taco salad.
The best part is, it's super simple to make. All you need is a food processor or blender, and avocado and some pantry or fridge staples like garlic, egg, lime juice, and olive oil.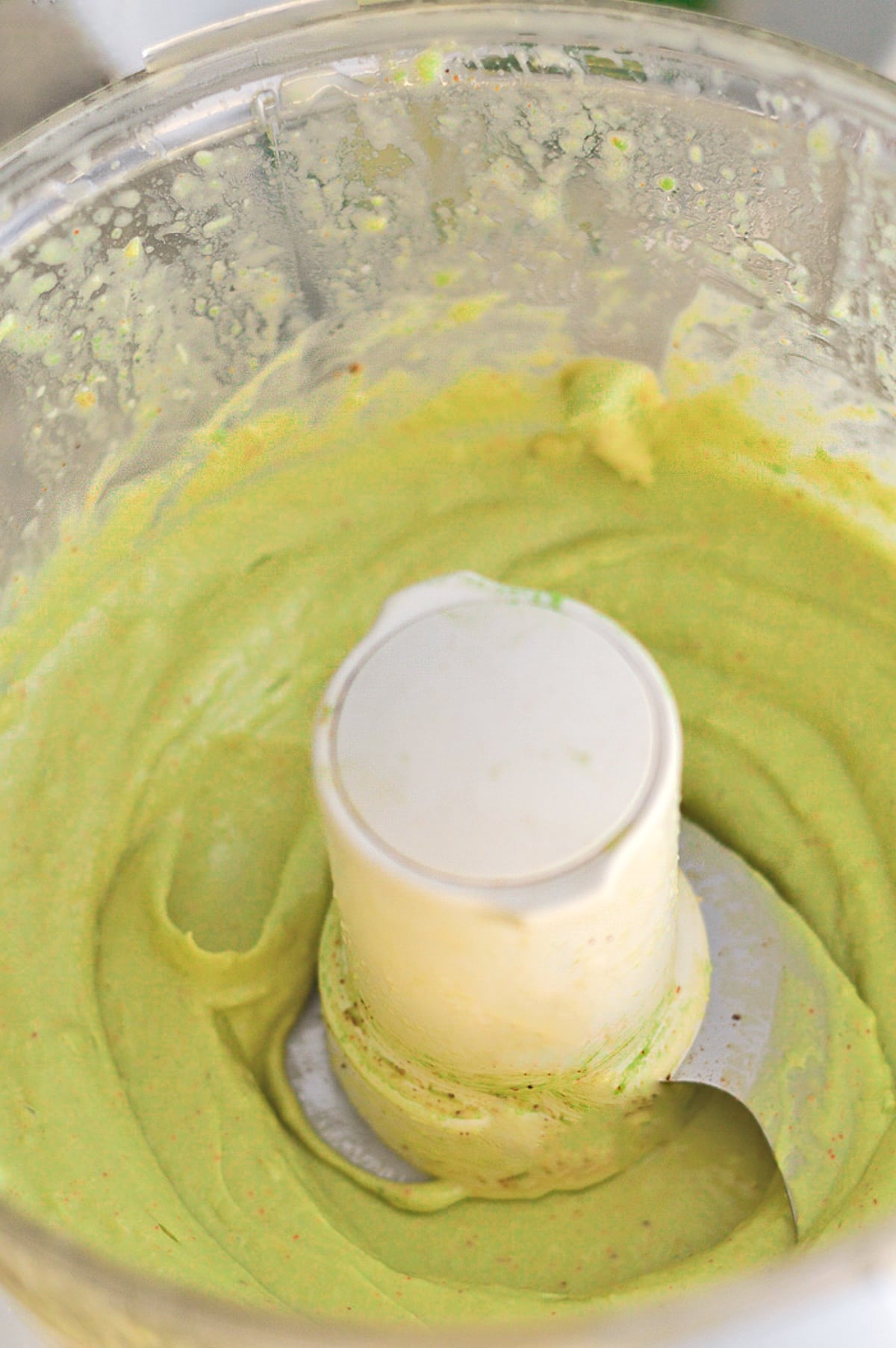 <
Serving Suggestions
The obvious suggestions here is right next to a big, juicy burger, which is one of my favorite foods of all time. However, sweet potato fries can go in anything you want a starch in. Check out these options:
Please try these and let me know what you think or how you serve them up!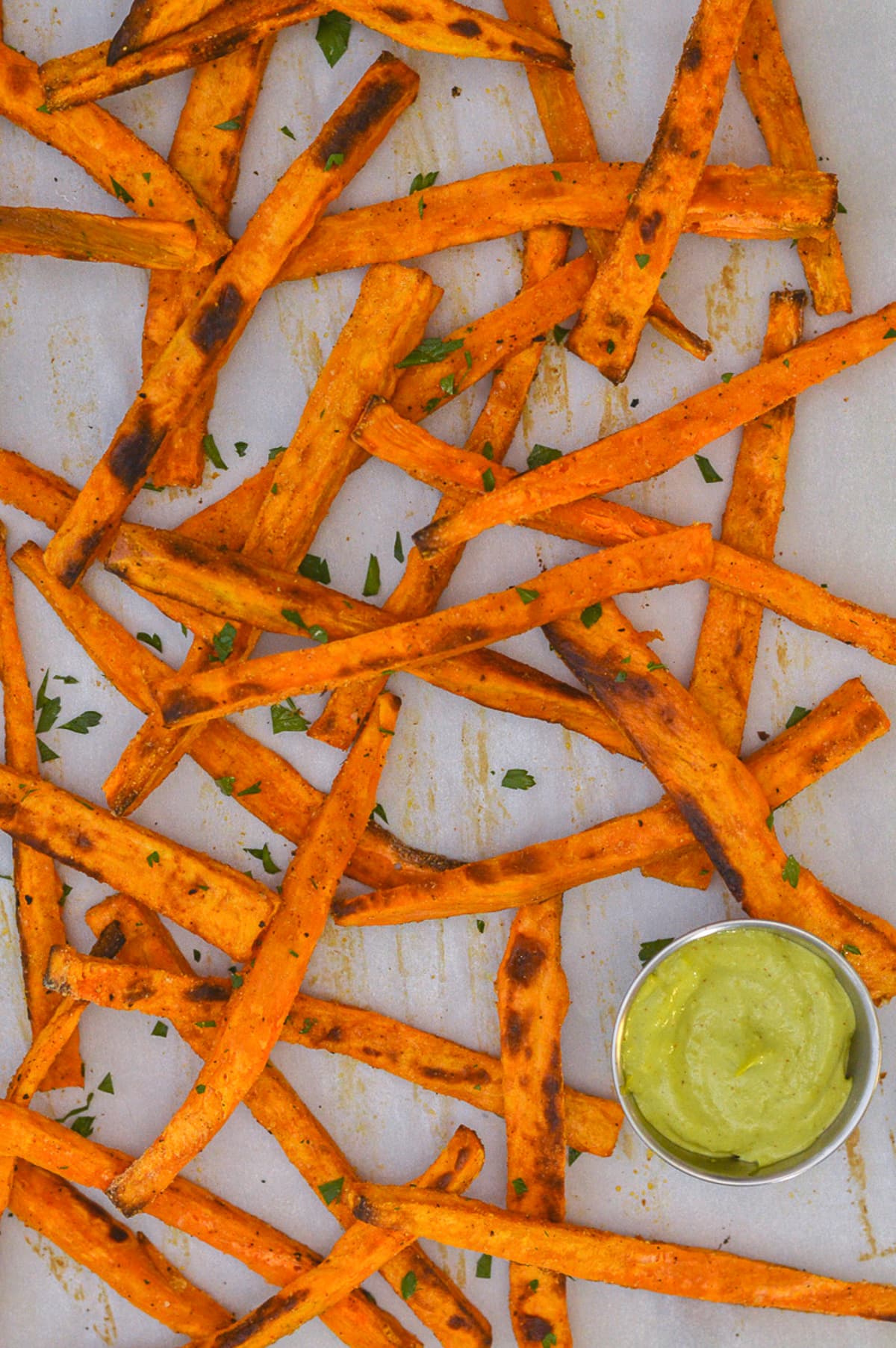 ---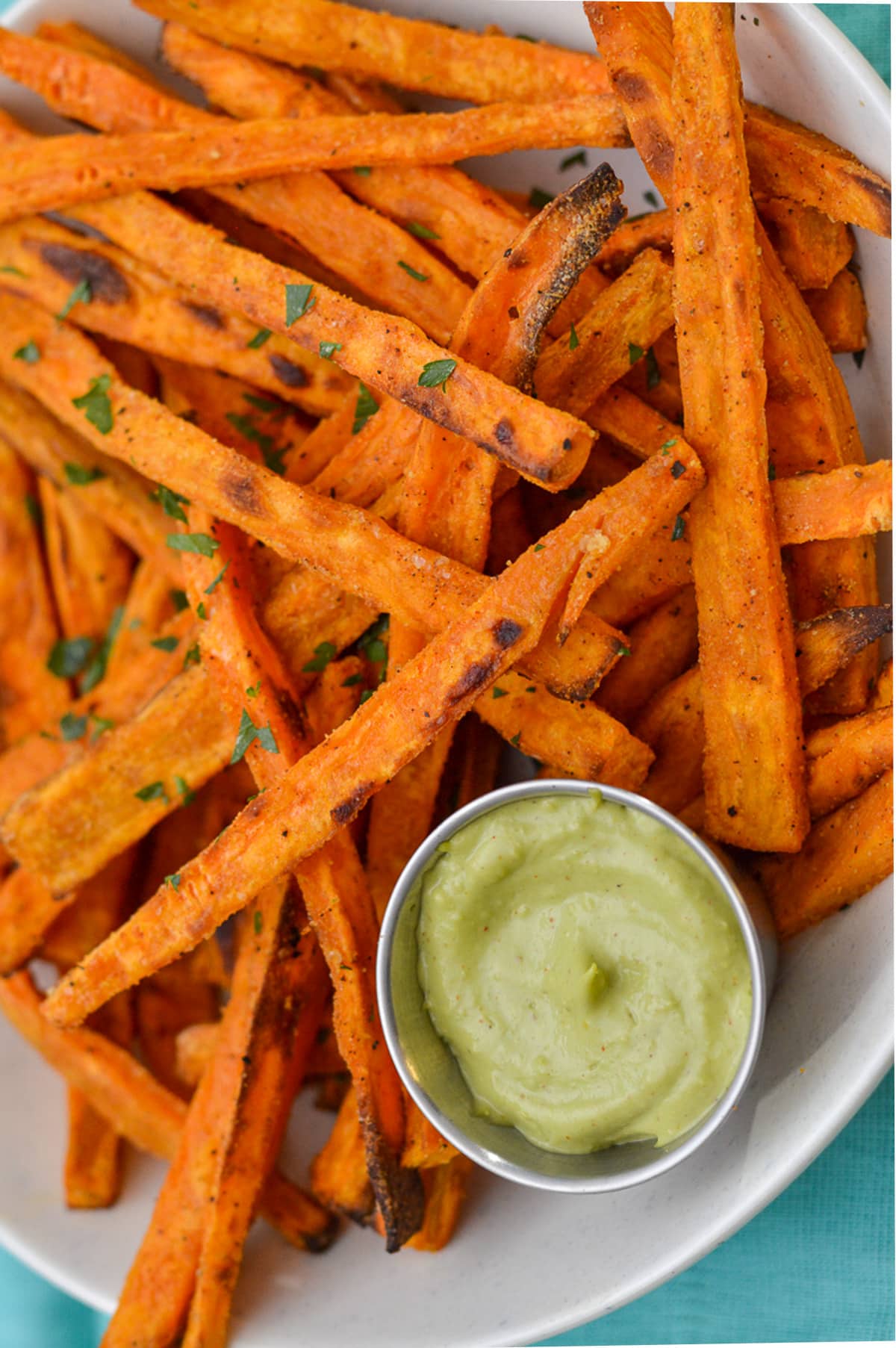 Seasoned Sweet Fries with Spicy Avocado Aioli
Sweet potatoes are peeled, sliced, seasoned and baked under high heat to get crispy on the outside, tender on the inside. Served with a quick, diary free avocado aioli on burger night!
RECIPE COST :
$4.91 / $1.23 PER SERVING
Ingredients
FRIES:
1

tablespoons

arrowroot powder (or cornstarch)

((.17¢))

1

teaspoon

garlic powder

((.17¢))

½

teaspoon

onion powder

((.08¢))

½

teaspoon

salt

((.01¢))

¼

teaspoon

fresh ground pepper

((.01¢))

½

teaspoon

paprika

((.12¢))

2

medium sweet potatoes, peeled and cut into ½-inch thick strips

(($1.74))

2

tablespoons

olive oil

((.62¢))

2

tablespoons

fresh parsley (optional)

((.10¢))
SPICY AVOCADO AIOLI:
1

garlic clove, sliced

((.10¢))

1

teaspoon

Dijon mustard

((.01¢))

1

large egg yolk

((.20¢))

2

teaspoons

fresh lime juice, about ½ a large lime

((.15¢))

⅛

teaspoon

cayenne pepper

((.01¢))

½

small avocado, peeled and roughly sliced

((.80¢))

2

tablespoons

olive oil

((.62¢))
Instructions
FOR THE FRIES:
PREPARE: Preheat the oven to 450˚F and line 2 large baking sheets with parchment paper.

SEASONING BLEND: In a small bowl, combine cornstarch, garlic powder, onion powder, salt, pepper, and paprika. Stir together using a whisk or fork and set aside.

PREPARE THE SWEET POTATOES: In a separate large bowl, add sweet potatoes and oil. Toss to thoroughly coat the sweet potatoes in the oil. Sprinkle the seasoning mixture over the top of the oiled sweet potatoes and gently toss agian to distribute the seasoning. 

BAKE: Arrange the sweet potatoes evenly over the two prepared baking sheets, making sure they do not touch. Bake at 450 for 30 minutes, turning halfway through. If you cut your fries thicker, you may need more time to get them crispy. Serve fresh from the oven with spicy avocado aioli.
FOR THE AIOLI:
PROCESS EVERYTHING BUT THE OIL: While the fries are in the oven, add garlic, mustard, egg yolk, lime juice, cayenne, and avocado to a blender or food processor. Puree ingredients for about 45 seconds.

ADD THE OIL: With the blender still running, very slowly add the olive oil to the blender. If the oil begins to separate, stop pouring and allow the standing oil to further mix before adding the remaining oil. The slower you add the oil, the creamier your aioli will be. 
Nutrition
Calories:
293
kcal
Carbohydrates:
32
g
Protein:
3
g
Fat:
18
g
Saturated Fat:
3
g
Polyunsaturated Fat:
2
g
Monounsaturated Fat:
12
g
Cholesterol:
46
mg
Sodium:
371
mg
Potassium:
582
mg
Fiber:
6
g
Sugar:
7
g
Vitamin A:
19300
IU
Vitamin C:
11.6
mg
Calcium:
50
mg
Iron:
1.3
mg
Nutrition Information Disclaimer
RECIPE EQUIPMENT
**This blog post contains affiliate links to products that I actually use and that align with my values. See my affiliate disclaimer here.
PIN IT NOW, MAKE IT LATER!