I went next level with my Paleo coffee cake and added a layer of sweet cinnamon apples through the center. The grain free and diary free coffee cake is topped with a crumbly streusel made with coconut sugar, cinnamon and coconut oil and then sprinkled with chopped nuts to add that extra crunch!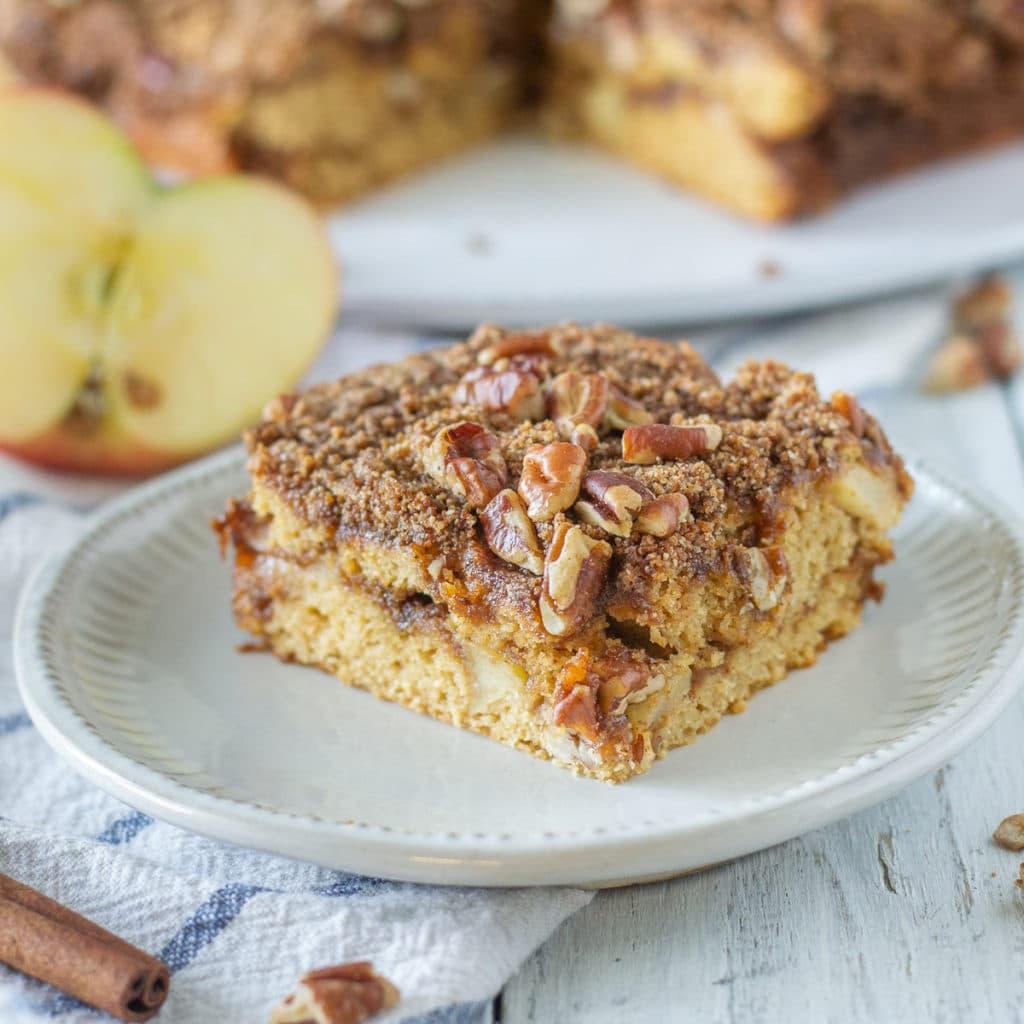 PALEO COFFEE CAKE
This time of year all I want is to bake. I grew up baking and it's something I associate with making people happy. Let's not go dwell on any psychological implications that may have and move right on to gluten free coffee cake, mmm-kay?
The point is, all the baked goods I made as a kid would were crazy high in butter, refined sugar and all purpose flour. These days, I want a coffee cake that is free of all that with the awesomeness of apple cinnamon as well. Turns out it's super easy, moist and delicious!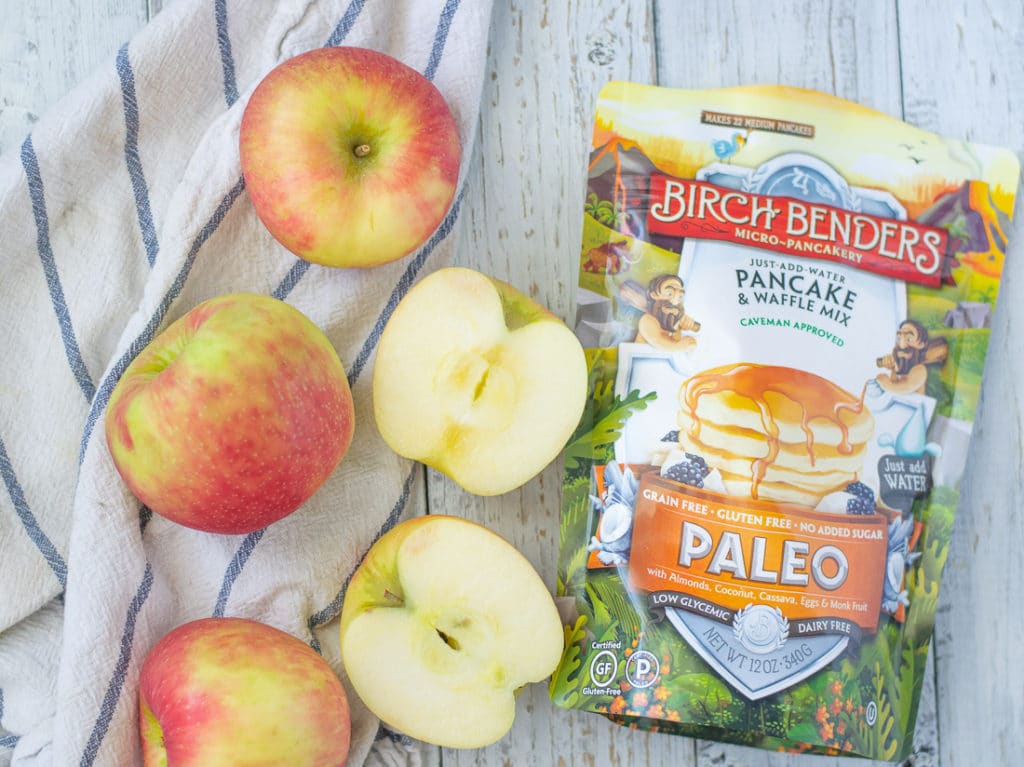 PALEO PANCAKE MIX
The key to making this easy recipe is Paleo Pancake Mix from Birch Benders. I'm not getting anything from Birch Benders here, I'm just a big fan of the product and want to share this shortcut. Because shortcuts are life and this is a great one.
I personally don't want to have to mess with getting the ratio right on, so I take the shortcut. I believe I have also seen this at Costco from time to time for a massive discount, so if you see it, snatch it up.
After the eggs, add little coconut sugar and some almond milk then stir. I let it sit for a couple of minutes to thicken. If you've ever worked with nut flours, they absorb liquid completely different that all-purpose flour. This batter is going to be pretty thick, lick thick pancake batter.
Coconut Sugar Streusel
I was nervous using coconut sugar in the streusel, because it's definitley a different texture and isn't as sweet. I use brown coconut sugar, but if you can't find it or you already have plain coconut sugar, it will work just as well.
To make the coconut sugar streusel, all you need is the coconut sugar, ground cinnamon, more Paleo pancake mix and some chilled ghee or coconut oil.
I personally love the added sweetness and coconut flavor coconut oil adds, but if that's not your jam, go with ghee. You can use butter if you don't have issues with dairy.
Those three ingredients just get worked together with a pastry blender to make a really crumbly mixture, similar to wet sand.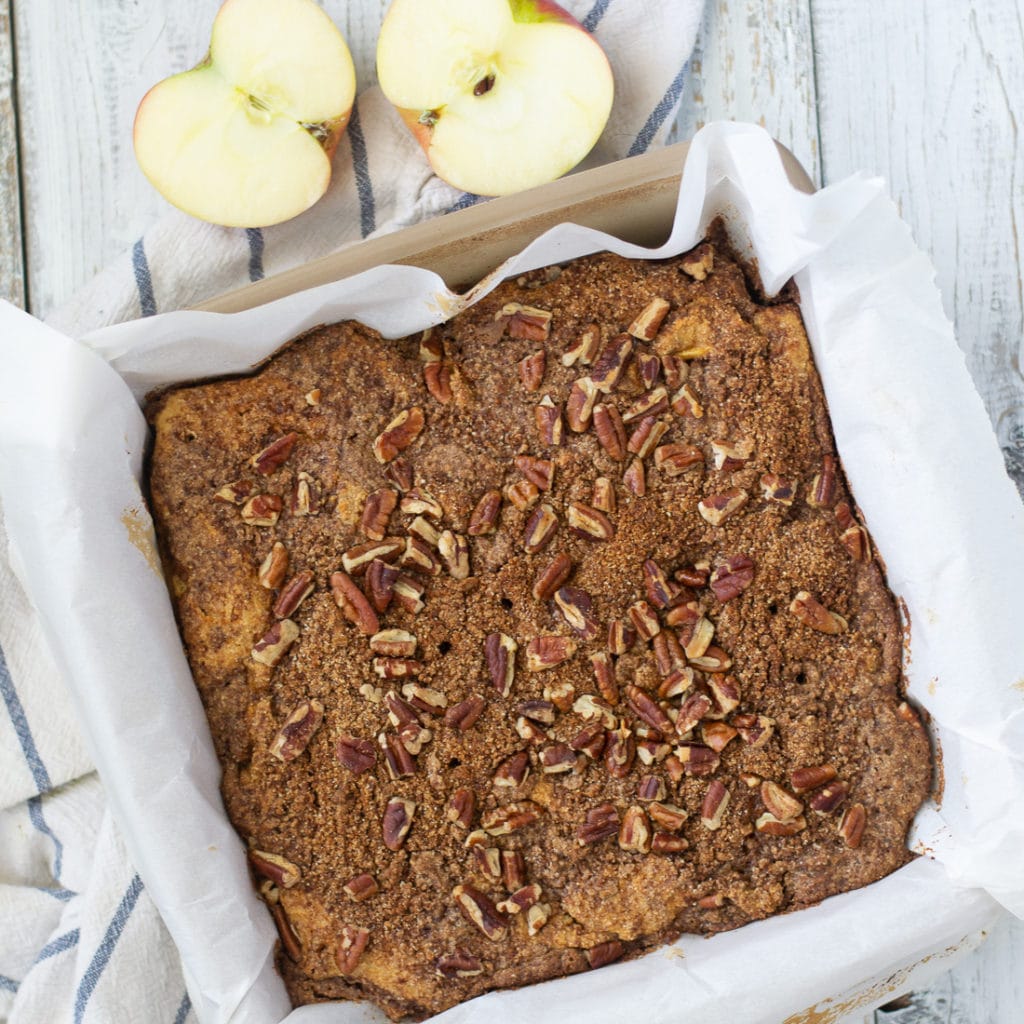 Is Coconut Sugar Paleo?
Coconut sugar is dried coconut nectar that has been cut into granules. While coconut sugar is similar in calories to standard refined sugar (just like maple syrup or raw honey), it does yield more health benefits and is naturally sourced.
Because it is naturally sourced, it is technically Paleo approved. Some may argue otherwise, but at the end of the day, if you're eating cake, you're bending the rules anyway.
The point here is, when used in moderation, coconut sugar is a superior option to refined sugar. It provides amino acids and trace amounts of potassium and other minerals. Refined sugar does not.
If you're worried about this coffee cake lacking sweetness, don't! Because the cocCCofnut sugar is naturally less sweet, the layer of peeling and chopped apples adds a naturally sweet flavor without piling in refined sugars.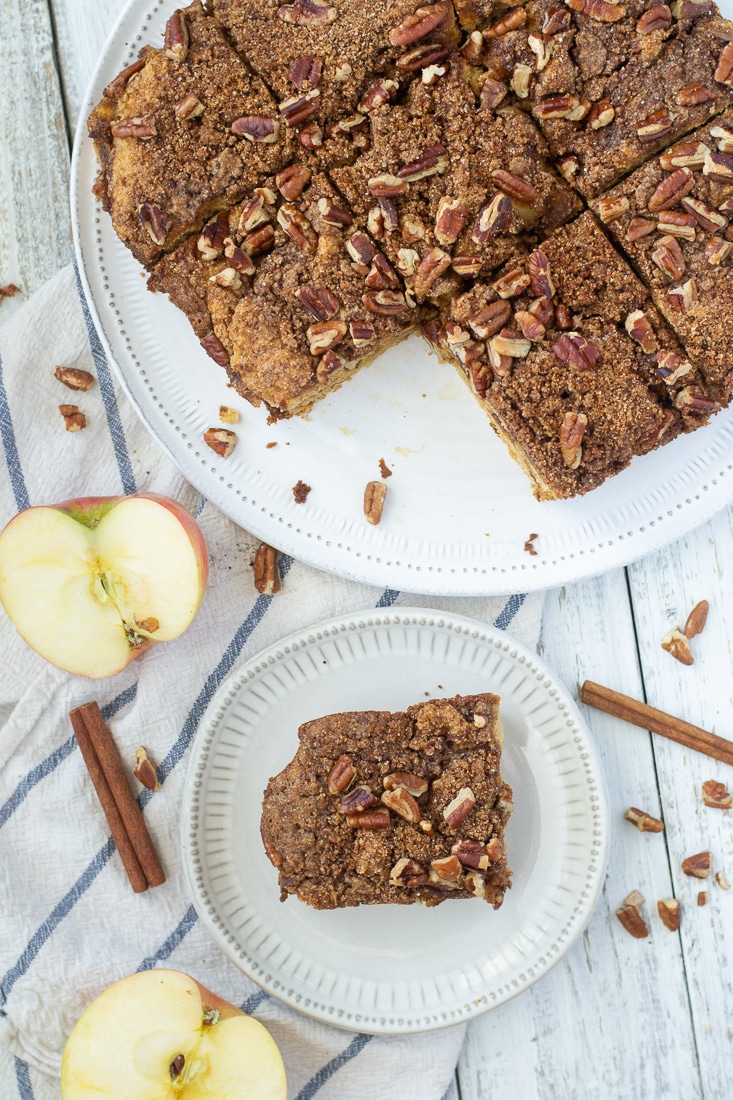 <
How To Make The Layers
Spread half of the batter gets into a parchment lined 9x9 pan. Then the apples goes over the first half of batter followed by the crumbly coconut sugar streusel.
Finally the remaining batter, then the remaining streusel, and top it all off with a layer of crunchy, chopped nuts.
After all the layers are assembled it gets baked for 25 minutes and hardest part is letting it set for around 10 minutes. If you cut right into it, the center will be a bit undercooked. However, just let it set in the hot pan for 10 minutes the center comes together without it being dry!
OTHER RECIPES YOU MIGHT LIKE: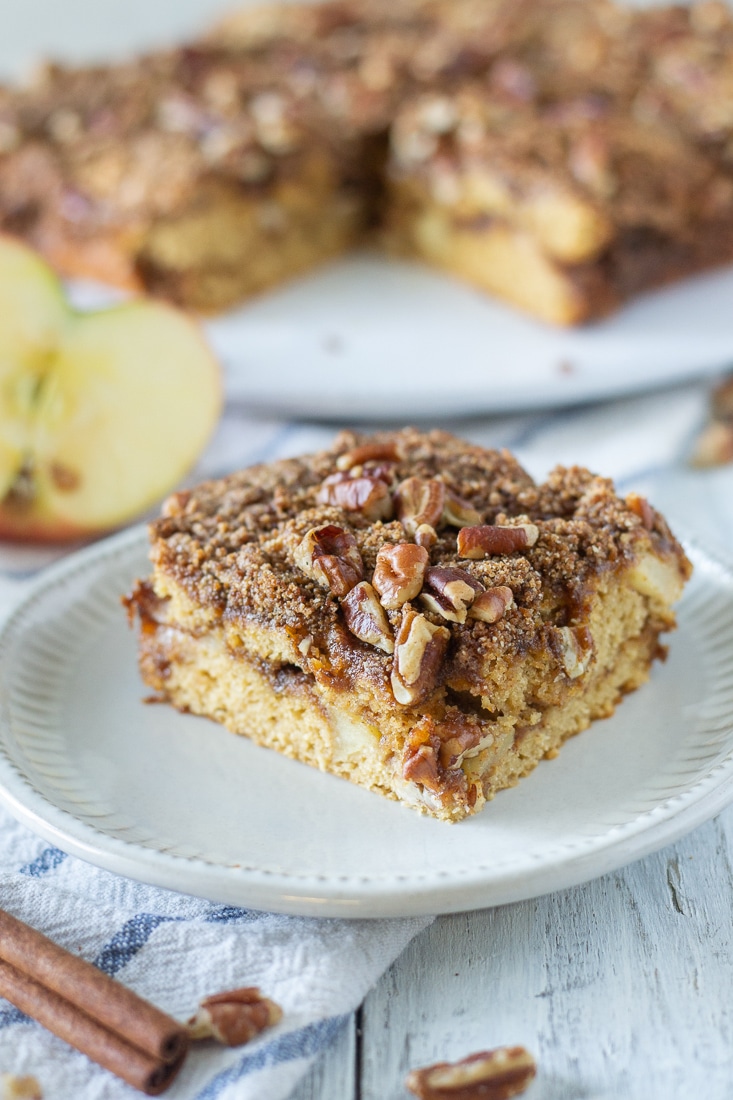 ---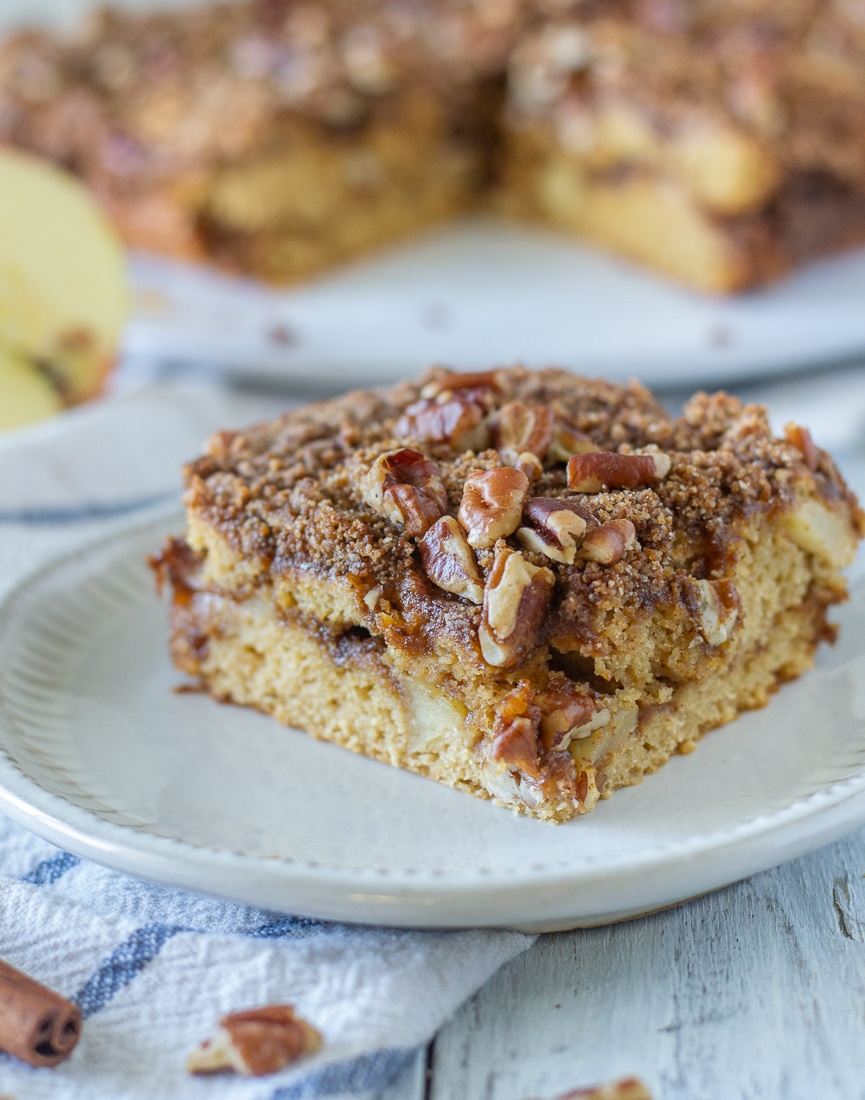 Paleo Apple Cinnamon Coffee Cake
Moist and tender grain free cake is layered with sweet, coconut sugar streusel and cinnamon apples to make a dairy free, gluten free, low calorie apple cinnamon coffee cake
Ingredients
Coffee Cake
1 ¾

cups

Paleo Pancake Mix

1

cup

unsweetened almond milk or water

((any unsweetened nut milk can be substituted))

¼

cup

brown coconut sugar

2

eggs

2

medium cooking apples

(peeled and thinly sliced (2 cups))

¼

cup

chopped nuts
Instructions
TO MAKE THE STREUSEL TOPPING:
Heat oven to 375°F. Line a 9-inch square pan with parchment paper. In a small bowl, mix ½ cup pancake mix, coconut sugar, and cinnamon and cut in the ghee or coconut oil, using a pastry blender or 2 forks, until crumbly; set aside.
TO MAKE THE CAKE:
In medium bowl, combine 1 ¾ cups pancake mix, almond milk, sugar and eggs. Stir until fully incorporated and let the batter sit for 3-5 minutes to thicken.  

Spread half of the batter in the prepared pan. Spread the sliced apples evenly over the batter in the pan, then sprinkle with half of the streusel topping. Pour and spread the remaining batter over the apples and cinnamon. Top with the remaining streusel and the chopped nuts.

Bake for 25-30 minutes or until a toothpick inserted in center comes out clean. Cool in the pan in the pan for 10-15 minutes. Use the parchment to pull out the cake and cut into 9 pieces. 
Nutrition
Calories:
224
kcal
Carbohydrates:
33
g
Protein:
6
g
Fat:
8
g
Saturated Fat:
2
g
Polyunsaturated Fat:
1
g
Monounsaturated Fat:
2
g
Cholesterol:
104
mg
Sodium:
260
mg
Potassium:
81
mg
Fiber:
3
g
Sugar:
23
g
Vitamin A:
150
IU
Vitamin C:
1.7
mg
Calcium:
200
mg
Iron:
1.6
mg
Nutrition Information Disclaimer
RECIPE EQUIPMENT
---
**This blog post contains affiliate links to products that I actually use and that align with my values. See my affiliate disclaimer here.
Pin it Now, Cook it Later!