---
Lemon herb whole roasted chicken is a staple recipe everyone should have. Not only is it a budget-friendly recipe, but it also tastes amazing, and is incredibly versatile!
Nothing goes better with whole roasted chicken than garlic parmesan mashed potatoes and gravy with some sautéed green beans.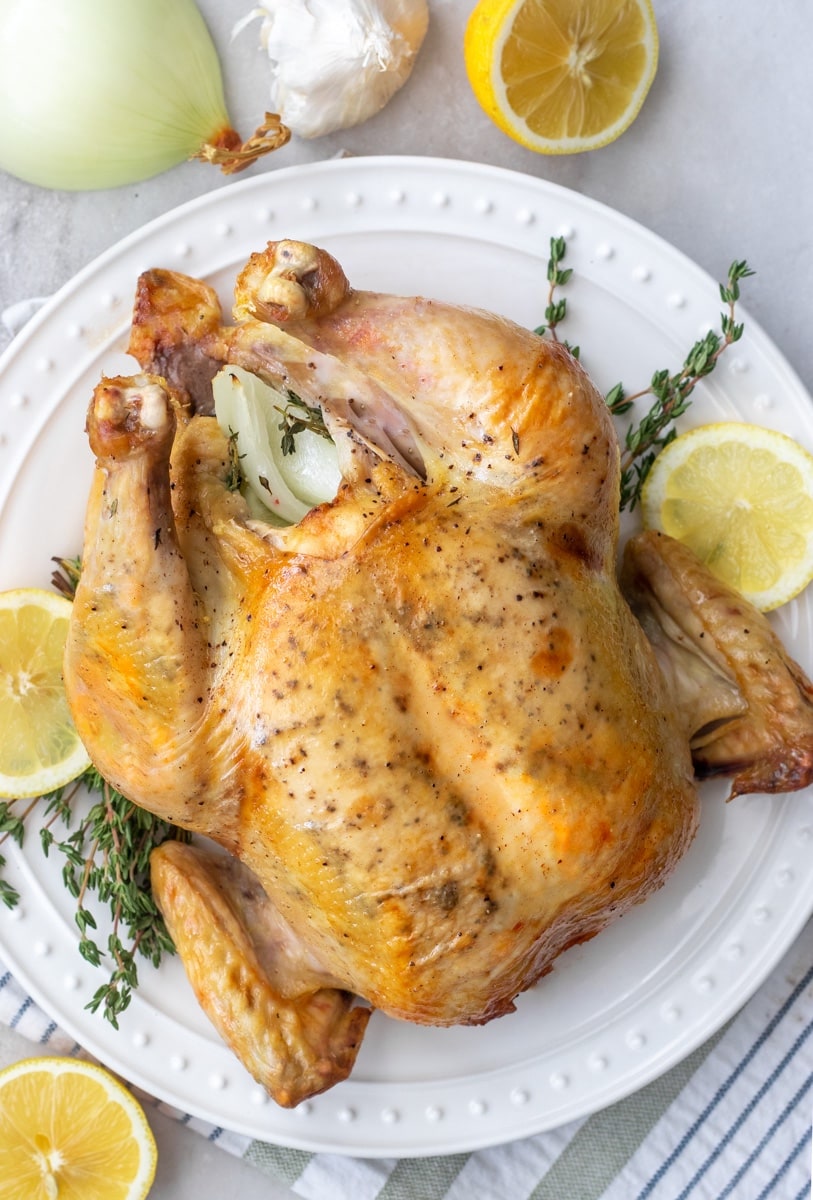 How to Roast a Whole Chicken
Nailing the classic whole roasted chicken recipe will basically make you a hero in the kitchen. Roasted chicken is pretty much a universal win among meat-eaters. The flavors I uses are subtle, fresh, but make for a delicious, flavorful chicken. So let's get into the details.
Season Underneath the Skin
First things first. You're going to want to toss all of those extra goodies that get stored away in the cavity of the chicken (or you can freeze them for bone broth)
Then grab a pair of kitchen shears (these are my favorite) and trim any unsightly skin dangles (there's no better word for it, I challenge you). Then you want to preheat the oven to 425˚ F and adjust the oven rack to the center portion or just below. I know - it seems hot, but stick with me, I'll cover why.
Now we get to season. First, you'll combine some salt (1 ½ teaspoons) and pepper (½ teaspoon) in a small bowl. Now it's time to separate the skin from the chicken. It's not a pretty process, but it's totally worth the flavor payoff.
I like to use one hand to pull the skin up and the other to gently separate skin from the meat. And don't forget the legs! That's the toughest part to get to with the seasoning in hand, so separating it beforehand makes it loads easier to get it properly seasoned.
Now grab a little of the salt and pepper mixer and spread it out all over the breast, thighs, and legs.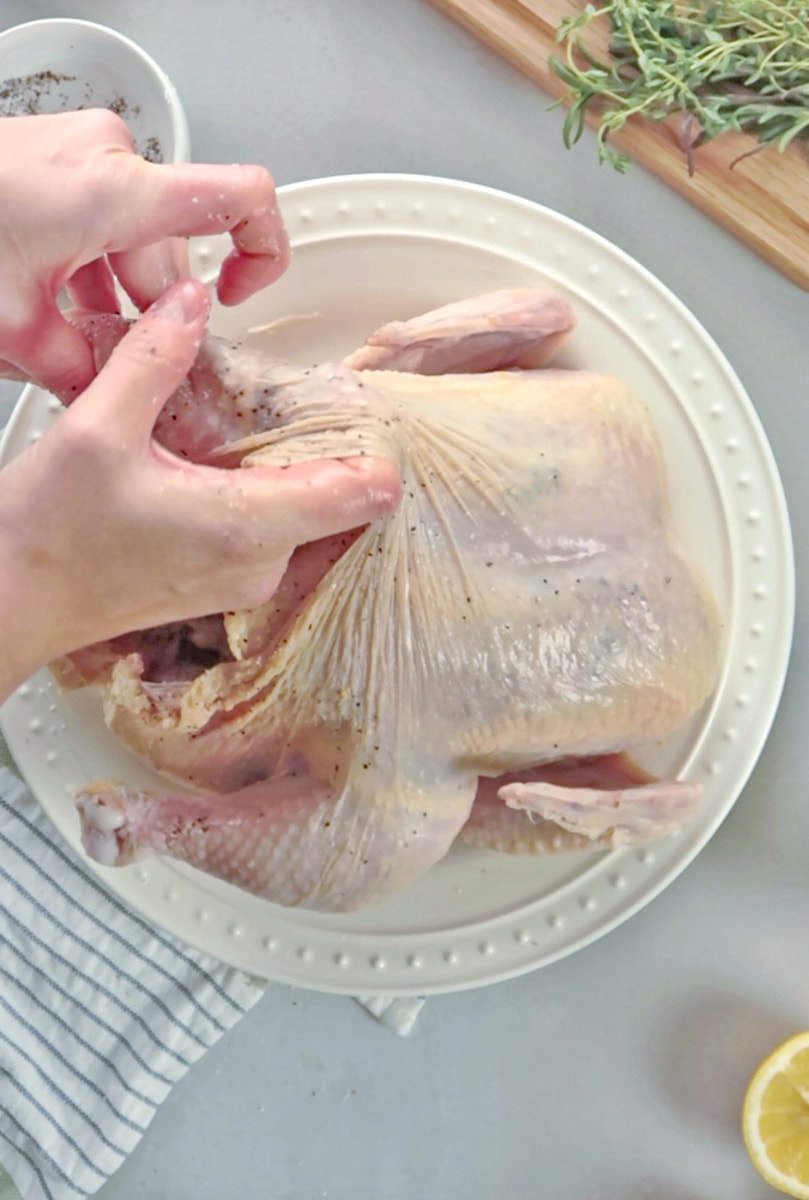 Stuff With Aromatics
Now that we've flavored the chicken from the outside, we can work on adding some from the inside. Aromatics are fragrant, flavorful additions to your recipe that contribute to the overall finished flavor.
Stuff the following items inside the cavity of your chicken
1 small lemon, sliced or wedged
½ a yellow onion, cut into 4 wedges
4 sprigs of thyme
2 sprigs of rosemary
3-4 sage leaves
4 cloves of garlic, crushed and halved
If you have to leave out a piece of onion or lemon, no big deal, but make the herbs fit.
---
MONEY SAVING TIP #1: HOW TO SAVE MONEY ON HERBS
I have two suggestions here, and it can be a choose your own adventure situation:
Grow your own herbs! They grow great inside if you have a window handy and will save you tons of money if you work with fresh herbs often.
If you're not into the maintenance of growing something, I totally hear you. Grab one of those packets of fresh herbs in the refrigerated section in your produce department that is call "poultry herbs" or something to that effect. Instead of spending a couple dollars for each herb and having waste, you'll only spend a little on one pack.
---
Tie the Legs and Tuck the Wings
To keep everything tucked in and cooked evenly, you'll need to tie the legs together with some cooking twine.
Simply cut a piece about 12-16 inches long. Tie it in the center once, then wrap the ends around a another time or two, depending on your string length, then double knot it and trim the ends of the string.
Next you'll take the tips of the wings and tuck them back behind the shoulder. This will prevent the ends from burning and it makes it look a little better if you're serving it whole.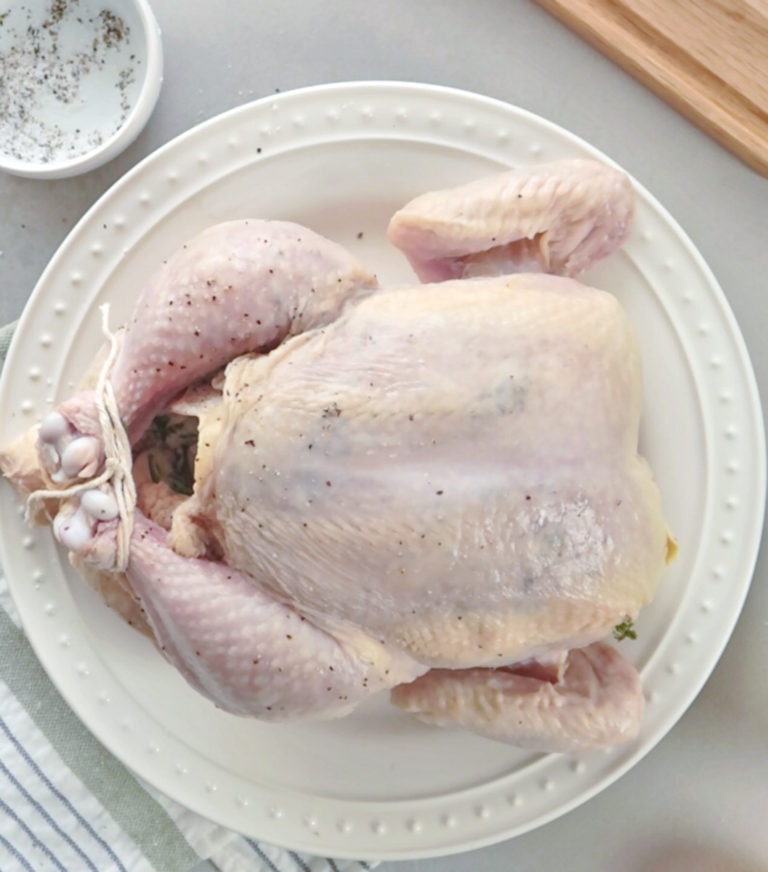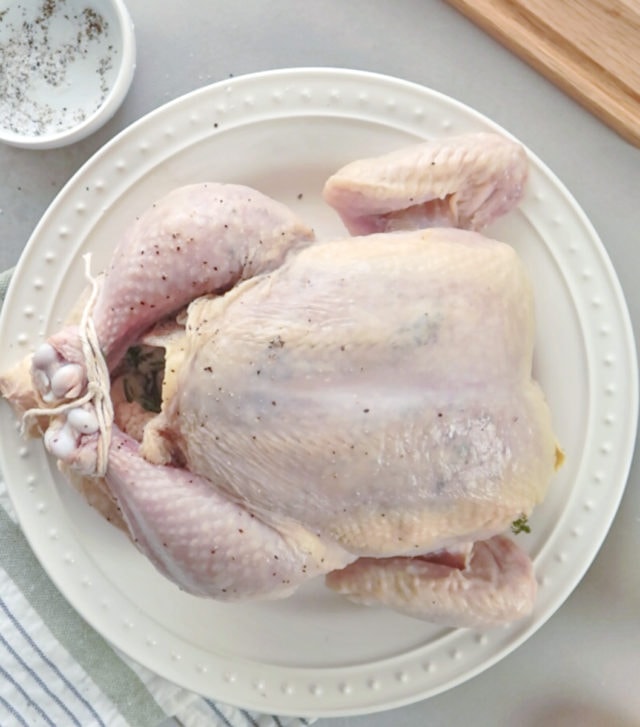 Brush with Extra Oil for Crispy Skin
With bone in, skin on chicken, it's all about the crispy, golden skin, right? So that is going to come down to two things. Brushing with a little extra cooking fat and controlling the temperature.
If you're avoiding dairy, stick with olive oil or ghee, but I'm about the butter, I won't lie. I melt 3 tablespoons of butter and use a silicone basting brush to brush it generously all over the exposed skin of the chicken.
How Long to Roast a Chicken
So now we get to talk about why the oven starts out so hot. The crispy skin! Roasting a chicken is a lot like pan searing something. First you start off hot to get the golden skin, then you lower the heat and let the inside cook without overcooking.
That being said, the first 30 minutes of cooking is done with the chicken close to the top of the oven and at 425˚ F.
After 30 minutes is up, pull the pan out. Move the rack to the bottom or the second to the last position in the oven. You want the pan to be about 6 inches from the bottom of the oven. Reduce the heat 100 degrees to 325˚F.
Take a couple seconds to brush the top of the chicken with some of the juices in the bottom of the pan and pop it back in the oven for 40-60 minutes.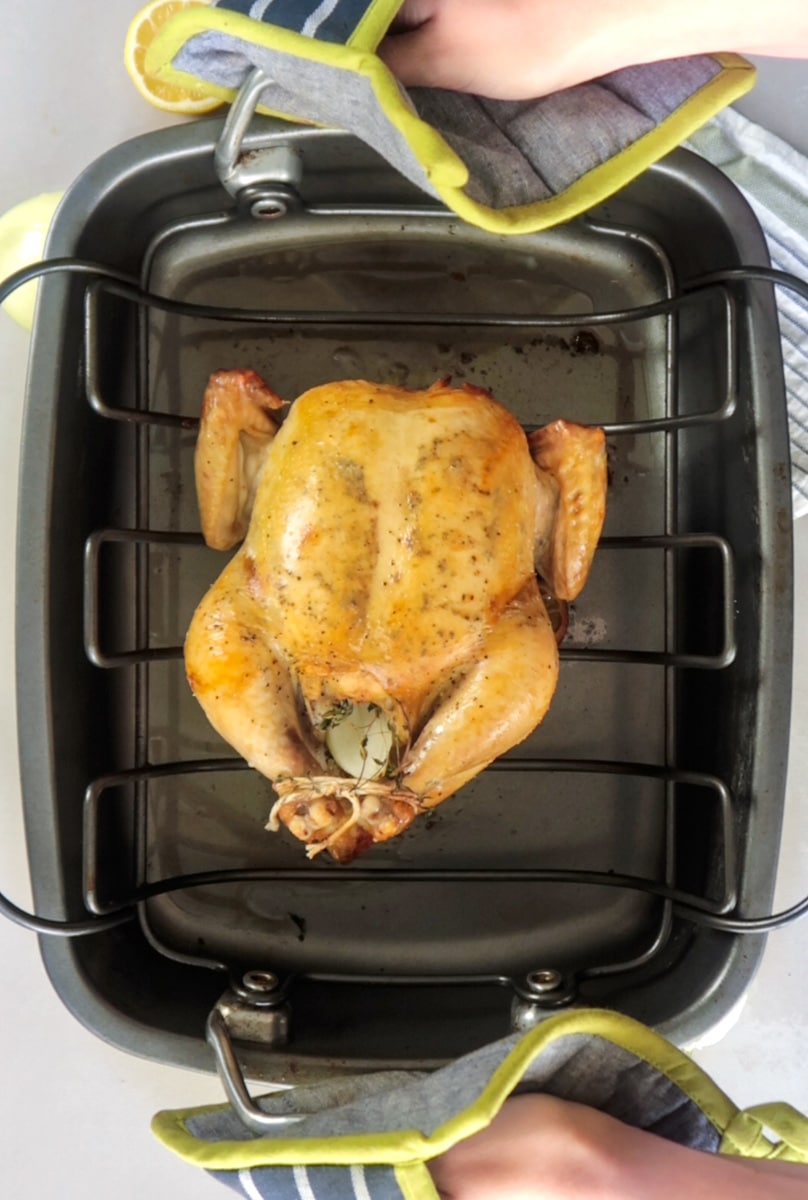 <
Roasting Temperature
You'll see a few varying opinions here, but this is what I do and it works, sooo take it how you will. I pull the chicken out when the thickest part of the thigh reads 155˚ F with an instant read thermometer.
Here's the thing - I like chicken breast. And I like it best when it isn't dry and leathery, so I take care of it! But also I don't want to give my family salmonella, so it's a fine line you have to walk.
155˚ F is the perfect temperature that I have found to allow the chicken to rest (and continue to cook) and come to the perfect temperature, which is 165˚ F. So you'll pull it out and let it set for 10-20 minutes while it continues to come to temperature.
Make it a Meal
This can become a one pot meal really easily! Here's what you do:
Cut up 2 pounds of red potatoes into 2-inch pieces and 1 large onion into 8 wedges.
Throw those in a bowl and toss with another 3 tablespoons of cooking fat like butter or olive oil, 1 teaspoon of salt and ½ a teaspoon of pepper.
Arrange those under the rack of the roasting pan before you add the chicken and you just need to toss a salad and it's a meal!
What to Serve with It
How to Cut Up a Whole Chicken for Serving
This is something I was so happy to learn. It so much easier to serve a whole roasted chicken when it's already cut into smaller servings. Because there's just something that's lost in translation when you try to explain it in text, I'm going to direct you to this 15 second video.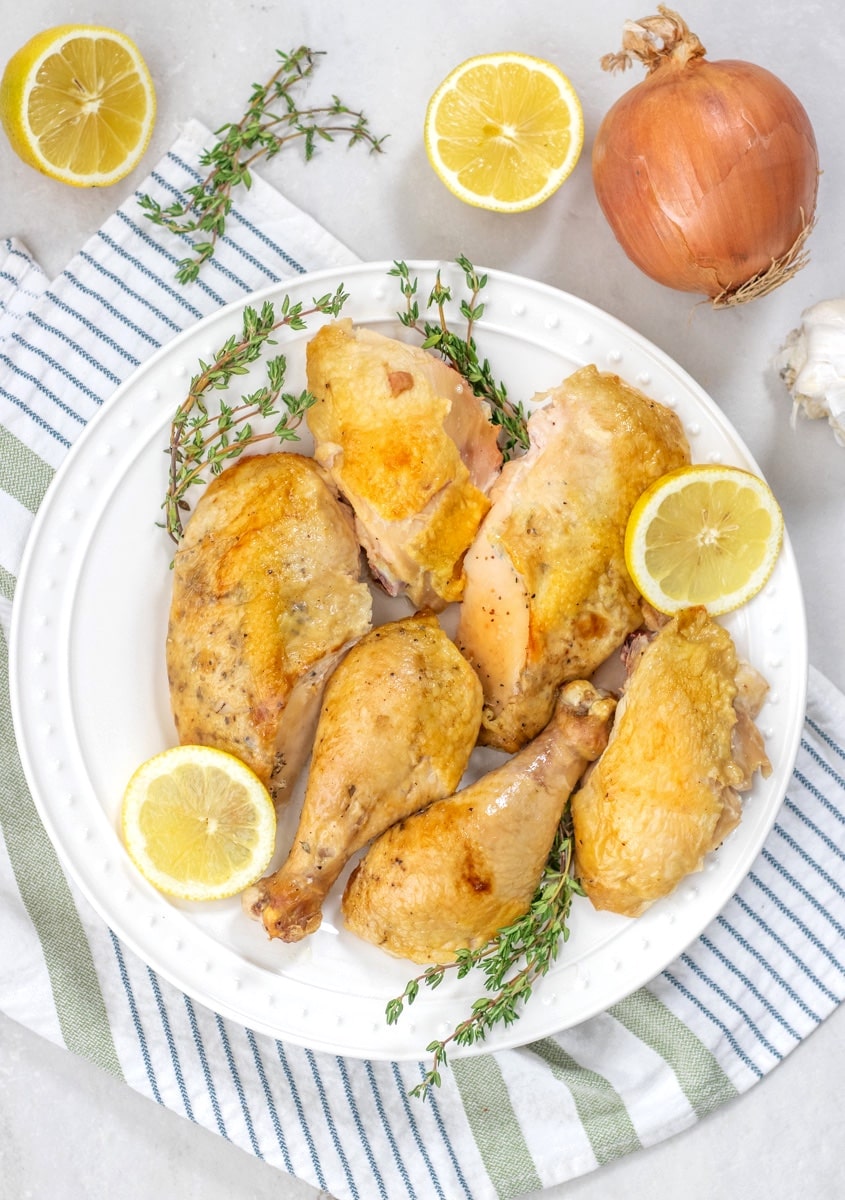 Make the Most of Leftovers
So when I make this recipe, I tend to make 2 at time (that's why my roasting pan is so huge, haha). I use every last bit of that chicken in a ton of different recipes. First of all, don't throw out your bones! Make your own chicken stock or bone broth!
Back to extra chicken - I cut up the chicken meat and freeze it or set it aside the fridge to make a ton of other recipes. These are some of your favorites:
---
MONEY SAVING TIP #2: MAKE YOUR OWN STOCK OR BROTH
If you use chicken stock or broth or drink bone broth a lot, you'll save a ton of money if you just make your own. It's a set and forget process, so it's not involved. The best part (besides saving money) is that is tastes SOO much better. My recipe for slow cooker bone broth is here.
---
📖 Recipe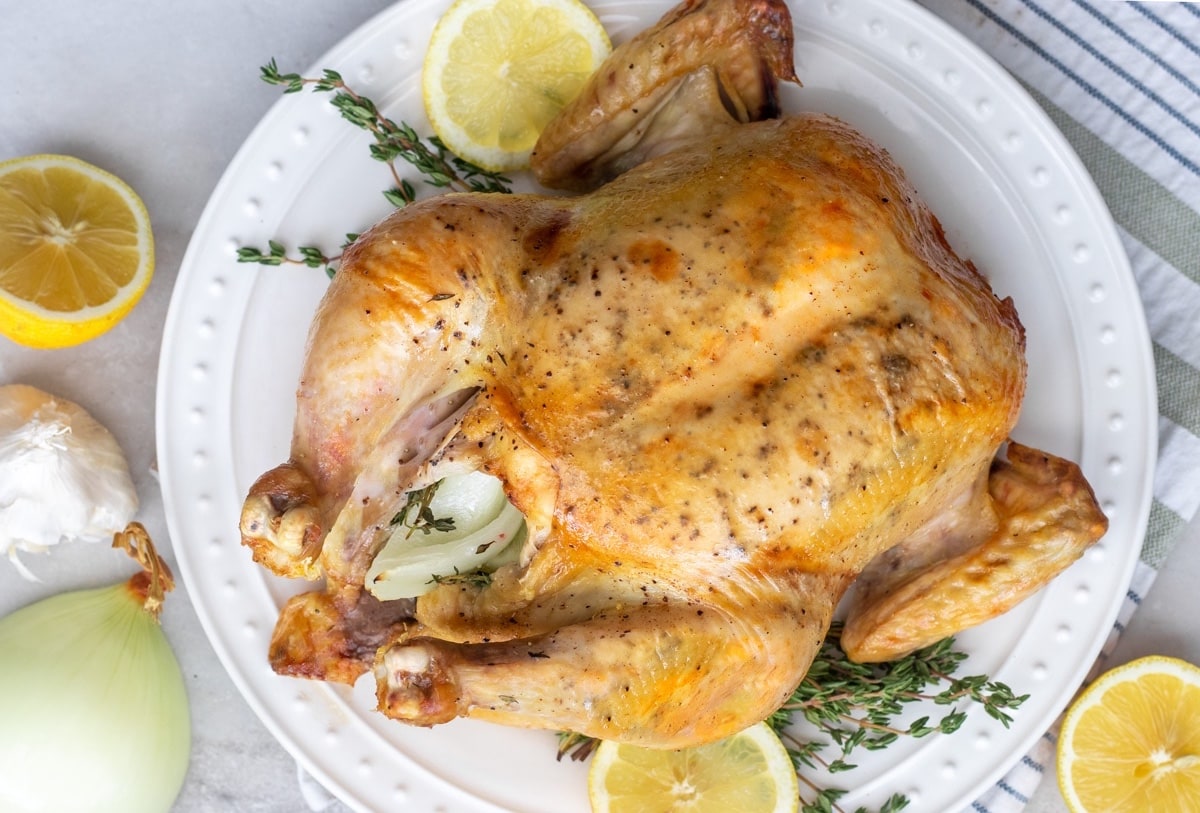 Lemon Thyme Whole Roasted Chicken
Everyone needs a great recipe for whole roasted chicken and this Lemon Thyme Roasted Chicken is the juiciest and most flavorful one around. Enjoy!
RECIPE COST :
$8.25 / $1.76 per serving
Ingredients
1

(4-5 pound)

Whole Chicken

1 ½

teaspoon

salt

¾

teaspoon

pepper

1

small lemon, sliced, plus more for serving

½

Onion, cut into wedges

4

sprigs Thyme

3-4

sage leaves

2

sprigs Rosemary

4

cloves

garlic,smashed and cut in half
Instructions
PREPARE: Preheat oven to 425° and position the oven rack in the center. Remove any extra chicken pieces or parts from the inside of the cavity and discard. Use kitchen shears to trim any access or skin on the chicken.

SEASON THE CHICKEN: In a small bowl, combine 1 ½ teaspoons of salt and ½ teaspoon freshly ground black pepper. Begin to separate the skin from the chicken using your fingers*. Once the entire breast and legs have been loosened, rub the salt and pepper mixture all over between the skin.

STUFF AND OIL THE CHICKEN: Using a paper towel, pat the outside of the skin until it is very dry. Put the onion, lemon, garlic, thyme and rosemary inside the cavity of the chicken. Use twine to tie the legs together and tuck the tips of the wings behind the neck of the chicken. Brush the outside of the skin with the butter or oil.

ROAST THE CHICKEN: Place the chicken into a roasting pan, on the rack breast side up. Roast in the prepared oven for 30 minutes. Use a basting brush to brush the skin with additional juices and reduce the temperature to 325 ̊F and lower the oven rack to 6 inches from the bottom of the oven. Return the chicken to the oven and continue to cook for an additional 40-55 minutes or until an instant read thermometer reads 155 ̊F when inserted into the thickest part of the thigh.

LET THE CHICKEN REST: Remove the chicken from the oven and tent it with foil. Allow it to rest for an additional 10-20 minutes or until the thermometer reads 165 ̊F.
Notes
Nutrition will vary depending on which cut of meat your are eating and if you eat the skin
Nutrition
Calories:
317
kcal
Protein:
38
g
Fat:
17
g
Saturated Fat:
8
g
Monounsaturated Fat:
2
g
Cholesterol:
165
mg
Sodium:
499
mg
Potassium:
2
mg
Vitamin A:
49
IU
Calcium:
2
mg
Iron:
7
mg
Nutrition Information Disclaimer
RECIPE EQUIPMENT
This post was originally posted in March of 2018 and has been completely redone with new pictures and ton more useful content.
**This blog post contains affiliate links to products that I actually use and that align with my values. See my affiliate disclaimer here.
SaveSavePIN IT NOW, MAKE IT LATER!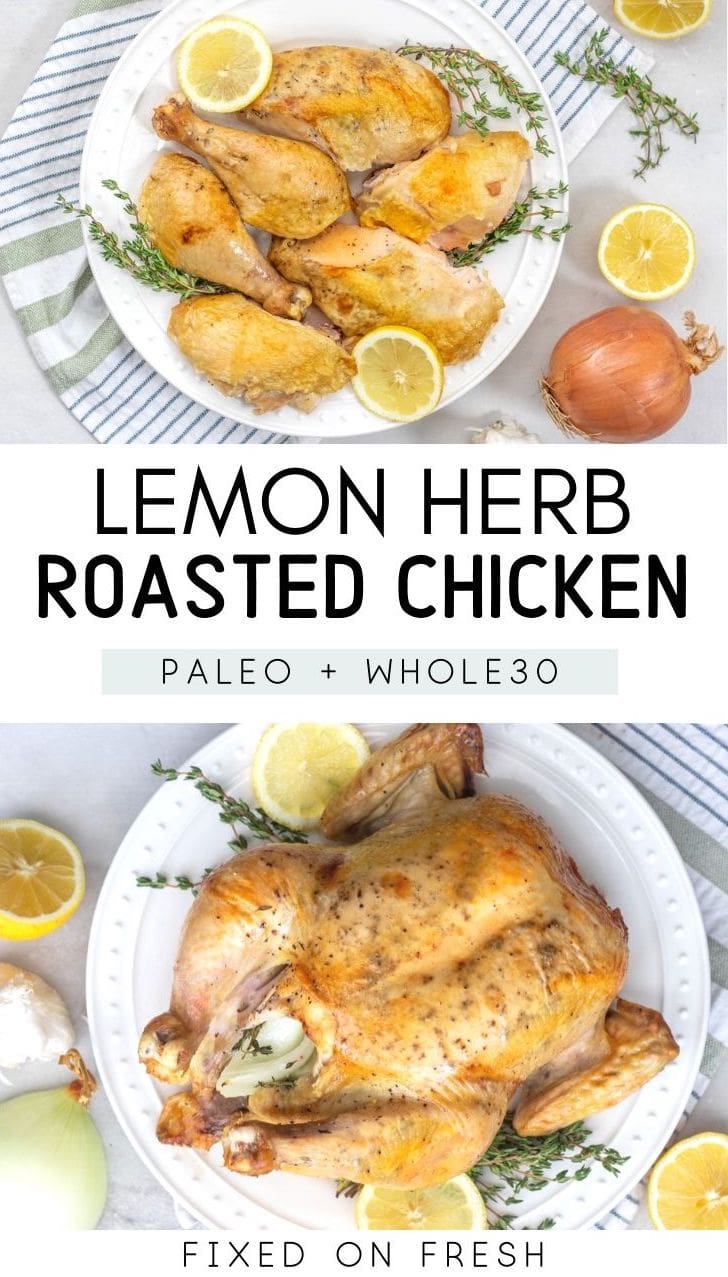 SaveSave
SaveSave
SaveSave