---
If you've always wanted to make a whole salmon fillet, this is the perfect easy recipe. Weeknight Pesto Butter Salmon is done from start to finish in 15 minutes!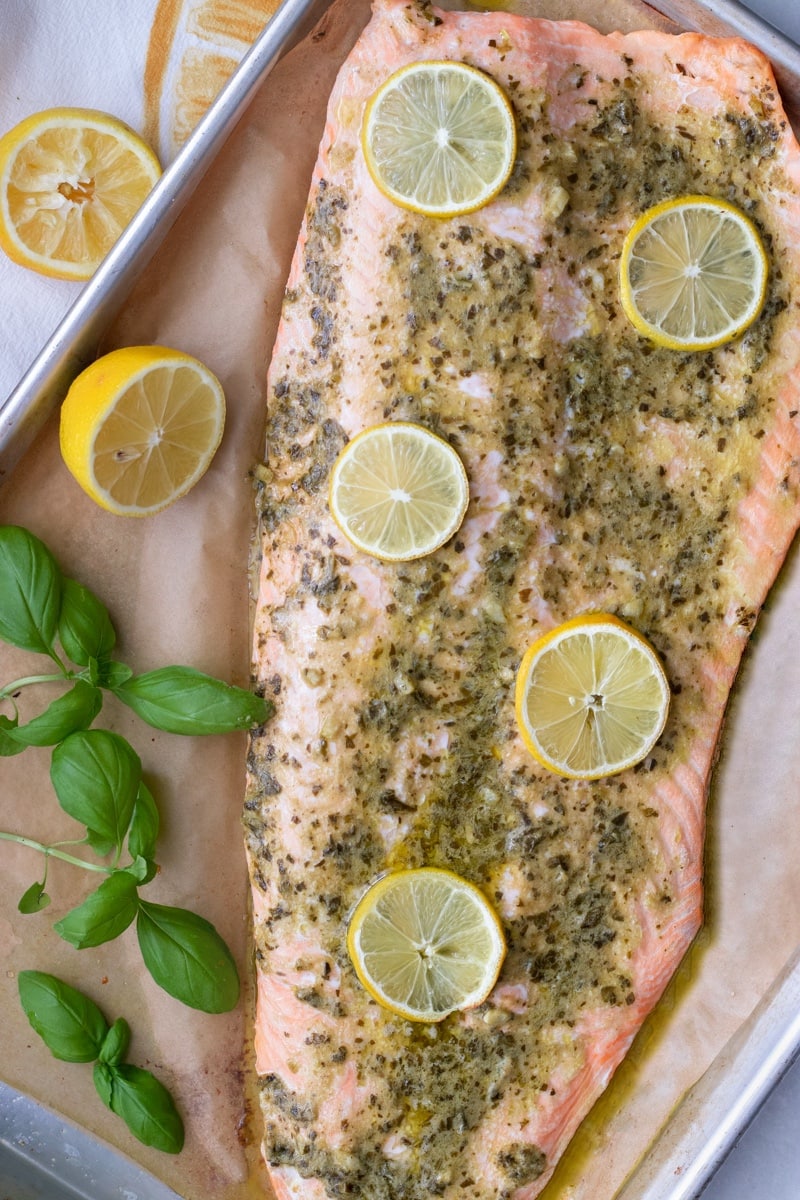 How to Cook a Whole Salmon Fillet
Cooking a whole salmon fillet is easy and so, so quick! The trick is to cook it high and quick - which is contrary to a lot of other big cuts of meat like a roast.
This particular recipe only requires a couple of ingredients, has zero carbs if low carb is your thing, and is filled with protein and Omegas. The best part is pesto salmon is super versatile and very tasty.
Ingredients
2 POUND SALMON FILLET: I used a sustainably farm-raised Atlantic salmon fillet for this recipe and it was perfect and very cost-effective (about $10 a pound at Costco). If you only have individual fillets, the citrus pesto butter will still go great on them, but I would follow reduce the cooking time to about 5 minutes and continue to check the fillets until they begin to flake.
PESTO SAUCE: a simple combination of herbs, garlic, oil, nuts, and parmesan (usually) that can be whipped up in a food processor or blender in about 5 minutes. I actually like to make a big batch and freeze the sauce by the tablespoon in ice cube trays. Store-bought, however, is a fine and hand alternative.
Related: Arugula Walnut Pesto Sauce Recipe
BUTTER: The butter allows the pesto to really spread and sink into the fish. If you're avoiding dairy (you'll need to make your own dairy-free pesto) and you can use softened ghee or a splash of extra virgin olive oil.
LEMONS: I like adding lemon zest and juice to this recipe because it adds a fresh and tangy punch of acidity that the plain pesto tends to lack with the fish.
Citrus Pesto Butter
The flavor for this recipe is a really simple compound butter that is spread all over the salmon before cooking. A quick mixture of pesto sauce, lemon zest, and softened butter goes a long way to adding an herby-citrus flavor to this big piece of fish.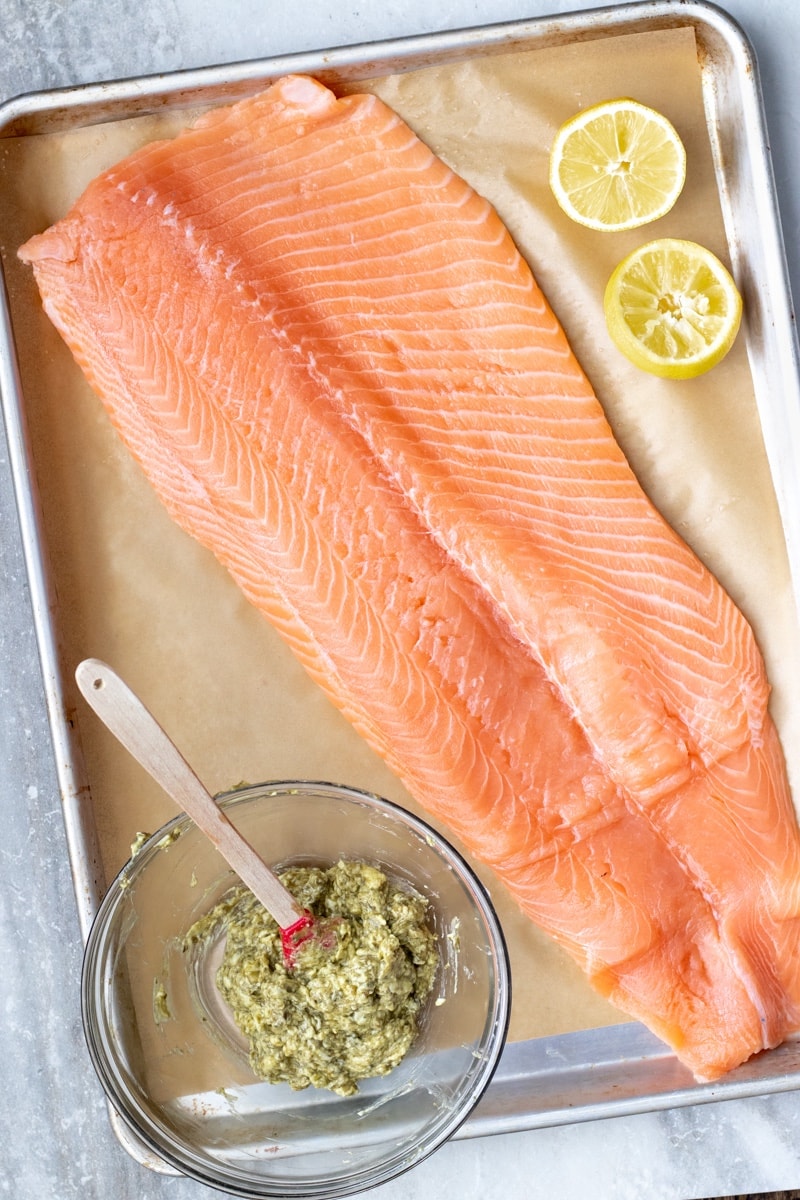 Serving Suggestions
Serve this on as a main dish with some great simple sides like rice and asparagus. You can also use a fork to flake the salmon and serve it over on a salad or tossed in pasta.
Buying Salmon
Buying salmon for the first time, or any time really can seem overwhelming because there are a lot of different choices. Not to mention, prices on all those choices can vary pretty wildly.
Different Types of Salmon
When you go to buy salmon, you'll see a few different types that can vary widely in prices, and more subtly in flavor. In order from most expensive to least expensive, let's cover 4 of the more readily available options.
KING OR CHINOOK: These are large, generally pink and are the richest and likewise priciest of the bunch. This fattier, Omega generous type of salmon will run you about $25-30 a pound, but can go as high as $50! The richness and lack of availability lend to the hefty price tag.
SOCKEYE: Typically the boldest in salmon flavor, red in color, and an average price of $15-20. These are usually smaller and leaner than other types of salmon.
CHUM OR KETA: These are most valued for their roe, however, you can find them relatively cheap at Costco or other supermarkets in the frozen section (about $10-15 per pound). They are less brilliant in color, more of a light red, and have a more subtle flavor than sockeye or king salmon.
ALASKAN: These are no longer available wild-caught, but are the most readily available and least expensive option at $8-13 per pound. The mild salmon flavor is best for people who fear the "fishy" flavor of salmon. Alaskan salmon is typically a range of pink to orange in color.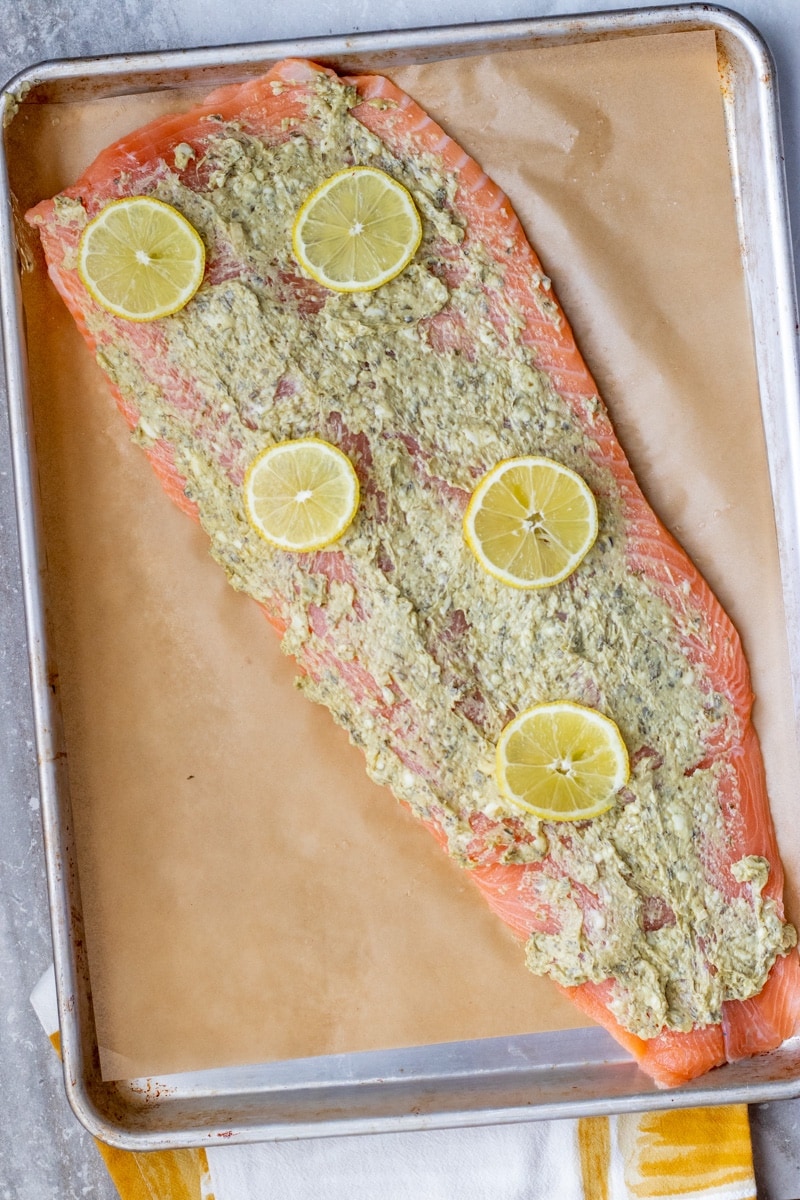 BUDGET FRIENDLY TIP: Steelhead is in the salmon family, but tends to have more of a trout flavor. It's available wild-caught at similar prices to farm raised Alaskan salmon (around $8-13)
Farm Raised vs. Wild Caught
There's a lot of controversy over this topic just as there is with grass-fed versus grain-fed beef. At the end of the day, buy what you can afford and try not to think of it as good versus bad. It's more of a better and best situation.
FARMED: The benefit of farm-raised salmon is the cost and availability. The concerns, however, are possible contaminants and antibiotics consumed by the fish during their time in the tanks.
The nutritional values of farm versus wild will vary a bit too, as the farm-raised salmon are bred to have more fat per serving than wild-caught fish will naturally have. The good thing about that is more Omega-3's. The downside of that is that more fat also means more calories per serving.
These issues are going to vary a ton between companies and locations though. If you want to know if you're choosing the right type of farm-raised salmon, this site is a good resource.
WILD-CAUGHT: Wild-caught salmon will not come with the same concerns of contaminants or antibiotics. They will also be leaner and have a different flavor. The downfall, however, is the availability and the price tag.
BUDGET FRIENDLY TIP: Depending on where you live, wild-caught salmon does seem to have a season. Most fishing is done May-Septemeber which will probably be when you can find it on sale.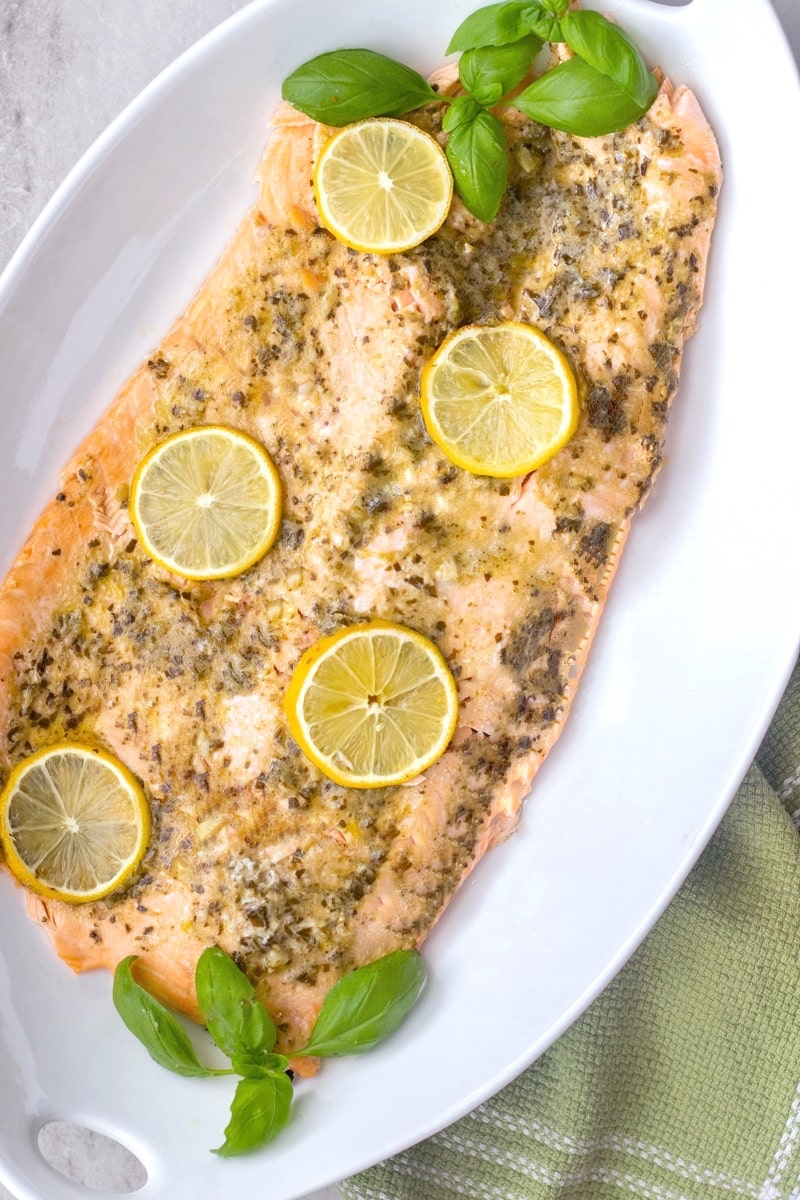 <
Whole Filet Vs. Individual Fillets
Whole salmon fillets can be a little harder to find than those that have been cut into 4-6 ounce servings. If you can find them, the whole salmon fillets tend not to dry out during cooking as smaller fillets do, but the cooking options aren't as varied.
The smaller fillets can be found in both the frozen and fresh sections in just about any type. They cook very quickly and you can cook them a few more ways than a whole fillet. Grilling and pan-searing, in particular, are both a bit more difficult with whole fillets.
Frozen Vs. Fresh
There is no real nutritional reason to avoid frozen or previously frozen salmon. In fact, if you don't live right off the coast, it can be tough to find fish that haven't been previously frozen.
The good thing about buying fish in the frozen section is that it tends to be a touch more friendly on the wallet. The downfall is that sometimes they can have additives like salt or carrageenan to change the flavor or texture.
Full disclosure: I live in Texas so about 99% of the salmon, if not 100%, has been frozen or previously frozen and I think it's delicious. But that means I cannot offer an honest comparison of flavor or texture to fresh-caught salmon.
If you can find fresh fish of strait off the truck or boat, the flavor and texture will be superior, however, it's likely the price tag will follow suit.
Salmon Leftovers
Storage and Reheating
Storage will be the same with all meat leftovers: refrigerate in an airtight container. It's the reheating that gets a bit tricky. Salmon, in all honesty, is best the day it's cooked.
It's amazing that it cooks so fast from raw, however, that also means reheating leftovers will probably dry it out a touch. I like to reheat mine on medium-high heat as quickly as possible - around 40 seconds in the microwave for a single serving.
Another option is to reheat the things your serving with it, like pasta or rice and use that to heat up the meat. Like tossing the salmon in hot pasta to get it to warm up a bit.
Freezing and Thawing
You can refreeze a previously frozen salmon that is raw and thaw it without compromising the integrity. I would not recommend freezing cooked salmon, though. It tends to thaw out rather watery and the texture isn't quite the same.
Thawing will depend a lot on the packaging. If you buy the smaller fillets that have been individually vacuum-sealed, you will need to remove the fillets from that vacuum wrapping and transfer them to a bag or airtight container before thawing them.
If they are thawed in the same vacuum packaging, they will not have been exposed to oxygen which helps eliminate some of the contaminants that can accompany fish.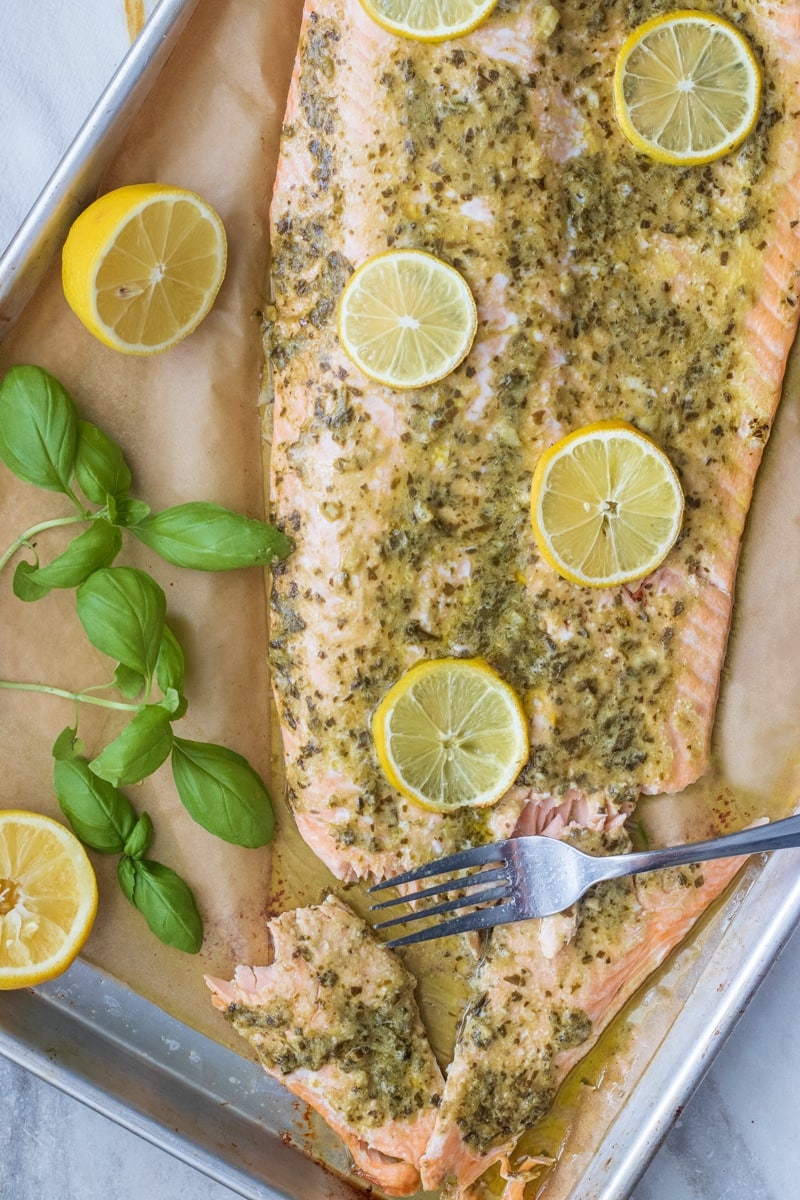 ---
Other Seafood Recipes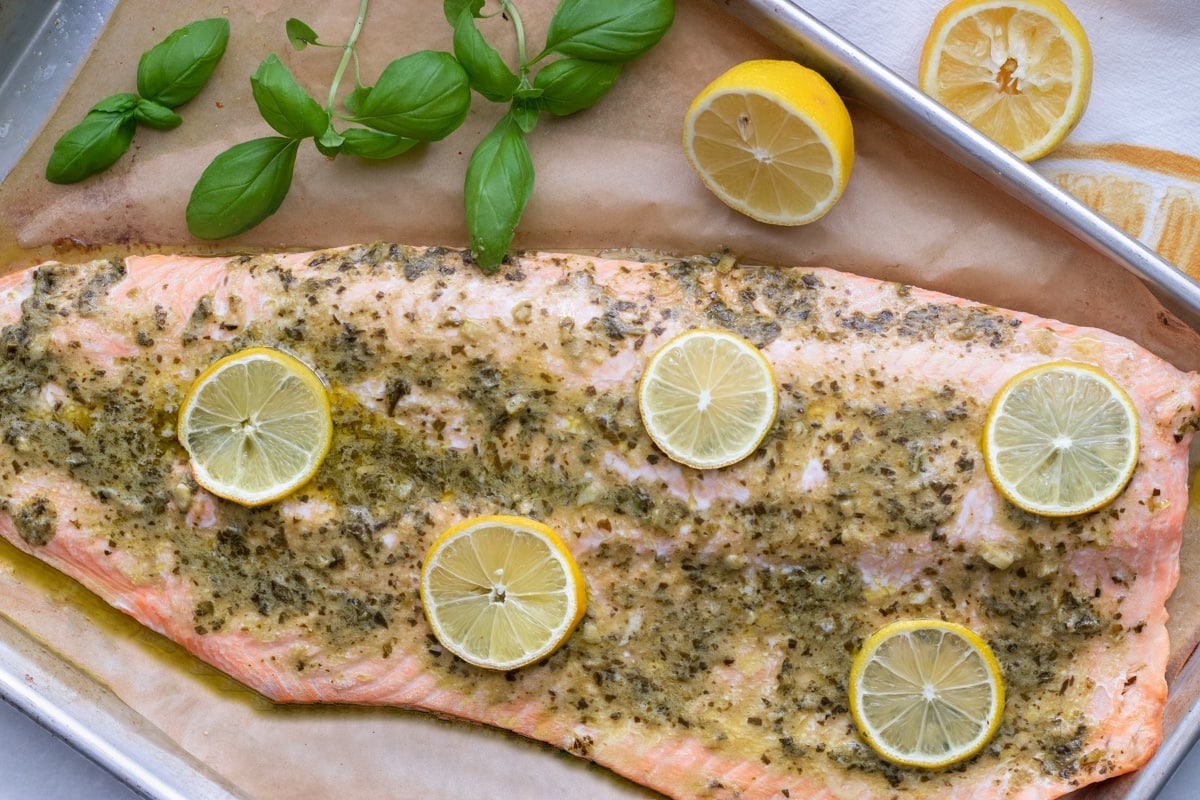 Weeknight Pesto Salmon
A quick and easy recipe that takes less than 20 minutes to make. The perfect low carb entree for busy weeknights.
Ingredients
2

tablespoons

unsalted butter2

(softened to room temperature)

3

tablespoons

Pesto sauce

(store bought or homemade)

1

teaspoon

lemon zest

sea salt and ground pepper

1

(2 lb.)

Salmon Filet

(with or without skin)
Instructions
PREPARE: Preheat the oven to 425˚ F and adjust the oven rack to the center postion. Line a large baking sheet with parchment paper and arrange salmon filet on top. Check the salmon for any remianing bones and carefully pull them out.

MAKE THE PESTO BUTTER AND SALMON: In a small bowl, mix together the butter, pesto and lemon zest using a rubber spatula to press the mixture together. Season the salmon with ½ teaspoon of salt and ½ teaspoon pepper1. Spread the pesto mixture over the top of the salmon filet.

BAKE THE SALMON in the prepared oven for 12-15 minutes. Serve immediately with extra lemon wedges.
Notes
Taste your pesto butter before you season the fish. It may not be necessary to add additional seasoning to the fish is your sauce is on the salty side. 
Nutrition
Calories:
265
kcal
Protein:
38
g
Fat:
12
g
Saturated Fat:
3
g
Polyunsaturated Fat:
1
g
Monounsaturated Fat:
1
g
Cholesterol:
104
mg
Sodium:
705
mg
Potassium:
578
mg
Vitamin A:
39
IU
Vitamin C:
8
mg
Calcium:
7
mg
Iron:
8
mg
Nutrition Information Disclaimer
RECIPE EQUIPMENT
**This blog post contains affiliate links to products that I actually use and that align with my values. See my affiliate disclaimer here.
PIN IT NOW, MAKE IT LATER