---
Tasty, no-bake haystack cookies that take less than 30 minutes to make. Chow mein noodles and marshmallows are coated in chocolate, peanut butter, and topped with graham cracker crumbs. These cookies look like little campfires and taste just like s'mores.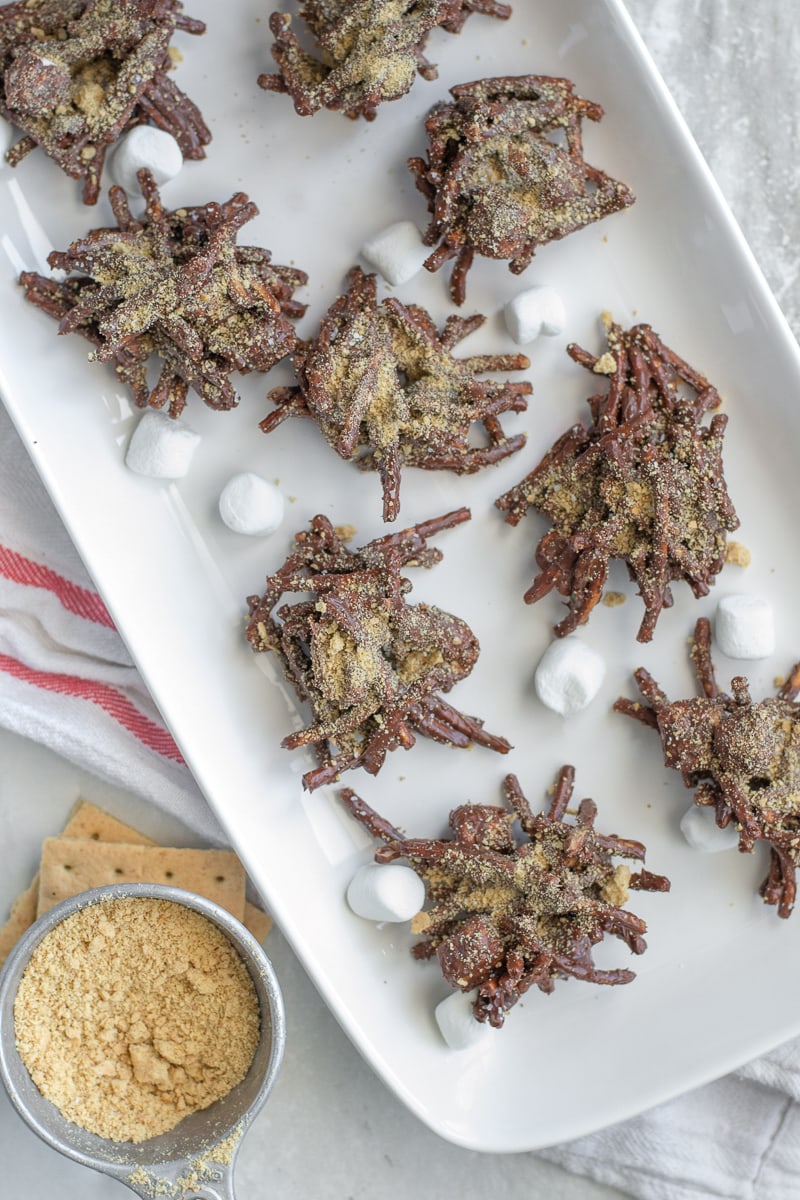 Easy S'mores Flavored No Bake Cookies
If you need a dessert in a hurry and don't want to turn on the oven, these no-bake haystack cookies are the perfect option. With only 5 ingredients needed, they won't break the bank either.
What are Haystack Cookies?
These little treats are made of chow mien noodle stacks and coated with chocolate and butterscotch chips or peanut butter.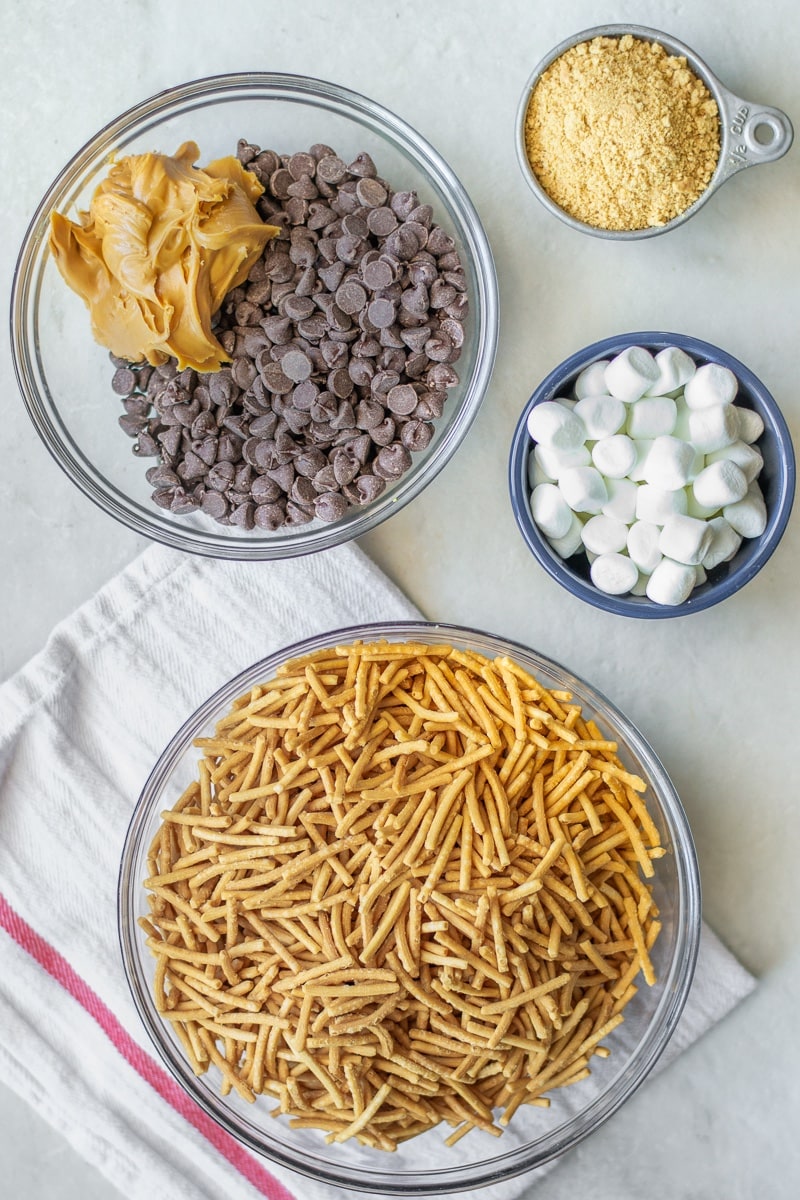 Ingredients and Substitutions
[su_highlight background="#a4bcb2" color="#ffffff"]CHOW MEIN NOODLES:[/su_highlight] You can find these crunchy noodles in the Asian foods aisle. They are the perfect base for these cookies, but if you can't find them, pretzel rods work great too (just omit adding the sea salt on top)
[su_highlight background="#a4bcb2" color="#ffffff"]SEMI SWEET CHOCOLATE CHIPS:[/su_highlight] An easy coating for the cookies that melts quickly in a glass bowl in the microwave, milk chocolate or dark chocolate work well also.
[su_highlight background="#a4bcb2" color="#ffffff"]CREAMY PEANUT BUTTER:[/su_highlight] Haystack cookies traditionally call for butterscotch chips instead of peanut butter, but I like the way the peanut butter tastes better with all the s'mores elements together. If you'd rather use butterscotch chips, you'll need about 1 cup.
[su_highlight background="#a4bcb2" color="#ffffff"]MINI MARSHMALLOWS:[/su_highlight] These are what bring the campfire cookies all together! Like roasting marshmallows for s'mores over a campfire, these are a great soft element in these cookies. However, if they're aren't your thing, skip them and these cookies will still be yummy.
[su_highlight background="#a4bcb2" color="#ffffff"]GRAHAM CRACKER CRUMBS AND SEA SALT:[/su_highlight] For a delicious topping and to bring the s'mores aspect full circle, I topped these with graham cracker crumbs and a pinch of sea salt for that sweet and salty flavor. I put one full sheet of graham cracker in a snack bag and rolled it out with my rolling pin to make the crumbs.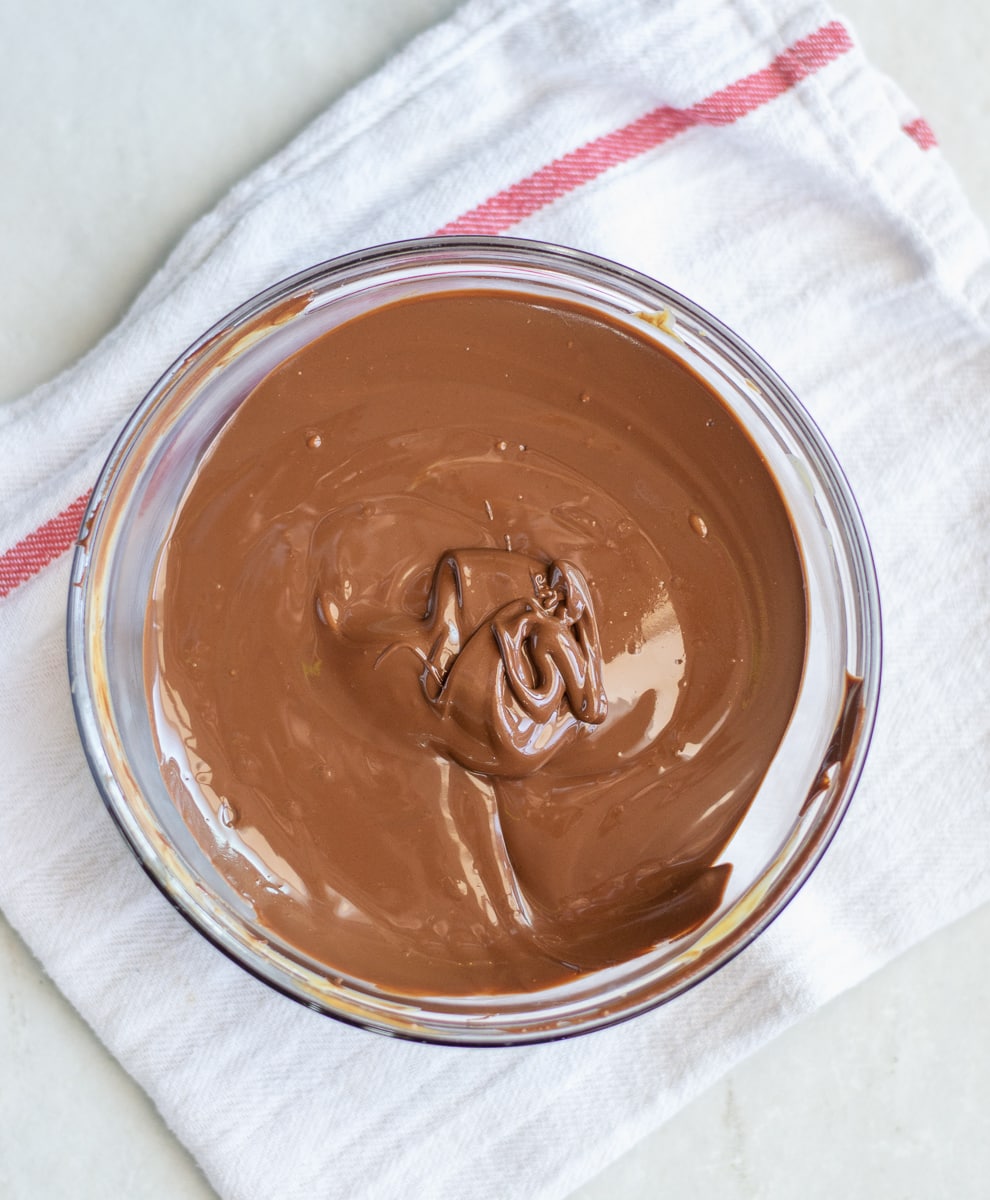 <
Quick Tips
Use a soft rubber spatula to fold the cookies rather than a hard wooden spoon that will break apart the noodles or pretzels.
Two regular spoons work well to grab the small scoops for the cookies. You only need about 2 tablespoons per cookie, but you'll need to work fairly quickly to get these separated into cookies before the chocolate starts to set.
If you're worried about how quickly you'll be able to get these out, you can always set the bowl you're working with into another larger bowl of hot water to loosen up the chocolate that might start to set on the bottom of the bowl.
Throw the cookie sheet in the freezer to help them set faster.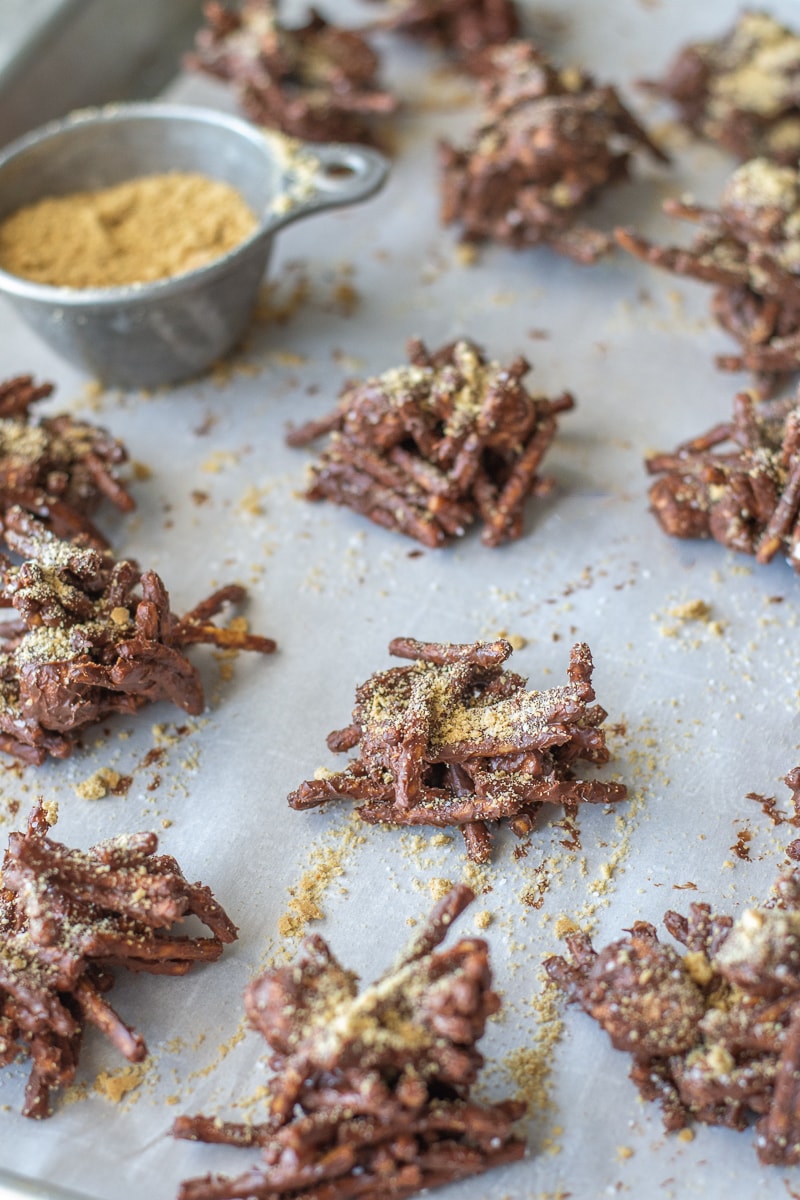 Storage
[su_highlight background="#a4bcb2" color="#ffffff"]FREEZING:[/su_highlight] Toss these in a large freezer bag and store them in the freezer for up to 2 months
[su_highlight background="#a4bcb2" color="#ffffff"]STORAGE:[/su_highlight] These will sotre in a bag or airtight container in a cool place for up to 3 weeks.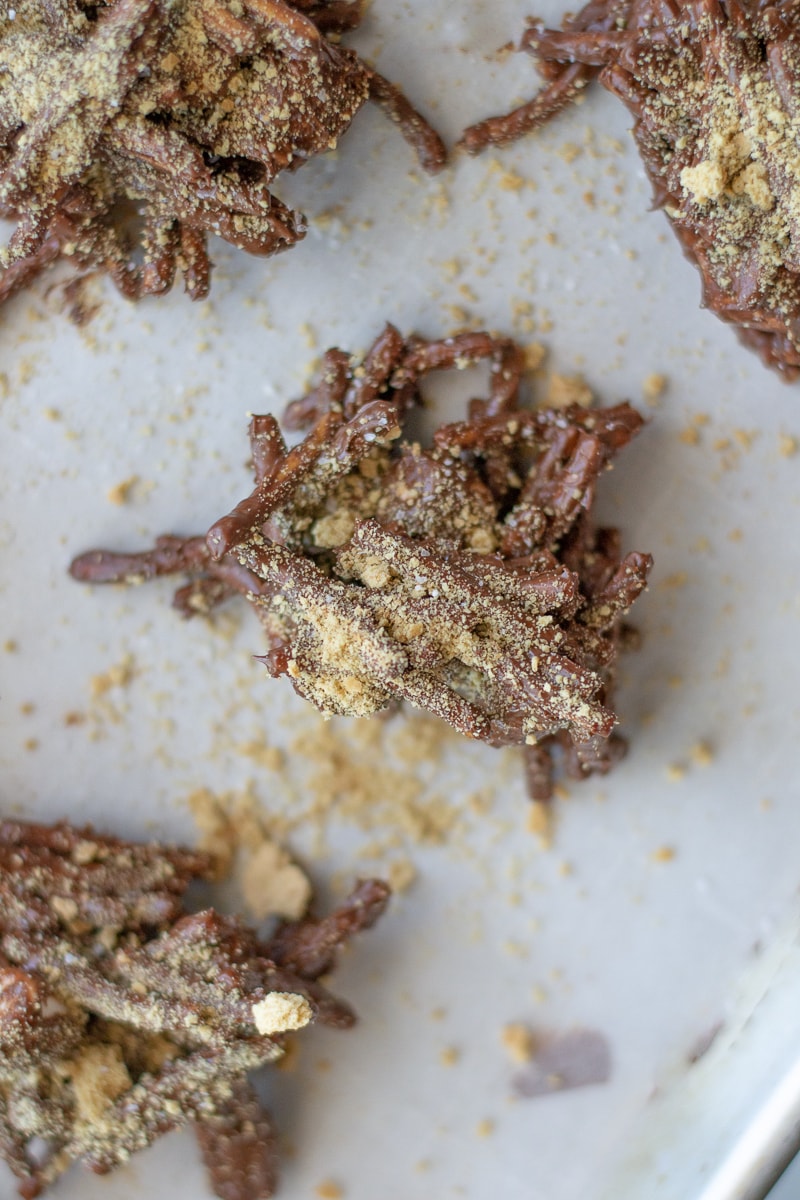 ---
More Dessert Recipes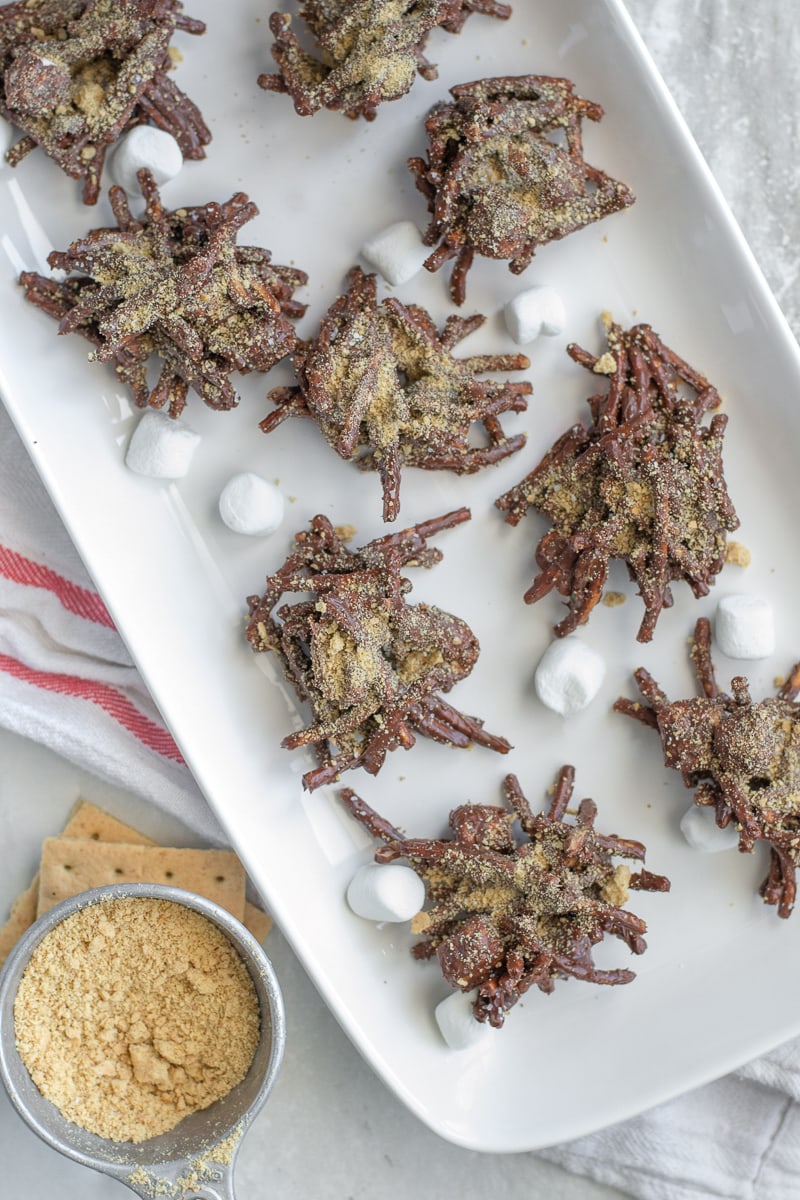 Campfire Haystack Cookies
Chow mien noodles and marshmallows covered in a chocolate peanut butter coating and sprinkled with sea salt and graham cracker crumbs. These look like campfires and taste like s'mores.
Ingredients
1

cup

ounces semi sweet chocolate chips

½

cup

creamy peanut butter

1

cup

mini marshmallows

6

ounces

chow mein noodles

3

tablespoons

graham cracker crumbs

1

teaspoon

flakey sea salt
Instructions
PREPARE: In a large mixing bowl, combine the chow mien noodles and marshmallows and set aside. Line 2 cookie sheets with wax paper and set those aside as well.

MELT THE COATING: In a glass mixing bowl, combine the peanut butter and chocolate chips. Microwave the mixture on high in 30 second increments, stirring after each time in the microwave. Once the mixture is smooth, pour over the marshmallows and chow mien noodles.

MAKE THE COOKIES: Gently fold the chocolate into the noodle mixture to evenly coat the marshmallows and noodles. Using two spoons, grab small portions of the mixture (I do about 2 tablespoons) and place them in mounds on the wax paper.

COAT WITH GRAHAM CRACKER CRUMBS: Stop to sprinkle with graham cracker crumbs and a few flakes of sea salt ever 4-6 cookies so that it will stick before drying. Allow the cookies to completely set for 20-40 minutes (freeze or refrigerate to speed this up)
Nutrition
Serving:
1
cookie
Calories:
116
kcal
Carbohydrates:
12
g
Protein:
2
g
Fat:
7
g
Saturated Fat:
3
g
Polyunsaturated Fat:
1
g
Monounsaturated Fat:
1
g
Sodium:
49
mg
Fiber:
1
g
Sugar:
8
g
Iron:
1
mg
Nutrition Information Disclaimer
RECIPE EQUIPMENT
**This blog post contains affiliate links to products that I actually use and that align with my values. See my affiliate disclaimer here.
PIN IT NOW, MAKE IT LATER!