---
Classic crockpot chicken and rice soup is a staple in our house in the cooler months. Loaded with tons of protein and veggies and a healthy serving of rice. You can make this soup on the stovetop if you have the time too!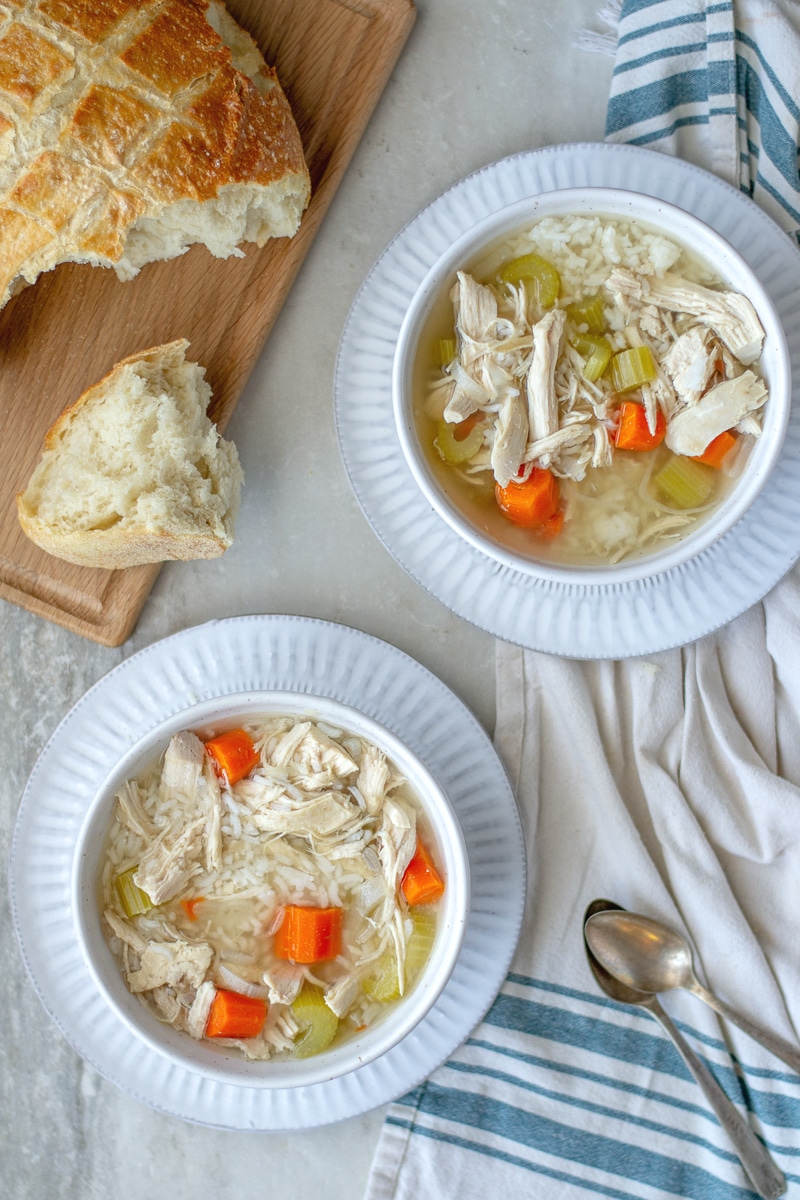 Tips For Making Chicken And Rice Soup
This set and forget recipe is one after my own heart, especially in the winter. Not only is it a great set and forget recipe, but it's healthy and hearty and the leftovers are great for healthy lunches.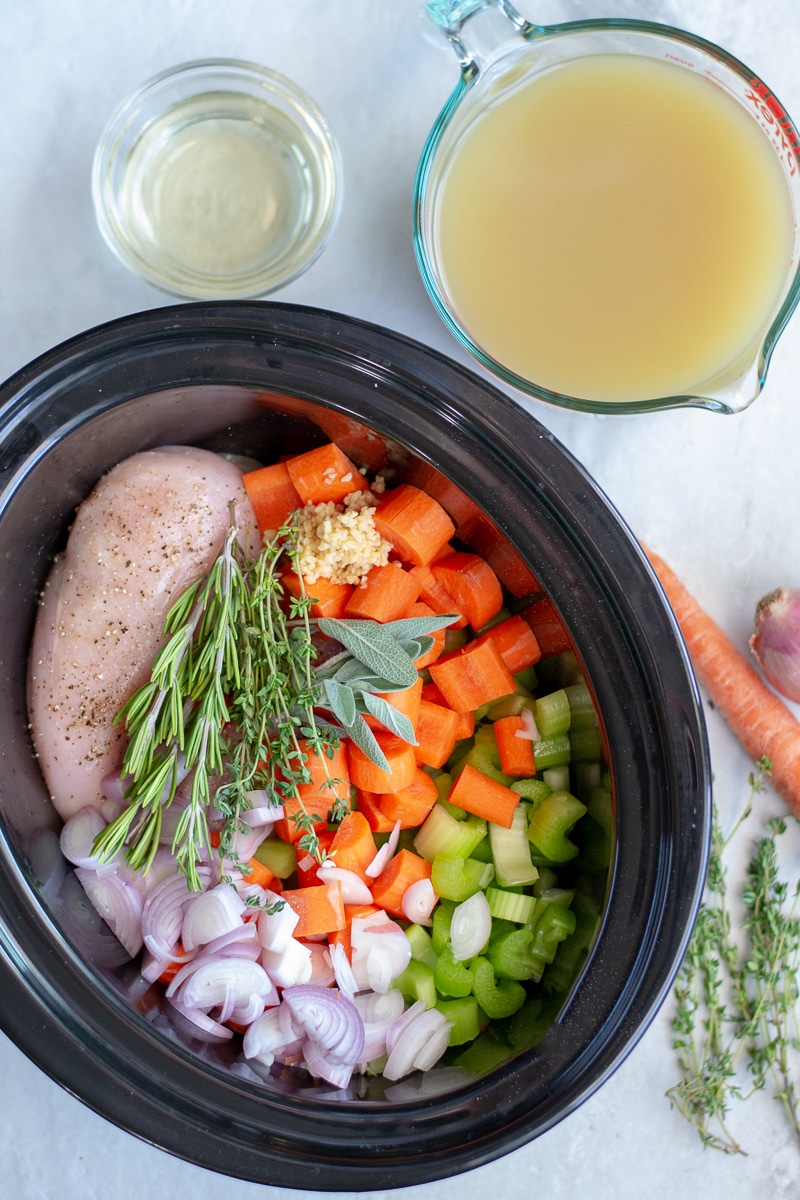 Can You Make It On The Stovetop?
That's a big fat YES! This recipe turns out awesome when you simmer it low and slow in a big dutch oven on the stove. Here's what you'll change:
Cut the carrots in smaller, ½-inch slices
Melt a little butter or oil (about a tablespoon) in a 6 qt dutch oven and saute the shallots, celery, and carrots for about 5-8 minutes or until they begin to get tender. Add the remaining ingredients to the pan and simmer, covered for about an hour.
Shred the chicken and put it back in the pan and serve the just as you would with the slow cooker.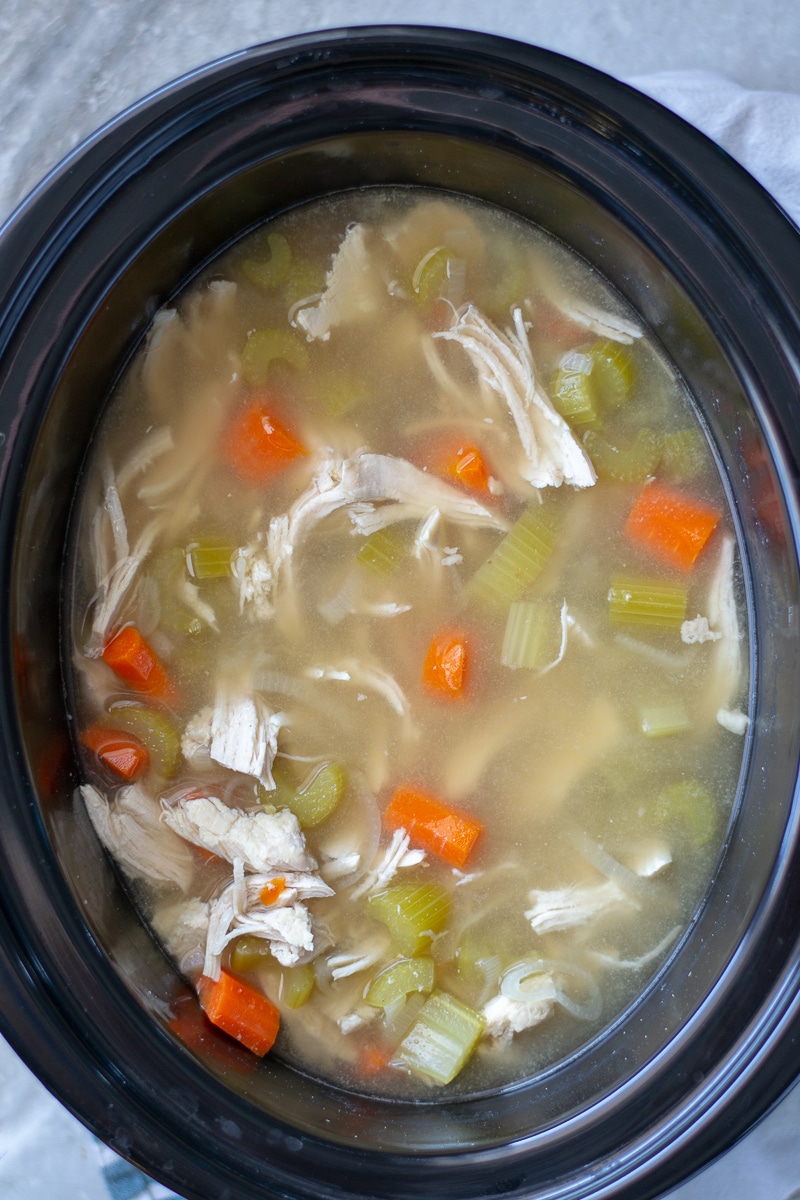 What To Serve With Chicken And Rice Soup
If you're not too concerned with carbs, grab an ounce or two of rustic Italian or French bread to soak up some of this yummy broth.
To keep it on the healthy side - a simple side salad goes great with soup.
You can also never go wrong with steamed veggies.
How To Freeze, Store And Reheat
[su_highlight background="#a4bcb2" color="#ffffff"]FREEZING AND THAWING: [/su_highlight] Cool the soup completely before freezing in an airtight container for up to 2 months. When you're ready to eat it, just pull it from the freezer in the morning and place it in the fridge to thaw for about 6-8 hours.
[su_highlight background="#a4bcb2" color="#ffffff"]STORAGE: [/su_highlight] This soup stores well in the fridge for up to 6 days in an airtight container.
[su_highlight background="#a4bcb2" color="#ffffff"]REHEATING: [/su_highlight] Reheat this in a microwave-safe bowl on high for 90 seconds (for an individual serving) or up to 4 minutes for the whole family. I prefer to reheat a large batch on the stovetop over medium heat until it just simmers. It ensures a more even temperature.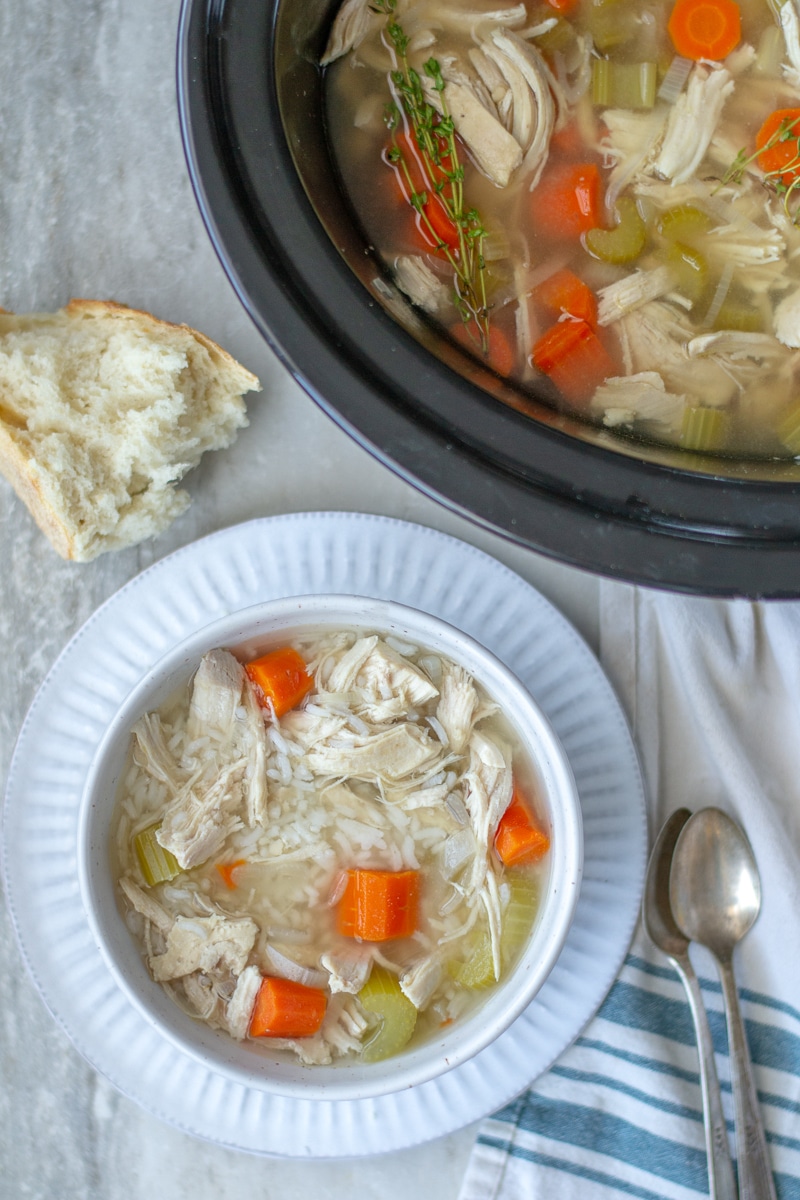 <
OTHER CROCKPOT OR INSTANT POT RECIPES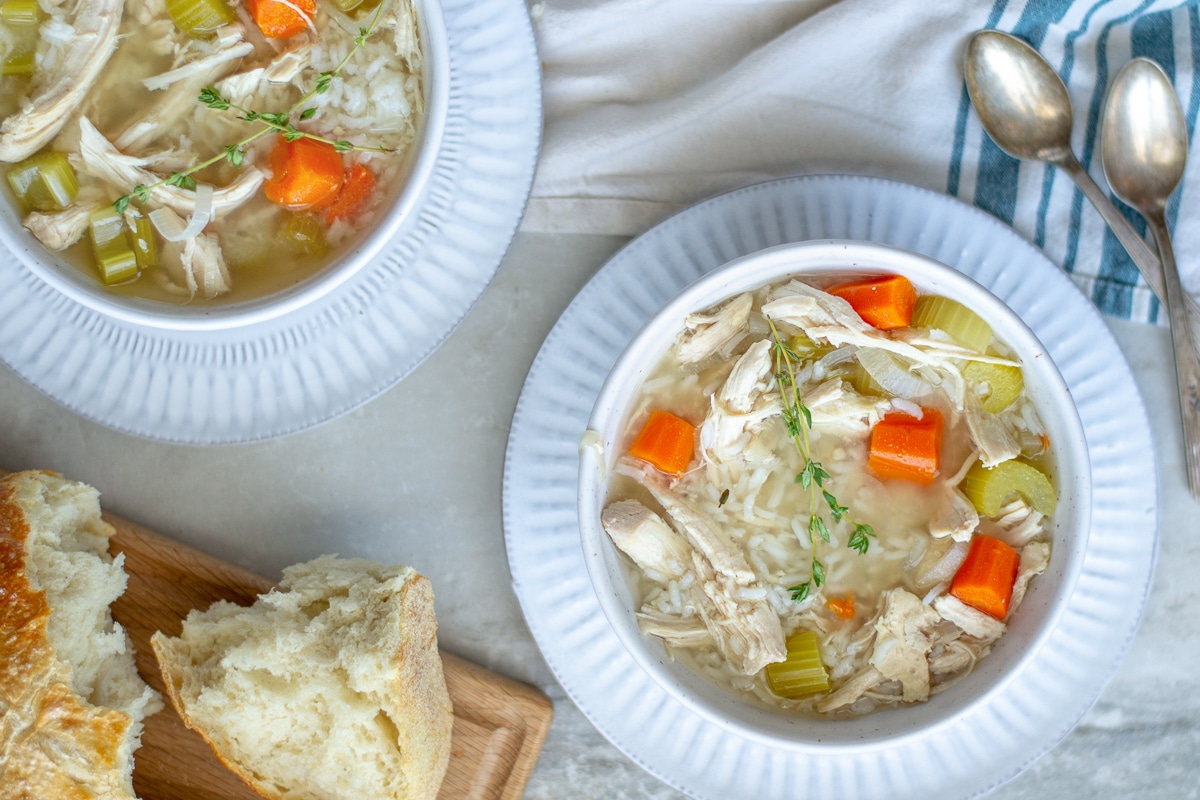 Crockpot Chicken & Rice Soup
Classic chicken and rice soup loaded with carrots, celery, shallots, and herbs. Set it and forget it in the crockpot and come home to a cozy bowl of delicious soup.
Ingredients
1-2

pounds

chicken breasts and/or thighs

((or a combination))

salt and pepper

2

shallots

(thinly sliced)

4

garlic cloves

(minced)

4

celery stalks

(chopped)

4

large carrots

(peeled and chopped in large pieces*)

3

sprigs fresh thyme

1

sprigs fresh rosemary

6

cups

low sodium chicken broth

½

cup

dry white wine

1

pinch

crushed red pepper flakes

3

cups

any long grain rice

(cooked)

juice of 1 lemon

(about 2 tablespoons)
Instructions
TO THE CROCKPOT: Season the chicken with salt and pepper to taste and place in the bottom of the crockpot. Add the shallots, garlic, celery, carrots, thyme, rosemary, broth, wine, and a pinch of red pepper flakes. Cover and cook on low for 7-8 hours or high for 5-6 hours

SHRED THE CHICKEN: Use a slotted spoon to remove the chicken, thyme and rosemary sprigs from the crockpot after it's finished cooking. Using two forks, shred the chicken into large, bite-sized pieces.

STRAIN EXTRA SOLIDS: You may find you need to strain the broth of additional chicken solids. If not, move on to the next step. Using a slotted spoon, pull out all of the vegetables and transfer them to a bowl or serving dish, discarding the herbs. Place a large sieve over another large bowl (or the same one if there is room and pour the broth from the slow cooker container into the sieve to remove any unwanted chicken solids from the broth.

FINISH THE SOUP AND SERVE: Return the chicken back to the pot along with the lemon juice. Season with additional salt and pepper, if needed. Stir to incorporate all of the ingredients. Portion out about half a cup of rice in each bowl and ladle a large portion of the soup over the rice
Notes
Cut the carrots in large pieces to have a crisper carrot in the soup, smaller pieces will get a bit mushy

 

To cook long grain rice, add 2 cups uncooked long grain rice to a small saucepan along with 3 ¾ cup water and a teaspoon of salt. Bring to a boil over medium high heat, then cover and reduce the heat to as low as you can. Allow the rice to cook for 18 minutes, remove the lid and fluff the rice with a fork.
See the blog post to learn how to make this soup on the stove.
Nutrition
Calories:
288
kcal
Carbohydrates:
27
g
Protein:
29
g
Fat:
3
g
Saturated Fat:
1
g
Monounsaturated Fat:
1
g
Cholesterol:
63
mg
Sodium:
485
mg
Potassium:
396
mg
Fiber:
2
g
Sugar:
4
g
Vitamin A:
136
IU
Vitamin C:
14
mg
Calcium:
8
mg
Iron:
6
mg
Nutrition Information Disclaimer
**This blog post contains affiliate links to products that I actually use and that align with my values. See my affiliate disclaimer here.
PIN IT NOW, MAKE IT LATER