---
Quick and easy chicken fried rice is all made in one pan and has tons of protein! Chicken, peas, and carrots are sautéed in sesame oil with rice coconut aminos or soy and eggs.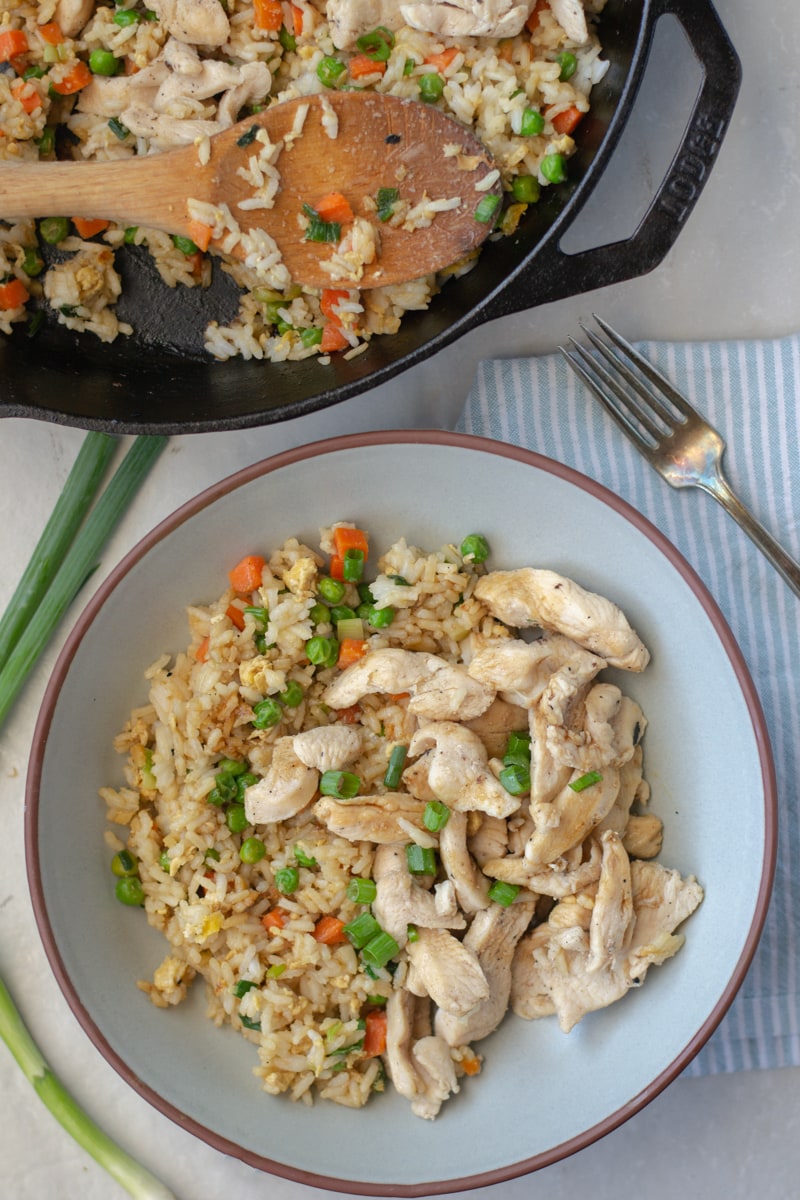 Healthier Chicken Fried Rice
Traditional, take-out fried rice is generally made with a ton of oil, egg, and soy. While it is delicious, it can be teaming with inflammatory ingredients and padded with unnecessary extra calories.
This recipe is one after my own heart. Some reasons why you'll love this recipe:
It's really easy, REALLY easy.
This fried rice is completely soy-free (I don't do great with soy), but still has tons of flavor.
It's also really high in protein, and you can choose which cut of chicken you prefer
You have control over how many calories are in this chicken fried rice, from how many eggs and oil (and the quality of oil) to which cut of chicken and how much rice you use, you can manipulate just how many calories this dish has.
Chicken fried rice is AWESOME for meal prep because it actually reheats really well!
Ingredients and Substitutions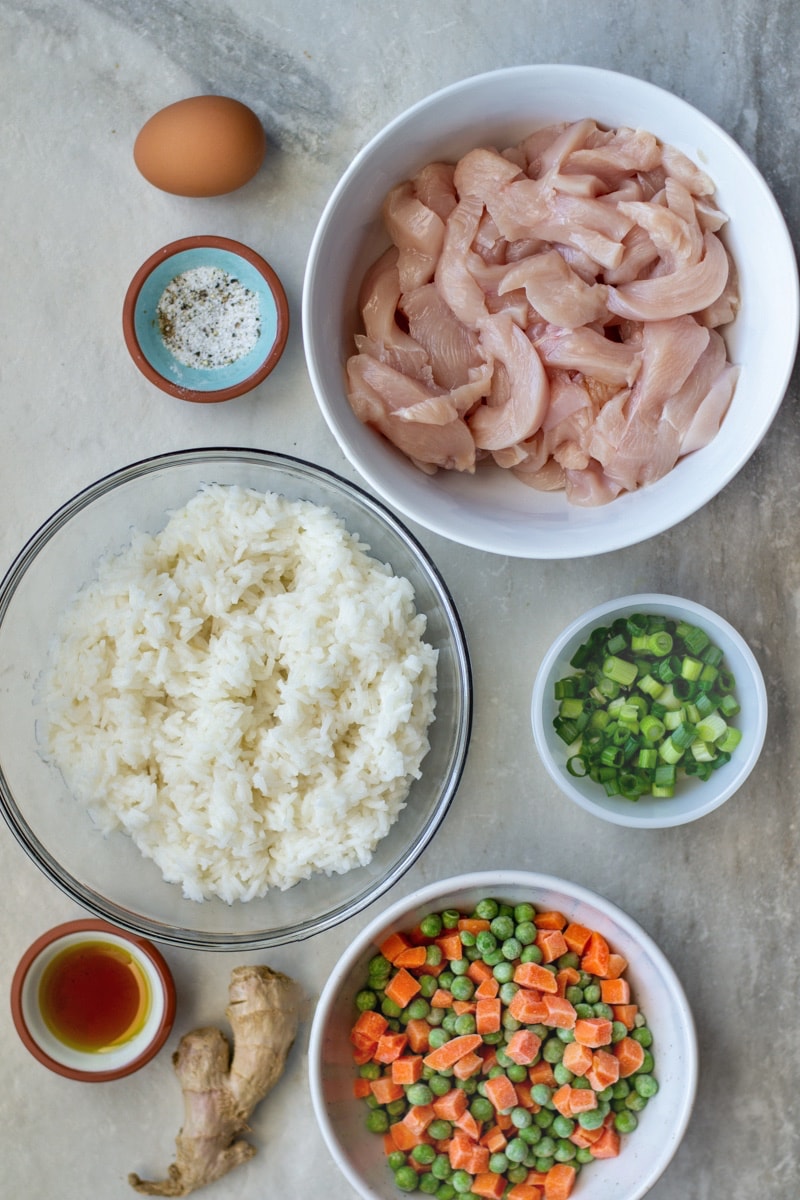 [su_highlight background="#e7efef" color="#000000"]SESAME OIL:[/su_highlight] Sesame oil is one of the key components that gives the dish that Asian flare. If you don't like the flavor or don't want to go out and buy it, avocado oil would also work.
[su_highlight background="#e7efef" color="#000000"]CHICKEN BREAST: [/su_highlight] Chicken breast is lean and offers a lot of protein, without a lot of calories. If you want a more tender cut of meat, chicken thighs will work great too. I love a mixture of both.
[su_highlight background="#e7efef" color="#000000"]PEAS AND CARROTS:[/su_highlight] Shortcut alert - I always have a bag of peas and carrots in the freezer, and that's my go-to for this recipe.
[su_highlight background="#e7efef" color="#000000"]MINCED GINGER:[/su_highlight] Fresh ginger is so cheap and very readily available. I definitely would try to stick with fresh or the bottle of freshly minced in the refrigerated section will work too. The one in your spice rack won't work as well.
[su_highlight background="#e7efef" color="#000000"]COOKED RICE:[/su_highlight] This recipe is awesome for rice leftovers, and go with ANY long grain rice you want. I've used Jasmine, white, brown, basmati, anything I have on hand. Instant is probably the only one I would steer clear of. If you want a real shortcut - buy the pre-cooked bags that you only need to microwave for 90 seconds (some of those are seasoned, so try to find plain)
[su_highlight background="#e7efef" color="#000000"]COCONUT AMINOS:[/su_highlight] This is the key to making this fried rice without soy. Coconut aminos are from the fermented sap of coconut palm and sea salt and make an amazing substitute for soy sauce. If you aren't worried about soy, though, soy sauce will work just as well.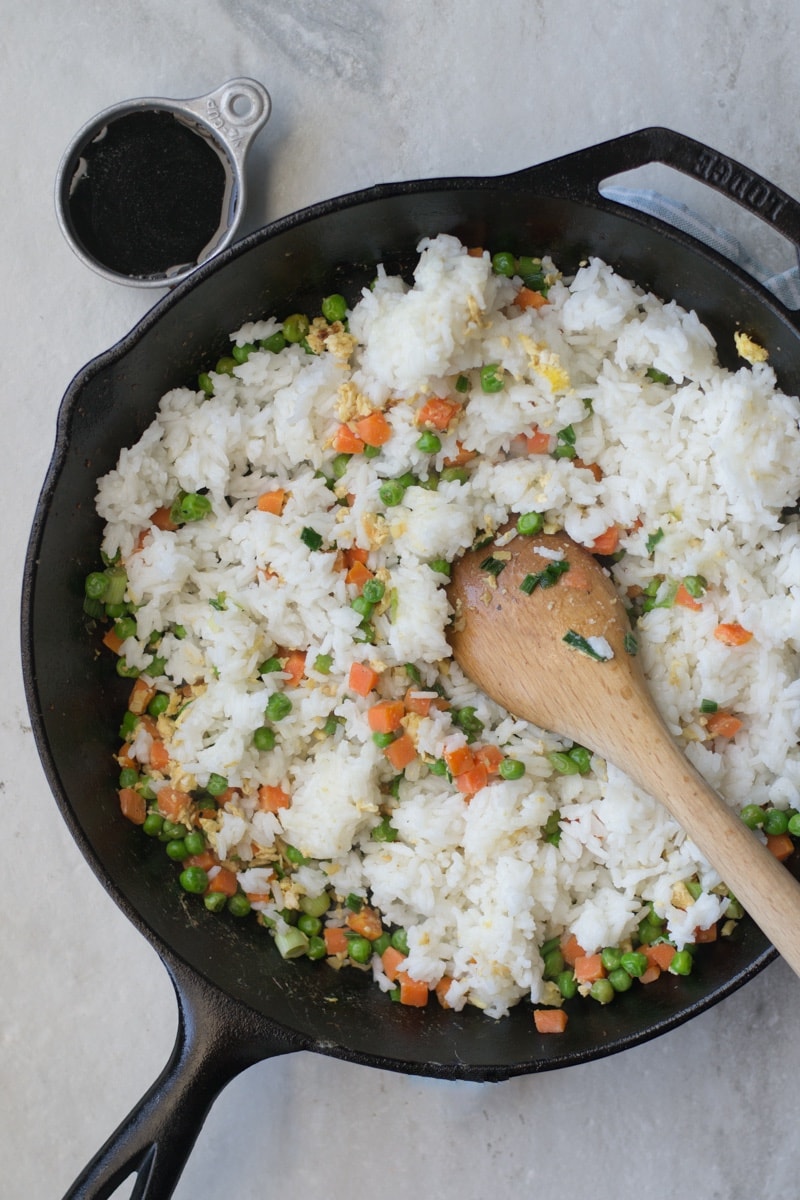 Make it Ahead
[su_highlight background="#e7efef" color="#000000"]STORAGE:[/su_highlight] Storing this recipe just requires a good airtight container. Whether you portion it out for individual meals or in one big one, make sure it's totally sealed, preferably in a glass container. There's nothing worse than dried out rice and the glass makes reheating easier. This recipe does well 5-6 days in the fridge with the right container.
[su_highlight background="#e7efef" color="#000000"]FREEZING:[/su_highlight] I haven't had good luck with freezing rice in the past. Tender, fluffy rice contains a decent amount of water and the freezing and thawing process really seems to mess with that texture quite a bit. I say freeze at your own risk.
[su_highlight background="#e7efef" color="#000000"]REHEATING:[/su_highlight] I'm honestly not sure what they do to any of the rice that makes it reheat so poorly at the take-out restaurants. The next morning it's always as if it hasn't been cooked at all. This recipe, however, just needs a 90-second microwave on medium-high to high (levels 8-10 on my microwave) for a single serving. Just make sure it's in a glass container.
---
OTHER QUICK & EASY WEEKNIGHT DINNERS
---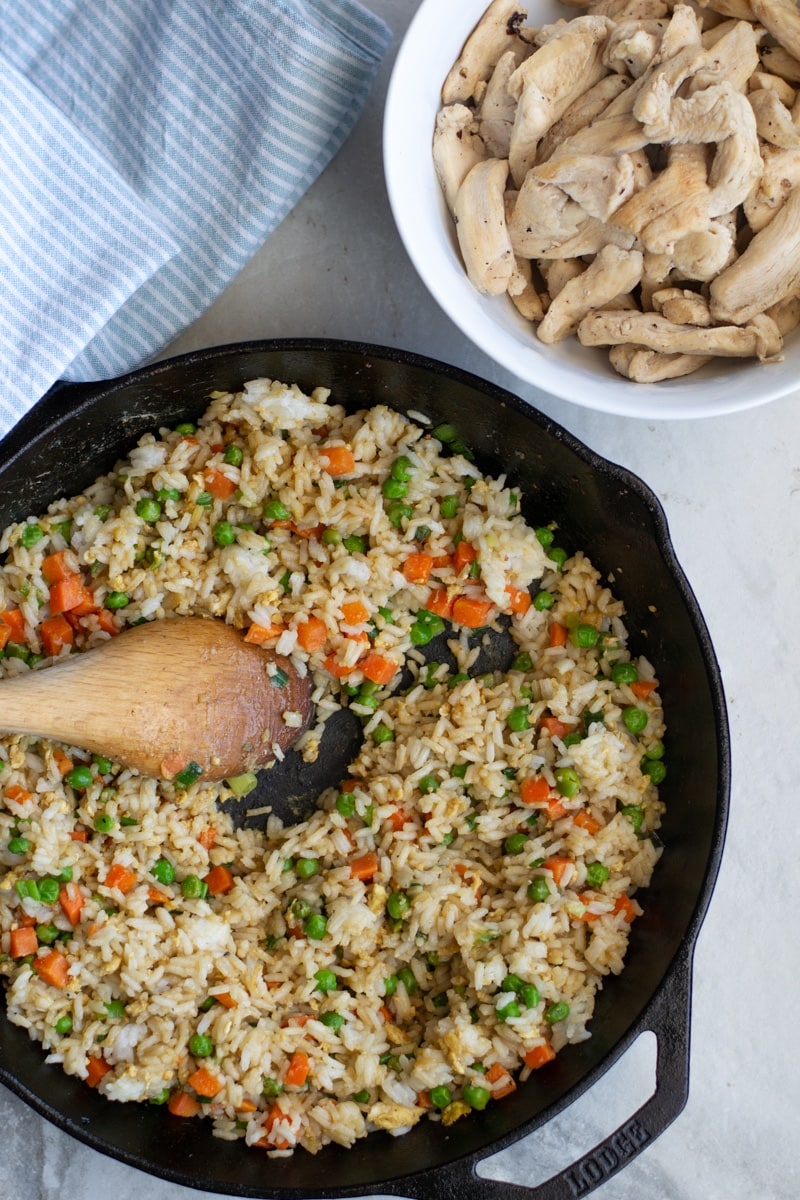 <
What to Serve with Fried Rice
So there are veggies, a carb and loads of protein in this recipe, so a side dish may not be entirely necessary. However - at our house, unless there's a true green veggie in the recipe, it's getting one for a side.
While peas are the color green, it's actually a legume and primarily a carbohydrate source with a touch of protein in it. I want something leafy or cruciferous to fill out the nutrients for this meal like broccoli, asparagus, or a big, leafy side salad.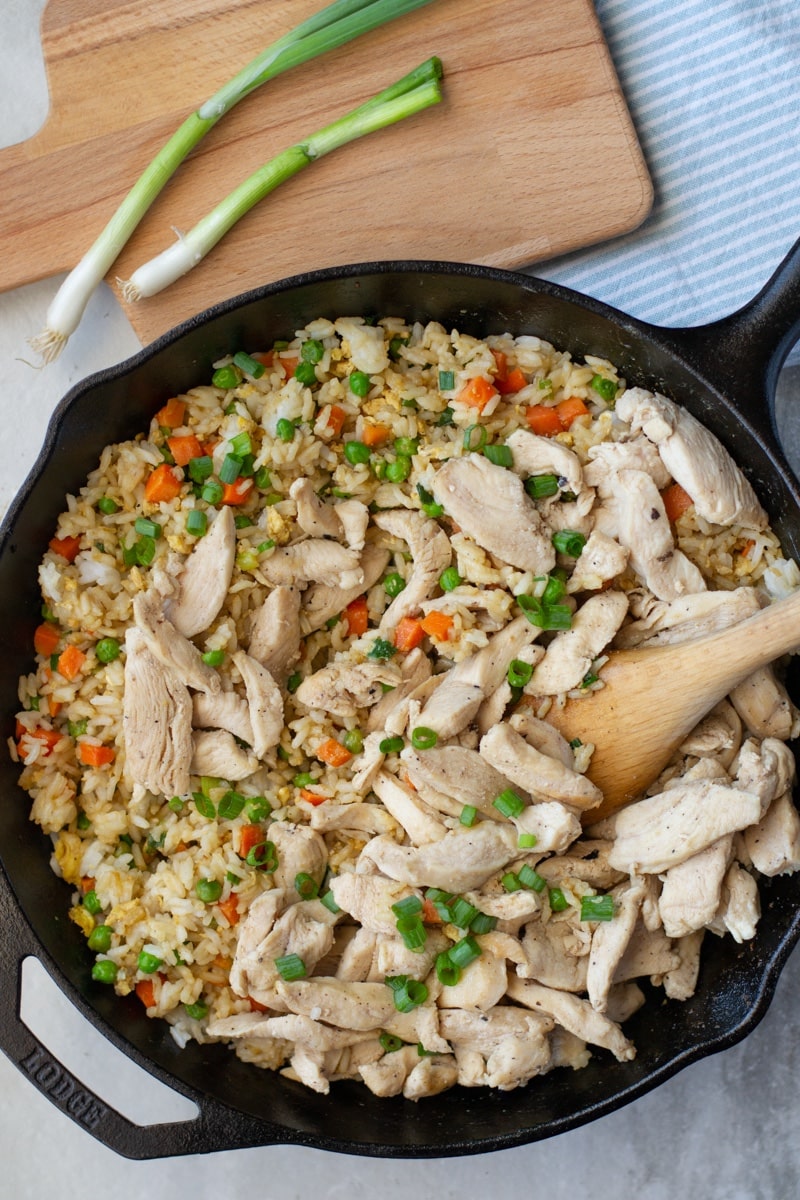 ---
📖 Recipe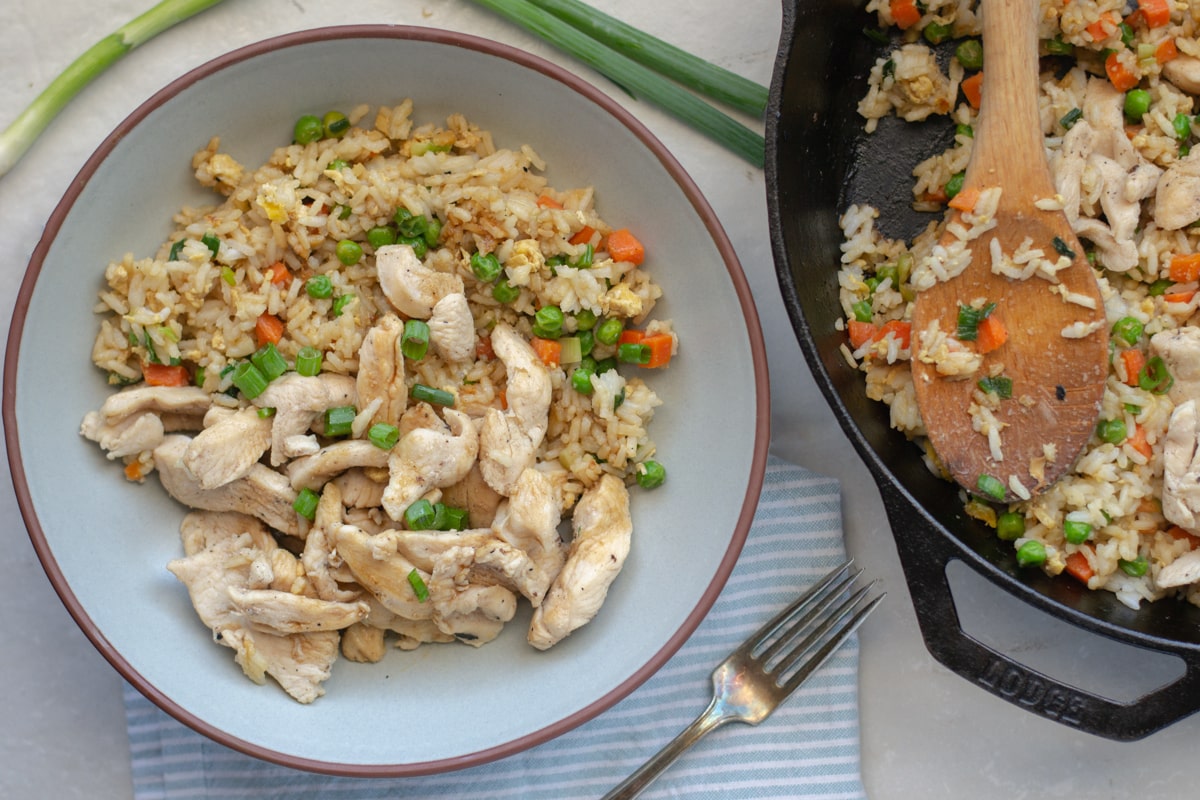 20-minute Chicken Fried Rice
Quick and easy budget-friendly, high protein, soy free dinner that can be made in 20 minutes or less. Chicken Fried Rice is awesome for meal prep or busy weeknight dinners.
RECIPE COST :
$8.58 / $2.15 per serving
Ingredients
2

lb

Boneless, Skinless Chicken Breasts, sliced into half-inch by 2-inch strips

(($5))

2

teaspoons

Sesame Oil (divided)

((.22¢))

2

cups

frozen peas and carrots blend

(($1))

3

green onions chopped

((.25¢))

2

cloves

garlic, minced

((.20¢))

4

cups

long greain rice, cooked

((.45¢))

2

teaspoons

fresh ginger, peeled and grated

((.25¢))

1

large egg, lightly beaten

((.20¢))

¼

cup

Coconut Aminos

(($1))

Salt and freshly ground black pepper

((.01¢))
Instructions
PREPARE: In a large non-stick skillet, heat the sesame oil over medium-high heat. While the oil heats, season chicken generously with salt and pepper*

COOK THE CHICKEN: When the oil is hot and shimmering, add the chicken and stir frequently to brown on all sides and cook completely through, about 5 minutes. Remove the chicken from the skillet to a plate and cover to keep warm.

COOK THE VEGGIES: With the heat still on medium-high heat, heat the remaining oil in the same skillet. Once the oil is hot, add peas and carrots, green onions and garlic. Saute 1-2 minutes, stirring constantly.

ADD THE EGG: Once the vegetables are soft and the onion and garlic is fragrant, reduce the heat to medium-low. Using a wooden spoon or spatula, move the vegetables to the outside edge of the skillet and pour the beaten egg in the center of the pan. Allow the egg to sit and cook for about 30 seconds before stirring throughout the vegetables.

COMBINE EVERYTHING: After the egg is completely cooked and distributed throughout the vegetables, return the chicken and rice to the skillet and pour the coconut aminos over the top of everything. Stir to evenly season the dish. Add additional salt and pepper if necessary.
Notes
Only lightly season the chicken with salt and pepper if you're using soy sauce and not coconut aminos
Nutrition
Serving:
1.5
cups
Calories:
389
kcal
Carbohydrates:
36
g
Protein:
41
g
Fat:
9
g
Saturated Fat:
2
g
Polyunsaturated Fat:
1
g
Monounsaturated Fat:
4
g
Cholesterol:
125
mg
Sodium:
628
mg
Potassium:
379
mg
Fiber:
3
g
Sugar:
4
g
Vitamin A:
24
IU
Vitamin C:
11
mg
Calcium:
6
mg
Iron:
10
mg
Nutrition Information Disclaimer
RECIPE EQUIPMENT
**This blog post contains affiliate links to products that I actually use and that align with my values. See my affiliate disclaimer here.
PIN IT NOW, MAKE IT LATER!