---
These baked cake donuts have all the tender goodness of a doughnut from the shop, but with half the calories! Orange cake bursting with fresh cranberries and topped with a tart orange glaze.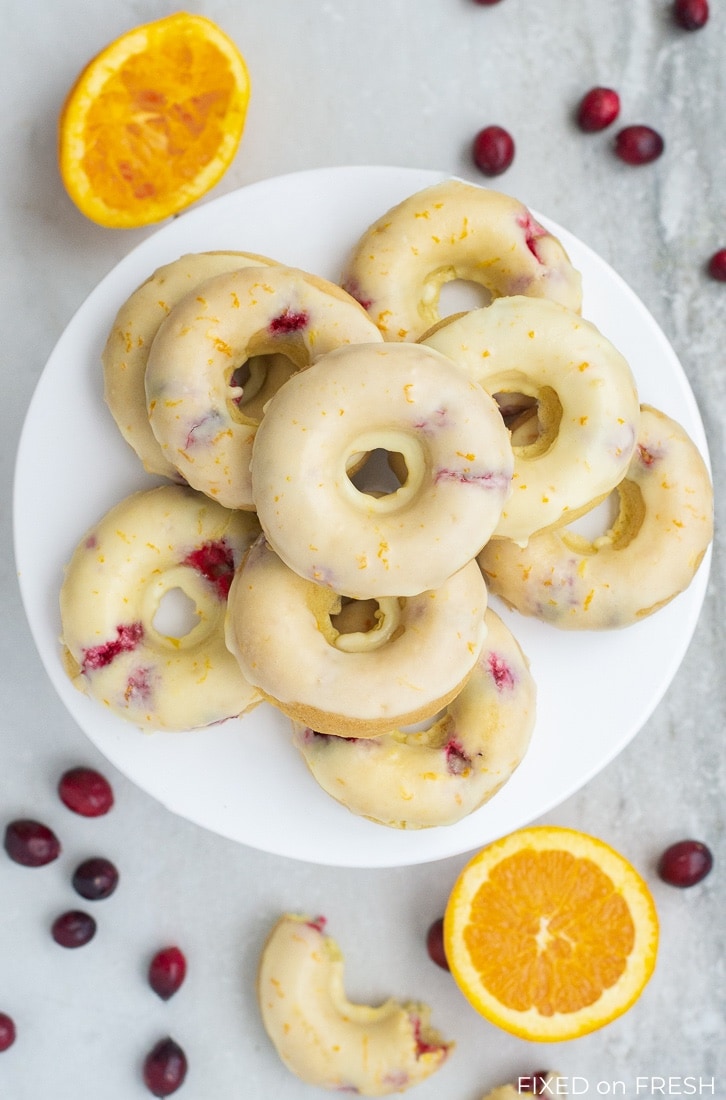 My head is filled with all the Thanksgiving vibes right now. Do you do the thing where you imagine of how a holiday is going to go because you've watched too many holiday movies or episodes of Friends? It somehow never seems to go the way I dream up, but I just keep trying!
So when I came up with this recipe, I was immediately filled with the idea of watching the Thanksgiving day parade with an amazing cup of coffee...or maybe a cranberry mimosa...and a big plate of these donuts on the table for everyone to enjoy! Everyone is cozy in their pajamas and actually interested in watching the parade for longer than 30 seconds. It's magical! We'll see what actually happens this year....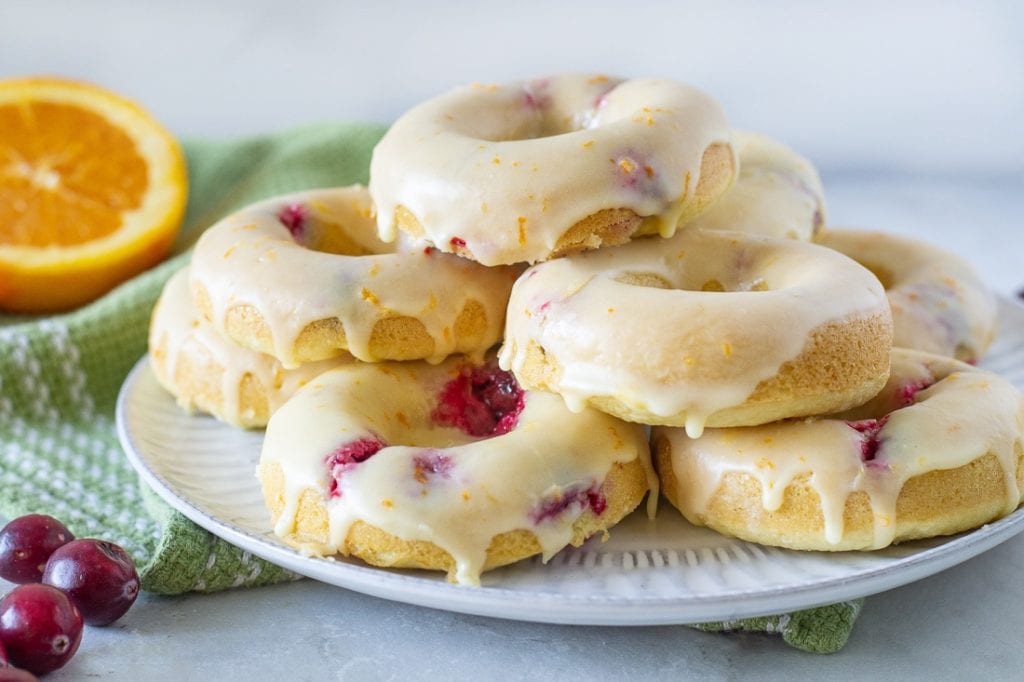 TIPS FOR MAKING BAKED DONUTS
Making baked donuts is super simple once you have the pan. There are just a few tips I outline below to help make this recipe easier to execute and that will save you trips to the store and possible money.
I'm not usually a big fan of specialty equipment like a donut pan, but it was on sale! Also my son thinks I'm a friggin' superhero when I make donuts at home! He's 4, so I figure I only have a little time left when there's anything I could do to impress or excite him. Plus he loves to make them with me, and I secretly want him to be one of those crazy-amazing kids on Master Chef Jr.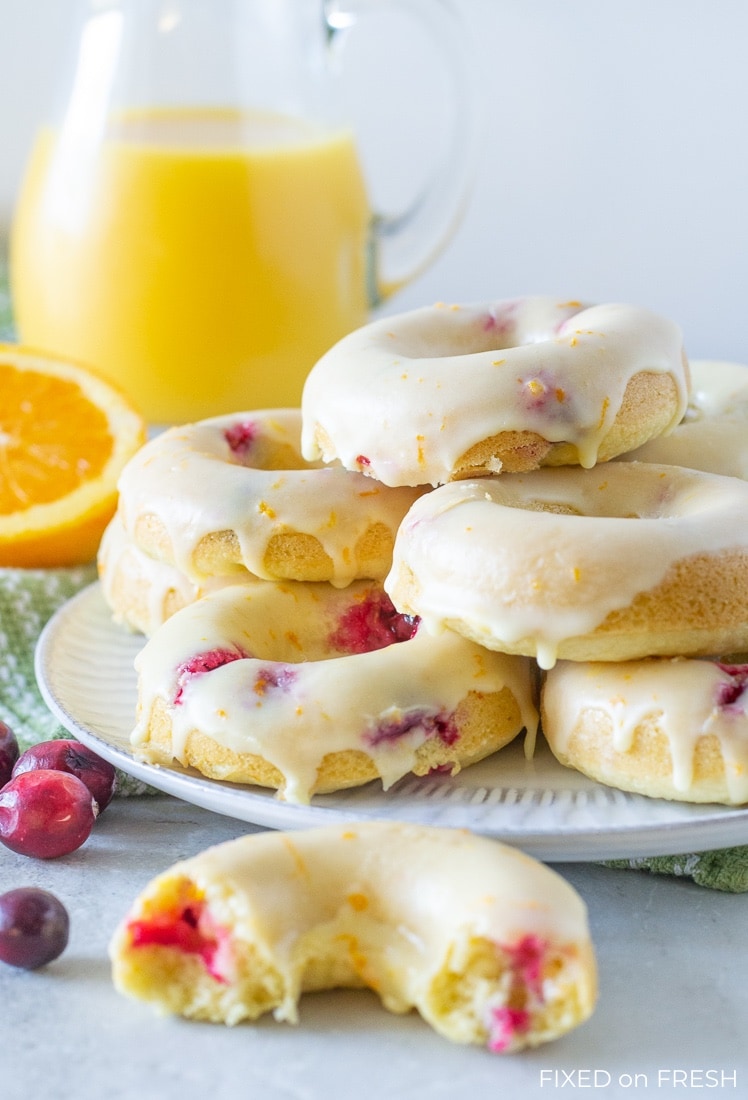 TIPS #1: USE CAKE FLOUR
The trick here, if you don't want to go out and get pastry flour, is to use cornstarch or arrowroot powder to make the cake flour. Just add 2 tablespoons to the dry measuring cup you're using. Then continue filling it to the top with basic all purpose flour or your gluten free blend.
TIP #2: SAVE YOUR BUTTER WRAPPER
I didn't find that I need to grease super heavily to get these little guys to pop right out cleanly, but I did grease them. I like to use a paper towel with some coconut oil OR you can grab the butter wrapper that the butter was in and wipe the butter remaining on it inside each donut opening in the pan to get it greased evenly. I'm not a big fan of the sprays because they go allover the place.
TIP #3: USE A PASTRY BAG
You can spoon the batter into each donut opening, but it's a real pain. Use a large ziplock bag or a pastry bag and fill it like ⅔ full and snip about ¾ of an inch off the tip or corner and use that to fill the donut openings.
TIP #4: HOW TO MAKE BAKED DONUT GLUTEN AND DAIRY FREE
Simply swap out your standard all purpose flour for your favorite gluten free all purpose flour blend (click here to see my favorite) and use coconut oil instead of butter and you're good to go!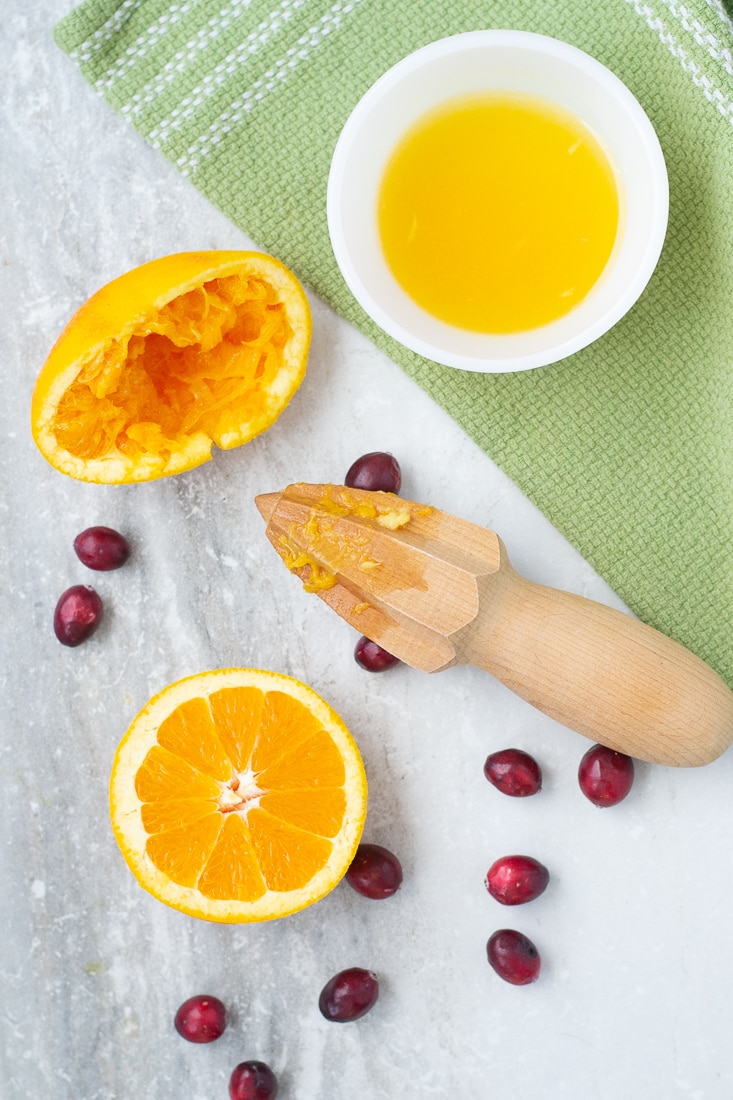 <
CRANBERRY ORANGE DONUTS
The great thing about this donut recipe is that you can easily customize it. I chose one of my favorite flavor combinations for the fall and winter: cranberry orange.
After you've made the perfect cake donut batter, you just grab a Microplane and zest an entire navel orange into the batter for that slight citrusy zing. Then sink 5 or 6 fresh (or frozen and thawed) cranberries into the batter that's been piped into the donut pan. So you can distribute them evenly.
Then it's all about the glaze! Just grab a juicer, that Microplane zester, and some powdered sugar. Mix together some fresh orange juice (from about 2 oranges) and the zest of 1 orange with the powdered sugar. A quick tip for the glaze: don't add all the juice at once, though. Add about two thirds, mix it to check the consistency, then add more to thin it out as needed. It should resemble melted frosting and still be pretty opaque.
---
My Favorite Tools to Make These Donuts
---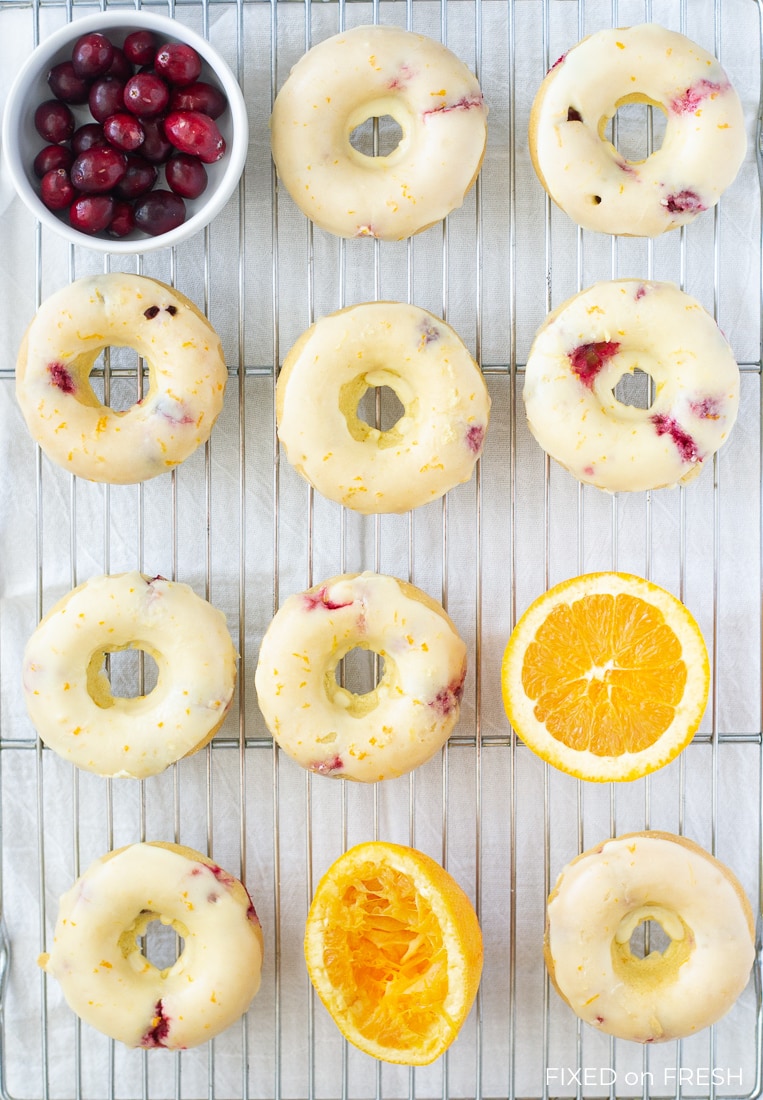 Other Recipes You Might Like
📖 Recipe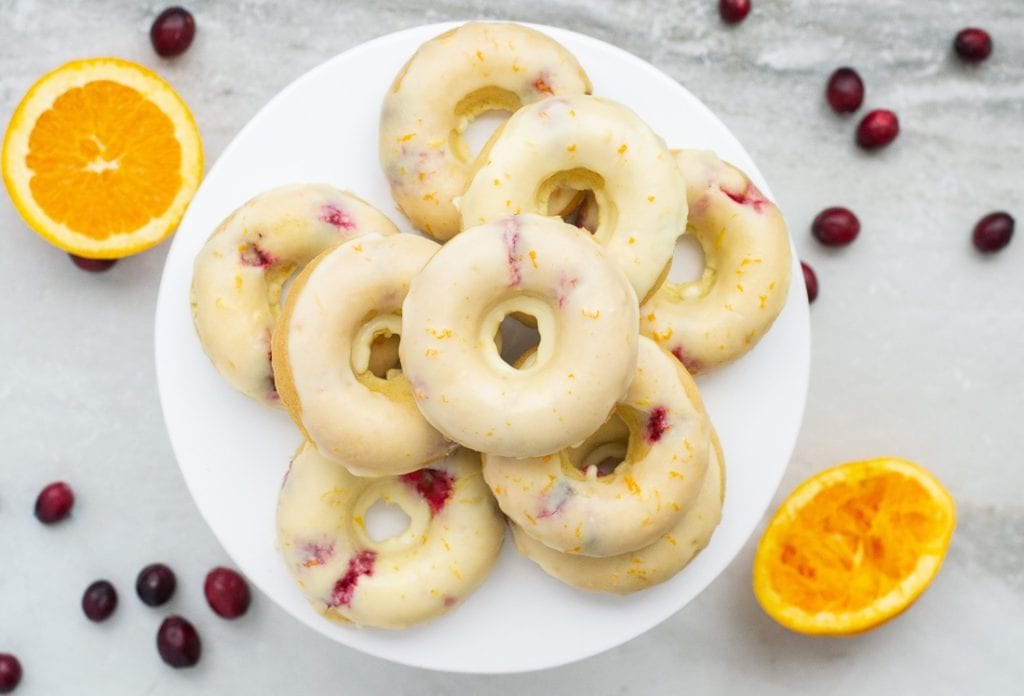 Baked Cranberry Orange Glazed Donuts
These baked cake donuts have all the tender, glazed goodness of a doughnut from the shop, but with half the calories! My autumn inspired take on a the traditional blueberry old fashioned, these are bursting with tart cranberries and coated in a sweet, citrusy orange glaze. 

Ingredients
⅓

cup

butter or coconut oil, softened

((plus more for greasing pan))

1

cup

cane sugar or coconut sugar

¼

teaspoon

sea salt

1

teaspoon

pure vanilla extract

1

cup

cake flour*

2

cups

all-purpose flour

((or gluten free all purpose blend))

1

teaspoon

baking soda

2

teaspoons

baking powder

2

extra-large eggs

((plus 1 egg yolk))

2

cups

cranberries

((fresh or frozen))

1

cup

almond milk

1

tablespoon

orange zest
Orange Sugar Glaze:
3

cups

powdered sugar

½

cup

fresh squeezed orange juice

1

tablespoon

orange zest
Instructions
Preheat the oven to 350˚ F and rub butter or coconut oil generously in each donut opening in the donut pan.

In the bowl of a

stand mixer

fitted with the paddle attachment, cream the butter, sugar, salt, and vanilla until light and fluffy.

In a separate bowl,

whisk

together the flours, baking soda, and baking powder.

Add the eggs and yolk to the mixer and cream until blended.

Alternately add the flour mixture and the almond milk in 4-6 batches, mixing on medium-low the whole time, scraping down the sides as needed stir in the orange zest until evenly incorporated.

Fill a large

piping bag

with the batter (you'll probably need fill it 2-3 times to avoid overfilling the bag)and fill each opening in the pans about two-thirds full. Press 5-6 cranberries into the batter of each donut opening.

Bake for 18 to 20 minutes or until the dough springs back when poked. Allow to cool for 3 minutes in the pan, then remove the donuts and finish cooling on a wire rack.
For the Orange Glaze:
In a medium bowl, combine all the ingredients and whisk together. The consistency should resemble melted frosting.

When cool, dip the donuts into the glaze and gently swirl to evenly coat the top. Place them on a wire rack to allow the glaze to harden. The glaze should be thick enough it just slightly dips down the sides rather than completely running off.
Notes
*If you don't have pastry or cake flour, simply add 2 tablespoons of cornstarch or arrowroot powder to a dry 1 cup measuring cup, then finish filling it with all purpose flour. 
Nutrition
Serving:
1
donut
Calories:
186
kcal
Carbohydrates:
37
g
Protein:
2
g
Fat:
3
g
Saturated Fat:
2
g
Monounsaturated Fat:
1
g
Cholesterol:
30
mg
Sodium:
87
mg
Potassium:
37
mg
Fiber:
1
g
Sugar:
25
g
Vitamin A:
150
IU
Vitamin C:
5
mg
Calcium:
30
mg
Iron:
0.4
mg
Nutrition Information Disclaimer
---
**This blog post contains affiliate links to products that I actually use and that align with my values. See my affiliate disclaimer here.
Pin it Now, Cook Them Later!