Steak fajitas is that item on the Mexican food menu you just can't go wrong with if you're trying to keep it on the healthy side. Why not save some money and make them at home in a Whole30 approved citrus marinade? Flank steak, bell peppers, and onions are loaded with sweet and smokey flavor from citrus juices and traditional Mexican spices and they're super simple to throw together on a weeknight.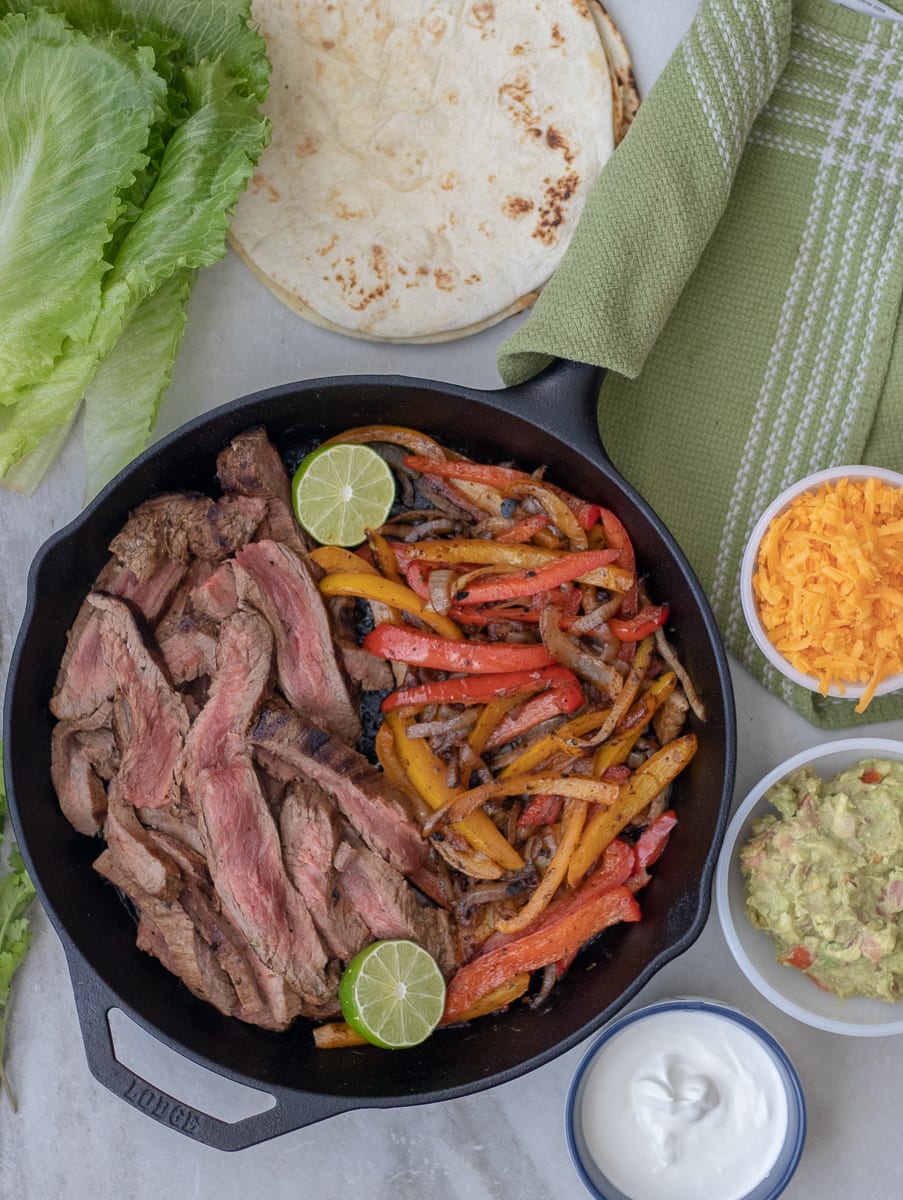 Tips for Cooking Steak Fajitas on the Stovetop
I've tried a ton of different marinades for fajitas, and I've finally landed on my very favorite. The citrus juices not only permeate the meat with a sweet, acidic flavor, but it also tenderizes the meat, taking away that chewy quality that flank steak tends to have.
Marinade Time
The minimum time I would give the marinade is 3 hours. However, the best answer is overnight. I like to throw together the marinade the night before when I'm about the clean the kitchen for the night. The next night it takes less than 30 minutes to have this on the table. I would not recommend marinating any longer than 24 hours or the ingredients will start to break down.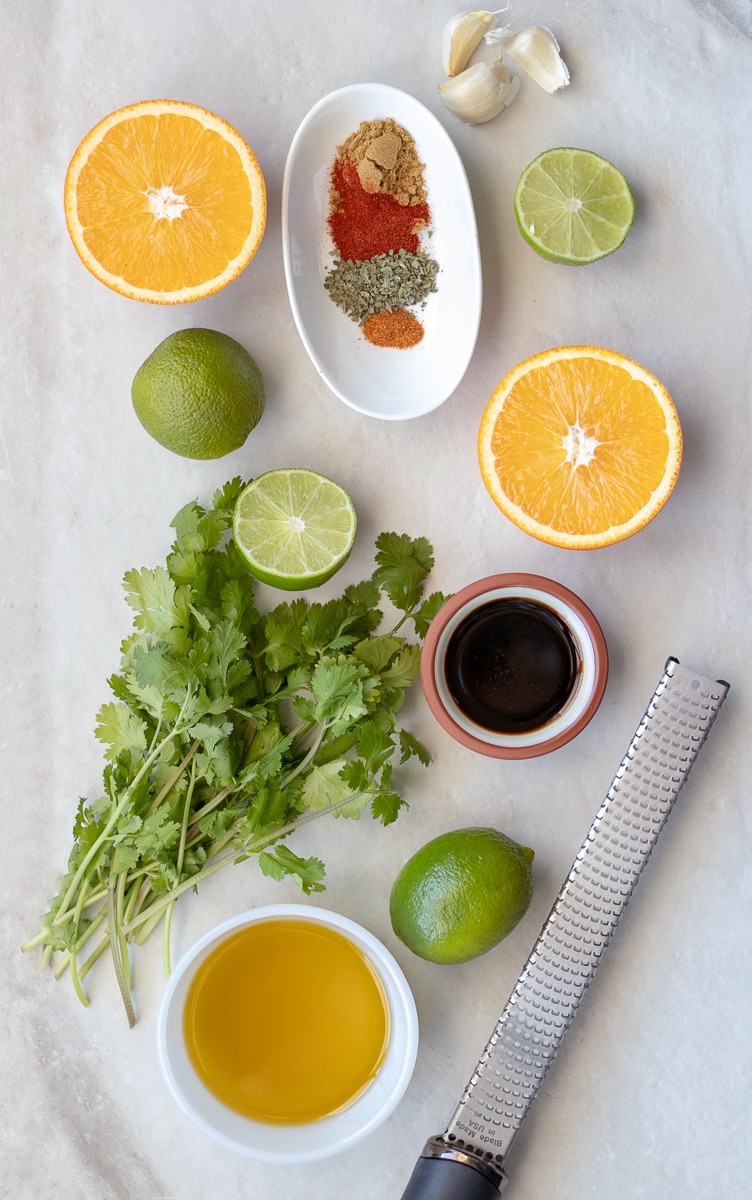 The Best Cut of Meat
The two cuts of meat you traditional have to choose from for steak fajitas are flank steak and skirt steak. Both take well to marinades and cook quickly on the stovetop or grill. Skirt steak, however, has a stronger beef flavor and contains more connective tissue which can make it a bit harder to eat (in my humble opinion).
I prefer flank steak for this recipe because the marinade tenderizes it, then it's cooked high and quickly so it doesn't overcook. It gives it the perfect medium-rare finish - which is really the only way flank steak can be enjoyed.
On a Budget
The meat is really the only ingredient that's going to set you back a little in this recipe. Here are a couple of tips on how I make this recipe cheap:
CHECK FOR SALES: Flank steak typically runs you about $7-9 per pound, however, you can get it as low as $5 if you keep an eye out for sales and buy up a few while it's cheap and freeze it for future meals.
BUY IN BULK: I buy most of my meat at Costco. The quality is always excellent and it's generally quite a bit cheaper than my local grocery store on a daily basis. If I can't find flank steak on sale at the store, I'll buy a bulk package for $6 a pound, and they come in quantities of 4 pounds or higher.
USE BONELESS, SKINLESS CHICKEN THIGHS: The citrus marinade is pretty universal, so if steak isn't in the budget this week - consider using chicken. While chicken breasts are leaner and might work in a pinch, they may turn out a little dry. Go for trimmed, boneless, skinless chicken thighs instead. Cook them whole in the pan, just make sure the center reads 155˚ when you pull them off the heat.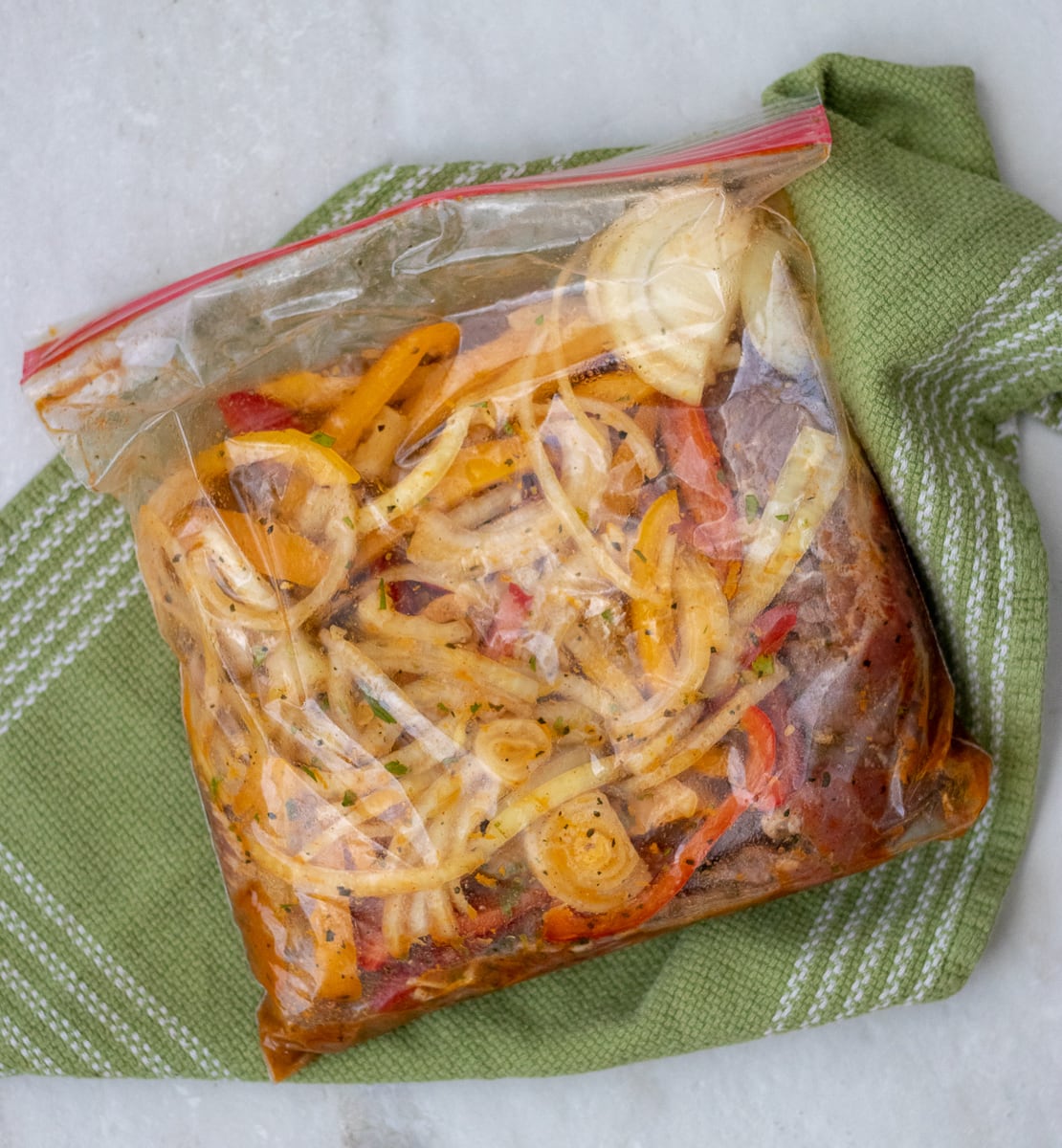 Serving
TRADITIONAL: Fajitas are traditionally served with corn or flour tortillas, shredded cheese, sour cream, guacamole, and salsa. Then plated with a side of Spanish rice and beans.
SALAD: There are a couple of healthier options, though. I like to serve our fajitas over greens, like a salad. For the dressing, we just use our favorite salsa or squeeze some lime juice over the top of everything.
IN LETTUCE WRAPS: Rather than using tortillas, try using some butter lettuce or romaine lettuce boats. I usually double up the lettuce leaves to keep the juices from breaking through, but it's a delicious low carb option for serving steak fajitas.
Storage
FREEZING: There are two ways to freeze steak fajitas.
Raw - Pour the marinade over the meat only and freeze in the marinade. Thaw in the fridge, add the fresh veggies to the bag once the marinade begins to thaw (about 5-7 hours).
Cooked - cook and slice an extra batch of fajita meat and veggies for later. Store in a freezer bag for up to 2 months. Thaw in the fridge for 8-12 hours or you can defrost in the microwave at your own risk (my microwave always overcooks meat on defrost)
STORING LEFTOVERS: Store the meat and veggies in the same airtight container for up to 5 days in the fridge. I like to use glass so that it's easier to reheat in the same container later.
REHEATING LEFTOVERS: Microwave times and temps will vary - but I usually reheat half the meat for the next night on level 8 for 3 minutes and it's ready to serve.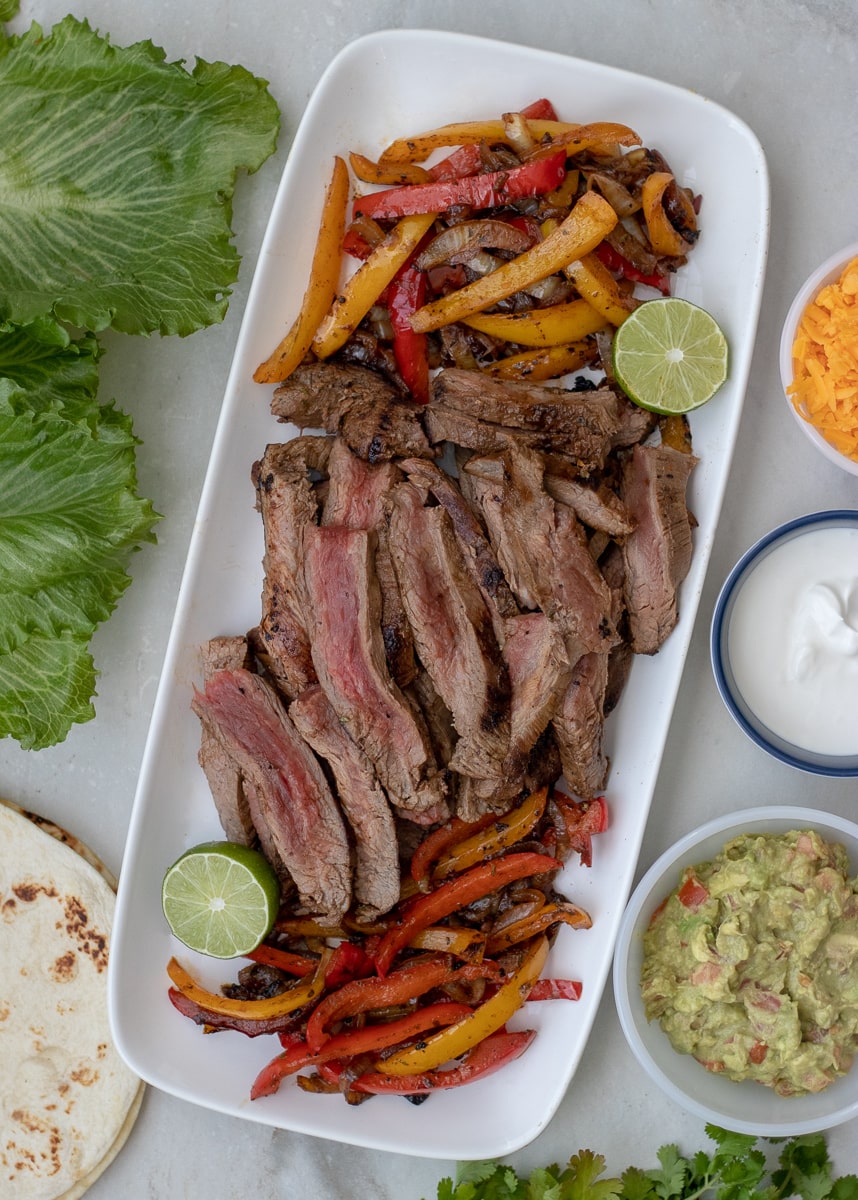 <
---
Other Recipes
📖 Recipe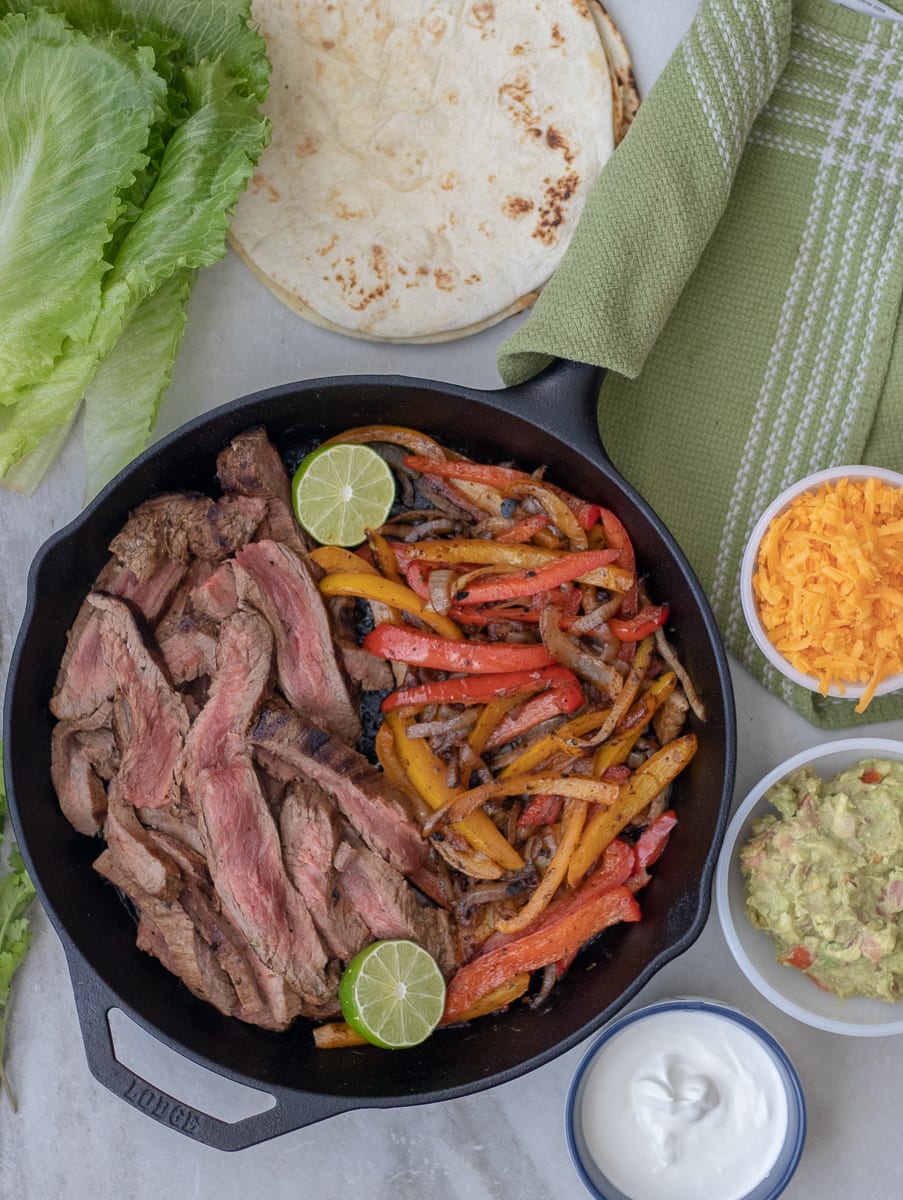 Citrus Marinated Steak Fajitas
Flank steak, peppers and onions marinated in a sweet and smokey marinade made with citrus juices and traditional Mexican spices. Cook the steak and vegetables on the stovetop in under 15 minutes for a tasty weeknight meal.
Ingredients
FOR THE MARINADE
½

cup

fresh orange juice

1

teaspoon

orange zest

¼

cup

fresh lime juice

1

teaspoon

lime zest

½

cup

olive oil

¼

cup

chopped fresh cilantro

2

teaspoons

coconut aminos

((Worchestershire if you're not Whole30))

3

cloves

minced garlic

1

teaspoon

cumin

½

teaspoon

dried oregano

½

teaspoon

paprika

¼

teaspoon

cayenne pepper
FOR THE FAJITAS
1

tablespoon

olive oil

1-2

pounds

flank steak,

(trimmed of all fat)

1

large

red or yellow onion,

(halved and sliced thin)

2

red, yellow or orange bell pepper

(seeded and sliced thin)

salt and fresh ground black pepper
Instructions
MARINADE
In a medium bowl, whisk together all of the marinade ingredients until well combined. Place the steak, peppers, and onions in a freezer-safe gallon-sized Ziploc bag. Pour the marinade over the meat and vegetables and allow to marinate for 4-24 hours.
FAJITAS
REMOVE MEAT AND VEGGIES FROM THE MARINADE: Use tongs to remove the steak from the marinade bag and place onto a plate. Do the same for the vegetables, making sure to leave excess marinade in the bag. Discard the bag and marinade.

PREPARE THE PAN AND SEASON: Heat the olive oil in a 12-inch cast iron skillet or large frying pan over high heat. While the oil heats, season the steak and vegetables with salt and pepper to taste (start with at least 1 teaspoon of salt and ½ teaspoon of pepper).

COOK THE MEAT AND VEGGIES: Once the oil begins to shimmer (not smoke), add the steak to the pan and reduce the heat to medium-high. Cook the steak for 3 minutes per side. Transfer the meat to a cutting board and tent with aluminum foil to keep warm. If the pan is dry, add an additional teaspoon of oil to the skillet. If there are juices left from the steak no oil is needed. Add the vegetables to the skillet and saute for 5 minutes or until they are soft and have a slight char. Transfer the veggies to a serving plate or bowl.

SLICE THE STEAK AND SERVE: Cut the steak in half lengthwise, then slice ½-inch strips against the grain, diagonally from corner to corner. Arrange the meat on the platter with the veggies and serve with any toppings you'd like: tortillas or lettuce boats, sour cream, salsa, guacamole, and shredded cheese are a good start.
Notes
Nutrition information is for 2 pounds of flank steak and coconut aminos
Nutrition
Calories:
377
kcal
Carbohydrates:
11
g
Protein:
34
g
Fat:
21
g
Saturated Fat:
1
g
Polyunsaturated Fat:
1
g
Monounsaturated Fat:
7
g
Cholesterol:
71
mg
Sodium:
300
mg
Potassium:
677
mg
Fiber:
2
g
Sugar:
5
g
Vitamin A:
87
IU
Vitamin C:
86
mg
Calcium:
9
mg
Iron:
8
mg
Nutrition Information Disclaimer
RECIPE EQUIPMENT
PIN IT NOW, MAKE IT LATER!