All the delicious flavor of a Peppermint Mocha from the coffee shop in a healthier, quick and easy, on-the-go snack! Sweetened with all natural ingredients like dates, cocoa, cinnamon and filled with collagen peptides, these Whole30 and Paleo protein balls are the best!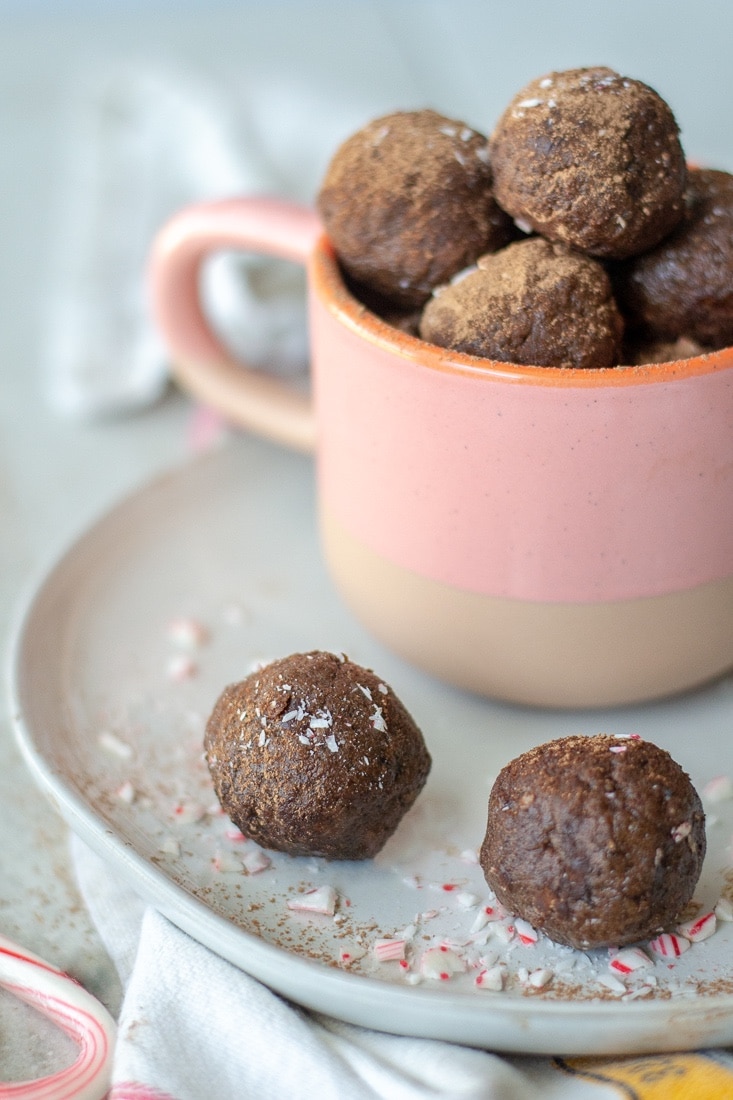 Better Than Thin Mints Energy Bites
The flavor of these paleo protein balls is pretty much like a thin mint with a little punch of coffee flavor. If coffee isn't your thing...it's okay, we can still be friends...but you can easily skip the coffee granules and make a delicious chocolate peppermint flavor like those girl scout cookies you can't seem to avoid when the season hits!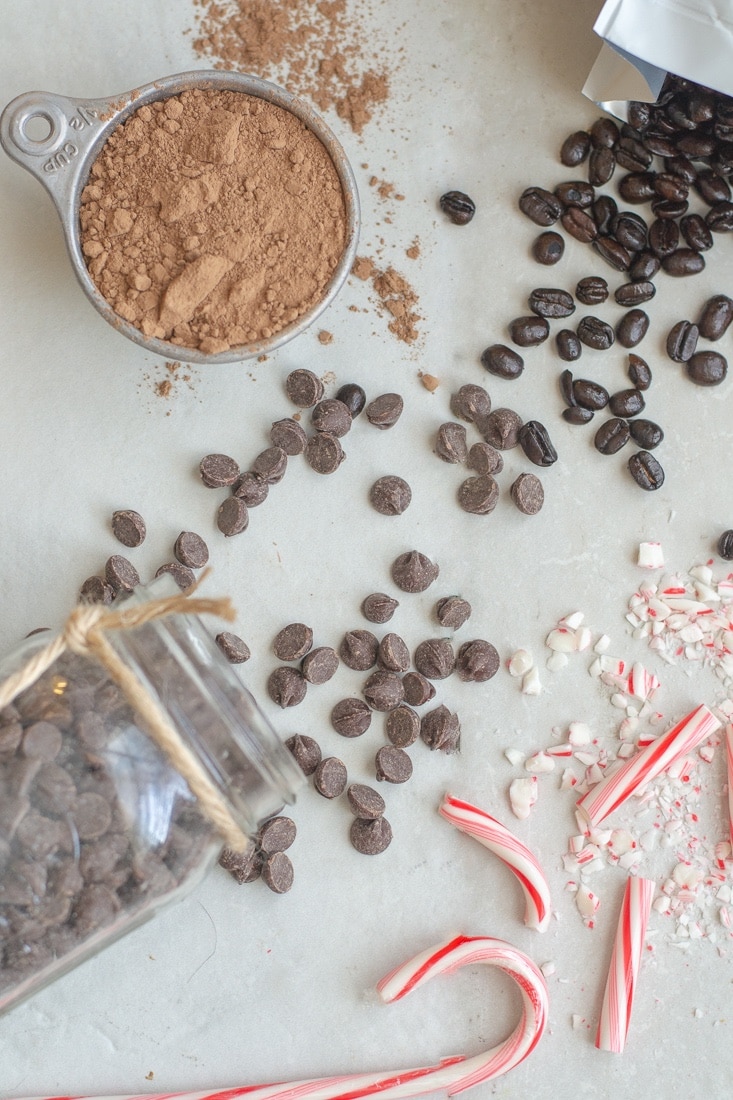 Collagen Peptides
Collagen peptides are an amazing source of dairy-free, additive-free protein. and amazing for you gut health, hair, skin and nails. I keep the unflavored peptides on hand to mix in things like this or put in my coffee in the morning.
Quick Tips
If you haven't made protein or energy bite before, let me tell you how easy it is! All you need is a food processor and the ingredients on the list and you're good to go!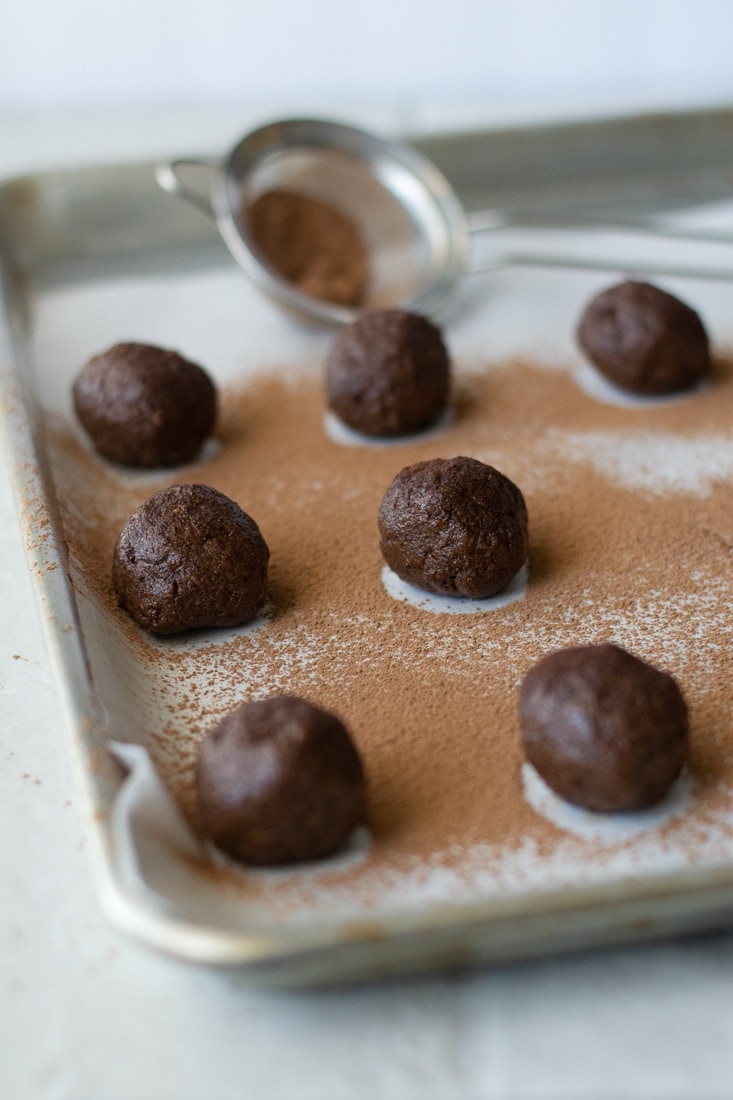 <
Be Sure Your Dates Are Pitted
The first time I bought dates, I didn't pay attention to this at all. Then I was confused when there were large wood-like chunks throughout my mixture (where is the facepalm emoticon when you need it).
Anyway, if you don't look at the package when you buy and you accidentally get the dates with the pit, just slice them in half and pull out the pit before you process.
Getting the Right Consistency
The consistency for these date-based energy or protein bites can vary depending on how moist your dates are. The larger ones will have more moisture to hold things together, where the smaller ones will be more dry.
If you end up with a drier mixture that looks more like sand and doesn't form a big doughy ball in the processor, you may need to add some fat. I use coconut oil here. You can also add more nut butter if you have some of the looser nut butter. I mean the stuff that comes on the top of the jar. You know the annoying dry clumps that can end up on the bottom...that's not gonna cut it. You basically need more fat to get them to hold together.
Using the Right Nut Butter
Depending on the flavor you're trying to achieve, you can wrong with certain nut butters. With this mocha flavor, I would stay away from the strong flavor of peanut butter and go with almond or cashew butter that can conform more to other flavor profiles.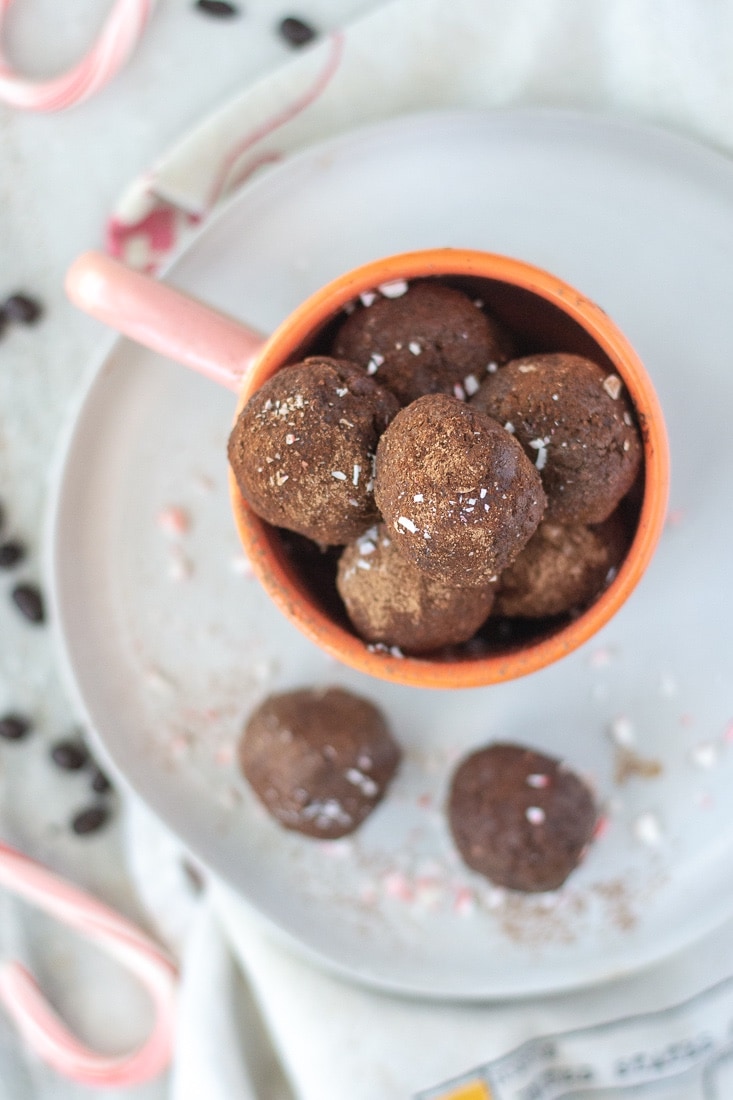 Other Treats You Might Like
---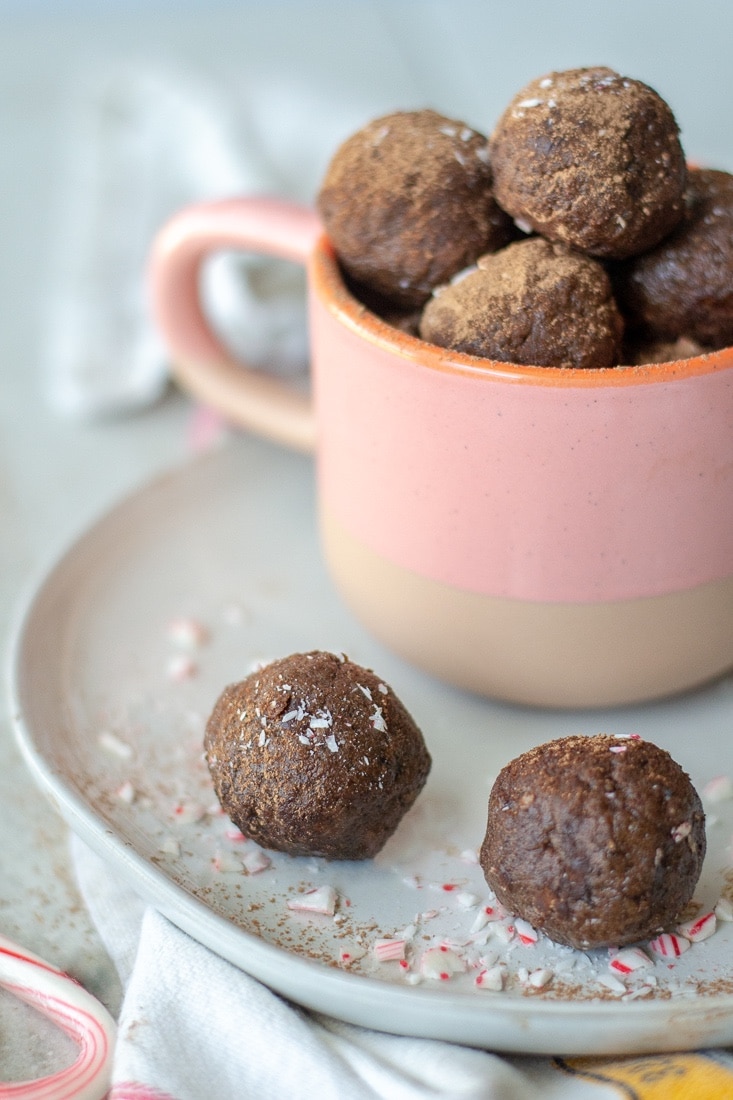 Peppermint Mocha Protein Bites
All the delicious flavor of a Peppermint Mocha from the coffee shop in a quick and easy, on-the-go snack! Sweetened with all natural ingredients like dates, cocoa, cinnamon and peppermint extract these bites are Paleo and Whole30!
Ingredients
1 ½

cups

dates, pitted

3

scoops

collagen peptides

((33g))

⅓

cup

creamy, salted, almond or cashew butter

2

tablespoons

unsweetened cocoa powder

((plus extra for dusting, if desired))

¼

teaspoon

ground cinnamon

1 ½

teaspoon

instant coffee granules

((1 small packet))

½

teaspoon

kosher salt

½

teaspoon

peppermint extract (alcohol free, if possible)

1

tablespoon

coconut oil

((optional))

¼

cup

chocolate chips

(sugar, diary free (optional))
Instructions
In a food processor, add dates, collagen, nut butter, cocoa, cinnamon, instant coffee, salt and peppermint extract and process for 30-60 seconds or until mixture starts to form a ball. If the mixture is too dry, add the coconut oil.

Add the chocolate chips to the food processor and pulse 5-10 times until they are evenly distributed throughout the mixture.

Using a cookie dough scoop, grab 1 tablespoon at a time and press into balls. The heat from handling the mixture will soften them a bit, so they will need to be chilled for 5-10 minutes to set. Use a small sieve to dust them with cocoa powder if desired.
Notes
*Nutritional info includes all ingredients, but ingredients and serving sizes may vary
Nutrition
Serving:
1
bite
Calories:
126
kcal
Carbohydrates:
11
g
Protein:
5
g
Fat:
7
g
Saturated Fat:
2
g
Sodium:
62
mg
Potassium:
60
mg
Fiber:
2
g
Sugar:
8
g
Calcium:
20
mg
Iron:
1.1
mg
Nutrition Information Disclaimer
**This blog post contains affiliate links to products that I actually use and that align with my values. See my affiliate disclaimer here.
PIN IT NOW, MAKE IT LATER!