---
The best brunch or breakfast muffins ever! Moist and tender vegan banana muffins are loaded with toasted pecans and coconut. More toasted nuts give these muffins a crunchy topping that the whole family will love!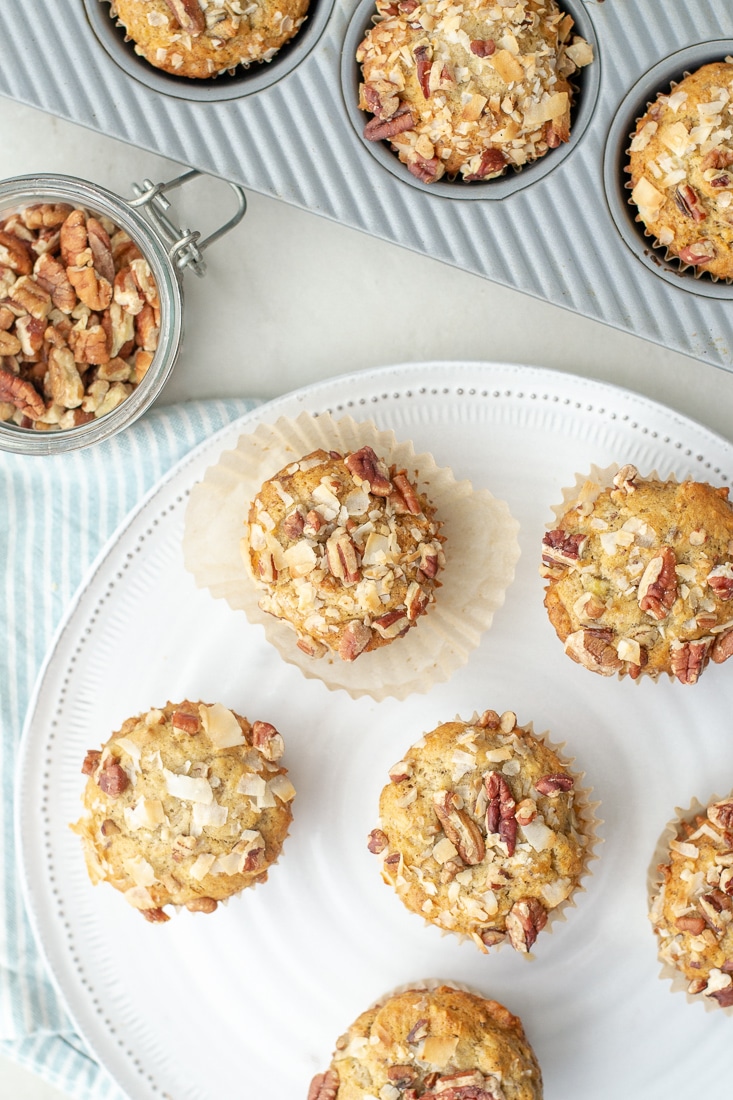 How to Make Vegan Banana Nut Muffins
Making traditional banana muffins vegan is pretty darn simple. Dairy and eggs are the only things you need to figure out an adequate substitution for. I used a couple of my tried and true vegan swap-outs without spending a ton more time or money at all.

What is a Flax Egg?
First we're trading a flax egg out for a regular large egg. After you prep the muffin cups and preheat the oven, grab a ramekin or small bowl.
Scoop a tablespoon of flax meal into the bowl and stir in 3 tablespoons of water. Let that sit and thicken while you get the rest of the ingredients started.
Coconut Oil
Coconut oil is the easiest vegan replacement for dairy based butter. I actually prefer to use coconut oil for a lot of my baking over butter just because I love the flavor! Unrefined coconut oil actually retains some of the coconut flavor and adds a touch of sweetness to anything you cook.
There's not much to do in the way of converting, it's equal parts coconut oil to butter. For this recipe, you'll want to grab a small glass bowl and throw you're coconut oil in the microwave for about 30 second to get it melted.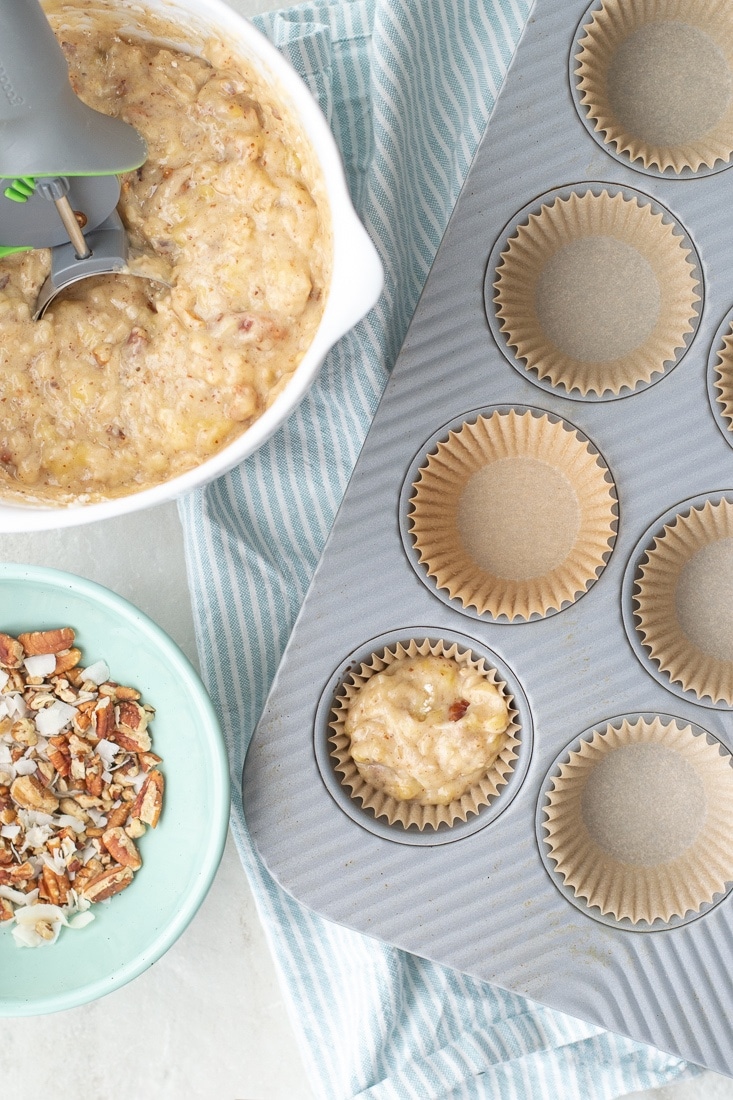 Nutty Crunchy Topping
Topping the banana muffins with additional nuts adds the extra texture and flavor that sets these appart from the basic banana nut muffin.
How to Toast Nuts
Heat a skillet over medium heat, add your nuts and stir frequently until slightly golden and fragrant. That usually takes around 3-5 minutes.
For this recipe, you'll be toasting the pecan and coconut separately. So grab a paper towel and wipe the skillet clean between the pecans and the coconut. Then reserve around a quarter of each for the topping. The rest is for the topping.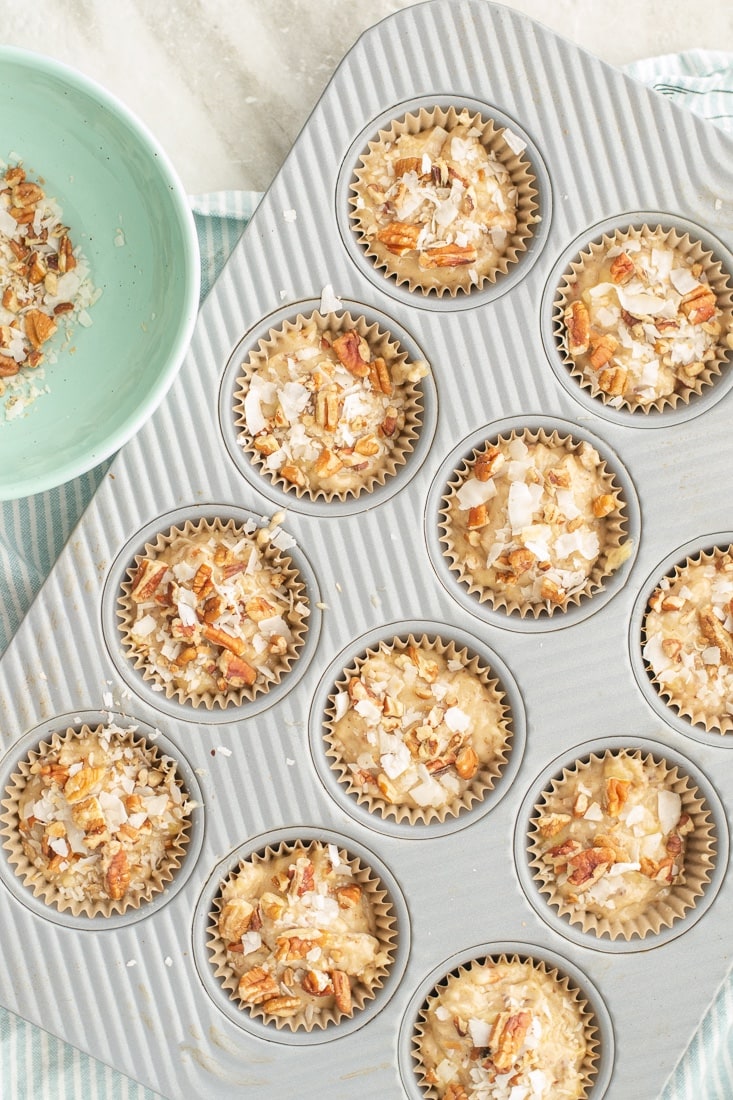 Easy Muffin Batter
You'll need two mixing bowls, a whisk, a potato masher and a wooden spoon to get the batter mixed.
In the first bowl, whisk together the dry ingredients. Your favorite gluten free all purpose flour blend, salt, cinnamon, baking powder and baking soda.
In second bowl, use the potato masher to mash 3 super-ripe bananas as smooth as you can get. Lumps are unavoidable, so don't go crazy. To the mashed banana you'll add the sugar (coconut or cane), flax egg, melted coconut oil and vanilla.
Slowly add the dry blend to the wet along with the majority of the toasted nuts. Fold with that wooden spoon until just mixed. Just about 30 seconds of folding them together should do it.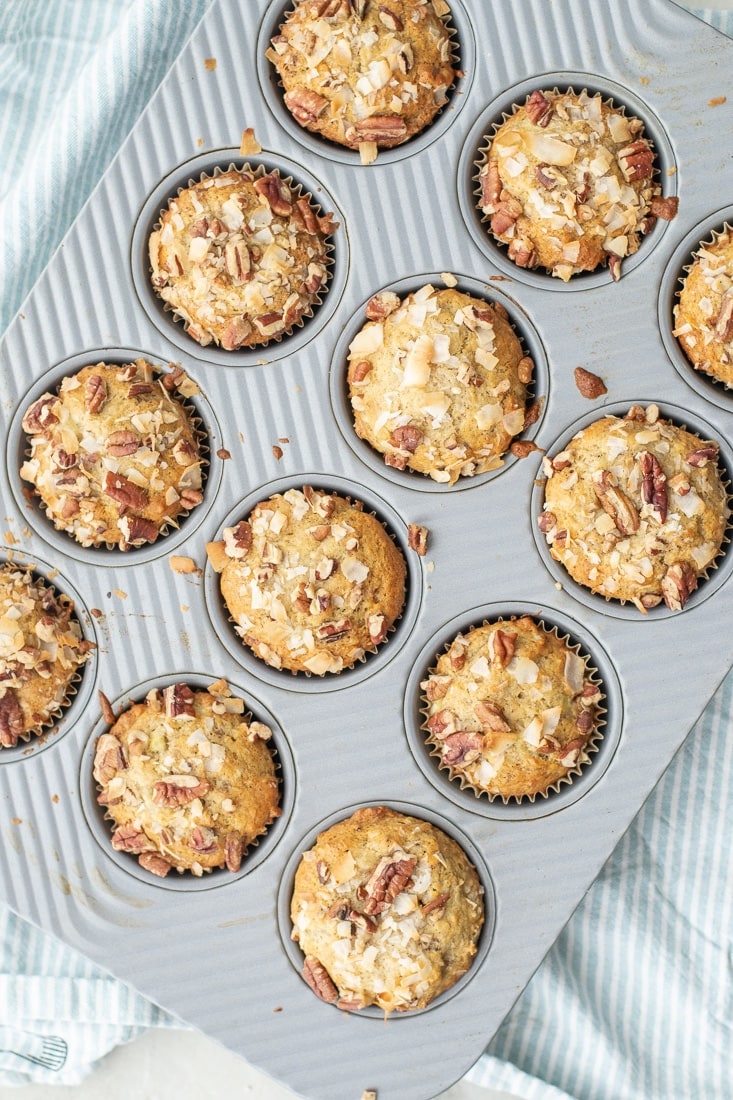 <
Scoop and Bake
My favorite things ever when baking are batter or dough scoops. A ice cream sized scoop filled about three quarters full makes these simple to portion out and get topped with the heavenly nut mixture.
They get baked for a mere 22-24 minutes and cooled for around 5 minutes util you can dig in.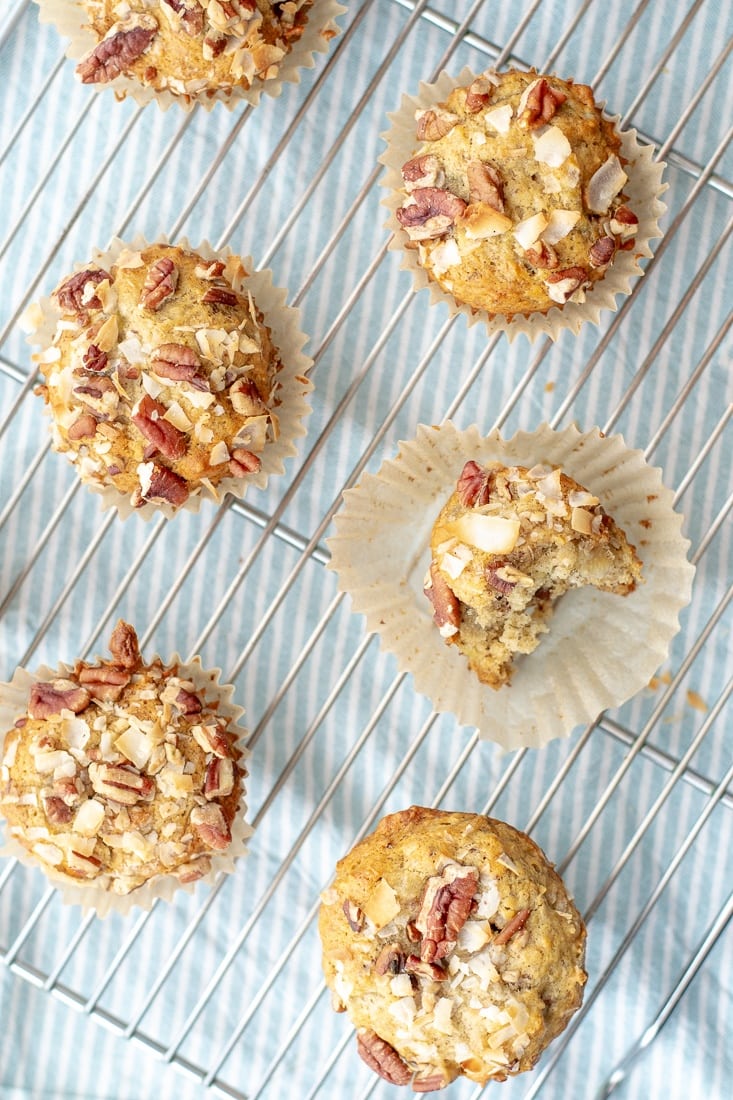 Other Tasty Breakfast Recipes
---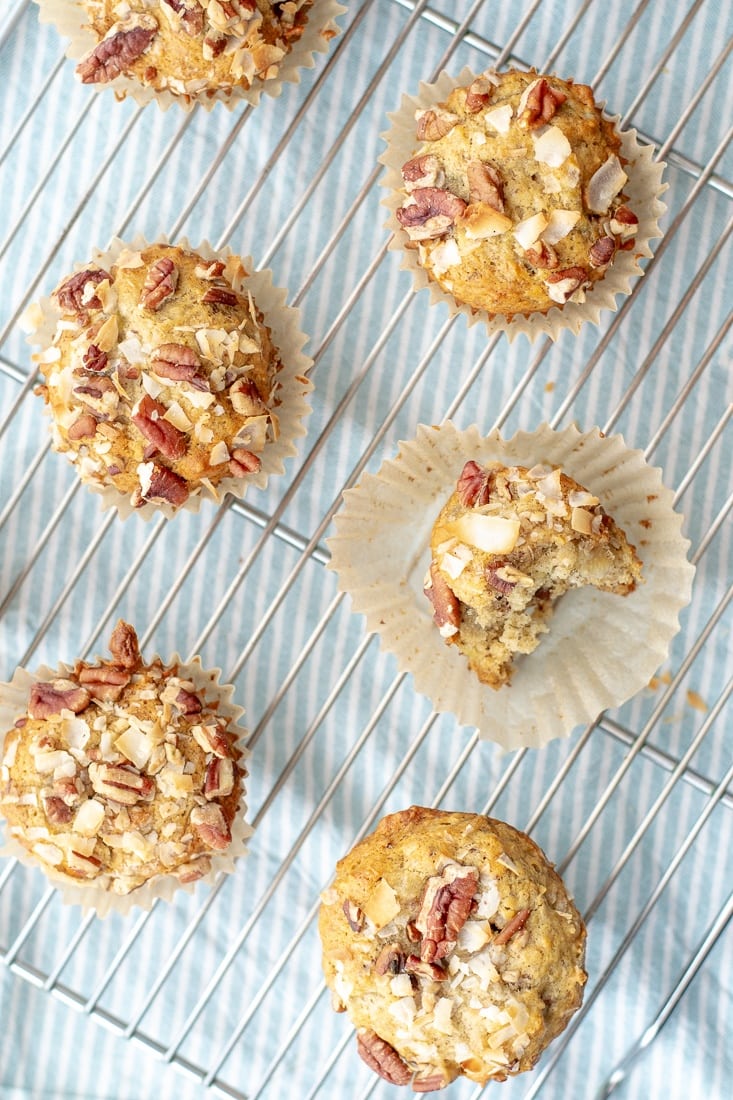 Vegan Nutty Banana Muffins
Moist and tender vegan banana muffins are loaded with toasted pecans and coconut. More toasted nuts give these muffins a crunchy topping that the whole family will love!

RECIPE COST :
$7.71 / $.064 EACH
Ingredients
1

flax egg*

((1 tablespoon flax meal + 3 tablespoons water))

1

cup

pecans coarsely chopped

⅔

cup

flaked coconut

1 ½

cups

cups gluten free all purpose flour

1

teaspoon

baking soda

1

teaspoon

baking powder

1

teaspoon

cinnamon

½

teaspoon

salt

⅔

cup

cane or coconut sugar

3

bananas very ripe and mashed well

(about 1½ cups)

½

cup

coconut oil

(melted and cooled)

1 ½

teaspoons

vanilla extract
Instructions
PREPARE: Preheat oven to 350 degrees. Line a muffin pan with liners.

MAKE FLAX EGG: In a small bowl or ramekin, combine the flax meal egg ingredients (1 tablespoon ground flax seed and 3 tablespoons water) and set aside to let thicken. 

TOASTE THE COCONUT: Wipe out the skillet with a paper towel and toast the coconut, about 2-3 minutes until it turns a light gold on the edges, stirring often. Add ½ cup of the coconut to the bowl for the batter and add the remaining coconut to the reserved pecans for the topping.

MIX DRY INGREDIENTS: In a  large bowl, whisk together the flour, cinnamon, baking powder and baking soda and salt.

MIX WET INGREDIENTS: In a medium bowl, mix the mashed bananas, sugar, flax egg, coconut oil, and vanilla. Gently fold banana mixture into the dry ingredients until just combined the batter into the prepared muffin cups, filling ¾ full.

ADD CRUNCHY TOPPING: Sprinkle the top of the muffins with the reserved toasted pecans and coconut.

BAKE AND SERVE: Bake for about 22-24 minutes or until a toothpick inserted in the center of the muffin comes out clean and the top is golden brown.
Notes
*If you're not worried about making these vegan, you can use 1 large egg in place of the flax egg. 
Nutrition
Calories:
289
kcal
Carbohydrates:
33
g
Protein:
3
g
Fat:
17
g
Saturated Fat:
10
g
Polyunsaturated Fat:
3
g
Monounsaturated Fat:
4
g
Sodium:
215
mg
Potassium:
149
mg
Fiber:
2
g
Sugar:
16
g
Vitamin C:
3.3
mg
Calcium:
30
mg
Iron:
0.5
mg
Nutrition Information Disclaimer
RECIPE EQUIPMENT
---
**This blog post contains affiliate links to products that I actually use and that align with my values. See my affiliate disclaimer here.
PIN IT NOW, MAKE IT LATER!