---
Shrimp, sausage, corn, potatoes and onions are all boiled in a delicious Old Bay Brine. Low Country Shrimp Boil is one of my favorite weeknight meals because minimal cleanup and it's done in under 40 minutes.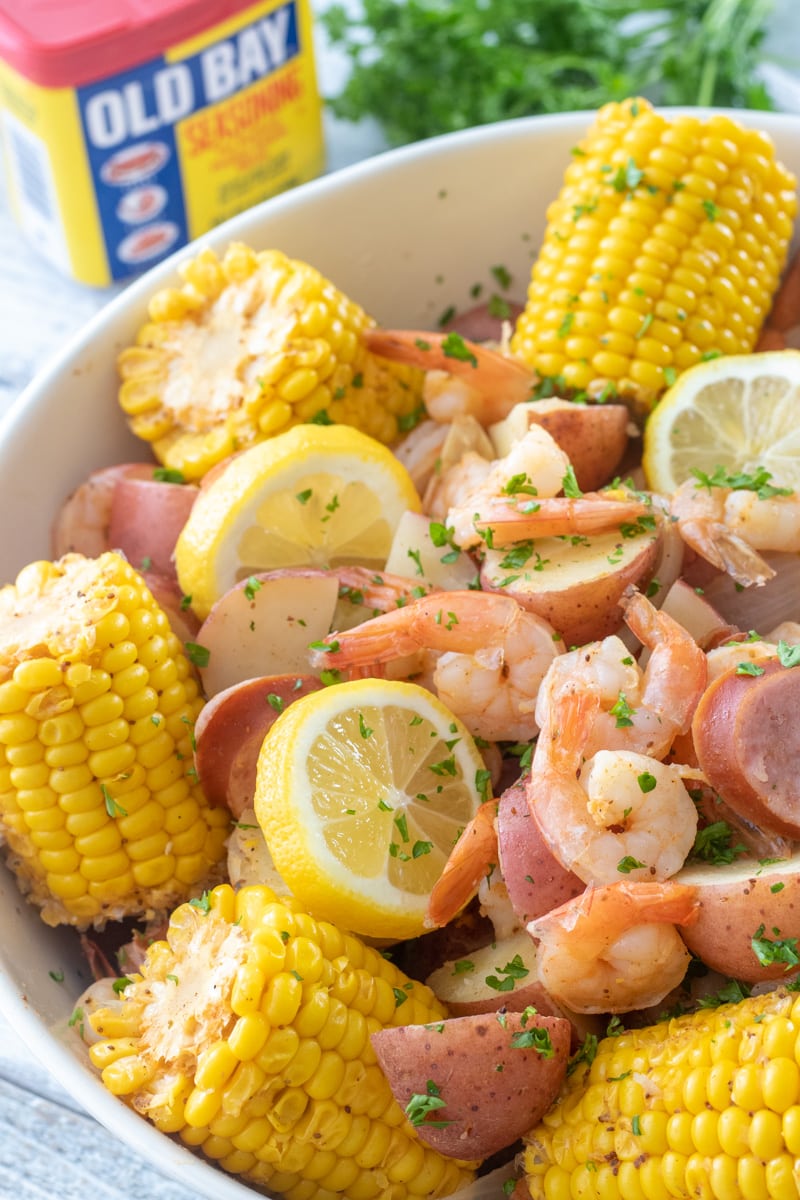 One Pot Dinner
We all know time is just as important as money most nights, and this recipe has got you covered. You can make the entire recipe in one pot of water.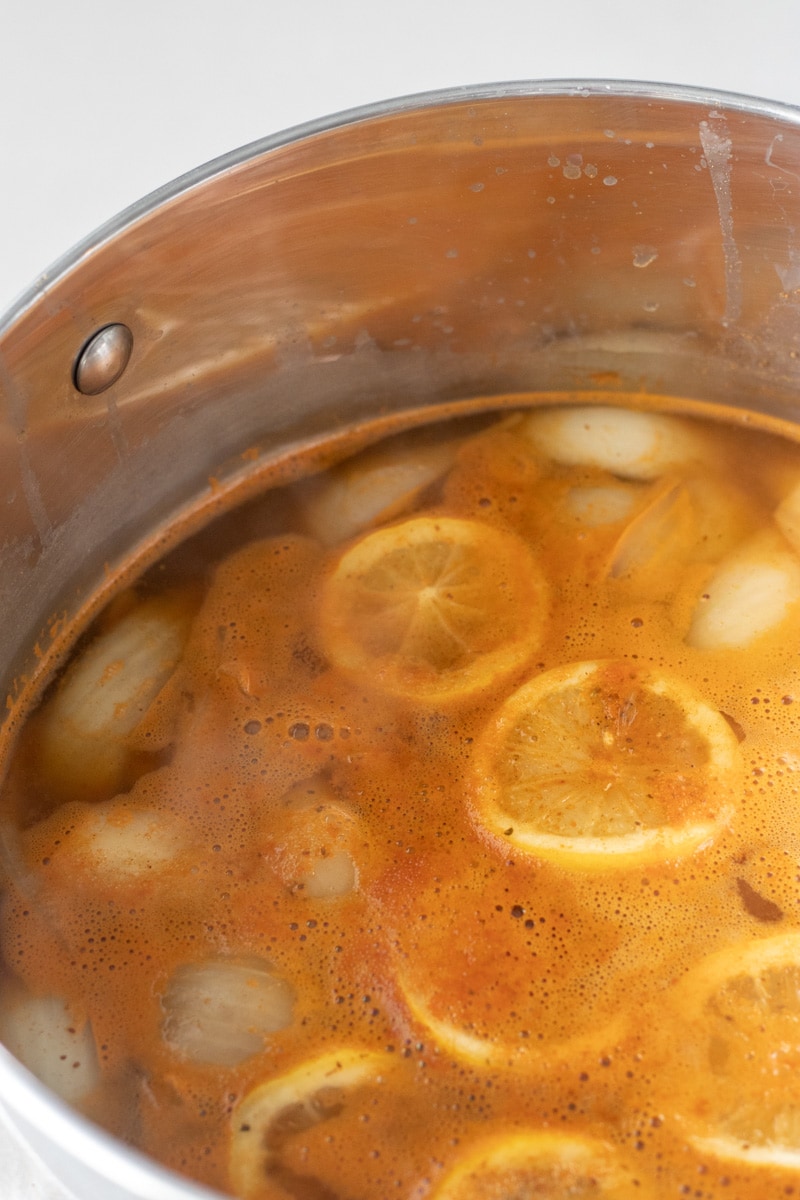 What Seasoning Do You Need for a Shrimp Boil?
The magic for this recipe is all in the brine that you're boiling all the ingredients in and then making the sauce out of later. That magic is called Old Bay Seasoning. If you've never worked with it, you should start!
Old Bay goes well on everything from french fries to fish to eggs. If you weren't sure about buying the big container, just do it!
How to Make It
[su_highlight background="#a4bcb2" color="#ffffff"]THE BROTH:[/su_highlight]First you make a big pot of boiling "broth" (at least that's what I call it). It's basically a big pot of seasoning and aromatics that give the whole dish flavors. The broth for low country boil is simply:
water (10 cups)
old bay (½ cup)
lots of lemon slices (2 lemons)
onion (1 whole onion sliced)
garlic (5 cloves, halved).
You'll bring all of that to a boil and then start adding the solid ingredients.
PRO TIP: Make sure your pot is at least 8 quarts in capacity, or you won't have enough room for everything!
[su_highlight background="#a4bcb2" color="#ffffff"]THE GOOD STUFF:[/su_highlight] All that's left to do is to add your meat and veggies at certain times in the boiling so that they all get cooked just right.
First you'll add 1 pound of red potatoes that have to been cut down to 1-½ inch pieces. Let them boil for 10 minutes
Next comes the corn and sausage. You'll need 4 ears of corn, cut into thirds, and 1 (14-ounce) kielbasa sausage cut into ½ inch slices. Add those to the pot and let those hang out for 3 more minutes.
Finally the shrimp! I use wild-caught medium-large shrimp (I prefer the flavor of smaller shrimp, but you can go large if that's your preference). The smaller shrimp cook QUICK, so don't walk away. Once they're opaque and pink, you'll need to act quickly to avoid overcooking.
[su_highlight background="#a4bcb2" color="#ffffff"]STRAIN AND DISCARD:[/su_highlight] Grab a ladle and reserve a cup of that delicious broth for the sauce. Next, you'll pour the whole pot into a large strainer. Go through the mix and grab the garlic, lemons, and lemon seeds and throw those out. Finally, transfer the ingredients into a big serving bowl and then get to the sauce.
[su_highlight background="#a4bcb2" color="#ffffff"]THE SAUCE:[/su_highlight] This quick sauce just makes a nice coating for all of the ingredients and makes the flavor even better.
To make the sauce, all you need to do is melt 3 tablespoons of butter in the same pot you were working with before. Once it's melted, whisk in that reserved broth until it's all well combined. Pour that hot sauce all over the shrimp mixture in your serving bowl and use some tongs or a couple large spoons to coat it.
Sprinkle some chopped parsley on top and put a ton of lemon slices or wedges out for people to squeeze over their servings and dinner is done!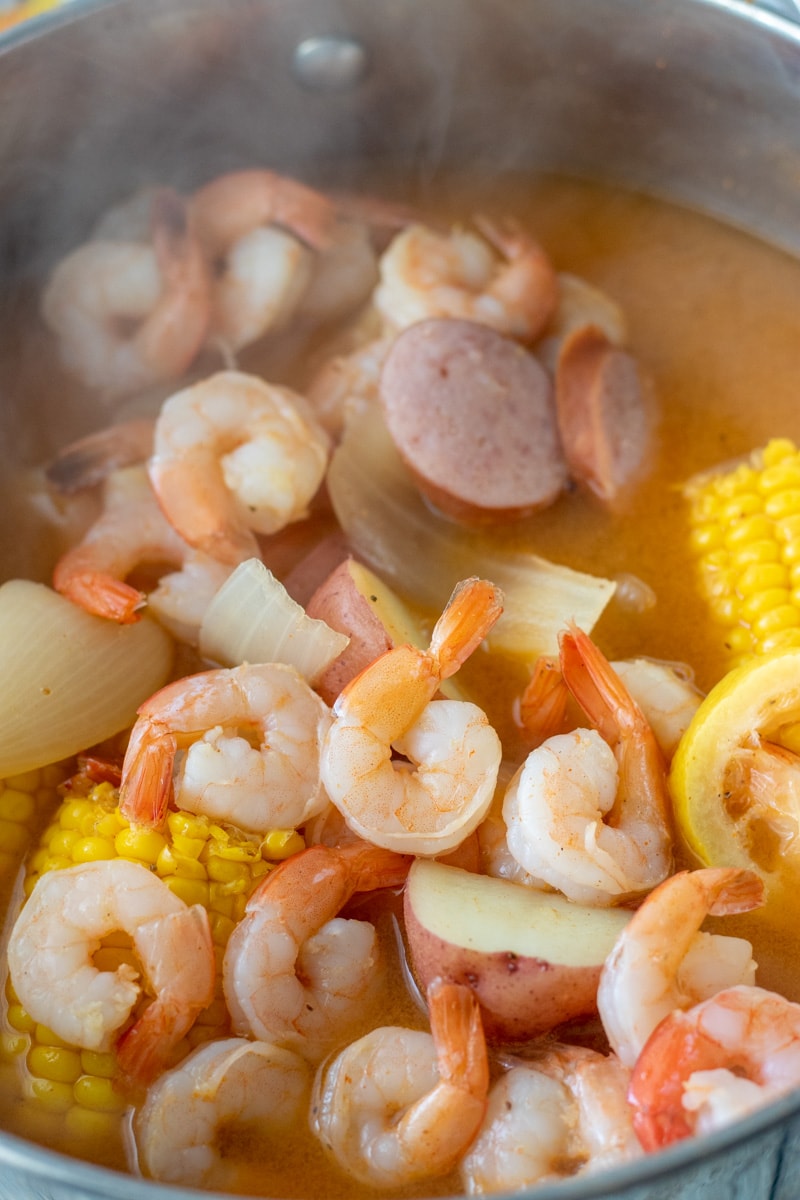 How to Serve it
You've got ton of protein and carbs in the delicious one-pot meal. So I like to serve it with something green like an easy side salad with a lemon vinaigrette or some sautéed asparagus.
How Big is One Serving?
I usually serve a big bowl of this with two pieces of corn, 4-5 pieces of potato, a handful of sausage and about a cup of shrimp. Squeeze some lemon on top and you're ready to eat!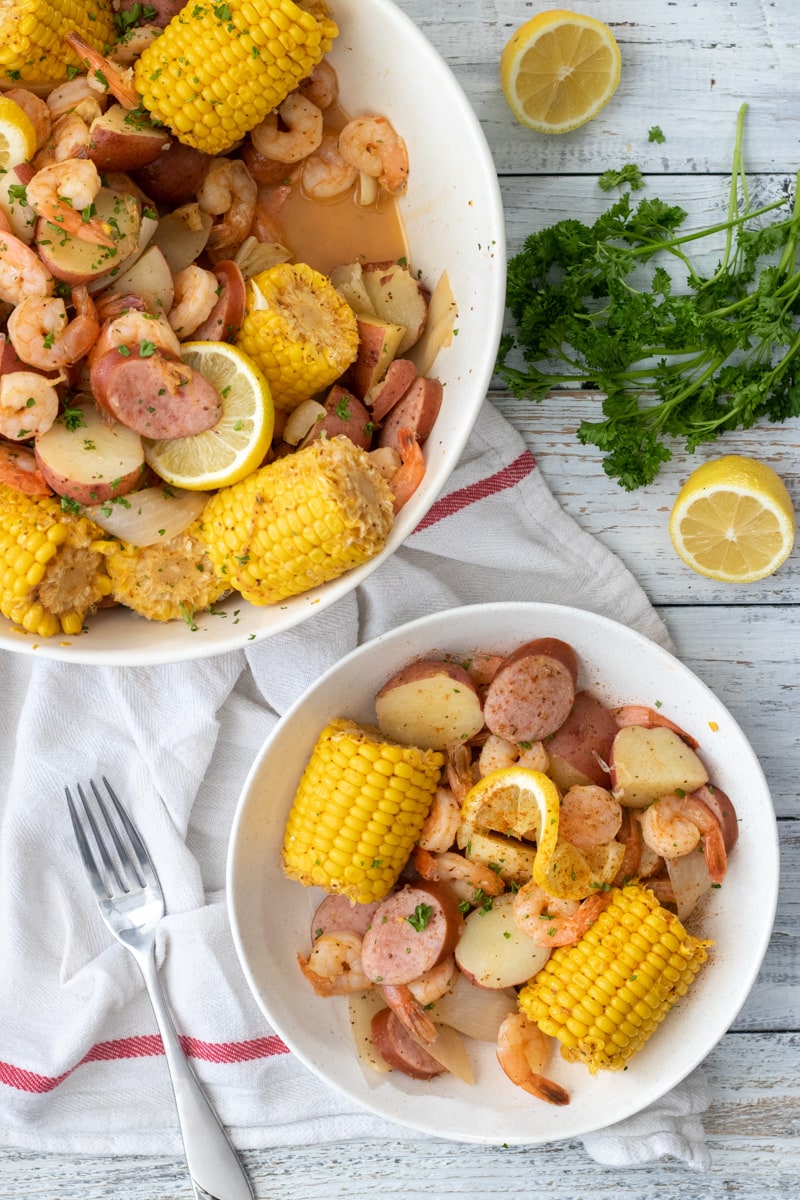 <
Make It Fit Your Budget
[su_highlight background="#a4bcb2" color="#ffffff"]EXPECTED COST: $10-15 | # OF SERVINGS: 6 | COST PER SERVING: $1.66 - $2.50[/su_highlight]
Here at Fixed on Fresh, I'm all about making delicious fresh food on a budget. Let's talk about what you can expect to pay to get this dish on the table and ways you can save money doing it.
PRO TIP: Always be on the lookout for sales! If I find any meat on a really good sale, I'll buy whatever I can can in my budget and consume in the next three month. I bought my wild caught, peeled shrimp for $8 for 2 pounds and stored them away in the freezer.
Other One Pot Recipes
---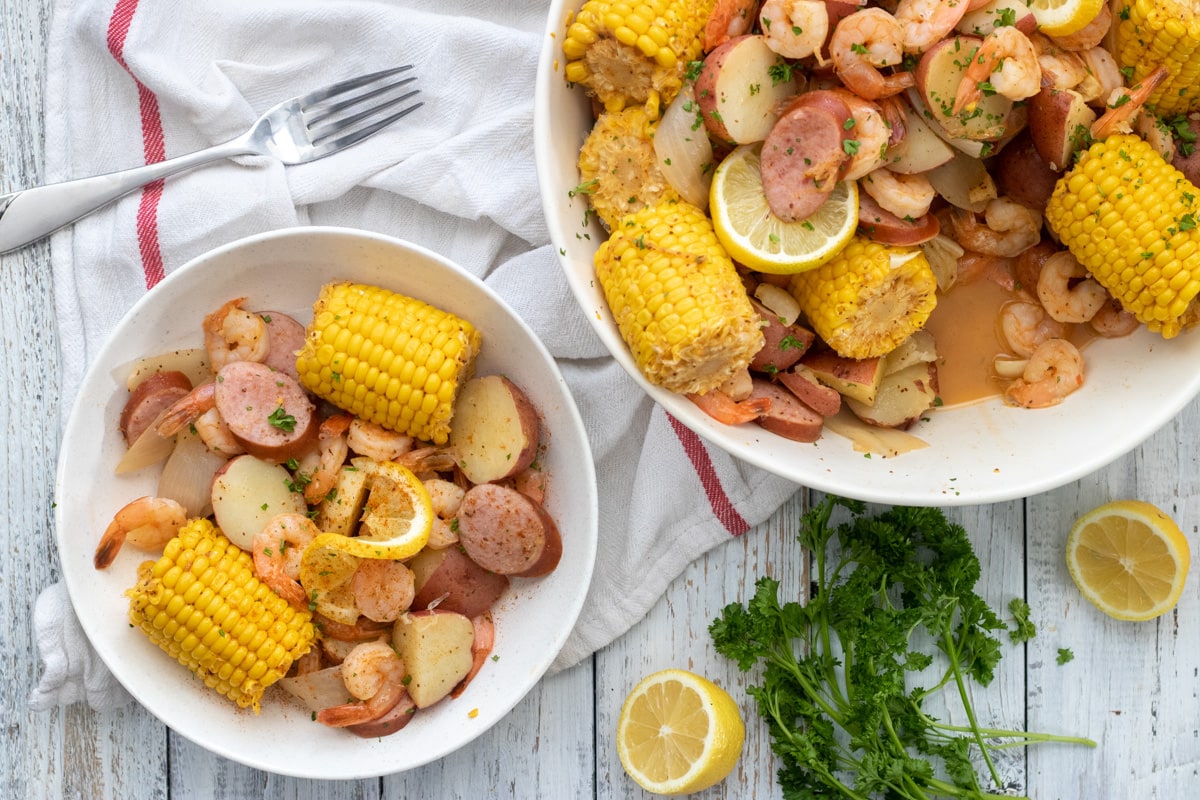 Low Country Shrimp Boil
Shrimp, suasage, corn, onions and bay seasoning are all cooked together to make an easy one pot, weeknight dinner.
Ingredients
2

lemons

(sliced + more for serving)

½

cup

Old Bay seasoning

1

teaspoon

sea salt

5

garlic cloves

(peeled and halved)

1

onion

(peeled and cut eighths)

1

pound

red potatoes

(cut into 1 ½-inch pieces)

4

ears corn on the cob cut into 3-4 inch pieces*

2

pounds

shrimp peeled and deveined with tails

1

(14 ounce)

kielbasa sausage

3

tablespoons

butter

2

tablespoons

chopped parsley
Instructions
MAKE THE BRINE: Fill a large stockpot or dutch oven with ⅔ full with water. Add lemons, Old Bay seasoning, salt, garlic, and onions to the water and bring to a low boil.

COOK THE VEGGIES AND SAUSAGE: Add the potatoes to mixture and boil until they begin to soften (not fully cooked), about 10 minutes. Add the corn and sausage and cook for an additional 3 minutes.

COOK THE SRHIMP: Add the shrimp to the pot and cook for 2 minutes or until the shrimp just become pink and opaque (not longer). Use a ladle to reserve a cup of the brine and then strain the shrimp mixture using a colander. Discard the garlic pieces, lemons and any lemon seeds and remaining brine.

SEASON THE MIXTURE: Return the stock pot to the stovetop and adjust to heat to low. Melt the butter and whisk it into the reserved brine. Add the shrimp back to the pan along with the parsley, toss to coat the whole mixture evenly.

SERVE: Serve immediately and garnish with additional parsley and old bay seasoning.
Nutrition
Calories:
507
kcal
Carbohydrates:
38
g
Protein:
52
g
Fat:
28
g
Saturated Fat:
22
g
Monounsaturated Fat:
2
g
Cholesterol:
341
mg
Sodium:
3944
mg
Potassium:
441
mg
Fiber:
3
g
Sugar:
8
g
Vitamin A:
51
IU
Vitamin C:
27
mg
Calcium:
27
mg
Iron:
32
mg
Nutrition Information Disclaimer
RECIPE EQUIPMENT
**This blog post contains affiliate links to products that I actually use and that align with my values. See my affiliate disclaimer here.
PIN IT FOR LATER