---
Lemon and a few fresh herbs are combined with olive to make a delicious Lemon Herb Vinaigrette. This dressing can be made in just a few minutes and also doubles as a marinade for chicken or pork!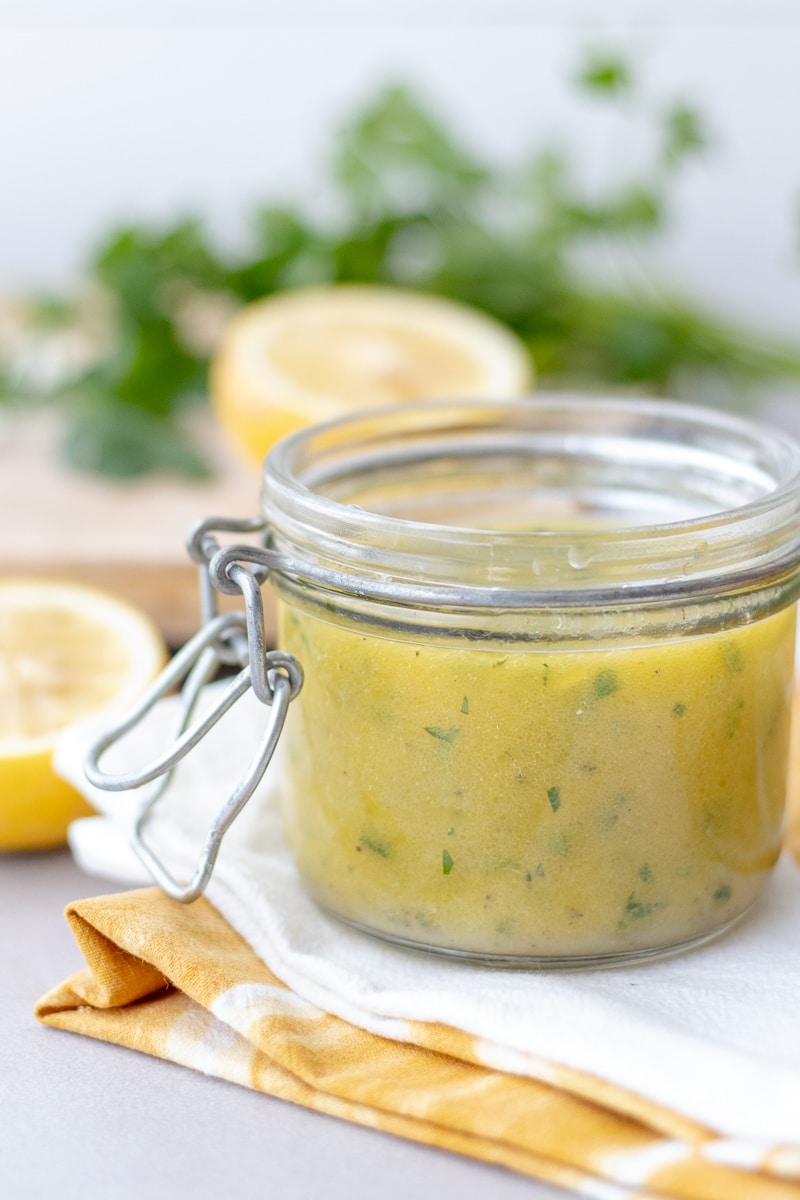 Everyone needs a good arsenal of homemade dressings. Store-bought dressing is great, but to get the ones made without preservatives, added sugars, or soy, you're going to be spending a decent chunk of change.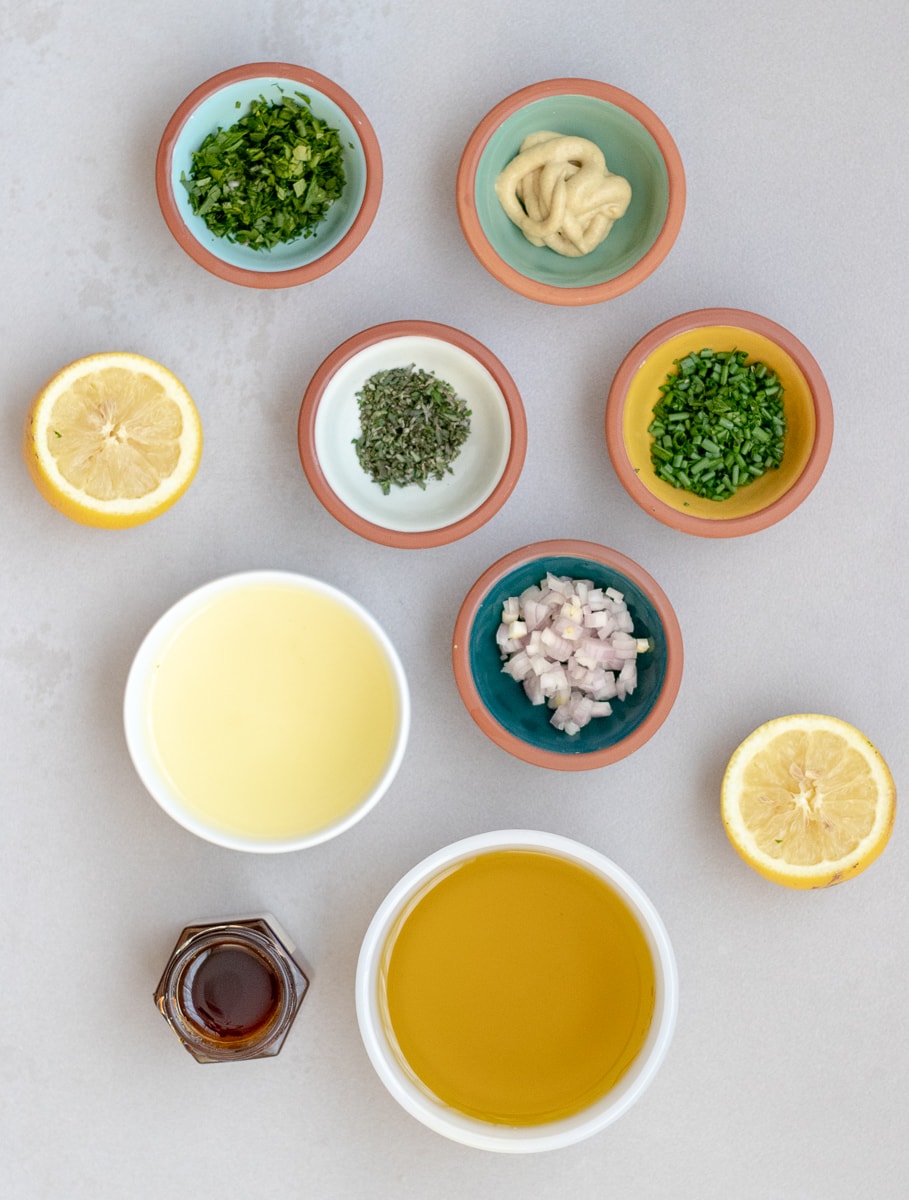 🥘 Ingredients And Substitutions
For this vinaigrette, you just need some ingredients you probably already have around the house. The good thing about dressings is once you have a good base, you can mix and match the ingredients to suit your tastes.
Lemon. Definitely use fresh-squeezed lemon juice, the lemon juice you buy at the store has a tangier, metallic flavor that just isn't as good. Plus lemons are crazy-cheap! If you want to mix things up, orange would be a great option too.
Fresh herbs. I definitely prefer fresh to dried for this recipe. If you need to use dried, though, I would recommend using about half of what the recipe calls for to start with. Other herb options that would work great are cilantro, tarragon, basil or mint.
Honey. This offsets the acidity of the citrus, but it's not a necessity, especially if you're going Whole30. If you don't have any honey, maple syrup will work as well.
💰 Tips For A Tight Budget
GROW YOUR OWN HERBS: Those $2 packs of fresh herbs can really add up and lead to a lot of waste. A lot of time you only need 1 or 2 sprigs of something and the rest goes in the garbage. Growing your own is SOO much cheaper! And you have them all the time anytime you want.
Every year I grow herbs outside when the spring comes, but winter is tricky. Right now, I'm on a serious mission to get them to grow well inside so I don't' have to rely on the weather. Let me know if you want a post of that, I'll be all over it.
BUY OLIVE OIL IN BULK: Costco has, by far, the best quality and prices for olive oil. If you plan to make your own dressings regularly, you'll go through oil pretty quickly, so having a lot will pay off.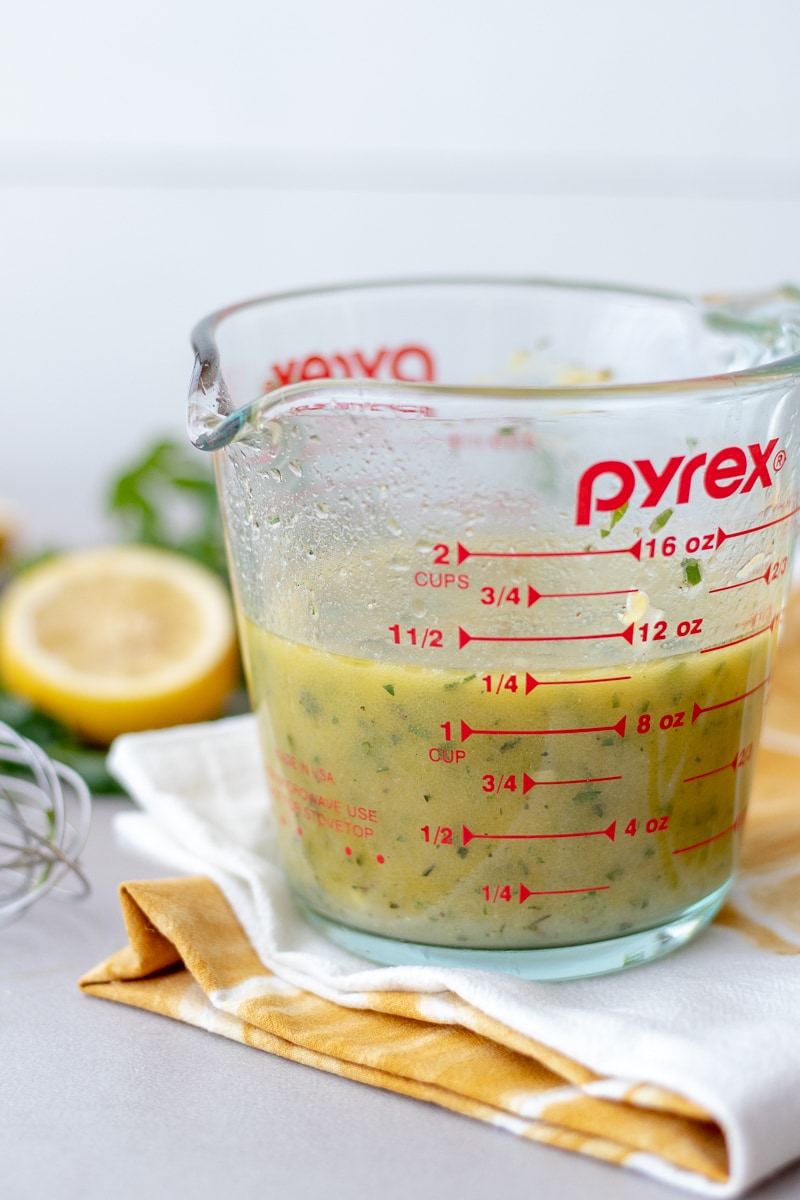 🍽 Serving Suggestions
BASIC GREEN SALAD: This one is pretty obvious, but I had to get it out of the way. Toss this with a simple bowl of spinach and serve with tomatoes on top and your side salad is done!
ON VEGGIES: Because this is such a wide-reaching, simple flavor profile, it goes great on tons of different vegetables outside of salad. This vinaigrette goes great on warm potato salad or tossed on roasted broccoli or asparagus.
CHICKEN AND PORK MARINADE: Pour ¼ cup of the marinade into a plastic bag with a pound of chicken or pork (you can scale it accordingly if you have more than a pound) and let it sit for 2 - 4 hours. This isn't one you want to keep on for 24 hours because the acid from the lemon juice will start to affect the texture of the meat. A couple of hours in this marinade and you'll have a ton of flavor.
🥣 How To Store Homemade Dressings
The great thing about homemade dressings is that they don't have any of those additional, pesky preservatives. The only bummer about the lack of preservatives is the dressing doesn't stay good for near as long as the store-bought ones.
I don't recommend hanging on to homemade dressings for any longer than a week in the fridge. And I store mine in mason jars that are airtight, and you can easily shake before using. The ingredients will sink to the bottom, so you'll want to shake it up each time you serve it.
---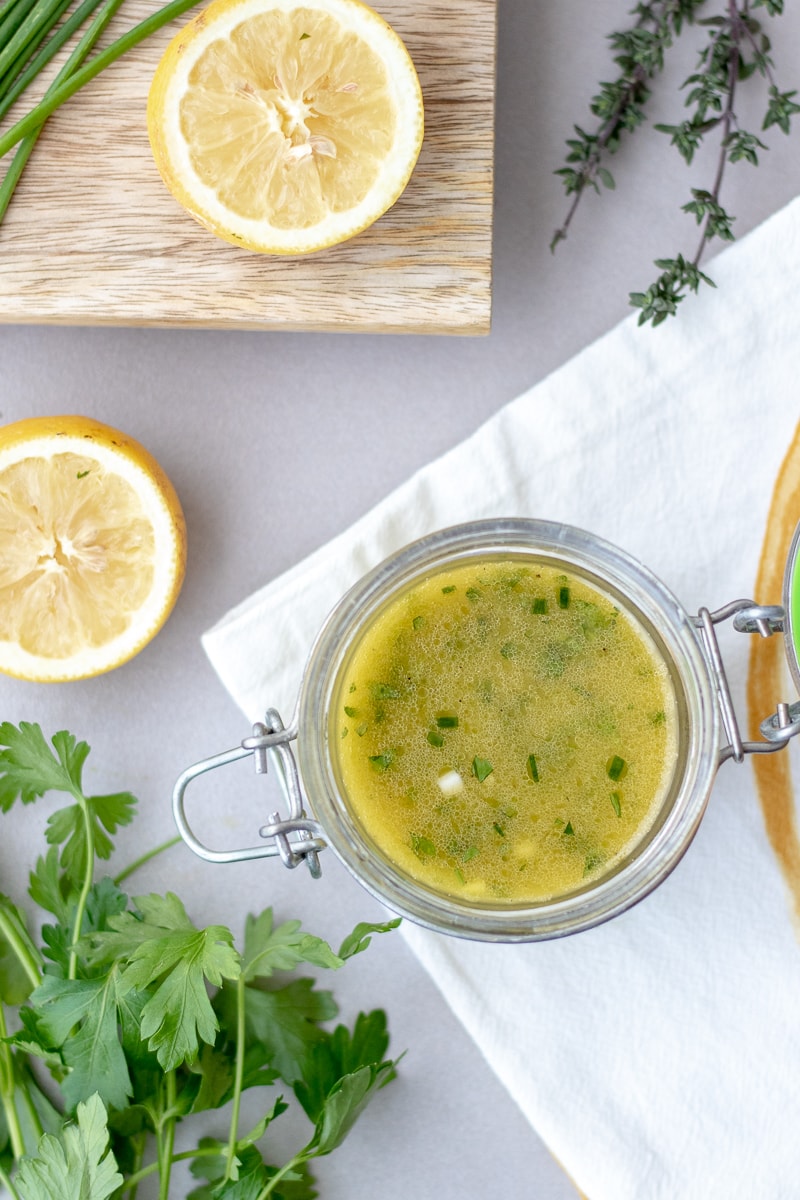 <
OTHER RECIPES YOU SHOULD TRY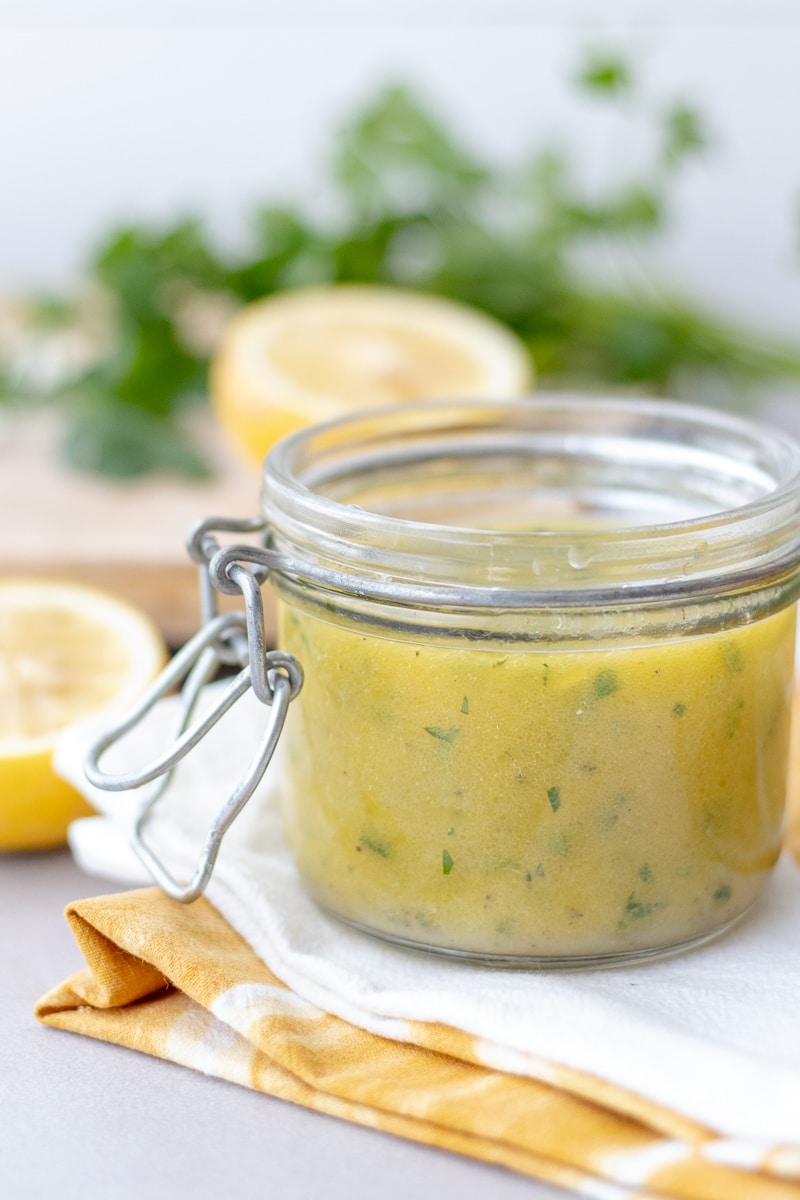 Lemon Herb Vinaigrette
Olive oil, lemon, and herbs are combined to make a fresh and easy salad dressing or chicken and pork marinade.
Ingredients
½

cup

extra virgin olive oil

¼

cup

water

3

tablespoons

lemon juice

((1 large lemon or 2 small))

2

teaspoons

Dijon mustard

1

tablespoon

minced shallot

1

garlic clove

(minced)

1

tablespoon

honey1

1

tablespoon

minced fresh parsley

1

teaspoon

minced fresh thyme

1

tablespoon

minced chives
Instructions
In a medium bowl or two cup measuring cup add all of the dressing ngredients and whisk vigorously to fully emulsify. Serve immediately or store in an airtight container for up to 7 days. Shake or mix before using to incorporate the ingredients once they've settled.
Notes
STORAGE: Store in the fridge for up to 1 week in an airtight container
MAKE IT WHOLE30: Omit honey for Whole30, or substitute pure maple syrup.
Nutrition
Serving:
2
tablespoons
Calories:
114
kcal
Carbohydrates:
2
g
Fat:
11
g
Saturated Fat:
2
g
Polyunsaturated Fat:
6
g
Monounsaturated Fat:
4
g
Sodium:
24
mg
Potassium:
13
mg
Sugar:
2
g
Vitamin A:
1
IU
Vitamin C:
1
mg
Calcium:
1
mg
Nutrition Information Disclaimer
RECIPE EQUIPMENT
**This blog post contains affiliate links to products that I actually use and that align with my values. See my affiliate disclaimer here.
PIN IT NOW, MAKE IT LATER!