Sweet strawberries and blueberries top a fresh bed of spring mix along with some tangy feta crumbles and fresh cucumber and honey roasted almonds for a nice crunch. Toss this summer berry salad with a honey balsamic vinaigrette to make a beautiful side or main dish.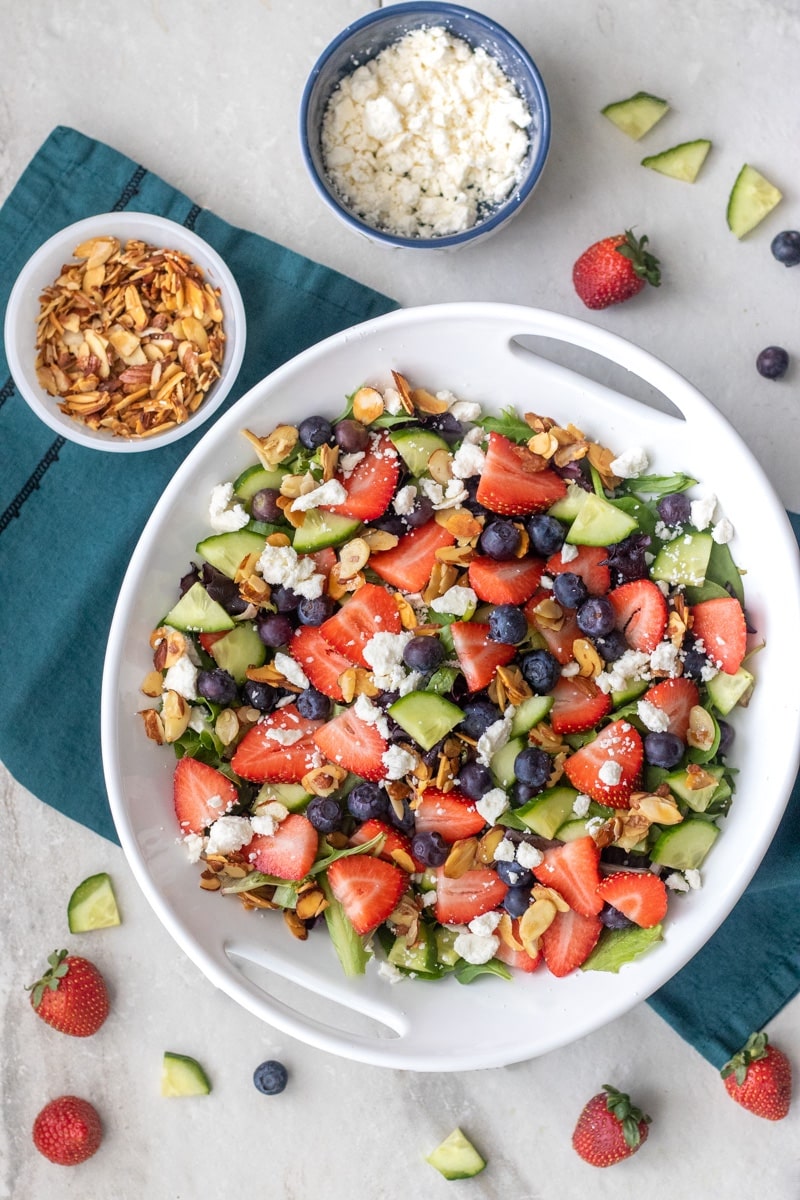 How to Make a Fresh Berry Salad
Big, colorful salads are my favorite and this one is no exception. In fact, I've meal-prepped this one and have been eating it the past week.
When you're sitting down to create a menu for the week, a lot of people don't think of a giant salad as a meal because salads seem so simple. The thing is, they are simple to make, but they aren't simple in flavor. Plus there is an endless supply of delicious combinations to make salads a little different every time.
Ingredients
As with any salad, first, you start with a big bowl of fruits and veggies (and maybe a little cheese), then you can make a vinaigrette and something crunch.
SPRING MIX: The fluffy green base of this salad is spring mix. It's colorful and the texture is perfect for this salad. However, if you want to change it up you can always consider going with some leafy romaine, spinach or kale.
BERRIES: Strawberries and blueberries hold up really well in this salad and add a nice sweetness. If you can't find any in season or on sale, raspberries and blackberries would work well too. I also wouldn't count out pears, mandarines or apples in the fall.
CUCUMBERS: Cucumbers have both crunch and a fresh flavor that go well with the berries. If you aren't a huge fan, though, leave them off, but I can't quite think of a comparable fruit or veggie that would get the same job done.
FETA CHEESE CRUMBLES: The tangy zing that feta offers, offsets the sweetness of the berries and the acidity of the dressing perfectly. Other great options would be goat cheese or bleu cheese.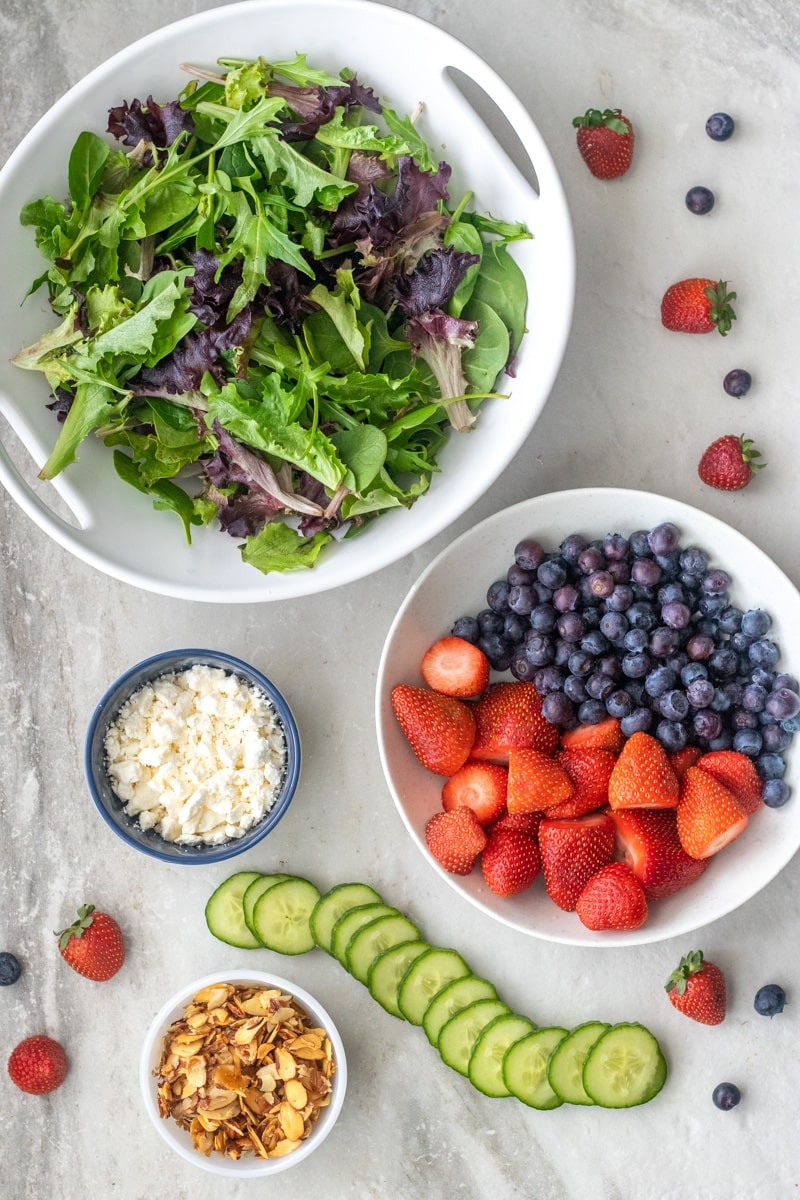 The Budget
The budget for this recipe is going to vary widely depending on what season it is, and what you keep in your pantry regularly.
The budget for this recipe only includes the portion you are using for this meal. You'll have some fruit, almonds and feta left for another recipe or for snacks.
COST PER SERVING: $3-5 (This recipe makes 4-6 servings depending on if you are making it a meal or serving it as a side with a main dish)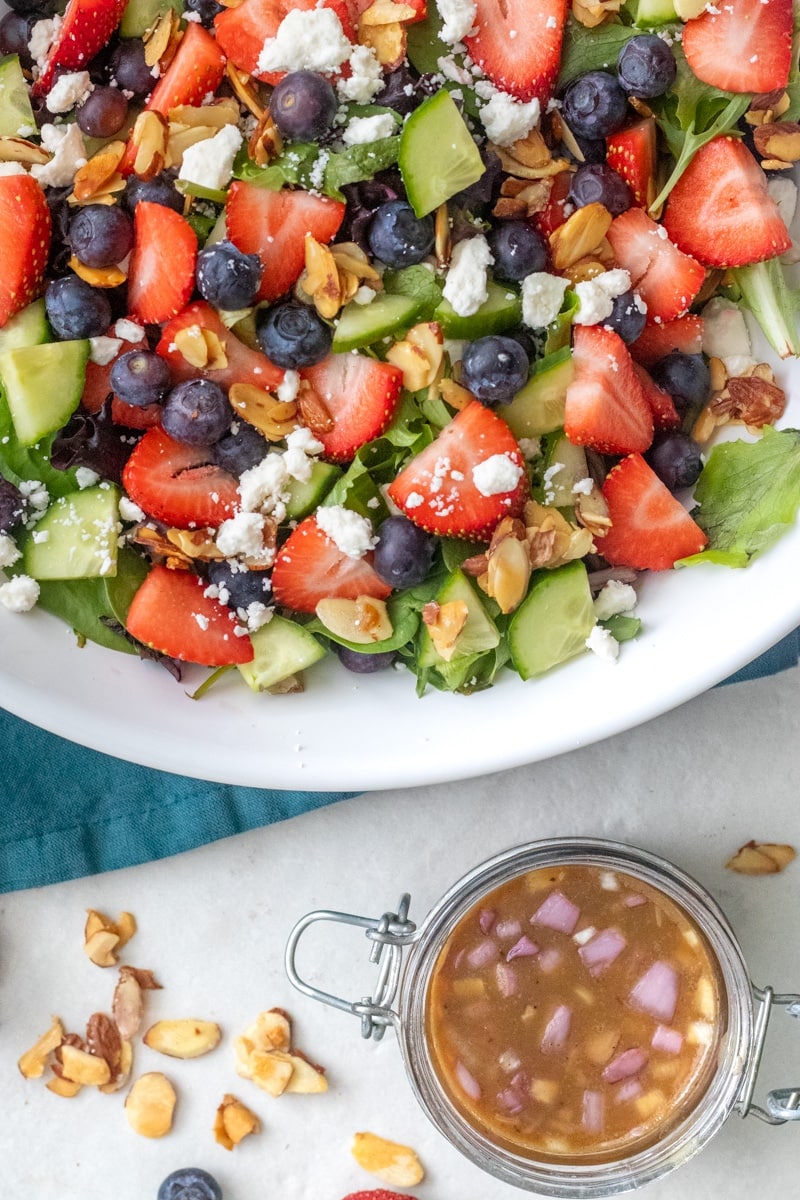 Honey Balsamic Dressing
I love to make my own dressings out of items I already have in my pantry. Most store-bought dressings (especially those that are kind to the budget) are filled with preservatives, soy and/or sugar-based products that I'd rather have control of, so making my own is a simple way to get around all that.
All you need to grab from the pantry or fridge for this dressing is:
balsamic vinegar
shallot (finely minced)
extra virgin olive oil
honey
dijon mustard
salt and pepper
All I do to make any of my dressings is pile all the ingredients into a 2 cup measuring cup and give it a vigorous whisk and call it a day!
How Long Do Homemade Dressings Stay Good?
If kept in an airtight container in the fridge, a homemade dressing or vinaigrette will stay good for up to 5 days. I know it's not the same shelf life as a typical dressing you buy in the store, but that's because you're skipping all those pesky preservatives.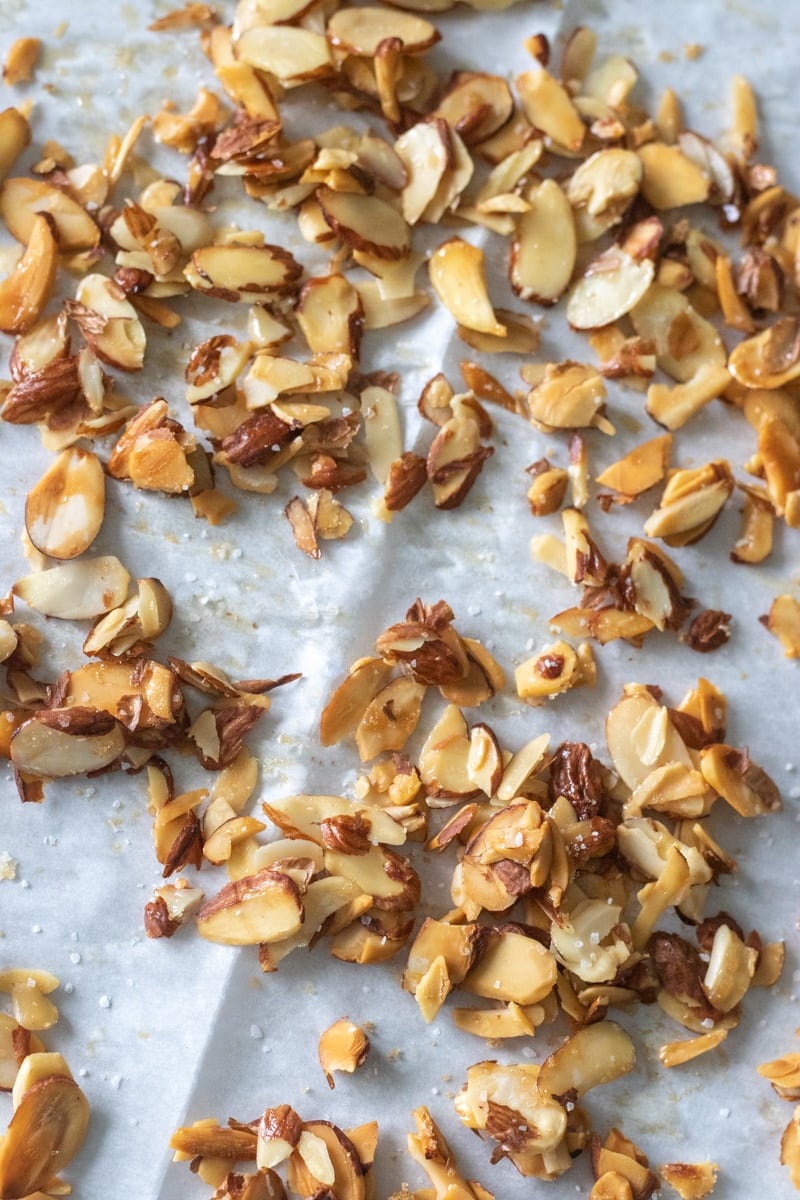 <
Make Your Own Honey Roasted Almonds
While I know you can buy honey roasted almonds already made, I actually like to make my own for kinda the same reasons as I make my own dressing. No soy products and way less sugar if you do it yourself.
It's super simple and they'll be done by the time you get all your salad fixings shopped and your dressing made.
Here's How to Do It
STEP 1: Preheat the oven to 300˚F and line a cookie sheet with parchment paper.
STEP 2: Make a quick mixture of 2 teaspoons of honey and a splash of water (like 1 teaspoon). Stir that together to make the honey a little diluted so it will disperse better. Then toss ½ cup of sliced almonds in the honey mixture
STEP 3: Spread the almonds out on the prepared cookie sheet so that most of them aren't touching. Then sprinkle the top with a teaspoon of brown sugar and ½ a teaspoon of salt and bake them for 15 minutes.
Sugar Free
If you're trying to eliminate refined sugar, Paleo-style, you can also skip the little bit of brown sugar I have in the recipe so they're just honey-sweetened.
Make It a Meal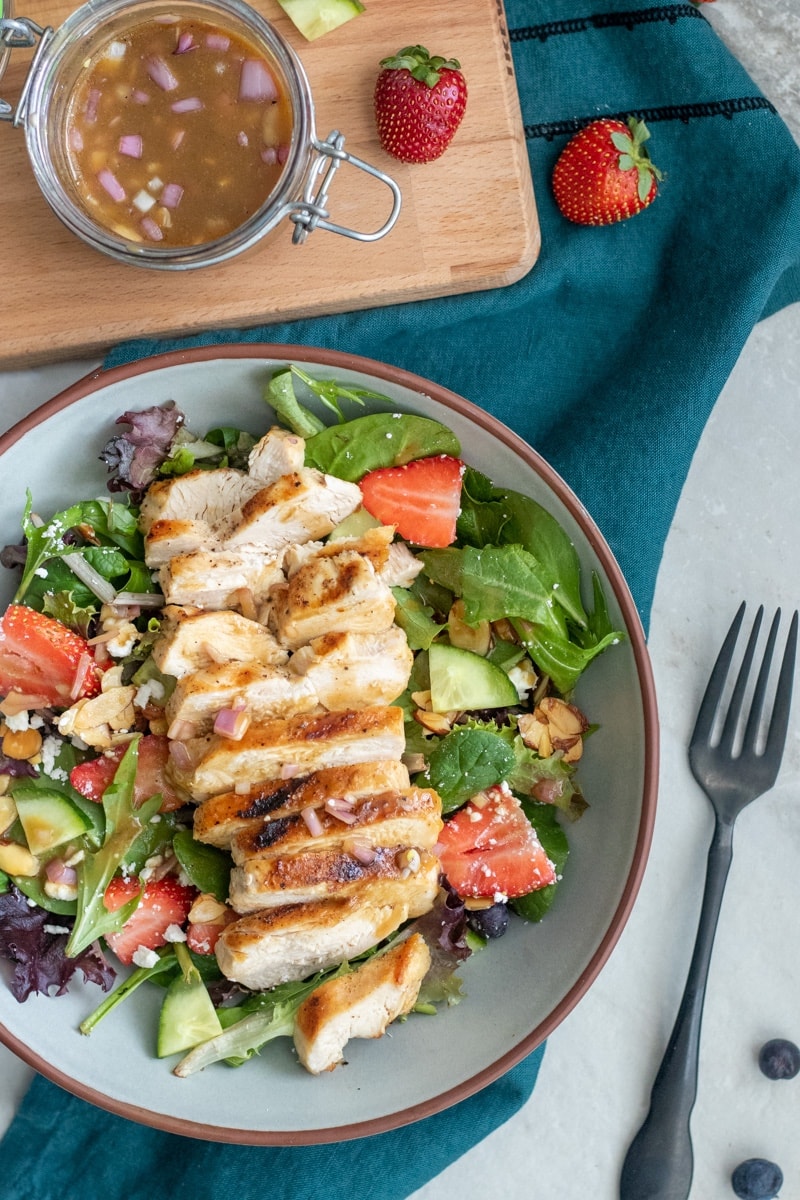 This salad is already loaded with flavors and nutrients, so you really don't need to go to all the trouble to make a ton of other food to go with it to make it a meal.
I like to grill some chicken or use baked salmon or steak to serve right on top for a big hearty salad.
Layer For Serving
Have you ever noticed when you toss a salad in a big bowl, all the tasty (but heavier than lettuce) ingredients shuffle to the bottom making it look like your serving just a big bowl of lettuce?
If you're serving this salad to company or just for a family dinner, I like to do a couple of layers of ingredients so that its pretty and also so the ingredients get evenly dispersed.
I'll lay down half the lettuce and half the other ingredients on top of that then repeat the process just like lasagna.
QUICK TIP: If you're pre-dressing the salad for the table, just toss the lettuce with a small amount of dressing and then put the rest of the dressing out for people add more if they'd like it.
Meal Prep It
If you want to make salads for the week and meal prep them, I'd definitely recommend keeping the ingredients separately. I keep the lettuce and feta in one section, the fruits in another, nuts in another and dressing in another.
---
Serve It With
---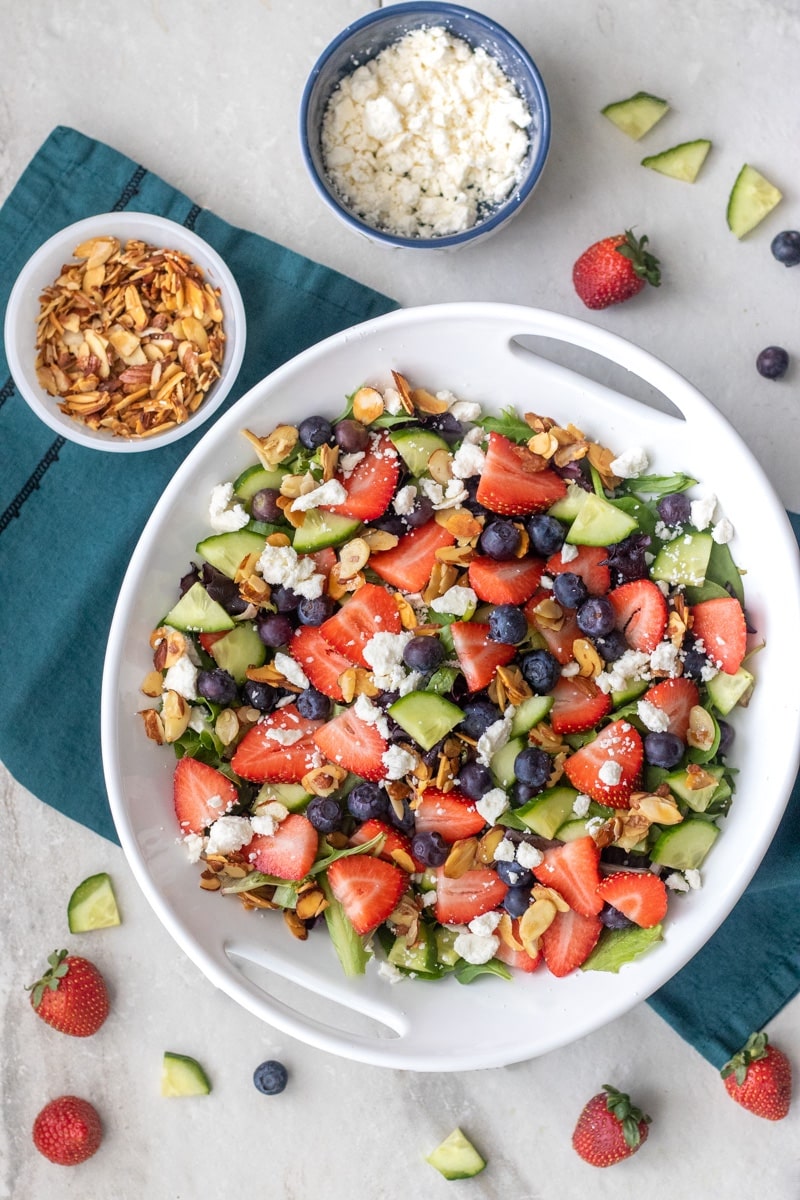 Spring Strawberry Salad
Fresh berries, honey roasted almonds, feta and cucumbers on a big bed of spring mix and drizzled with a simple homemade honey balsamic dressing.
Ingredients
FOR THE HONEY ROASTED ALMONDS
½

cup

sliced almonds

2

teaspoons

honey

1

teaspoon

brown sugar1

¼

teaspoon

sea salt
HONEY BALSAMIC VINAIGRETTE
¼

cup

balsamic vinegar

2

tablespoons

extra virgin olive oil

½

shallot

(minced fine)

1

tablespoon

dijon mustard

1

tablespoon

honey

salt and pepper
SALAD
1

(10 ounce)

package spring mix

¾

cup

feta crumbles2

1

cup

sliced strawberries

1

cup

blueberries

1

cup

cucumbers

(sliced and quartered)
Instructions
PREPARE: Preheat the oven to 300˚ F and line a sheet pan with parchment paper.

MAKE THE HONEY ROASTED ALMONDS: In a small bowl whisk the honey with a teaspoon of water. Toss the almonds in the honey mixture to coat the nuts, then spread out on the prepared cookie sheet and sprinkle with sugar and salt. Roast for 10-12 minutes or until golden brown. Allow the nuts to rest and for 3-5 minutes before breaking up (if necessary).

MAKE THE VINAIGRETTE: In a measuring cup or small bowl combine all of the salad ingredients and whisk until it is creamy and the oil is fully mixed in. Refrigerate until it's time to serve the salad.

MAKE THE SALAD: In a large serving bowl combine the spring mix, berries, feta, cucumbers, and roasted almonds. Toss with the vinaigrette just before serving, or serve it on the side.
Notes
Omit the sugar to make the nuts refined sugar free/ Paleo
Omit Cheese to make the salad Paleo/ Dairy Free
Nutrition information is for 4 large salads
Nutrition
Calories:
272
kcal
Carbohydrates:
25
g
Protein:
6
g
Fat:
17
g
Saturated Fat:
5
g
Polyunsaturated Fat:
5
g
Monounsaturated Fat:
6
g
Cholesterol:
19
mg
Sodium:
772
mg
Potassium:
227
mg
Fiber:
4
g
Sugar:
17
g
Vitamin A:
13
IU
Vitamin C:
28
mg
Calcium:
53
mg
Iron:
5
mg
Nutrition Information Disclaimer
RECIPE EQUIPMENT
**This blog post contains affiliate links to products that I actually use and that align with my values. See my affiliate disclaimer here.
PIN IT NOW, MAKE IT LATER