I keep saying it, but I cannot believe it's already November. This year we're doing our turkey dinner a little late since we'll be on vacation for fall break. I'm still super pumped for this year's Thanksgiving menu.
This year I'm doing a 50/50 mix of healthy...and we'll call the rest indulgent. Below you'll find the full menu, including appetizers, the turkey, sides, and the beloved desserts. Plus a few of my favorite tips to keep the stress level low and the Thanksgiving spirits high (besides cocktails).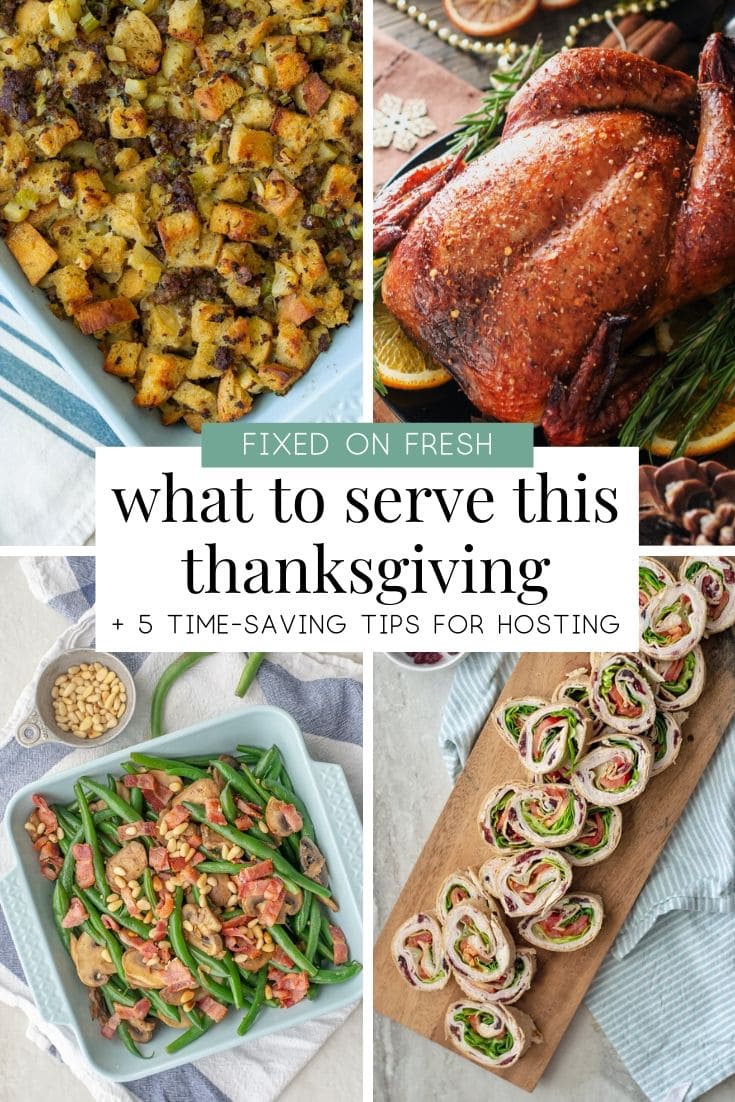 TIME-SAVING TIPS FOR HOSTING THANKSGIVING
Some of the things I have picked up over the years to make life easier at Thanksgiving, Christmas or any dinner party.
BE PREPARED AND SKIP THE CROWDS
I try to have my menu finalized and my grocery list made by 7-days out at the latest (10 days if I'm on top of things). Get everything you can from the grocery store. Fresh items like most produce and dairy, will get picked up on the second round. This way you get the best selection and you can beat the Thanksgiving rush.
2 days out, you'll make the "fresh and forgotten" run. Go through every recipe and you have every last ingredient. Now is not the time to assume you have cinnamon, go look! Add the forgotten items ot the fresh list and go make that quick run 2 days out.
MAKE EVERYTHING YOU CAN AHEAD OF TIME
We're not just talking pies here, guys. I mean EVERYTHING. Any of the recipes I list with this symbol >> ?, can be made a day or two ahead of time.
You can also pre-chop veggies, fruit, and cheeses for anything you're making the day off to shave off some prep time.
LABEL YOUR SERVING DISHES
When you're going through your recipes and making that final grocery list, pull out all the serving dishes you'll need. Write down the name of each recipe you're making on a sticky note. Place the appropriate sticky notes inside the dishes that recipe will go in.
Now when you need help dishing up those recipes, you'll have one less thing to explain to your handy helper! Which brings me to my next, very important, tip.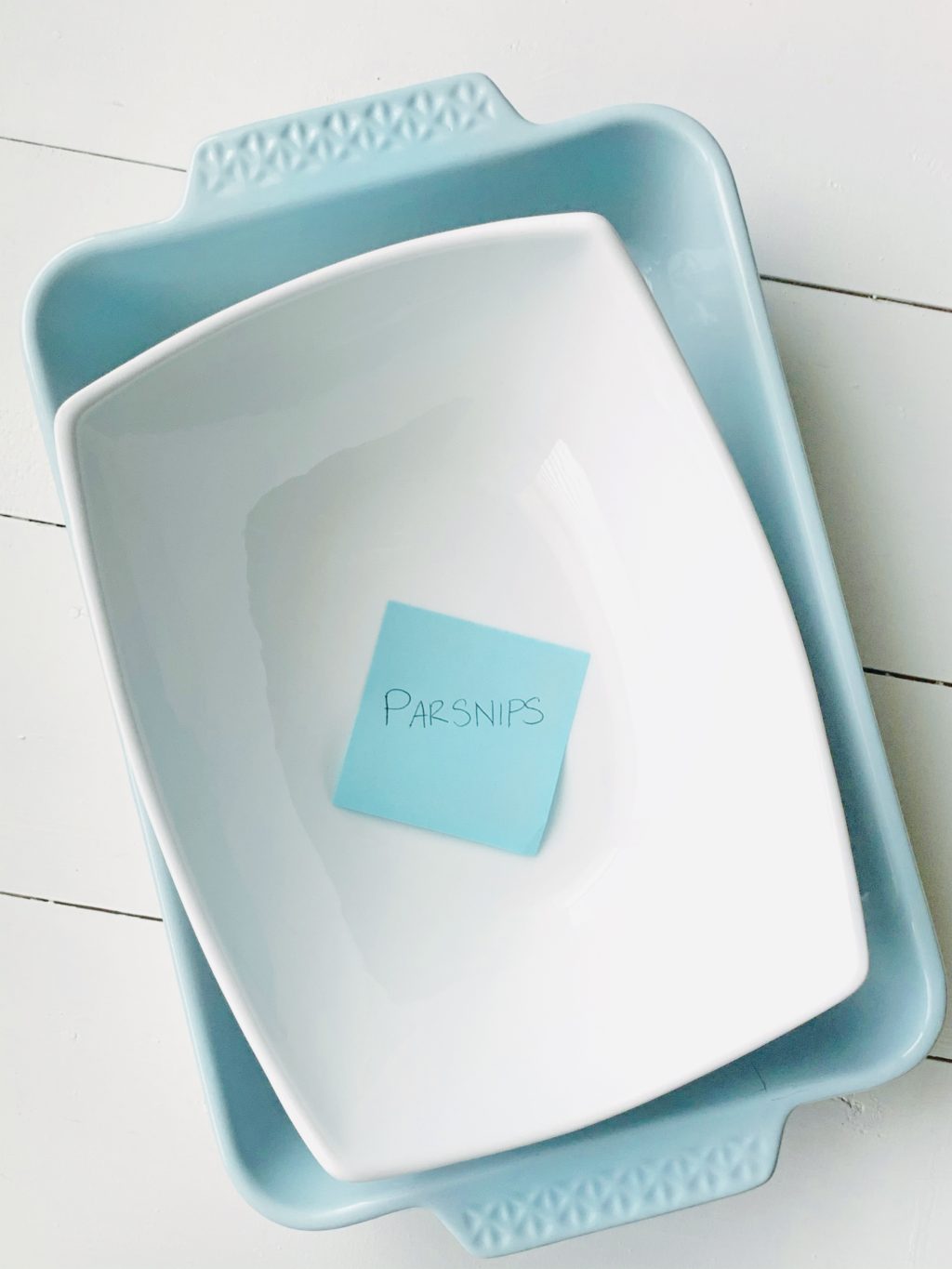 DON'T BE AFRAID TO ASK FOR HELP
If my guest list is lengthy (like more than 8), I will ask for people to bring dishes. It's always up to the host to get the turkey made, and then pick a couple of your favorites. After that, send out a list of things you need other people to bring.
Also, keep a running list of things people can do to help you get dinner on the table. Cut up produce, assign someone to be bartender, to keep the appetizers fresh and full, someone to transfer the food to the serving dishes. These are all things you don't need to do and don't take a ton of explaining.
Last, ALWAYS get help doing dishes. It's ridiculous to expect a person that's been cooking all day to spend an hour washing and drying dishes.
KEEP AN OVEN SCHEDULE
If you are cooking Thanksgiving dinner with a single oven like a total boss, you're going to need to make an oven schedule.
There are only 3 recipes on my menu that need some time in the oven (assuming you made the other stuff ahead): the turkey, the stuffing, and the mac and cheese. So my plan is to give the priority to the bird, then put the stuffing in with it (they call for the same cook temp) and when the turkey is resting, put the mac and cheese in there.
You should also make sure anyone bringing anything that requires the oven fits into the oven schedule. BOOM - single oven schedule is done!
---
My Thanksgiving Menu
Putting together a menu for Thanksgiving dinner can be a little daunting if it's your first or you're trying to keep everyone happy. These are my favorite options.
THANKSGIVING COCKTAIL & APPETIZERS
Appetizers and cocktails keep everyone happy and fed while the turkey cooks away. There are so many amazing appetizers out there, and this is the list I chang up every year. This year - here's what I've got.
THANKSGIVING TURKEY
You can't have Thanksgiving without the Turkey. It's the thing that fills the whole house with the actual smell of Thanksgiving. Sooo good.
Ina Garten makes one of my favorite classic butter herb-roasted turkey recipes. I will say the video and the recipe are a little different. I make it according to the recipe.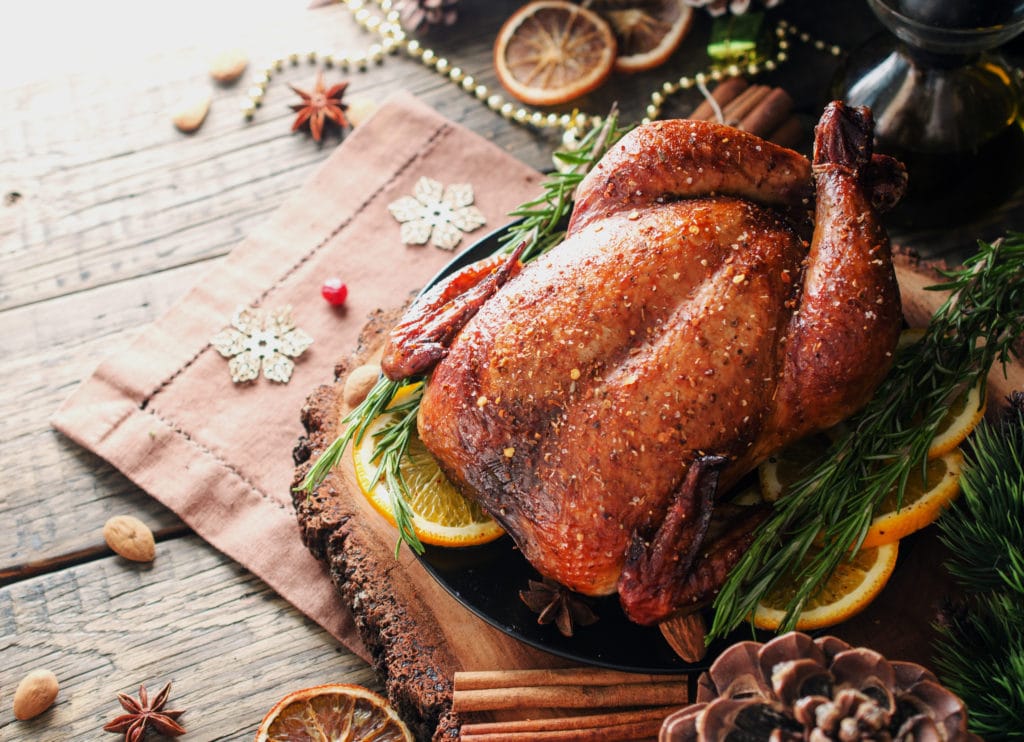 <
THANKSGIVING SIDE DISHES
I won't lie, the side are my favorite!! Stuffing, in particular, is one that I have a yearly emotional dependence on. It feeds my soul. I can't not have sourdough stuffing at least once a year. Mac and cheese is a close second, but I make that one year-round. Below are links to my favorite Thanksgiving sides.
THANKSGIVING DESSERTS
If you don't know by now, I'm a little cookie obsessed. They're my favorite dessert of all time. So I always have a plate of them for any party we have. This year, since none of my people dig the texture of pumpkin pie, I'm doing Maple Glazed Pumpkin Cookies.
But for the classic pie-eating Thanksgiving dinner guests, apple and pecan are our favorites pies.
ENJOY YOUR STRESS-FREE, FAMILY FILLED, DELICIOUS THANKSGIVING!
Now that we've gone over the full menu from appetizers to cookies and pie, I hope you are a little closer to finalizing your Thanksgiving menu.
If you're hosting this year, here's a quick run-through of my favorite time-saving tips:
when to shop, and how to do it without missing anything
how to save time by cooking what you can ahead
an awesome trick to make sure you have all the serving dishes you need
how to get people to take off some of your workload
the importance of an oven schedule