---
Sauteed green beans get a huge flavor boost on the stovetop with bacon, mushroom and pine nuts. Blanched green beans are sautéed with bacon, mushrooms, and shallots and then sprinkled with roasted pine nuts to make a tasty and healthy side dish.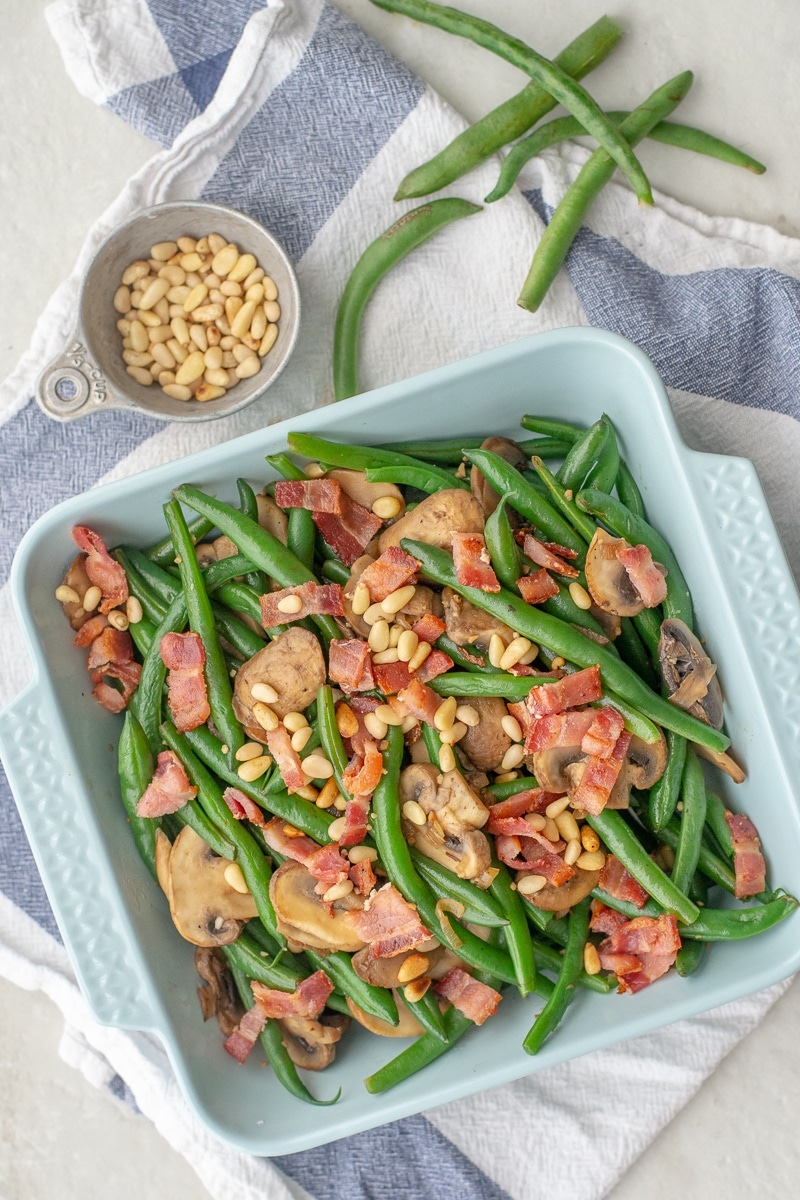 Healthy Loaded Green Beans
Green bean casserole has always been one of my favorite side dishes during the holidays, but it's definitely not the healthiest way to prepare green beans.
This dish has a similar flavor profile without the can of cream of mushroom soup and crispy fried onions. I know they're delicious, but I'm hoping to make up for it with bacon. Bacon make everything better.
In short, these green beans are sauteed and fully loaded with flavor and all real ingredients.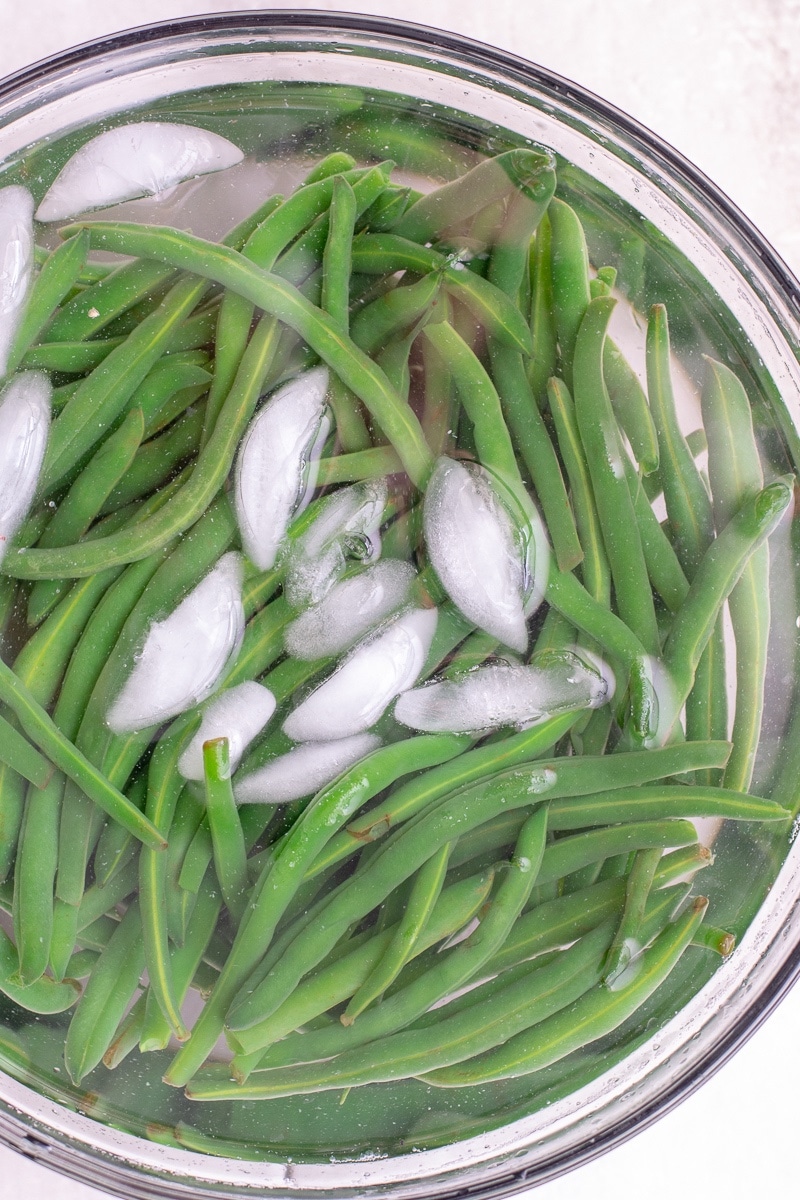 Blanching Green Beans
The key to getting the beans to cook all the way through when you saute them is to give them a quick blanch before cooking them in the skillet.
What is Blanching?
Blanching is basically flash boiling something to partially cook or soften vegetables.
How to do it
Fill a large stockpot with water and about 1 tablespoon of salt. Bring the water to a boil. Place the cleaned and trimmed beans in the boiling water for 5 minutes or until they turn from pale green to a bright shade of green.
Immediately rinse and submerge in a bowl of ice water to stop the beans from cooking. Let the beans fully cool in the ice bath before draining.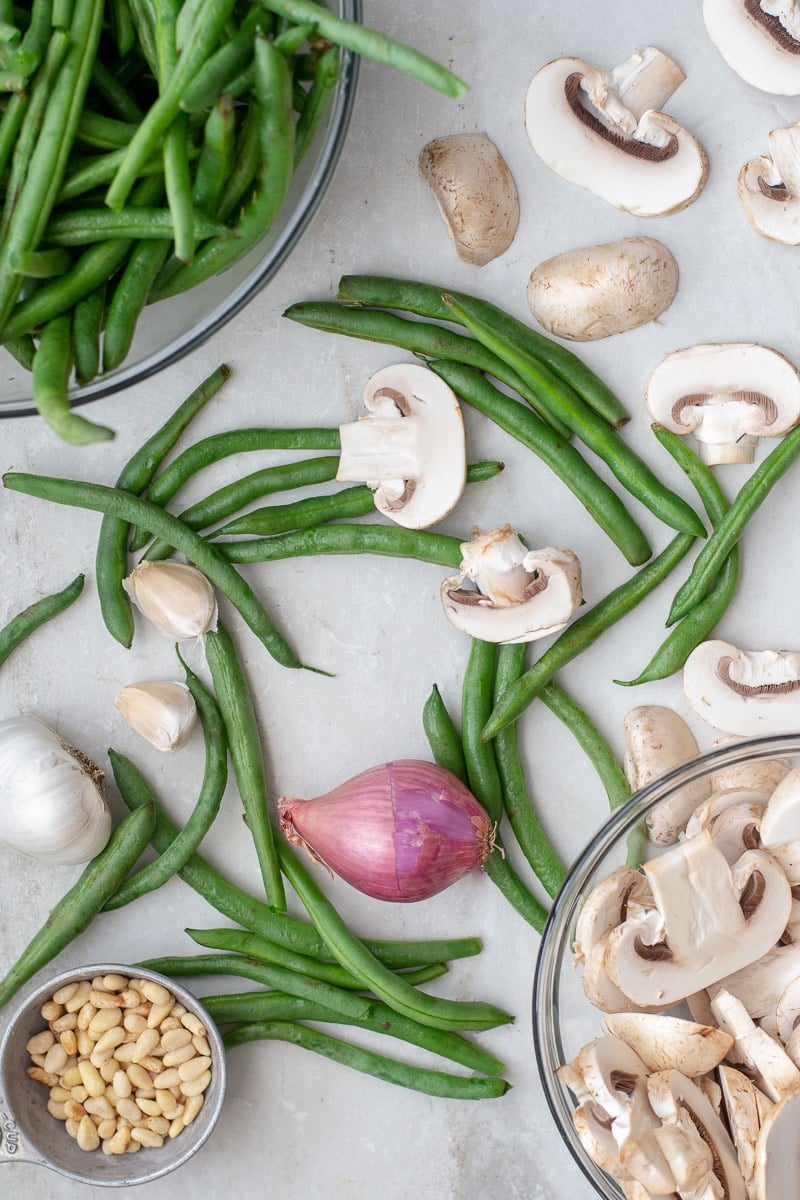 Can You Use Frozen Green Beans?
You can definitely use frozen green beans in this recipe and skip the blanching. Simply cook them ALMOST according to the package directions.
I microwave them for a minute shy of the recommended cooking time on the package, drain them and then proceed with the recipe from step 2.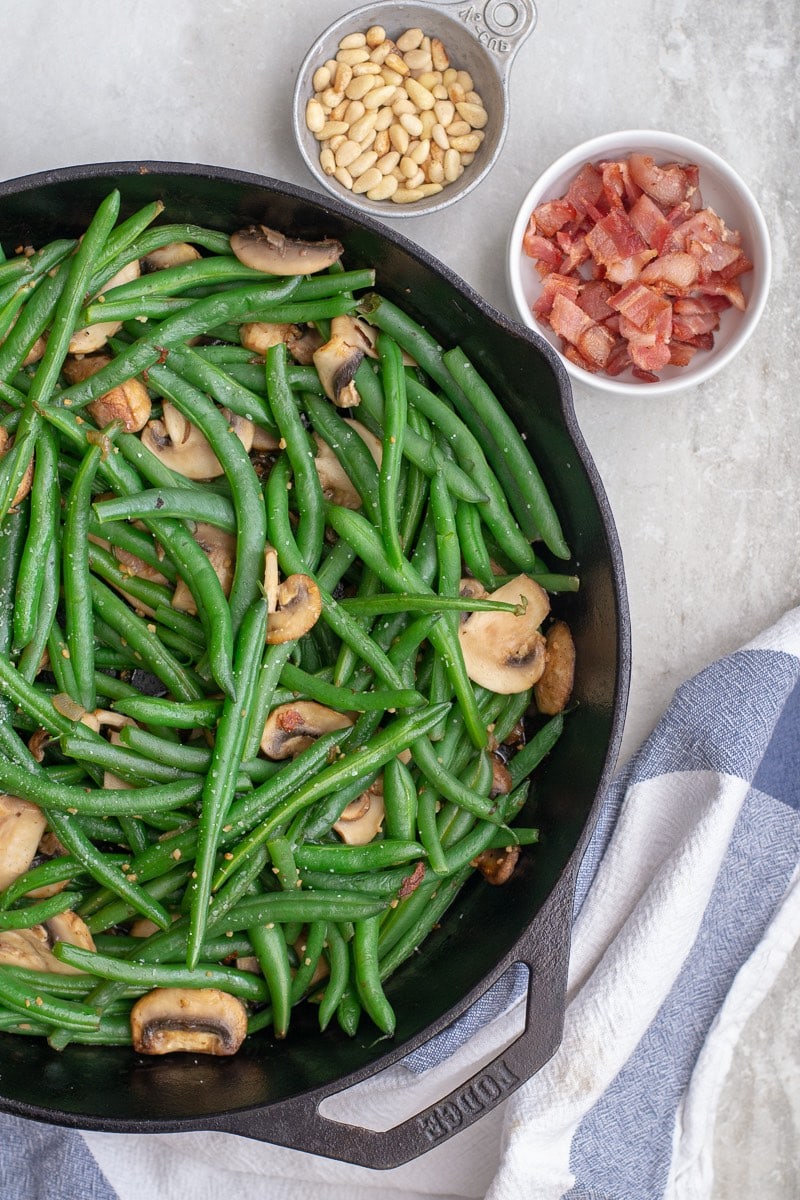 <
If you can't find Shallots
Shallots are usually found near the garlic in the produce section of the grocery store. If you can't find them, though, don't fret. Use half a small onion and you'll be in business.
Shallots have a sweeter, more garlicy flavor, so I usually go with a sweeter, yellow onion as a substitute for shallots.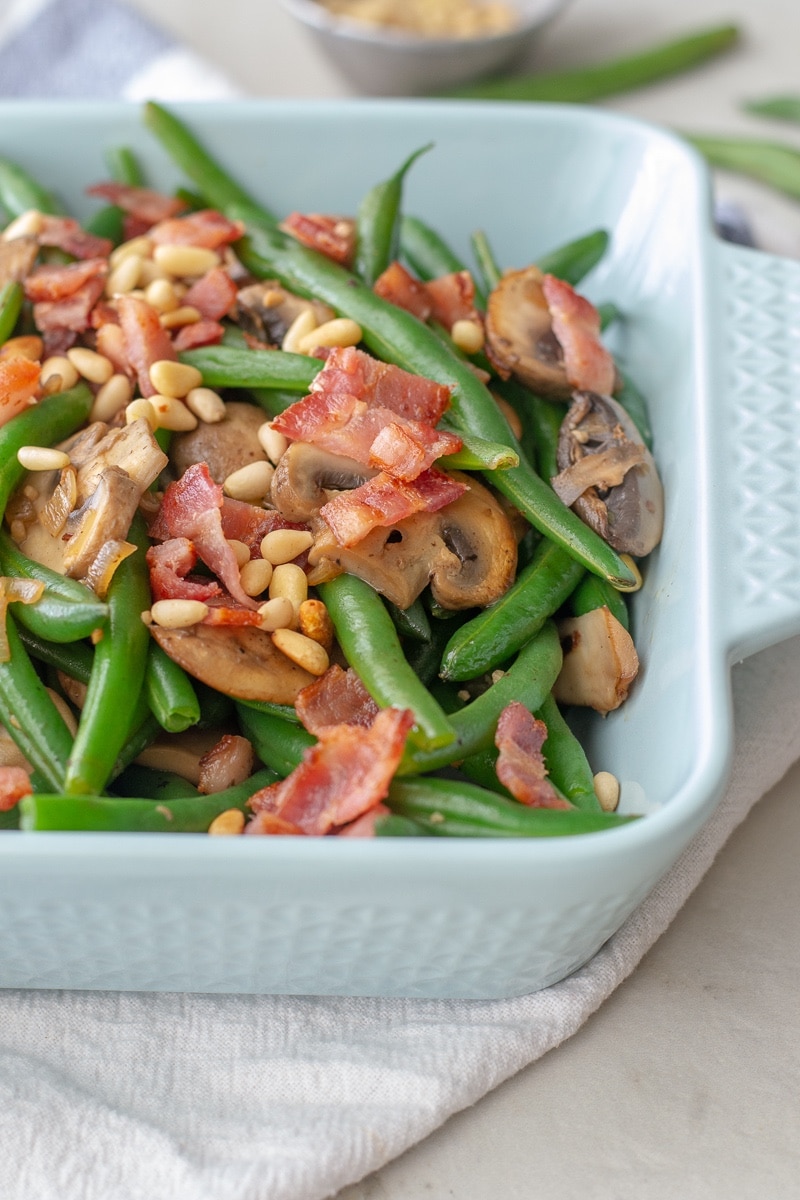 Pine Nuts
The pine nuts add a much needed crunch and smokey flavor to this recipe. If you can't find them , or you don't like them, consider walnuts or pecans.
What to Serve With This Recipe
These are a great side dish with a traditional Thanksgiving turkey dinner. They're also awesome year-round with a classic Lemon Herb Roasted Chicken, Easy Cast Iron Skillet Steak, or Garlic Chili Crispy Chicken Thighs.
Other Tasty Side Dish Recipes
Now to the good part, the recipe! Please pin for later and when you make it, let me know what you think. You can comment below OR find me on Facebook, Twitter, Instagram and Pinterest.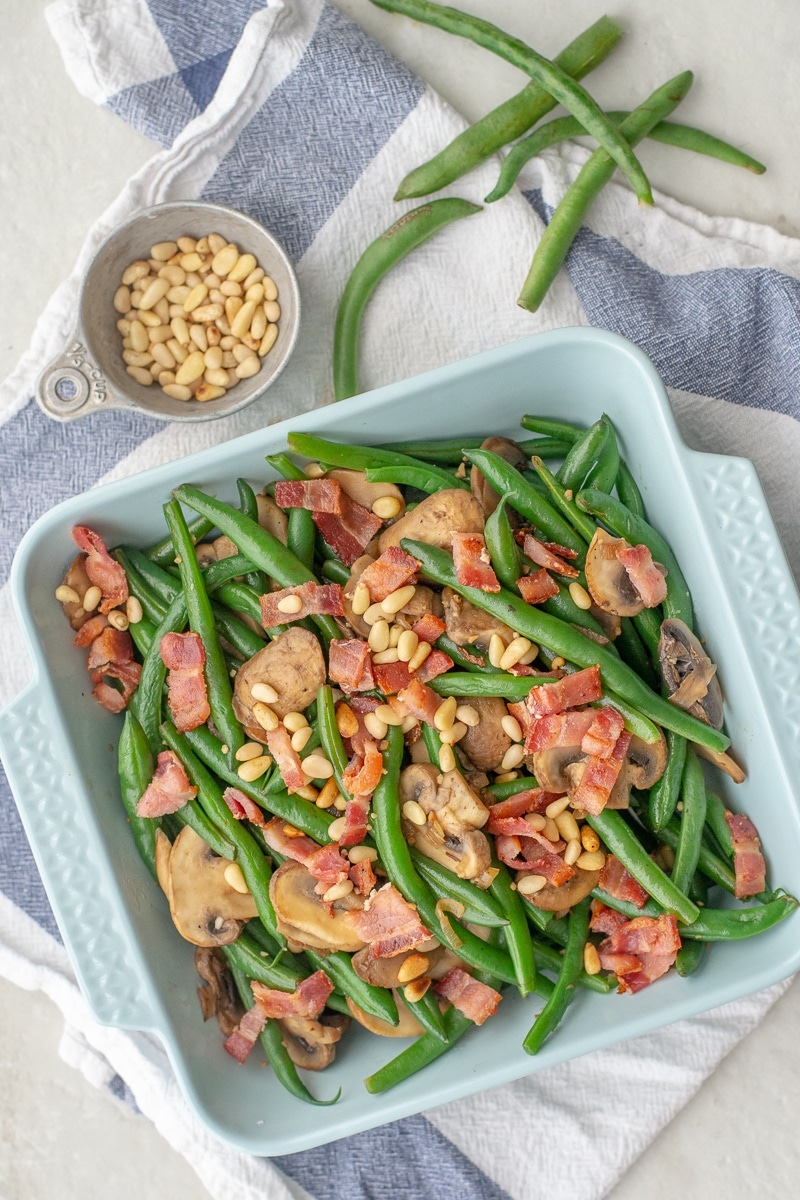 Sautéed Green Beans with Mushrooms and Bacon
Green beans get a huge flavor boost on the stovetop with bacon, mushroom and pine nuts. Blanched green beans are sautéed with bacon, mushrooms, and shallots and then sprinkled with roasted pine nuts to make a tasty and healthy side dish. 
RECIPE COST :
$8.10 / $1.35 per serving
Ingredients
24

ounces

green beans

(cleaned and stems removed)

salt and pepper

3

slices

bacon

1

shallot

(diced)

8

ounces

white mushrooms

(sliced)

2

cloves

garlic

(minced)

3

tablespoons

toasted pine nuts
Instructions
BLANCH THE BEANS: Bring a large stockpot filled halfway with water and 1 tablespoon of sea salt to a boil. Add green beans and blanch for 5 minutes. Remove the beans from the boiling water and immediately place in a bowl of ice water. 

COOK THE BACON: Heat a large skillet over medium heat and add bacon slices. Cook until crisp, around 4 minutes on the first side and 2 minutes on the second side. Remove the bacon from the pan and allow to cool on a plate. Chop when cooled. 

COOK THE SHALLOTS AND MUSHROOMS: Add the shallots and mushrooms and sauté until the mushrooms are golden and release some of their liquid. Add additional ghee if there is not a enough bacon drippings in the pan. Once the mushrooms are finished cooking, add the garlic and stir for 60 seconds, until the garlic is fragrant. Season with additional salt and pepper to taste.

SAUTE THE BEANS: Add the green beans into the skillet with the mushrooms and toss to coat the beans with the mushrooms and drippings. Cook until the beans are just warm, about 2 minutes. Transfer mixture to a serving dish and top with pine nuts and chopped bacon. 
Nutrition
Calories:
117
kcal
Carbohydrates:
10
g
Protein:
6
g
Fat:
7
g
Saturated Fat:
1
g
Polyunsaturated Fat:
2
g
Monounsaturated Fat:
2
g
Cholesterol:
6
mg
Sodium:
633
mg
Potassium:
411
mg
Fiber:
4
g
Sugar:
5
g
Vitamin A:
300
IU
Vitamin C:
8.3
mg
Calcium:
40
mg
Iron:
1.4
mg
Nutrition Information Disclaimer
RECIPE EQUIPMENT
---
**This blog post contains affiliate links to products that I actually use and that align with my values. See my affiliate disclaimer here.