---
Summer orzo salad is a fresh and easy side to pair with any main dish. Fresh and crisp asparagus, pan-seared corn on the cob, and sweet cherry tomatoes are tossed with orzo and a lemon herb vinaigrette.
This recipe goes great with baked chicken breasts, quick garlic sautéed shrimp or crispy garlic chili chicken thighs.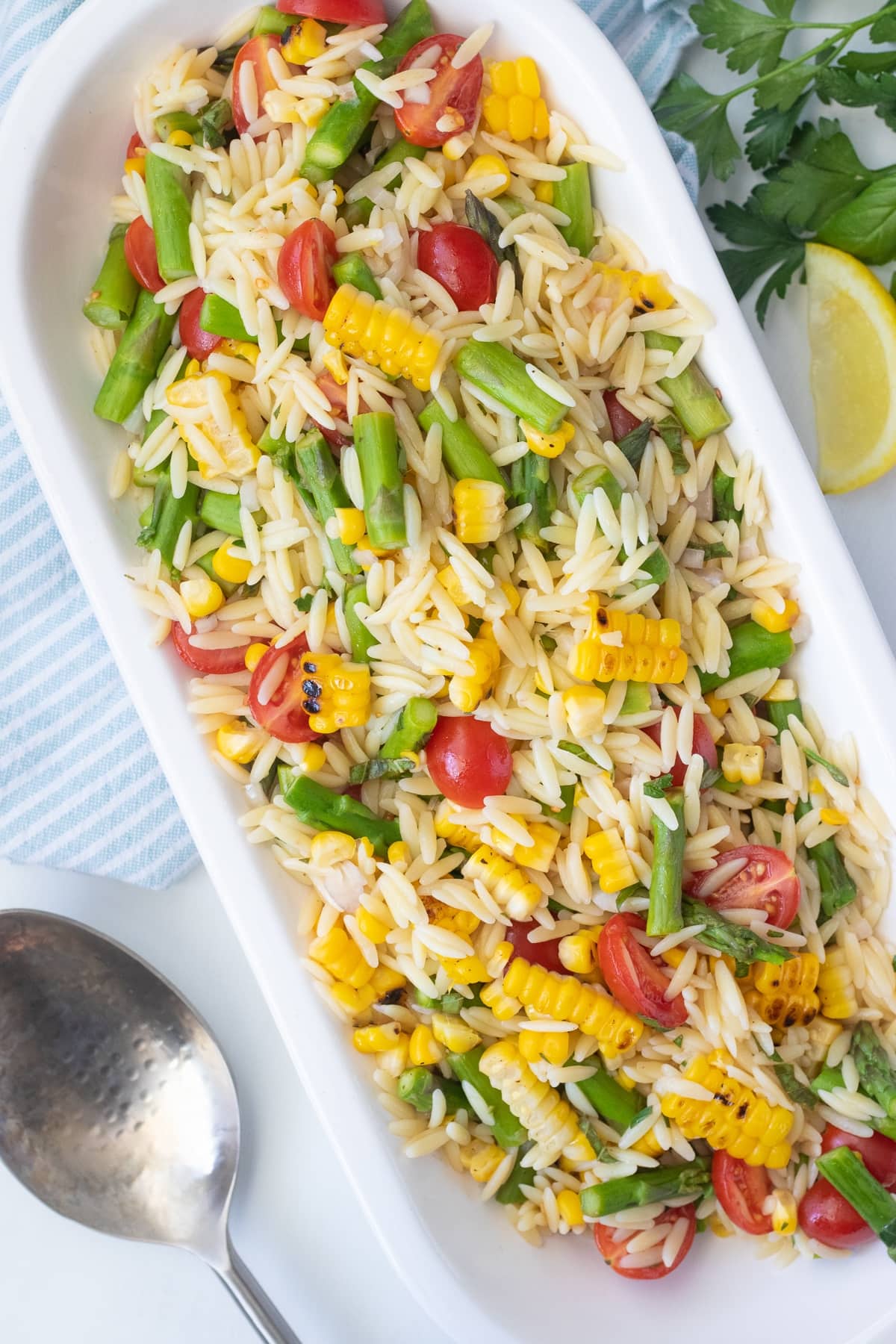 Quick Orzo Salad
This fresh salad can be made in under 30 minutes, making it perfect for weeknight dinners. This recipe can be made all in one pot, so we're cutting down on those dishes too.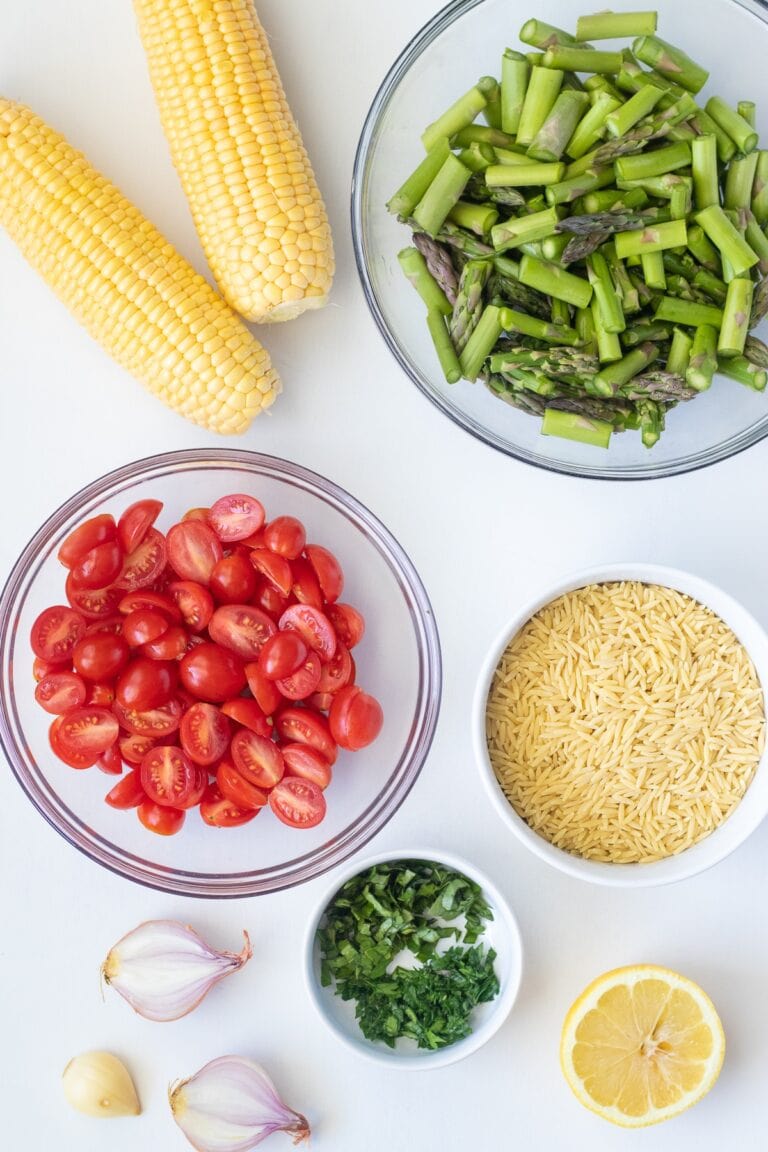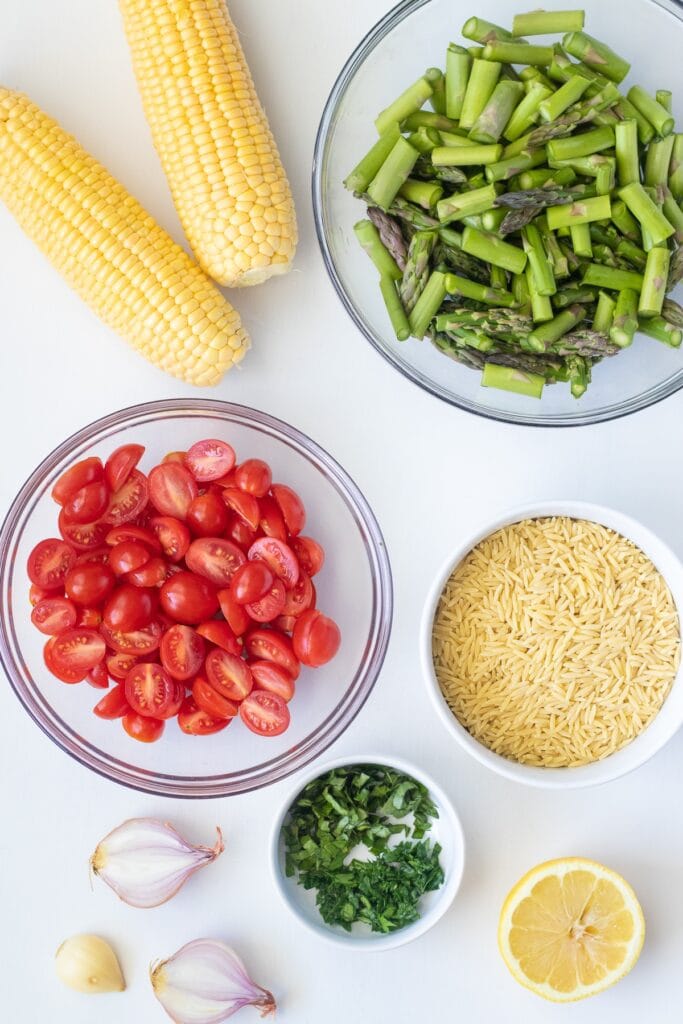 Ingredients and Substitutions
Shallots. Shallots are a smaller, sweeter onion that has a garlicky flavor to it. I used one small shallot in the dressing, but if you can't find any, feel free to use a tablespoon or two of minced red or white onion.
Parsley. Parsley gives this salad a great fresh taste. If you don't have any fresh on hand, use a teaspoon of dried.
Basil. I love how basil works with all the other flavors in this salad, but chives, dill, or cilantro would also be delicious. Again - if you only have dried herbs on hand, go with 1 teaspoon.
Orzo. Orzo is a micro-pasta that is shaped like a long-grain, but flat, rice. You will find it in the pasta aisle. Unfortunately, there really isn't a great stand-in for orzo that has the same cooking time for this recipe.
Asparagus. Cut into one-inch, easy-to-eat chunks, asparagus is the perfect summer veggie for this salad. Zucchini would also make a great substitute.
Fresh Corn. I love the crispness of fresh corn, plus you can get some smokiness when you pan sear it before cutting it off the cobb. If you're in a pinch, use a bag of frozen corn. You'll just want to add the corn in to just get it warm before straining the orzo and asparagus. You can also skip the pan-searing step.
Tomatoes. I used cherry tomatoes, but grape tomatoes would work just as well and probably save a buck or two. You can really use any tomatoes cut into bite-sized peices here. A large heirloom or two Romas, just cut them up and throw them in.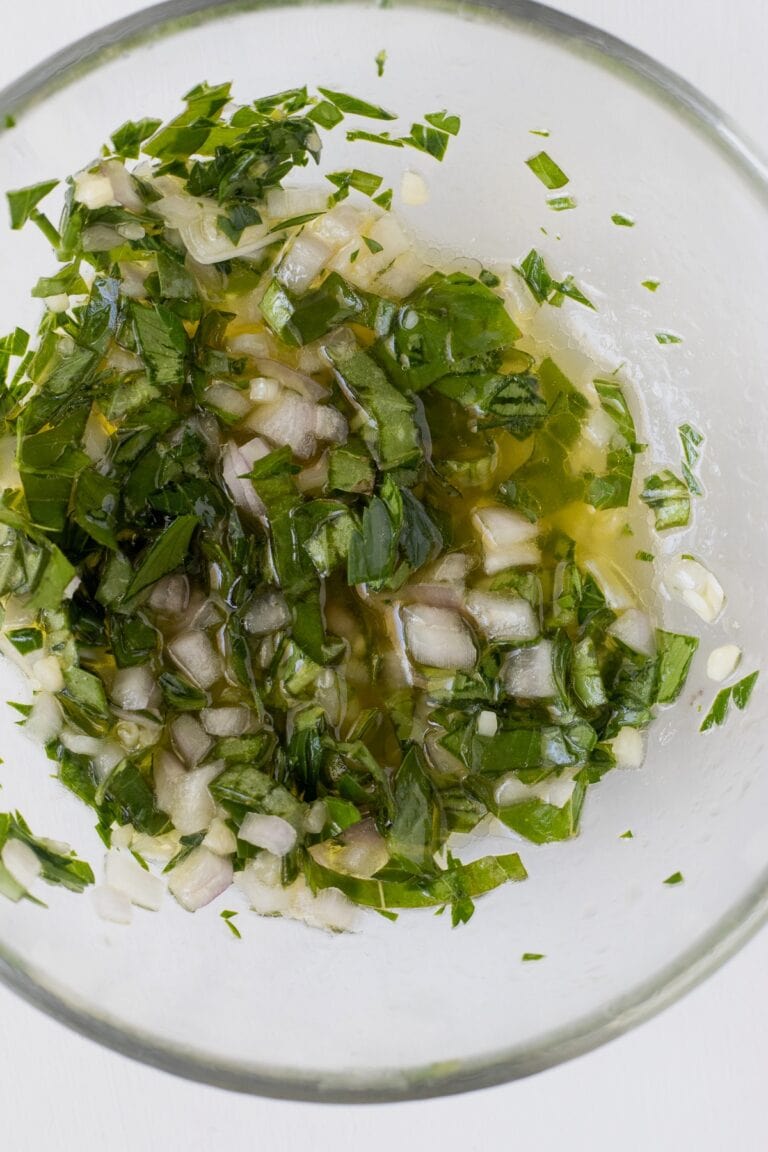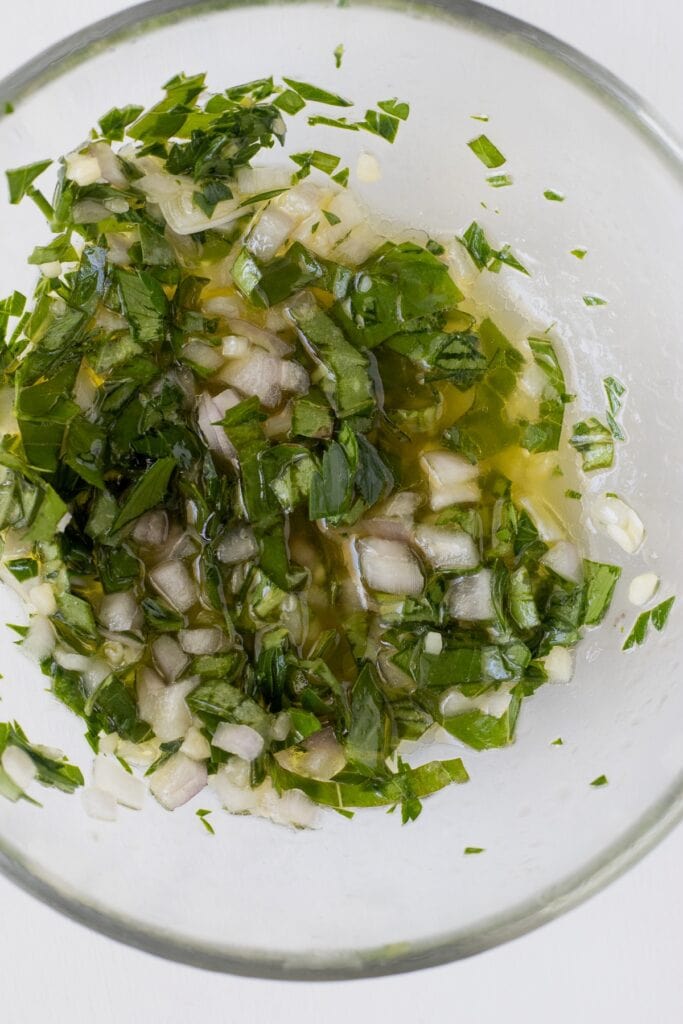 Lemon Vinaigrette
The dressing for this salad is a simplified version of my Lemon Herb Vinaigrette.
All you have to do whisk together the juice of one large lemon and 2 tablespoons extra virgin olive oil in a small bowl.
After those have fully incorporated with one another, finely mince a small shallot, a clove of garlic, some fresh basil and parsley, and stir those into the lemon juice and oil mixture.
Cover your bowl and let the vinaigrette sit in the fridge. That will allow all of the flavors to really permeate one another to make a more cohesive flavor.
<
One Pan Recipe
One of my favorite things ever is a one-pan recipe. It definitely means less clean up for me, but it usually also means less time. I used one 12-inch frying pan with a lid to do most of the work required for this recipe.
First, add the orzo, 3 cups of water and 1 teaspoon of salt to your pan. Bring that to a boil.
Next, reduce the temperature until the water is just simmering. Then add the corn and asparagus to the pan. Let everything simmer, covered for 8 total minutes. At the 4 minute mark, grab some tongs and flip the corn over.
Give your orzo a taste and make sure it's cooked to your liking, if it is grab the corn and set it aside and drain everything else. You'll need to make sure to use a finer strainer so that the orzo doesn't slip out and end up down the drain.
Heat a skillet over high heat for about 5 minutes. While it heats up, brush your corn with some olive oil and season it with salt and pepper. When your pan is extra hot, add the corn and sear it for 2 minutes per side with the heat on high. That's how you'll get the smokey sear on the outside of the corn. Let the corn cool for a bit and then cut off the kernels for the salad.
Finally - toss everything together. The orzo, asparagus, corn kernels, cherry tomatoes, and the vinaigrette. Season with a little extra salt and pepper to taste and you're all done.
I did cheat just a little by using cast iron to sear my corn, but you can totally do everything in one pan. Just leave the orzo and asparagus in a collendar while you sear the corn in the same pan.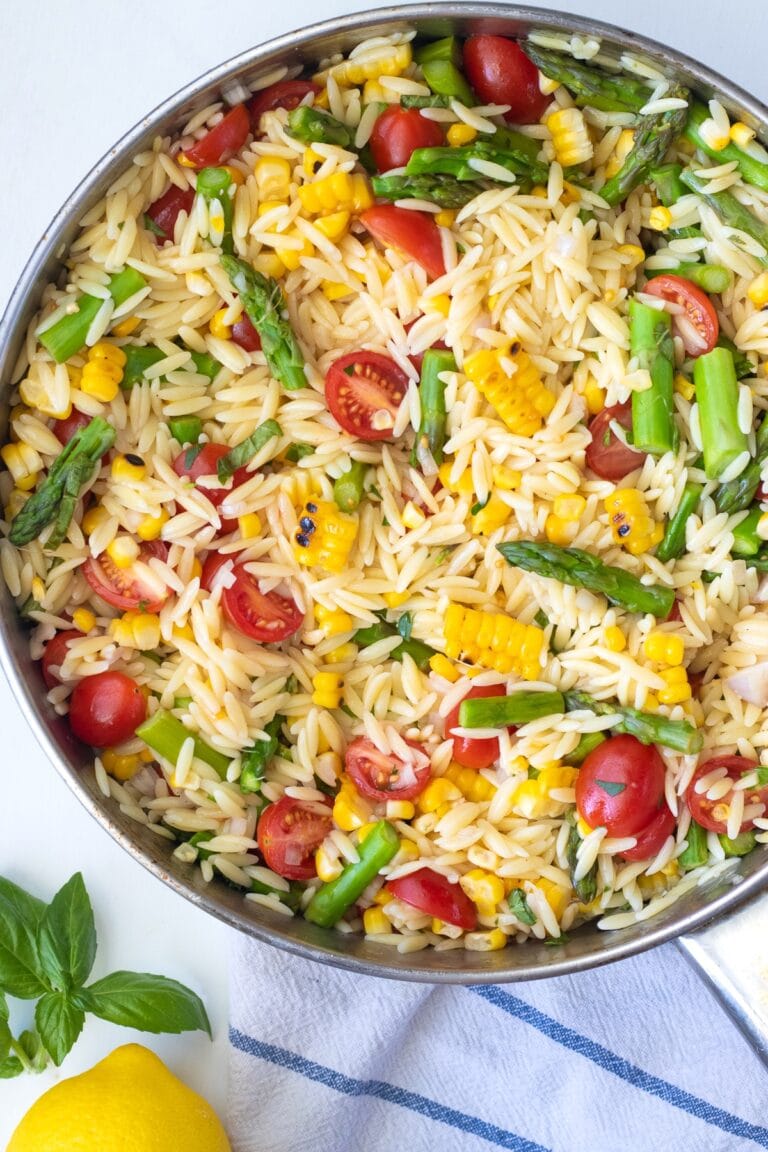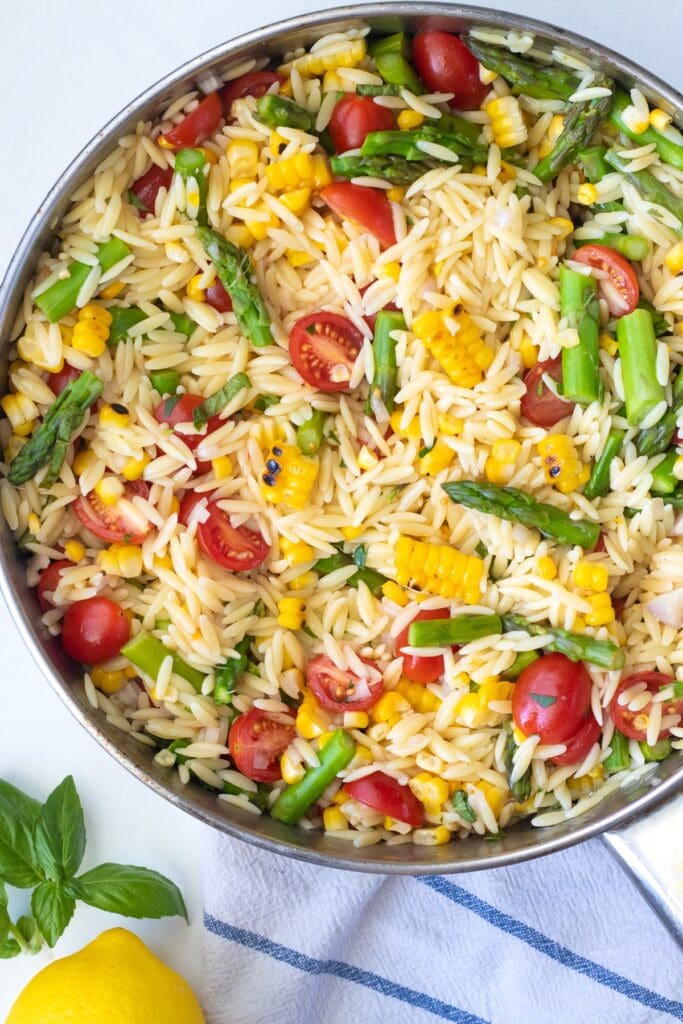 Serving and Storage
Hot or cold? This salad is delicious both warm (fresh out of the skillet) or cold. I like to keep the tomatoes just barely warm so they stay firm and juicy.
Leftovers. Store leftovers in an airtight container in the fridge for up to 3 days.
Make it ahead. Because this recipe is great cold, it's perfect for a make ahead dinner. Simply make it up to 24 hours ahead and you'll be good to go!
---
Other Summer Recipes You Might Like
---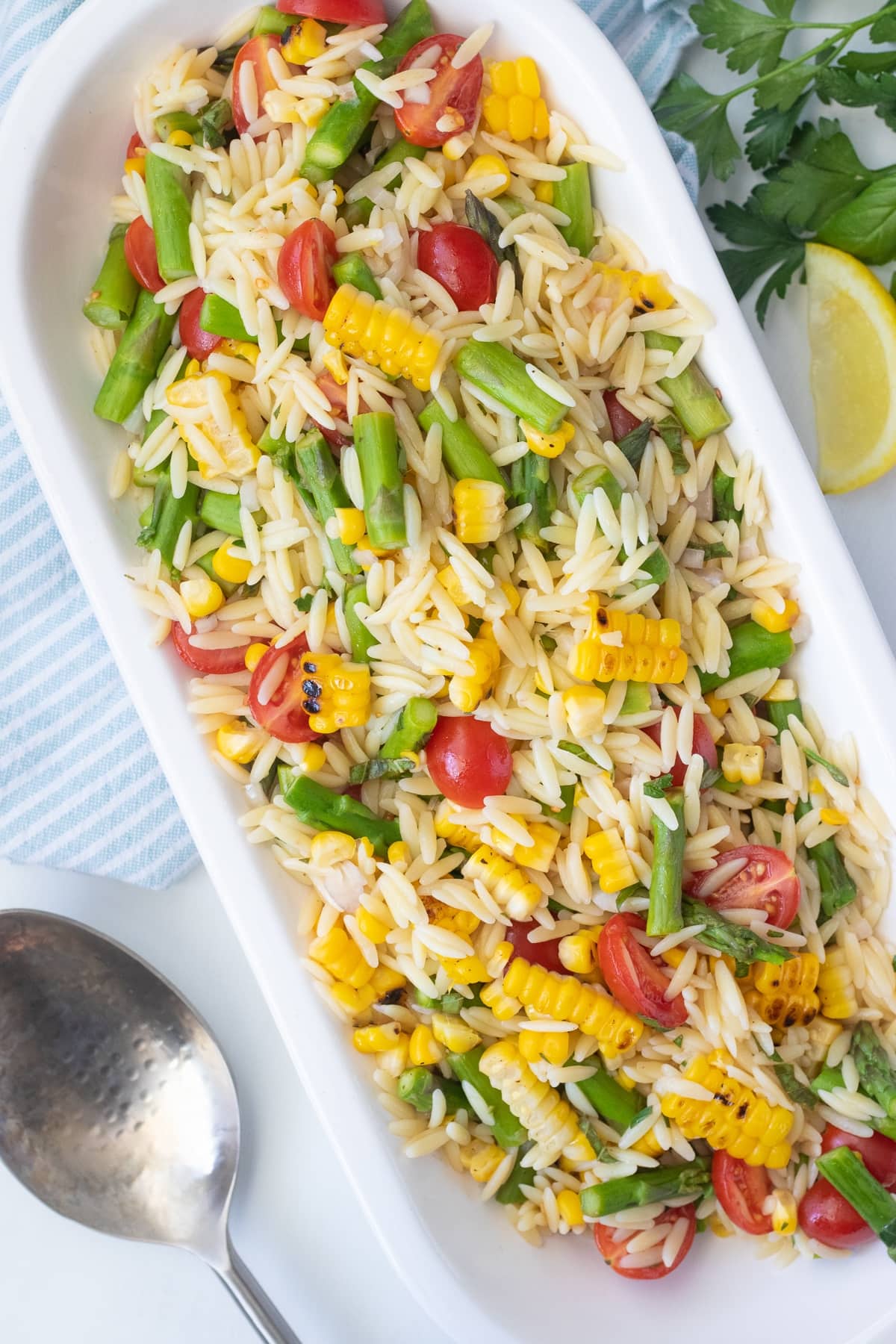 Summer Orzo Salad
Summer orzo salad is a fresh and easy side to pair with any main dish. Fresh and crisp asparagus, pan-seared corn on the cob, and sweet cherry tomatoes are tossed with orzo and a lemon herb vinaigrette.
RECIPE COST :
$8.75 / $1.46
Ingredients
1

garlic clove

(minced)

1

small

shallot

(minced)

1

tablespoon

parsley

(minced)

1

tablespoon

basil

(minced)

2

tablespoon

extra virgin olive oil

(plus more for searing the corn)

juice from 1 large lemon

1 ½

cups

orzo

(uncooked )

salt

1

pound

asparagus

(trimmed and cut into 1-inch pieces)

2

ears of corn

(shucked and cleaned)

1

pint

grape or cherry tomatoes

(halved)
Instructions
MAKE THE VINAIGRETTE: In a small bowl, whisk together the olive oil and lemon juice. Then add the shallot, basil, parsley, and garlic stir together and cover the bowl with plastic wrap. Refrigerate while the salad comes together.

COOK THE ORZO, CORN, & ASPARAGUS: In a large skillet, add the orzo, 3 cups of water, and 1 teaspoon of salt. Bring to a boil, then reduce the heat to a slow simmer. Add the asparagus and whole corn on the cob, cover, and simmer for 8 minutes. Stir and turn the corn over halfway through. Drain the remaining water with a fine strainer and set aside.

PAN SEAR THE CORN: Heat a skillet large enough to hold the corn on the cob over high heat for at least 5 minutes. Brush the corn with olive oil and sprinkle with salt and pepper. Place the corn in the hot pan and sear over high heat for 2 minutes per side or until sear marks appear on the corn. Allow the corn to cool for 2-3 minutes, then cut the kernels off the cob.

COMBINE THE SALAD INGREDIENTS: In a skillet or large bowl, combine the orzo, asparagus, corn kernels, tomatoes, and the vinaigrette. Stir to coat all the ingredients in the dressing. Add additional salt and pepper if needed.

SERVE AND STORE: Serve the salad warm, or refrigerate and serve cold later. Store the salad in an airtight container in the fridge for up to 3 days.
Nutrition
Calories:
269
kcal
Carbohydrates:
47
g
Protein:
9
g
Fat:
6
g
Saturated Fat:
1
g
Polyunsaturated Fat:
1
g
Monounsaturated Fat:
3
g
Sodium:
191
mg
Potassium:
283
mg
Fiber:
5
g
Sugar:
5
g
Vitamin A:
51
IU
Vitamin C:
13
mg
Calcium:
25
mg
Iron:
13
mg
Nutrition Information Disclaimer
RECIPE EQUIPMENT
**This blog post contains affiliate links to products that I actually use and that align with my values. See my affiliate disclaimer here.
PIN IT NOW, MAKE IT LATER