---
Vegetable steamed rice is light and fluffy steamed white rice with a flavor boost from some added veggies. The perfect side dish for dinner.
This goes great with healthy baked chicken breast or honey sesame pork tenderloin.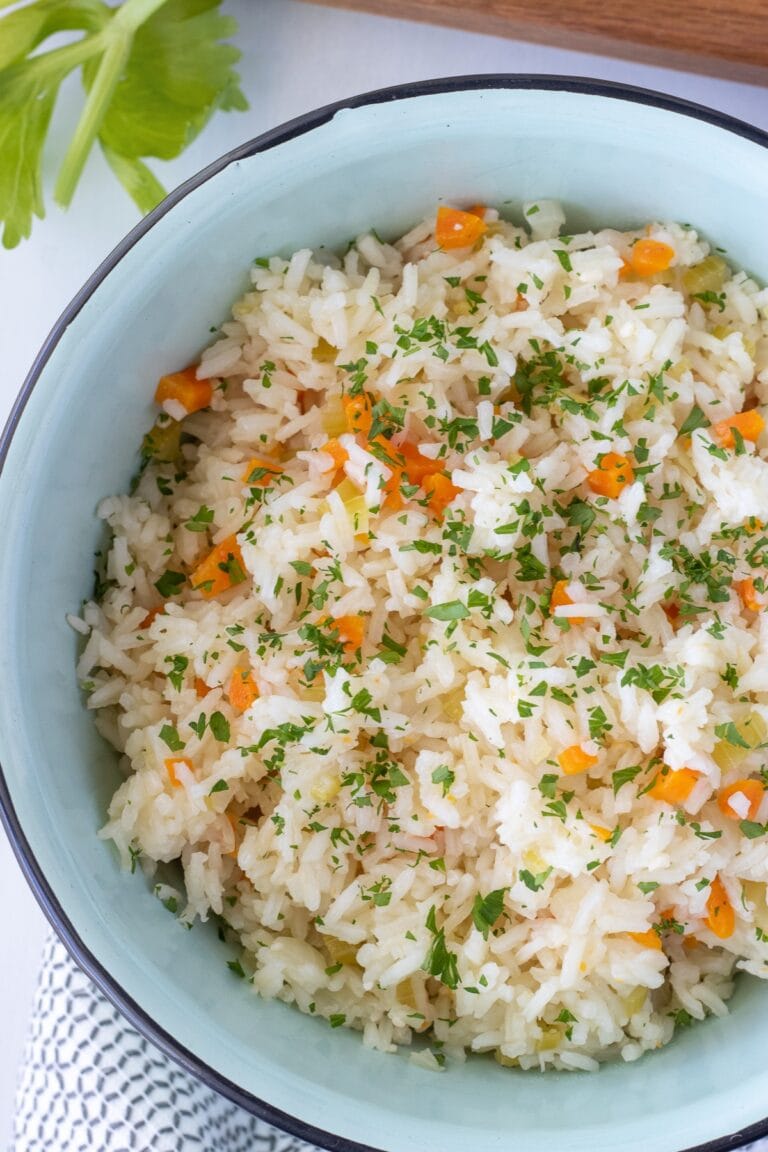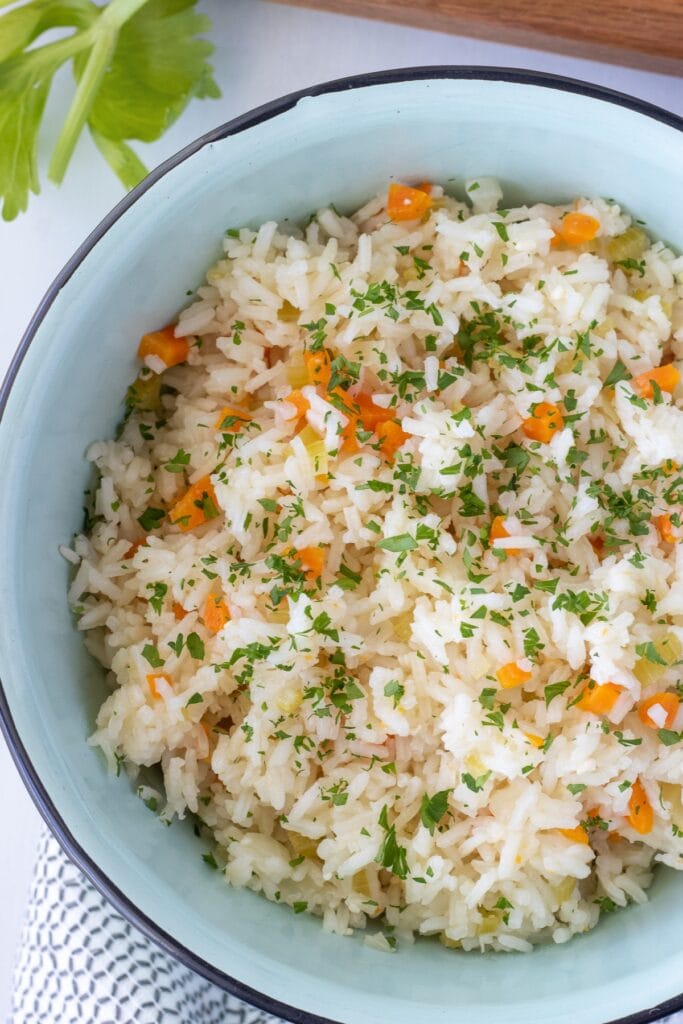 How to Flavorful Steamed Rice with Vegetables
This rice is one of my favorite ways to change up plain steamed white rice. It's healthy, flavorful and really simple to make.
What is a Mirepoix?
A french word for the combination of carrots, onions, and celery used as a flavor base for many recipes.
Sauteing a quick mirepoix (meer-pwah) and steaming it with the rice gives basic rice the same flavors that give your Thanksgiving stuffing its deliciousness.
Ingredients and Substitutions
Butter. Butter gives this rice a ton of rich flavor without a ton of calories, if you are avoiding dairy, try ghee, olive oil or coconut oil.
Long grain white rice. White rice is inexpensive, tasty, and easier to digest than a lot of other grains. Different types of rice have different water to grain ratios as well as cook times. Feel free to substitute, but disclaimer: you will need to alter the amount of water and steam time to get it just right.
Veggies. While the combination of onion, celery, and carrots is classic, you can switch it up. Try bell peppers, leeks, or zucchini to mix things up.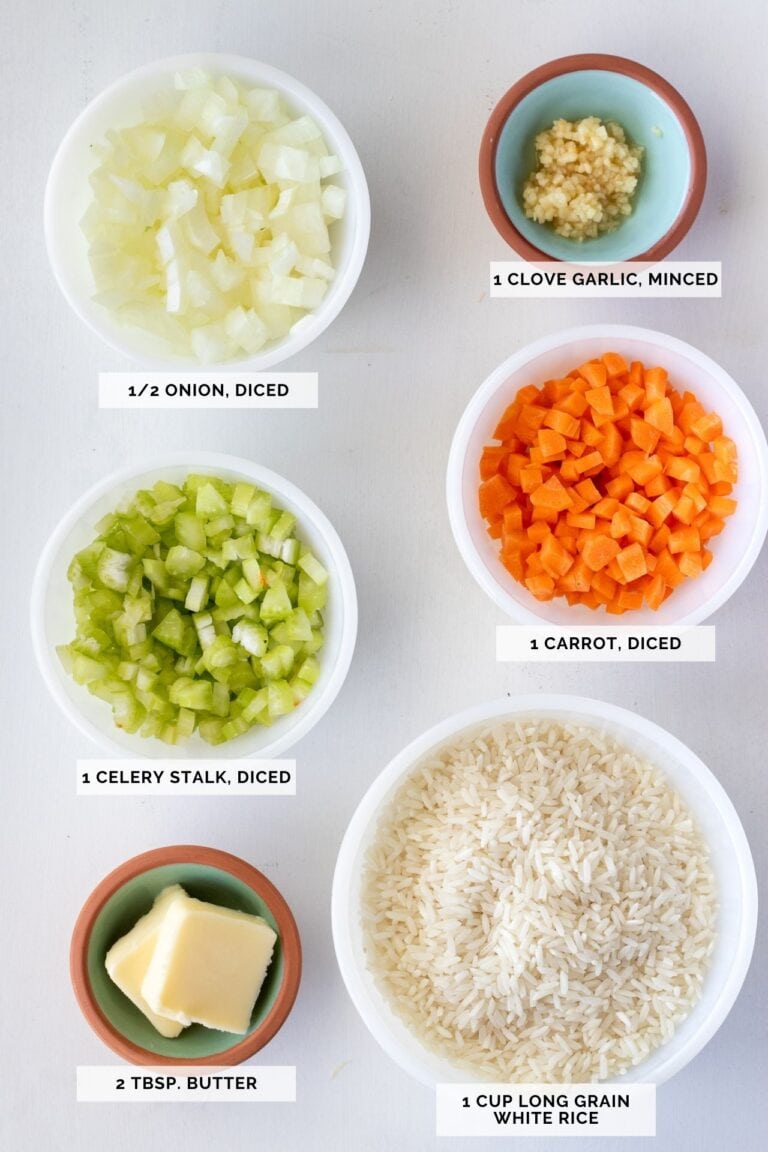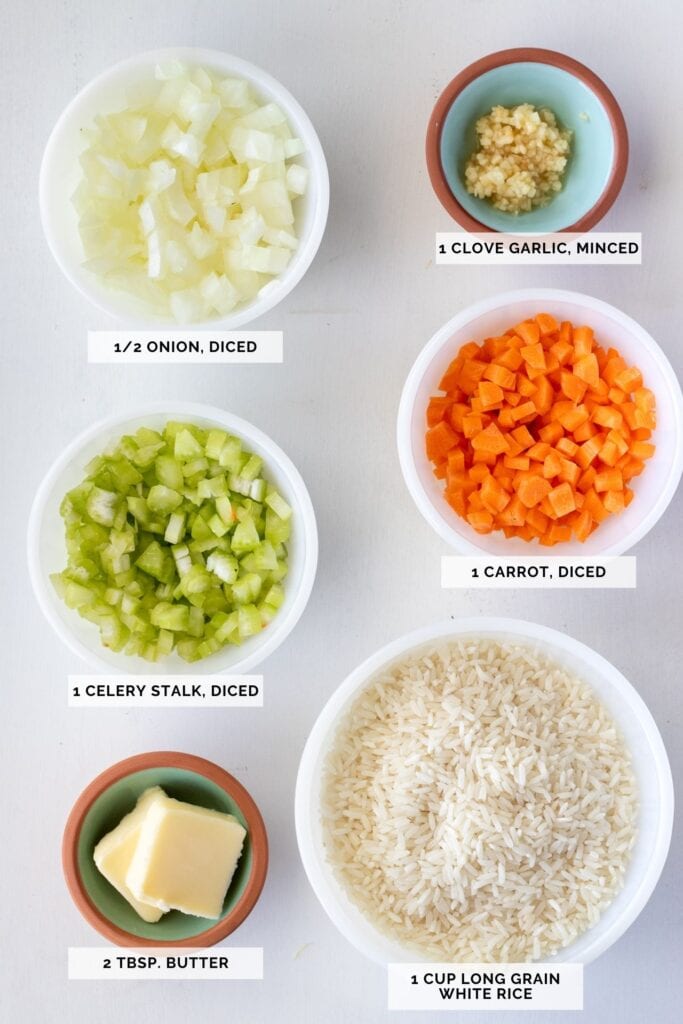 Instructions and Tips
Saute the veggies
Heat a medium-sized pot over medium heat and melt the butter. Add the veggies and cook until they are just soft. You don't want to fully cook them, but enough to release all those delicious flavors.
Next you add a teaspoon of salt and a minced clove of garlic and stir constantly for about 30 seconds. As soon as you smell that garlic, add the rice to the pan.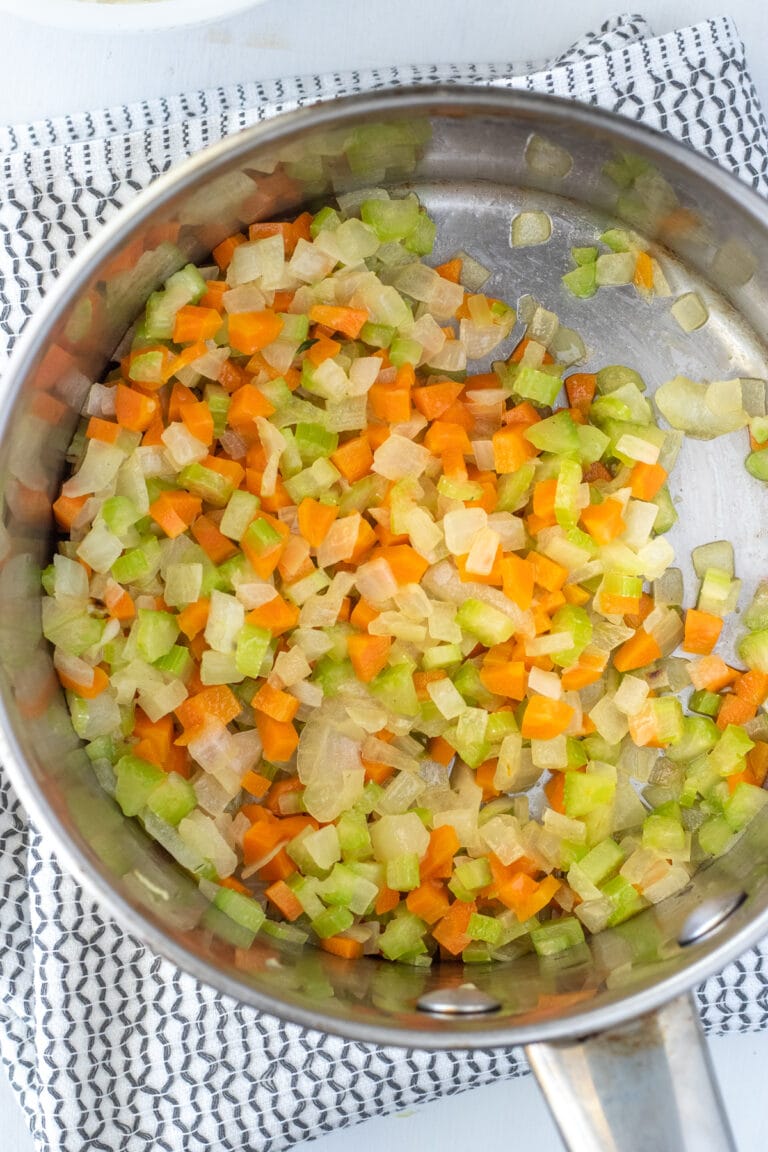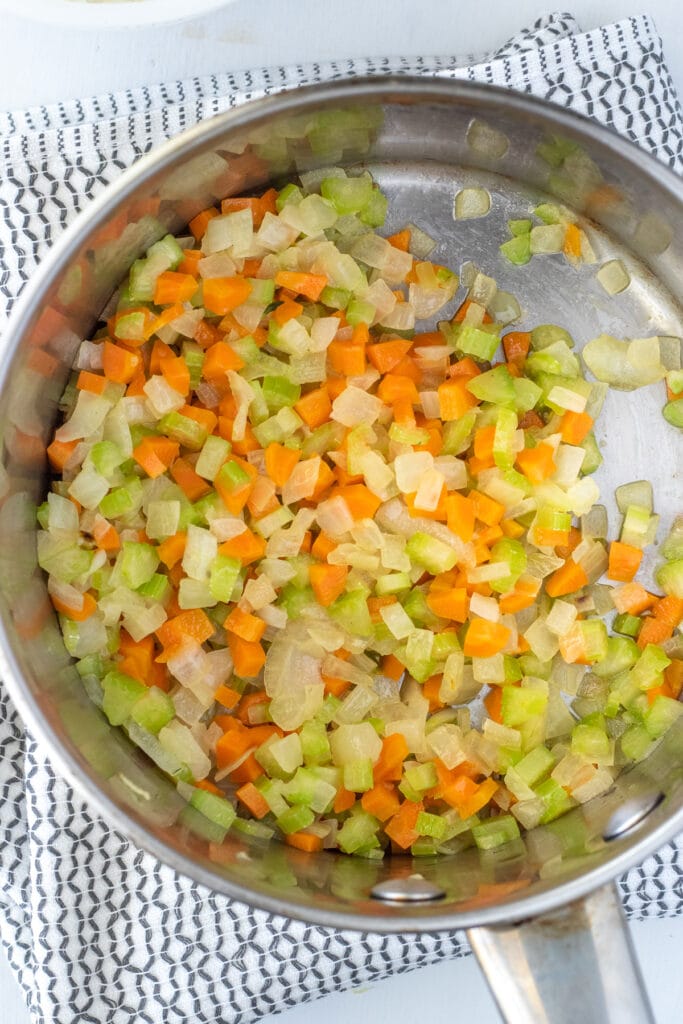 Toast the Rice
Toasting the rice before steaming allows the flavors of the butter and vegetables to coat all of the rice grains and also give the grains a toasted, nutty flavor.
Cook Time
As mentioned in the ingredients section, each type of rice has different water to rice ratios as well as cook time. For long-grain white rice plus the veggies, this recipe calls for a 1:2 rice to water ratio and a 20 minute simmer time.
Keep in mind, if you do decide to change to a Jasmine or brown rice, you will need to monitor the moisture and cook time.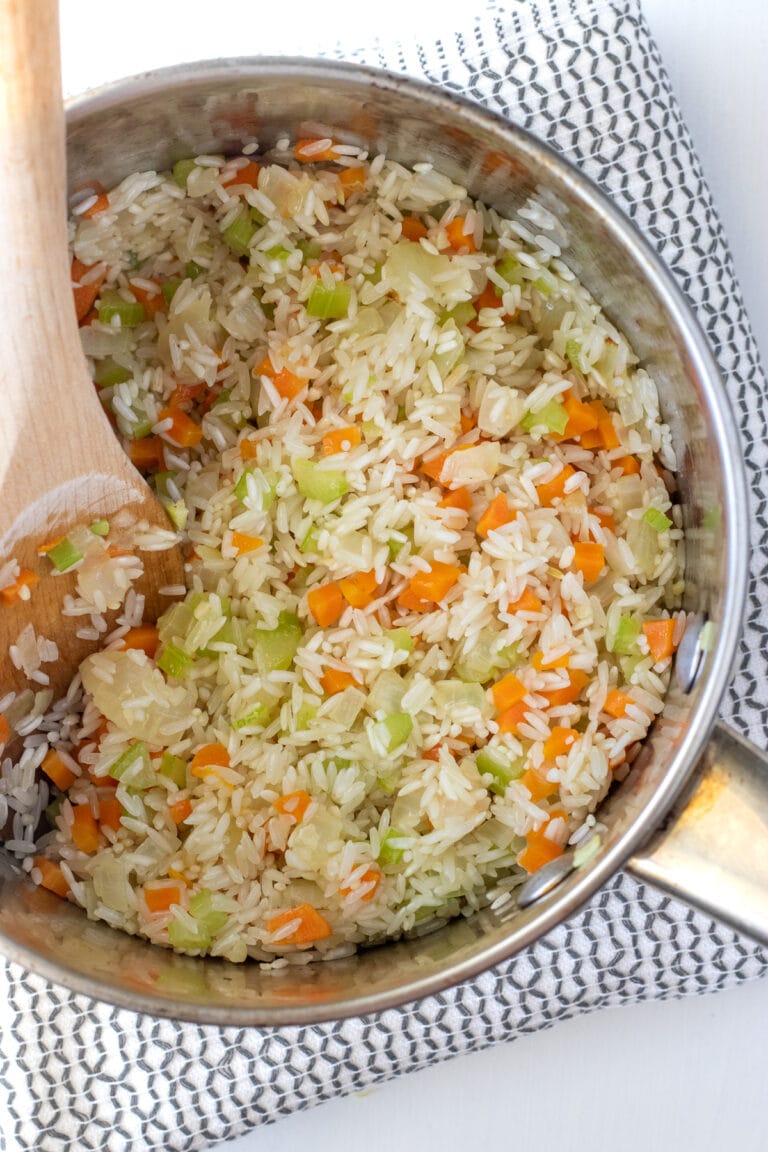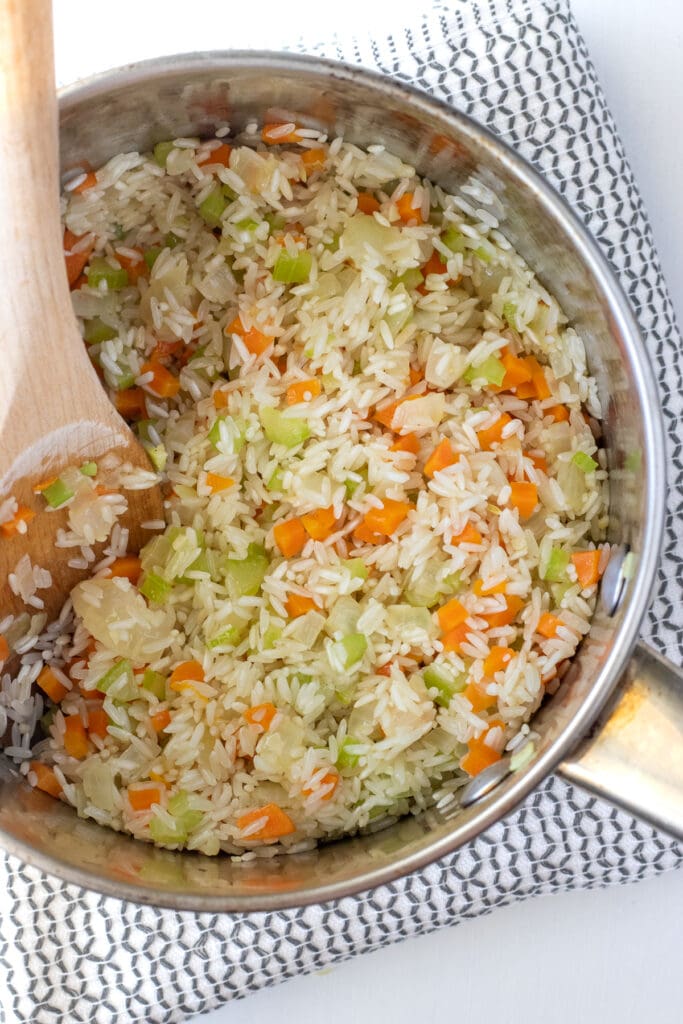 <
Storage
Storage and Reheating: Rice stores well in an airtight container for up to 5 days. If you find your rice has dried out after a couple of days in the fridge, simply add a teaspoon of water per serving, cover with a damp paper towel and microwave for 30-45 seconds per serving.
Freezing: This is a great recipe to double batch and freeze for a future night when you're in a pinch. Cool the rice and add it to a freezer-safe container like a zip-top bag and remove any excess air. It can be frozen for up to 2 months.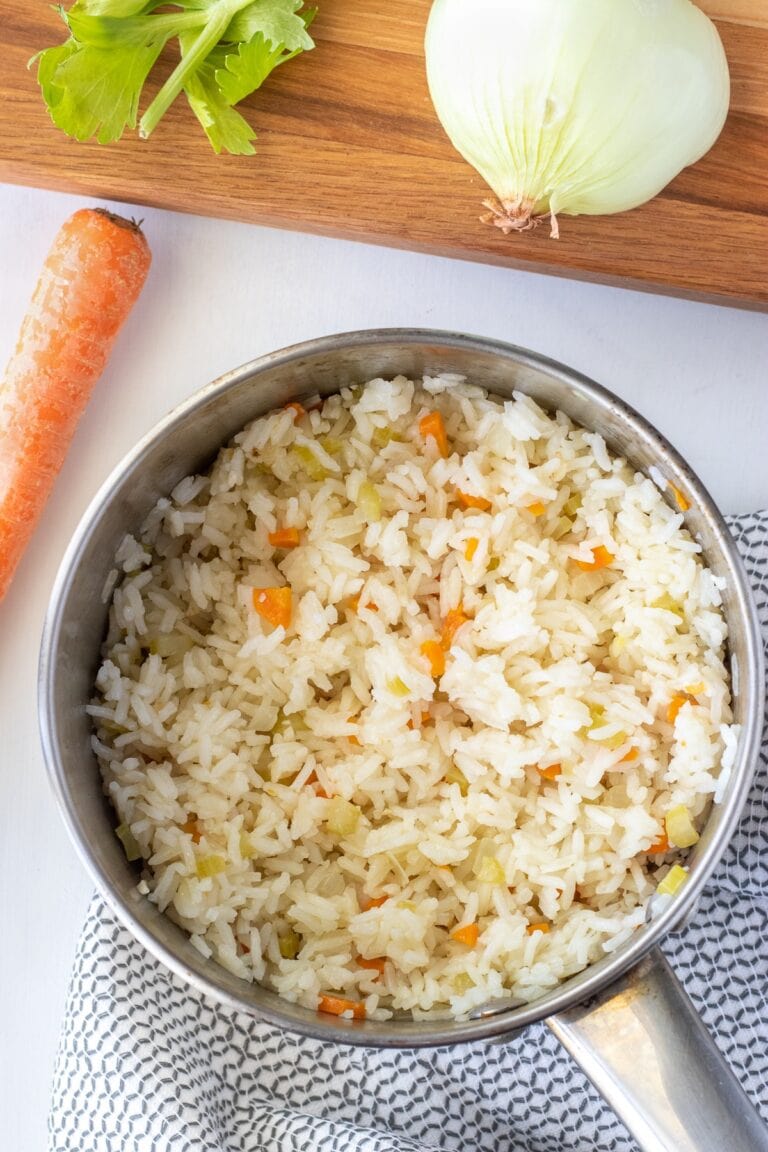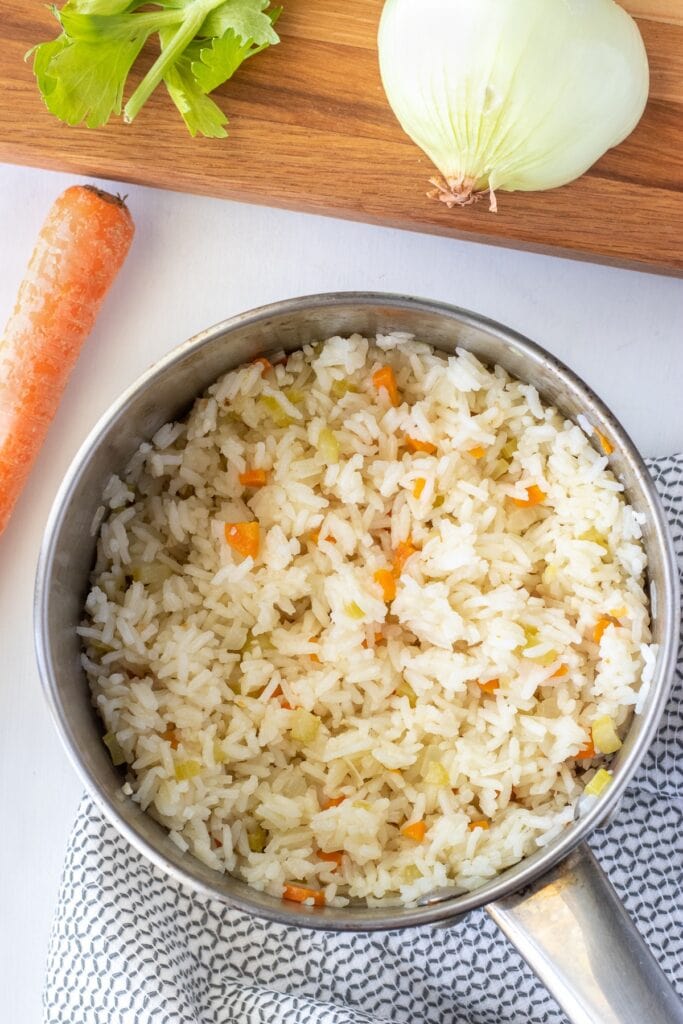 ---
Other Side Dish Recipes Recipes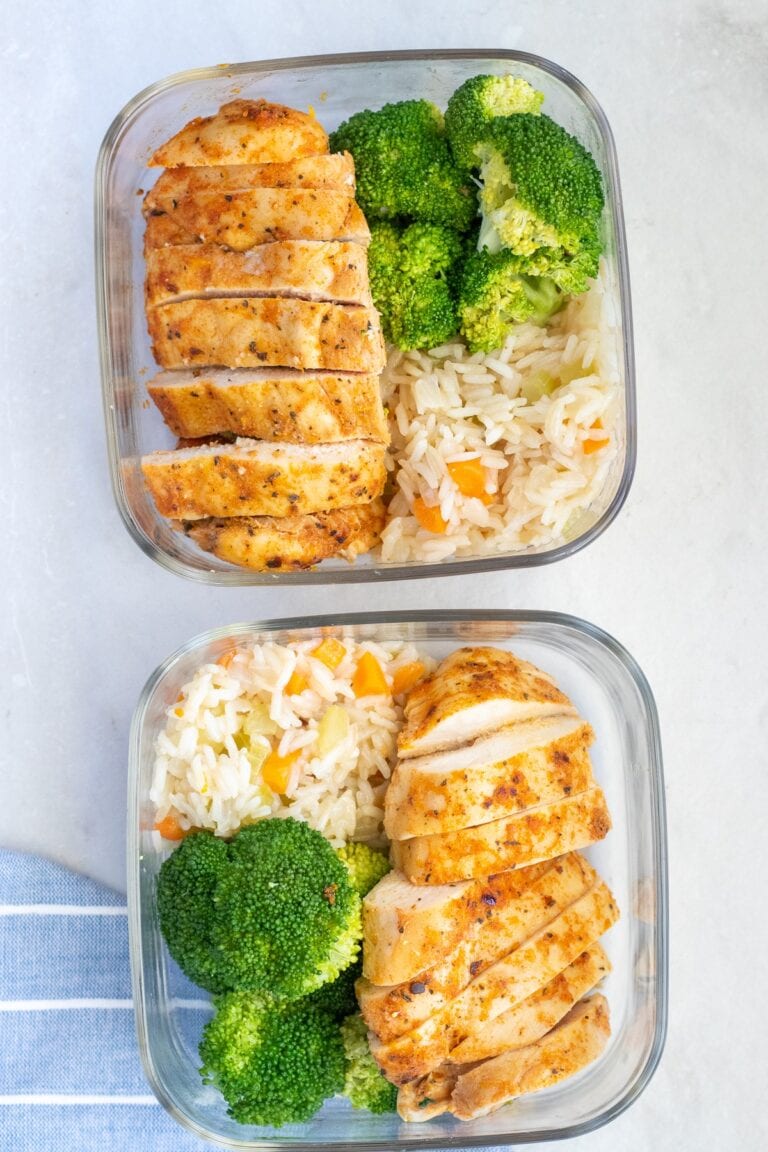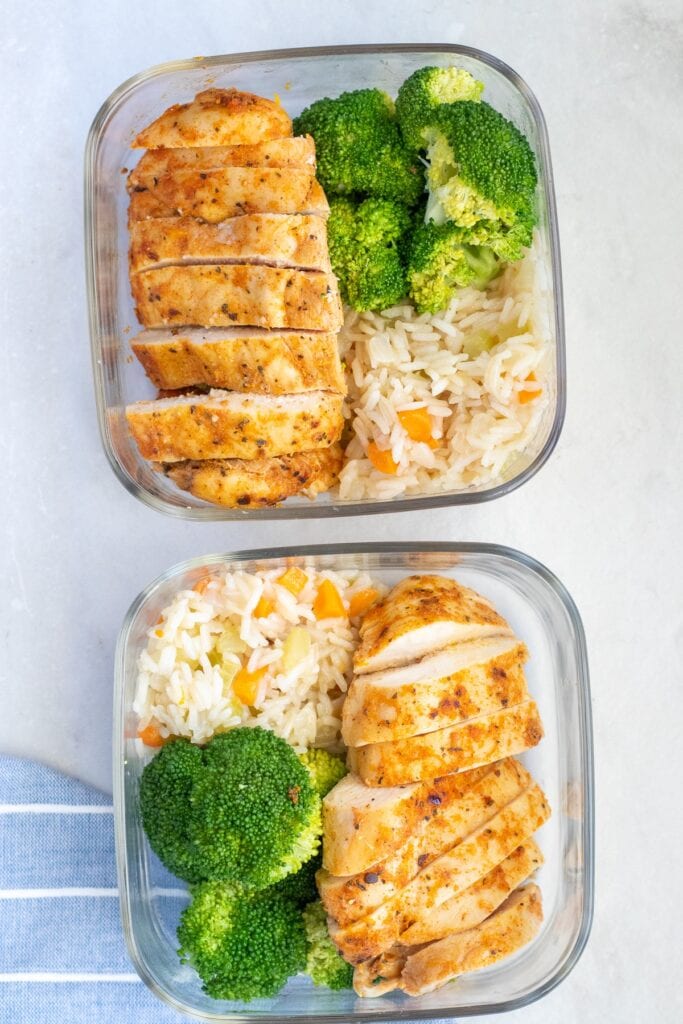 ---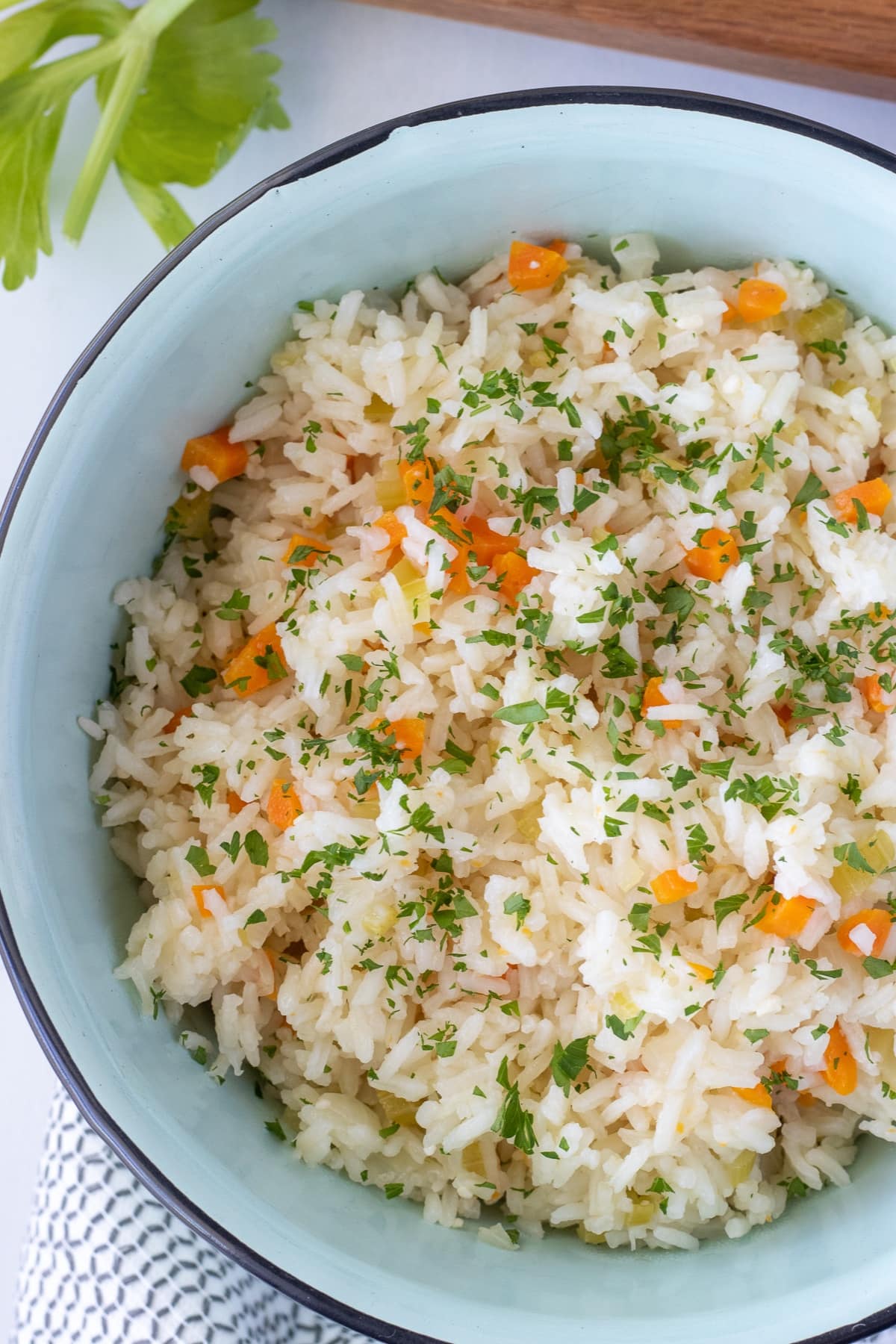 Easy Veggie Steamed Rice
Light and fluffy steamed white rice with a flavor boost from some added veggies. The perfect side dish for dinner.
RECIPE COST :
$1.35 / .34¢ PER SERVING
Ingredients
2

tablespoons

butter

1

carrot

(finely diced)

1

celery stalk

(finely diced)

½

small onion

(finely diced)

1

clove

garlic

(minced)

1

cup

long-grain white rice

1

teaspoon

sea salt
Instructions
SAUTÉ THE VEGGIES: In a medium saucepan, melt the butter. Add the carrot, celery, and onion to the butter and sauté until slightly soft, about 3 minutes.

TOAST THE RICE: Add the garlic to the pan and stir continuously for 30 seconds. Add the rice and salt to the pan and stir to coat in the remaining butter. Allow the roast to toast for 3-4 minutes or until it starts to become translucent, stirring occasionally.

SIMMER AND STEAM: Add 2 cups of water and stir the rice. Bring the water to a boil, then reduce to a very slow simmer and cover. Continue simmering the rice covered for 18-20 minutes or until the rice is tender.

FLUFF AND SERVE: Remove the lid and fluff the rice with a fork, season with additional salt as needed. Serve hot.
Nutrition
Calories:
220
kcal
Carbohydrates:
39
g
Protein:
4
g
Fat:
6
g
Saturated Fat:
4
g
Monounsaturated Fat:
2
g
Cholesterol:
15
mg
Sodium:
299
mg
Potassium:
112
mg
Fiber:
1
g
Sugar:
2
g
Vitamin A:
93
IU
Vitamin C:
4
mg
Calcium:
14
mg
Iron:
8
mg
Nutrition Information Disclaimer
RECIPE EQUIPMENT
**This blog post contains affiliate links to products that I actually use and that align with my values. See my affiliate disclaimer here.
PIN IT NOW, MAKE IT LATER