---
Roasted rainbow carrots are cooked in the oven with butter and garlic, then tossed with fresh orange juice and parsley for a sweet and salty flavor.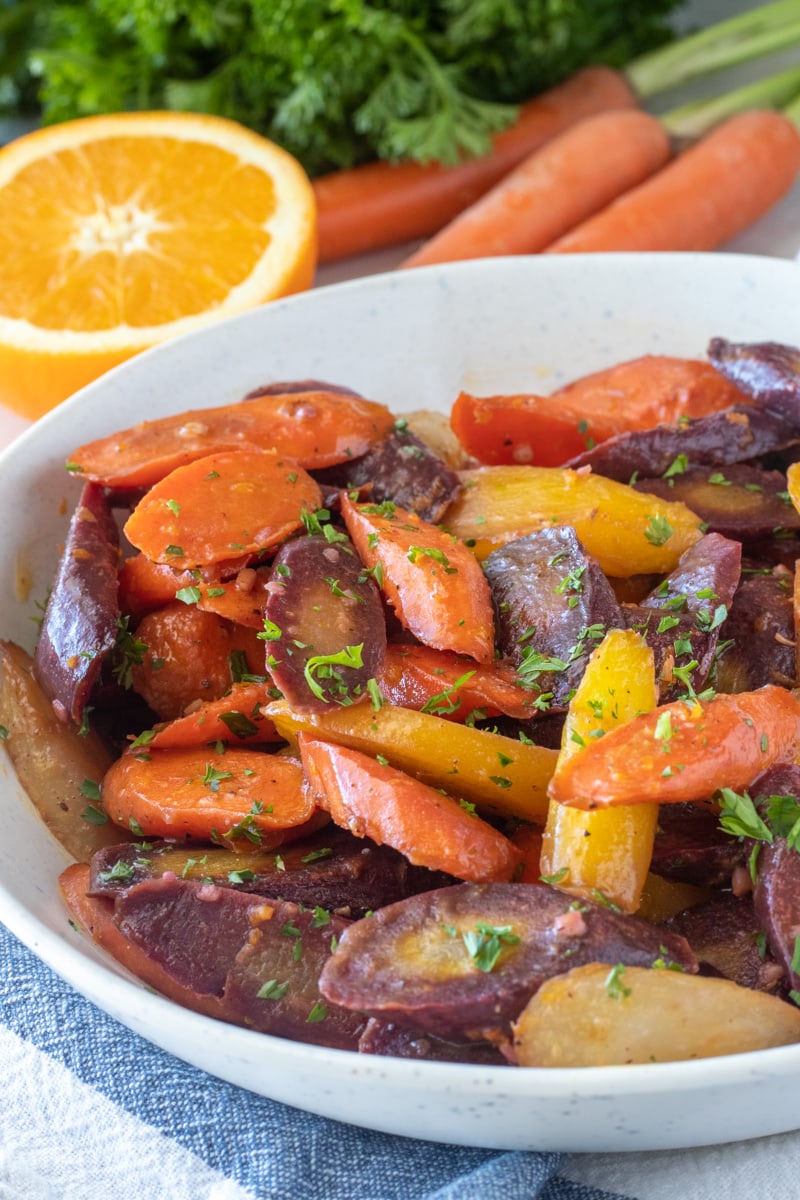 How to Cook Rainbow Carrots
Rainbow carrots are a beautiful, fun version of typical carrots that taste just like standard orange carrots. Roasting carrots is a great way to cook carrots so that they are crispy, tender with rich flavor. Let's talk about some of the particulars to get you through the recipe easily.
How Much Does it Cost?
This recipe will run you about $3-5, depending on where you live. I paid $3.68 for the full recipe, which comes to 92¢ per serving.
2-pound rainbow carrots, cut into ½-inch pieces ($3)
2 tablespoons butter, melted (.20¢)
3 cloves minced garlic (.10¢) - Salt and pepper (.03¢)
2 tablespoons fresh-squeezed orange juice (.25¢)
2 tablespoons parsley (.10¢)
Cut to Cook Evenly
The key to getting carrots, well really any vegetable, to cook evenly is to make sure they are all cut to the same size. Cut the carrots diagonally, about ½ and inch thick so that they are thin and long.
To get them to be all the same length, you may need to increase the angle of the cut toward the narrower end of the carrots. When they're all cut, they should be about 2-3 inches long and ½ and inch thick.
What Temperature and How Long?
To get the carrots crispy on the outside and tender on the outside, you'll want to cook them at a higher temperature: 425˚ F.
The good thing about cooking them at a high temperature is that the carrots will be done in a flash. It takes about 15 minutes total to get these fully roasted, but you'll want to flip them halfway through (so about the 8-minute mark).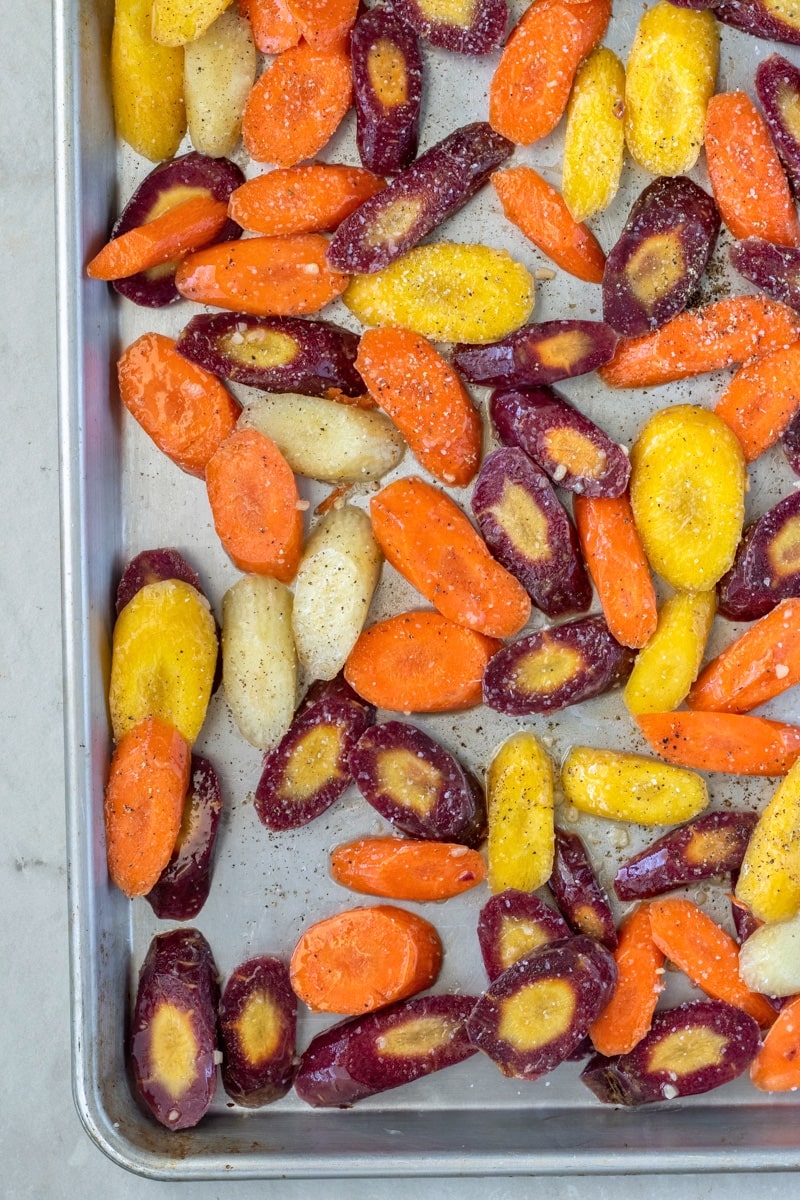 How to Season
The seasoning for roasted carrots is really simple. First, toss the carrots with 2 tablespoons of melted butter and 3 cloves of minced garlic.
Next, arrange them in one even layer on a large baking sheet and sprinkle generously with salt and pepper. Then roast them.
When the carrots finish cooking, transfer them to a bowl and toss them with 2 tablespoons of fresh orange juice and some minced parsley. Give the carrots a taste to see if you need more salt and pepper and you're good to go!
Where to Find Rainbow Carrots and Alternatives
If you can't find tri-colored carrots, this recipe works great with standard orange carrots. You may also have some luck finding baby rainbow carrots, which I find are more readily available.
If you use baby carrots, don't bother cutting them, just roast them whole. You may have to adjust the time a bit as well. I would turn them at the 10-minute mark and then keep an eye on them 5 minutes after turning.
[su_highlight background="#a4bcb2" color="#ffffff"]PRO TIP: COOKING FOR A CROWD? [/su_highlight] Hover over the servings in the recipe card below to scale your recipe to feed the whole group!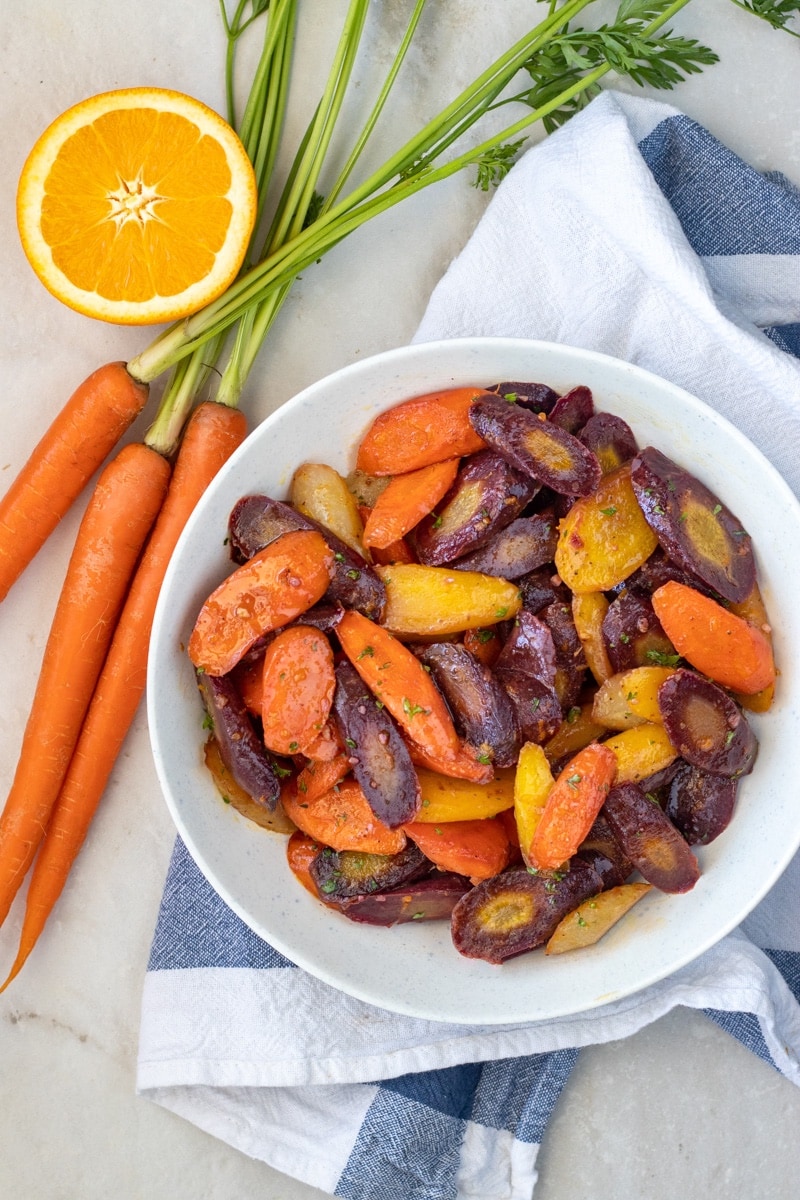 <
---
WHAT TO SERVE WITH ROASTED RAINBOW CARROTS
---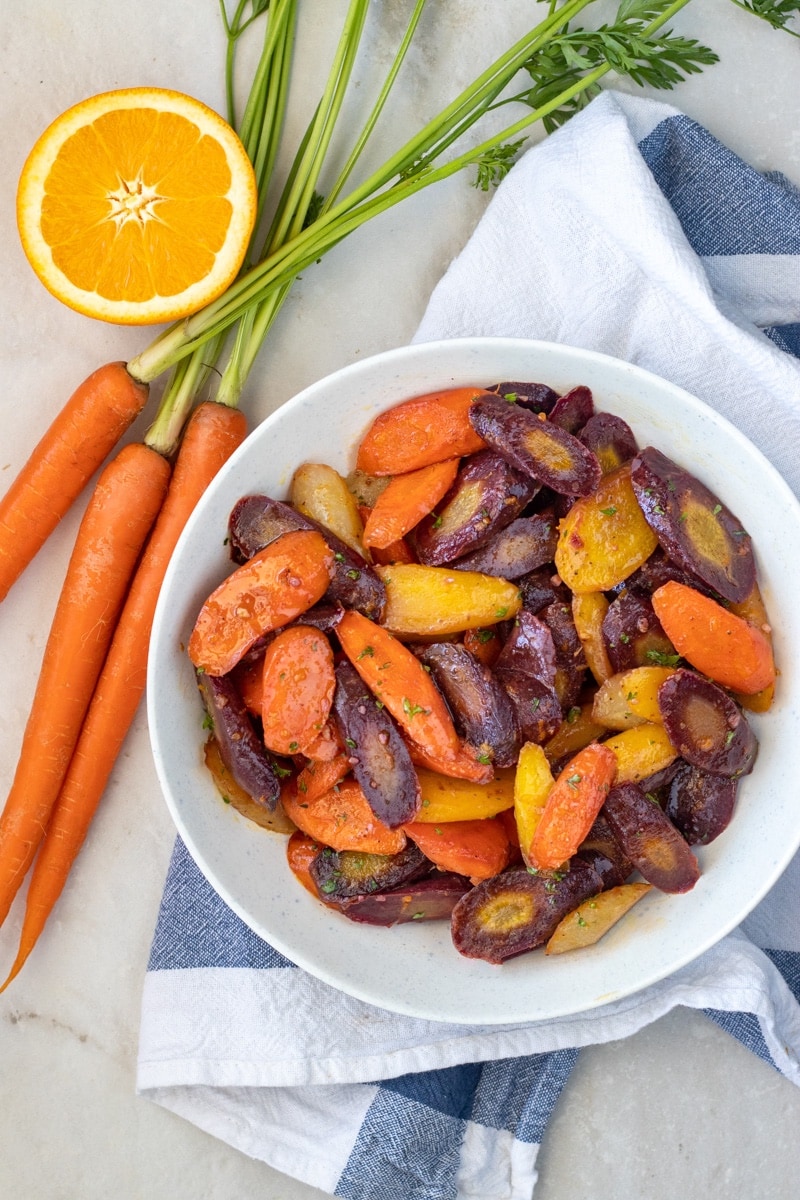 Roasted Rainbow Carrots
Roasted rainbow carrots are cooked in the oven with a butter and garlic, then tossed with fresh orange juice and parsley for a sweet and salty flavor.
RECIPE COST :
$3.68 / 92¢ per serving
Ingredients
2

pounds

rainbow carrots

(peeled and cut into ½-inch pieces)

2

tablespoons

melted butter

(ghee for Whole30/Paleo)

3

cloves

minced garlic

Salt and pepper

2

tablespoons

fresh-squeezed orange juice

2

tablespoons

parsley
Instructions
PREPARE: Preheat the oven to 425˚F and line a baking sheet with parchment paper

ROAST THE CARROTS: Place the carrots in a large bowl and drizzle with butter, garlic, and 1 teaspoon kosher salt and ½ teaspoon pepper. Toss well to evenly coat all the carrots and spread over the prepared baking dish. Roast for 15 minutes, turning them halfway through.

SEASON AND SERVE: Transfer the carrots to a serving bowl and sprinkle with the orange zest, orange juice, and parsley and toss well. Serve warm.
Notes
IF YOU CAN'T FIND RAINBOW CARROTS - Feel free to use regular orange carrots or keep an eye out for baby rainbow carrots (see the post for minor time adjustments).
COOKING FOR A CROWD? -Hover over the servings at the top of the recipe card and use the slider to adjust for more servings.
Nutrition
Calories:
137
kcal
Carbohydrates:
20
g
Protein:
2
g
Fat:
6
g
Saturated Fat:
4
g
Monounsaturated Fat:
2
g
Cholesterol:
15
mg
Sodium:
760
mg
Potassium:
564
mg
Fiber:
7
g
Sugar:
12
g
Vitamin A:
224
IU
Vitamin C:
14
mg
Calcium:
14
mg
Iron:
9
mg
Nutrition Information Disclaimer
**This blog post contains affiliate links to products that I actually use and that align with my values. See my affiliate disclaimer here.
PIN IT NOW, MAKE IT LATER