---
Spaghetti squash is a delicious, low carb vegetable noodle variation. There's a few different ways to cook it, but the oven is my absolute favorite. Here's how to make the perfect roasted spaghetti squash.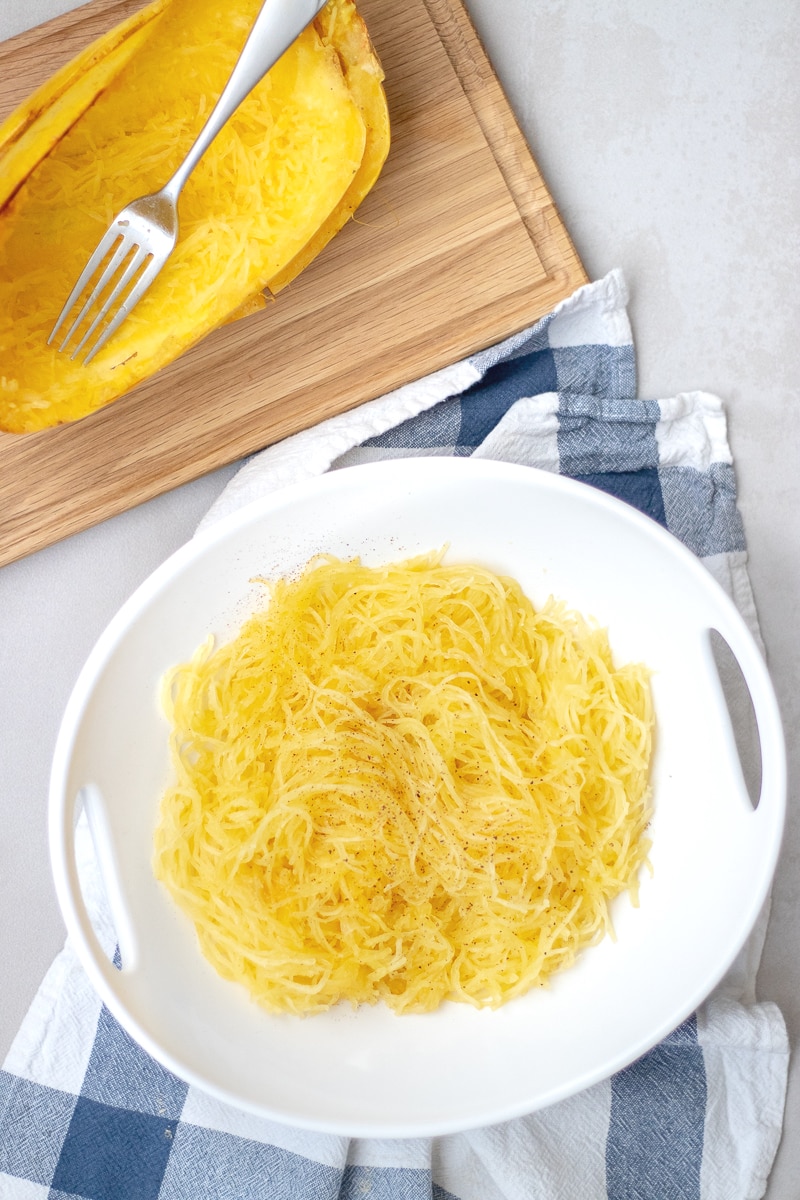 Everything You Need to Know About Spaghetti Squash
Spaghetti squash is a winter squash that can be cooked and pulled apart with a fork to create noodle-like strands.
What does it taste like?
It really doesn't have a very strong taste, which is why it makes it great to put sauces on. Perfect roasted spaghetti squash will have a slight crisp to it, but still be tender. It has a slightly sweet flavor to it, but be mostly unflavored, similar to zucchini.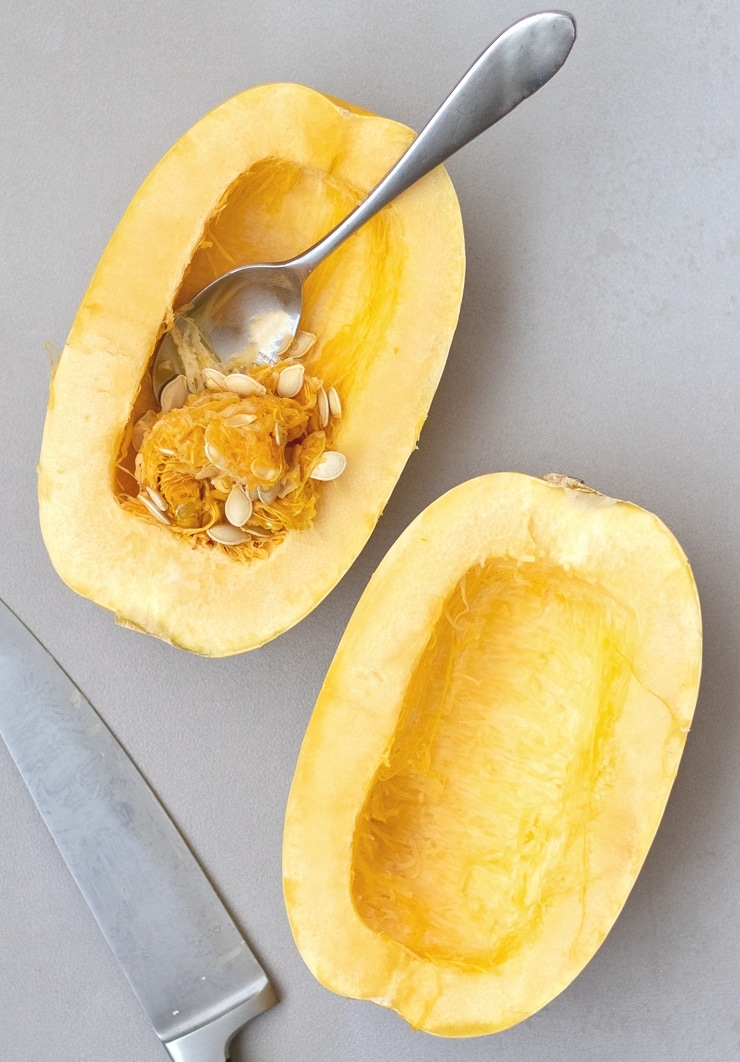 How to cut it easily
Have you ever tried to cut a spaghetti squash in half, had the knife slide off the squash and nearly cut off a finger? Yea..me too. Here's how you keep all your digits.
Put the whole, uncut squash into the microwave and cook on high for 2-4 minutes. For a 3 pound squash, I usually start at 3 minutes. The squash should be just slightly tender. You still want it to be raw, but give under your knife.
If it's still pretty hard, cook it on the opposite side for an additional minute and you should be good to go.
Spaghetti Squash Nutrition
The other great thing about vegetable noodles in general is that they are a lot lower in calories than typical pasta. One cup of spaghetti squash only has 31 calories, 7 carbohydrates and 1.5 grams of fiber.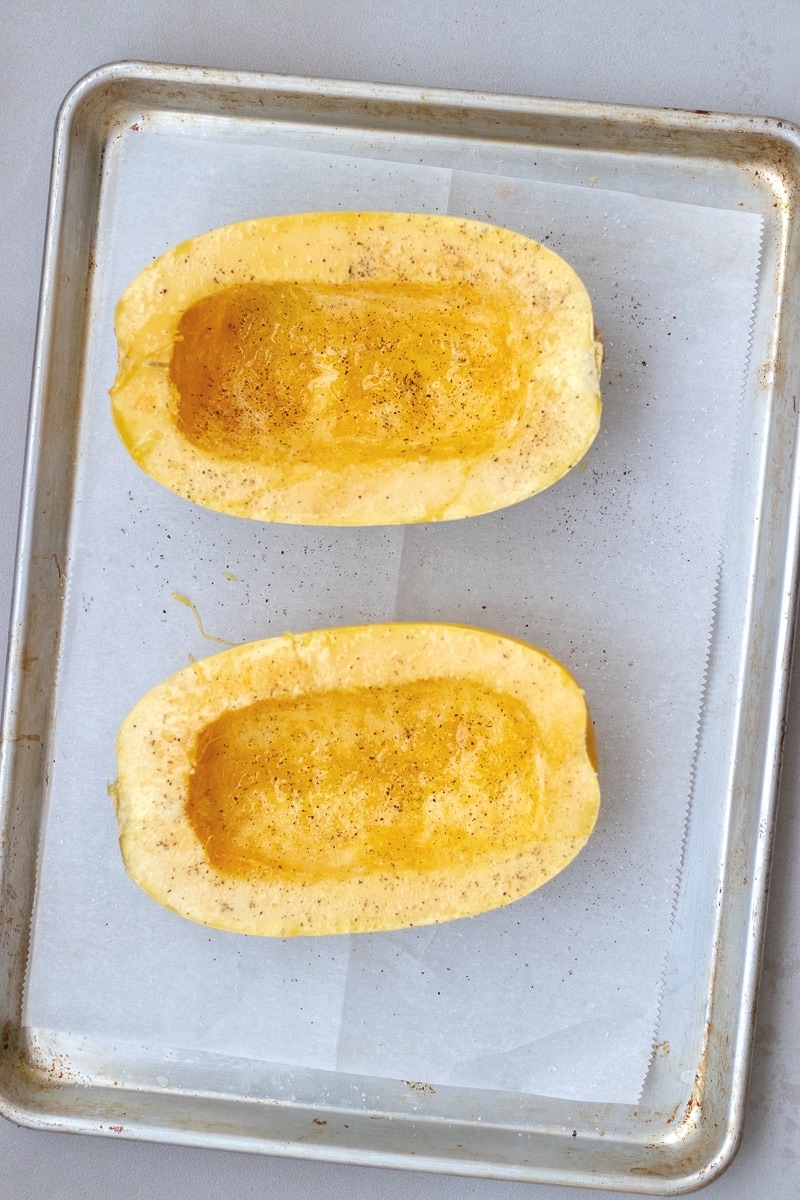 Pair Spaghetti Squash with These Recipes
Use spaghetti squash in place of just about any noodle recipe. Here are a few of my favorites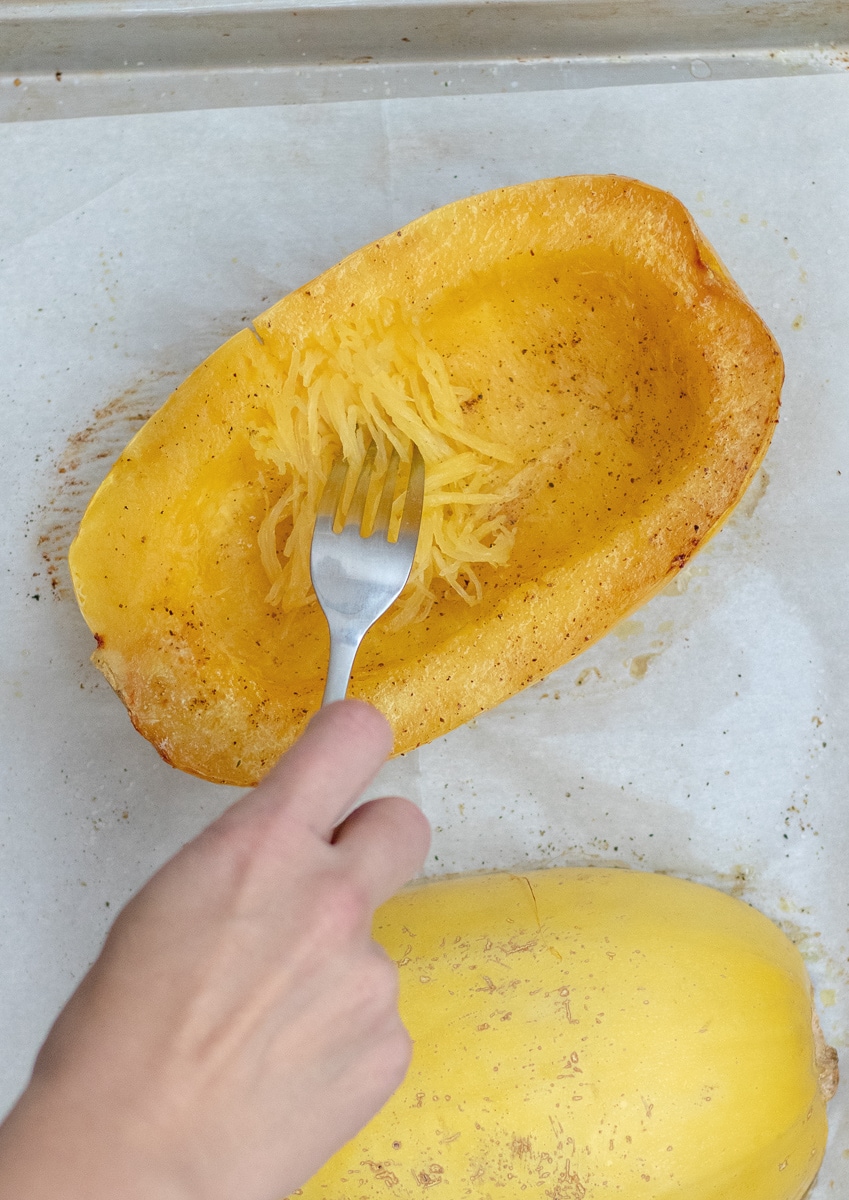 <
Storage
Store in an airtight container (preferably glass for reheating), in the fridge, for up to 5 days.
Reheating
Reheating spaghetti squash does best in the microwave. The oven tends to draw all the water out of the squash and you end up with a soggy mess. Simply reheat for 1-2 minutes on high in the microwave, depending on how much you have and enjoy!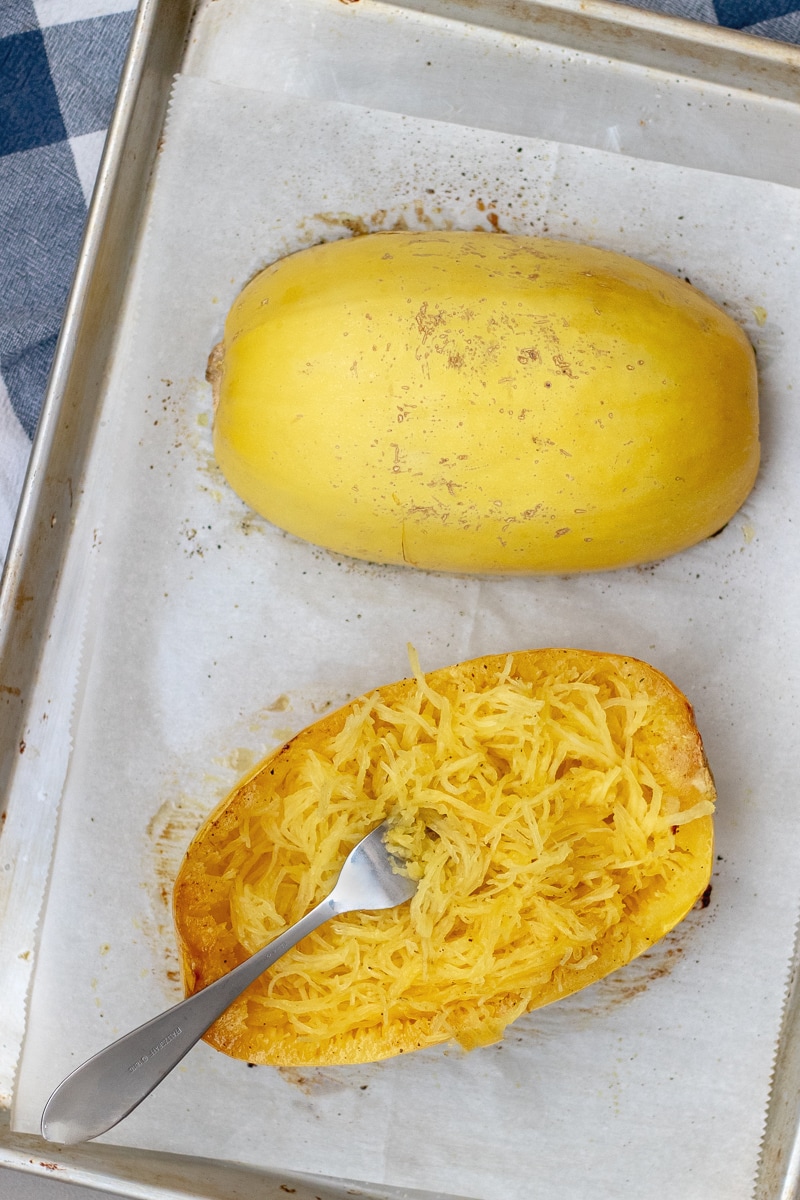 📖 Recipe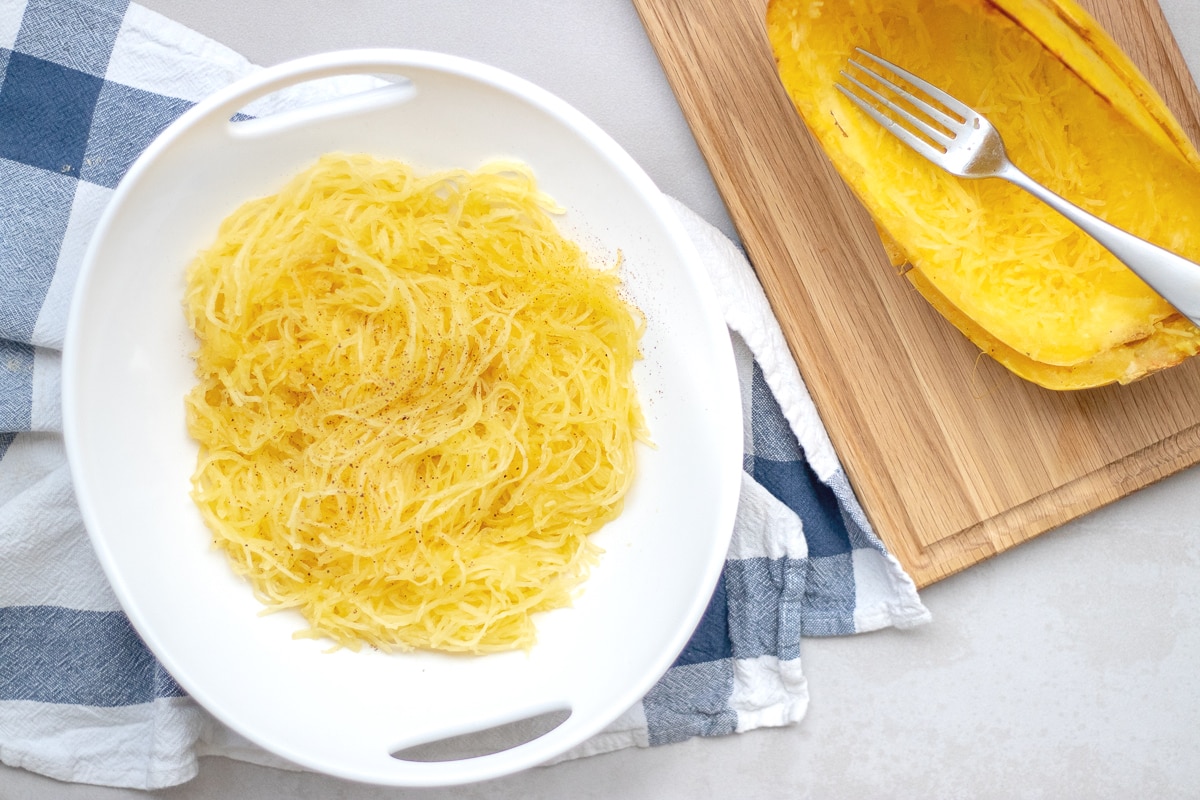 Perfect Roasted Spaghetti Squash
A staple recipe for anyone trying to eat fewer calories. With only a few ingredients needed, spaghetti squash will be your new go-to, low carb noodle.
Ingredients
1

2-3 lb. Spaghetti Squash

1

tablespoon

olive oil

salt and pepper
Instructions
Preheat the oven to 375˚F and line a large baking sheet with parchment paper.

PREPARE THE SQUASH: Microwave the spaghetti squash on high for 3 minutes1. Cut the squash in half, lengthwise (from stem to end) and use a metal spoon to scrape out the seeds and discard.

SEASON THE SQUASH: Drizzle the olive oil over the flesh both halves of the squash. Use a basting brush to coat all of the flesh with the oil. Sprinkle 1 teaspoon of salt and ½ a teaspoon of fresh ground black pepper over the oiled squash.

COOK THE SQUASH: Place the squash halves, flesh side down on the prepared pan. Bake in the preheated oven for 30-40 minutes2 . Carefully turn the squash over (it will trap a lot of steam inside). If the squash is properlly cooker, the skin is crisp and the squash pulls is just golden and apart easily with a fork.

SERVE: Allow to the squash to cool for about 5 minutes, then use a fork to separate the squash flesh into "noodles". Discard the skin and serve add to your favorite noodle dish.
Notes
If your squash is on the larger side, you may need to turn the squash and microwave another minute
Start checking the squash early, if this is your first time cooking it. Every oven cooks a little different and overcooked squash is the worst. 
Nutrition
Calories:
81
kcal
Carbohydrates:
16
g
Protein:
2
g
Fat:
2
g
Monounsaturated Fat:
1
g
Sodium:
753
mg
Potassium:
286
mg
Fiber:
4
g
Sugar:
6
g
Vitamin C:
14
mg
Calcium:
5
mg
Iron:
5
mg
Nutrition Information Disclaimer
RECIPE EQUIPMENT
**This blog post contains affiliate links to products that I actually use and that align with my values. See my affiliate disclaimer here.
PIN IT NOW, MAKE IT LATER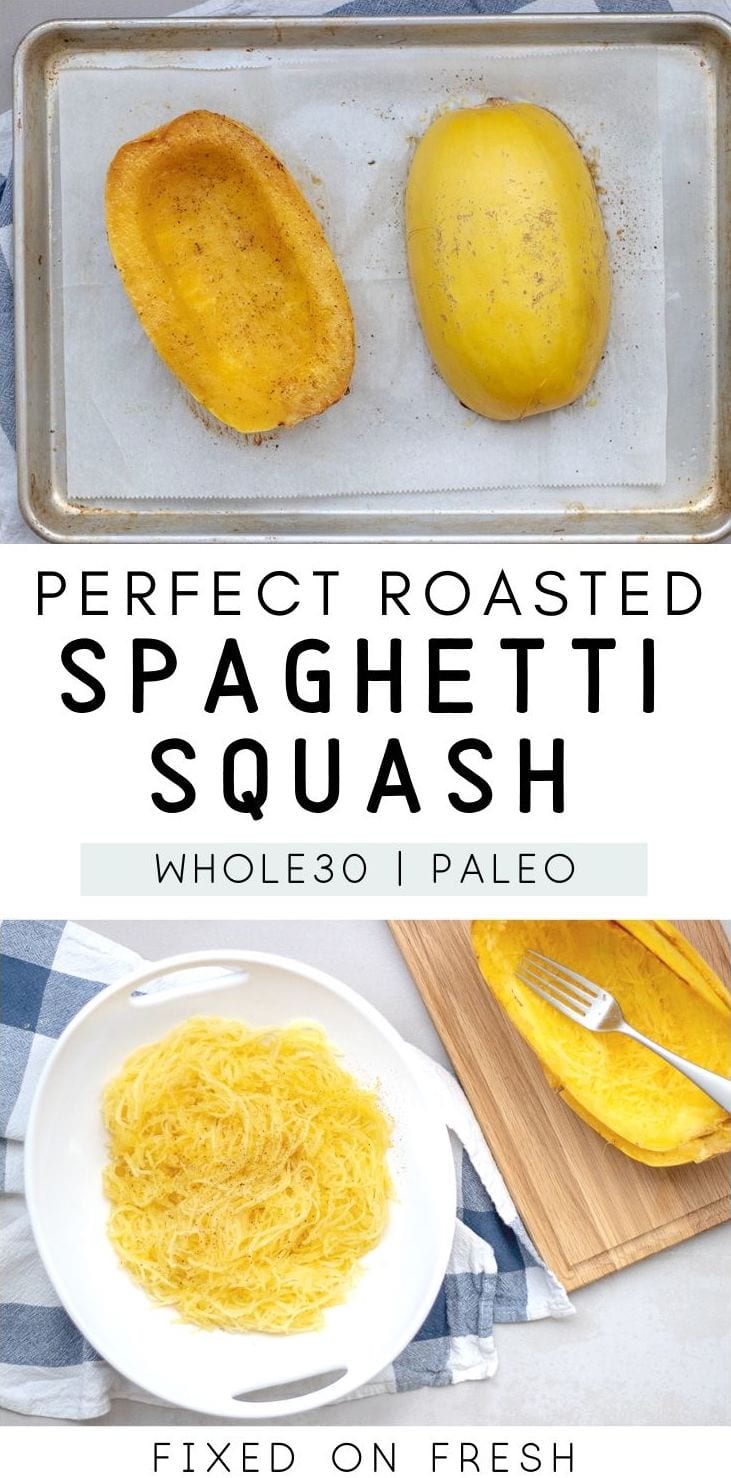 ---
FOLLOW FIXED ON FRESH ON PINTEREST!
---