---
Baked chicken wings are crispy, but not battered and fried, so it's healthy and still tasty! Honey-Chipotle barbecue sauce is also both sweet and spicy, so you're really getting the best of both worlds all over with this recipe. Here's how to do it.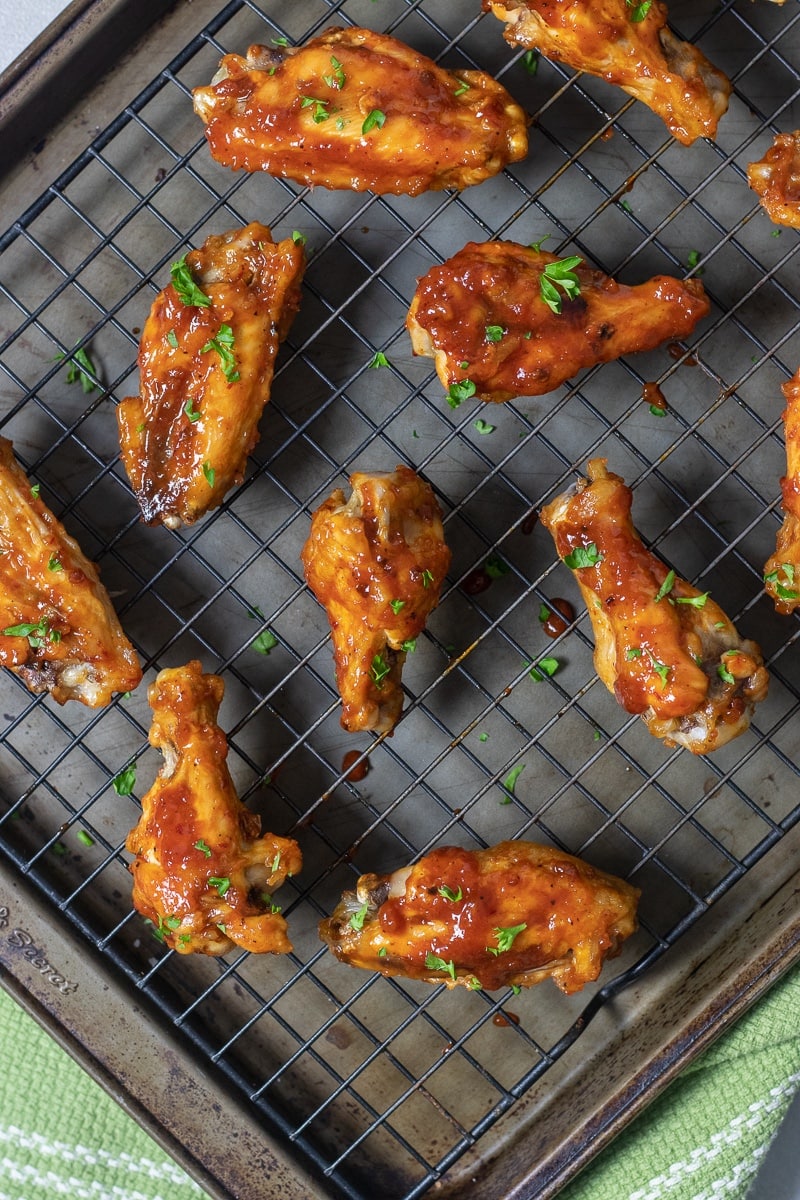 BAKED CHICKEN WINGS
Traditionally wings are fried, right? And, don't get me wrong, they are super tasty. But they can also be super oily, a mess to make, and they have a lot more calories.
When you bake chicken wings, they're just as tasty, way less messy and oily and they have fewer calories.
PARBOIL TO REMOVE EXTRA FAT
Parboiling baked chicken wings is the ultimate secret to making sure the wings get crispy and aren't too greasy. You're basically going to blanch the chicken wings.
Fill a stockpot ⅔ full of water and add a tablespoon of salt. It sounds like a lot of salt, but this is the only seasoning you'll be doing before the sauce. Bring the water to a boil and add the chicken wings. You'll let them boil for 7 minutes and drain in a colander and rinse with cool water.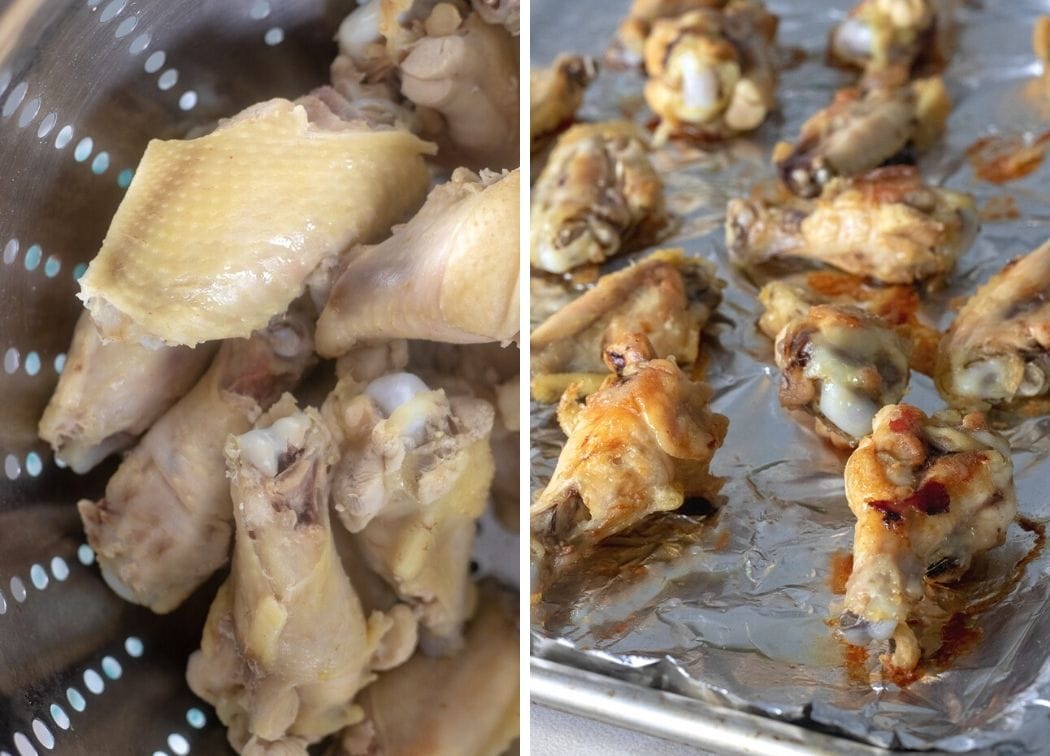 TIPS FOR BAKING
[su_highlight background="#a4bcb2" color="#ffffff"]BEGIN BAKING SKIN SIDE DOWN:[/su_highlight] If you begin with the skin side up, then turn the wings, you'll lose the crispy skin that you're after. Put the side with the most skin on it down and then flip to crisp the top the last half of baking.
[su_highlight background="#a4bcb2" color="#ffffff"]BRUSH OR SPRAY WITH OIL:[/su_highlight] I know it seems counter-productive to add a little fat when we were just talking about how these aren't cooked in oil. I'm not talking about a ton of oil here, though. Just a quick brush with some olive oil or melted butter to get extra golden skin and to prevent the skin from staying attached to the cookie sheet when you flip them.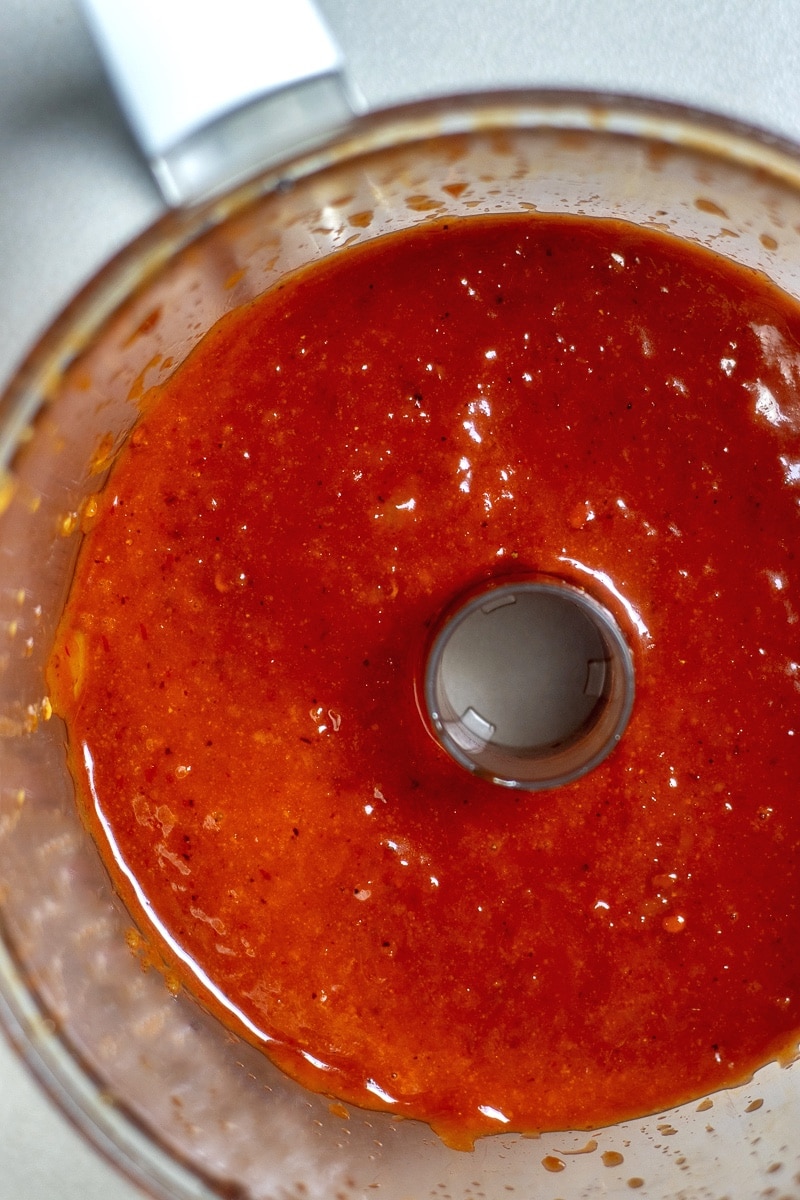 BARBECUE SAUCE TIPS
This sauce is simple to make, so we don't need to spend too long here. This sauce is tangy, smokey, sweet and has a pretty cook kick of spice at the end. If you like your sauce a little different, use these tips.
[su_highlight background="#a4bcb2" color="#ffffff"]FOR SPICIER SAUCE:[/su_highlight] If you want ALL the heat, all you have to do is add more peppers and/or adobo sauce. The adobo will add to the smokiness too. Add another chili or two to kick up the heat.
[su_highlight background="#a4bcb2" color="#ffffff"]FOR SWEETER SAUCE:[/su_highlight] If are more of a honey barbecue person, we then add a bit more brown sugar, 1-2 tablespoons more should do it.
[su_highlight background="#a4bcb2" color="#ffffff"]THICKER OR THINNER SAUCE:[/su_highlight] The sauce will already be pretty thick right out of the processor, think marinara for a consistency comparison. Simmering the sauce for just a bit will thicken it a bit, but also develop all of the flavors together. If you like the sauce thinner, simply throw a lid on it while it simmers. For a thick, sticky sauce, leave the lid off.
HOW MUCH SAUCE WILL YOU NEED
The barbecue sauce recipe bakes about a cup of sauce. I find that's plenty to coat the wings right after they come out of the oven and then to serve with the wings for extra. I start with about ⅓ cup of sauce and pour that over the hot wings in a bowl and toss. Then let them sit in the sauce to cool and the flavors of the sauce will permeate the wings and add more flavor.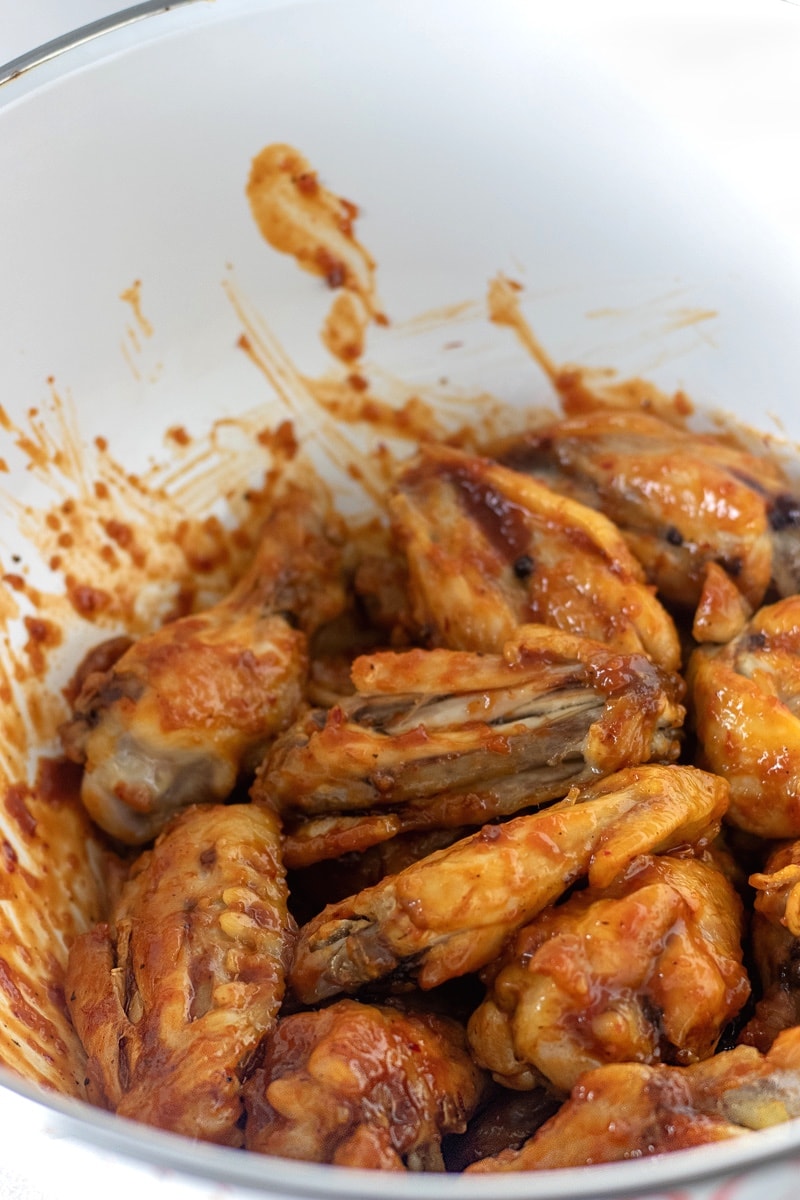 <
MAKE IT FIT YOUR BUDGET
The chicken wings are the most expensive part of this recipe. And wings can get pretty spendy! I actually like to buy mine in the freezer section OR buy them in bulk. A 2 ½ pound bag in the freezer section (in Texas, mind you) was on sale for $7.50. That's the cheapest per pound I could find.
If you're buying them in "wing season" which is typically around the super bowl and the start of football season, you will definitely save money. Buy a few bags at the discounted price and keep them in the freezer for when they're more expensive.
HOW TO MAKE WINGS A MEAL
I like the tried and true celery and ranch, or bleu cheese. Wings are great finger food, so if we want to make them a meal at home, we usually cook up some sweet potato fries and a quick side salad.
HOW TO FREEZE, STORE AND REHEAT
[su_highlight background="#a4bcb2" color="#ffffff"]STORAGE:[/su_highlight] These guys make great leftovers for the next night or two. After that, they tend to get a little soggy. I keep them in a glass, airtight container for easy reheating in the microwave.
[su_highlight background="#a4bcb2" color="#ffffff"]FREEZING:[/su_highlight] If you ended up with more than you need, don't fear, these freeze great! Simply toss the extras in a freezer bag (make sure you label them!) and store in the freezer for up to 3 months. Freeze extra sauce in a smaller bag inside the galon bag and you'll be good to go.
[su_highlight background="#a4bcb2" color="#ffffff"]THAWING:[/su_highlight] To thaw the wings, take them out of the freezer and transfer them to the refrigerator for 8-12 hours and then proceed to reheating.
[su_highlight background="#a4bcb2" color="#ffffff"]REHEATING:[/su_highlight] If you've got time, these definitely do better reheating in the oven. Place them on a baking sheet and heat in a 250˚ oven for 10-12 minutes. You don't want to dry them out, just reheat them, so keep an eye on them around the 9-minute mark.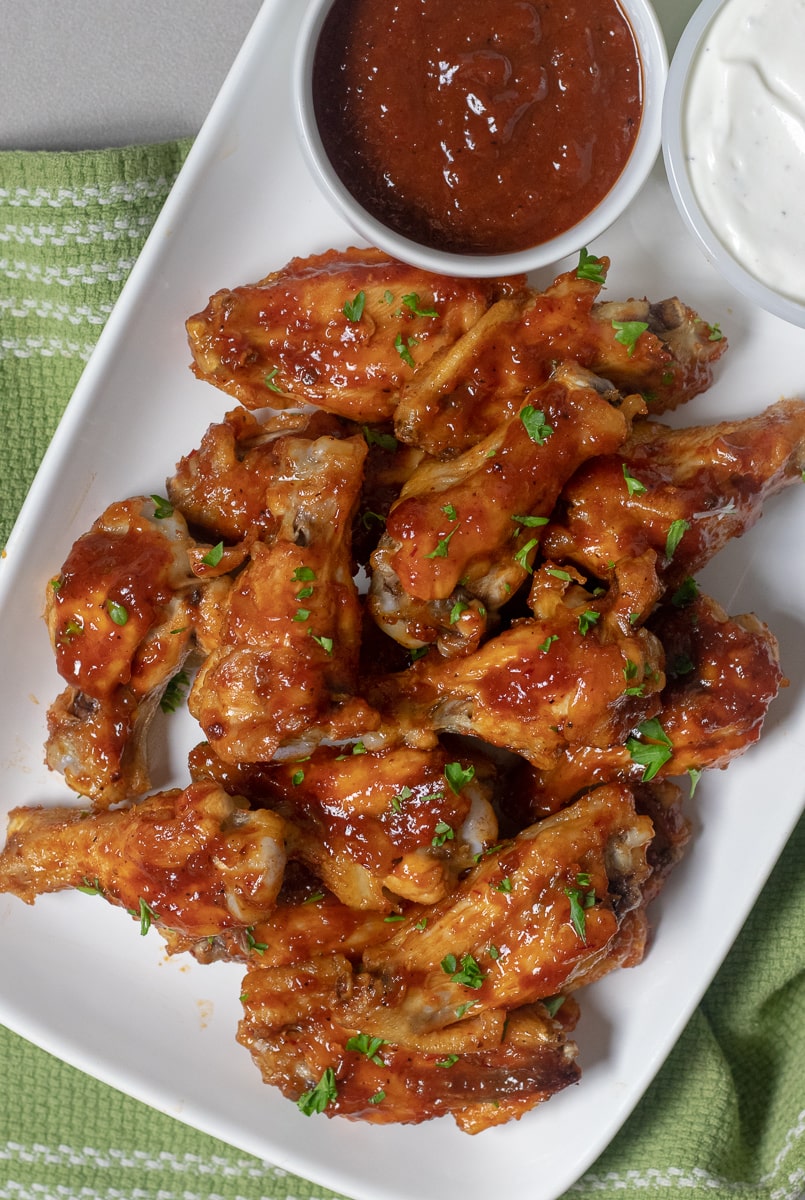 ---
[su_button url="https://amzn.to/2GdlZPx" target="blank" style="flat" background="#e7efef" color="#040404" center="yes" radius="0" icon="icon: arrow-circle-right"]Buy It[/su_button]
**This blog post contains affiliate links to products that I actually use and that align with my values. See my affiliate disclaimer here.
---
CHECK OUT THESE OTHER PARTY FOOD RECIPES
📖 Recipe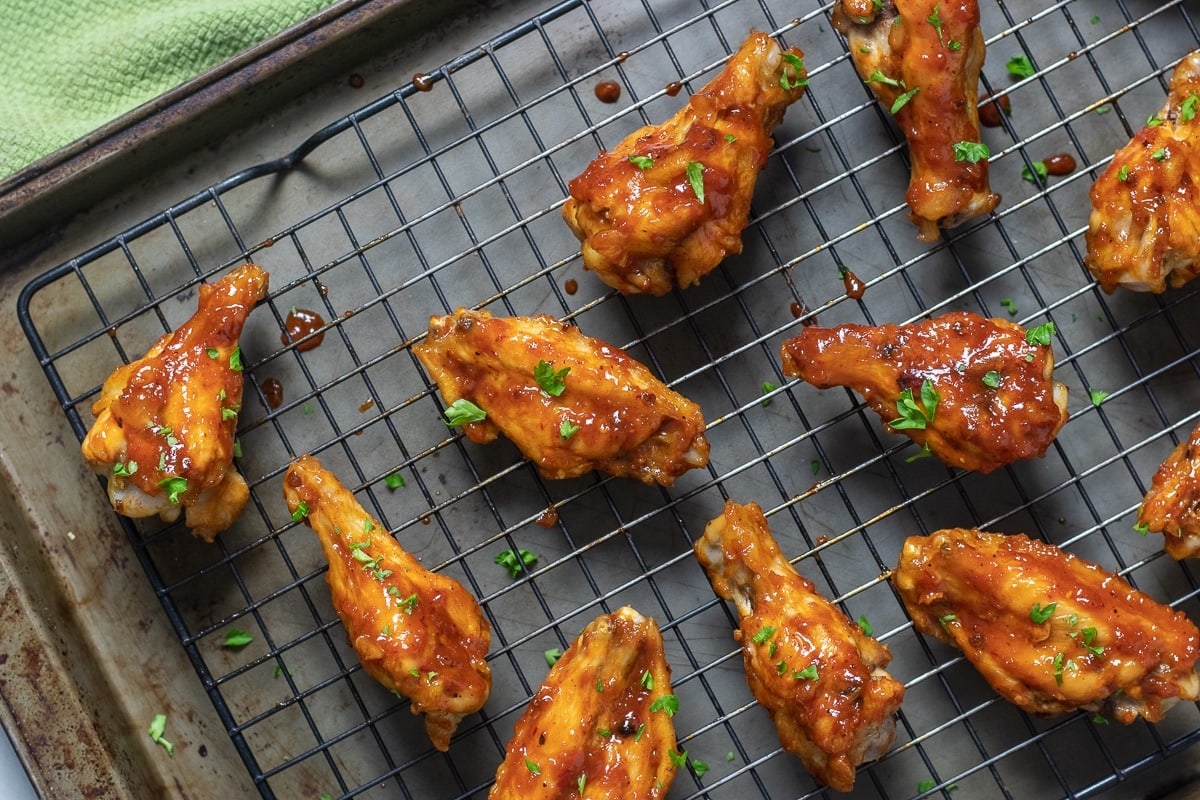 Honey Chipotle Chicken Wings
Chicken wings are parboiled and baked and tossed in a spicy and sweet honey chipotle sauce made quickly from scratch.
Ingredients
2-3

pounds

chicken wings

1½

teaspoons

sea salt

2

teaspoons

olive oil or melted butter
BARBECUE SAUCE
2

teaspoons

olive oil

⅔

cup

yellow onions

((diced))

1

cloves

garlic

((sliced))

1

tablespoons

brown sugar

2

tablespoons

ketchup

1

chipotle chilie + 2 tablespoons adobo sauce

((remove any stem))

1

tablespoons

apple cider vinegar

3

tablespoons

honey

1

tablespoon

Worcestershire sauce

1

teaspoon

dijon mustard

½

teaspoon

salt

½

teaspoon

pepper
Instructions
BAKE THE WINGS
PREPARE: Preheat to oven to 450˚ F. Line a large baking sheet with foil and set aside for later. Fill a large stock pot halfway with water and 1 tablespoon of sea salt; bring to a boil.

PARBOIL THE WINGS: Reduce the heat to medium-low (the water should be at a simmer) and boil the wings for 7 minutes. Drain the wings into a colander. Toss the colander to remove any last pockets of water.

BAKE: Arrange the wings on the prepared baking sheet, skin side down. Pat each wing down with a paper towel to remove any remaining water. Brush with the oil or butter and place the wings skin side down on the prepared baking sheet. Bake the wings in the preheated oven for 15 minutes. Turn the wings over and bake an additional 15 minutes or until the tops are golden and crispy.
MAKE THE SAUCE
WHILE THE WINGS BAKE: Heat the oil in a medium sauce pan over medium-high heat. Add the onion and suaté for 3-5 minutes or until thy are soft and start to turn golden on the edges. Add the garlic and stir constantly for 60 seconds. Turn off the heat and transfer the onion, carefully, into a food processor or blender.

PROCESS and SIMMER: To the food processor, add the remaining sauce ingredients and process until completely smooth. Pour the processed sauce back into the saucepan used for the onions. Bring the sauce to a slow simmer and continue simmering for 8-10 minutes or until the sauce thickens.

COAT THE WINGS: In a large, heat-safe bowl, toss the wings and sauce ½ a cup at time until the wings are coated to your desired level. For 2 pounds, I usually use 1 cup. Allow the wings to cool slightly (about 5-10 minutes) and absorb some of the sauce flavor. Serve warm with ranch or bleu cheese dressing.
Nutrition
Calories:
282
kcal
Carbohydrates:
12
g
Protein:
16
g
Fat:
15
g
Saturated Fat:
5
g
Polyunsaturated Fat:
2
g
Monounsaturated Fat:
7
g
Cholesterol:
95
mg
Sodium:
534
mg
Potassium:
228
mg
Fiber:
1
g
Sugar:
10
g
Vitamin A:
2
IU
Vitamin C:
2
mg
Calcium:
7
mg
Iron:
2
mg
Nutrition Information Disclaimer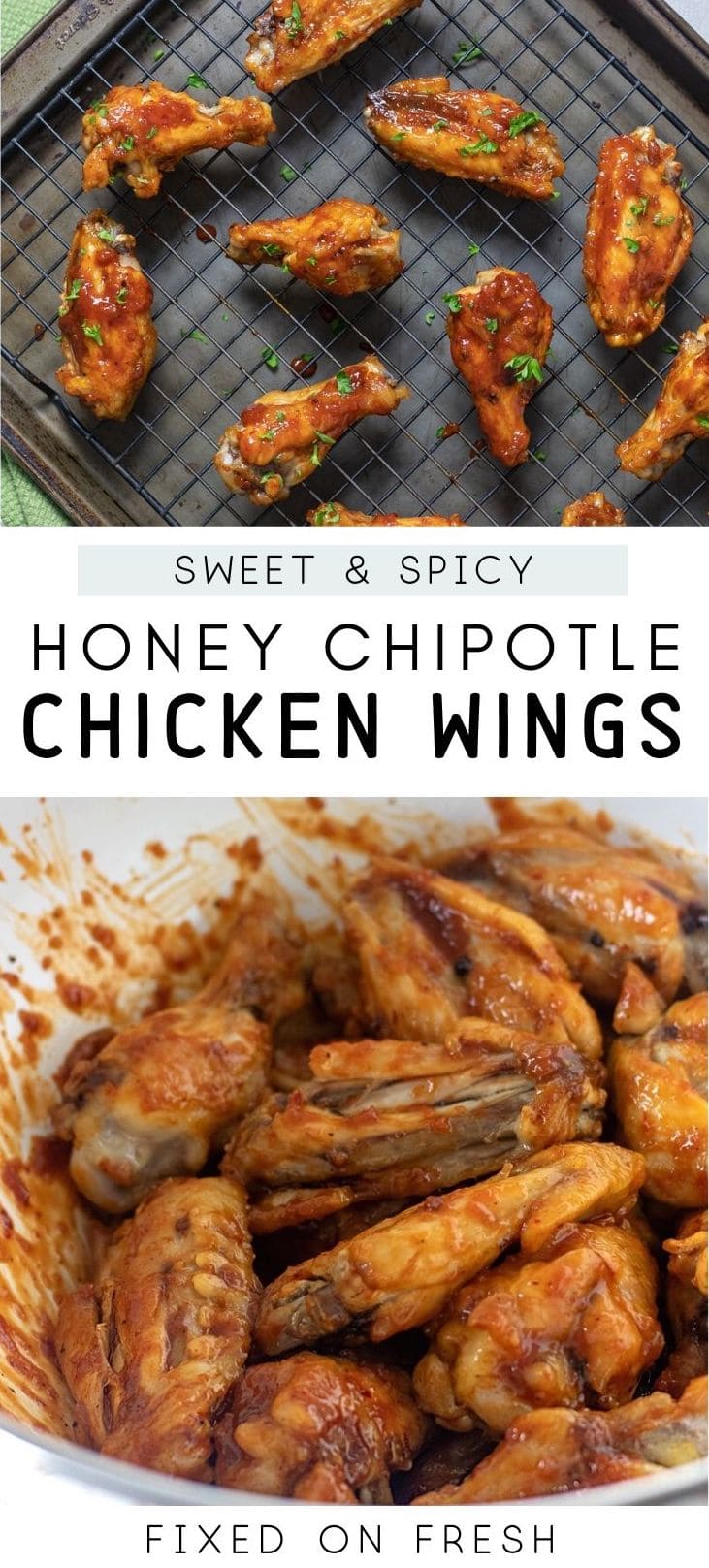 FIND MORE DELICIOUS RECIPE HERE