---
A lighter version of a classic side dish, skinny garlic Parmesan mashed red potatoes are made with broth instead of cream and loaded with flavor using garlic and Parmesan.
Serve these potatoes next to lemon herb roasted chicken topped with 5-minute chicken gravy or have a steak night with cast iron sirloin.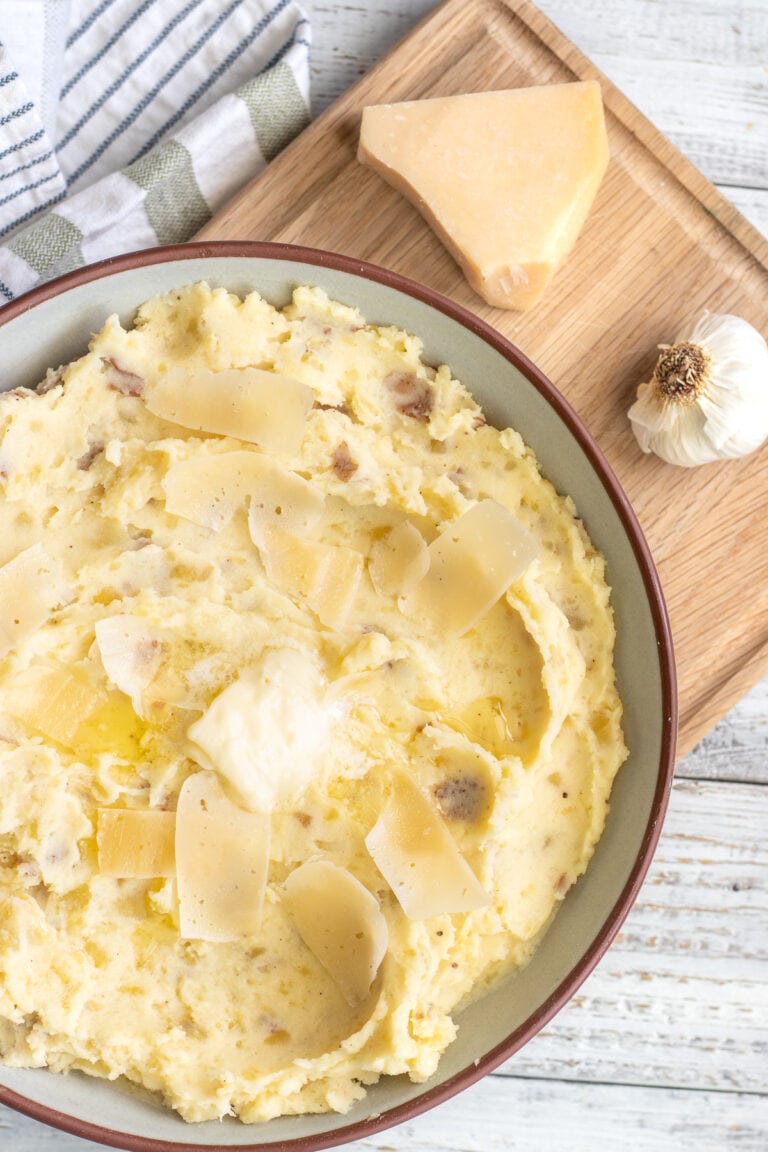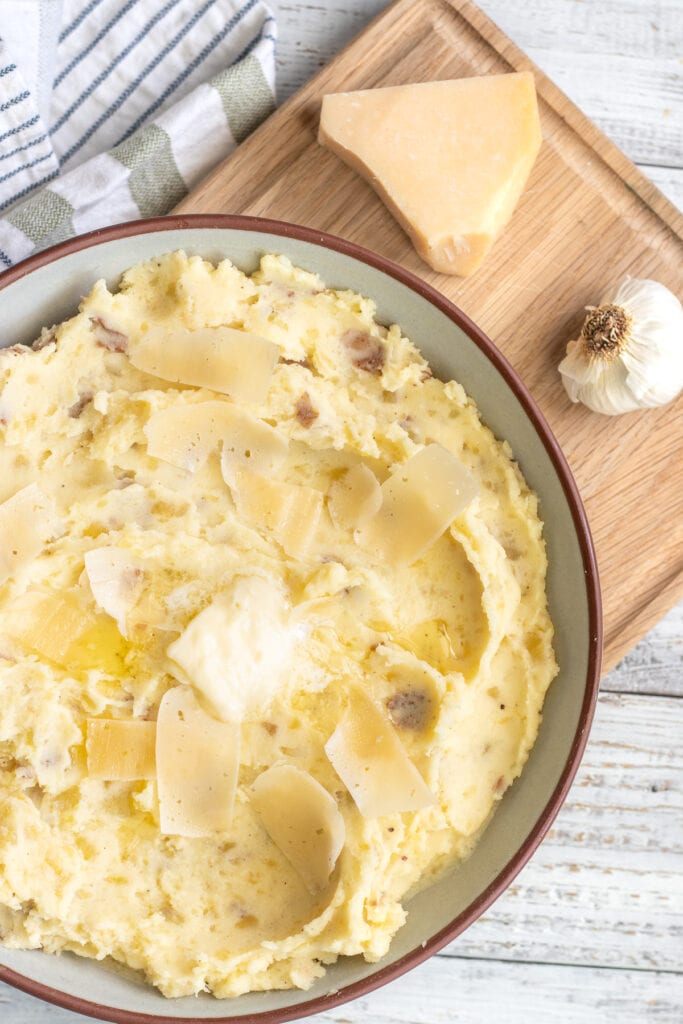 Tips for Making Lighter Garlic Parmesan Mashed Potatoes
If you want more details about how to cook these mashed potatoes to perfection, read on. If you're just here for the recipe, scroll on down to the full recipe and enjoy!
Cut the Potatoes Evenly
Cooking the potatoes evenly is one of easiest ways to ensure that you will have smooth mashed potatoes. When the pieces don't cook evenly, you will have a harder time mashing certain pieces then others, leading to a lumpier texture.
I cut all of mine about 1-inch by 2-inch and they take about 10-12 minutes to cook to fork tender after the water has come to a full boil.
If you cut them larger, as long as they're even that's fine, they'll just take longer to cook through. If you want to speed up the cooking process, cut them smaller, but you'll want to babysit the potatoes. Once they're overcooked, the potato texture will be very gummy.
Skin On or Off?
I'm a big fan of leaving the skin on when you mash potatoes. The skin provides a lot of the fiber and other nutrients that a potato has to offer like potassium, iron, and B6.
I also like the rustic texture and look of skin-on mashed potatoes. If you're leaving the skin on, stick with red or Yukon gold. If you only have russet, I'd peel them.
Don't Over Mash or Mix
One of the keys to getting the perfect texture of mashed potatoes without getting them too gummy is not to go crazy with the mixing or mashing.
First you'll use a potato masher to get rid of all the lumps. I leave a few behind because I like them a little lumpy. Then you'll fold in the preheated broth, butter and garlic along with the Parmesan and sour cream.
There's no need to whip out the electronics to get smooth and fluffy mashed potatoes, that will just lead to a pasty consistency that no one loves.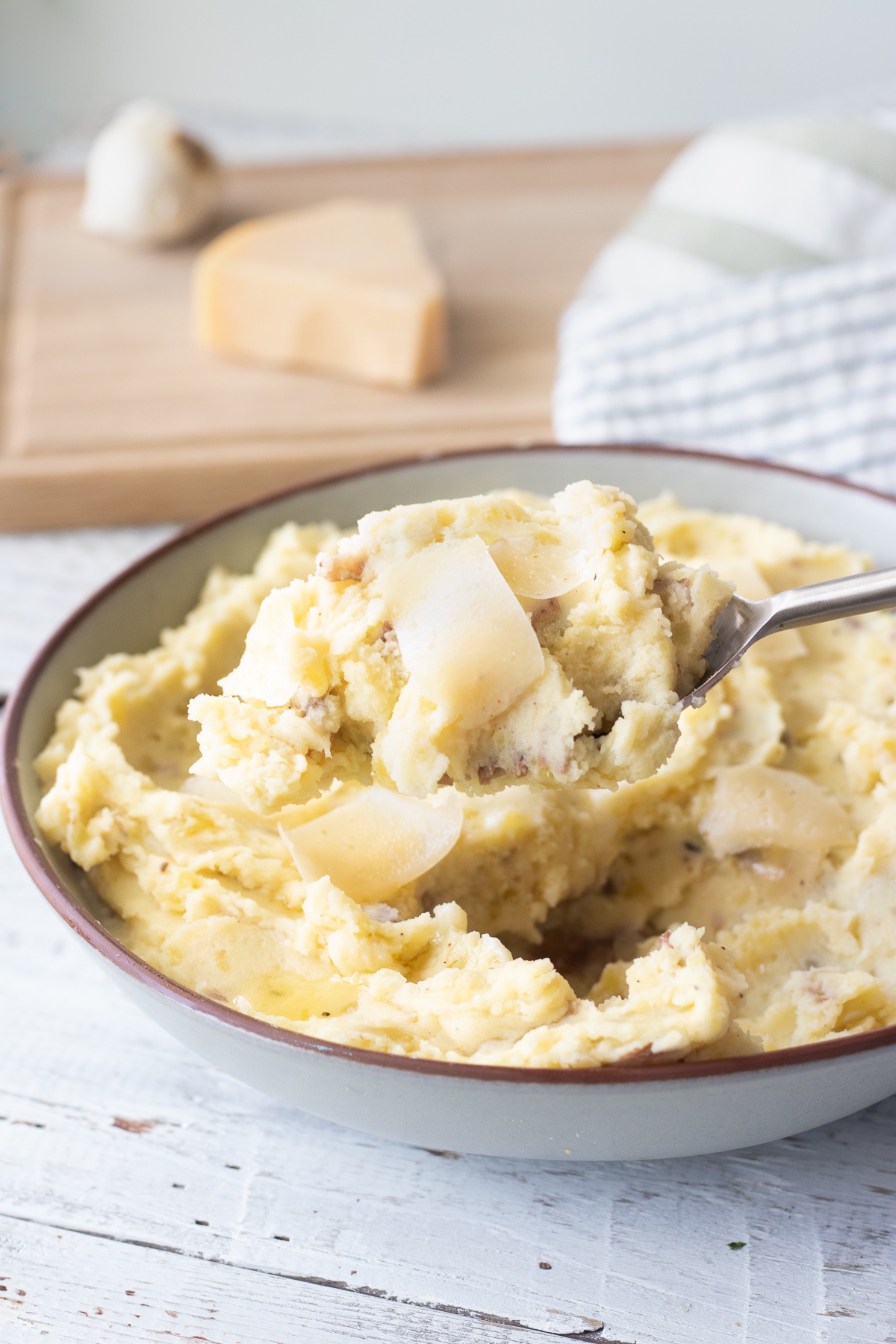 <
Make Them Lower Calorie
Potatoes aren't inherently high in calories, it's all the stuff we add to them that can really light the calorie counter up.
I swapped the milk or heavy cream with low calorie chicken broth (which also gives it a baby protein boost). To keep them creamy, I use 2% plain Greek yogurt or light sour cream.
Parmesan gives these potatoes a flavor boost on top of 3 cloves of garlic that's simmered in the small amount of butter. All of these ingredients add up to big flavor without a big hit in calories.
Storage
Mashed potatoes are awesome for meal prep because they do well refrigerated for up to 5 days.
Meal Prep - If you do plan to meal prep - I would recommend adding a touch more liquid so that they don't dry out by day 5. Bump the broth up to ¾-1 cup gradually until you have more a whipped texture.
Leftovers - If you're just storing leftovers, make the recipe as is and store in the fridge, again, for up to 5 days. If they do seem a little dry, fold in a little broth or milk before reheating.
---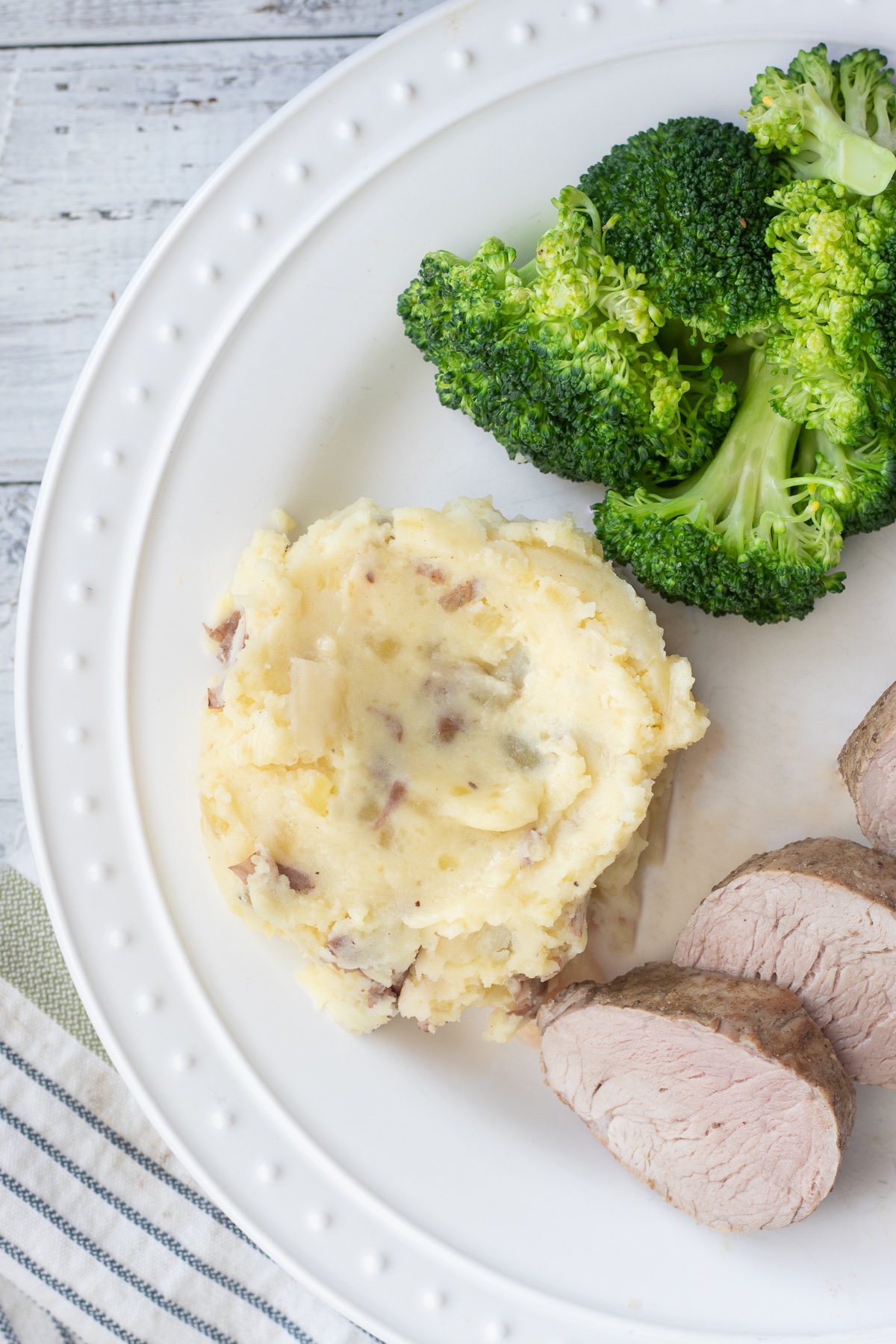 Other Potato Recipes
---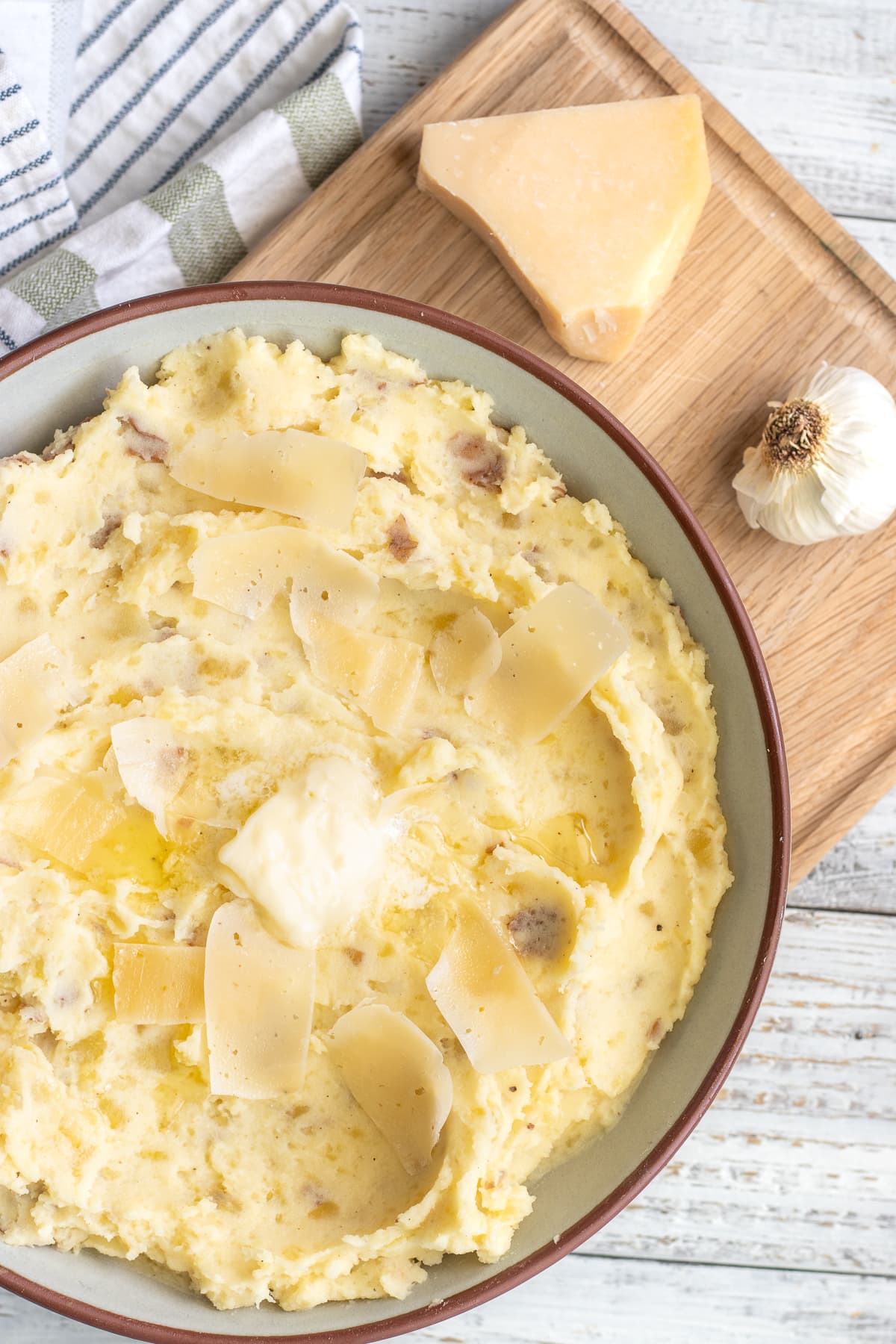 Skinny Garlic Parmesan Mashed Red Potatoes
A lighter version of a classic side dish, skinny garlic parmesan mashed red potatoes are made with broth instead of cream, and loaded with flavor using galric and parmesan.
RECIPE COST :
$3.95 / .66¢ PER SERVING
Ingredients
2

pounds

red potatoes, cut into 2-inch pieces

((skin on or off))

3

large cloves garlic

(minced)

sea salt and pepper

3

tablespoons

grated Parmesan

2

tablespoons

butter

⅔

cup

chicken or vegetable broth

⅔

cup

light sour cream or 2% plain greek yogurt
Instructions
COOK THE POTATOES:  Add the potatoes to a large stockpot or dutch oven.  Fill with cold water, enough to cover the potatoes by about an inch. Add 2 teaspoons sea salt.  Bring the water to a boil over high heat, then reduce heat to medium-high and continue to boil for about 10 minutes, or until fork-tender. Drain in a colander.

MELT THE BUTTER:  While the potatoes cook, melt the butter in a small saucepan over medium-low heat. Add the garlic, stirring constantly until fragrant, about 30 seconds. Then add the broth. Bring to a simmer and remove from heat and set aside.

MASH THE POTATOES:  Return the potatoes to the stockpot. Use a potato masher mash them to your desired texture. Fold in the broth, sour cream, and parmesan (be sure not to over-mix). Give the potatoes and taste test and add salt and pepper as needed.

SERVE AND STORE: Serve the potatoes warm with additional butter and Parmesan on top. Store leftovers in an airtight container for up to 3 days in the fridge.
Notes
FOR MEAL PREP: Consider adding a bit more liquid to get more of a whipped texture so that they reheat well all the way up to 5 days out. I add about ¼ cup of additional broth gradually until they are a little softer. FOR LEFTOVERS: Potatoes tend to dry out a touch as leftovers. If yours seem dry, add about a little extra broth or milk to freshen them up.
Nutrition
Calories:
189
kcal
Carbohydrates:
26
g
Protein:
6
g
Fat:
7
g
Saturated Fat:
2
g
Cholesterol:
19
mg
Sodium:
466
mg
Potassium:
695
mg
Fiber:
3
g
Sugar:
4
g
Vitamin A:
36
IU
Vitamin C:
22
mg
Calcium:
9
mg
Iron:
6
mg
Nutrition Information Disclaimer
RECIPE EQUIPMENT
**This blog post contains affiliate links to products that I actually use and that align with my values. See my affiliate disclaimer here.
PIN IT NOW, MAKE IT LATER