Meal planning is something that can take a lot of time every week. It can take even more time when you're on a diet. I've put together a tasty low calorie meal plan that includes breakfasts, lunches, dinners, snacks suggestions, and a handy grocery list.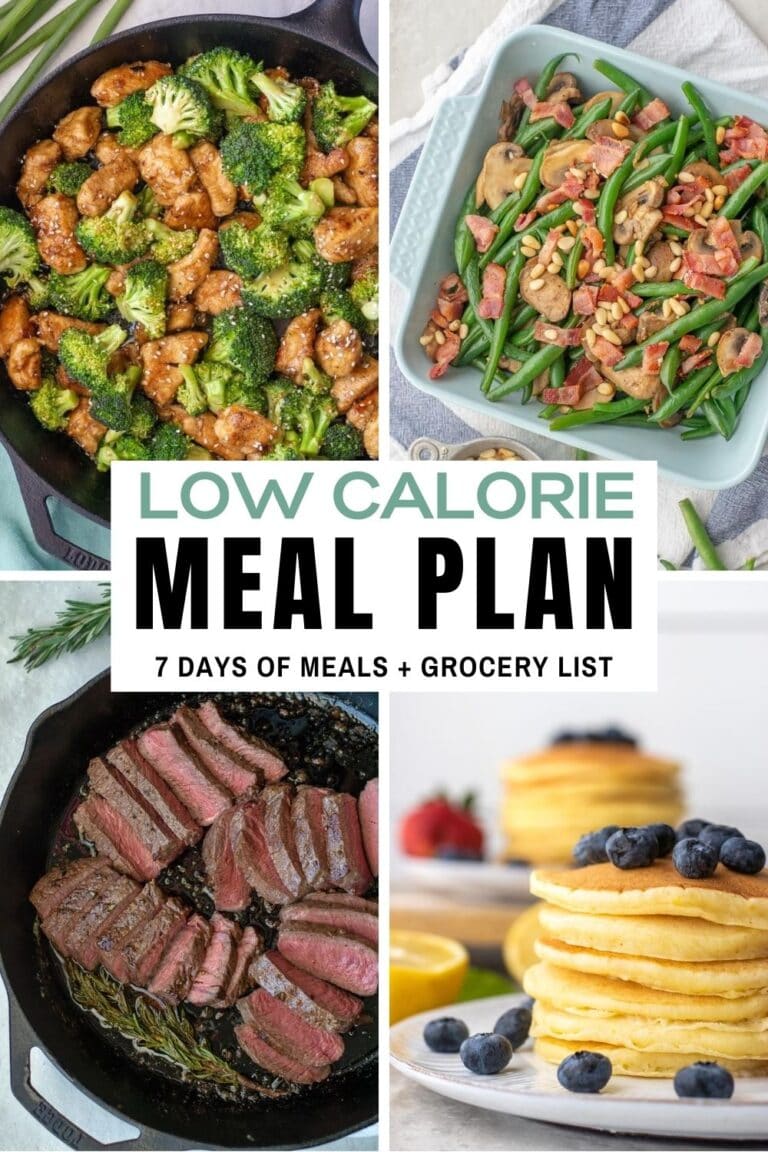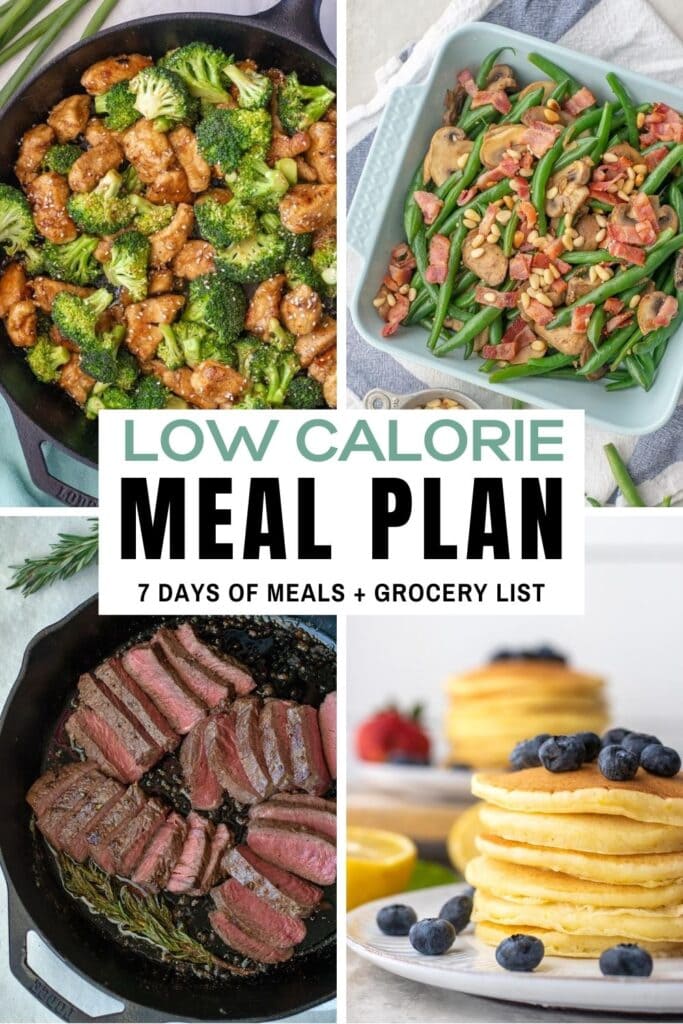 How The Meal Plan Works
These meals will add up to around 1400 calories so that you can add snacks as you see fit. You'll get a good balance of proteins, carbohydrates, and fats too.
QUICK TIP: If you want to skip to certain sections of the post, use the green links in the list below to save scroll time!
Weekday Breakfast and Lunches
I recommend making both of the these recipes over the weekend so all you have to do is grab and go throughout the week.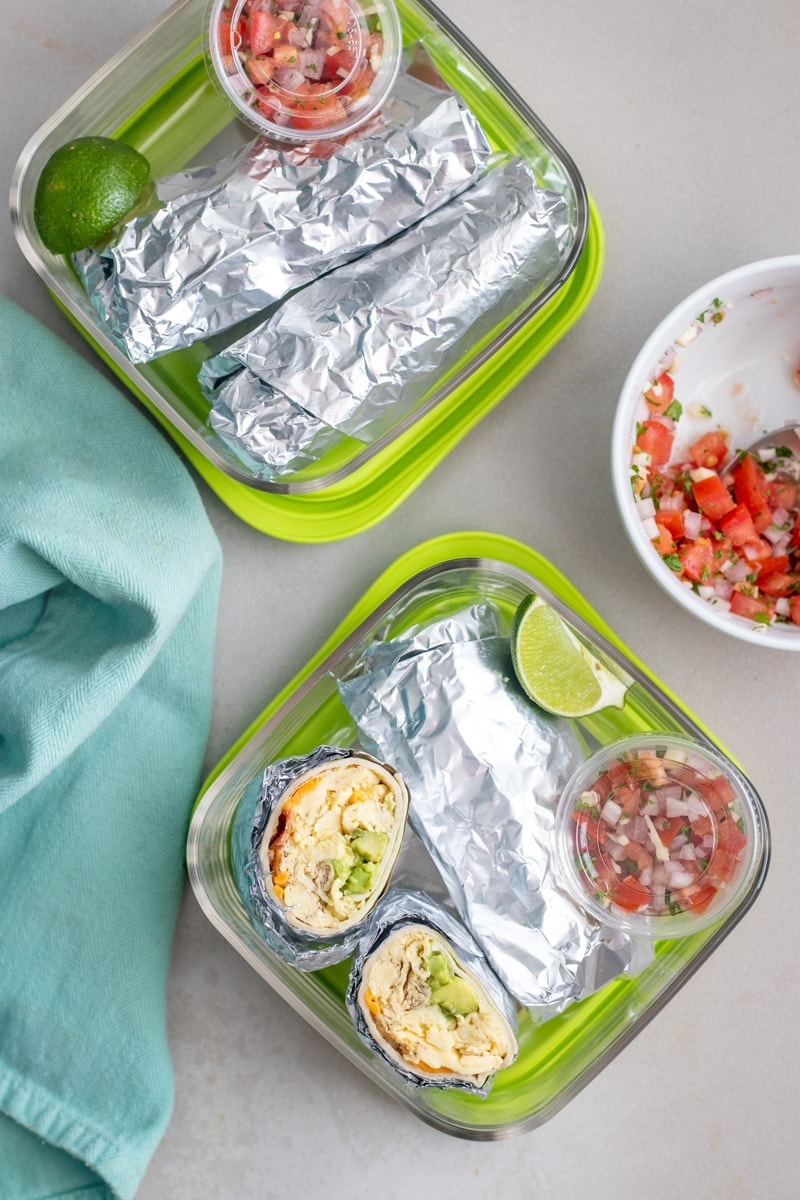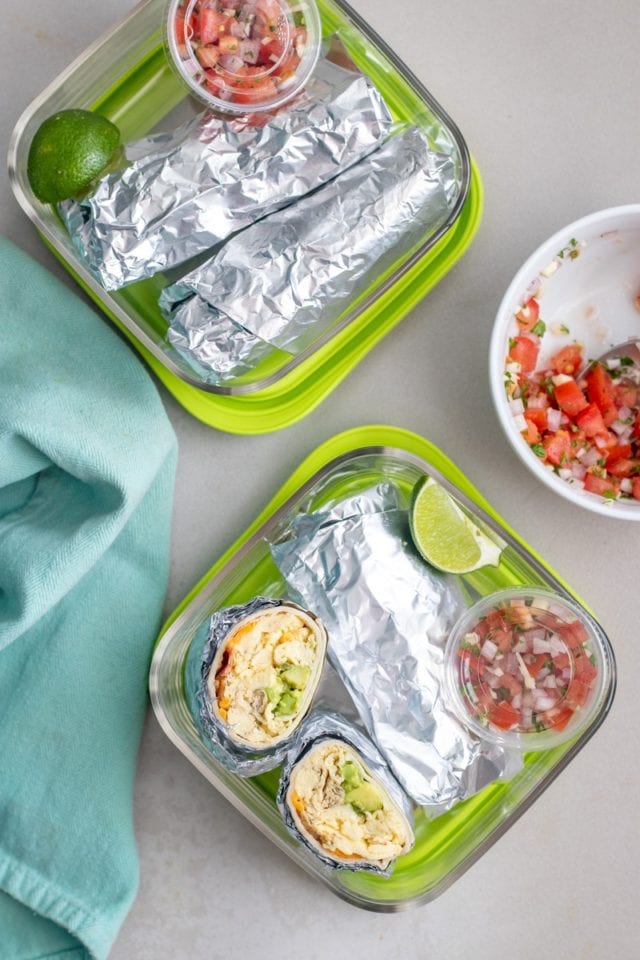 Breakfast: Meal Prep Breakfast Burritos with Mixed Berries
Nutrition: 288 calories, Protein: 25 gram, Carbs: 47 grams, Fat: 16 grams
Low carb tortillas filled with cheese, eggs, bacon, and avocado. Serve it with salsa or a fresh pico de gallo for a fresh punch of flavor. The recipe makes 6 burritos, but the good news is they freeze well for next week (instructions in the link above).
Mix together 1 pint of blueberries and raspberries, and 1 pound of strawberries and serve a cup of the mixture with each burrito. Save leftovers for Sunday brunch.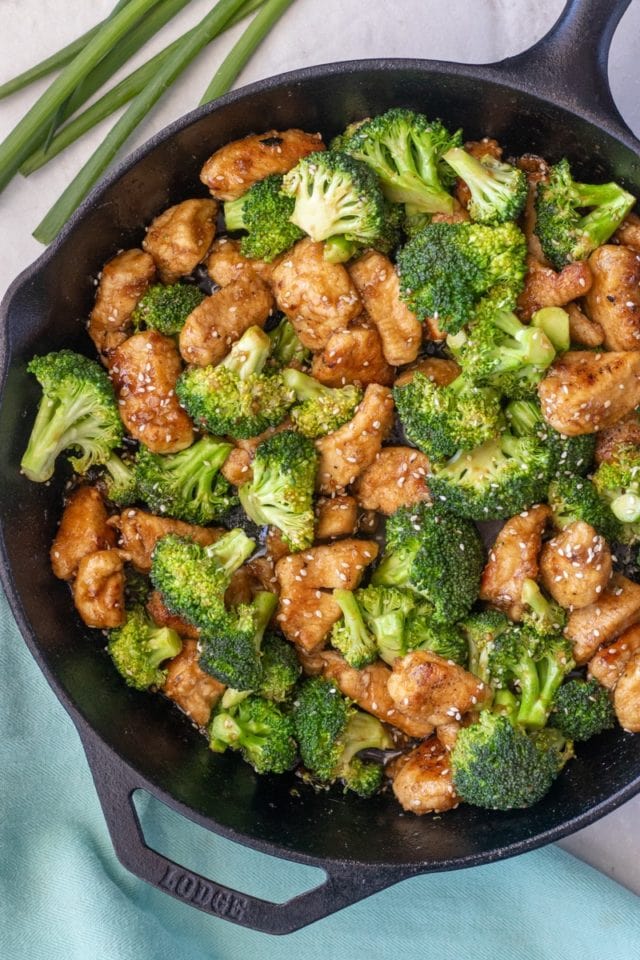 Lunches: Honey Sesame Chicken and Broccoli
Nutrition: 443 calories, Protein: 40 grams, Carbs: 30 grams, Fat: 14 grams
Chicken breast pieces are lightly floured and toasted and mixed with tender steamed broccoli and then coated in a sweet and nutty honey sesame sauce.
This recipe makes 4 servings, so it won't get you through the full week. The good news is, you should have some dinner leftovers accumulated by Friday to fill in the gap and avoid food waste.
Dinners
As mentioned earlier, these dinners will feed 4 - 6 people. Depending on how big your servings are, and how many people you are serving, you may have leftovers.
I recommend saving some leftovers in the fridge for weekend lunches and freezing the rest for future meals. I freeze them as individual meals in freezer-friendly containers so I have grab-and-go lunches.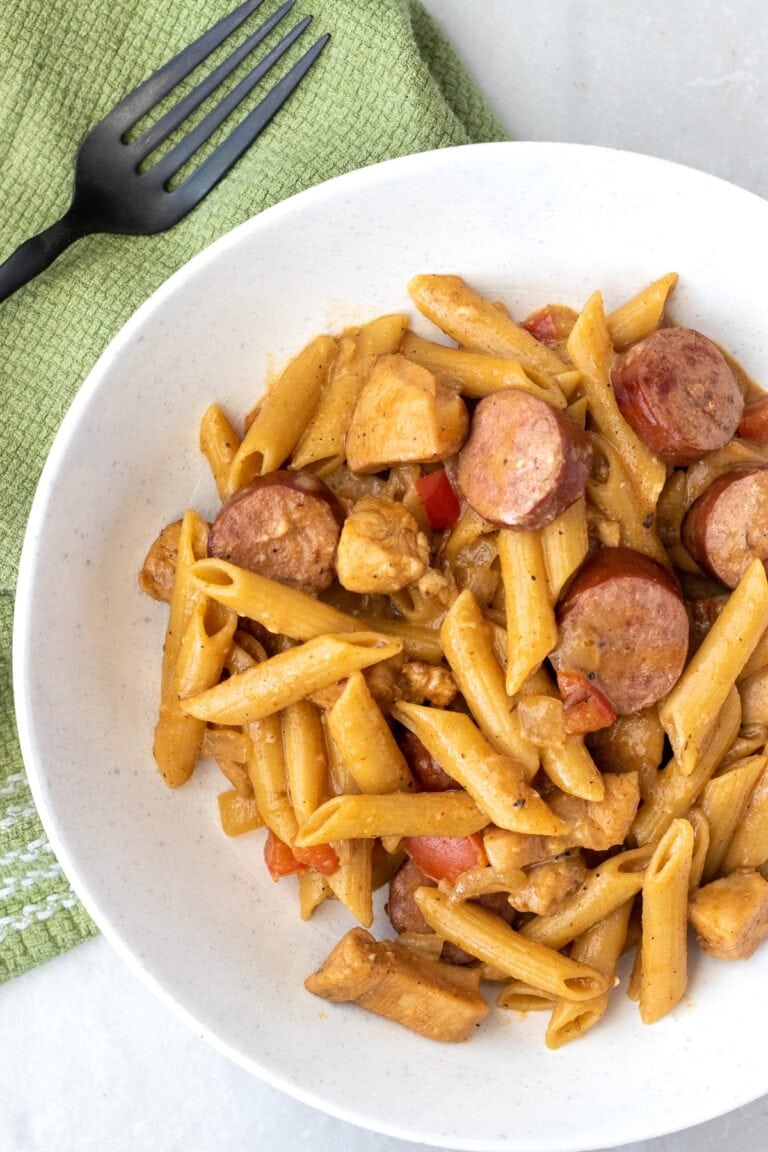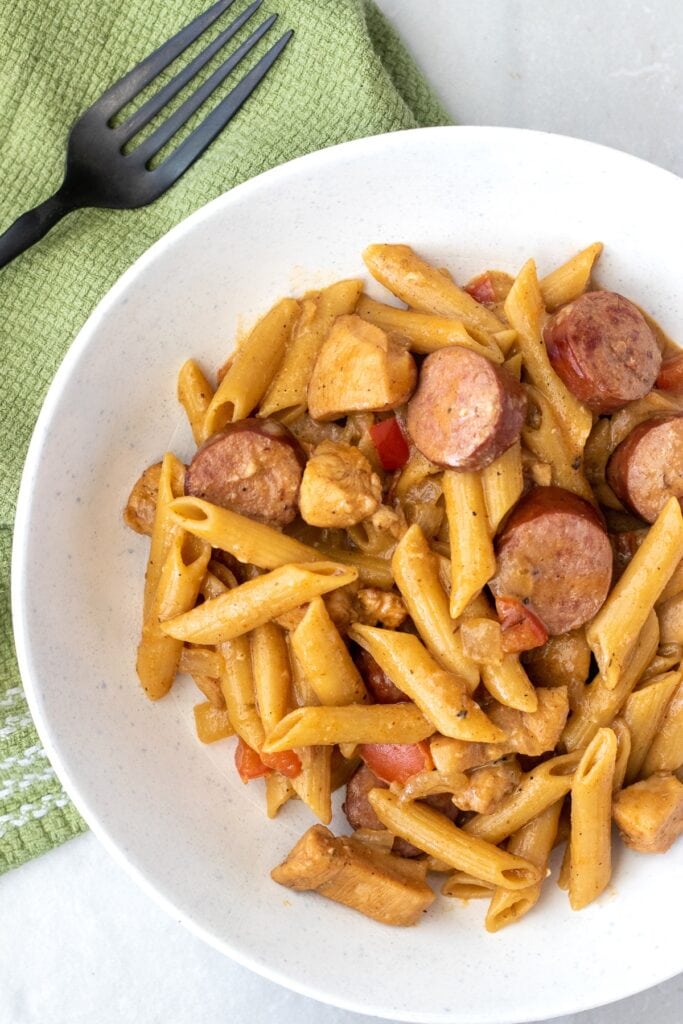 <
Dinner 1: Cajun Chicken and Sausage Skillet Dinner
Nutrition: 447 calories, Protein: 42 grams, Carbs: 46 grams, Fat: 11 grams
A one-pot Cajun chicken pasta recipe that's done in about 25 minutes. Cajun seasoned chicken breast and smoked sausage are sautéed with peppers onions. Noodles are simmered in the same skillet with broth and then mixed with Greek yogurt to make a creamy Cajun pasta sauce.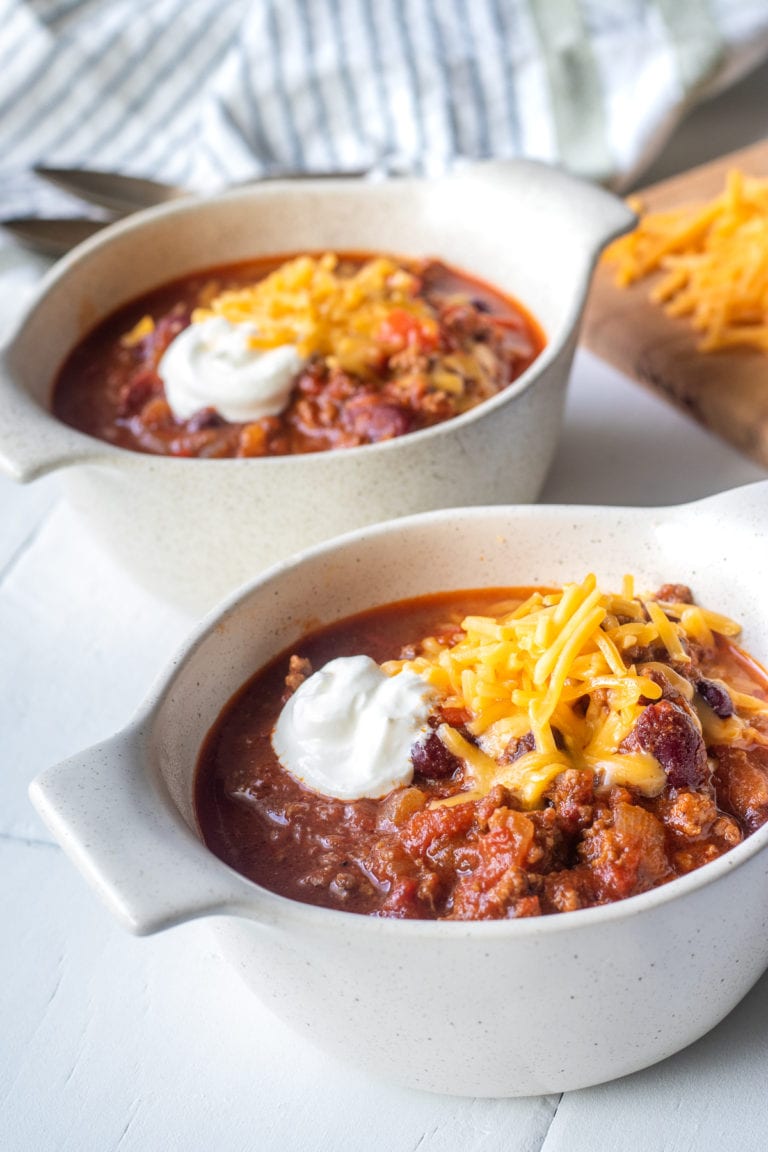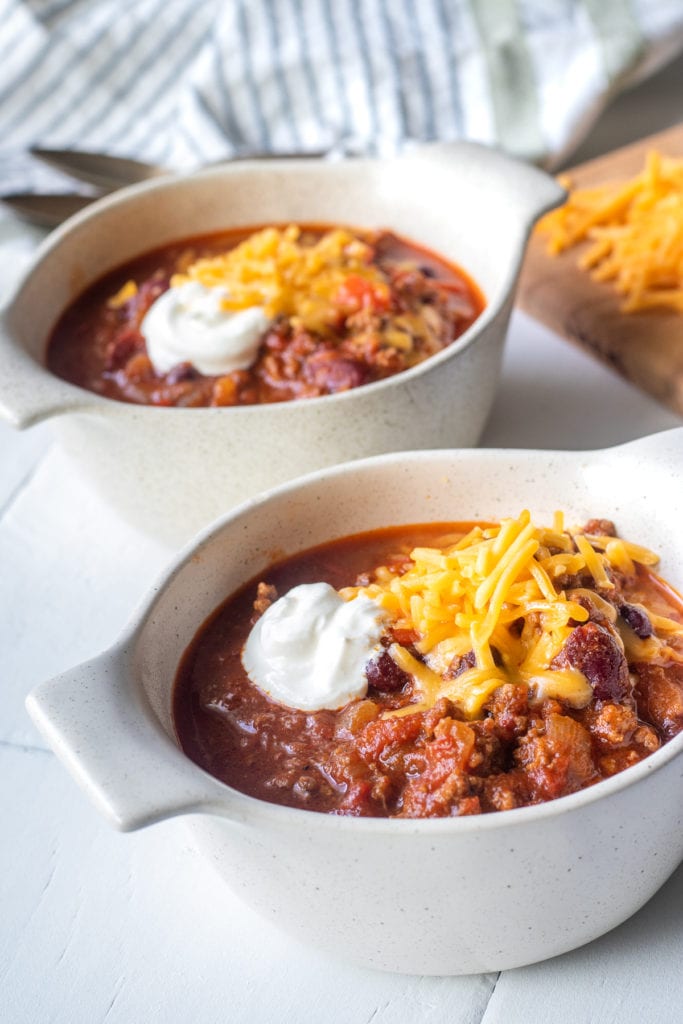 Dinner 2: Healthy Beef and Bean Chili with baked sweet potato
Nutrition: 485 Calories, Protein: 31 grams, Carbs: 54 grams, Fat: 17 grams
Chili is a classic low-calorie recipe that has tons of protein and fiber. Pour a big helping on top of 5 ounces of baked sweet potato (usually half of a large one) and you'll have a seriously filling and delicious dinner.
Dinner 3: Easy Cast Iron Steak and Sauteed Green Beans with Mushrooms and Bacon
Nutrition: 472 Calories, Protein: 41 grams, Carbs: 13 grams, Fat: 27 grams
Tender top sirloin is cooked on the stovetop with rosemary and a little butter to add a ton of flavor with very little work. Sauteed green beans that basically taste like a healthy green bean casserole. Loads of mushrooms, bacon, and fresh green beans. A tasty lower carb dinner combination.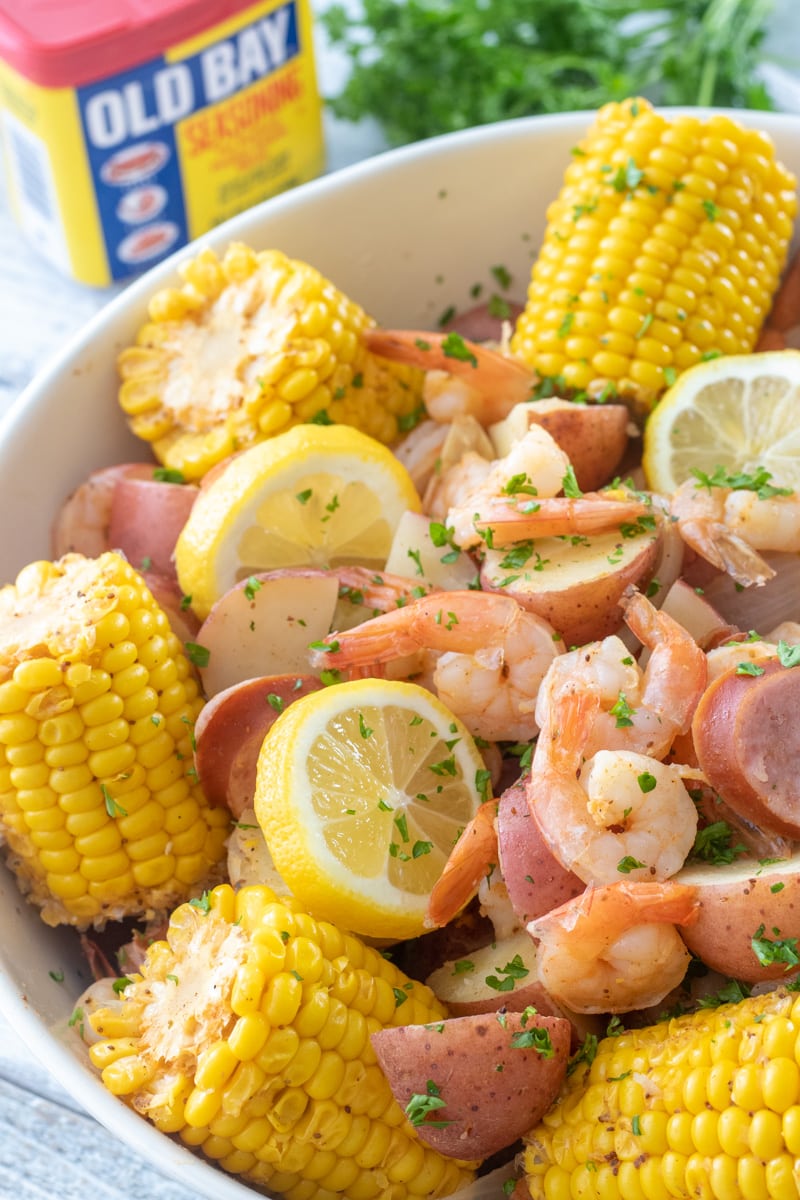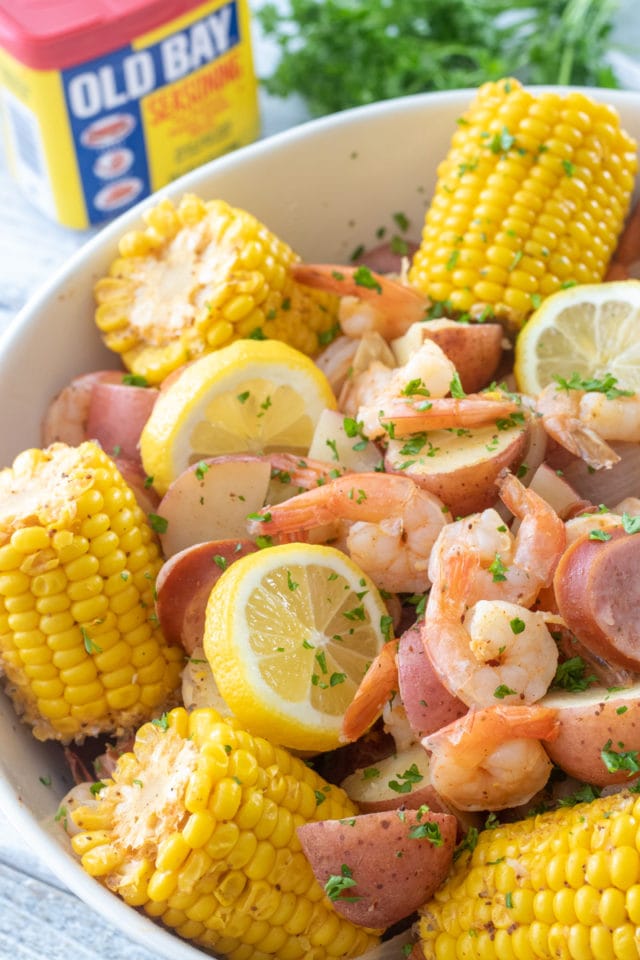 Dinner 4: Low Country Shrimp Boil
Nutrition: 507 Calories, Protein: 52 grams, Carbs: 22 grams, Fat: 28 grams
A one-pot meal that takes very little effort to make. Shrimp and sausage are cooked in an old bay brine with potatoes and corn on the cob.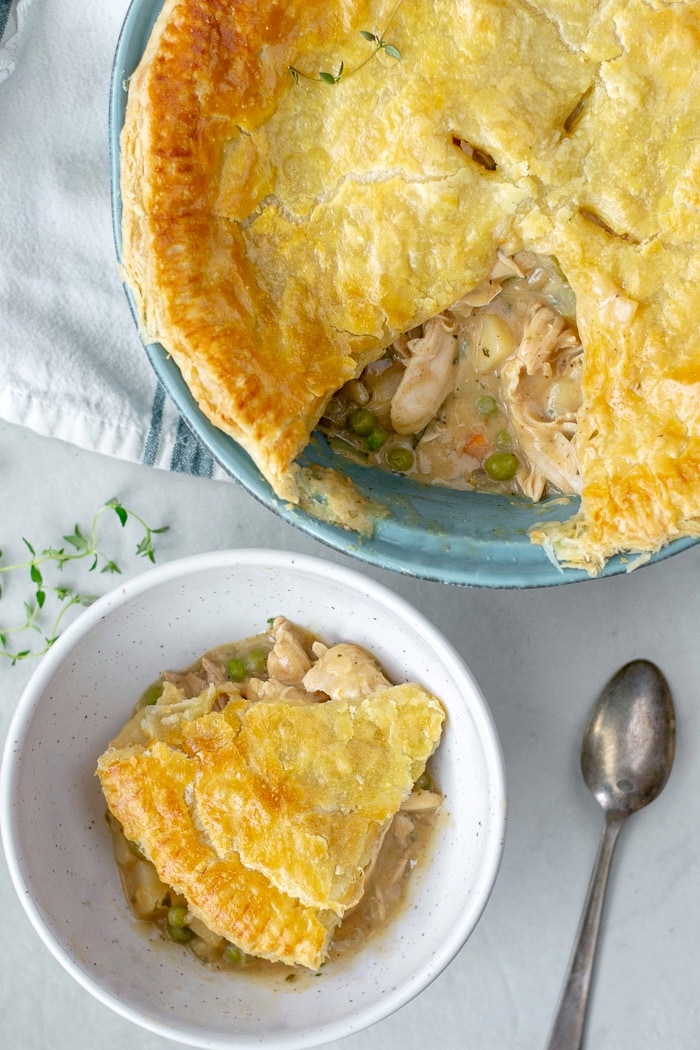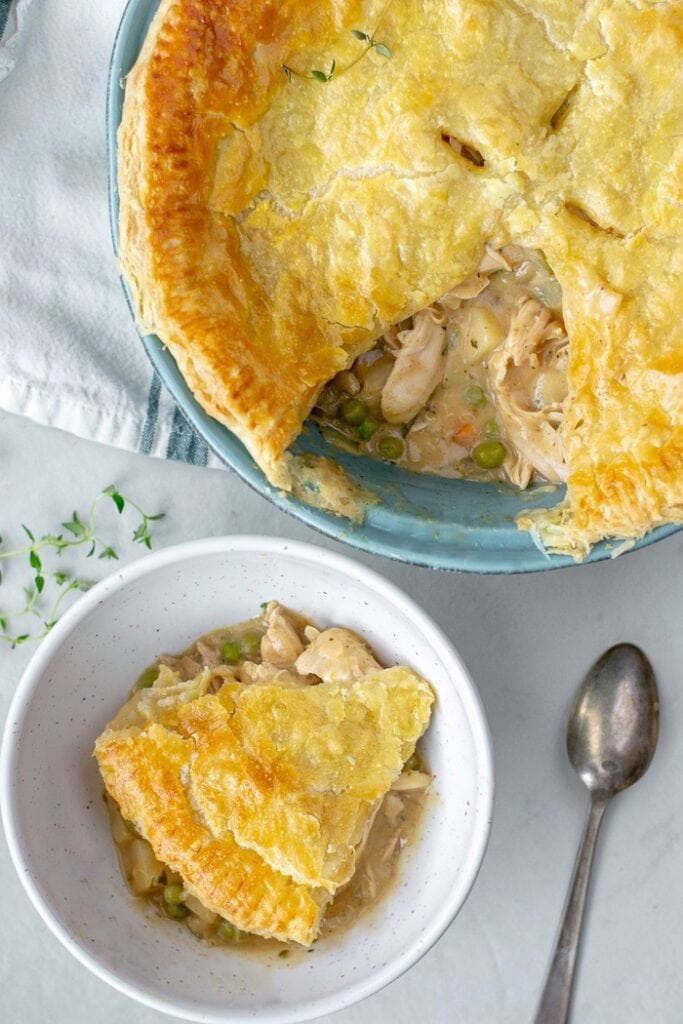 Dinner 5: Chicken Pot Pie
Nutrition: 440 Calories, Protein: 18 grams, Carbs: 34 grams, Fat: 23 grams
Grab some pre-cooked chicken breast from the deli department to make this tasty pot pie recipe. Flaky puff pastry goes on top of a flavorful blend of fresh veggies and chicken or turkey.
Dinner 6: Braised Pork Shoulder with Skinny Garlic Parmesan Mashed Potatoes and Steamed Asparagus
Nutrition: 580 Calories, Protein: 18 grams, Carbs: 37 grams, Fat: 28 grams
A cozy, rich meal that's perfect for the weekend. Pork shoulder is slow-braised in wine and broth, then shredded. Serve it with creamy garlic Parmesan mashed red potatoes and a ton of the pork gravy. Add a cup of steamed broccoli to the plate and you have a seriously good meal.
Sunday Brunch or Weekend Breakfast
I love cooking a big Sunday Brunch to enjoy with the whole family since breakfasts never happen as a family at my house on weekdays. This meal is simple to keep it low calorie - but you can customize as you see fit.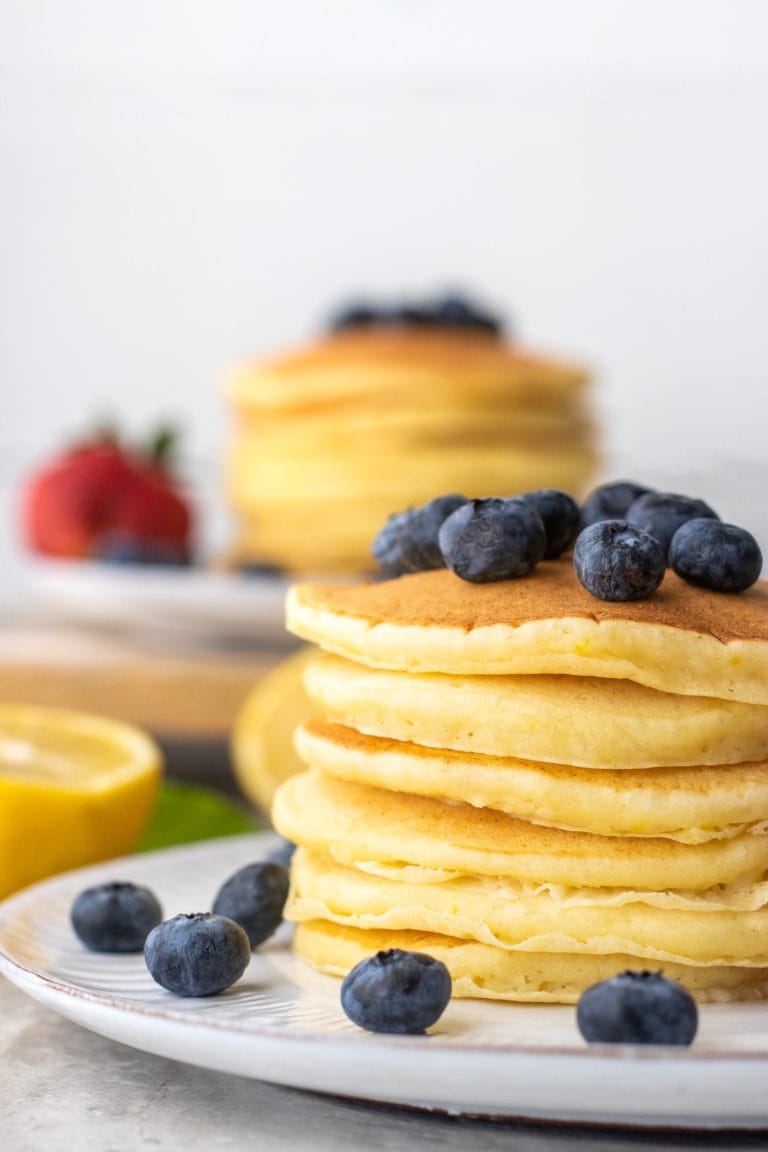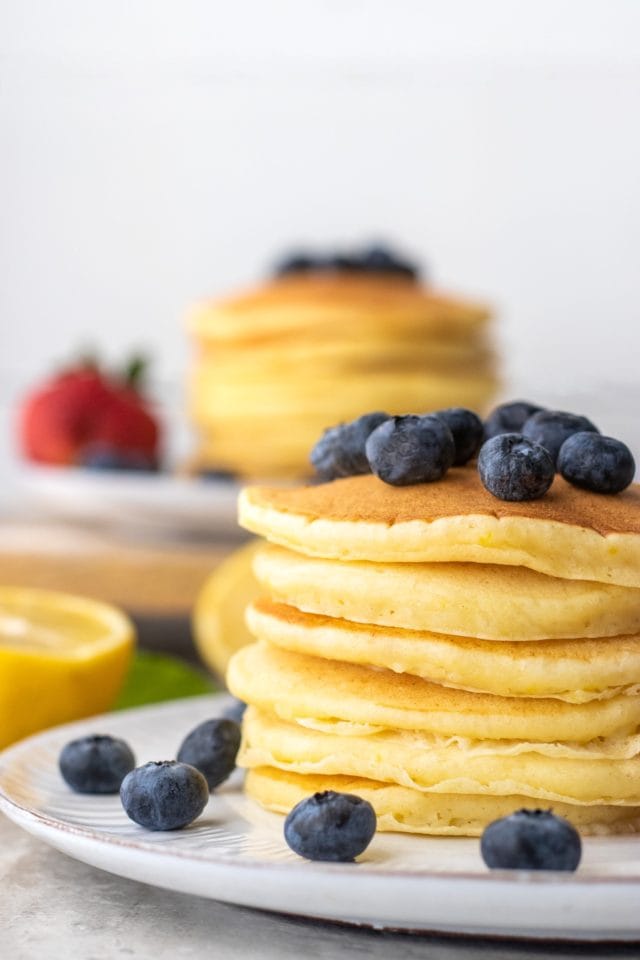 Lemon Ricotta Pancakes with Berries and Eggs
Nutrition: 432 Calories, Protein: 24 grams, Carbs: 38 grams, Fat: 19 grams
Nothing says Sunday to me like a big stack of pancakes. Top them with ½ cup of those leftover berries from the week (no syrup - these pancakes are plenty sweet with the berries and syrup is super calorie-dense), and 2 eggs your favorite way.
Snack Suggestions
---
Daily Meals
---
Grocery List
[su_button url="https://docs.google.com/document/d/1nrTQv6HezpPtL2BY_GmDFb9J4KKpUjKmYkN58h9NzAk/edit?usp=sharing" target="blank" background="#e7efef" color="#000000" center="no" radius="0" icon="icon: print" icon_color="#000000"]DOWNLOAD THE LIST[/su_button]
Produce
5 yellow onions
2 red bell pepper
21 garlic cloves
Fresh rosemary
Fresh thyme
24 ounces green beans
1 shallot
8 ounces mushrooms
4 lemons
3 pounds red potatoes
4 ears of corn
1 parsley bunch
1 cilantro bunch
1 Yukon gold potato
1 medium carrot
1 celery stalk
1 teaspoon fresh ginger
2 broccoli crowns
2 green onions
1 large avocado
1 lime
1 Roma tomato
1 pint blueberries
1 pint raspberries
1 pound strawberries
3 (10-ounce) sweet potatoes
1 pound aspragus
Dairy
2 cup plain Greek yogurt
11 Tablespoons butter
15 eggs
1 small carton egg whites
⅔ cup whole milk ricotta
½ cup milk
1 cup shredded cheddar cheese
Meat and Seafood
2 lb. boneless skinless chicken breasts
(2) 13-ounce smoked sausages
24 ounces 90/10 ground beef
4 (6 ounce) top sirloin steaks
9 slices bacon
2 pounds large shrimp, peeled and deveined
10 ounces pulled chicken breast
(1) 3-4 pound boneless pork shoulder roast
Baking
4 Tablespoons sugar
3 Tablespoons pine nuts
1 cup + 5 Tablespoons flour
1 teaspoon baking powder
¼ teaspoon baking soda
3 Tablespoons honey
3 Tablespoons cornstarch
1 teaspoon vanilla extract
Oil and Spices
2 ½ teaspoons paprika
1 teaspoon garlic powder
½ teaspoon dried oregano
Kosher salt
pepper
¼ teaspoon dried thyme
1 Tablespoon chili powder
1 teaspoon cumin
½ cup Old Bay seasoning
Red pepper flakes
¼ teaspoon nutmeg
2 bay leaves
1 Tablespoon sesame oil
8 Tablespoons olive oil
1 ½ Tablespoon sesame oil
Frozen
Canned and Dry Goods
10 ounces dry penne noodles
8 ¼ cups chicken broth
2 ½ cups beef broth
(1) 28 oz. can crushed tomatoes
(1) 15 oz. can dark red kidney beans
2 tablespoons tomato paste
2 Tablespoons dijon mustard
¼ cup low sodium soy sauce
1 tablespoon rice vinegar
Bakery & Bread
Beverages