---
Western Ham and Cheese Crustless Quiche is a delicious and high protein breakfast that can be made ahead for meal prep or for a delicious protein-packed brunch.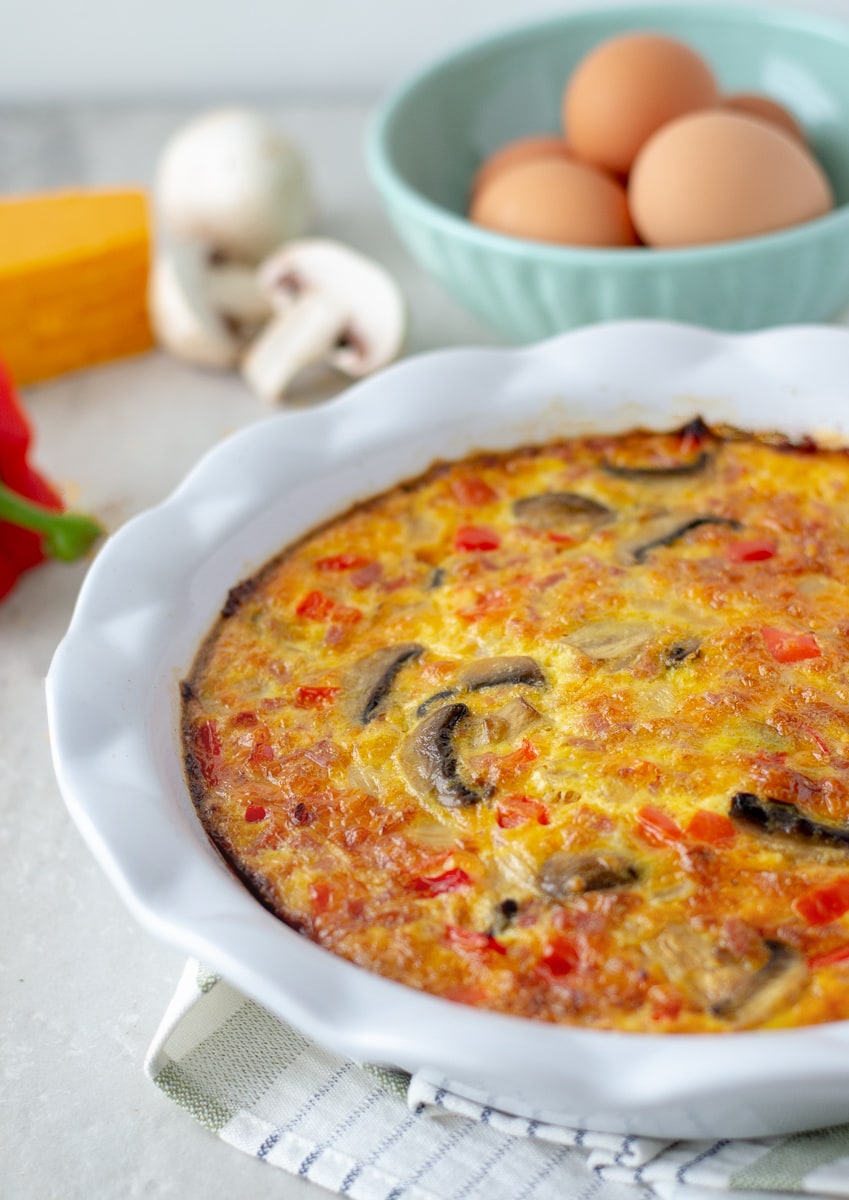 How It's Different From a Frittata
I know you might be thinking, this is basically a frittata, right? The answer is kinda - but not really. A frittata starts cooking (egg mixture included) on the stovetop and then the pan goes in the oven to finish.
A crustless quiche, on the other hand, gets put into a pie or quiche dish with the egg mixture completely raw and then bakes from start to finish.
The Good Stuff
If you're new to crustless quiches and you need a nudge to try them, allow me to sell you:
Easy to make ahead. There are very few ways that I enjoy eggs reheated - and this is one of them. This recipe is a cinch to make on Sunday to portion out for breakfasts throughout the week.
Crustless quiches are low on carbs and relatively high in protein. As someone who finds getting enough protein fairly tedious, this recipe has 29 grams of protein and only 9 grams of carbohydrates, so it goes a long way in helping me reach my goals.
Tons of options for customizing the recipe. This is one of those recipes that can be made different week after week for meal preps. Any combination of veggies, meats, and cheese can work. It's basically the pizza of breakfast dishes.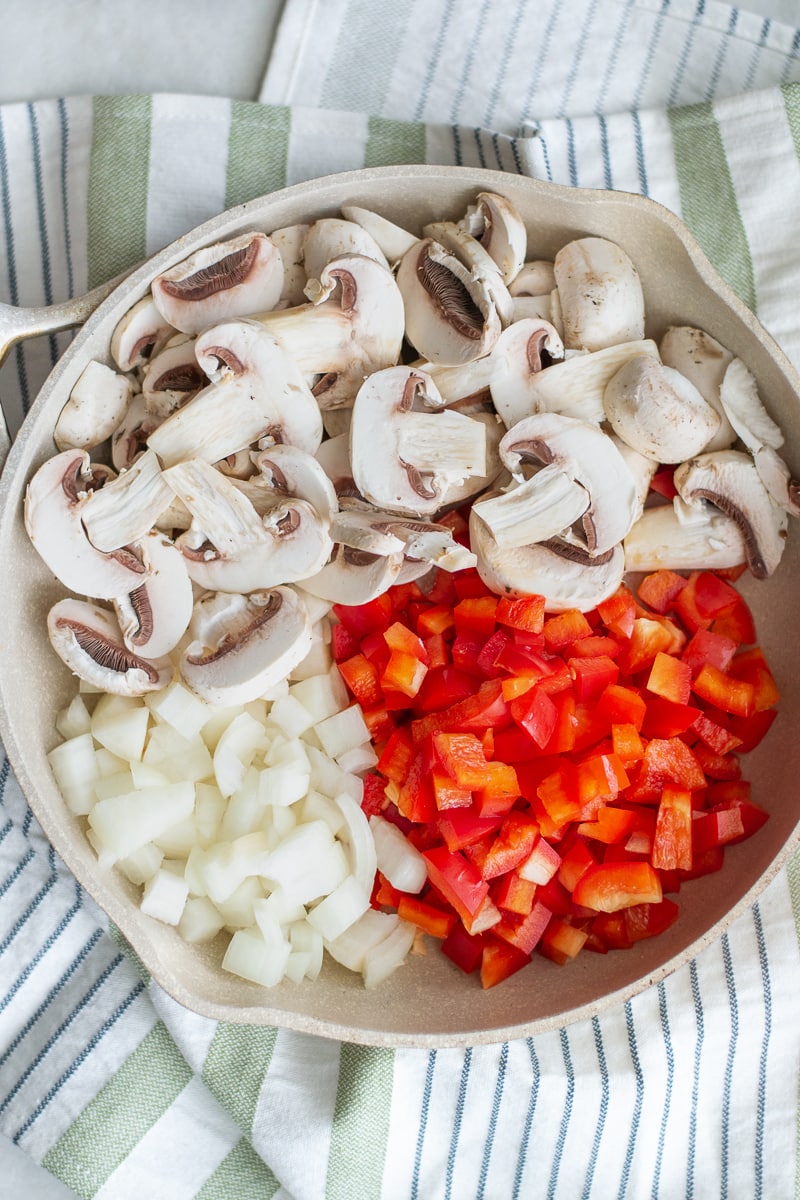 Ingredients and Substitutions
[su_highlight background="#a4bcb2" color="#ffffff"]VEGGIES:[/su_highlight] For the western ham and cheese crustless quiche, you'll need onions, peppers and mushrooms. However, the sky is the limit with this recipe. Yummy ones to consider are zucchini, green onions, cooked broccoli, asparagus, artichokes, tomatoes, or corn.
[su_highlight background="#a4bcb2" color="#ffffff"]MEATS:[/su_highlight] There's nothing like the classic ham and cheddar this recipe calls for. But if the ham isn't your thing you may consider leftover chicken or turkey, ground meat like sausage or beef, bacon or pancetta.
[su_highlight background="#a4bcb2" color="#ffffff"]CHEESE:[/su_highlight] I highly suggest shredding your own cheese for this recipe. Freshly shredded cheese melts better because it isn't coated in potato starch like pre-shredded cheese is. Suggestions for cheeses other than cheddar: gruyere, feta, swiss, white cheddar or provolone.
[su_highlight background="#a4bcb2" color="#ffffff"]EGGS:[/su_highlight] Eggs are the base for crustless quiche so theres no replacing them. You can, however decrease the fat calories if you want by replacing 3 of the eggs with ⅔ cup of liquid egg whites. This will give you the same amount of liquid, but less fat and more protein.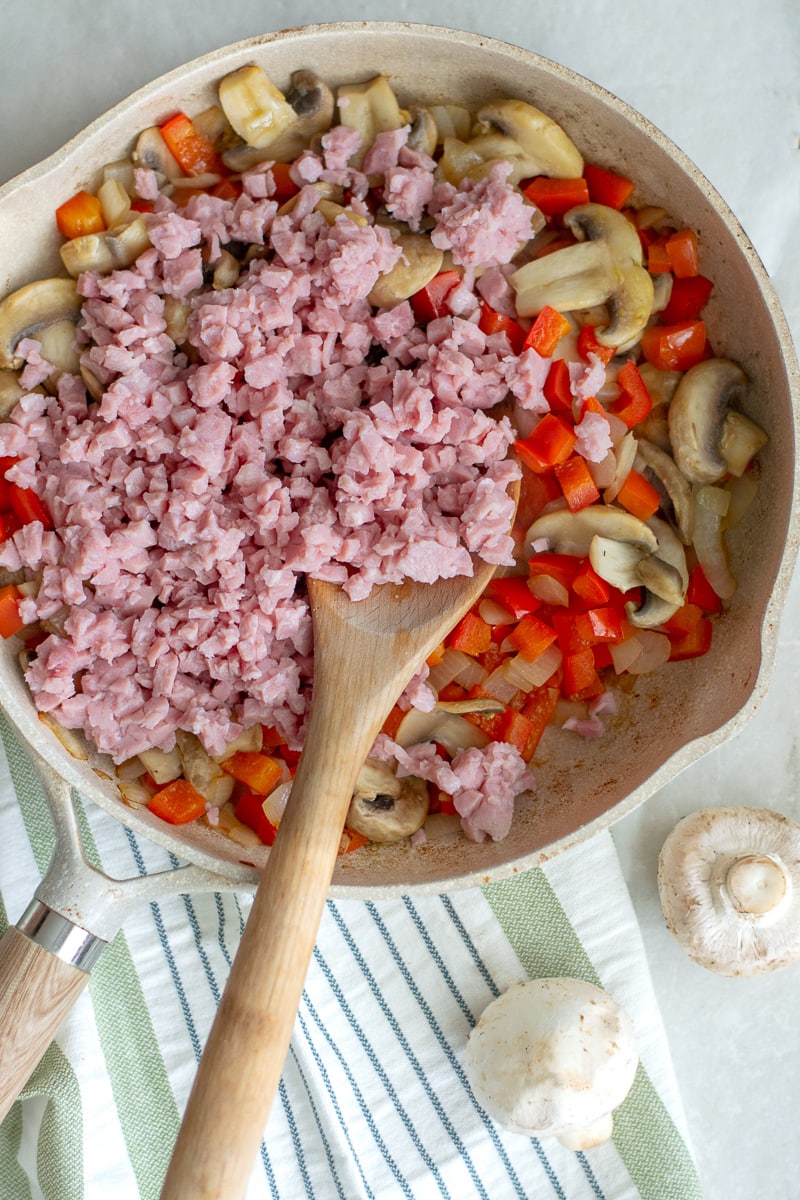 Pro Tips
[su_highlight background="#e7efef" color="#000000"]HOW TO KEEP IT FROM STICKING TO THE PAN:[/su_highlight] Believe it or not, I have had more quiches with crust stick to the pan than the crustless quiches. The fat content in the crustless quiche generally won't stick, but I give the dish a quick rub of olive oil (about 1-2 teaspoons rubbed on with a paper towel) and I've never had any issues.
[su_highlight background="#e7efef" color="#000000"]HOW TO KEEP IT FROM GETTING WATERY:[/su_highlight] Don't skip draining off any excess liquid! This recipe doesn't even call for particularly watery veggies (ahem...zucchini) and I still had a good 3 tablespoons of juices to drain after heating the ham through. The veggies should only be damp when before you add in the cheese and eggs.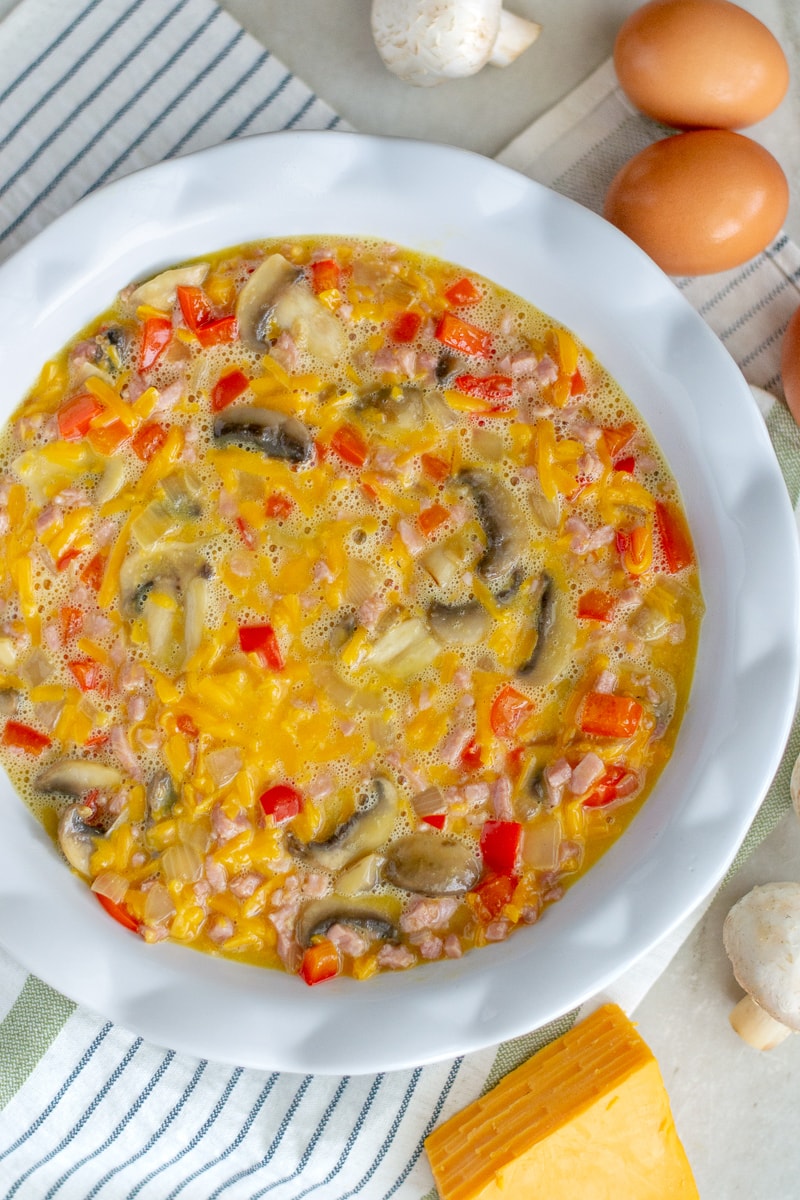 <
How to Store, Reheat, and Freeze Crustless Quiche
[su_highlight background="#e7efef" color="#000000"]STORAGE:[/su_highlight] Super simple. Grab some foil and cover the dish the quiche cooks in tightly. Store the covered dish in the fridge for up to 6 days.
[su_highlight background="#e7efef" color="#000000"]REHEAT:[/su_highlight] 60 seconds in the microwave on high heat will heat a big slice of this right up. Don't be tempted to put it back in the oven, you'll end up with overcooked eggs.
[su_highlight background="#e7efef" color="#000000"]FREEZE:[/su_highlight] Just don't. Unless you have a blast freezer hanging out around the house, the time it takes to freeze this in a conventional freezer sucks to life right out of the dish. Once you thaw it, you end up with a grainy, watery mess. Skip freezing this dish.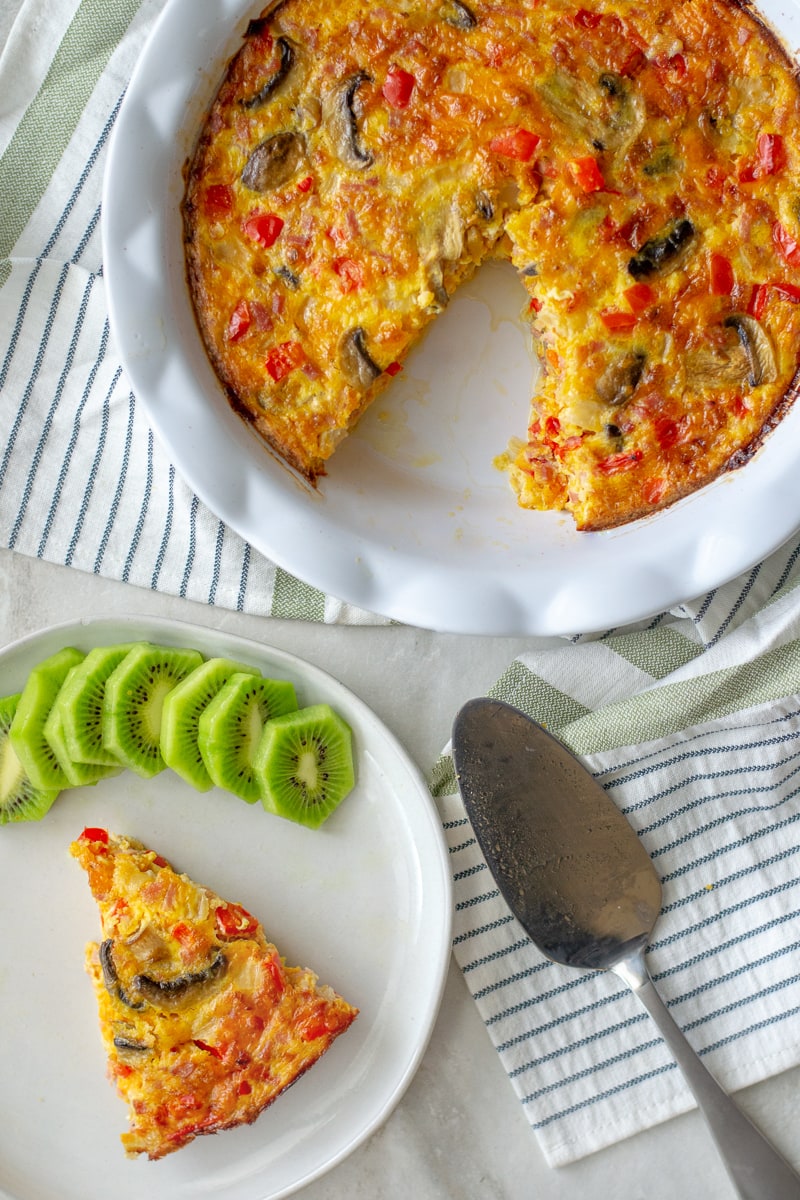 Serving Suggestions
If you're keeping it low carb, avocado or more veggies are a great side to fill this out as a meal. If you have a little more room for carbs in your diet, go with high-fiber fruits. I always have apples, berries, or kiwis on hand for breakfast.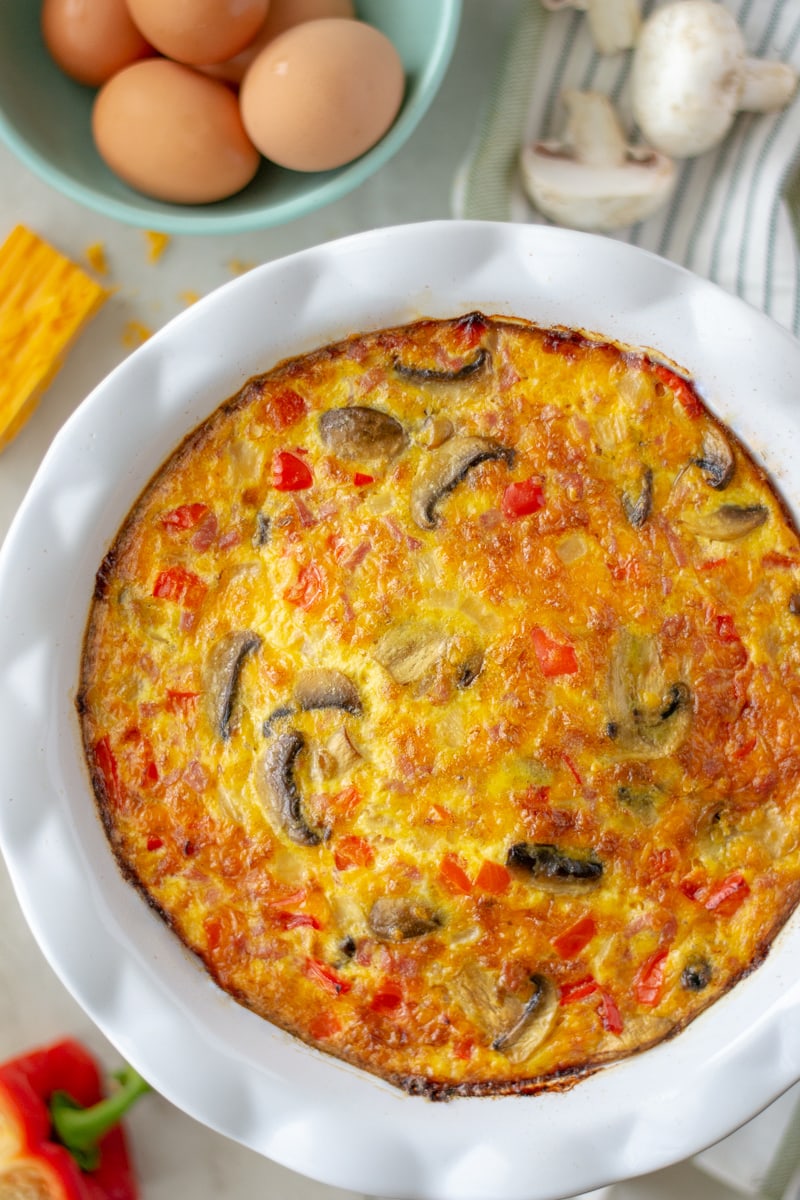 ---
OTHER RECIPES YOU SHOULD TRY
---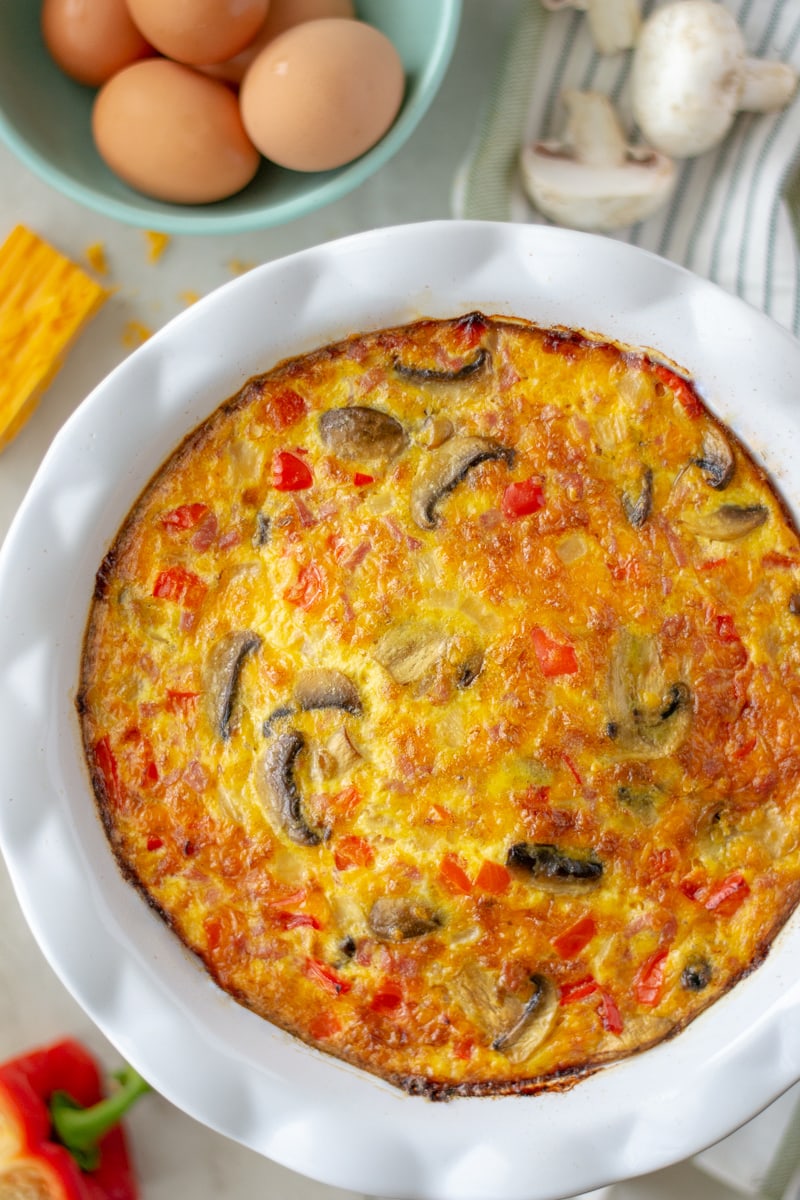 Western Ham and Cheese Crustless Quiche
Mushrooms, onions, peppers, cheddar cheese, and diced ham are all baked into this tasty low carb breakfast.
Ingredients
1

tablespoon

olive oil

1

small onion

(chopped)

1

red bell pepper

(chopped)

8

ounces

button mushrooms

(sliced)

1

cup

cooked ham

(chopped small)

2

cups

Cheddar cheese

(shredded)

6

large eggs*
Instructions
PREPARE: Preheat the oven to 350˚F. Grease a 8 or 9" pie plate or casserole dish.

COOK THE VEGGIES: In a large skillet, sauté the onion, pepper, and mushrooms in oil until tender. Add the ham and heat for about 3 minutes. Drain any excess moisture from the pan and allow to cool while you prepare the remaining ingredients.

PREPARE THE EGGS: In a large bowl, beat the eggs, then add the cheese and vegetable and ham mixture and stir until well incorporated.

COOK THE QUICHE: Pour the mixture into the prepared dish. Bake for 40-45 minutes or until you can place a knife in the center and have it come out clean.*
Notes
*Cooking times will vary between ovens, check to see if the center is set around 32-35 minutes and continue checking often. 
Nutrition
Calories:
366
kcal
Carbohydrates:
9
g
Protein:
29
g
Fat:
25
g
Saturated Fat:
12
g
Polyunsaturated Fat:
1
g
Monounsaturated Fat:
2
g
Cholesterol:
266
mg
Sodium:
702
mg
Potassium:
315
mg
Fiber:
2
g
Sugar:
4
g
Vitamin A:
12
IU
Vitamin C:
33
mg
Calcium:
59
mg
Iron:
8
mg
Nutrition Information Disclaimer
RECIPE EQUIPMENT
**This blog post contains affiliate links to products that I actually use and that align with my values. See my affiliate disclaimer here.
PIN IT NOW, MAKE IT LATER!