---
Chocolate chip zucchini bread is loaded with chocolate with a hint of cinnamon. Zucchini is the key to getting a moist and tender bread the whole family will love.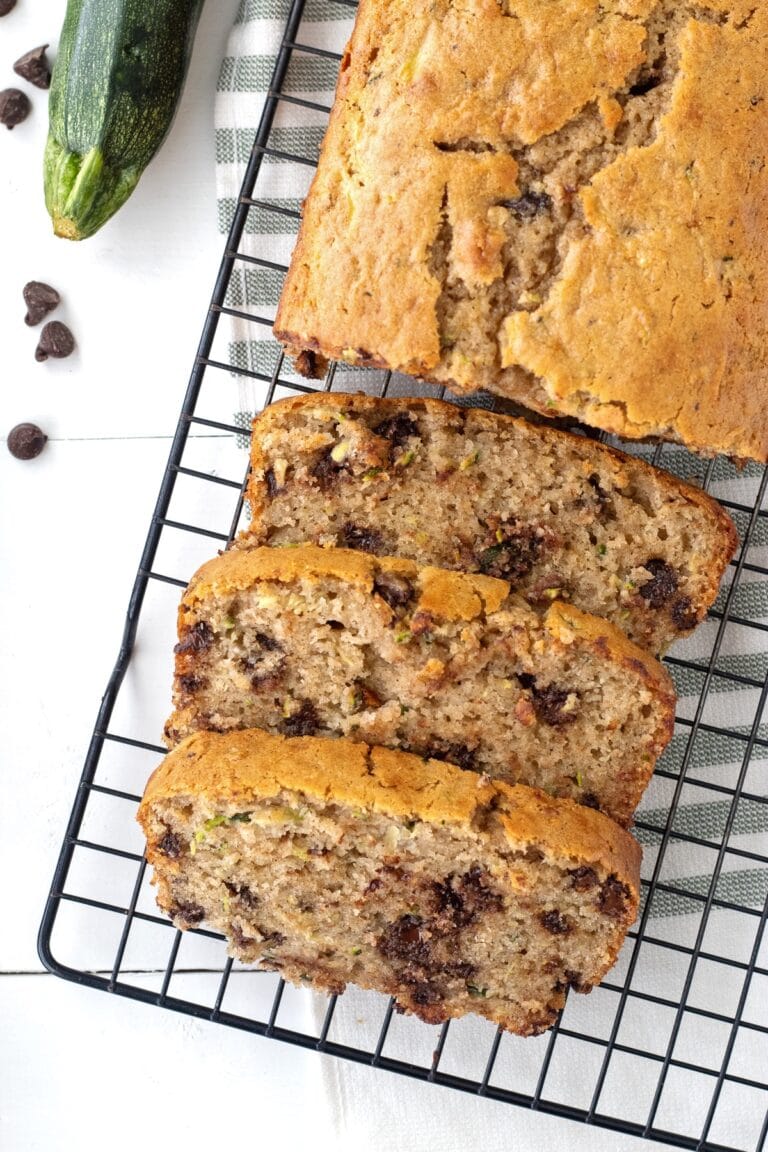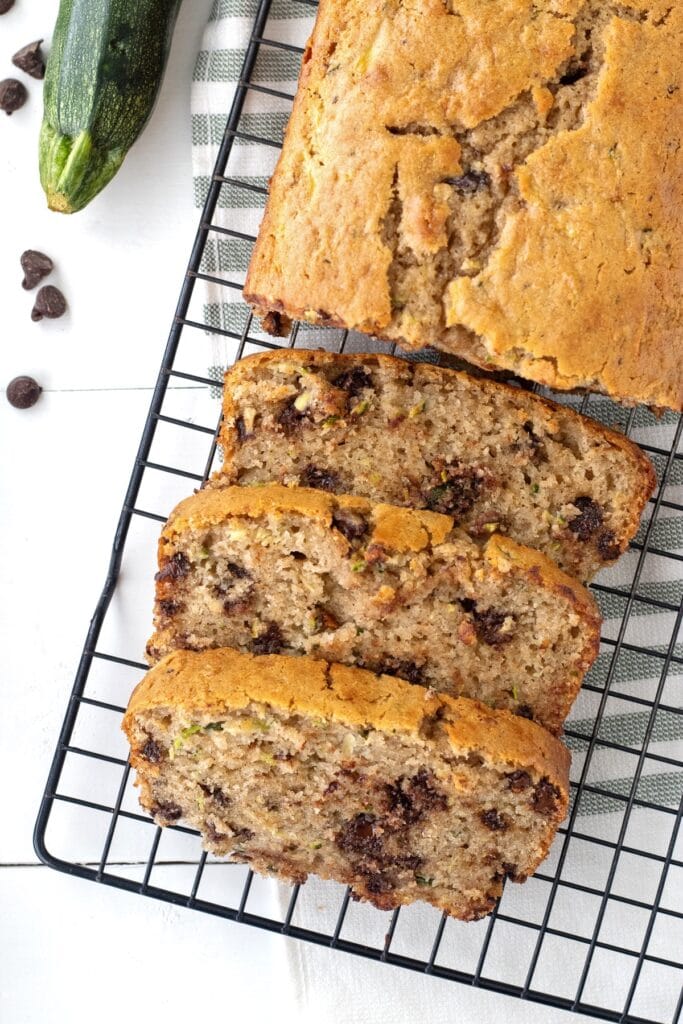 How to Make the Best Zucchini Bread Ever
Quick breads are easy once you go through a little trial and error. Let me save you the time that will take and give you some tips.
Ingredients and Substitutions
There isn't much room for substitutions in baking, but you can switch these up if need be.
Sour Cream - I love using sour cream instead of oil since it has about ¼ of the calories. You can also use plain yogurt, dairy-free yogurt, or more butter or oil.
Butter - I love the flavor of butter, plus it's a minimally processed cooking fat. Vegetable oil, coconut oil, and olive oil work well too.
Chocolate chips - If you don't have any chocolate chips on hand, they are completely optional. You can also use pecans or walnuts instead.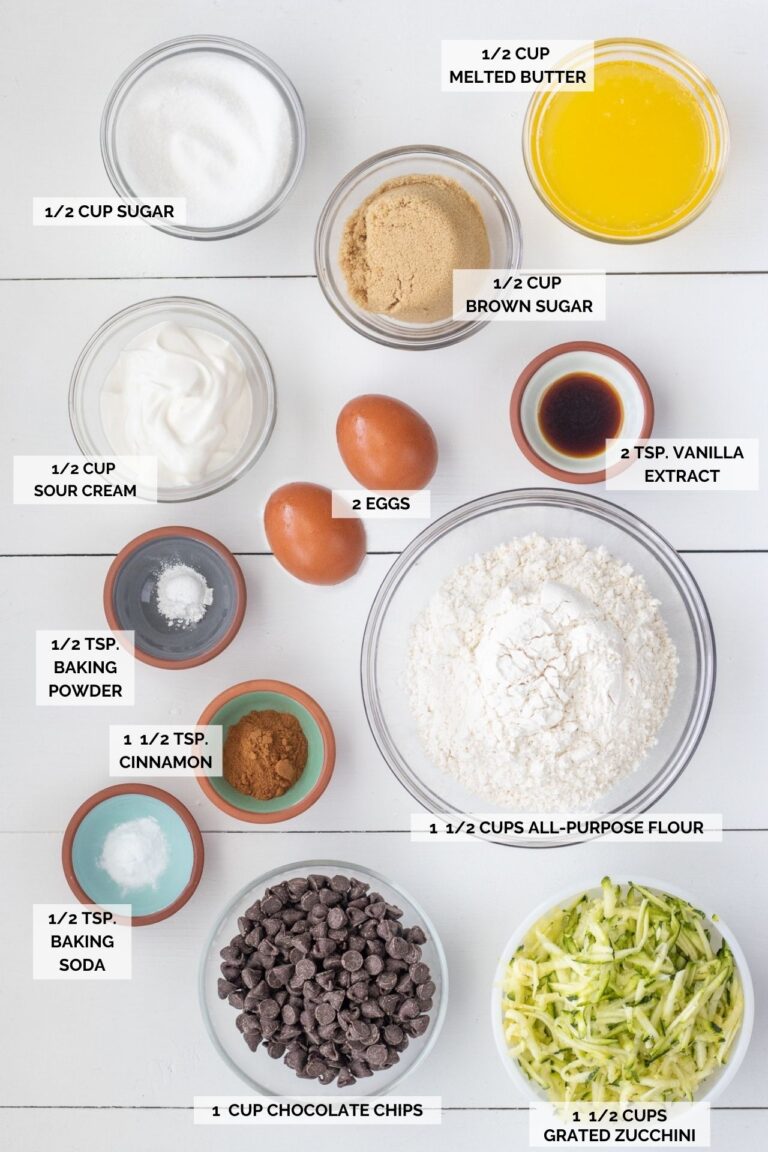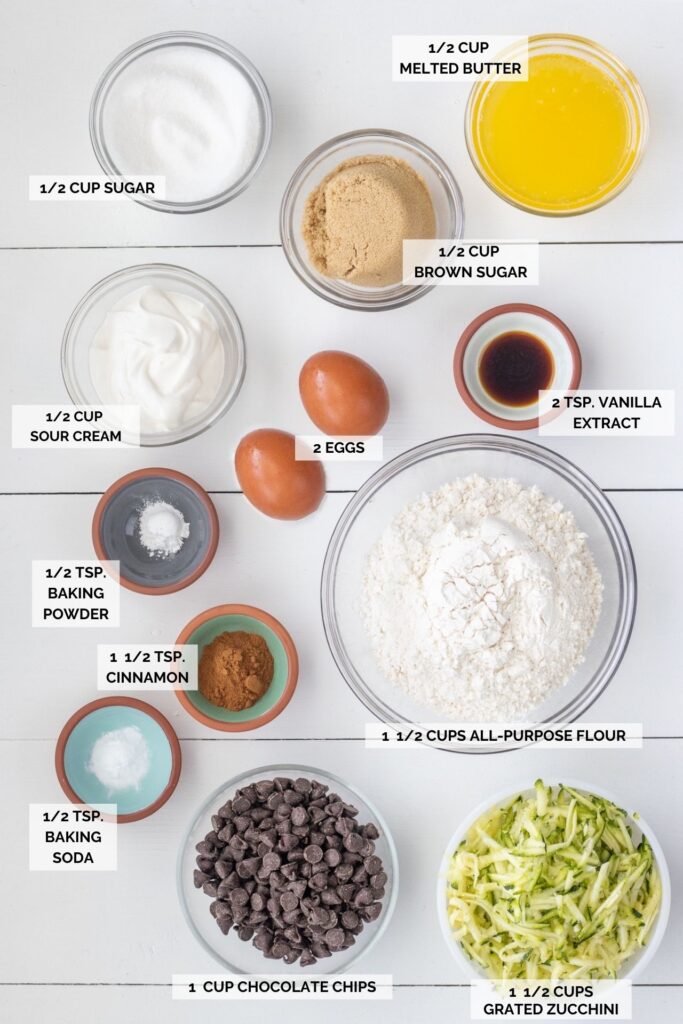 Tips and Instructions
Baking Temperature
To avoid uneven cooking, this recipe calls for a longer cooking time at a lower heat than a lot of other baked goods call for. 325˚ Fahrenheit is a low enough cooking temperature to ensure the middle is cooked through and you don't have a dry, crunchy exterior.
What's the Best Pan?
A 9"x5" pan is what you'll need to make this quick bread recipe. If you have a glass pan that size on hand, go with that one. Metal will work also, but if you see the outside start to cook at a much higher rate - drop the cooking temperature to 300˚.
I also highly recommend using parchment to line the bottom of the pan. Sometimes, no matter how much oil you coat the pan with, the bottom has a tendency to stick.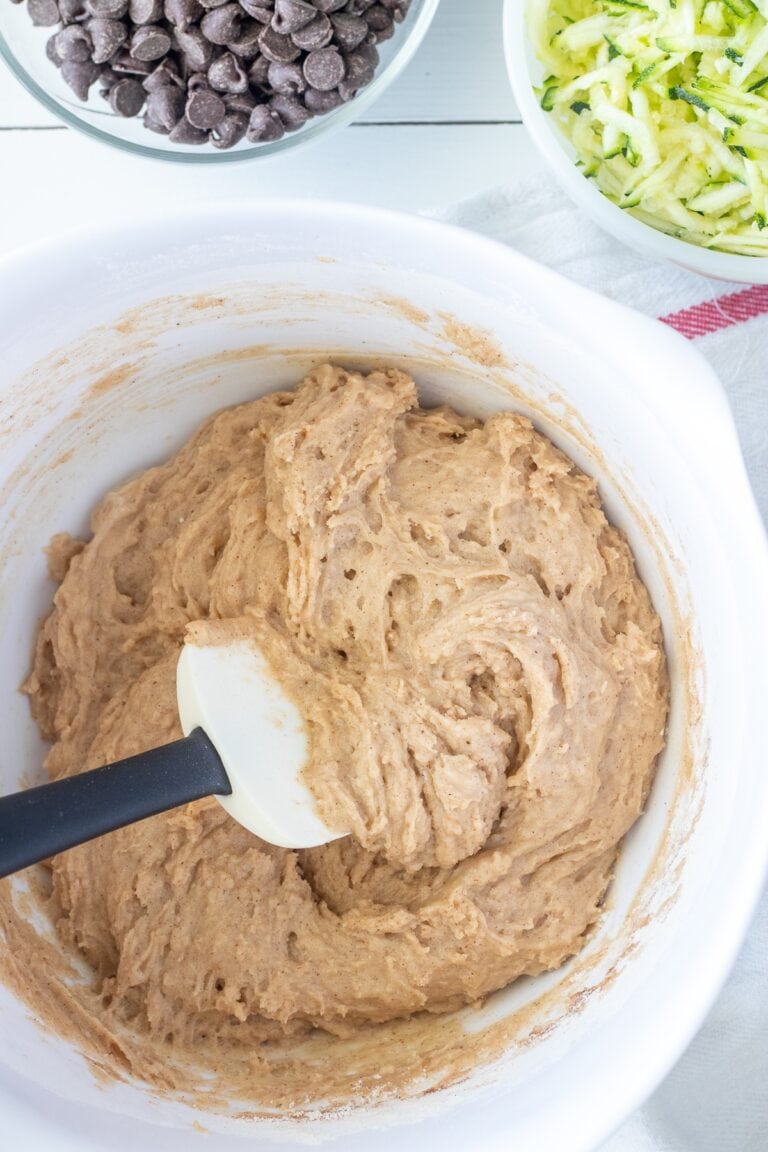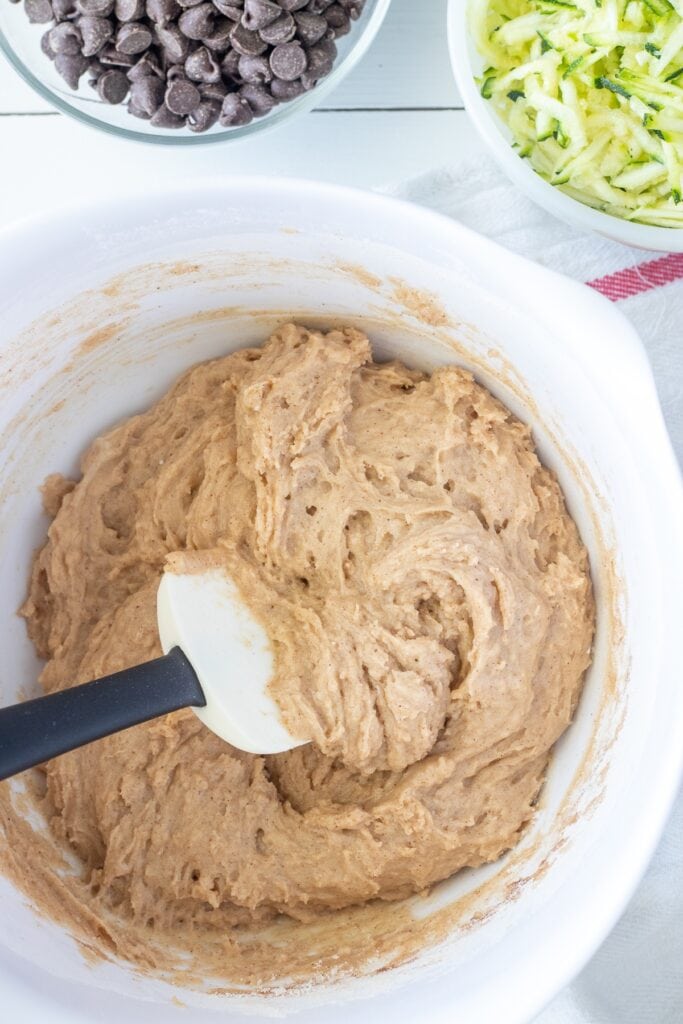 The Batter
This batter comes together the same way most baking recipes do. First, you'll need a large mixing bowl. Stir together the wet ingredients: sugars, butter, sour cream, eggs, and vanilla.
Next, the dry ingredients need to be whisked together to ensure they're combined evenly. Grab a medium mixing bowl and combine the flour, baking powder, baking soda, cinnamon, and salt.
The dry ingredients get mixed into the wet ingredients, be sure not to over-mix the flour. This mixture will be quite thick, but once the zucchini gets into the mixture it will thin out.
Finally, you can't have chocolate chip zucchini bread without zucchini and chocolate chips. Fold them in until evenly distributed and you're batter is ready to become bread.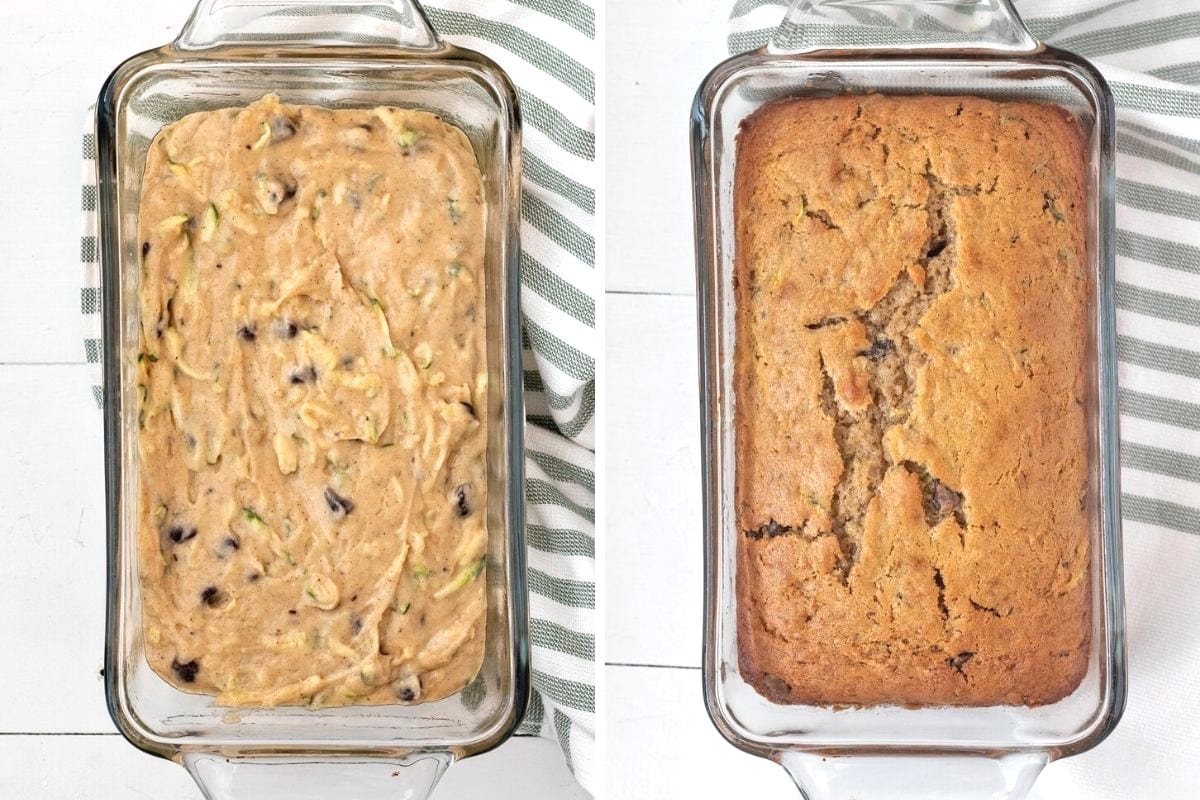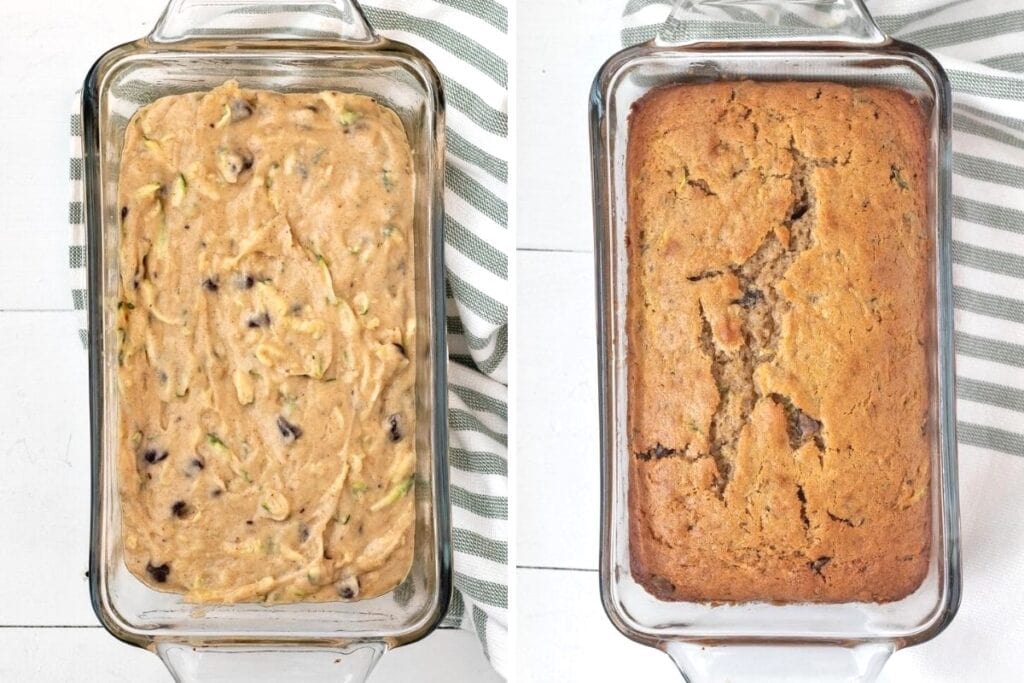 <
Baking and Cooling Time
Because this zucchini bread is baking at a low temperature - be prepared for it to be in the oven for at least 50 minutes. Mine usually takes closer to the 60-minute mark when placed in the center of the oven.
However, all ovens cook a bit differently. Use a toothpick or butter knife to check the center of your bread when you get close to 50 minutes. If it comes out with only crumbs and a little melted chocolate, you're good to go.
Let the bread cool in the pan for 10-15 minutes before you try to remove it. If you lined the whole pan with parchment, just pull it on out. If you only lined the bottom, run a knife along the edges of the bread before turning it onto a cooling rack.
Let it cool completely before slicing. If you try and cut it while it's hot, it may fall apart on you.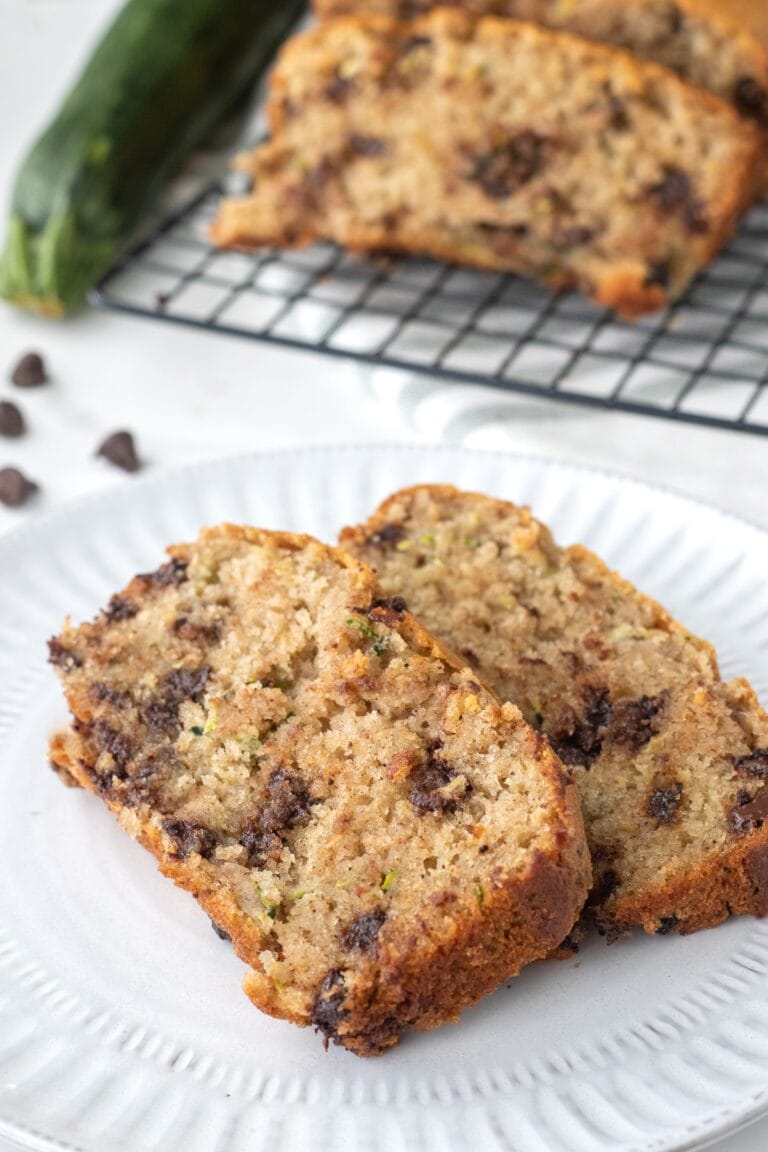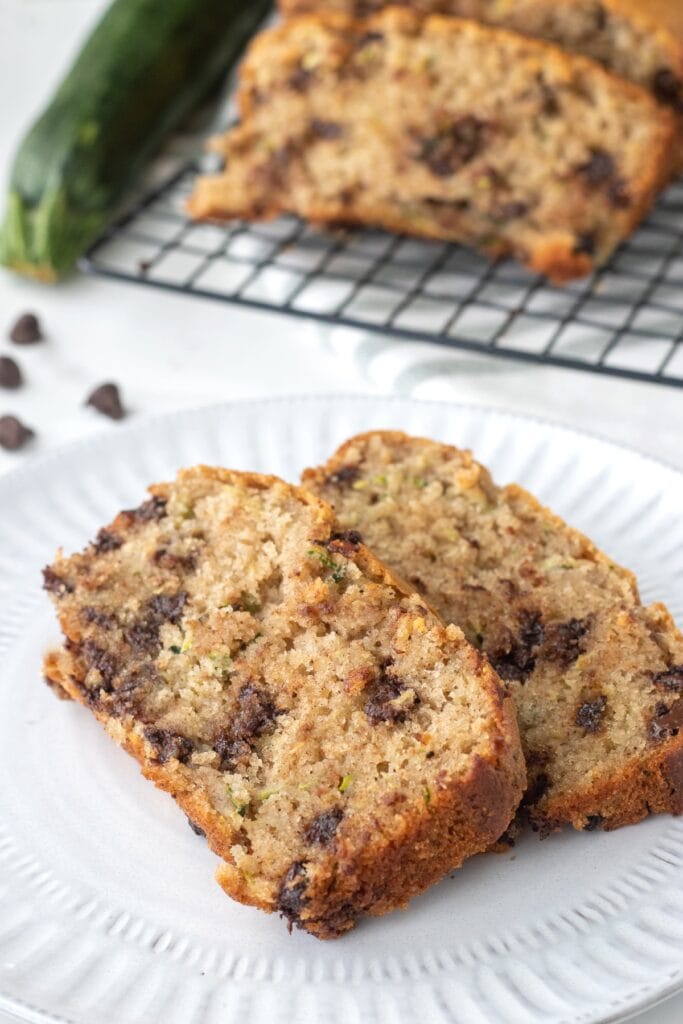 Storage and Freezing
Zucchini bread can be stored at room temperature covered in plastic wrap or in a bag for up to 3 days. You can also keep it from getting stale for longer by putting it in the fridge for up to 5 days.
If you just want a couple of pieces and to save the rest for a rainy day - this bread freezes really well. Wrap the slices in plastic wrap and then put them in a freezer bag. Keep them in the freezer for up to 3 months.
You can thaw the slices st room temperature for about 30 minutes or an hour, or toss a frozen piece in the microwave for 30-45 seconds on high heat.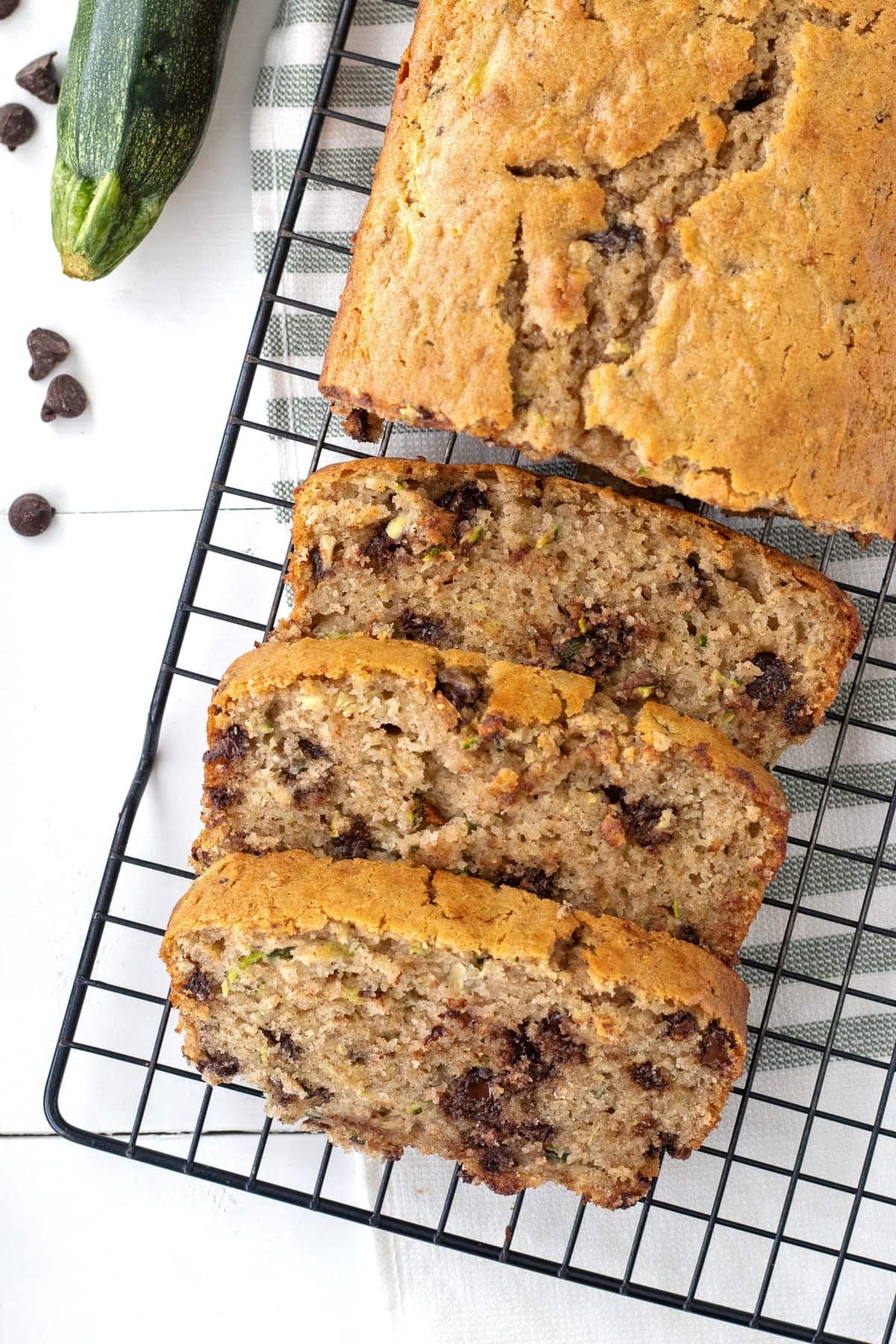 Chocolate Chip Zucchini Bread
Chocolate chip zucchini bread is moist and tender, loaded with chocolate with a hint of cinnamon. Zucchini is the key to getting a moist and tender bread the whole family will love.
RECIPE COST :
$5.87 / .59¢ PER SERVING
Ingredients
½

cup

granulated sugar

(110g)

½

cup

packed light brown sugar

(75g)

½

cup

butter

(melted and cooled)

½

cup

sour cream or Greek yogurt

(150g)

2

large eggs

2

teaspoon

vanilla extract

1 ½

cups

all purpose flour

(210g)

½

teaspoon

baking powder

½

teaspoon

baking soda

½

teaspoon

salt

1 ½

teaspoon

ground cinnamon

1 ½

cups

grated zucchini

(150g)

1

cup

semi sweet chocolate chips
Instructions
PREPARE: Preheat the oven to 325˚F. Adjust the oven rack to the center. Generously grease a loaf pan or line it with parchment paper.

COMBINE WET INGREDIENTS: In a large bowl, combine the granulated and brown sugars and melted butter. Add the eggs, sour cream, and vanilla until fully incorporated and set aside.

COMBINE DRY INGREDIENTS: In a smaller bowl, whisk together the flour baking powder, baking soda, salt, and cinnamon.

COMPLETE THE BATTER: Pour the dry ingredients into the wet and stir until just incorporated. Add the zucchini and chocolate chips and fold in.

BAKE: Pour the batter into the prepared pan and bake for 50-60 minutes, or until the center can be pierced with a knife and come out with only crumbs. Allow the bread to cool in the pan for 10 minutes before turning onto a cooking rack to finish cooling for 30-60 minutes before slicing.
Nutrition
Serving:
1
slice
Calories:
383
kcal
Carbohydrates:
52
g
Protein:
5
g
Fat:
20
g
Saturated Fat:
12
g
Monounsaturated Fat:
3
g
Cholesterol:
69
mg
Sodium:
218
mg
Potassium:
100
mg
Fiber:
2
g
Sugar:
35
g
Vitamin A:
81
IU
Vitamin C:
3
mg
Calcium:
29
mg
Iron:
15
mg
Nutrition Information Disclaimer
RECIPE EQUIPMENT
**This blog post contains affiliate links to products that I actually use and that align with my values. See my affiliate disclaimer here.
PIN IT NOW, MAKE IT LATER