Petite oatmeal pecan scones are the perfect flaky pastry for your next breakfast or brunch. These scones are half the size of your typical scone and therefor half the calories so feel free to enjoy with only half the guilt.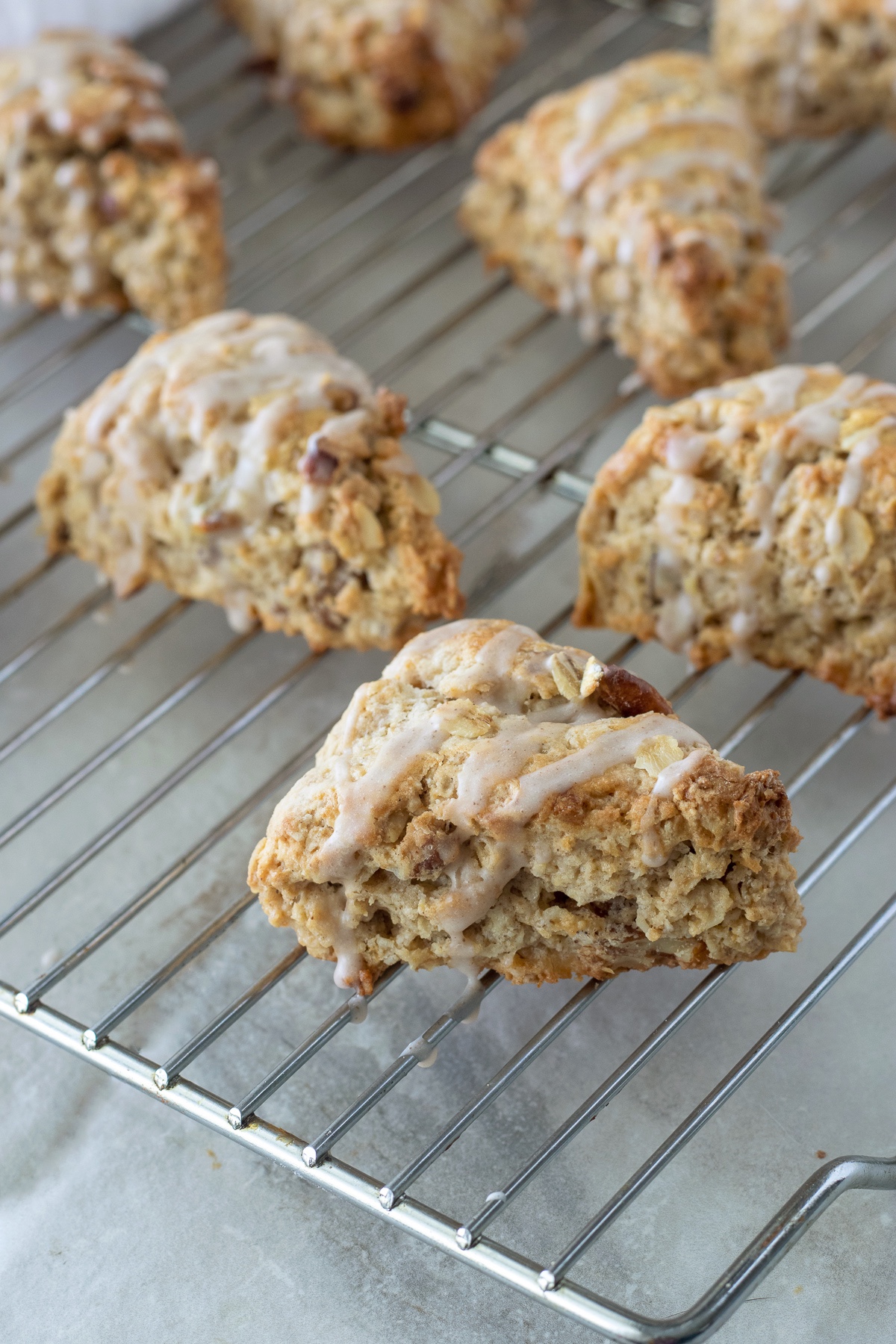 Tips for Making the Perfect Flaky Scone
If you've always wanted to know how to make the perfect buttery and flaky scone, fear not, I have some pro tips that will make it a cinch.
Cold Butter is Key
The key to getting that flaky texture is having little pieces of cold butter throughout the dough. The butter melts and creates air pockets that give you the desired texture.
The problem can be that the butter can melt pretty easily just from handling it. So here's what you do:
Make sure the oats and nuts have totally and completely cooled before adding them to the dough.
Freeze the butter cubes for 15-20 minutes before putting them in the food processor.
Pulse the cold flour with the dry ingredients until it resembles corn meal or sand
Toasting the Oatmeal and Pecans
A quick 7-8 minutes in a 375˚ oven will make the oats and pecans have a much nuttier flavor. I promise the flavor payoff will not be a waste of time.
Shaping and Cutting
Getting these into their triangular shape is pretty simple. Because there is less flour due to the oats, this will be a stickier dough than your typical scone. You'll need to coat the dough in a generous amount of flour.
For the mini scones: Form (2) 6-inch circles about 2-inches high and then cut those circles into 8 triangles each. You should have a total of 16 triangles to arrange on a cookie sheet to cook for 10-12 minutes.
For standard-sized scones: Form just 1 circle, about 12-inches in diameter and cut that into 8 pieces. The larger ones will need to cook for 12-14 minutes.
Storage and Freezing
Store the scones in an airtight bag or container at room temperature for up to 5 days before they start to get stale. Toss them in the fridge to extend that for up to 7 days.
These scones freeze really well if you only need half a batch at a time or you want to have these in the future. Keep these in a gallon freezer bag in the freezer for up to 3 months.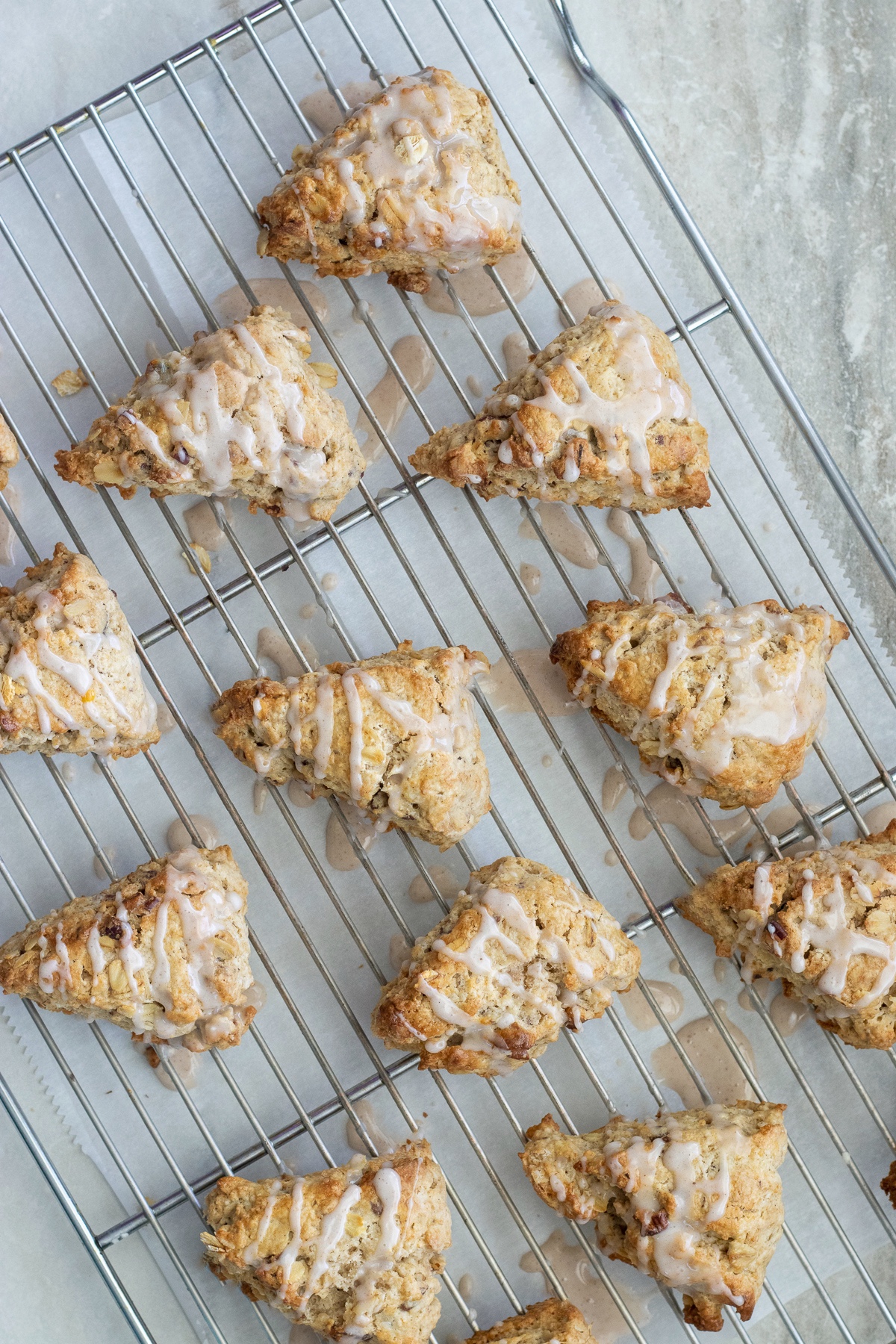 <
---
More Recipes Like This
---
Now to the good part, the recipe! Please pin for later and when you make it, let me know what you think. You can comment below OR find me on Facebook, Twitter, Instagram and Pinterest.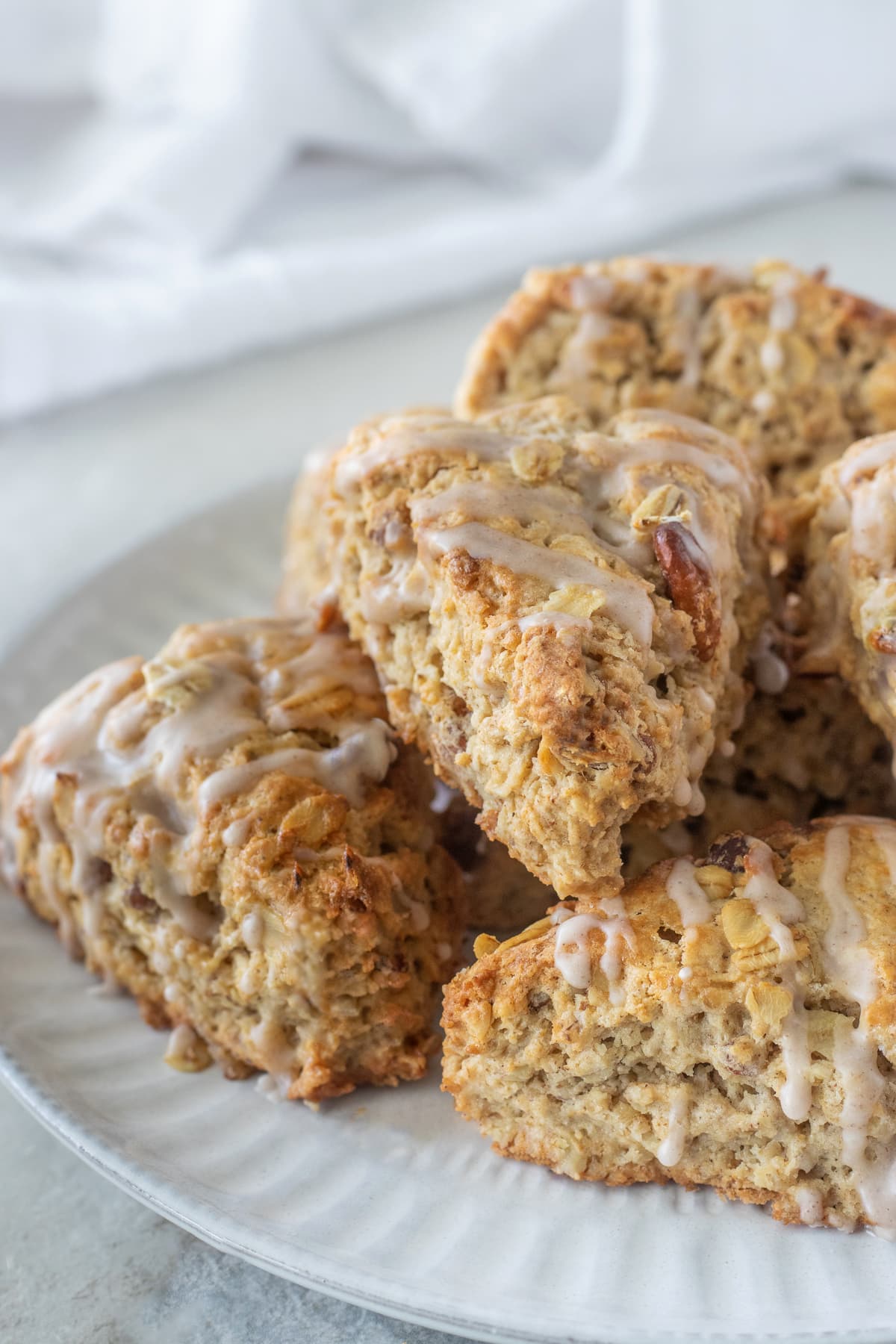 Oatmeal Pecan Mini Scones
Oatmeal pecan scones with a simple cinnamon glaze. Go ahead and devour the whole thing, making these smaller means you can without the guilt!
Ingredients
1 ½

cups

old fashioned rolled oats

1

cup

chopped pecans

½

cup

half and half

1

large egg

⅓

cup

brown sugar

1 ½

cups

all-purpose flour

2

teaspoons

baking powder

½

teaspoon

cinnamon

½

teaspoon

salt

10

tablespoons

very cold butter

(cut into ¼-inch cubes)
FOR THE GLAZE:
½

cup

powdered sugar

1

tablespoons

milk or half and half

¼

teaspoon

cinnamon

((optional))
Instructions
PREPARE: Move the oven rack to the middle position and preheat the oven to 375˚F.

TOAST THE OATS AND NUTS: Line a cookie sheet with parchment and spread the oats and pecans in an even layer across the parchment. Cook in the preheated oven until lightly browned, about 8 minutes. Allow the oats to cool completely. If they are still warm, they will melt the butter and result in less flaky scones.

ADJUST THE OVEN AND SET ASIDE OATS: Raise the oven temperature to 450˚F. Once the oats and nuts have cooled completely reserve about 2 tablespoons for sprinkling on top of scones.

MIX WET INGREDIENTS: In a medium bowl, whisk the half and half, and egg together, reserving about 2 tablespoon to brush on the scones later.

PROCESS BUTTER AND DRY INGREDIENTS: In a food processor, add the flour, baking powder, brown sugar, cinnamon, and salt. Pulse a few times to combine, about 5-6. Sprinkle the butter in an even layer on top of the flour mixture. Process until the mixture has a sand like texture, 15-16 pulses.

MIX IN THE OATS: In a medium bowl combine the butter and flour mixture with the oats. Fold in the milk mixture using a wooden spoon or spatula.

FORM THE SCONES: Coat the dough generously with flour so that it is easier to handle. Turn the dough out onto the counter and gently pat the dough into (2) 6-inch circles about 1-2 inches thick. Sprinkle the circles with the reserves oats and nuts. Cut each circle into 8 wedges and place them on the prepared baking sheet.

BAKE: Brush with the reserved milk mixture. Bake until golden brown, about 15 minutes. Let the scones cool on the baking sheet for 10 minutes before transferring to a wire rack to finish cooling completely.

GLAZE: In a small bowl, combine the powdered sugar, milk and cinnamon. Use a fork to lightly drizzle the cooled scones with the glaze and allow to harden for 5-10 minutes.
Notes
MAKE SURE THE BUTTER IS VERY COLD - after you cut the butter into cubes, place them in the freezer for 15-20 minutes to make sure the butter doesn't melt while handling it.
Nutrition
Serving:
1
scone
Calories:
215
kcal
Carbohydrates:
22
g
Protein:
3
g
Fat:
13
g
Saturated Fat:
5
g
Polyunsaturated Fat:
1
g
Monounsaturated Fat:
3
g
Cholesterol:
33
mg
Sodium:
145
mg
Potassium:
23
mg
Fiber:
1
g
Sugar:
9
g
Vitamin A:
68
IU
Calcium:
49
mg
Iron:
2
mg
Nutrition Information Disclaimer
RECIPE EQUIPMENT
**This blog post contains affiliate links to products that I actually use and that align with my values. See my affiliate disclaimer here.
PIN IT NOW, MAKE IT LATER