---
Moist and tender roasted boneless turkey breast coated in a flavorful herb butter is a delicious healthy option for Thanksgiving or year round!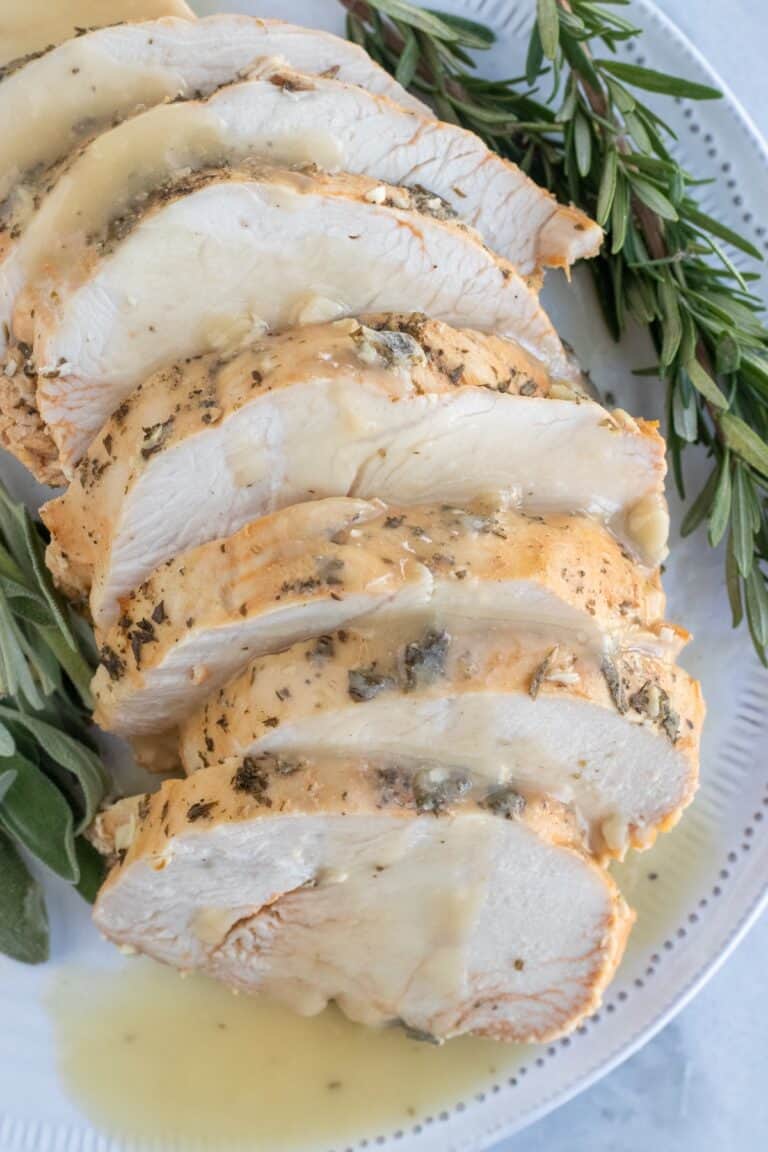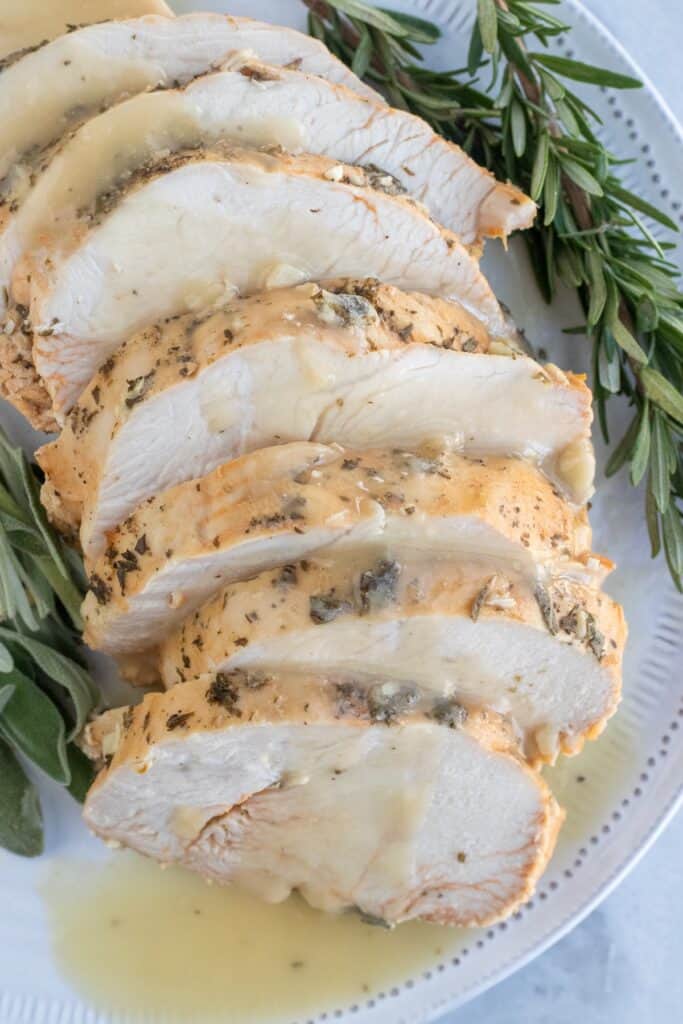 If you only cook for 4 people like I do on Thanksgiving, do you really need to make a whole turkey?
Or maybe you're trying to make a healthy Thanksgiving dinner (or any dinner - because you can usually find turkey breast roasts year round in the freezer), the roasted boneless, skinless turkey breast is where it's at.
The best part is - it can actually be moist and not dry. Especially when you're just cooking the breast. When you're cooking the whole turkey, sometimes you have to leave the breast in longer than it needs to cook some of the other parts. Well not when you're only looking after the breast!
Here's how I make a super flavorful and tender turkey breast roast in the oven.
🥘 Ingredients and Substitutions
Boneless, skinless turkey breast - I used a 3 pound roast found in the freezer department. This will be what is most readily available year round. During Thanksgiving season you'll be able to find a wide variety. Sometime you may be able to only find the pre-seasoned ones. Fear not, I've successfully used those and removed the seasoning by rinsing in cold water before cooking.
Butter - If you're ditching dairy, use olive oil or avocado oil.
Fresh herbs - I love the combination of parsley, sage, and rosemary, but there are a ton of delicious options here. If you can find a pack of poultry herbs in the produce department they usually come with sage, rosemary, and thyme - a great combo. Use about 1 tablespoon each. If you want to use dried, you'll want to decrease the amount to one third. So about 1 teaspoon of the dried herbs will do.
Honey - honey adds just a hint of needed sweetness. Feel free to also use maple syrup if you don't have honey on hand.
📋 How to Make it
STEP 1: Place the celery and onion in a large pot with a lid. I used a 6 quart cast iron dutch oven. Pour the chicken broth over the vegetables and then place the turkey breast on top.
The turkey breast may come already wrapped in an elastic sleeve. If it's not you may have to roll it tightly and wrap with kitchen twine. If you don't know how to truss a roast what this quick video from LeCordon Bleu.
STEP 2: Melt the butter, mustard, lemon juice, and honey in a small pot or skillet. Add the herbs and garlic and slowly simmer over medium-low heat for 2 minutes or until you can smell the garlic and herbs.
STEP 3: Brush the herb butter on the entire outside of the turkey roast. Don't forget the bottom! If you have any leftover butter, pour it in with the vegetables and broth in the bottom of the pan.
STEP 4: Sprinkle salt and pepper on over the outside of the roast on all sides. Cover and cook.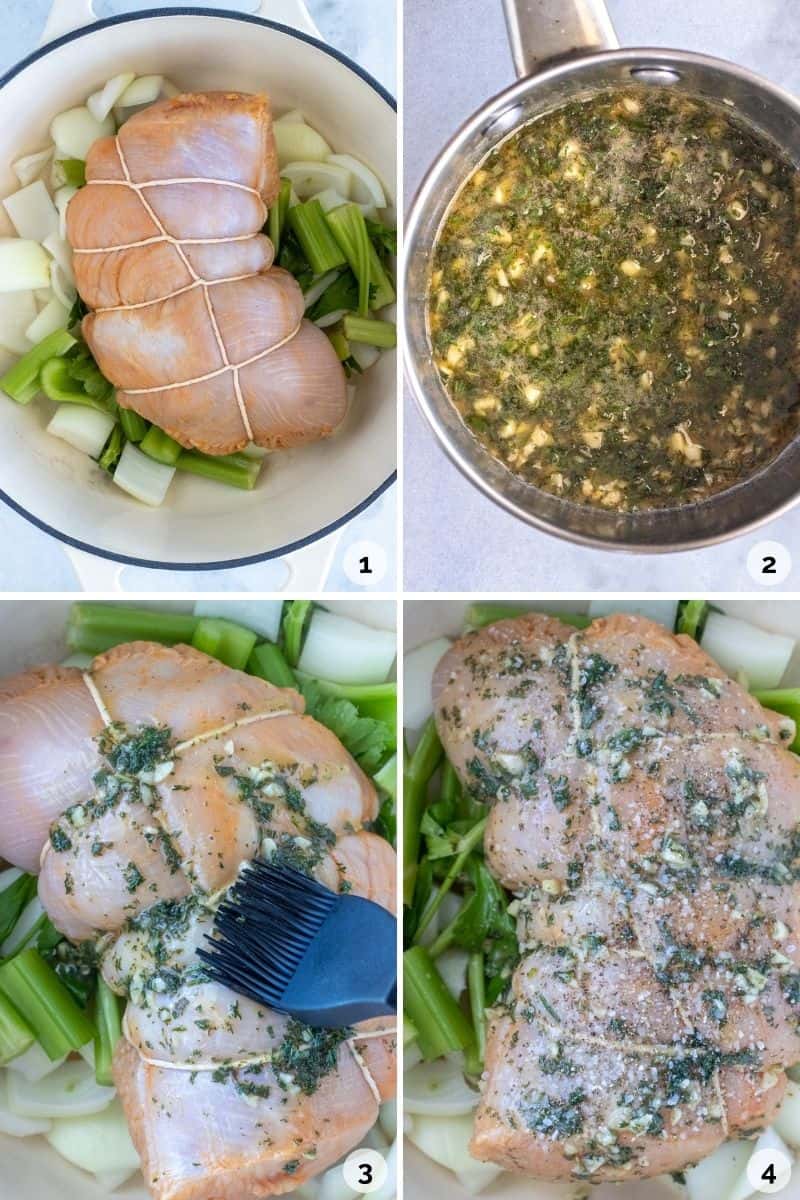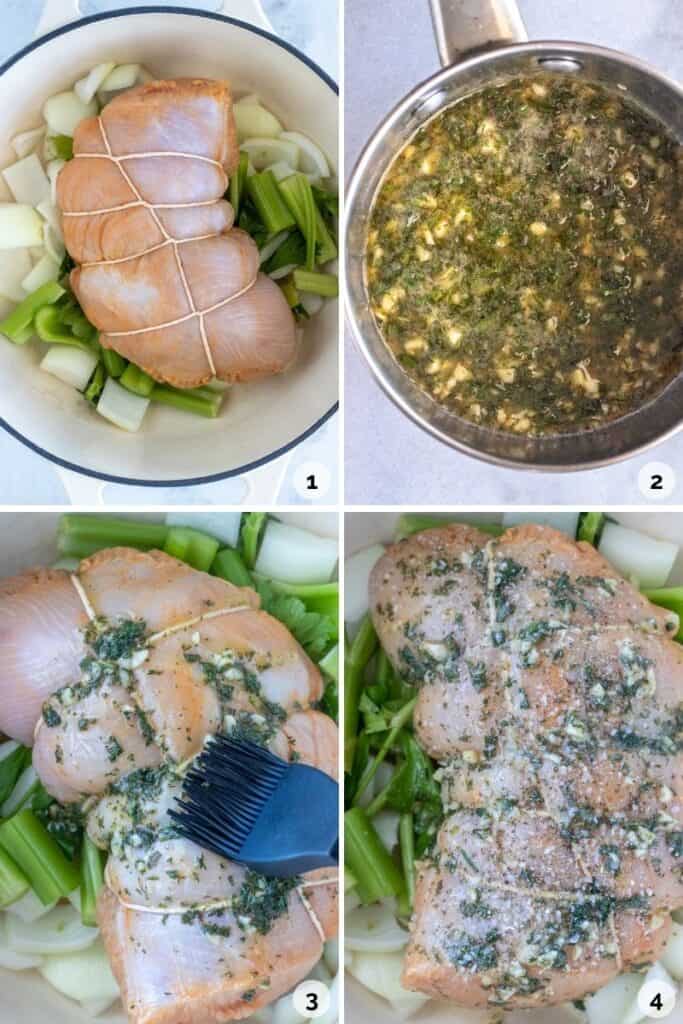 <
⏲ Cooking Time and Temperature
Roast the boneless, skinless turkey breast at a low temperature of 325˚ Fahrenheit with the lid on so that the outside cooks evenly with the inside.
The roast will cook for 50-60 minutes or until the the internal temperature reaches 150˚ Fahrenheit. I know this is below what's safe to consume chicken at, but, it should finish cooking while resting.
Remove the roast from the oven when it comes to temp and let it rest for 20 minutes to finish cooking.
After it rests, remove the twine and cut into 1-inch slices. The juices should run clean and there shouldn't be any pink in the center of the roast.
IF YOUR TURKEY BREAST IS LARGER THAN 3 POUNDS: Keep in min turkey breast roast can vary greatly in size just as turkeys can. If your turkey is larger than 3 pounds, you'll need to adjust your roasting time.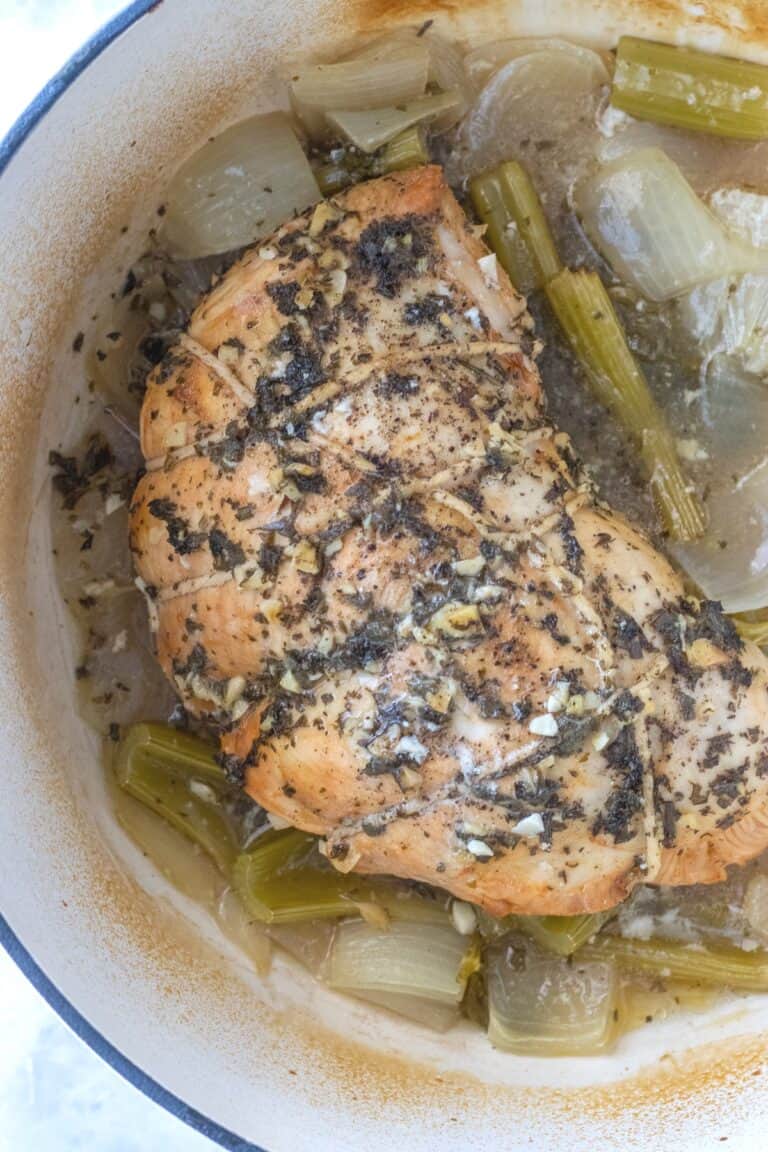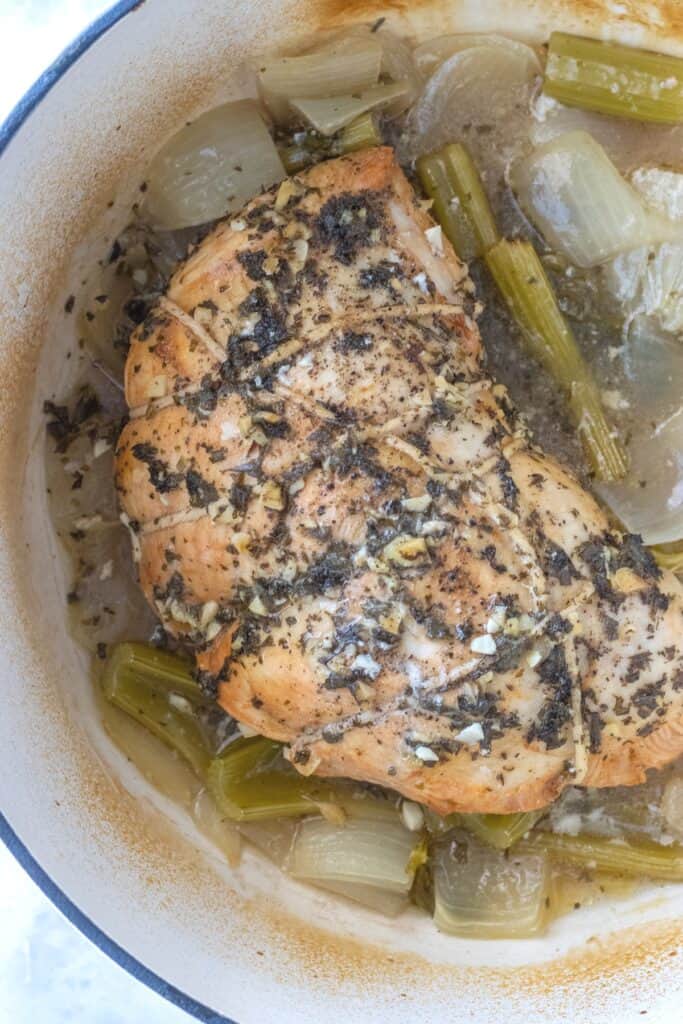 🍽 How to Use Leftovers
We always end up with a ton of leftovers. The first night we always enjoy our turkey with mashed potatoes and gravy, but then I like to mix it up.
I like to cut up or tear the turkey to use in Creamy Chicken Stew, Cheesy Chicken Broccoli and Quinoa Casserole, or a great chicken salad.
🥣 Storage and Freezing
Store leftovers in an airtight container for up to 5 days.
If you have tons of leftovers, put the turkey slices in a freezer bag and freeze for up to 3 months.
---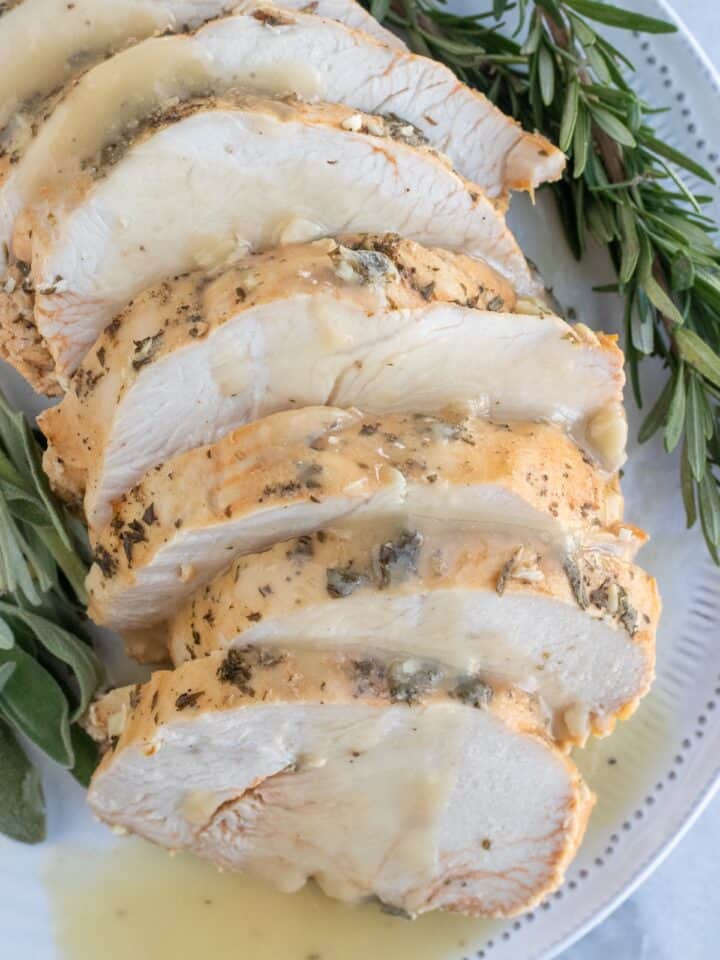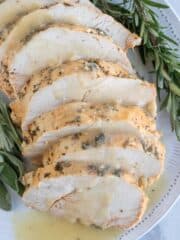 Herb Butter Roasted Boneless Turkey Breast
Moist and tender turkey breast roast coated in a flavorful herb butter is a delicious healthy option for Thanksgiving or year round!
RECIPE COST :
$12.15 / $1.52 PER SERVING
Ingredients
1

large Yellow onion

(cut into large chunks)

2

celery stalks

(cut into large chunks)

1

cup

Chicken broth

1

3-lb boneless, skinless turkey breast roast

2

tablespoons

butter

1

tablespoon

honey

1

tablespoon

lemon juice

1

teaspoon

dijon mustard

4

cloves

Garlic

(minced)

2

teaspoons

Fresh rosemary

(½ teaspoon dried)

1

tablespoon

Fresh sage

(½ teaspoon dried)

2

tablespoons

Fresh parsley

(1 teaspoon dried)

salt and pepper
Gravy (optional)
1

tablespoon

cornstarch

(arrowroot powder for paleo)
Instructions
PREPARE: Preheat the oven to 325˚ Fahrenheit and adjust the oven rack to about 10 inches from the bottom to allow room for a deep pan.

ADD VEGGIES: Arrange the onion and celery in the bottom of a 5.6-quart Dutch oven or large covered pan. Pour the broth over the vegetables and then add the turkey breast roast (held together with twine or elastic binding) on the top of the vegetables.

MAKE THE HERB BUTTER: In a small pot, melt the butter over medium heat. Reduce the heat to medium-low and whisk in the honey, lemon juice, and mustard. When the mixture is smooth, add the garlic, rosemary, sage, and parsley. Allow to very slowly simmer for about 2 minutes.

SEASON THE TURKEY: Generously coat the herb butter on all sides of the turkey and pour any remaining butter over the vegetables in the bottom of the pan. Sprinkle with ½ teaspoon of salt and ¼ teaspoon of pepper on all sides.

COOK: Cover and bake in the prepared oven for 50 minutes or until it reads 145 in the center with a quick read thermometer.

REST AND SERVE: Remove the turkey from the oven and remove the lid. Let the turkey rest for 20 minutes. Remove the twine, discard the vegetables, and slice the turkey into 1" pieces. The center should be no longer pink and the juices should run clear.
FOR THE GRAVY
Remove the turkey breast to a cutting board and strain the juices remaining in the pot using a sieve over a bowl. Discard the vegetables and pour the juices back into the pot or dutch oven.

Heat the pot over medium heat and allow it to come to a simmer for 5 minutes to reduce just a little (to about ¾ the original amount). In a small bowl or ramekin, mix the cornstarch with about 2 tablespoons of water and stir to dissolve it. Pour the cornstarch slurry into the reduced dripping and whisk until it thickens.

Remove the pan from the heat, taste and season with additional salt or pepper if it's needed.
Notes
If your turkey breast is not tied off when you get it, read the post to find a useful video on how to do it. 
Look for a poultry herb pack in the produce department to save money, use about 1 tablespoon of each herb
To use dried herbs, reduce the amount to 1 teaspoon each
Do not skip letting the turkey rest or it may not be completely cooked!
If your turkey is larger than 3 pounds, it will add additional cooking time to get to the desired temperature. 
Nutrition
Serving:
6
ounces
Calories:
213
kcal
Carbohydrates:
3
g
Protein:
37
g
Fat:
5
g
Saturated Fat:
2
g
Monounsaturated Fat:
1
g
Cholesterol:
96
mg
Sodium:
597
mg
Potassium:
489
mg
Sugar:
2
g
Vitamin A:
26
IU
Vitamin C:
3
mg
Calcium:
3
mg
Iron:
7
mg
Nutrition Information Disclaimer
RECIPE EQUIPMENT
**This blog post contains affiliate links to products that I actually use and that align with my values. See my affiliate disclaimer here.
Sides that Pair Great with this
---