---
Raspberry peach sorbet is easy to make without an ice cream maker. All you need is 3 ingredients and a blender or food processor and a little time to freeze. The best part about sorbet - under 200 calories per serving!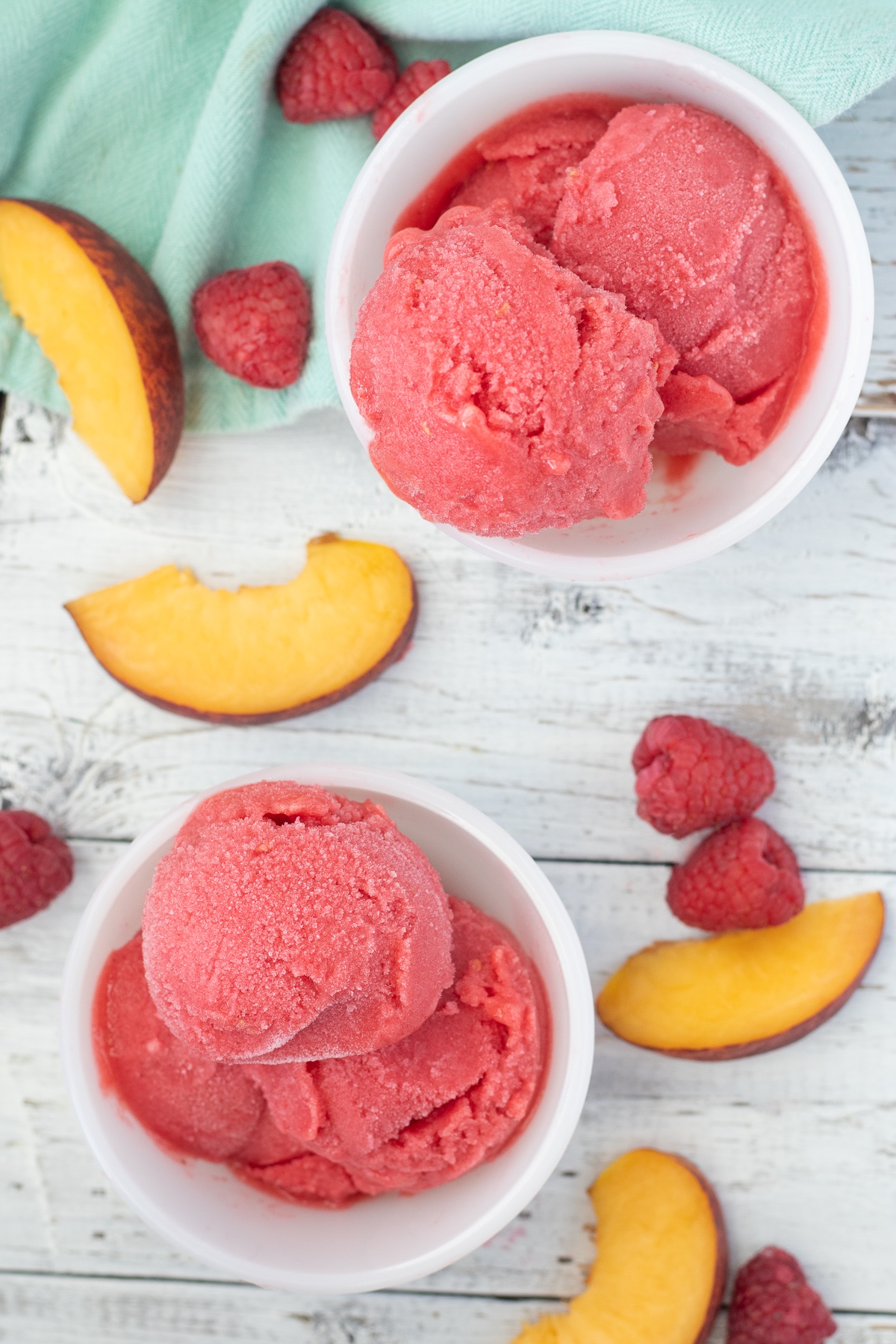 Tips for Making Blender Sorbet
Making sorbet without an ice cream maker is super simple. All you need is some frozen fruit, a bit of honey or agave, and a good blender. It also helps to have a fine mesh strainer if your fruits are loaded with seeds like raspberries are.
Here are a few questions that may come up throughout the process. If you don't have any, scroll right on down to the full recipe.
Freezing Fruit at Home
Freezing fruit yourself is really simple to do, in most cases. First, you'll arrange the fruits (in pieces) on a baking sheet and flash freeze them for 2 hours. Then you can transfer them to a freezer bag and allow them to fully harden for another hour or two.
On the other hand, you can grab some pre-frozen fruits from the freezer department of your grocery store. Here's why I elected to go with store-bought frozen fruits:
I didn't want to spend more time blanching the peaches to take off the skin before freezing.
For these particular fruits, it was less expensive to buy the fruits already frozen (this is not always the case, I encourage you to compare prices if you're on a budget).
Blender or Food Processor
I personally have more luck doing this process with my blender because the blades are layered to more evenly puree from bottom to top, where the "S" blade of my processor tends the just puree what's in its path (just the bottom).
If your blender only has blades at the bottom, though, you may have better luck with a food processor.
Naturally Sweetened
The great thing about sorbet is that it's fruit-based, so it's already pretty sweet, to begin with. You'll just need a touch of honey or agave to cut down on how tart these fruits are.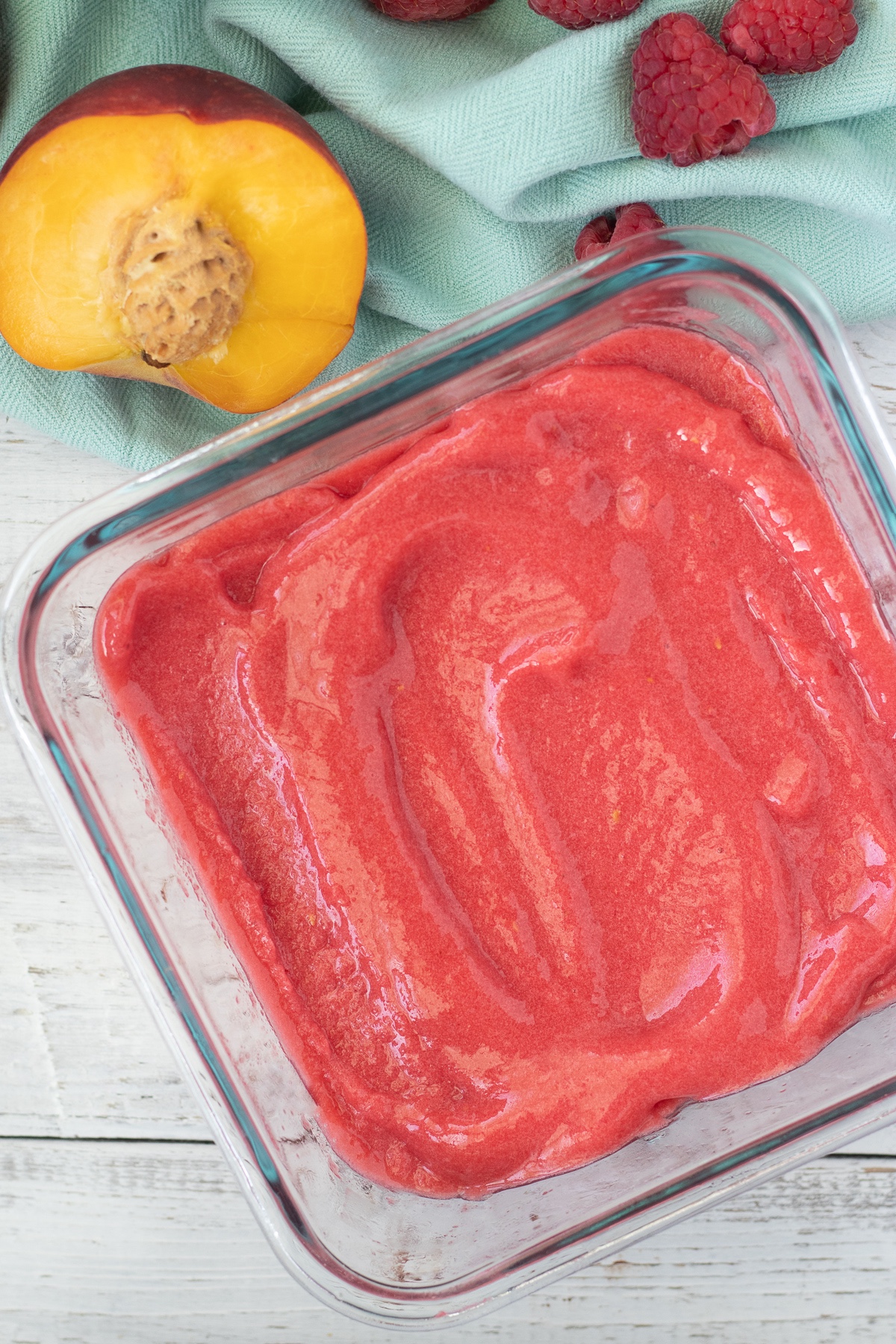 Strain the Seeds
While I'm normally a big fan of the seeds in raspberries to get all that fiber in my diet - it just doesn't play well in a silky sorbet. You can skip it, however, I highly recommend you don't.
Make sure you pull out the blade of your blender first! Then, grab a sieve or mesh strainer and pour the whole batch into it. Using a rubber spatula or large spoon, press the freshly blended sorbet through the sieve.
After you've pressed about ¼ of the volume through, you'll want to scrape the outside of the strainer into your freezer container. The thick mixture tends to cling to the outside of the strainer rather than just fall into your container. Then repeat the process until you're left with just the seeds.
Storage
I use my favorite glass meal prep containers to freeze this until it hardened and then just left it in there for storage until the family ate it up.
This recipe can last for about 2 months in an airtight container in the freezer before it starts to get overly crystallized and just not as tasty. But, it only makes 4 servings, it shouldn't last that long anyway!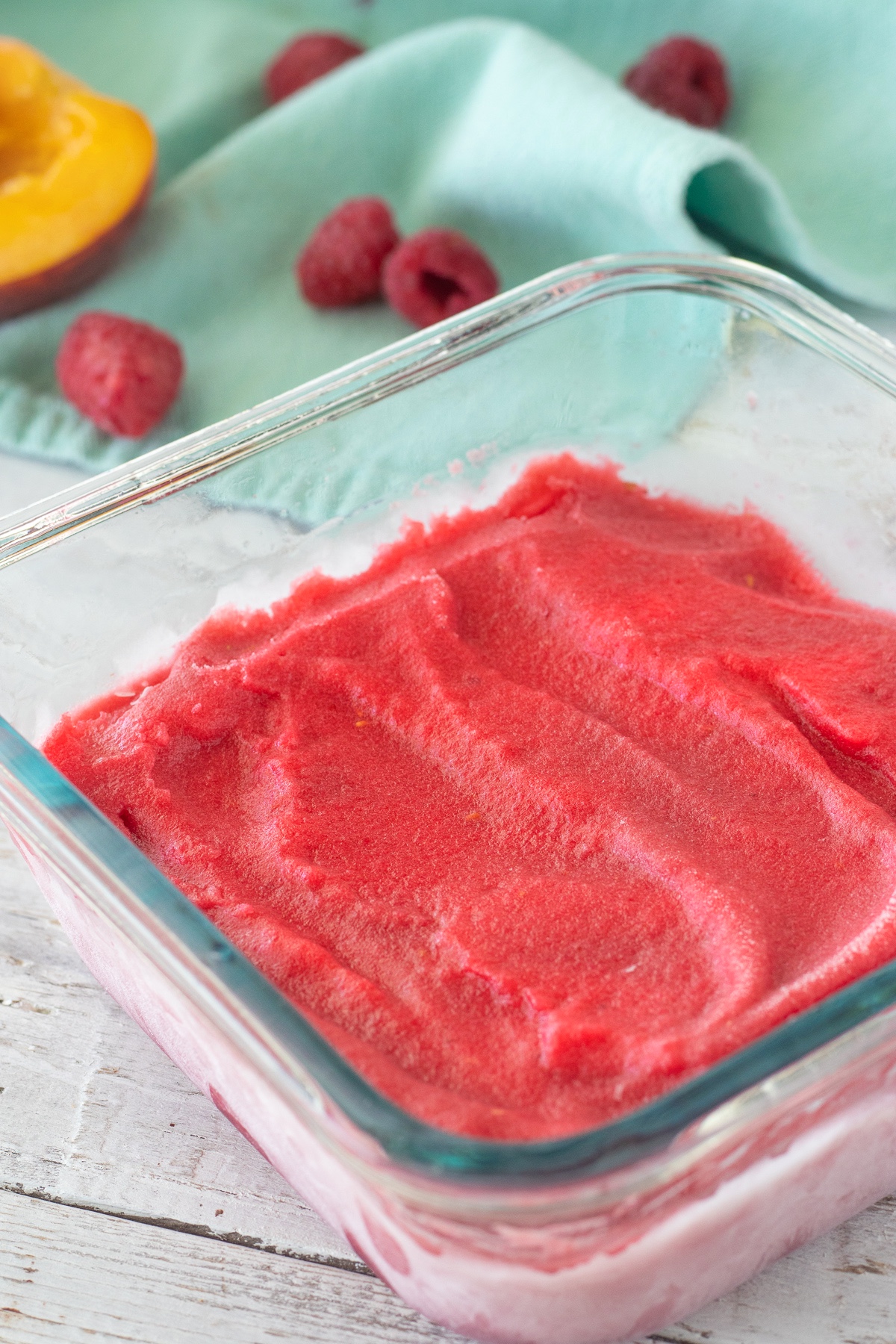 <
---
Other Fresh Fruit Recipes
---
📖 Recipe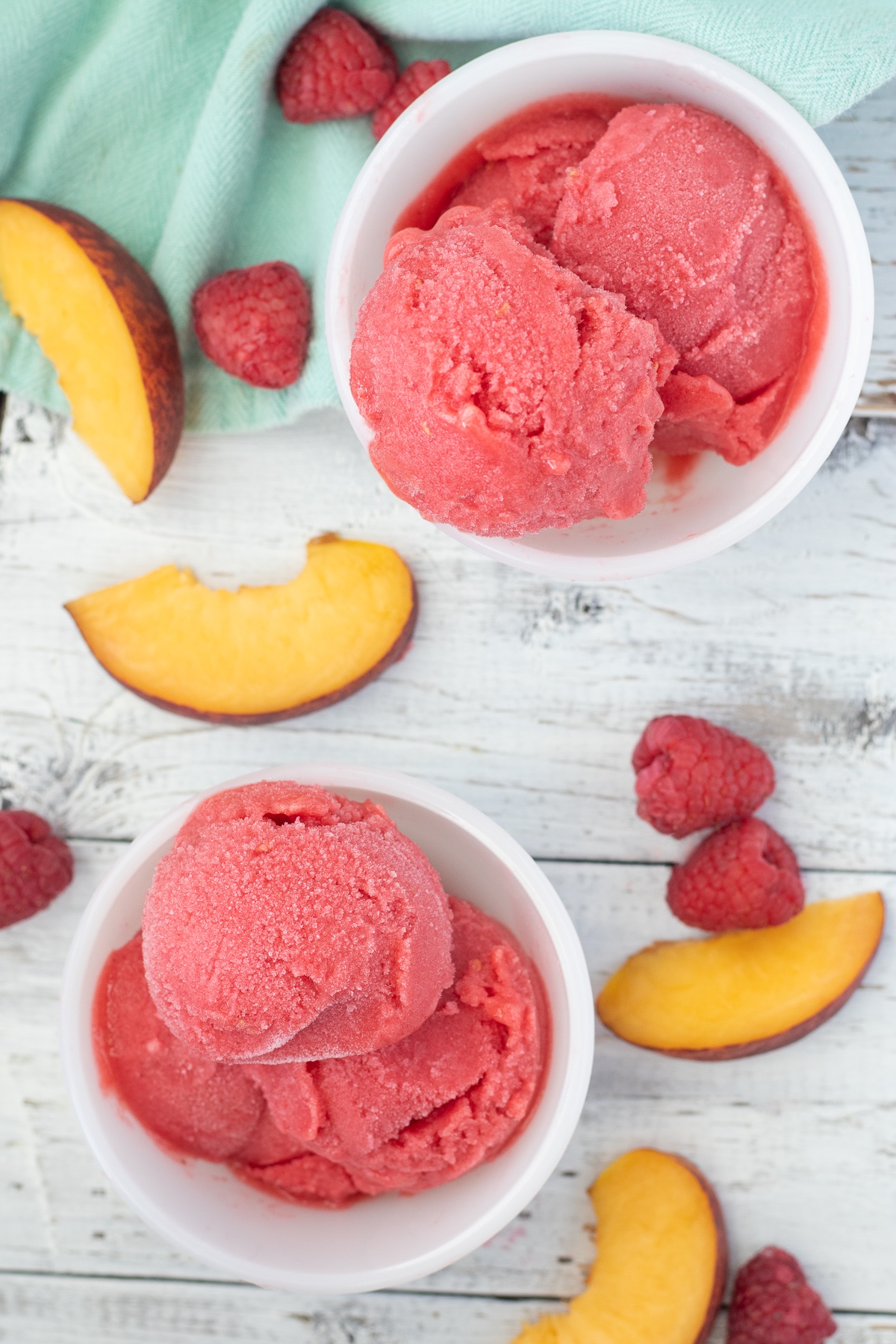 Raspberry Peach Sorbet
No churn raspberry peach sorbet is a refreshing dessert naturally sweetened with just honey and fruit.
RECIPE COST :
$4.41 / $1.10 PER SERVING
Ingredients
8

ounces

frozen peaches

((about 2 cups))

6

ounces

frozen raspberries

((about 1 cup))

⅓

cup

honey

((or agave))

2

tablespoons

warm or hot water
Instructions
BLEND: In a liquid measuring cup, stir together the water and honey. Add the frozen fruit to the blender or food processor and pour the honey mixture on top. Blend on medium for 30 seconds, followed by 30 seconds on high. Scrape down the sides and press the solids to the bottom of the blender and repeat 2 - 3 more times until the mixture is smooth.

STRAIN: Remove the blade from the blender or processor, then pour the mixture into a large, fine sieve. Use a spatula or spoon to press the mixture through the sieve into a freezer-friendly container. Continue to press through until only the seeds remain in the sieve.

FREEZE: Cover the container with a lid or foil so that it is air-tight. Freeze for 3-6 hours until the sorbet is solid. Serve or store in the freezer for up to 2 months.
Nutrition
Calories:
146
kcal
Carbohydrates:
38
g
Protein:
1
g
Sodium:
1
mg
Potassium:
15
mg
Fiber:
4
g
Sugar:
32
g
Vitamin A:
6
IU
Vitamin C:
152
mg
Calcium:
3
mg
Iron:
2
mg
Nutrition Information Disclaimer
RECIPE EQUIPMENT
**This blog post contains affiliate links to products that I actually use and that align with my values. See my affiliate disclaimer here.
PIN IT NOW, MAKE IT LATER