---
Lemon ricotta pancakes are tender and fluffy pancakes that use ricotta cheese instead of loads of butter. Fresh lemon juice and lemon zest give these buttery (without the butter) pancakes a punch of citrus and sweeten the pancakes without a ton of sugar.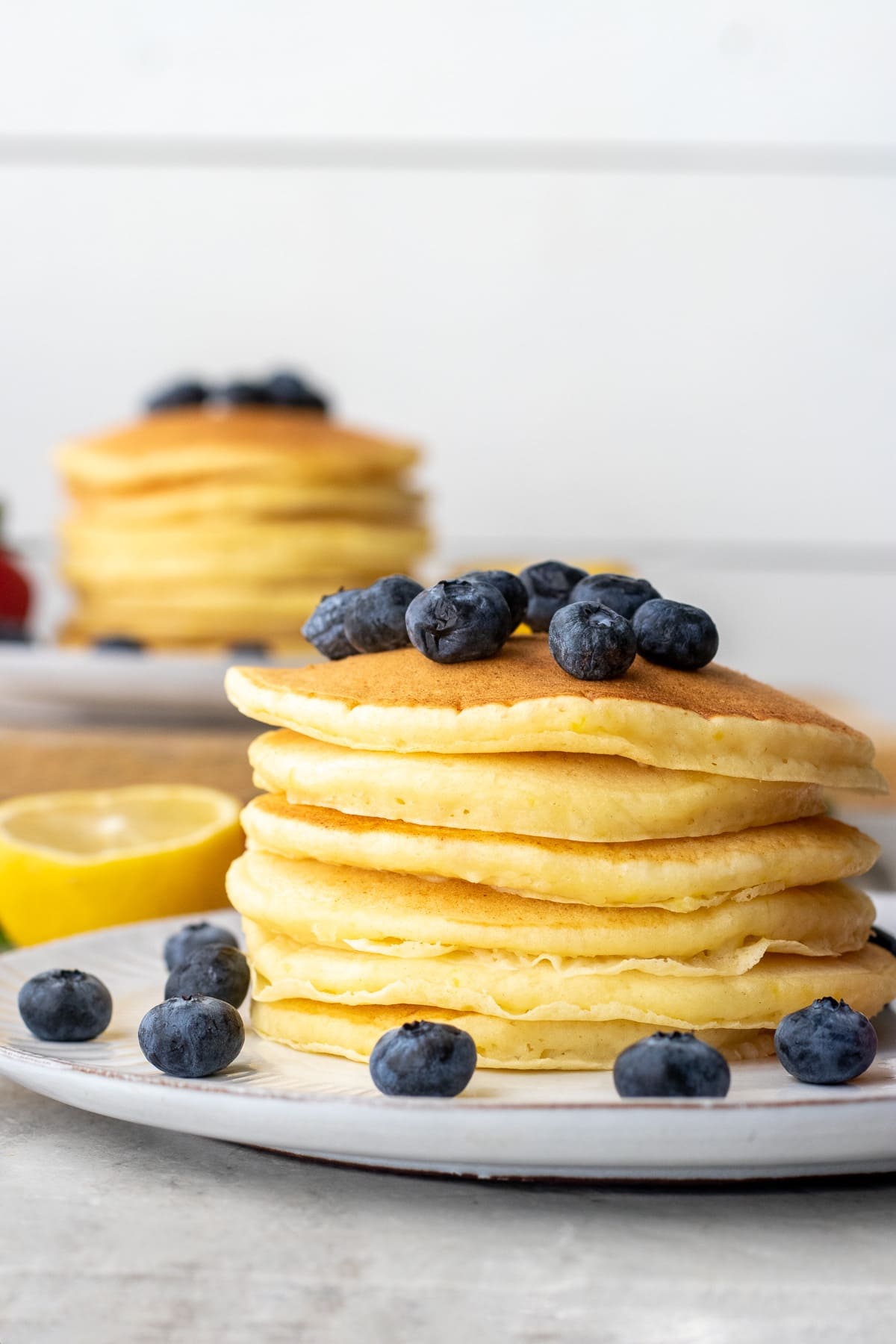 Fresh and Healthy Make Ahead Pancakes
If you're tired of buttermilk pancakes, or maybe you just need a little protein boost, lemon ricotta pancakes are where it's at.
Budget Breakdown
This pancake recipe makes 4 servings (if you need more or less you can adjust it in the recipe card) that cost me 82¢ per serving, bringing the total cost of ingredients used to $3.32.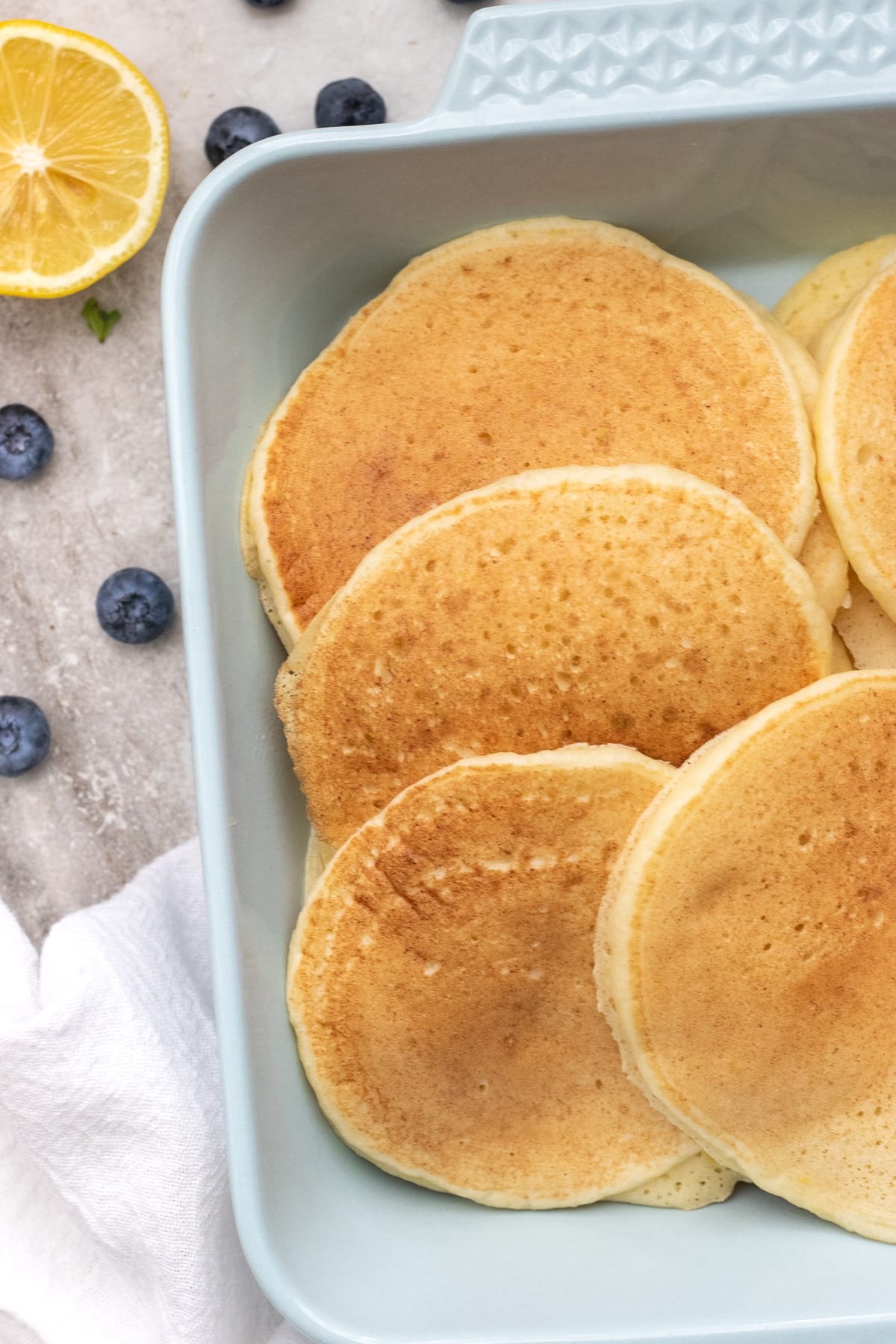 Are ricotta pancakes healthy?
Healthy is a pretty broad term because it really depends on your needs. If you're gluten or dairy intolerant, these are not the ones for you.
These pancakes are delicious and fluffy but have lower calories and sugar than most. They also have a bit more protein than most pancakes - these will be your new favorite.
The macronutrients for these pancakes are 259 calories, 30 grams of carbohydrates, 11 grams of protein, and 9 grams of fat.
[su_highlight background="#a4bcb2" color="#ffffff"]LOOKING FOR GLUTEN AND DAIRY FREE PANCAKES? [/su_highlight]For the gluten and dairy intolerant folks take a look at Grain Free Pumpkin Pancakes or Banana Buckwheat Pancakes.
Can you make these without fresh lemons?
While we all know fresh lemon zest and juice tastes the best, I'd be lying if I said I haven't reached for an ingredient only to find I'm out.
If you're in a pinch and don't have fresh lemons, you can use bottled lemon juice and 1 teaspoon of lemon extract.
Make it a Meal
Looking for ideas for what to serve with these citrusy pancakes for a brunch? Or how to make it a balanced meal for meal prep? I've got you covered.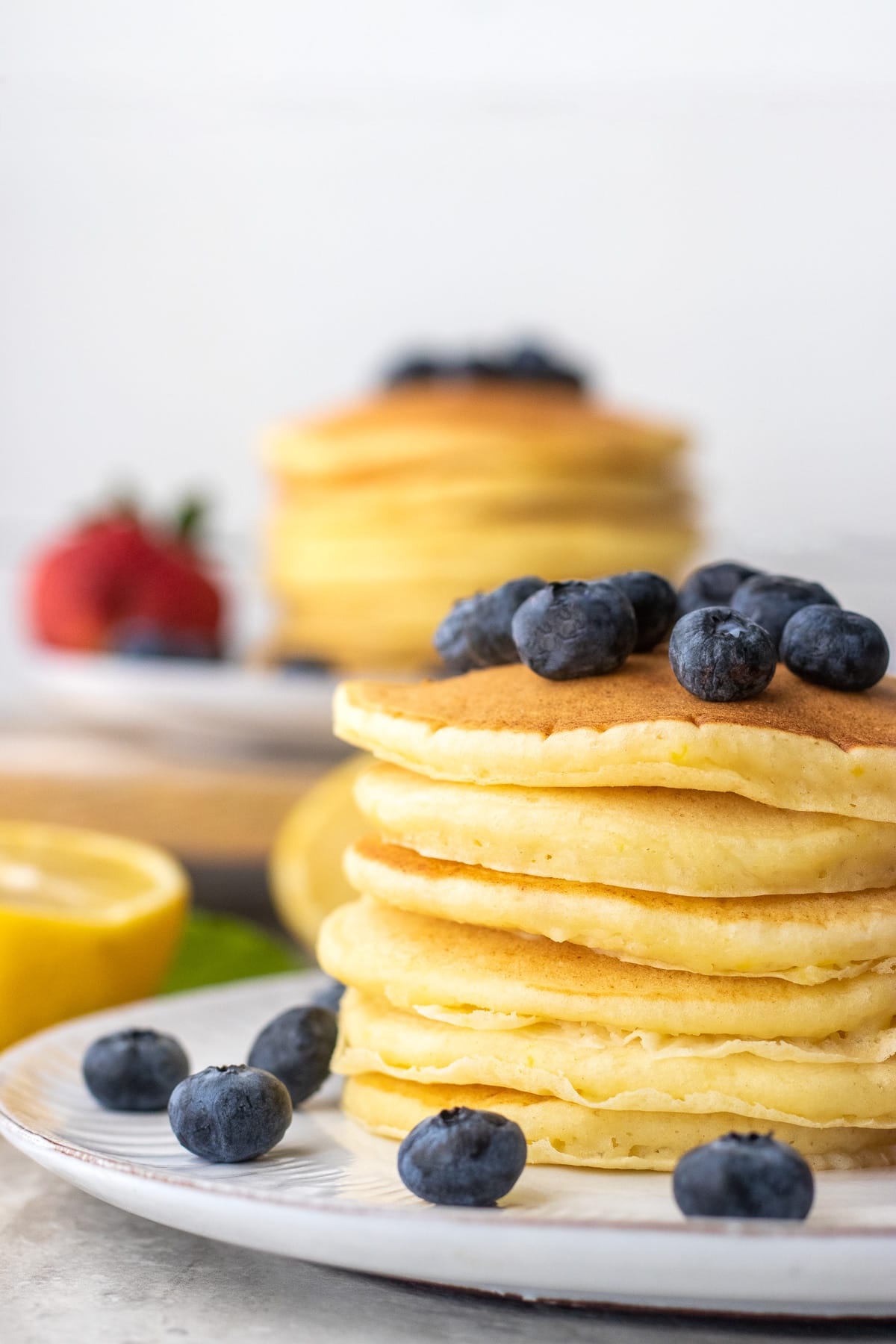 <
Sides
[su_highlight background="#e7efef" color="#010101"]PROTEINS:[/su_highlight] Apple Turkey Breakfast Sausage, Bacon, Eggs/ Egg whites
[su_highlight background="#e7efef" color="#010101"]FRUITS OR VEGGIES:[/su_highlight] Fresh fruit salad or home fries or potatoes
How to Make it Ahead or Meal Prep
[su_highlight background="#e7efef" color="#010101"]FREEZING:[/su_highlight] These pancakes freeze well, so feel free to finish off that whole container of ricotta and make several batches for future meals.
Once the pancakes have completely cooled, seal them in a gallon-sized freezer bag for up to 3 months. (Don't forget to label and date!)
[su_highlight background="#e7efef" color="#010101"]STORAGE:[/su_highlight] Pancakes will stay good for up to 5 days in fridge before they start to get a little stale. Store them in bags or meal prep containers that keep the air completely away from them.
---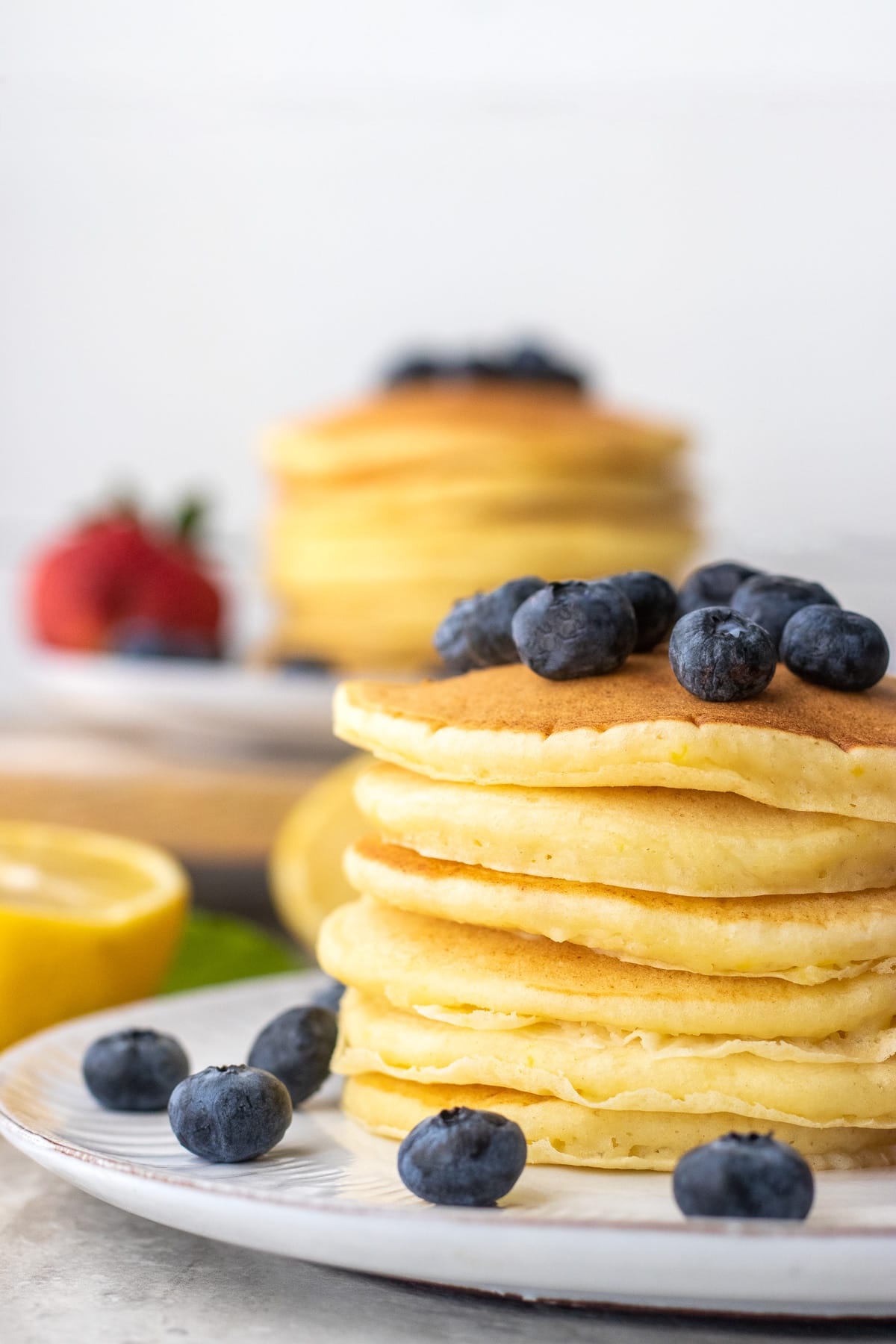 Lemon Ricotta Pancakes
Tender and buttery lemon ricotta pancakes are made without any butter at all! Easy to make ahead for a big brunch or meal prep.
RECIPE COST :
$3.32/ .83¢ per serving
Ingredients
1

cup

all-purpose flour

1

teaspoon

baking powder

¼

teaspoon

baking soda

¼

teaspoon

salt

⅔

cup

whole milk ricotta

2

tablespoons

cane sugar

2

large eggs

½

cup

milk

1

teaspoon

vanilla extract

1

tablespoon

lemon zest

3

tablespoons

fresh lemon juice
Instructions
PREPARE: Preheat an electric griddle to moderately-high heat or a large nonstick skillet over medium heat

MIX DRY INGREDIENTS: In a small mixing bowl whisk together flour, baking powder, baking soda, and salt, set aside.

MIX WET INGREDIENTS: In another larger mixing bowl, whisk together ricotta, sugar, eggs, milk, and vanilla until well blended. Then add lemon zest and lemon juice and blend until combined.

COMBINE: Pour milk mixture into the dry mixture and whisk until the ingredients are just combined.

COOK THE PANCAKES: Brush or spray the hot griddle with olive oil. Use a medium batter scoop (about ¼ cup) to scoop the batter onto the griddle or skillet and spread out to make 4-inch circles. Cook until they begin to bubble and the bottom is golden and firm. Flip the pancake and cook for an additional 30-60 seconds or until just golden brown.

SERVE: Keep the pancakes warm in a dish covered with a towel or foil until ready to serve. Serve warm with syrup, fruit or by themselves!
Notes
FRESH LEMON SUBSTITUTE: If you're in a pinch and don't have fresh lemons, you can use bottled lemon juice and 1 teaspoon of lemon extract.
Nutrition
Calories:
259
kcal
Carbohydrates:
30
g
Protein:
11
g
Fat:
9
g
Saturated Fat:
4
g
Monounsaturated Fat:
2
g
Cholesterol:
30
mg
Sodium:
387
mg
Potassium:
87
mg
Fiber:
1
g
Sugar:
9
g
Vitamin A:
8
IU
Calcium:
83
mg
Iron:
4
mg
Nutrition Information Disclaimer
RECIPE EQUIPMENT
**This blog post contains affiliate links to products that I actually use and that align with my values. See my affiliate disclaimer here.
PIN IT NOW, MAKE IT LATER