---
Mini turkey meatloaf with a brown sugar, balsamic glaze are perfect for busy weeknights. These are individually sized for easy portioning and so that they cook up in 25 minutes or under. Whole30 and Paleo variations below.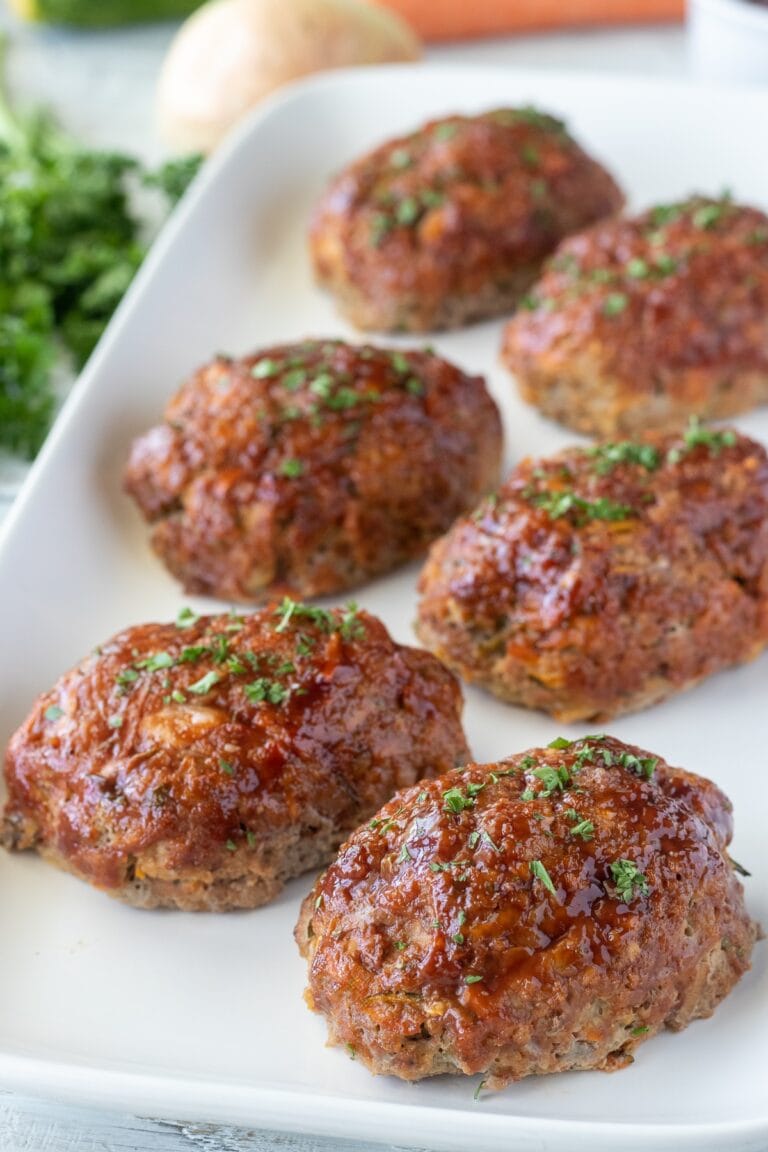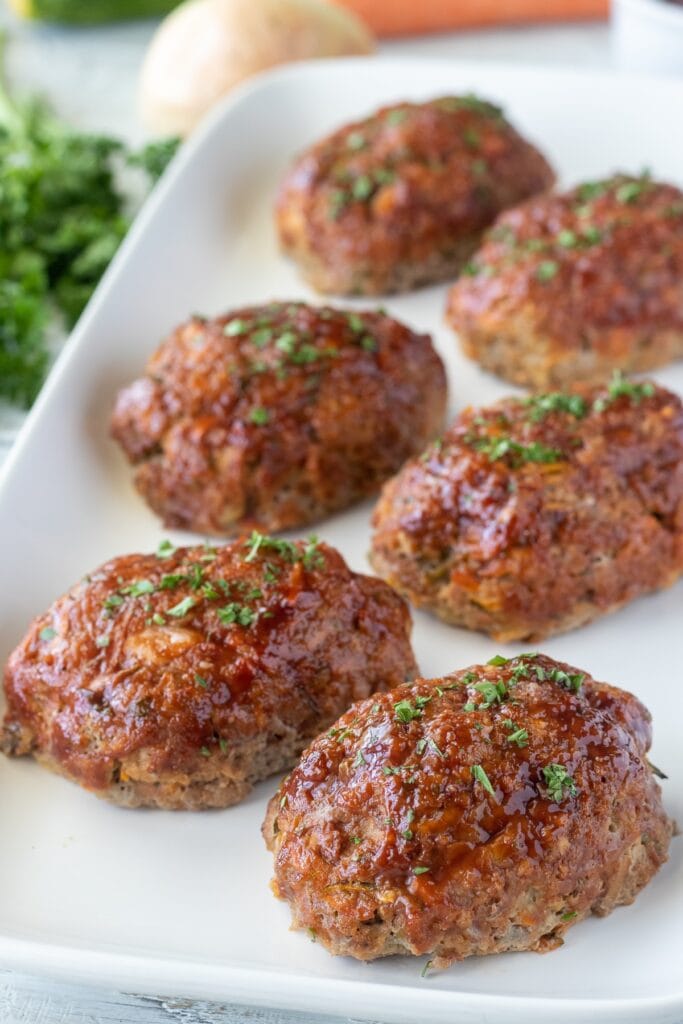 Pair this recipe with skinny garlic parmesan mashed red potatoes, green beans with bacon and mushrooms, vegetable steamed rice, or easy sautéed zucchini and mushrooms.
How to Make Mini Meatloaves
First thing's first, get the oven preheating to 425˚ F, because nothing is worse than going to put dinner in the oven, only realize you forgot to preheat the oven. In a small sauce pan or skillet combine the tomato paste, balsamic vinegar and apple juice and reduce until it has a barbecue sauce consistency.
Ingredients and Substitutions
If you don't have all the ingredients on hand, look below for items that can be substituted to save you a run to the store. [su_highlight background="#e7efef"]Looking to make these Paleo or Whole30 friendly?[/su_highlight] Those swaps are mentioned below too.
Butter - used to sauté onions, garlic and thyme. Ghee, olive oil, or any cooking fat will work in its place.
Thyme - adds an extra punch of flavor to the meatloaves, if you don't have fresh sub ½ a teaspoon of dried. You can also use oregano.
Ground turkey - I like the texture and leanness of ground turkey, but any ground meat will do (beef, pork, bison, venison or any combination of those). I recommend trying to stay under 20% fat content.
Seasoned bread crumbs - I like using the garlic herb standard bread crumbs. Panko, gluten free bread crumbs, or nut flour can also be used. If you use anything unseasoned, consider adding an additional ½ teaspoon of salt.
Worcestershire - while the flavor of Worcestershire can't be replicated, coconut aminos work well to give the meatloaf some extra flavor and it's soy free.
Ketchup - You can't have classic meatloaf without ketchup, right? If you are trying to keep it sugar free, grab some Whole30 approved ketchup.
Brown sugar - Adds a hint of extra sweetness, but not completely necessary. Omit it if you are Whole30, or substitute honey or maple syrup.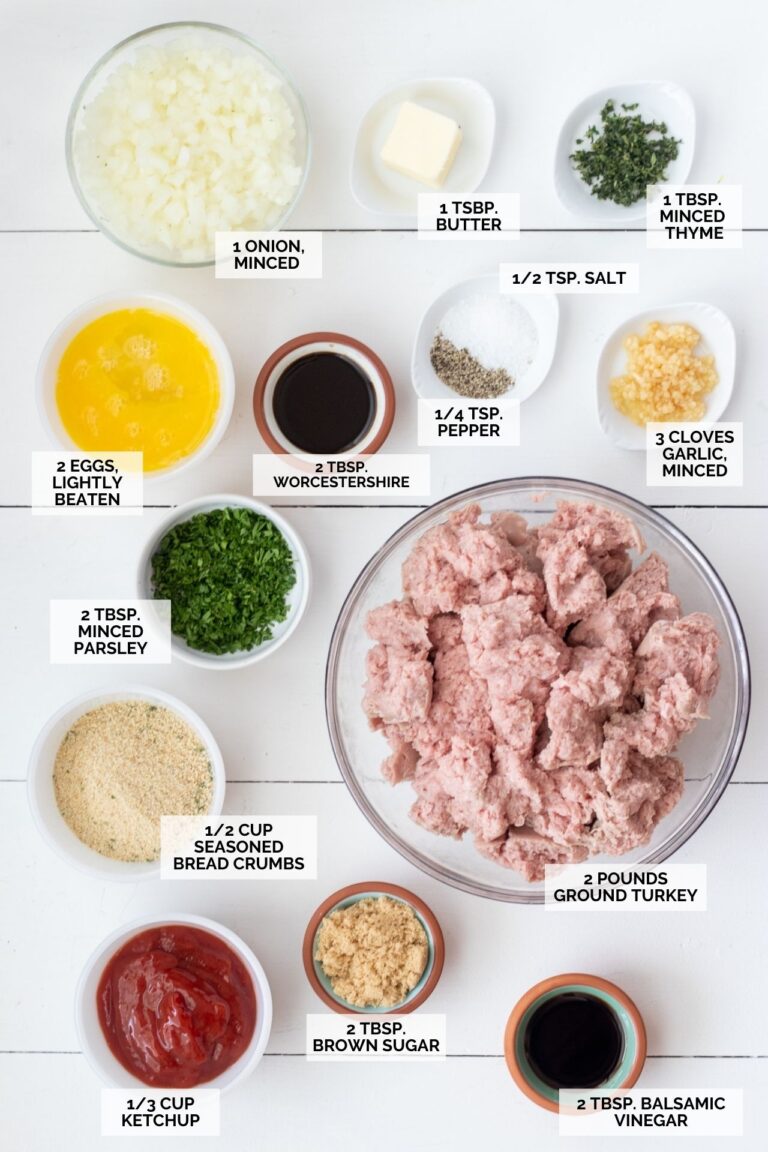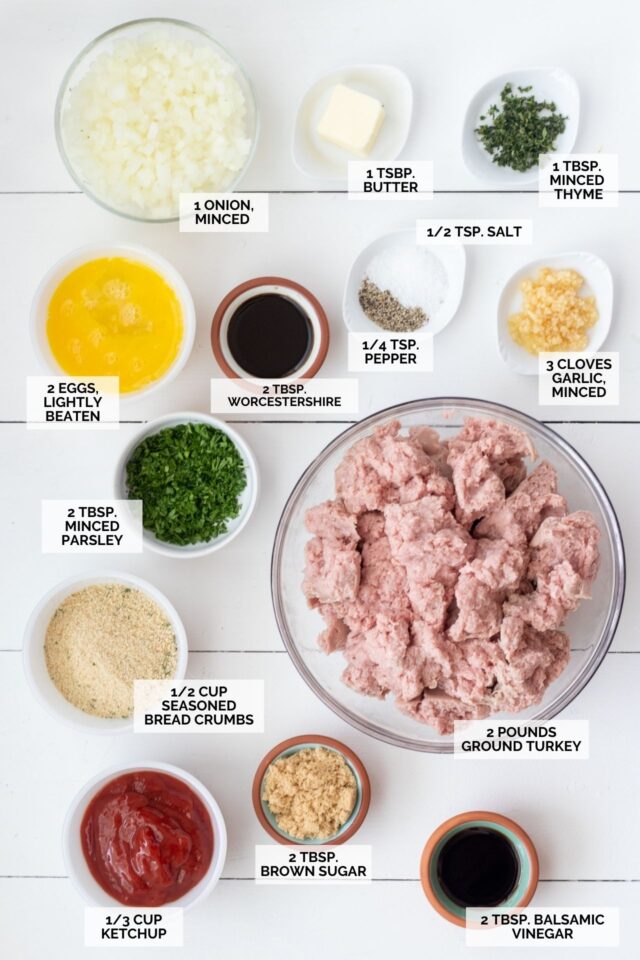 Instructions and Tips
Prepare the Pan and Oven
Adjust your oven rack to the center position and preheat the oven to 375˚F. Line a baking sheet with parchment paper and set it aside. Instead of cooking these in mini loaf pan, I prefer using a baking sheet for a couple reasons.
It allows any of the grease that cooks out of these not to hang out on the meat
All of the sides get coated in the glaze
Sauté the Onions
Cooking the onions with the thyme and garlic before putting it in the meatloaf gives it a much richer flavor.
Grab a small skillet and heat it over medium on your cooktop. Add the butter and let it melt before adding the finely diced onion. Once the onions are soft and translucent, add the thyme and garlic and stir for a minute before removing it from the heat.
Before you add the onions to the meatloaf mixture, it needs to cool down quite a bit. Transfer the mixture to a plate and spread them out across the plate so they can cool faster. Let them sit while you put the rest of the ingredients together (about 5-10 minutes).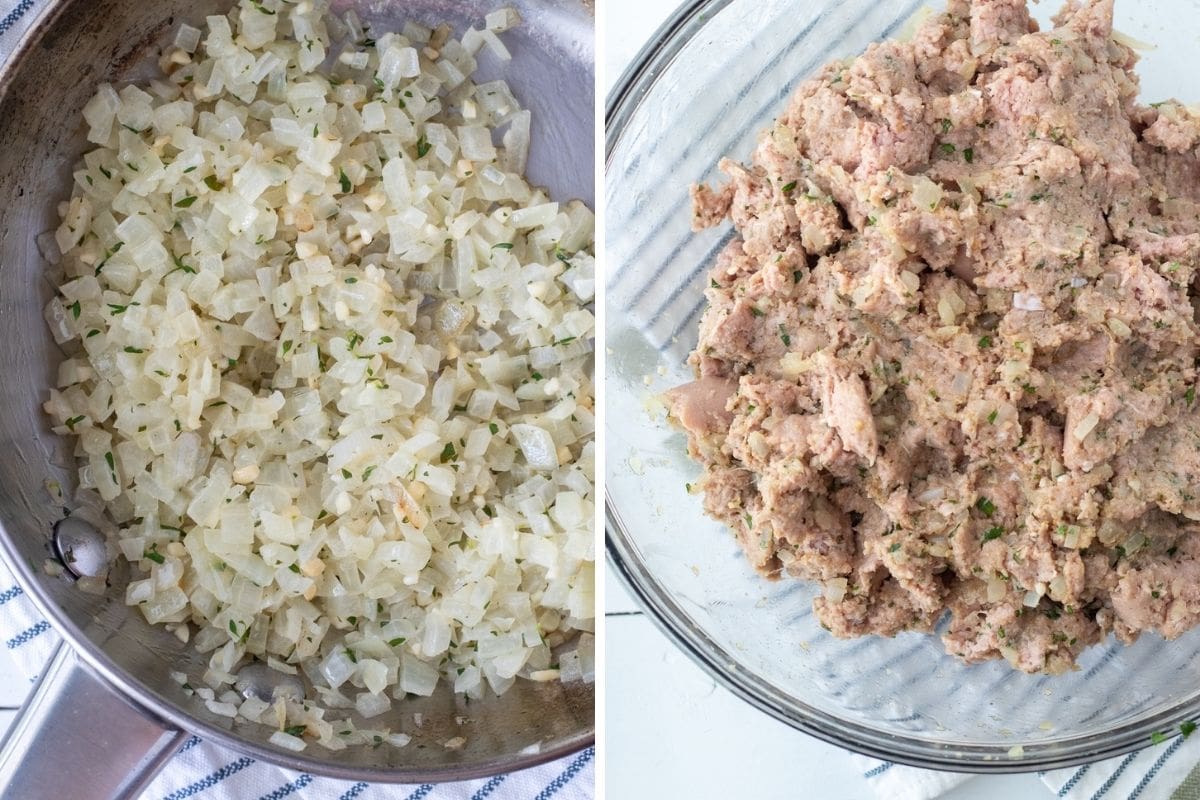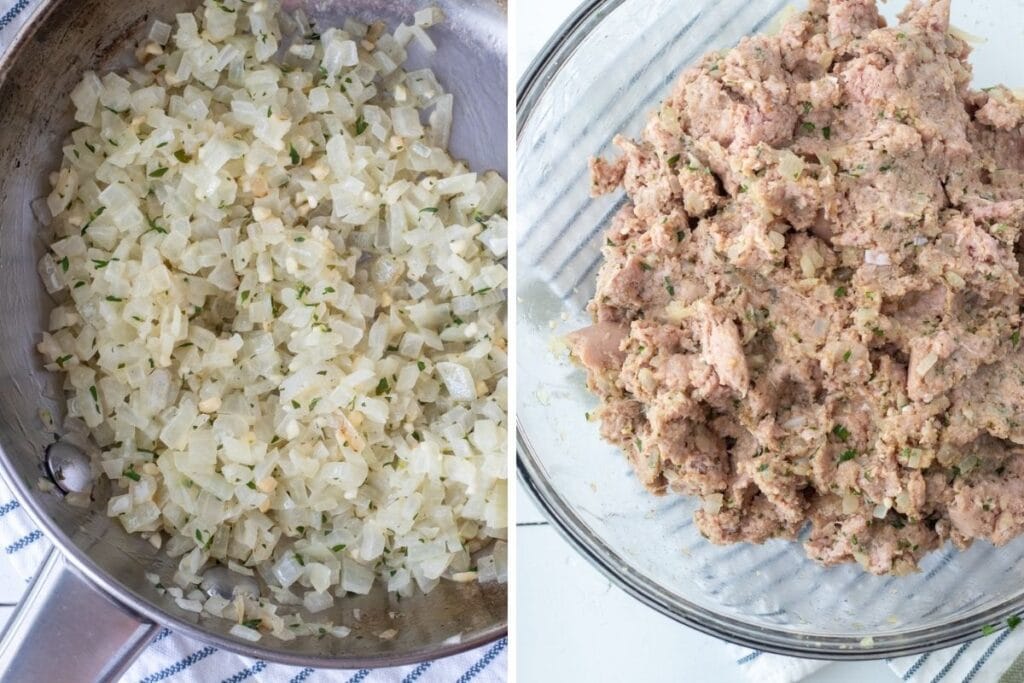 The Meatloaf Mixture
In a large bowl, add the ground turkey, breadcrumbs, parsley, Worcestershire, salt, pepper, and the cooled onion mixture. Use your hands or a couple of wooden spoons. Once everything is thoroughly mixed, it's time to shape the mini loaves.
Shape the Meatloaves
I used a food scale to make mine evenly. If you have a food scale, put the bowl with the mixture on the scale and clear out the weight. Then pull meat in 5-6 ounce sections.
If you don't have a food scale, use a dry measuring cup to scoop around ¾ cup (loosely measured) to get the meatloaves similarly sized.
If you have a mini meatloaf pan, feel free to mold them in that. I just used my hands to press them tight into football-like loaves.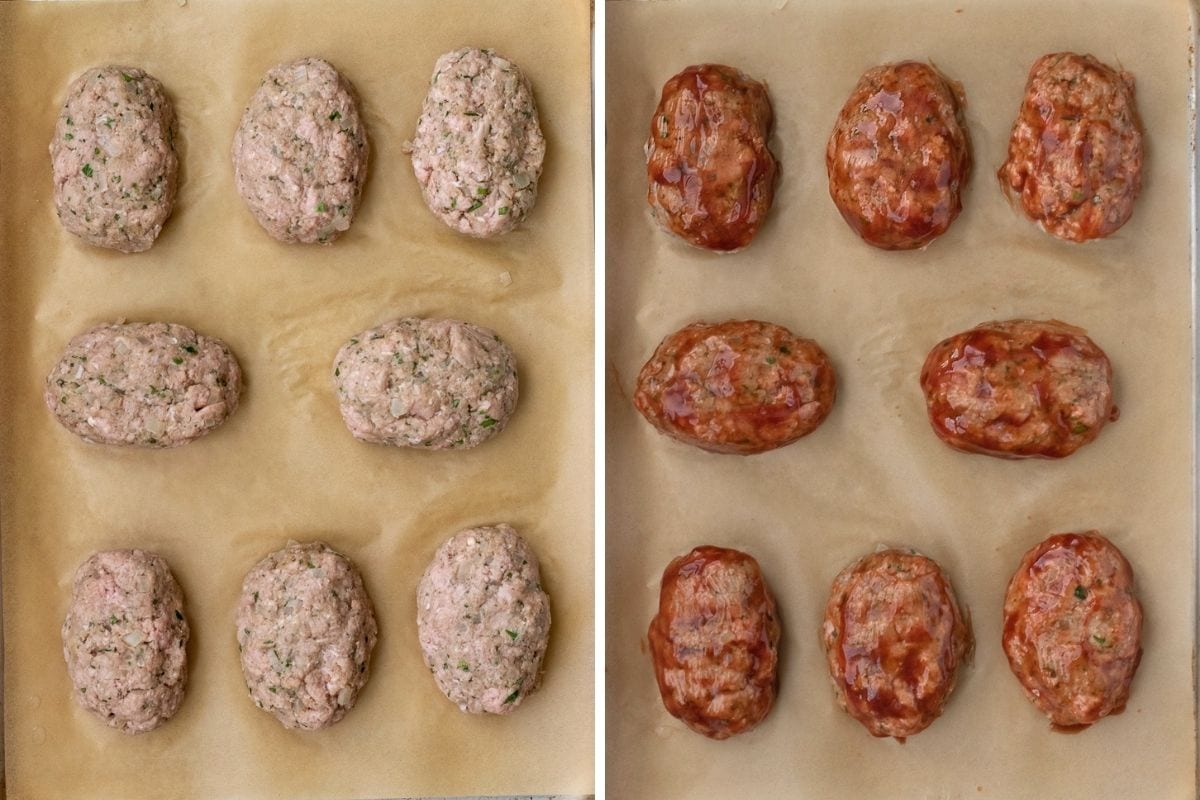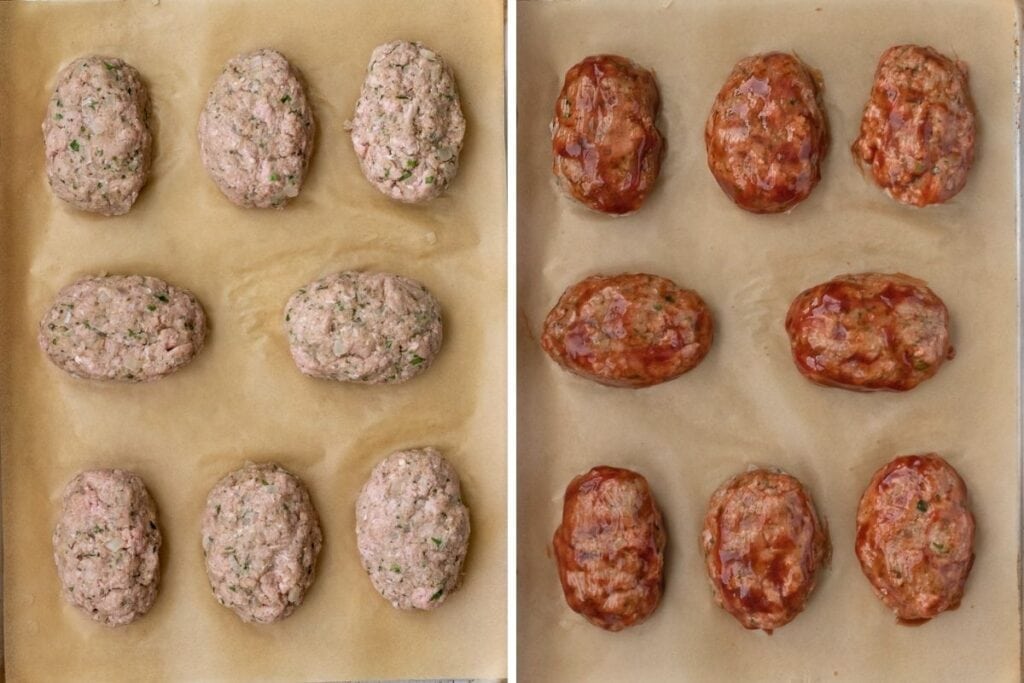 <
Balsamic Brown Sugar Glaze
The glaze is a simple mixture of ⅓ cup ketchup and two tablespoons each of brown sugar and balsamic vinegar. Use a basting brush to mix the combination together and brush half the glaze very generously over each meatloaf. Make sure you get the sides too!
Cooking Time and Reglazing
Regular meatloaves usually take anywhere from 45 minutes to an hour to cook, these little guys take 20-25 minutes.
After they're glazed, they go in the preheated oven, on the middle rack. Let them cook for 15 minutes. Brush on the remaining glaze.
Put them back in the oven and cook for another 5-10 minutes. Use an instant read thermometer to tell if they're done. Place the thermometer in the center of the meatloaves - if it reads 150˚F, they're good to go.
Let them rest about 5 minutes before serving them.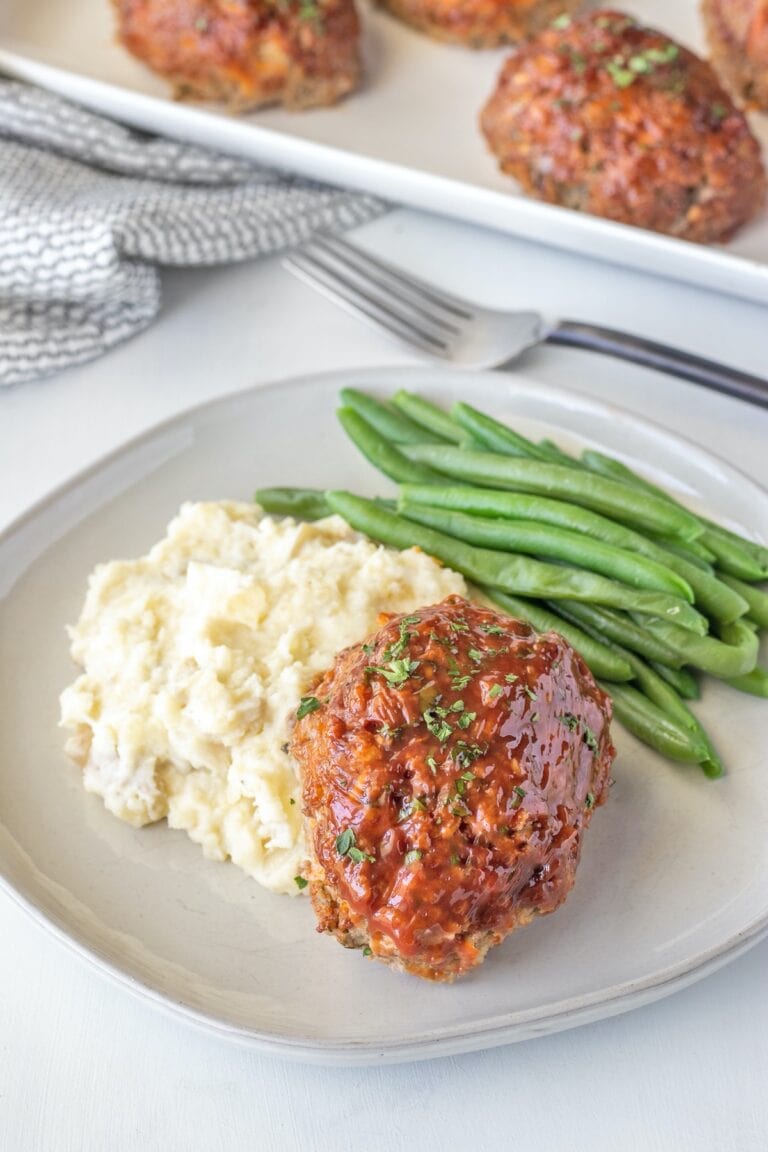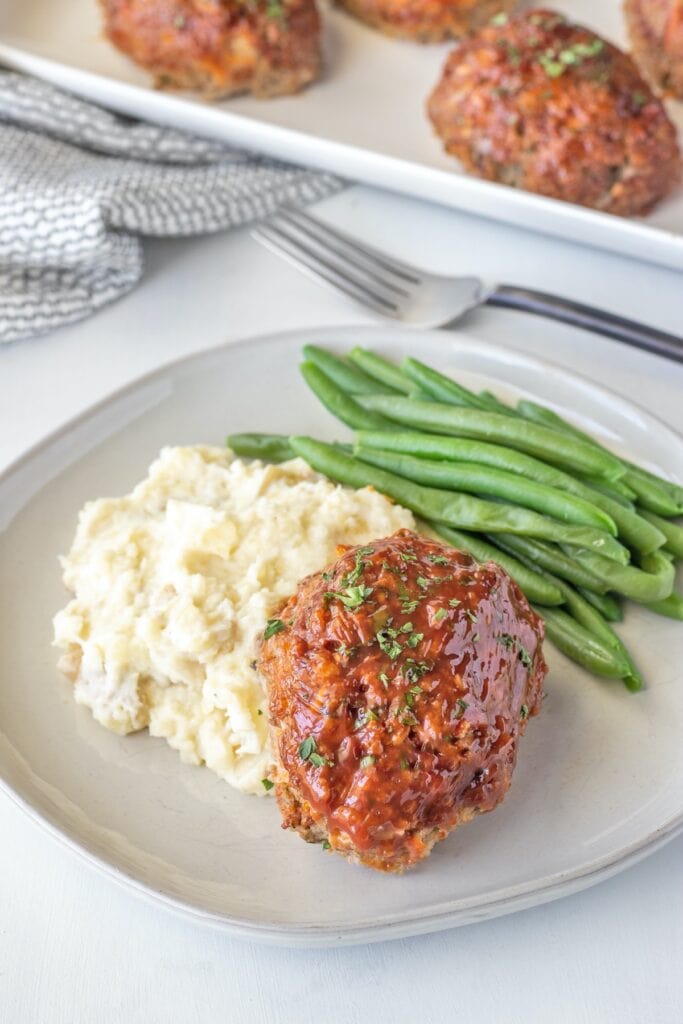 Storage, Meal Prep, and Freezing
Store leftover or meal prep in the fridge for up to 5 days in airtight containers. If you can't get to them in 5 days, don't worry, they freeze great. Use a freezer-safe container or bag to store these in the freezer for up to 3 months (don't forget to label them!).
Other Recipes Like This One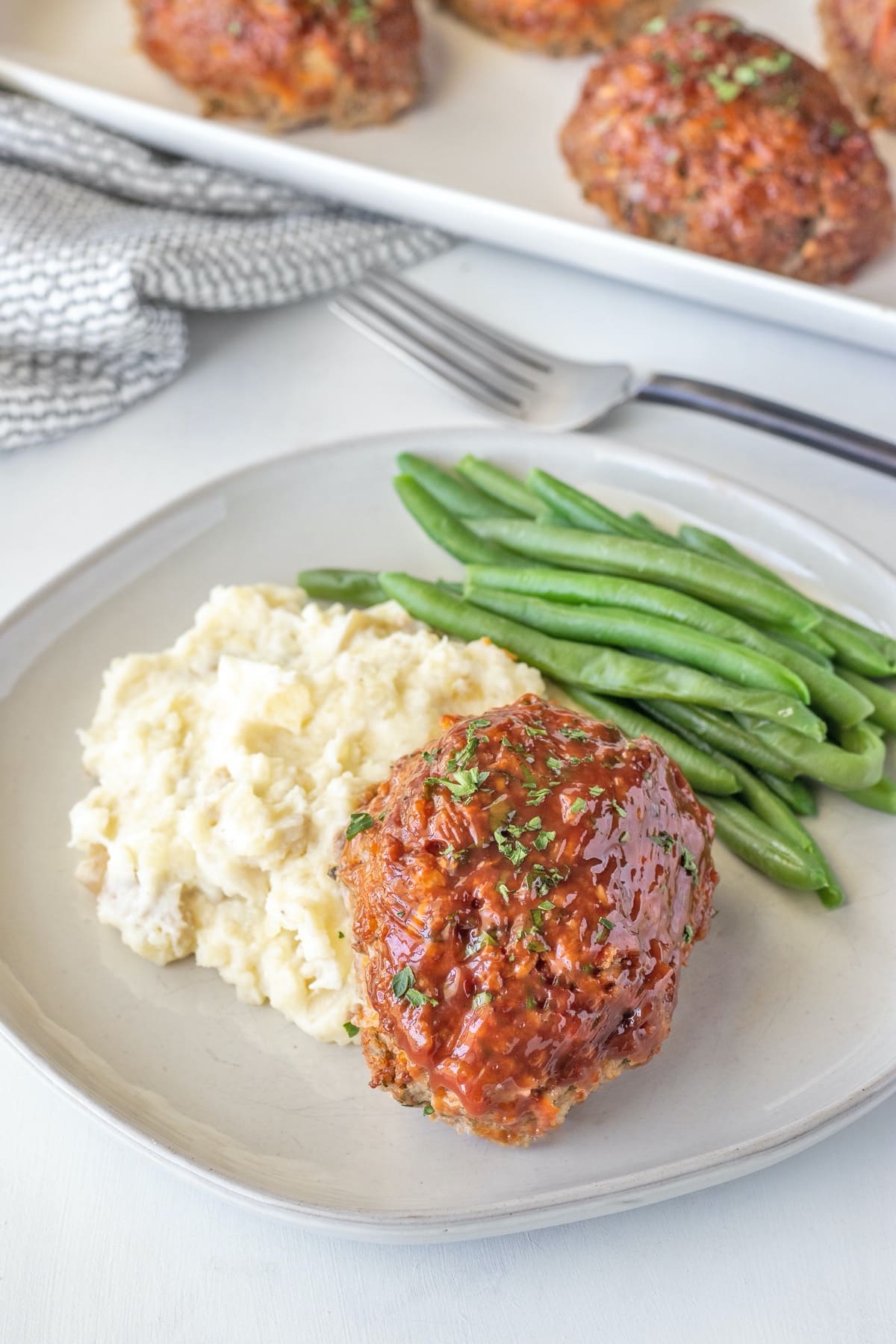 Mini Turkey Meatloaf
Little individual sized mini turkey meatloaves are a great weeknight dinner. All the flavor and heartiness of your favorite turkey meatloaf, but it cooks in half the time! Topped with a balsamic brown sugar glaze for the perfect hint of sweetness.
RECIPE COST :
$9.50 / $1.18 PER SERVING
Ingredients
1

tablespoon

butter

1

yellow onion

(finely diced)

3

cloves

garlic

(minced)

1

tablespoon

fresh thyme

(minced)

2

lb

93/7 Ground Turkey

2

eggs

(lightly beaten)

½

cup

seasoned breadcrumbs

2

tablespoons

fresh parsley

(minced)

¼

teaspoon

Fresh ground pepper

½

teaspoon

kosher salt

2

tablespoons

Worcestershire sauce

⅓

cup

Ketchup

2

tablespoons

Balsamic vinegar

2

tablespoons

brown sugar

(packed )
Instructions
PREPARE: Heat the oven to 350˚F. Line a baking sheet with parchment paper and set aside.

SAUTE ONIONS: In a small skillet, melt the butter over medium heat. Add the onions and sauté until they are tender, about 4 minutes. Add the thyme and garlic and stir until fragrant, about 2 minute. Transfer to a plate and spread out to cool for 5-10 minutes.

COMBINE MEATLOAF INGREDIENTS: In a large bowl, combine turkey, eggs, breadcrumbs, parsley, salt, pepper, Worcestershire sauce, and cooled onion mixture. Using your hands, or a spoon, toss together until fully incorporated.

SHAPE THE MINI MEATLOAVES: Divide the meatloaf mixture into eighths, or about 5-6 ounces each (about ¾ cup). Shape them into small loaves. Arrange them out evenly on the prepared pan.

MAKE THE GLAZE: In a small bowl, combine the ketchup, balsamic vinegar, and brown sugar. Brush half the mixture over the top of the meatloaves.

BAKE: Cook the meatloaves in the preheated oven for 15 minutes, add remaining glaze and continue cooking another 5-10 minutes or until the center reads 150˚F with an instant read thermometer

REST AND SERVE: Remove the meatloaves from the oven and let them rest for 5-10 minutes.
Notes
MAKE IT PALEO/WHOLE30: Replace the butter with ghee or olive oil, breadcrumbs with almond flour, Worcestershire with coconut aminos, use Whole30 ketchup, skip the brown sugar. 
Nutrition
Serving:
1
meatloaf
Calories:
269
kcal
Carbohydrates:
16
g
Protein:
24
g
Fat:
11
g
Saturated Fat:
4
g
Monounsaturated Fat:
1
g
Cholesterol:
130
mg
Sodium:
418
mg
Potassium:
140
mg
Fiber:
1
g
Sugar:
8
g
Vitamin A:
39
IU
Vitamin C:
7
mg
Calcium:
24
mg
Iron:
12
mg
Nutrition Information Disclaimer
RECIPE EQUIPMENT
SaveSaveSaveSave
**This blog post contains affiliate links to products that I actually use and that align with my values. See my affiliate disclaimer here.
PIN IT NOW, MAKE IT LATER!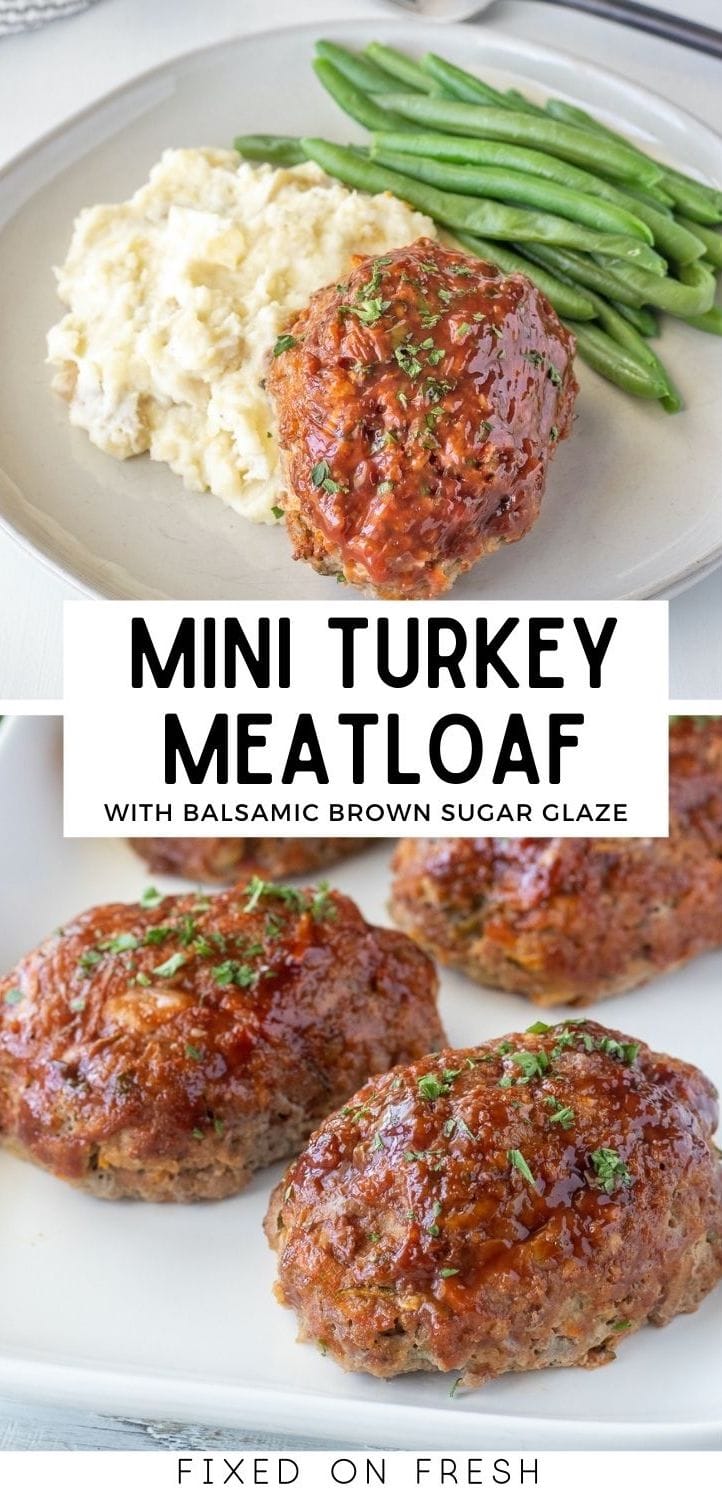 SaveSave